Skeptics predict that the PHP scripting programming language should have been replaced by more advanced technologies by now. But as practice shows, these predictions were not destined to come true – according to a study of the resource w3techs, 77.6% of all sites with known web programming languages use PHP.
Why has PHP earned such popularity? In this article, we'll look at the features of this language, what it can give your business, and how and where to hire a PHP programmer who can use its potential comprehensively.
PHP: Understanding the Concept
PHP, also known as Hypertext Preprocessor, is a server-side scripting language commonly used for web development. It is open source and can be easily embedded into HTML documents.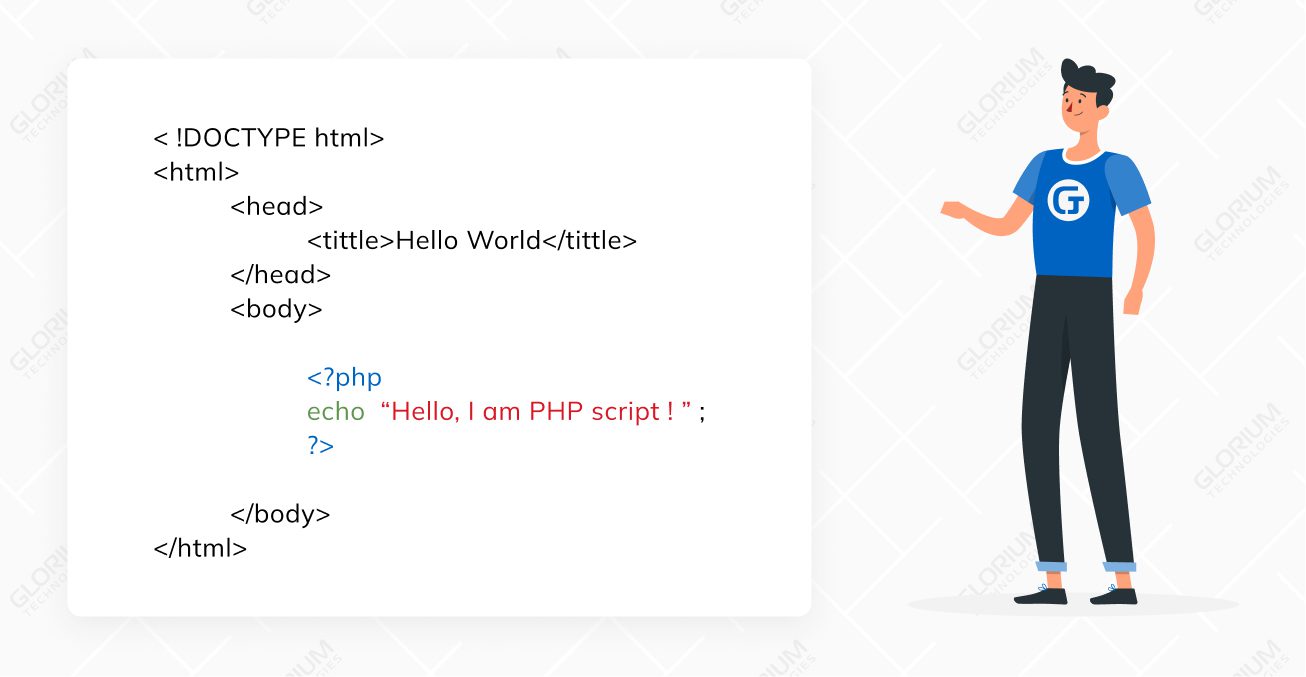 This programming language has a distinct code structure that can be recognized simultaneously. Many well-known websites like Facebook, Instagram, Pinterest, Tumblr, Wikipedia, and Zoom use PHP as their coding language. However, there are different versions of PHP in use. According to w3techs, version 7 is used by 71.5% of all PHP-based sites, while version 5 is used in 24.3% of web resources. The remaining 4.2% is split between the newest version 8, and the outdated versions 3 and 4.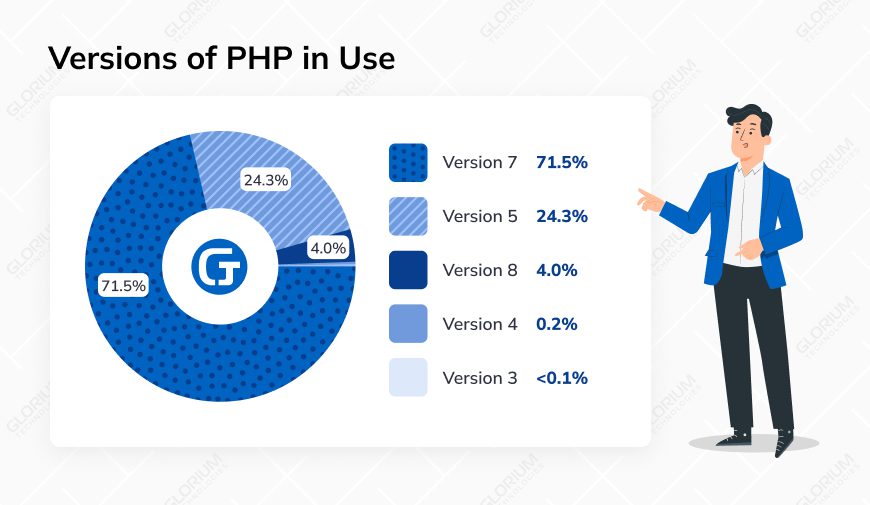 Advantages of PHP Web Development
In 2020, PHP turned 25 years old. Despite such a long history, it still holds a leading position, and the release of each new version increases its performance. Why have developers been using this language for more than 25 years?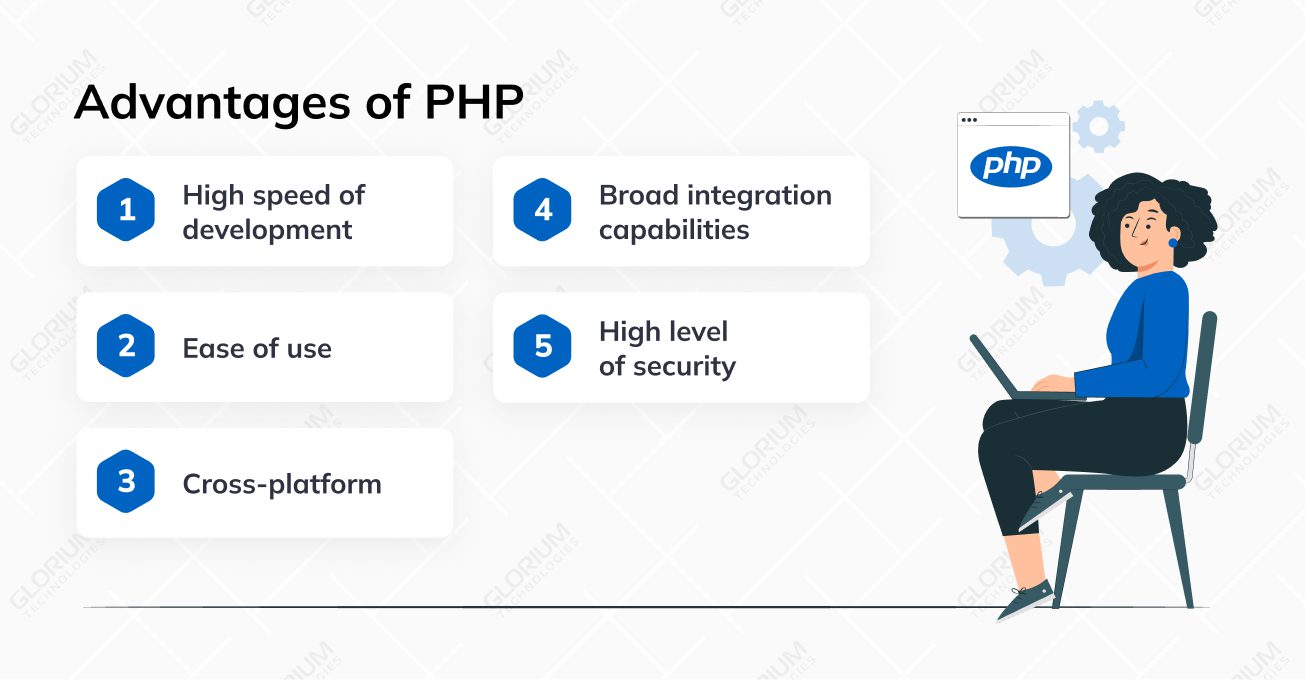 High speed of development: PHP frameworks, including Laravel, Symfony, Phalcon, CakePHP, FuelPHP, and others, allow you to create a web app as quickly as possible.
Ease of use: Even a beginner can manage it. First of all, it is much easier to install than, say, Ruby on Rails. Secondly, its large community, formed during 25+ years of use, provides decent support for juniors.
Specialists: Programming is susceptible to errors as a program with a vulnerability in the code will continue to run until it reaches the issue.
Cross-platform: It is compatible with most operating systems, including macOS, Linux, Solaris, and the popular Windows. Most servers like iPlanet, IIS, Apache, and others also support it.
Broad integration capabilities: MySQL is the most popular database used by PHP coders. In addition, PHP can easily integrate with other databases, including Oracle DB, Informix, and others.
High level of security: Those familiar with the early versions of PHP may argue with this statement as there were questions about code security. But the latest release has a higher level of safety. In addition, you can use Content Management Systems and frameworks that pay special attention to security.
Thanks to the above, PHP remains one of the most well-known development languages. The popular content management system, WordPress, was developed with its assistance and currently holds the top market position, having been used to build 55% of all existing websites.
Areas of PHP Use
Creating easily scalable, dynamic web apps, sites, and programs with graphical UI are areas where PHP is unrivaled. We can highlight five things this scripting language does best: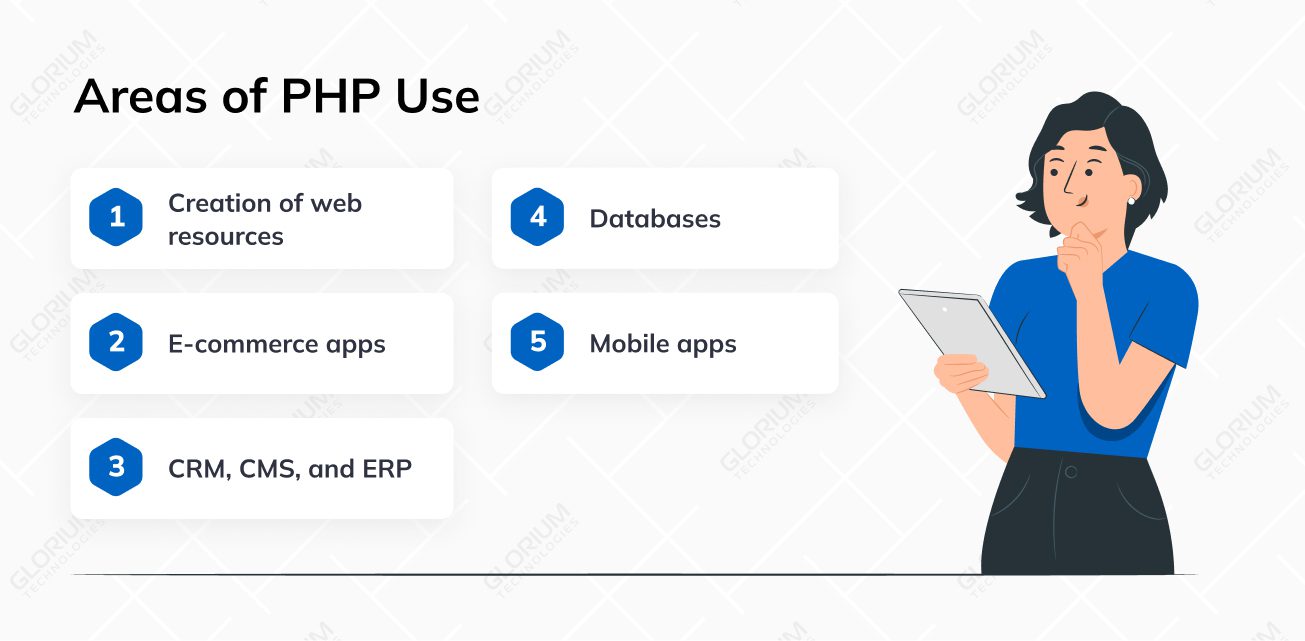 Creation of web resources: To begin with, PHP was initially created for web development. It is indicated by features of its functionality – a close connection with HTML, the possibility of integration with a database, and a high-security level. PHP also allows you to work with graphical objects of various formats using the ImageMagick console image editor. And using tools like Punbb, PHPBB, or vBulletin, you can easily create online forums. Not for nothing, the developers of many famous resources preferred PHP. For example, the Yahoo! company abandoned C/C++ in favor of PHP in 2002.
E-commerce apps: The broad capabilities of PHP make it an advanced language for online store CMSs. Such powerful platforms as Magento, PrestaShop (Symphony framework), ImageCMS (CodeIgniter framework), and others are written in PHP. The creation of trading platforms is available thanks to the support of CyberMUT, VeriSign Payflow Pro, Cybercash, and PHP CCVS. All these features allow PHP developers to create easily scalable, seamless, and functional software. And the open-source code of the frameworks saves on the development of online stores.
CRM, CMS, and ERP: Corporate software developed with PHP is flexible, easy to integrate, scalable, and has many payment options. As mentioned above, the most popular PHP-based CMS is WordPress, also Joomla, and Drupal. The same language is used for commercial CRM systems with open-source SugarCRM, a free system for non-profit organizations CiviCRM, and many others.
Databases: A new web app can only do with its own database. It stores the necessary information and provides tools to work with it. Creating a DB in PHP is simplified by supporting over 20 database management systems, including MySQL, Oracle, MS Access, PostgreSQL, and MongoDB.
Mobile apps: PHP is used, among other things, to create the inner part of the software for mobile devices. It is made possible by recent updates to PHP and supported frameworks. For example, the Zend framework offers users the Zend Server and Zend Studio platforms, which can be used to create external program interfaces and APIs. Symfony and Laravel frameworks are also often used to program the backend of mobile software for iOS, Android, and BlackBerry.
The extensive community, rich functionality, and variety of frameworks all extend the capabilities of PHP, making it suitable not only for developing web programs and sites but also for the server side of mobile software. In addition, it supports all operating systems, servers, and databases. All this makes PHP a universal scripting language. You can hire PHP developers and get a dynamic, easily scalable product to make the most of it.
PHP Developer: What to Look at When Hiring
It can be challenging to hire a PHP programmer as you lack the technical knowledge and skills. Therefore, firstly, it is essential to understand the competence of the PHP programmer.
Such a specialist works with the software's internal part to create the basis for a web app or website. However, to effectively perform their tasks, PHP developers should have a basic understanding of front-end development. It enables seamless communication with all members of the team.
Responsibilities of a PHP programmer:
Developing web programs and websites using PHP and creating server-side apps for mobile devices as needed using PHP frameworks: Laravel, CodeIgniter, Symfony, Zend, and others.
Designing the service architecture, working with the code's architecture, and making the site's core.
Testing the created software, bug fixing, and post-release support.
Making changes to existing projects.
Collaborating with other team members to find the best solutions in software development.
First, lay out your basic requirements for the future hire, and define your brackets.

When creating a job listing and conducting initial interviews, specifying the hard and soft skills required for a developer to perform their job effectively is essential. These skills are necessary for the developer to carry out their primary responsibilities.
Required Hard Skills
The phrase "ability to develop web apps in PHP" gives a too general idea of what kind of specialist you need. Therefore, specify the mandatory requirements for a candidate in a more detailed way:
Knowledge of other programming languages, including JavaScript, a style sheet language CSS, and The HyperText Markup Language HTML.
Ability to work with key databases (MySQL, PostgreSQL, Oracle, and others).
Experience with common design patterns (Factory, Strategy, Singleton, etc.)
Knowledge of PHP tools: Compose dependency manager, PSR specification, PHPUnit unit testing environment.
Experience in REST API development.
This list can be expanded depending on the needs of the specific company. For example, your project may require knowledge of microservices architecture, Doctrine, Eloquent or other ORM technologies, Docker software platform, GraphQL data query language, etc.
Required Soft Skills
The development of any software involves, first and foremost, well-established teamwork. Therefore, to hire a PHP programmer that suits your company perfectly, a candidate should have specific personal characteristics besides technical knowledge and skills.
Good communication skills: Effective communication with team members, customers, project managers, and senior management is crucial for developers. If they need help with communication, there may be better jobs for them.
Ability to solve complex problems: Analyzing a problem, finding alternative solutions, and making decisions can be critical to the project's success.
Ability to adapt: This trait is fundamental if you decide to hire a dedicated PHP developer. Working with a new team with its traditions and communication style can be challenging for a new specialist and hinder their success.
Learning mind: It's good to keep in mind that no one knows everything. Just because a PHP developer hasn't worked with JS or PHPUnit before doesn't necessarily mean they're not skilled enough to complete the job. As long as they can learn quickly, they can handle it.
The list of soft skills can also vary at the manager's discretion. For example, suppose you need to hire a dedicated PHP developer to be a team leader. In that case, you can add to the above list the ability to make plans and schedules, influence team members, and make crucial decisions.
How to Hire a Good PHP Developer: 6 Steps to Success
It is not recommended to assume that you can easily find a reliable backend development specialist by relying solely on the first online job search platform. It is crucial to approach this process with more thoroughness.
Here are a few steps that will allow you to find and hire a PHP programmer:
Analyze your project and determine its features and primary requirements. Based on this information, you can create a list of requirements for the candidate.
Remember to mention the necessary technical requirements, desired personal qualities, requirements for work experience, and knowledge of foreign languages (as a rule, for any developer, knowledge of English at the Upper-Intermediate level is a must).
Choose the search channel
Decide on the channel of the applicant's search. You can hire a freelancer, turn to outsourcing companies or hire an employee on staff. We will talk about the advantages and disadvantages of each method below.
Make a list of several candidates who best fit your requirements, and schedule interviews with them.
During the face-to-face meeting, check the accuracy of the information in their CVs. A few questions about a particular project will let you know if the applicant has dealt with the mentioned tech stack in practice or has only heard about it at school.
Now you know the 5 steps to hiring a developer you need. Now, where do you look for the candidates? It's an excellent time to discuss channels for finding a PHP developer.
Where to Find "Your" PHP Coder
We have already mentioned several ways to hire PHP programmers – take a new employee on staff, use the services of freelance specialists, or go to an outsourcing company and hire a dedicated PHP developer. Can't decide which one to choose? We've put together a complete guide for you on each of them.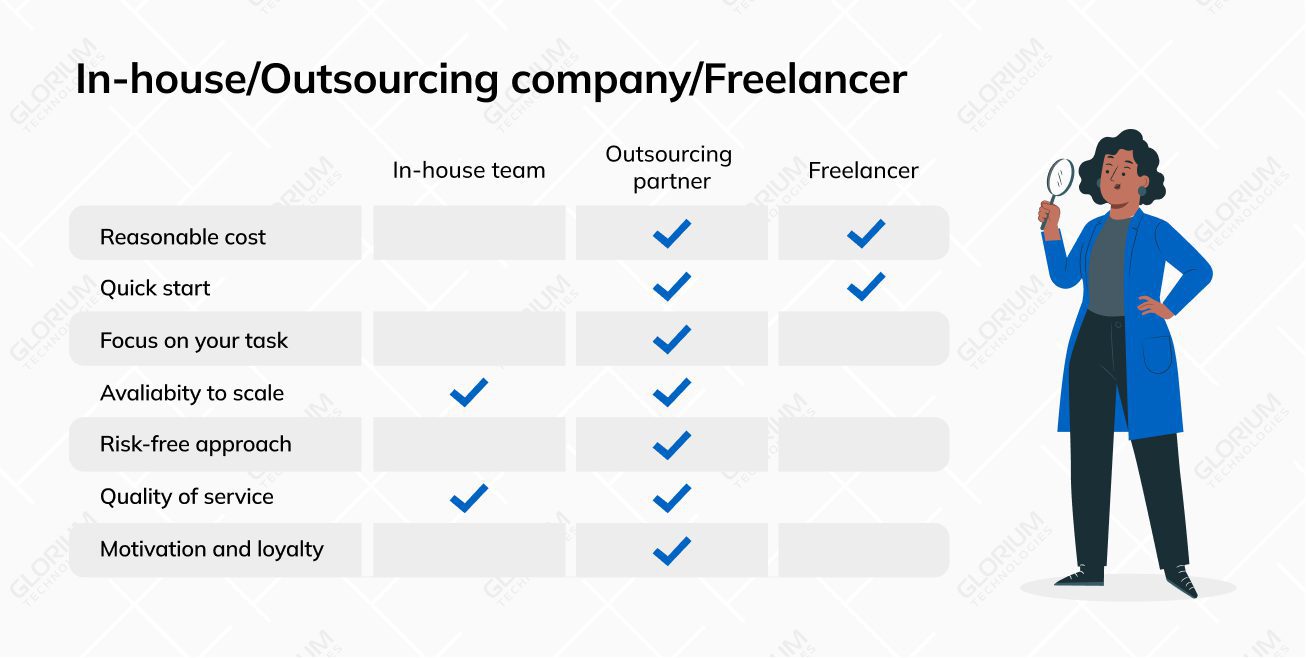 In-house Employees
Do you already have a development team that needs only a PHP specialist? Or are you planning to create several products in this language and support them after the release? Then this option is best for you. Having the technical knowledge to find a candidate independently is good, and a professional IT recruiter can do it.
Advantages:
The company's head retains control over development, while employees remain accessible at all times. Even while working remotely, they can attend office meetings like retrospectives.
Team members are familiar with each other, which often eliminates communication problems.
All employees work in the same time zone and speak the same language.
Disadvantages:
Additional costs for fixed salaries, space rental, and recruiting agency fees if you don't have your HR function.
Time costs – choosing a full-time employee can be pretty time-consuming, especially if you don't have the necessary experience.
When new employee joins full-time, they may struggle to adjust to working with the team or take a while to get comfortable.
Freelance Services
Nowadays, freelance exchanges are a popular way to find IT specialists. However, it's important to note that the developers offering services on freelance platforms work unofficially and may only be suitable for short-term cooperation.
Advantages:
Relatively low cost of services.
Suitable for small projects and short-term cooperation.
Disadvantages:
Difficulties with assessing the qualifications of the freelancer – such cooperation involves a remote format and excludes a face-to-face interview.
Unofficial employment does not provide the client with any guarantees – so that the project is not at risk of failure. You have to rely on the decency of the developer.
One freelancer can work on several projects (and more often, this is the case). The development quality can suffer from this.
It is better to turn to freelancers to perform small tasks that do not affect the performance of the entire project.
Dedicated PHP coders
Hiring a dedicated developer combines the benefits of working with freelancers and in-house hiring, eliminating these options' risks. Specialized outsourcing companies search for such specialists. They choose candidates following your request and interview them. And they often allow the customer to participate in the interviewing process themselves. The main thing in successful cooperation with an outsourcer is to choose a proven company with many years of experience and positive reviews.
Advantages of hiring dedicated PHP developers:
Considerably lower service prices than in-house specialists. Turning to outsource, you can expect to reduce costs by up to 40%. And the ability to choose a specialist from another country allows for additional savings – the difference in hourly rates in different countries can be as much as $40.
SDLC reduction. Finding a dedicated PHP developer takes three times less than hiring a staff member. And the faster you staff your team, the sooner users see your product.
Unlike freelancers, you can count on long-term cooperation after you hire a dedicated PHP developer. It means the ability to support the product after its release, including the ability to make revisions or fix bugs.
Despite the apparent advantages of working with outsourcing service providers, this option also has its risks:
Communication difficulties. In addition to employee interpersonal relationships, several other problems are relevant for outsourced specialists from abroad. These include time differences, language barriers, and cultural differences.
Possibility of data leakage. When working through an outsourcer, all the information about the project becomes available to third parties – the service provider and third-party developers.
Any risks in working with outsourcers can be avoided if desired. For example, the time difference is successfully used by some companies to provide 24/7 technical support. And to ensure information security, it is vital to highlight this point in the contract with the provider.
How Much Does Backend Development in PHP Cost?
Because PHP is easy to learn and widespread, the labor of PHP developers is paid more modestly than professionals in other languages.
The price for hiring a PHP programmer is determined by their location, experience level, and proficiency with various tools.
To summarize
Do you have an idea for a fantastic product and need a PHP developer to implement it? Contact Glorium Technologies. Our team will locate a specialist who specializes in your project. You can trust us to provide top-quality software while saving you money.
Questions You May Have