Hire Android Developers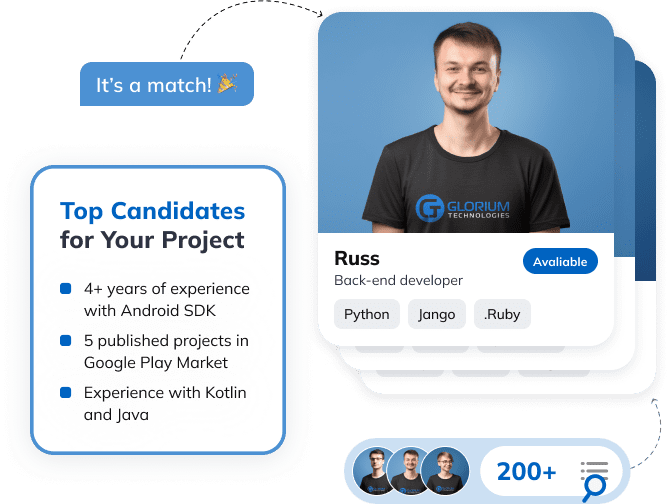 Glorium Technologies are ready to help you hire top Android developers and thrive in the competitive Android market.
GET IN TOUCH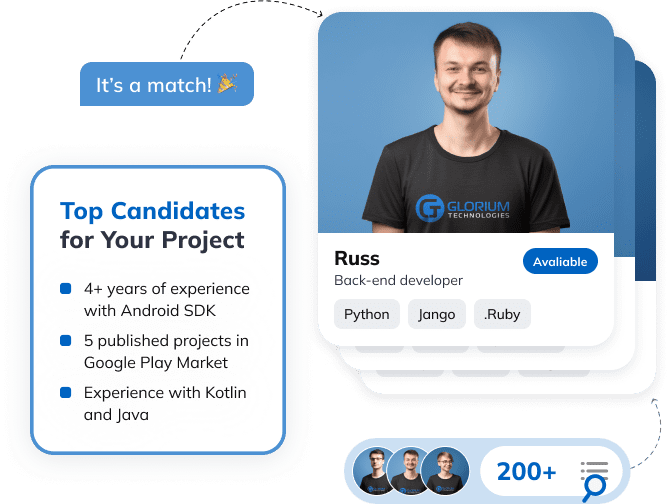 Hire Android Developers for Top-notch Services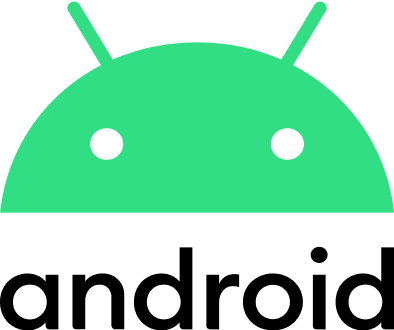 At Glorium Technologies, we prioritize high quality and timely delivery as our core values. Our team of senior Android developers and engineers excels in building customized applications for small and middle businesses that are both scalable and robust, with a strong emphasis on security.
Glorium Technologies offers Android development services that include custom mobile app development, mobile SDKs, utility development, and seamless integration with back-end web services and corporate systems.
Our team of Android developers specializes in crafting custom Android applications that precisely meet your unique needs.
We pride ourselves on delivering efficient, functional, and user-friendly apps that provide a seamless user experience. With our expertise, you can trust that your app will be of the highest quality and fully aligned with your business requirements.
Maximize the capabilities of your Android app through the expertise of our dedicated team of Java and Kotlin developers.
We focus on creating visually captivating apps that excel in efficiency, functionality, and user experience. We can incorporate complex functionalities and deliver apps that are feature-rich and incredibly reliable, offering you a competitive edge in the Android market.
Our team of skilled UI/UX experts is highly knowledgeable in Android app development.
They know how to find the perfect balance between meeting the requirements of programmers and creating captivating user interfaces. This enables us to develop versatile applications that are guaranteed to leave a lasting impression.
Our team specializes in developing MVPs (Minimum Viable Products) for Android apps, providing quick idea validation, faster time-to-market, and valuable user feedback.
With our dedication to delivering excellence, we ensure that your MVP highlights the essential features and functionality of your app, establishing a strong base for its future success.
At Glorium Technologies, we combine technical expertise with creative innovation to design and build engaging apps that seamlessly integrate with Android-powered smartwatches and wearable devices.
By focusing on intuitive UI/UX design and battery-efficient algorithms, we ensure that our Android Wear apps provide a smooth and consistent experience, maximizing user engagement.
Why Should You Hire Our Android Developers?
Without Glorium
Difficulty in finding developers with actual expertise matching their CVs
Incurrence of significant expenses in recruiting and training new developers
Project managers spending excessive time managing multiple freelancers and agencies
Involving multiple entities increases the risk of compromising sensitive data and potential data breaches
Inconsistent contract commitments from unreliable freelancers or agencies
With Glorium
Easy access to a wide pool of highly skilled Android developers with verified expertise
Streamlined processes for recruitment and onboarding
Clear communication channels and efficient reporting mechanisms
Compliance with data security standards
Reliable developers delivering high-quality output while reducing errors and delays
Minimized risk of delivery breaches as Glorium maintains consistent and reliable contract commitments
Our Cooperation Models
Whether you need to hire a senior Android programmer for your startup or to establish a long-term partnership, we can customize our cooperation model to meet your requirements
Flexible Pricing
We understand that each client is unique, and our goal is to provide pricing solutions that match your individual requirements.
Monthly Pricing Model
For clients looking to hire remote Android developers to work on a long-term project.
Stable monthly costs for easy budgeting
Reduced administrative overhead
All development services are included
Flexibility to adjust the team size and scope of work
Hourly Pricing Model
For flexible projects — hire the top developers and pay only for time spent on development.
Adjustable scope and team size
Pay only for the actual development time
No upfront costs or commitments for developers
Great for short-term projects with uncertain requirements
Contact us to discuss which pricing model would work best for your project.
Best Remote Android Developer Services for Your Project
At Glorium Technologies, we offer a range of benefits when you hire remote Android developers or engineers:
Plenty of highly skilled talent to fulfill your engineering needs
Proven expertise with dozens of successful projects in various fields
Full compliance with ISO standards
No bureaucratic hurdles with quick start and flexible cooperation models
Affordable development and overhead costs without compromising quality
Flexible hiring models to fit your needs and budget
Fast and efficient development process and engineering of products
Dedicated project manager to ensure smooth communication and project delivery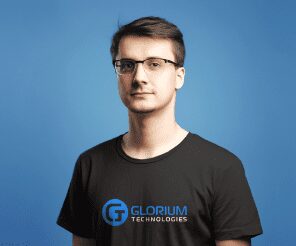 Andrew
Full-stack engineer
Avaliable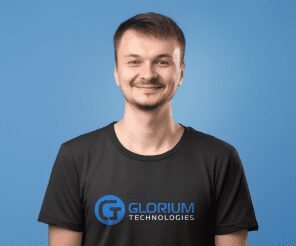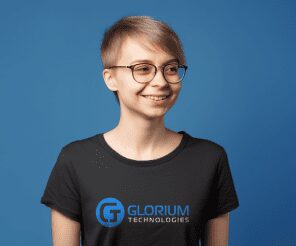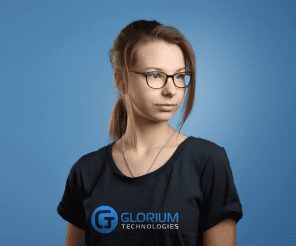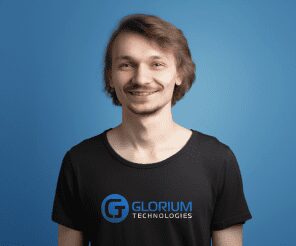 Laravel
MySQL
Codeception
Get Started with Glorium Technologies Android Developers
Simply provide us with details about your company, project, and specific needs, and we'll help you find the perfect developer for your requirements.
BRIEF

We get your requirements

CHOOSE

We send you a shortlist

PLAN

We set the cooperation details

TEST

You interview the candidates

WORK

Your developer starts working
Hiring Process for Dedicated Android Developers
You will take the following steps to choose your dream dedicated Android developer:
LET`S KEEP IN TOUCH
Share the Brief
Give us a description of your project, and we will suggest top remote Android developers from our pool
Get your plan
We set cooperation details like developers' scope of work and the time frames at this stage
Scan Android developers
We usually have more than one option of dedicated Android developers for your project
Run the tests
Check your developer's coding skills with any reasonable qualification test
Hire your Android developer
The developer will remain our employee, but you will have full control over their work
Our Clients Say about Us
They're truly exceptional.

Joshua Haselkorn,
Co-Founder, Turtle Health
Excellent experience from both professional expertise and customer experience perspectives.

Ingrid Vasiliu Feltes,
CEO at Softhread
Their punctuality and delivery capabilities were exactly as advertised.

Yayoi Sakaki,
CEO, Project Ipsilon B.V.
Who We Are
Glorium Technologies is a top-shelf bespoke software development company boasting 100+ deployed products.
Since 2010, we have created adaptable and scalable solutions and helped innovators turn their ideas into products. Whether you need help with custom software development, product design, or product launch, we are ready to guide you through the entire process.
Why Choose Us
200+
skilled professionals
99%
client satisfaction rate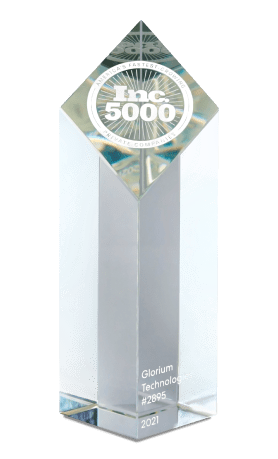 We were named to Inc.500 (2020, 2021,2022, 2023) & Regionals Northeast (2021, 2022) Inc. 5000 Fastest-Growing Private Companies in America.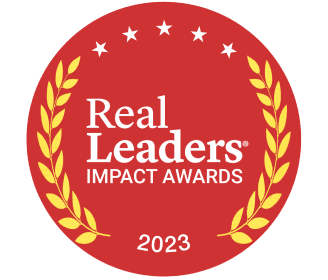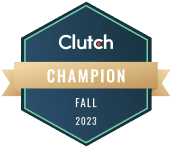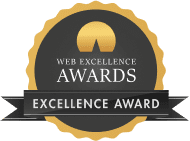 Featured on

Questions You May Have
What to know before hiring a dedicated Android developer?
Before hiring a dedicated Android developer, it is crucial to consider their experience and expertise in developing Android applications, ensuring they have a strong portfolio of successful projects. Additionally, assessing their knowledge of the latest Android development tools, frameworks, and programming languages, such as Java and Kotlin, is essential to ensure they stay up-to-date with industry standards.
What are the main responsibilities of a mobile app developer?
The main responsibilities of a mobile app developer include designing and building mobile applications for various platforms, such as Android or iOS, based on client requirements and specifications. They are responsible for coding, debugging, and implementing app features, ensuring the app's functionality, usability, and performance.
How do you hire a remote Android app developer?
When hiring a remote Android app developer, it is essential to define your project requirements clearly and outline the specific skills and experience you are looking for in a candidate.
You can start by posting the job on reputable job platforms or seeking recommendations from trusted sources. During the hiring process, it is crucial to conduct thorough interviews, review their portfolio and past projects, and assess their communication and collaboration skills to ensure a successful remote working relationship.
What do Android developers need to know?
Android developers need to have a strong understanding of programming languages such as Java and Kotlin, as these are the primary languages used for Android app development. They should also be familiar with the Android SDK (Software Development Kit) and have a good grasp of the Android operating system's architecture and components.
Why should you hire a mobile app developer?
Hiring an Android app developer ensures specialized expertise in Android-specific development, optimizing your app for the platform. By entrusting the development process to a professional, you save time and can focus on other aspects of your business.
What to look for when hiring an outsourced software development company?
When hiring an outsourced software development company, look for a proven track record of successful projects and positive client testimonials, ensuring their reliability and expertise. Evaluate their communication and collaboration skills, as effective communication and seamless teamwork are essential for a successful outsourcing partnership.
How many developers do you need to hire for an Android app?
The number of developers required for an Android app depends on the complexity and scope of the project. For smaller projects, a single skilled developer may be sufficient. However, larger and more complex apps may require a team of developers with different specializations, including UI/UX designers, backend developers, and QA testers, to ensure a comprehensive and successful development process.
What is the difference between Android developers and engineers?
Android developers primarily focus on coding and programming Android applications, while Android engineers encompass a broader skill set, including software architecture, system design, and integration. Android engineers may have a deeper understanding of the underlying Android platform and possess a more comprehensive knowledge of software development principles and practices.
How are you going to communicate with me during the process of building my Android app?
We prioritize effective communication throughout the process of building your Android app. We will establish clear lines of communication via email, phone calls, and project management tools to provide regular updates, address any queries or concerns promptly, and ensure a transparent and collaborative development experience.
Our dedicated project manager will serve as your main point of contact, facilitating smooth communication and keeping you informed at every stage of your Android app development journey.
Are you aware of the international standards that come with developing Android apps?
As an outsourced mobile app company, we are well-versed in international standards and best practices for developing Android apps. We stay updated with the latest guidelines provided by Google for Android app development, ensuring compliance with industry standards and delivering high-quality apps that meet global expectations.
Our team of dedicated Android developers follows coding conventions, security protocols, and performance optimization techniques in line with international standards to ensure the success of your app on a global scale.