SEPTEMBER 13
10 AM EST
Navigating the AI Revolution for Healthcare:
Data, validation, and operational gains
REGISTER NOW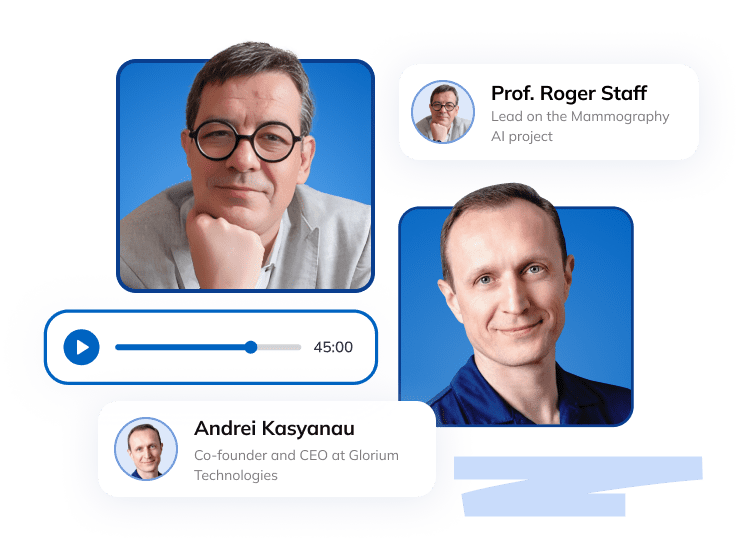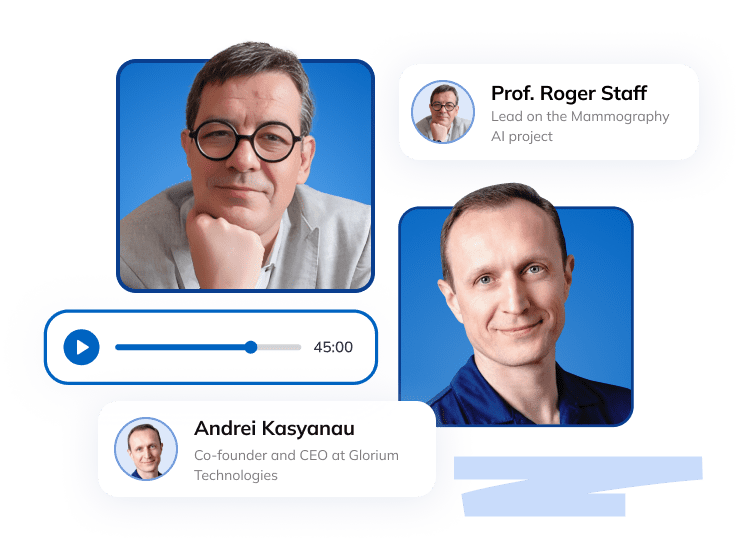 In our webinar, you'll discover
Identifying the obstacles and pitfalls of AI life course
Discussing the importance of data provenance and suitability
Examples of operational gains and their potential downstream erosions
Discussing the human skills erosion that AI implementation may impart
Get the Webinar Materials
About Speakers
Professor Roger Staff
Lead on the Mammography AI project at NHS Grampian
Honorary Professor at the University of Aberdeen
Professor Roger Staff is an award-winning scientist who was born in London and studied physics at UEA. He moved to Aberdeen in 1988 and completed his PhD in medical physics in 1994. He has worked for the NHS since 1991 and currently leads the clinical physics imaging team at NHS-Grampian, along with a number of national roles and responsibilities. He is an active researcher with his colleagues at the University of Aberdeen and other international research groups.
Andrei Kasyanau
Co-founder and CEO at Glorium Technologies
Startup Advisor
Andrei Kasyanau is the Co-founder and CEO at Glorium Technologies. He's also a Startup Advisor with expertise in Health Tech, Real Estate Tech, software development outsourcing, and project management.
Over the past 13 years, Glorium Technologies has risen as a prominent US tech consulting and engineering firm, providing end-to-end digital solutions for Healthcare and Real Estate. This achievement has resulted in its consistent recognition on the Inc. 500 and Regionals Northeast Inc. 5000 Fastest-Growing Private Companies in America lists for four consecutive years, up to 2023.
This webinar is for
Healthcare Digital Product CTO
Healthcare Tech Startup CEO and Founder
Healthcare Digital Product CIO
Testimonials from past speakers regarding our events
ALL REVIEWS
Overall, I would highly recommend this summit to anyone looking to learn more about the latest technologies and best practices in the industry. It was an excellent opportunity to network and learn from the best minds in the industry.

Boaz Brudner
Head Innovyze SaaS Engineering, AI and Chief Architect at Autodesk
I was thoroughly impressed with the level of expertise and professionalism displayed throughout the sessions. The presentation was informative, and engaging, and provided valuable insights into the industry.

Reza Rahimi
Senior Engineering Manager at Dropbox - ML/AI Products