Hire AI Developers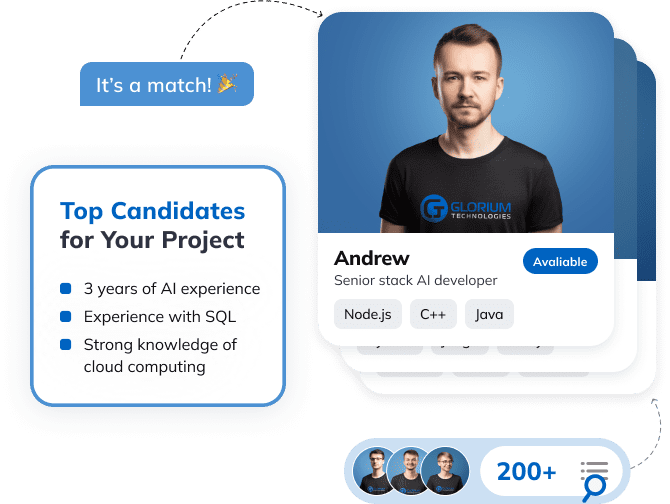 With Glorium's team of experienced and skilled AI development professionals, you can unlock the full potential of AI and bring true transformation to your business.
GET IN TOUCH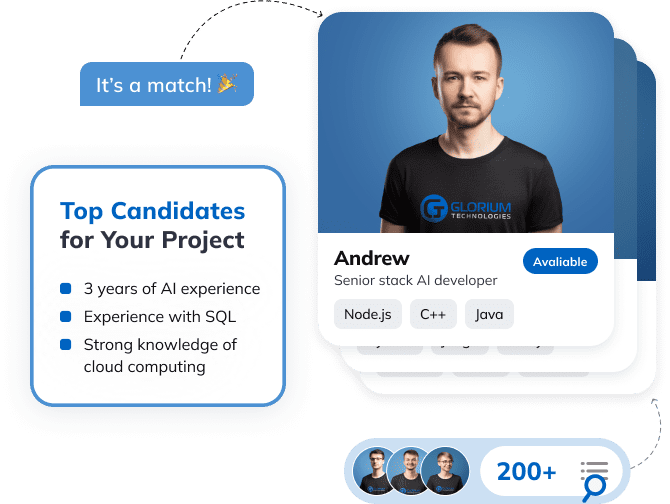 Hire Remote AI Developers for Top-notch Services
Let us help you harness AI's power to drive your organization's growth and success.
Whether you need chatbots, recommendation engines, fraud detection software, or image and speech recognition systems, hire AI developers at Glorium with the expertise to deliver a solution tailored to your business-critical needs.
Our team is dedicated to providing exceptional NLP solutions that cater to your business needs.
We offer various options to hire remote AI engineers for sentiment analysis, topic modeling, content filtering, text summarization, named entity recognition, chatbot, and machine translation.
Hire artificial intelligence engineers at Glorium to upgrade your surveillance and computing systems with a sophisticated computer vision solution.
We propose advanced features such as object detection, image classification, facial recognition, Optical Character Recognition (OCR), and 3D scene reconstruction.
Transform your essential business application by incorporating AI capabilities such as predictive analytics, personalization, process automation, and more.
With these added features, your software becomes a comprehensive AI solution that can propel your business to success.
Cooperation Models We Offer
Whether you're seeking to hire AI developers for your startup or establish a long-term partnership, we will work tirelessly to develop an app that is specifically tailored to your requirements.
Flexible Pricing
We are committed to offering pricing alternatives that are individually tailored to accommodate all specific necessities.
Monthly Pricing Model
If you are in need to hire AI developers who can work with you on a long-term project
Anticipate foreseeable expenses for your project that can be conveniently budgeted
Be at ease knowing there will be no additional administrative burdens to handle
Comprehensive development services are included in the package
Enjoy the flexibility to adjust the team size and scope of work as needed
Hourly Pricing Model
At Glorium, you can hire AI developers as many or as few as you need and only pay for the time spent on actual development.
Experience flexibility with modifiable project scope and team composition
You're only charged for the time dedicated to actual development
No initial fees or obligations for developers
More suitable for short-term projects with indeterminate requirements
Contact us to discuss which pricing model would work best for your project.
Why Should You Hire AI Developers from Glorium?
Without Glorium
Chasing after "expert AI developers" but only encountering a mismatch between their stated skills and actual abilities
Incurring high costs associated with recruitment and training
Diverting a project manager's full attention to the management of several freelancers and agencies
Placing sensitive data at risk due to the involvement of multiple entities
Facing potential delivery failures due to inconsistent contract commitments
With Glorium
Access to top AI developers with experience in multiple industries
Rapid and efficient recruitment and onboarding processes
Streamlined project management marked by clear communication and reporting
Adherence to regulatory standards like GDPR, HIPAA, and ISO27001, thanks to experienced and competent AI developers
Minimized risk of errors and delays, guaranteeing high-quality outcomes and punctual delivery
Get Started with Glorium AI Developers
Looking to engage AI developers from us? Simply furnish details about your organization, project, and requirements. We'll identify the perfect developer for your needs.
BRIEF

We get your requirements

CHOOSE

We send you a shortlist

PLAN

We set the cooperation details

TEST

You interview the candidates

WORK

Your developer starts working
Hiring Process for AI Developers
You will follow these stages to recruit AI developers who most effectively align with your specific needs
LET`S KEEP IN TOUCH
Share Brief
Submit a comprehensive description of your project to us. We will propose the most fitting developers from our talent reservoir who are most capable of fulfilling your tasks
Scan Talents
We typically have multiple skilled AI developers. We'll make certain that you are matched with professionals who can provide top-tier work
Run Tests
During this phase, we evaluate the skills and proficiency of the candidates through various tests and practical assignments
Plan Strategy
We define the details of collaboration (range of work, schedules, and project milestones); if needed, we'll designate a project manager
Hire Talent
After the onboarding process you may start work. You maintain full control over developer's tasks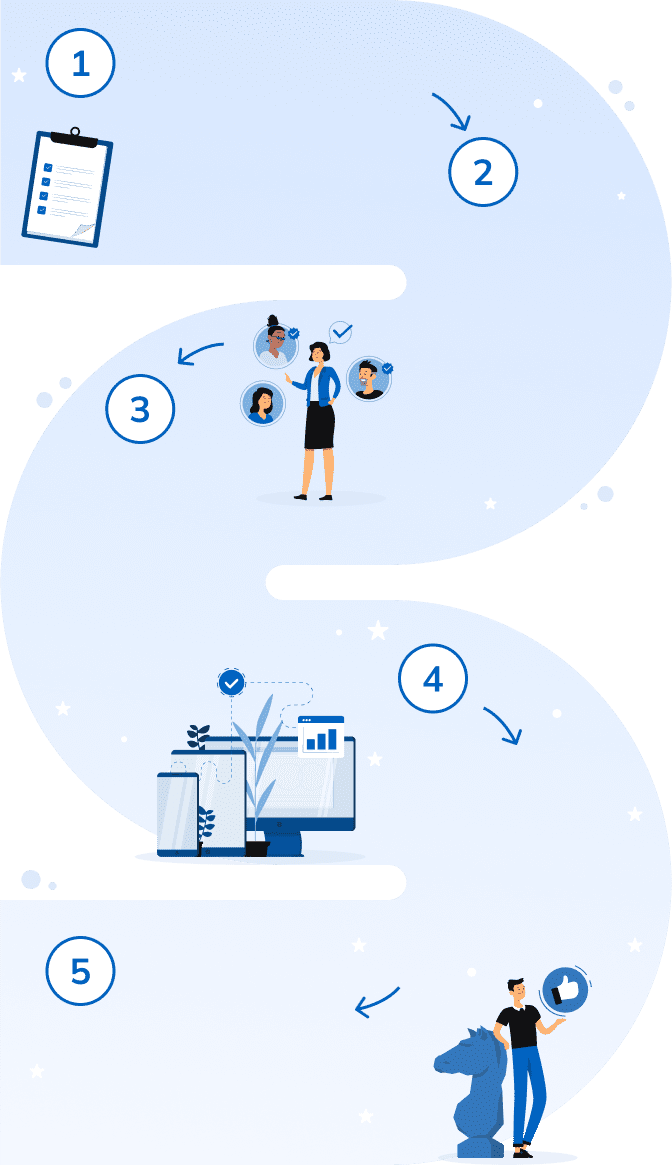 Need help finding your technology?
Our expert development team can bring your project to life with the latest technologies, ensuring a perfect execution every time.
Our Clients Say about Us
They're truly exceptional.

Joshua Haselkorn,
Co-Founder, Turtle Health
Excellent experience from both professional expertise and customer experience perspectives.

Ingrid Vasiliu Feltes,
CEO at Softhread
Their punctuality and delivery capabilities were exactly as advertised.

Yayoi Sakaki,
CEO, Project Ipsilon B.V.
Who We Are
Glorium Technologies is a top-shelf bespoke software development company boasting 100+ deployed products.
Since 2010, we have created adaptable and scalable solutions and helped innovators turn their ideas into products. Whether you need help with custom software development, product design, or product launch, we are ready to guide you through the entire process.
Why Choose Us
200+
skilled professionals
99%
client satisfaction rate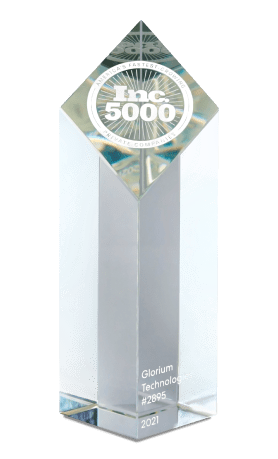 We were named to Inc.500 (2020, 2021,2022, 2023) & Regionals Northeast (2021, 2022) Inc. 5000 Fastest-Growing Private Companies in America.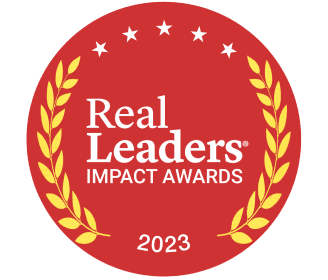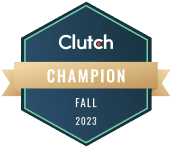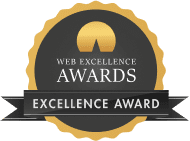 Featured on

Questions You May Have
How can I integrate my applications with AI?
The integration entirely depends on the Language used in your existing application; however, a RestAPI-based URL can be generated and integrated into the application in the same cloud to reduce data transfer issues. Usually, most cloud AI services are used to make it accessible via standard API calls.
How do I hire an AI developer?
To hire AI developers, there are a few steps you can follow. First, define the scope and requirements of your project. Next, research and identify potential candidates through online job platforms, referrals, or professional networks. Make sure to review their qualifications, experience, and portfolio of work. Once you have a shortlist of candidates, schedule interviews to assess their technical skills, communication abilities, and cultural fit with your team. Finally, negotiate and agree on the terms of the contract, including payment, deliverables, and timelines. By following these steps, you can choose AI developers for hire and ensure your projects` success.
Where can I hire an AI engineer?
There are several places where you can hire AI engineers. You can try reaching out to outsourcing companies like Glorium Technologies or staffing agencies that specialize in recruiting AI talent. Another option is to post job openings on LinkedIn, Indeed, and Glassdoor. Additionally, you can attend AI conferences or meetups to network with professionals in the field. It's important to thoroughly vet candidates and ensure they have the necessary skills and experience to meet your needs.
How fast can I hire remote AI engineers?
We appreciate your time and effort, and for that reason, we've streamlined our hiring process. Our manager will have a conversation with you to understand your requirements and provide a curated list of the best AI engineers within two days. Following this, the speed at which you conduct interviews and bring the developer onboard is entirely up to you. After a successful match, our committed AI engineers are typically ready to start work within three to five days. However, due to the high demand for their expertise, we recommend starting and concluding the hiring process at the earliest opportunity.
Do you offer a trial period if the AI developer's performance does not meet my expectations?
Yes, we have a free trial policy in place that allows you to evaluate the developer's work in detail. If you are satisfied with their performance, we can proceed with the engagement. However, if the developer does not meet your project requirements, we will facilitate a transition to another high-quality AI developer, with a second trial period offered for your satisfaction.