Did you know that 48% of users consider website design and usability to be the main criteria for trusting a company? And 38% of potential customers will leave your site if they are unsatisfied with its functionality and design?
That is why frontend development, or client-side programming, plays such an important role in software development.
Front-end development — creating a part of a web app that users see when they open its page. Do the buttons and text on a site overlap? Do they perform their functions? It is the issues of web layout and client-side functionality that are within the jurisdiction of a frontend developer.
Besides basic tasks, the good front-end developer should understand some internal system content, i.e., the essence of back-end experts' work. And not to be a dilettante in UX development, that is, to understand how the interaction between a user and software takes place.
As for the hard skills of these programmers, the main ones are JS, HTML, and CSS. But to create user-friendly, memorable user interfaces, you not only need to master one of the above-mentioned programming languages but also be able to choose the right tool to implement the requirements of a project.
In this article, we will talk about the potential of Angular JS, where to find good angular developers, and what to consider when hiring them.
Angular JS: What It Is and Why Use It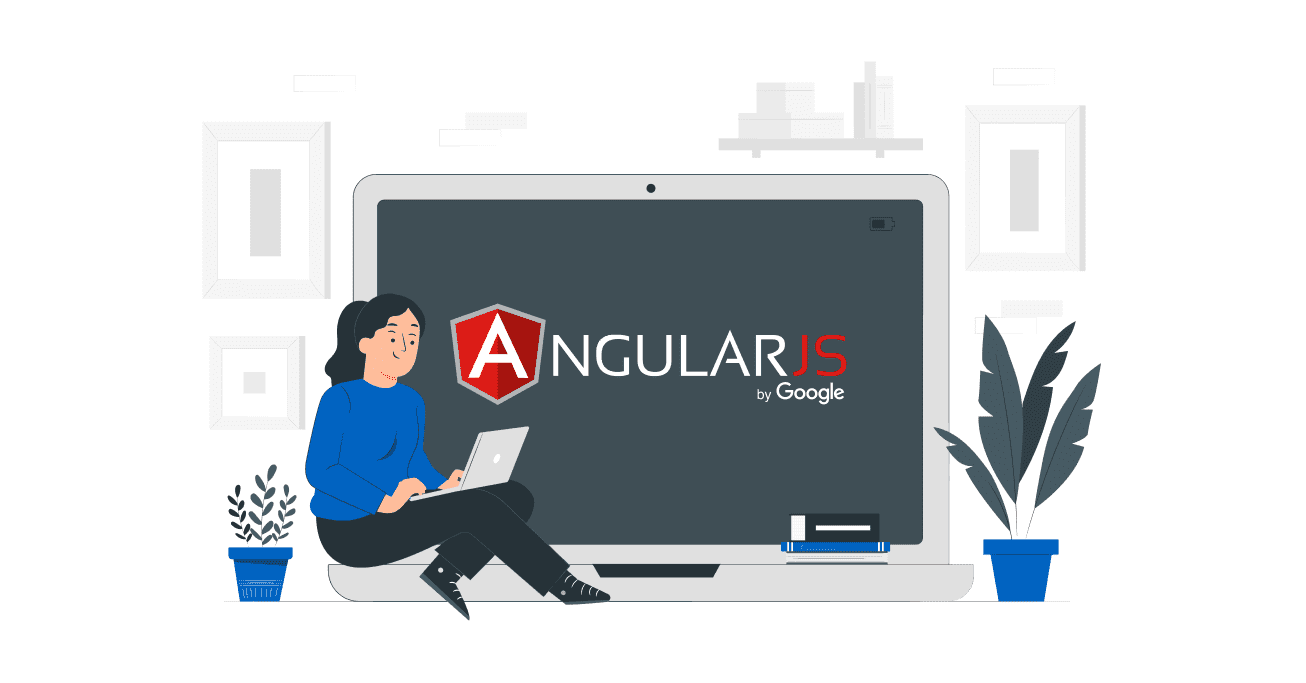 Angular JS is an open-source framework created by Google to develop web apps and websites based on a single HTML document as a shell for all pages – the so-called single-page apps.
Fast writing of easy code and simplified testing are the benefits that web developers get, thanks to the peculiarities of working with this framework. It is based on a Model-View-Controller scheme which breaks an app into three components. Each can be modified independently of the other two.
Benefits of working with the framework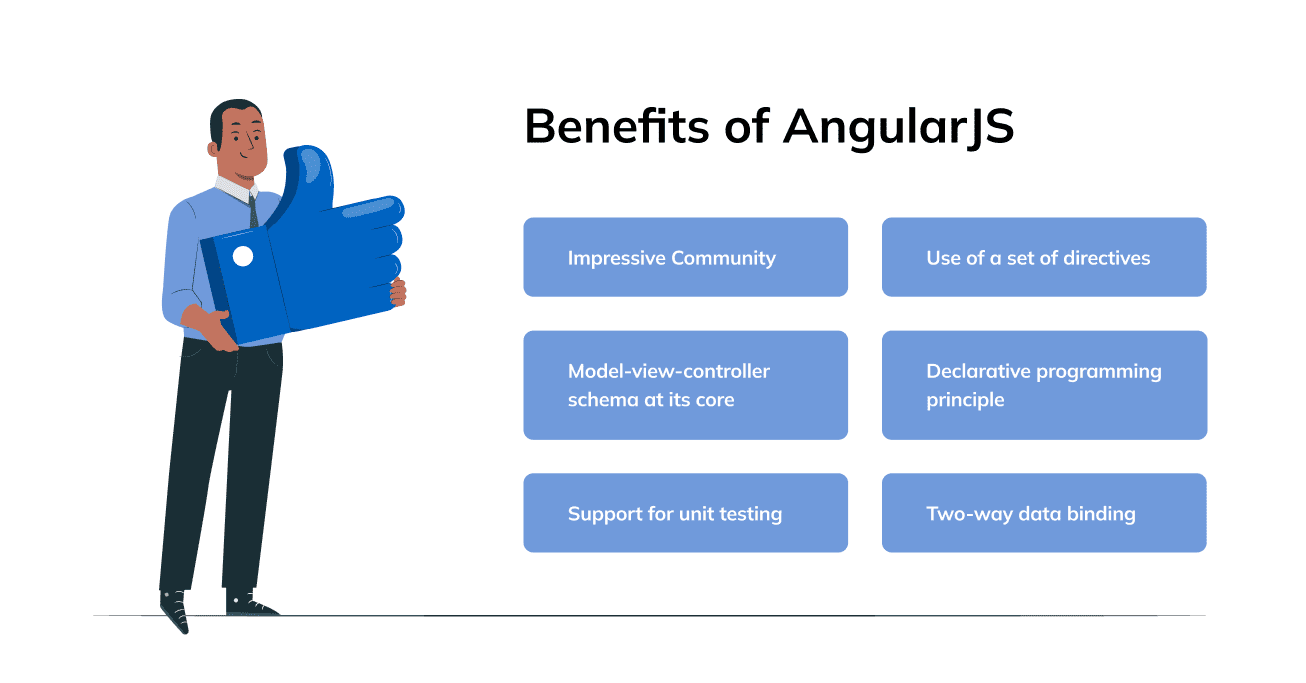 According to GitHub ratings, Angular JS holds the first position in terms of popularity among developers year after year. What explains such wide recognition?
Impressive community. It includes not only the permanent members of the team but also those who want to contribute to the product development because, remember, this is an open-source framework. It is constantly discussed in thematic IT resources on the issues of Angular JS conferences and meetups are regularly held, and many books and online publications are written about it. All this helps specialists who choose in its favor always be on the crest of a technological wave and deliver the most advanced solutions to their clients.
Declarative programming principle. This means that the code in Angular JS describes not all the methods of achieving the desired result but only the original problem and the desired end result. This makes the code easier to read.
Using a set of directives. This allows the framework for creating dynamic Angular JS apps to use the language for static HTML documents by extending its syntax. The result is a significant increase in productivity and improved code readability.
Two-way data binding. This technology allows automatic synchronization of data changes and their display on a screen (in the user interface).
Unit testing support. Program testing is an important part of SDLC and often leads to an increase of development time and cost of the project as a whole. Angular JS offers an alternative to creating individual test pages. The framework allows you to simulate user actions and evaluate how your app responds to them.
All of this makes Angular JS the best way to develop CRUD apps, which is what the vast majority of web apps are.
Angular 2 — Another Version or a Brand New Solution?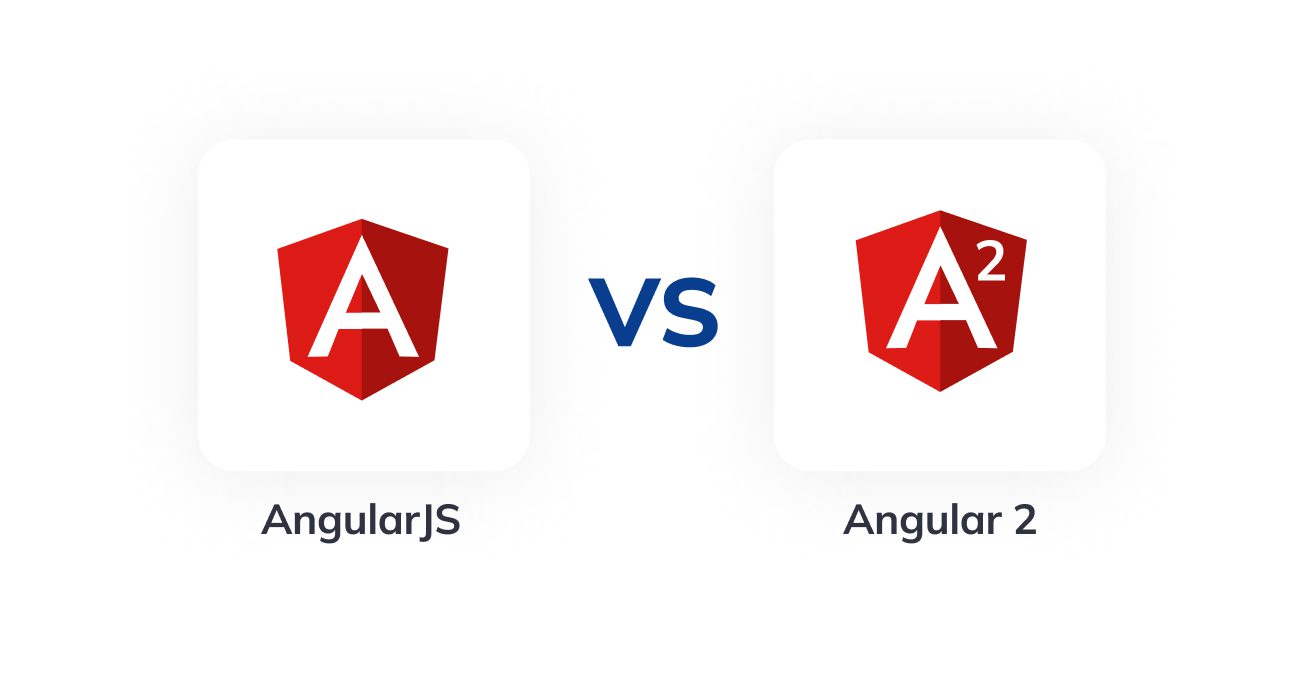 When choosing a framework for developing the required software, you should pay attention to the fact that Angular JS (2009) and Angular 2 (2016) are not two versions of the same framework, but fundamentally different web application development environments.
So saying that Angular JS is outdated is wrong. Developing apps in this environment is still cool! This means that Angular JS developers are still relevant and in demand.
Angular JS use areas
Each environment for software development, no matter how great it is, is chosen depending on what tasks need to solve by the developers. So, Angular JS is not suitable for creating small sites with static content – educational resources without dynamic content, event pages, etc.
Startups and projects with limited budgets are also better to go to another techstack. But apps that require complex DOM manipulations, such as games or interface editors, also require another framework, such as jQuery.
As for the database-driven web apps, Angular JS is exactly what you need. It will perfectly meet the development needs of such software:
Video streaming apps. One example of such a web resource is the Sling TV service. It supports online streaming as well as query-based video search. Netflix, a world-famous streaming service, is developed with the help of this environment.
E-commerce programs. For example, with the help of Angular JS was created e-commerce site, Sherwin Williams, specializing in paint and varnish materials. The web app not only provides a high level of customer service but also helps build partnerships between contractors and customers.
Online data apps. For example, web apps are developed using this framework to track weather changes. Angular JS makes it possible to dynamically display information in real-time. An example is The Weather Channel from IBM.
Enterprise solutions. Flexibility and simple scalability are the requirements for corporate apps, which are fully met by this framework.
Dynamic news resources. Regular updates of current news articles, a list of the most-read materials provided to readers, notifications of upcoming events, video content – all this becomes available with web resources developed in Angular JS. Want to see what it looks like? Visit one of the world's websites built in this environment like Cricbuzz or StarTribune.
Also, hire Angular JS developers for creating narrowly-specialized programs and migrating outdated software. Modern technological capabilities of the framework allow you to fulfill any business requirements and increase the functionality and performance of your apps.
What Should an Angular Developer Be Able to Do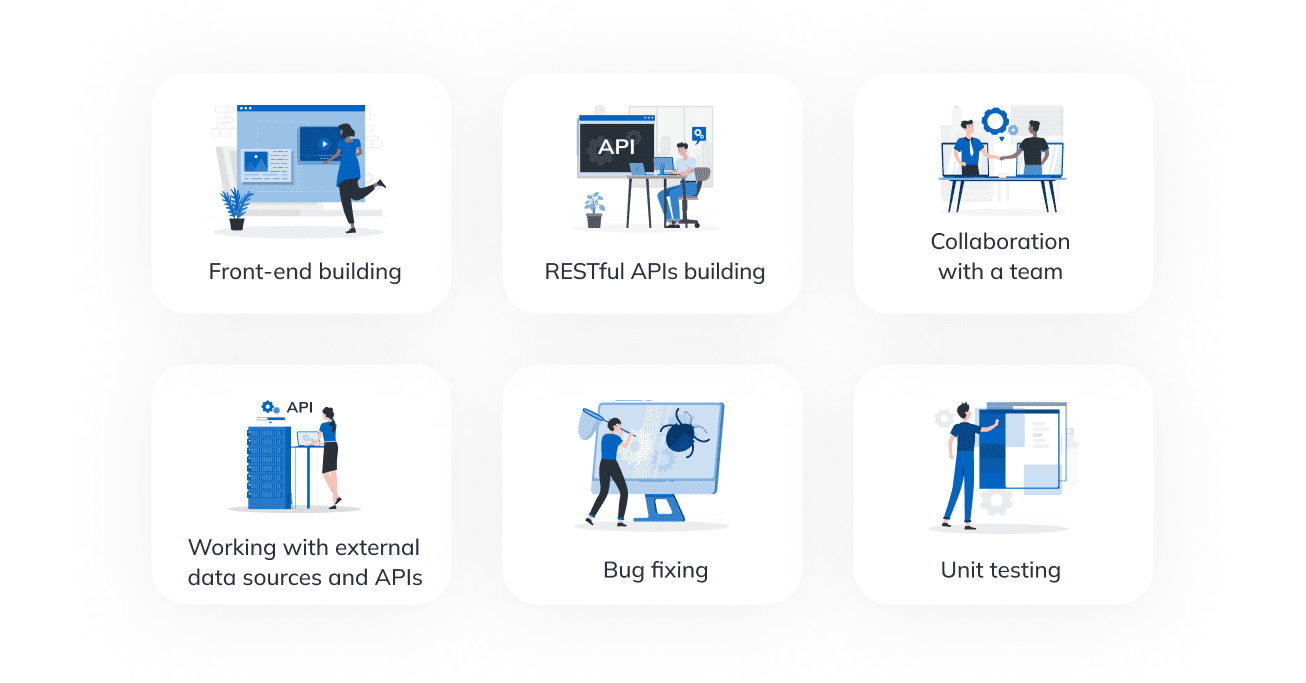 Considering the fact that Angular JS framework is fundamentally different from other Javascript frameworks, when looking for a specialist in this field it is important to consider their experience – only successful cases in a developer's resume can guarantee their deep knowledge to create a high-performance, high-quality web program.
If you want to hire a good developer who will get the job done right the first time, pay attention to their knowledge of basic JS, CSS, and HTML programming languages. The candidate's experience with REST APIs, understanding of UI/UX designers, and experience interacting with the backend team will be clear advantages.
Area of responsibility of JS developers specializing in Angular
When choosing such a developer, rely on the fact that they will perform the following functions:
Development of the web app's external interface. It should be bright, dynamic, interactive, and memorable. In short, one that will attract new users and keep existing ones.
REST API creation. This is where experience in collaborating with backend developers comes in handy. Without such cooperation, it is impossible to check whether an app complies with the technical specifications.
Writing the code in JavaScript, HTML, CSS. Notably, the written code must be readable and easy to test.
Working with external data sources. Good Angular JS developer should have no problems with API and data extraction from external sources.
Bug fixing. Once the front-end development is complete, testers check the program for bugs – various types of tests are performed, including regression, integration, acceptance tests, and others. The developer must eliminate the bugs found within a short time frame. There can also be a situation when you have to work with previously written code which can also contain errors.
Unit testing. This type of testing is also the responsibility of the Angular JS developer, especially since its tools are already integrated into the framework.
Skills of specialists vary depending on the framework version, experience in developing various apps. Therefore, value your time and the time of the candidates – clearly specify the requirements for a potential employee.
If you are planning to hire dedicated angular developer, give an outsourcing provider as comprehensive a list of required qualifications as possible. These include hard and soft skills.
Hard Skills
Knowledge of JS, HTML, CSS, TypeScript, and other programming languages, as well as the JS library.
Experience with CSS preprocessors LESS and Sass.
Ability to apply JS build tools.
Knowledge of AJAX approach to building interactive user interfaces of web apps.
Knowledge of SEO-optimization basics.
Ability to create attractive visual effects for users and manage frame rate (FPS).
Performing unit testing.
Depending on the project requirements, the following skills could be an advantage:
Experience with Database design, microservices.
Cloud platforms experience. AWS, GCP.
CI/CD. Understanding, usage.
Agile. Principles and processes.
Socket management.
Putting DRY, KISS, and SOLID development principles into practice.
English at least at B2 (Upper Intermediate) level is a requirement for all Angular JS developer vacancies.
Soft Skills
In addition to hard skills, it is important to pay attention to soft skills. It will help to choose employees according to their upcoming role – e.g, you can pick a good team player or an experienced team leader. Pay attention to the following soft skills:
Performing a wide range of complex technical or professional acts in a variety of contexts. Researching, identifying, and solving complex issues.
Ability to work effectively in distributed cross-functional teams.
Ability to influence clients and team members at the project level.
Ability to supervise others or make decisions affecting work assigned to individuals or project phases.
Experience in competent planning, scheduling, and supervision of one's own work (and others where applicable).
Ability to learn (willingness to be challenged and change).
This list may be expanded or shortened at the discretion of each employer.
Hiring Angular Developer: 3 Basic Steps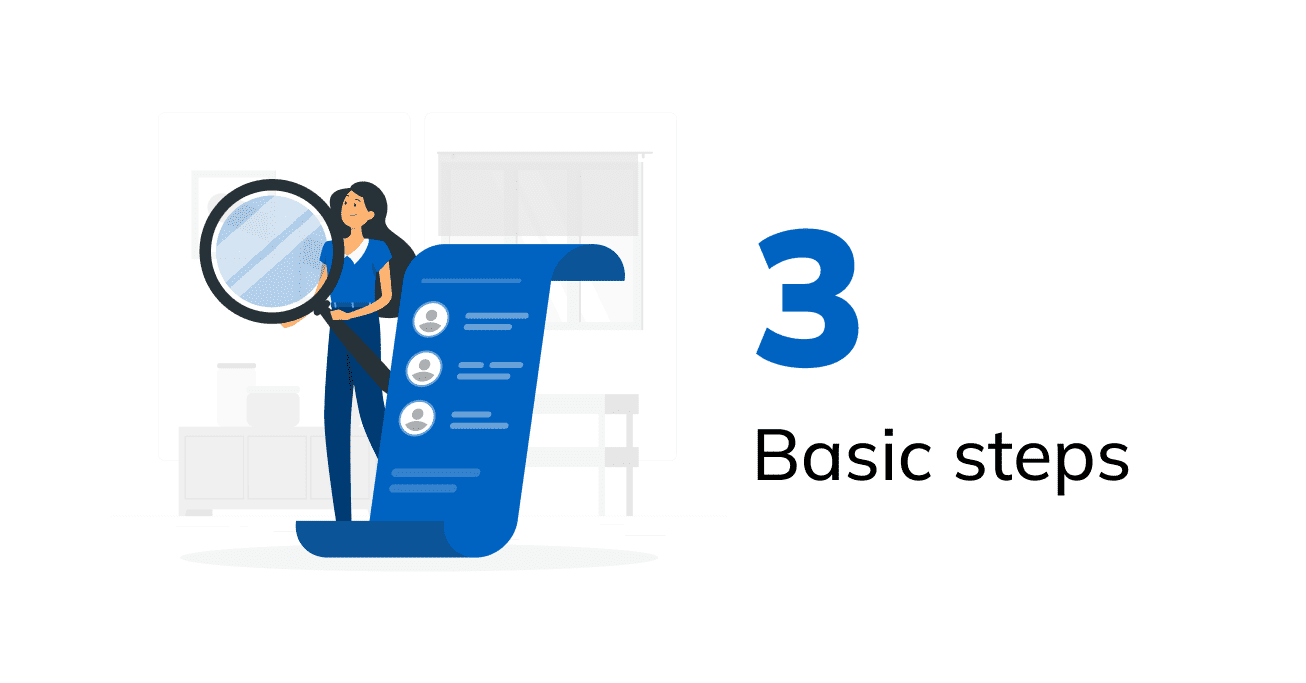 To select a specialist without unpleasant surprises, set a clear plan of action before starting the search.
Formulate for yourself the main project goals.
Think about expectations from the new employee, outline the deadline for completing the tasks.
Describe the work to be done.
Using the previous point, describe in detail what is to be done – so the recruiter or outstaffing company will find a professional who best meets your needs.
Prepare a list of questions for an interview.
If you decide to turn to outstaffing to find a developer, be aware – many providers of such services allow clients to independently verify the candidate's qualifications. So prepare in advance.
Questions that will help reveal the applicant's actual experience:
What is Angular JS?
What is your experience with this framework?
What are your strengths and weaknesses in working with this development environment?
Tell us about the components and modules in Angular JS.
Have you dealt with fixing bugs in your Angular JS app? How did you do it?
Explain the differences between Angular JS and Angular 2.
Talk about positive and negative experiences writing code in Angular JS.
Describe a project in which you used Angular JS. Was it successful? Tell about all its successes and failures.
Explain the files tsconfig.json, package.json, app.module.ts, etc.
These questions will help assess the personal qualities of the developer:
Give an example of your behavior in conflict situations.
How would you characterize your communication skills?
Do you consider yourself a team player or prefer independent work?
Has there been a situation in your practice that required independent decision-making? How did you handle it?
Assess your ability to adapt to a new team.
Do you have your own success strategy?
How do you handle/plan to handle the challenge of different time zones and cultural differences? (for offshoring)
You are now fully prepared to find a specialist in Angular JS development. All that's left to do is to determine what employee search channels exist and which one is right for you.
Selecting a Search Channel and Hiring an Angular JS Developer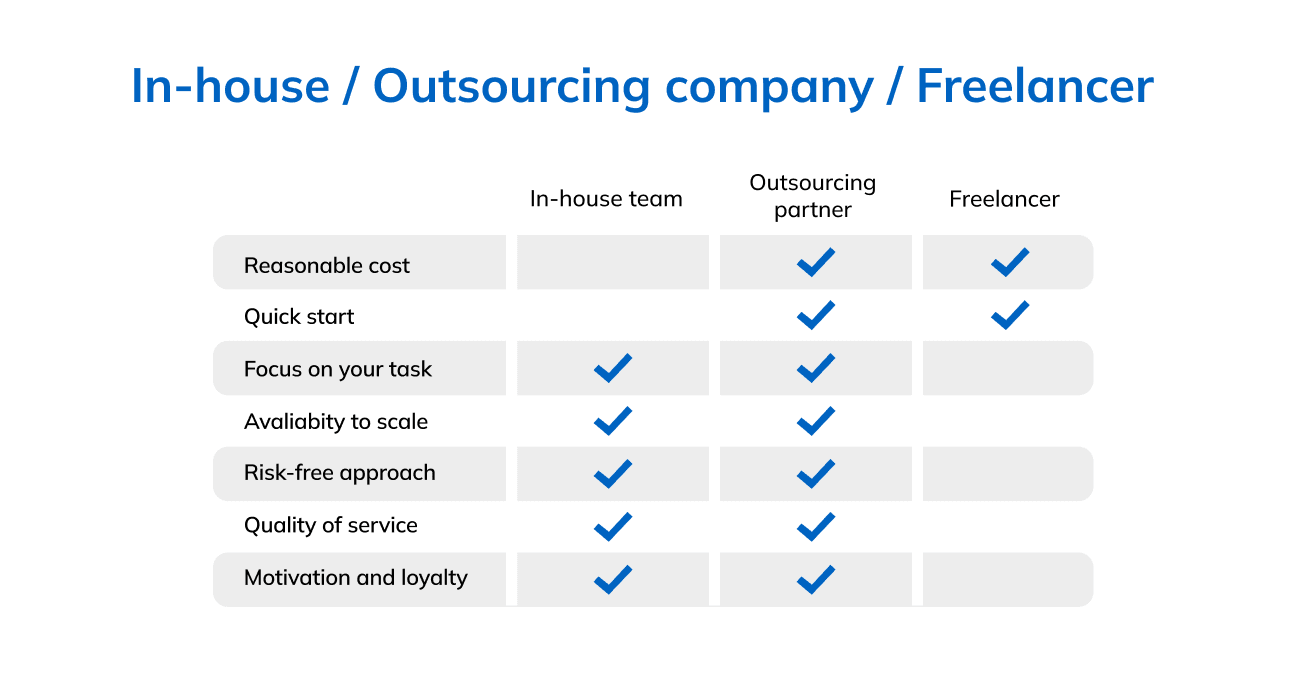 The times when the search for the right employee was handled by a company's internal HR department, and a newcomer was necessarily hired as a staff member, are far behind us. Today you have several hiring options: hire a developer on staff; use freelancers' services; or give your project to an outsourcing company, relying on a dedicated Angular JS Developers team.
Let's explore the advantages and disadvantages of each of these channels.
Hiring an in-house developer
Creating your own development team is advisable if your project is non-standard, or if you are the founder of a startup. Long-term cooperation is expected with in-house employees, which includes not only program creation, but also its support after release.
Advantages:
You have full control over the development process, your employees are available 24/7.
No communication difficulties in a team whose members know each other well.
No language or time barriers.
Disadvantages:
Additional costs for monthly salaries, office rent, and taxes.
Lengthy recruitment – you will have to select your own staff, arrange interviews and approve/disapprove candidates.
The adjustment of new employees. As in the case of outstaffing, new full-time employees also need a lot of time to get acquainted with the team and learn to work together.
You can look for a full-time Angular JS developer on your own or turn to professional recruiters. However, paying for the services of specialized recruiting agencies is an additional expense that may not be included in the project budget.
Freelance services
Freelance developers are specialists who work for themselves and usually offer their services on special freelance resources.
Advantages:
Prices for the services of such specialists are more affordable.
The optimal option for creating small websites and other specific tasks.
Disadvantages:
It is almost impossible to assess a freelancer's qualifications on your own if you have no coding experience.
This format of remote cooperation cannot guarantee the developer's responsibility – the project may be at risk of failure.
One freelancer cannot understand UI/UX design, frontend, backend, testing, etc. Multiple IT professionals will have to be hired. There are difficulties in communication and management of such a "team".
Still, if you have decided to involve remote workers in your project, it is better to use the services of special companies that select outsourcers. Why? Let's look into it.
Outsourcing projects
Cooperation with an outsourcing service provider implies the transfer of the entire project to third-party developers or the involvement of dedicated specialists in your team. By choosing a proven provider, you can be sure of the quality of the work done, since the developers are chosen directly for your project and meet its requirements as much as possible.
Other benefits of working with dedicated specialists:
Increased development speed. Finding a dedicated developer takes much less time than hiring a permanent employee on staff. Plus, if the outsourcer has experience working on projects in the same field as yours, the SDLC can be reduced by up to 30%.
Budget savings. Companies that outsource often choose foreign specialists for their clients. And given the fact that the hourly cost of services for developers, for example, from the U.S. and Eastern Europe may differ by $50 or more, this contributes to a significant reduction in the project cost.
Post-release support. It is possible to agree with an outsourcer on long-term cooperation, which does not end with the product's release. If any modifications are required, the dedicated developer will carry them out quickly and without a complete rebuild, since they have all the necessary tools to do so.
Along with the obvious advantages, outsourcing also has some difficulties:
Communication problems. Even if hire Dedicated Angular JS Developer in their country, it will take time for them to fit in and communicate fully with the in-house team. The situation is exacerbated by the expansion of the staff with foreign specialists. Language barriers, time differences, and cultural differences may become a real stumbling block for fruitful cooperation.
Loss of control over the project. If you choose not to expand your staff, but to outsource the entire project, the development will be managed by the provider company. You will not be able to control the process and monitor the quality of your product.
Information security risks.Information needed to work on the project will be shared with third parties – outside developers. You run the risk of a data leak. Therefore, when drawing up a contract with a provider, it is important to discuss the issues of intellectual property rights protection.When selecting a provider, collect information about it online, contact its actual customers, and ask them to comment on their experience with the company. Choosing a trusted provider will protect you from all of the above risks and help you create a quality product.
Angular JS Developer Costs: Where Is It Cheaper?
The advantage of hiring a dedicated developer is that you are not limited to your own country. Engage specialists from abroad – given the difference in the cost of their services, this way you can save significantly on development costs.
So how much do Angular JS developers get paid in different countries of the world? A detailed analysis of the market has highlighted some average numbers: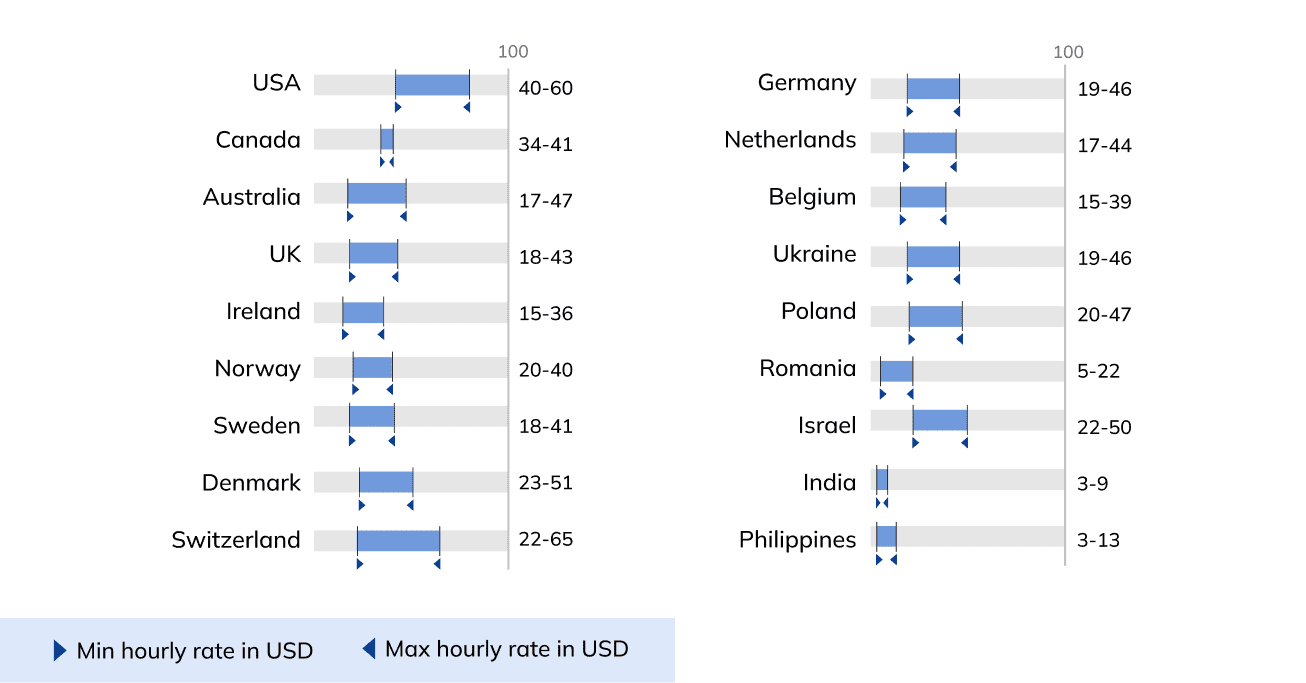 In addition to the country, the cost of Angular JS programmers is influenced by the region of residence and work experience. The maximum salary is paid to developers from metropolitan regions with more than 5 years of experience.
Conclusion
Do you want to hire an experienced Angular JS developer? You should not save on the quality of your future software by entrusting its development to untested professionals.
But it is not always reasonable to hire a new employee. The best option is to turn to an outsourcing service provider. Glorium Technologies will select a developer for you, whose qualifications are strictly matched with the project requirements.
With us you will get an app that will win the hearts of users with its convenience, design and functionality.
FAQ