For the successful development of business, to ensure regular interaction with customers, and improve working conditions for employees, owners are increasingly implementing enterprise software.
The growth of the enterprise software development market is because each company or corporation has its own unique business processes. Therefore, a ready-made solution does not always meet these specific needs. Thus there is a need to create personal systems considering all peculiarities and lines of business.
In this review, we will consider in detail: what enterprise software is, what advantages and weaknesses it has, what you need to know about the process of its custom development, and also give examples of trends that await this sphere in the near future.
Why Do Businesses Need Enterprise Software Development?
In the context of global digitization, various apps and programs are becoming an integral part of a successfully developing business. They help optimize company operations, improve customer service and automate manual processes, thereby reducing human error. All this has a positive impact on the profitability of the organization and its rating among consumers. These apps include enterprise software as well.
According to the ERP report, top reasons for choosing enterprise software is supporting growth, functionality and efficiency of all processes.
Businesses can choose custom or off-the-shelf enterprise software. Custom business software is designed to serve a large number of users. Therefore, it is highly scalable and integrates easily with other apps and systems.
Off-the-shelf enterprise software helps automate core business processes but can be inefficient when a company expands or has unique operations. The problem of product scalability can negatively affect the organization's operations and lead to additional financial expenses.
If you're constantly looking for ways to streamline your business operations and stay ahead of the competition, custom software is a great option. Custom enterprise software is developed for the processes of a particular company and is easily supplemented with new functions if needed. Off-the-shelf software often causes problems during scalability and contains only standard functions for business operations.

Anna Vozna

Client Success Manager, Glorium Technologies
What Are the Benefits of Enterprise Software
As custom enterprise software is designed specifically to meet the needs of your business. And it's not all that you can expect from custom enterprise software development.
Let's consider in more detail the advantages of developing corporate systems and apps for a particular company.
A general view of the company's activities: Enterprise software is built to manage the entire organization, containing reporting, business intelligence, and other data in one system. This helps you track performance in different areas in real-time and don't spend hours retrieving information from individual systems.
Standartization of business processes: The software configures algorithms to perform various operations, which makes staff more productive. Standardizing processes also helps to perform tasks more quickly, increasing the entire company's efficiency.
Cost cutting: Enterprise software development and its implementation require financial expenses, which are sure to pay off in the future. For example, a personal enterprise solution automatically adds information to the customer base and reduces the risk of errors. This contributes to better and faster customer service, leading to increased company profitability.
Scalability: Businesses can expand, which will cause them to need additional tools to support their operations. They need to be implemented quickly and easily so that the company doesn't suffer from downtime,
Leading to reduced profitability: That's why reliable enterprise software always has the property of scalability.
Increasing competitiveness: Structured reporting and the ability to observe the work in real time allow you to work out a promotion strategy, optimize the performance of tasks by employees, improve customer service, etc. All this contributes to the competitiveness of any company, regardless of its field of activity.
In addition, the advantages include the fact that custom enterprise software is fully owned only by the customer company. Other users will not be able to access the system and, therefore, will not burden it. Both in-house IT specialists and third-party contractors can set up or provide technical support.
What Tools Does Enterprise Software Include?
Depending on the company's specifics, software creation will be based on the customer's individual requirements. Nevertheless, there are also those standard processes that most organizations perform.
To get a really effective solution for business, it is important to understand what tools should be included in the corporate software. Based on the years of experience of our specialists, we allocated the most popular tools, which custom software should have:
Business analytics: Helps to analyze and manage data, monitor and report, visualize and share statistics with different company departments.
ERP system: Designed to plan and manage company resources. Its components allow you to manage supply chains, financial operations, warehouses, personnel, and supplier relationships. It also integrates data from disparate enterprise apps into a single system.
Online payments: This tool closes the need to use third-party services for financial transactions. Companies ensure reliability for themselves and their customers when paying for services or goods by having their own payment solution.
Corporate messenger: Despite the popularity of social networking apps, messaging via corporate messenger has advantages. It allows you to exchange documentation without the risk of information leakage, get answers quickly and open group chats on individual projects.
CMS system: A content management system that allows you to create, publish and manage information on a company's website or social networks. It is an important tool for building marketing strategies and advertising campaigns.
PM system: This is a project management software that helps you organize your team's work to get it done on time and within budget.
CRM system: Manages the organization's interaction with customers. It contains databases, tracks staff performance and customer behavior at different sales funnel stages, helps shape marketing campaigns, and optimizes customer service.
Why do companies prefer to build Custom CRM? Read more about features of custom CRM and how to create your own CRM.
All these tools are only a small part of the features that can be implemented in custom enterprise software. You need to analyze your existing software to list all the necessary components. It is also important to determine the goals and business needs the selected tools should cover.
Trends in Business Software Development
With the rapid development of technology, it is important to follow trends in order to create a truly relevant product that will best meet the needs of business owners and their customers.
More and more often, custom enterprise software development is carried out using innovative technologies. Let's look at what trends await us in the coming years.
Artificial Intelligence (AI) with Machine Learning (ML)
The development of AI is gradually eliminating the need for people to perform simple, one-size-fits-all tasks. This frees up time for more important activities.
Artificial Intelligence is a system (or machine) that allows the simulation of human behavior to perform various tasks. Machine learning is part of this system and is responsible for transferring the data that the AI needs to learn.
Systems built on AI with ML in the context of enterprise software allow:
generate personalized offers for customers;
use chatbots to support communication with consumers;
make it easier for HR managers to select candidates by automatically rejecting irrelevant resumes;
use voice assistants (robots) to process voice messages;
select individual content (photos, videos, articles).
As statistics foretell, AI will not lose relevance in the coming years. In this regard, more and more specialists are focusing on the possibilities of artificial intelligence in the development of software for business.
Cloud computing
Gartner predicts that cloud computing will be worth $354.6 billion by the end of 2022. This popularity is due to the vast opportunities for storing and processing large amounts of data.
Enterprise software development using cloud technology has some advantages for companies:
budget savings since cloud solutions do not require the purchase of physical servers;
rapid deployment and access to their own compute servers;
simple process of scaling and obtaining computing resources in the required quantity;
24/7 access to the system from any device connected to the Internet;
high resistance to hacker attacks due to the use of proven security protocols;
reliable storage of information, as the provider regularly creates backup copies of all data contained on the server.
Thus, business owners who use cloud technology get the most practical and fastest option for digitizing their own enterprise.
Internet of Things (IoT)
The Internet of Things is a variety of physical devices that communicate with each other through a network connection. They can be used in any field that lends itself to automation and requires remote monitoring of processes.
In the business sphere, IoT is actively spreading in industrial enterprises for remote control of equipment and supply chains. Statistics also confirm the growing popularity of IoT for business. Statista predicts that global IoT spending will be $1.1 trillion by 2023.
Blockchain Technology
Blockchain is used in enterprise software development as a secure environment to keep track of all company transactions. The implementation of this technology creates a shared list where the business owner and each of their partners can monitor financial transactions in real-time.
Blockchain technology helps build transparent and reliable payment registers. This reduces the cost of third-party services, enables new ways to generate revenue, and minimizes the risk of fraud. That's why they are being actively implemented in the corporate systems of progressive organizations.
Big Data
Big data is an ever-increasing amount of information that comes from various sources, as well as the tools, methods, and approaches for the rapid processing of the information collected. Big data has three main properties: variety, high arrival rate, and large volume.
Custom enterprise software uses big data as a set of technologies that perform such tasks:
processing huge amounts of information that conventional systems cannot cope with;
handling data when its volume constantly increases;
processing of ordered and disparate data both in parallel and in turn.
Big data analytics enables the prediction of the results of strategic decisions, significantly reducing the company's risks. It also provides enterprises with a high optimization level by identifying patterns used to improve productivity.
Custom vs Off-The-Shelf Enterprise Software
When it comes to selecting software for your enterprise, you have two options: off-the-shelf software or custom software development. While off-the-shelf software may be readily available and have lower upfront costs, it may only sometimes meet your specific business needs. Here is where custom software development comes in. We'll explore the differences between custom and off-the-shelf enterprise software.
Off-the-Shelf Enterprise Software
Off-the-shelf enterprise software refers to pre-built software applications that are designed to meet the requirements of a wide range of businesses. One of the main advantages of off-the-shelf software is its low cost and ease of access. These software packages are readily available for purchase and can be installed and deployed quickly. Additionally, off-the-shelf software often comes with user-friendly interfaces and documentation, making it easy for businesses to adopt and use.
An example of off-the-shelf enterprise resource planning (ERP) software is Oracle, which offers a range of pre-built features and functionalities for businesses.

However, off-the-shelf software can have some drawbacks.Off-the-shelf software may be challenging to customize. You may be limited by the features and functionalities offered by the software. It can result in companies needing to change their workflows and processes to fit the limitations. In addition, off-the-shelf software may offer a lower level of security than custom software development.
Custom Enterprise Software
On the other hand, custom enterprise software is designed specifically to meet your business needs. You can tailor the software to fit your workflows, processes, and business goals. Custom software is often built from scratch or using pre-existing frameworks or platforms.
While off-the-shelf software may be less expensive upfront, custom software development offers a range of benefits. Here are a few reasons why custom software is often the better choice:
Tailored to your needs: By customizing the software to fit your particular requirements, you can optimize the use of technology in your business, streamline workflows, and improve overall efficiency.
Scalability: Off-the-shelf software can be limiting in terms of scalability. On the other hand, custom software is built with your business growth in mind. It can be designed to accommodate growth and handle larger data sets, users, and transactions.
Better security: Custom software development can offer better security than off-the-shelf software because custom software is designed with security in mind from the outset and meets your specific security requirements. With custom software, you have control over security protocols, access controls, and data encryption.
Competitive advantage: Custom software development can provide a competitive advantage. By designing software that aligns with your unique business needs and goals, you can differentiate yourself from competitors and gain a competitive edge. Custom software can also help you streamline processes and reduce costs, which can help you to remain competitive in your industry.
While off-the-shelf software may seem appealing due to its affordability and ease of access, custom software development offers a range of benefits that can make it a better investment in the long run. Custom software can be designed to your business needs, offering scalability, better security, and competitive advantage.
Custom Enterprise Software Development: 7 Main Steps
Custom business software development is a rather complex and lengthy process. Let's consider the main stages of creating such a product:
Conducting Business Analysis
Any project begins with theoretical preparation and collection of data about the industry for which a digital product needs to be created. The specifics, business goals, market, competitors' solutions, etc., are studied at this stage.
Gathering Technical Documentation
A client shares all their wishes and requirements for the future product. Based on the gathered info, a team develops the terms of reference, selects the technology stack, determines the mandatory functions and scope of work, and calculates the project's total cost.
UX/UI Design Development and Testing
The main requirements for UX design are logical structure and easy navigation in the software. The user experience should always be guided by the goals and needs of the audience for which it is being created. Next, the planned design should be tested through surveys and technologies to reproduce human movements automatically. You can start developing the UI design if the UX design works smoothly.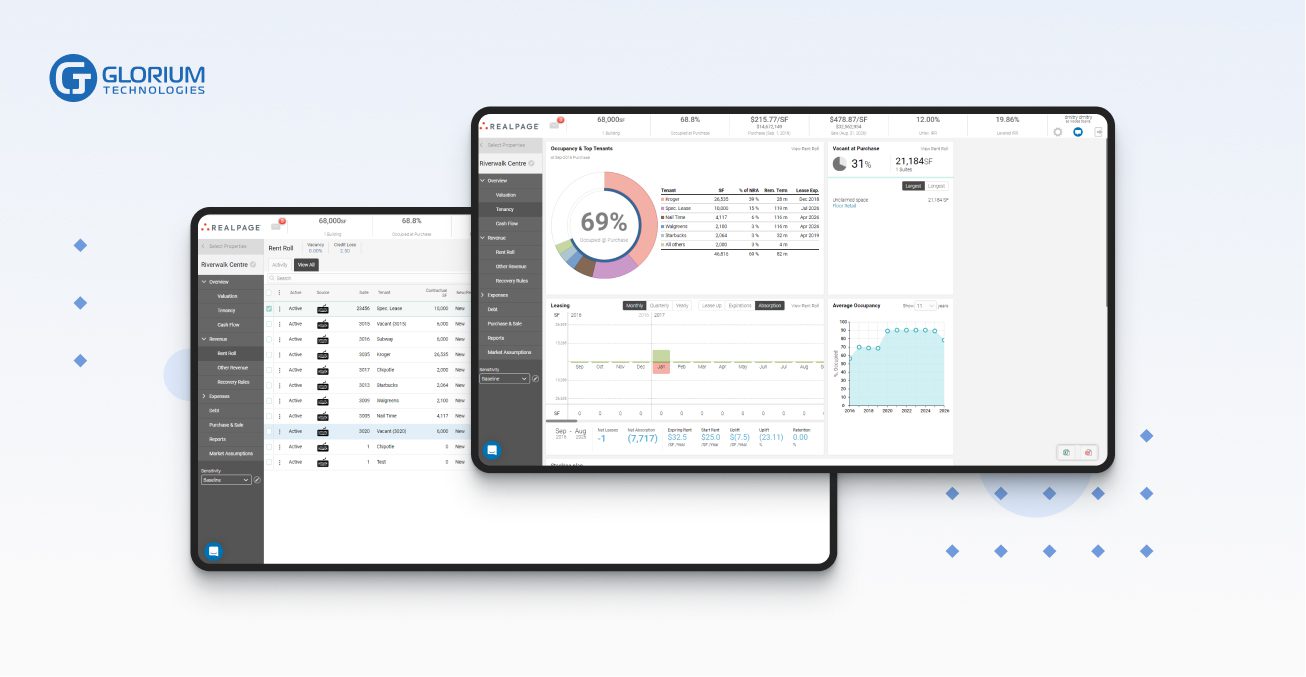 The key criteria for creating a good UI design are simplicity and logic. The user interface refers to the visual components of the solution being developed. This includes the color, location, and appearance of buttons, as well as other graphical elements.
Enterprise Software Development
This is followed by the direct development phase, in which the existing design is converted into a functioning program. Specialists focus on the previously defined architecture and write code for each component of the enterprise software.
Testing is an essential process for creating a truly reliable product. QA engineers are involved in the work at the initial stages of development, but at the testing stage, they work together with testers to identify and correct errors. Thorough checking during software creation and timely elimination of problems will save time and money.
Deployment and Integration
After programmers and testers finish their work, QA engineers deploy and integrate the enterprise software. Beta tests are also conducted at this stage: end-user volunteers gain access to the product and provide feedback on their interaction with it. A team of experts collects and analyzes their comments and, if necessary, eliminates identified bugs or improves certain features.
Work on a product does not stop once the deployment and integration process is complete. With the constant development and improvement of available technologies, any software will sooner or later require updates. Therefore, the team provides further technical support services, as well as maintenance of the corporate system in case of an error or unforeseen problem.
What Does a Customer Need to Know about Software Development for Business?
Custom enterprise software development requires a lot of time and financial resources, so it should be considered in the long term.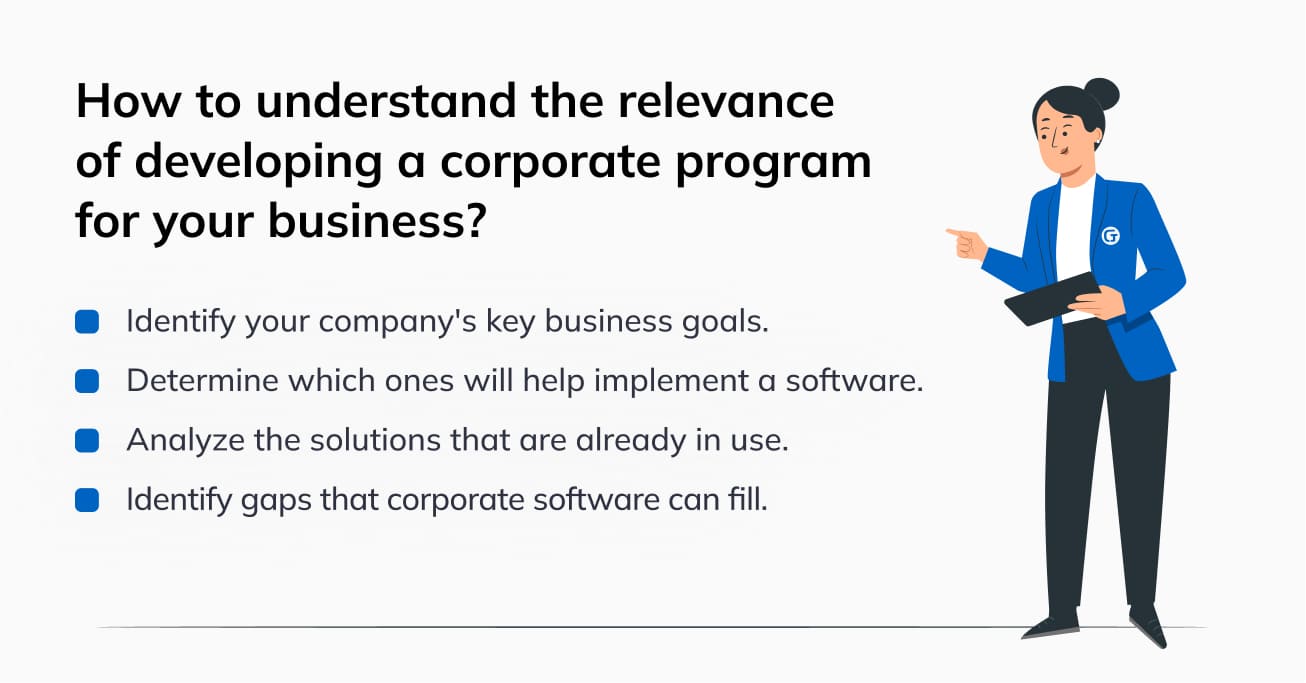 When planning to order software development, it is important to consider such factors:
Timeframe: You can't get customized software quickly because its creation involves many complex and long processes. Each stage of the work contributes to the product's reliability, so skipping any stage puts the entire project at risk.
Analytics: This is the need to provide a "foundation" on which all further work will be built. The better and more thorough the analysis, the clearer and easier it will be to form the development goals. Consequently, the software will likely cover all the company's needs.
Gradual implementation: The sequential integration of each software component into the company's operations ensures a smooth and seamless transition to the new system.
Ease of use: This criterion is responsible for the efficiency of personnel's work with the new system and apps. The simpler and clearer the interface is, the faster the user can understand its design and start performing their duties.
Active involvement of two parties: The IT team and the customer must be equally involved in the project. This will ensure the development of an individual solution, which in the end, will be able to meet all the wishes and requirements set out earlier.
User training: In parallel with introducing new components and apps, you need to train your staff. This makes it much faster and easier for them to adapt to the new working conditions and use the system's full potential.
Read more details about software product development.
How To Find the Best Specialists for Custom Enterprise Software?
Let's take a closer look at ways to find an IT team for custom development: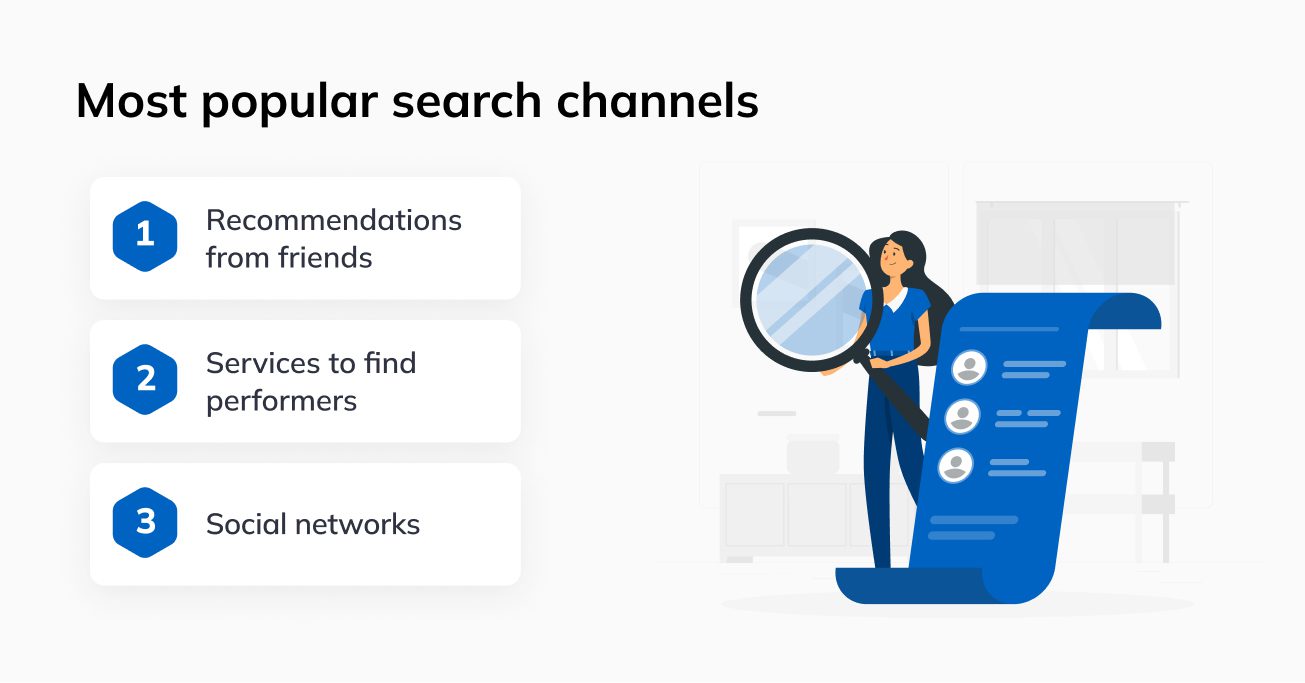 Recommendations from friends or partners: A fast and reliable way to find proven specialists, as well as to get acquainted with their finished developments.
Ads on websites: There are many services online where the customer can find a contracting company. Here you can also read the reviews of other customers, see examples of projects, and see the team's rating.
Profiles on social networks: Professional social networks, such as LinkedIn and similar, help you find and communicate with contractors and get acquainted with profiles, experience, and work direction.
In addition, to order corporate software, you need to understand which specialists will work on the project. Glorium offers the services of highly qualified IT engineers and programmers.
Conclusion
Custom enterprise software aims to solve specific problems of a particular organization so it performs its functions more effectively. Yes, it is quite a long and complicated process, but as a result, companies get the opportunity to reach a new level of development and significantly improve their competitiveness. Glorium team will help to implement a project of any complexity and offer the best business solutions. Contact our managers to discuss all questions.
Questions You May Have