The EHR system is an essential tool in today's world. According to the GrandViewReserch study, the EHR market was estimated at $26.8 billion in 2020, 61% of which are private and public hospitals and laboratories.
Moreover, stable demand for IT will continue in the near future: forecasts show that the segment's value will reach $35.1 billion in 2028.
Purpose of EHR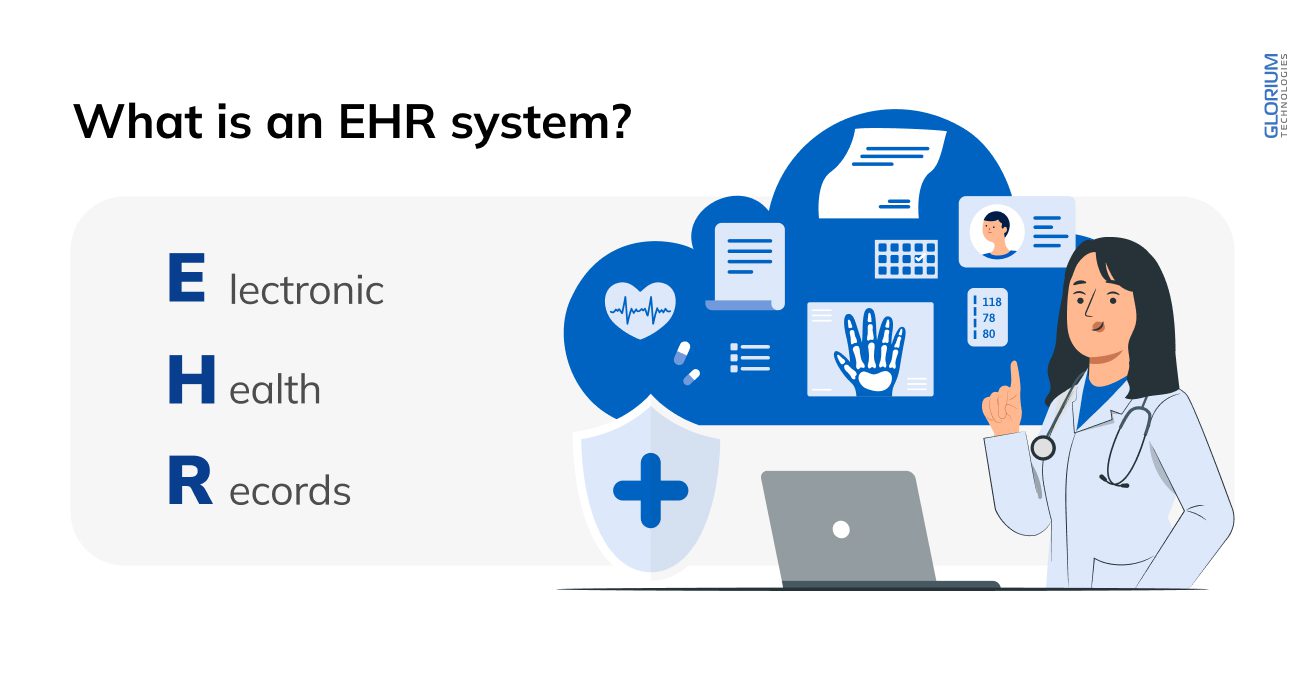 What does EHR stand for?
The main purposes are optimized workflow of a medical institution and fewer errors since examinations are provided by several specialists.
The client base is stored on a physical server or the Internet, and only the user and hospital staff can access it. The treatment process is monitored, and adjustments are made in real-time.
It contains information on diseases, allergic reactions, and contraindications as well as reports, digital copies of documents with extracts for prescription appointments, and a schedule of visits.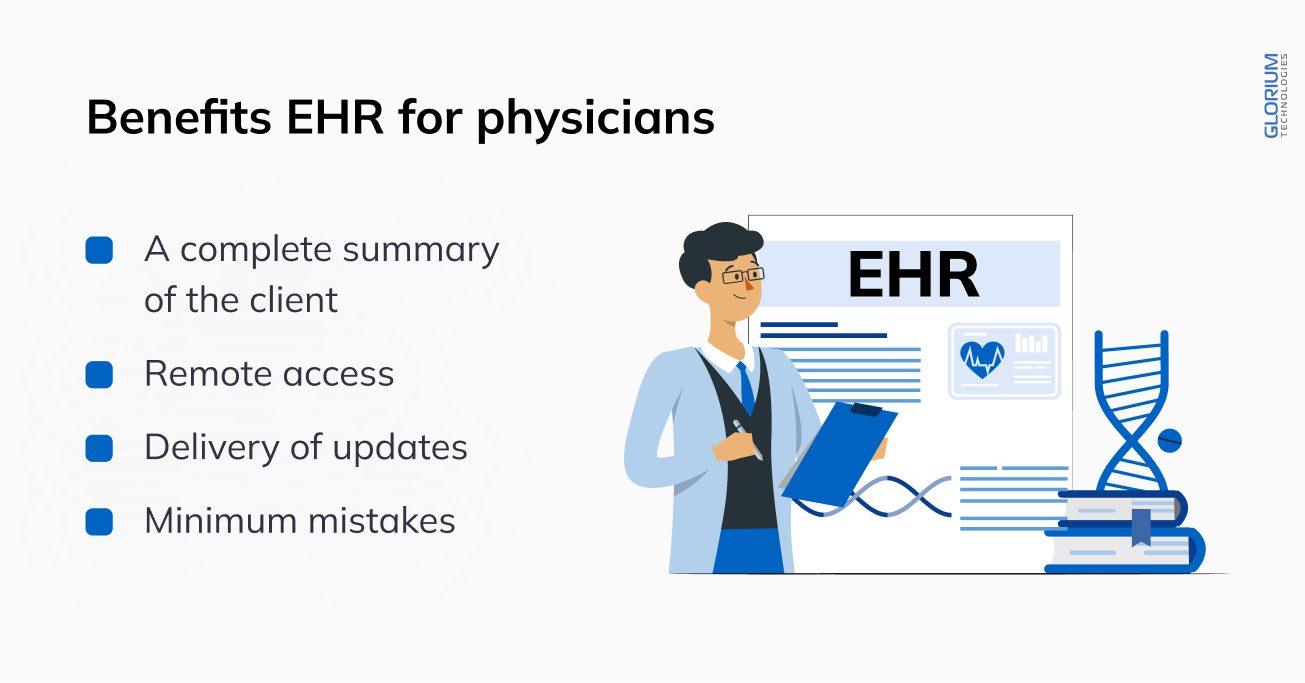 Preparing for Development
Any workflow starts with planning. Creating specialized platforms for medical institutions is no exception.
First, you need to determine functional features, the scale of the customer base, and third-party service providers whose products will connect to our system.
Do not forget about the protection of confidential data, which may be ensured only by advanced developments in IT security. It is now prohibited to operate medical applications if they are not properly certified.
EHR software development and implementation
Here you need to adhere to the planned roadmap and resolve issues as they come, not at the final stage. It will greatly simplify the bottom line problems that each organization faces anyway.
If we omit the purely technical aspects, programming, and front-end development, we can distinguish 8 main stages of creating and implementing EHR in a medical institution: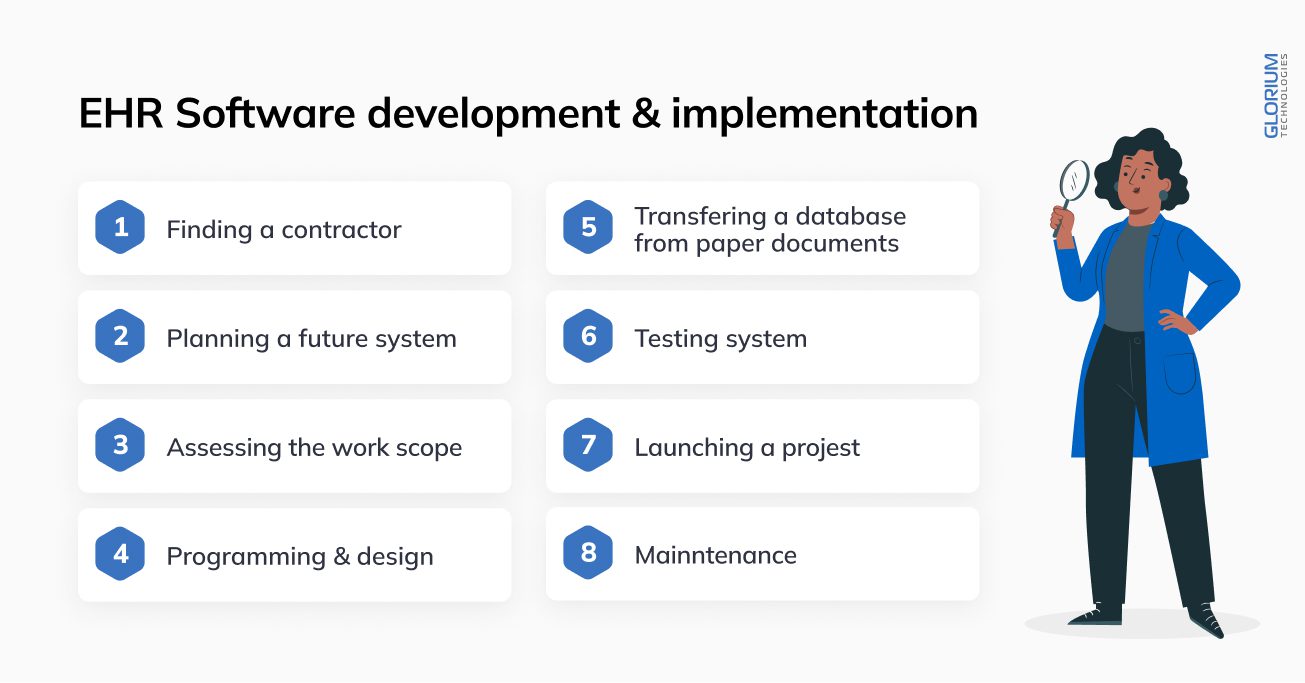 This typical process is usually undertaken by a contractor. But during the development, you need to pay special attention to several aspects:
Compliance with the HIPAA requirements: your system will be approved for implementation only if you harmonize all the functionality with medical standards immediately; it will also allow obtaining permits timely.
Building a data management strategy: technically, a contractor can implement any data exchange chain, but the medical institution must understand which subjects should receive information, in what form, how much, and where to store it.
Optimization of data collection: most often, the implementation of EHR software entails the connection and hardware infrastructure that collects data from various medical equipment to save the staff's time.
Centralized or backup data storage in cloud repositories: the introduction of cloud storage into the data exchange chain increases data protection against unexpected failures in the infrastructure. Also, it provides ubiquitous access to information for mobile medical teams.
Data processing to improve healthcare: predicting possible complications of patient illnesses timely with introducing additional AI and ML tools into the EHR systems. Recommendations for patient treatment are provided in advance, significantly impacting the productivity and recovery rates of patients.
EHR implementation challenges:
User confidentiality: EHR systems are poorly protected from outside influences and are often attacked by hackers.
Technical nuances: most computers in medical institutions are hopelessly outdated. It is expensive to update them and almost impossible to ensure the uninterrupted operation of EHR on such equipment.
Clients of clinics: many of them have a negative attitude to such innovations, which makes service and treatment quite difficult.
Staff training: the younger generation is ready to learn new working methods, but older healthcare professionals stubbornly refuse to switch to updated tools. Their training is time-consuming and often pointless.
The cost of the new functionality is a huge disadvantage of this system. Considering the prices of health insurance and services, EHR will pay off over time, but the total cost of the work is beyond the reach of most institutions.
How much does it cost to implement an EHR system?
Prices for implementation and support of EHR systems vary from $42 to $51 per hour. Typically, the cost of the finished product is $15,000 to $70,000, depending on the customer's requirements and the provider's appetite.
When does the system pay off? It depends on the scale of the institution, its functionality and relevance, and prices for medical services.
The implementation of EHR systems helps medical personnel in their work and improves interaction with patients. It greatly simplifies most daily processes, efficiently distributing patients among several doctors.
It is difficult to overestimate all the features of this beneficial system. Introduce EHR products and increase the effectiveness of treatment!