Over recent years, the healthcare industry has undergone a huge digital transformation due to the need to completely update its existing infrastructure. The pandemic and other factors — one of which is an increased desire for patients to take an active role in their own healthcare process — have accelerated the transition of offline medical services to digital, resulting in the need for secure, interoperable, and compliant software solutions. This is the perfect time for the healthcare tech industry, as there has never been such high demand for quality products as there is today.
If you're a healthcare startup looking to transform patient care digitally and optimize your operations, you've come to the right place. In this article, we will discuss the realm of healthcare software development services and delve into everything you need to drive success for your startup.
Healthtech Market Overview
Medical protocols are being moved to digital and virtual care as well as customized cloud-based services, resulting in a growing amount of healthcare data and a growing need for innovative technology. The healthcare market's stakeholders and participants must recognize these emerging trends and adapt quickly to this new environment.
Health-related startups should seize this change as a chance to introduce new products and business models. However, investments in the health technology market have continued to grow despite a freeze in patient spending on medical services during this time.
It should be noted that for healthcare software development security standards and certifications serve as crucial pillars. Let's delve into these important aspects.
Healthcare Software Security Standards and Certifications
By complying with healthcare regulations, healthcare startups can confidently navigate the digital landscape while prioritizing patient confidentiality and data integrity.
HITRUST: It created the Common Security Framework (CSF) to address the complex web of healthcare regulations and standards. HITRUST CSF consolidates various security and privacy frameworks, including HIPAA, ISO 27001, and NIST, into a comprehensive framework tailored to the healthcare industry. It provides a roadmap for implementing controls, conducting risk assessments, and ensuring compliance. Achieving HITRUST CSF certification demonstrates a healthcare startup's commitment to protecting patient data and aligning with industry best practices. It is often considered a gold standard for healthcare software security, reassuring healthcare providers and patients.
HIPAA: As a landmark regulation in the United States, sets the standard for sensitive patient health information (PHI). HIPAA mandates security and privacy rules that healthcare software must adhere to. The Security Rule outlines administrative, physical, and technical safeguards to protect electronic PHI (ePHI). It covers access controls, encryption, data backups, incident response, and employee training. Compliance with HIPAA ensures data security and helps healthcare startups avoid hefty penalties for non-compliance.
GDPR: Although GDPR is a European Union regulation, its impact is felt worldwide due to its extraterritorial reach. GDPR focuses on protecting EU residents' privacy and personal data, including healthcare-related information. Healthcare software that deals with EU residents' data must comply with GDPR requirements, such as obtaining explicit consent, implementing data minimization and pseudonymization techniques, conducting privacy impact assessments, and notifying authorities of data breaches within a specified timeframe. Adhering to GDPR not only protects patient data but also enhances the reputation and trustworthiness of healthcare startups.
ISO 27001: It is an ISMS standard internationally recognized information security management system (ISMS) standard. It systematically manages sensitive information, including implementing security controls, risk assessment, and continuous improvement. Achieving ISO 27001 certification demonstrates a healthcare startup's commitment to maintaining a robust security framework. It helps identify vulnerabilities, mitigate risks, and ensure data confidentiality, integrity, and availability. ISO 27001 certification enhances healthcare software's credibility, instills patient confidence, and positions startups as security-conscious organizations.
NIST: Special Publication 800-53 concerns a framework for securing sensitive information systems, including those in the healthcare sector. It covers various security controls and practices, addressing access control, incident response, encryption, and security awareness training. Adhering to NIST standards helps healthcare startups enhance their security posture, protect patient data, and align with industry best practices.
Key Healthcare Software Development Technologies
Healthcare industry digitalization is estimated to reach $379 billion by 2024. As technology and innovations evolve, health software development is getting more complex. A lot of features are being added to sustain the individual needs of medical staff and their patients.
AI and ML in Healthcare Software Solutions
AI is expected to have a positive impact on the healthcare industry and help it meet these new sector requirements in the future. When it comes to medical services, artificial intelligence has a wide range of potential applications, and some of its capabilities are already being utilized.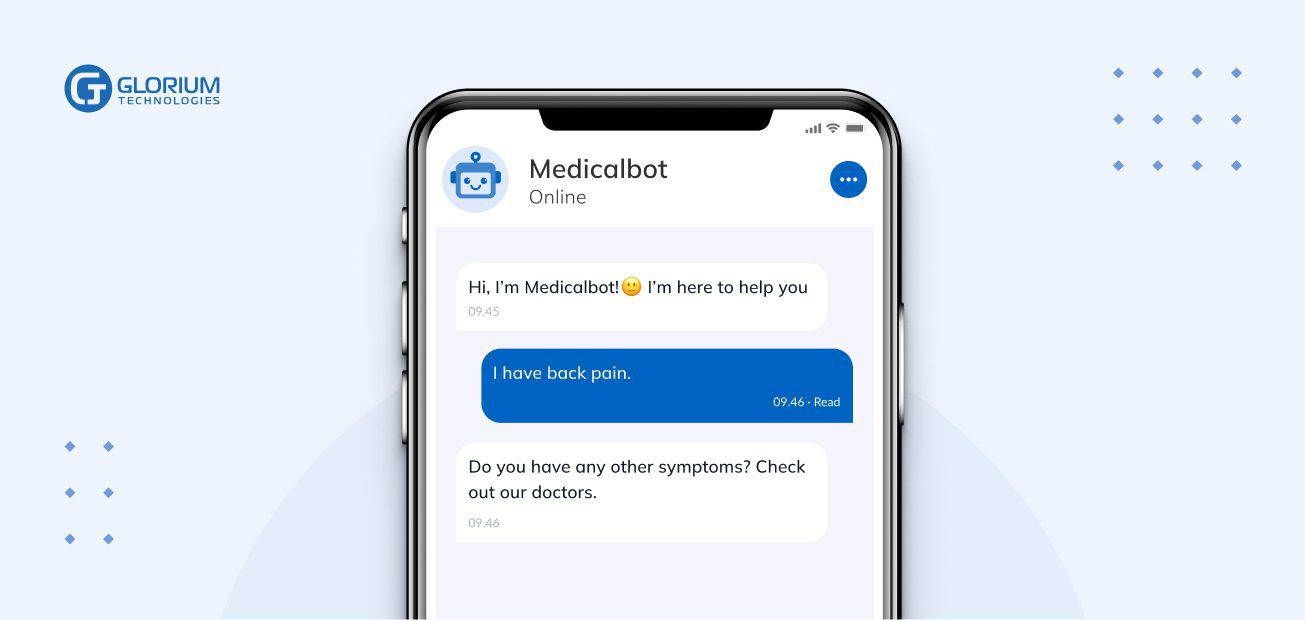 Administrative tasks and paperwork assistance, which can be implemented quickly, have the ability to be scaled up to more complex impact areas that require greater time, research, and trials. All application areas are scalable. AI has tremendous optimization potential for the healthcare industry, despite some challenges.
All of these enhancements ultimately lead to a better quality of medical services for patients, as they receive more accurate diagnostics and faster responses from doctors, and significantly improve working conditions for medical staff. Artificial intelligence solutions can result in many saved lives and a reduction in costs spent on healthcare services for both service providers and receivers.
With many factors driving transformation across the industry, it is anticipated to rapidly evolve and adapt new technologies to sustain changing demands. Here is a case study that shows how Glorium did exactly this.
VR and AR Healthcare Software Solutions
From teaching medical students to creating treatment simulations, virtual and augmented reality technology is used in the healthcare industry in a variety of ways. VR and AR are often mistaken for the same technology, but they are actually quite different and have a variety of applications in medicine. According to Allied Market Research, the market for virtual and augmented reality products in healthcare is anticipated to reach $2.4 billion by 2026.
Virtual layers and projections can be added to existing physical objects in augmented reality. Because of this, AR-enabled products are ideal for advanced human body studies, visualizing specific body parts and treatment processes for patients, and assisting doctors in making treatment decisions, preparing for surgery, and anticipating the body's response.
Check how Glorium builds healthcare apps with AR mode.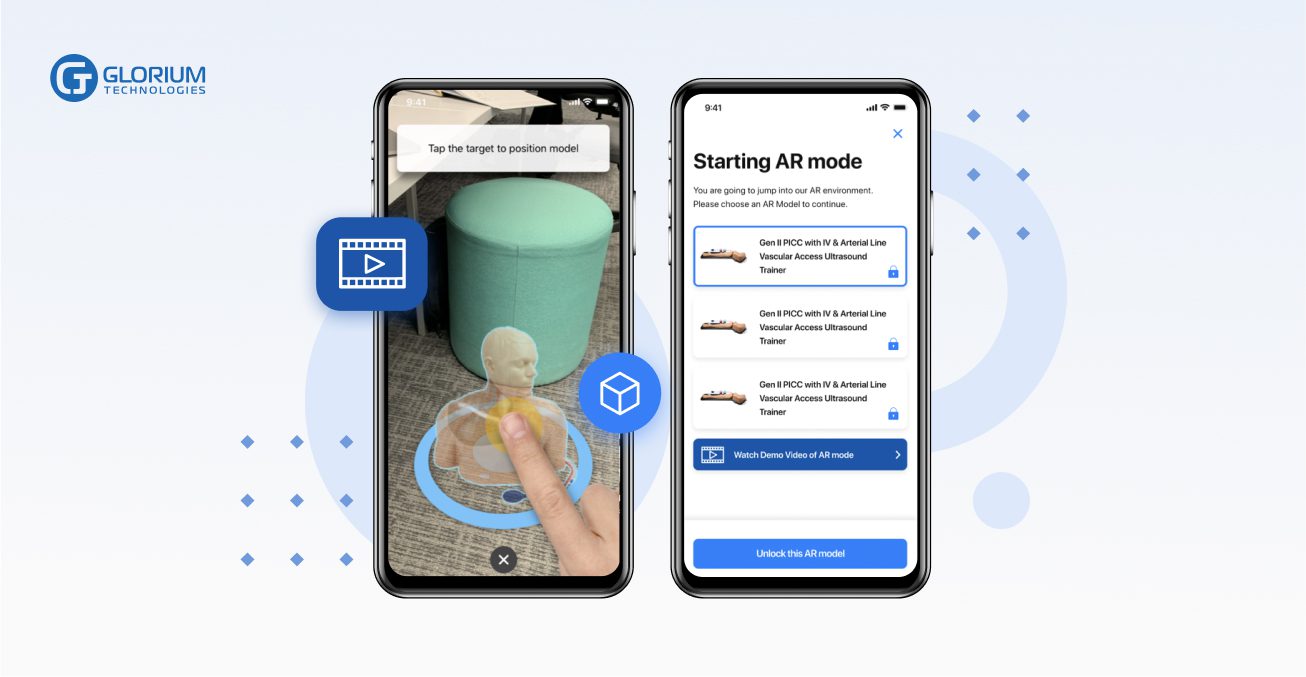 When doctors perform surgery, they can view patient images and scans in augmented reality. It can also be used to help plan prosthetics. Virtual reality visualization benefits patients as well as clinicians, surgeons, and physicians. Healthcare is made more engaging for patients through augmented projections and 3D models. The same is true for orthodontics and other manipulations, where clinicians can show the patient images of their organs before and after surgery.
It also provides an entirely digital environment and superior 3D visualization for a variety of uses. Using virtual simulations, doctors can visualize dose distribution, manage chemical treatments to minimize damage, and improve treatment planning to eliminate risks.
Startups must keep user needs and wants in mind when creating VR and AR interactive solutions in order to successfully implement and adopt these technologies. An attractive and clear visualization of treatment results helps to engage patients the most. The user is given the uncanny feeling of direct participation when an interface is properly designed, and both clinicians and patients benefit from increased trust between them. VR and AR applications must be easy-to-use, engaging, understandable, and fast in order for them to become common and feasible.
So, let's discover how healthcare software development services can fuel the growth and innovation of your healthcare startup.
Top Healthcare Software Development Services
Medical software development services offer tailored solutions that cater to the unique needs of healthcare organizations, enabling them to leverage cutting-edge technologies and stay ahead in this dynamic landscape.
From electronic health records (EHR) systems to telemedicine platforms, from mobile health applications to data analytics solutions, we will delve into the key services to transform the way healthcare is delivered.
EHR & EMR Software Development Services
Electronic health and medical records software are centralized data hubs that store all essential patient information, including health records, visits, immunizations, medications, doctors' notes, and so on. For EMR software developers, it is crucial to know that there are some essential functions outlined by the Institute of Medicine Committee on Data Standards for Patient Safety (IOM) for the certified EMR. The list of functions includes the following:
Health information and data
Result management
Order management
Decision support
Electronic communication and connectivity
Patient support
Administrative process reporting
Reporting and population health
As healthcare solutions evolved, new features and functions were added, but the core set remained unchanged. It's a fact that most software solutions on the market don't perform as users expect them to, and there's still plenty of room for improvement. Due to the global pandemic and the intensified digitalization of the healthcare industry, there will be a need for EHR software that is refined, integrated, secure, and high-performing.
Medical Billing Software
Having a system that can manage claim submissions, track medical billing codes, and provide reporting can significantly improve the efficiency of medical practice. Accounting software automates payment documentation and coding, speeding up financial operations and eliminating time-consuming and tedious manual tasks.
CPT (Current Procedural Terminology) and HCPCS codes are standard categorizations used in medical billing. Each service the clinician provides is assigned a specific code, which a billing system can track and process to determine the amount of payment to be handled.
Clinical communication between clinicians and patients can be simplified with the help of a good medical billing software program that has robust scheduling capabilities.
Learn about Niko Health case study with building in-app billing platform from scratch..
Healthcare Cloud Computing Solutions
In terms of data management, healthcare is one of the most complex industries to work in. A complex and interconnected network of systems is created each year to both serve a greater number of users and integrate with more software services. In light of the fact that medical information and personal health records are the most sensitive and valuable types of data, managing and protecting them is a real challenge.
As a result of cloud computing, disparate data sources and software systems can communicate with each other. Data collection and sharing are made easier and more efficient for medical professionals with the help of cloud infrastructure. All devices make it easy for clinicians to get the information they need. Cloud computing allows healthcare organizations to centralize data.
The global pandemic acted as a catalyst in pushing the healthcare industry to move to the cloud. Firstly, the majority of medical services have gone online, which means they need a proper digital data workflow. Additionally, cloud infrastructure has provided many opportunities for enabling telehealth, telemedicine, and online consultations, all the while being integrated with EHRs, EMRs, and medical billing systems.
In healthcare, cloud computing has a wide range of applications. Without even mentioning the benefits to patients' and clinicians' health and treatment outcomes, it makes it a more connected, engaged, accessible, and collaborative space. Going cloud-based will result in better patient services, lower costs and greater satisfaction among medical staff in the long run.
Patient Portals Software Development
Healthcare solution developers often overlook the patient's side of the application, but a clean, safe, and functional patient cabinet eliminates many bottlenecks in the healthcare system, reduces manual and administrative tasks, and instills a sense of trust and credibility in the medical institution. Chatbots and voice assistants can be used to make the support center more helpful and educational.
Patient portals with the necessary information, notifications, and the ability to interact with the doctor are a significant advantage for medical companies today, as more people are willing to be involved in their own treatment process and monitor their health. Patient portals typically include messaging tools, a help center, data infrastructure, automated notifications, and other core functions.
Laboratory Information Management System (LIMS) Software
Laboratory Information Management System (LIMS) software is designed to help laboratories manage test results, patient data, and integrate with other healthcare systems to enhance lab efficiency, data accuracy, and bring value to the overall cycle of patient treatment. Here are some essential functions of LIMS software:
Sample tracking & management
Lab workflow
Quality assurance
Inventory management
Document management
Integration with other systems
Data depository
Reporting and analytics
By using LIMS solutions, labs can focus on what they do best (science) instead of spending resources developing custom solutions that can be difficult to validate and maintain. A good LIMS system should allow simple configuration to meet individual customer needs and adaptability to a lab's changing needs.
For biobanks and stability studies, this may include the management of the sample's entire life cycle, including storage, the chain of custody, and other needs. Additionally, it has to provide samples, tests, and manage information through easy-to-use interfaces with role-based access control. LIMS systems also enable flexible interfaces to instruments and other third-party systems to be available to users. A good LIMS solution adapts to a user's working style and creates a bulletproof, consistent flow.
Health Tracking Applications & Wearables
Health monitoring is becoming increasingly popular as more people want to be involved in their treatment. Around 80 percent of consumers worldwide already wear or would like to wear a fitness tracking device, according to Business Insider. Medical wearables are expected to increase in popularity as more people become willing to share their healthcare data through tracking devices. Fitness wristbands, however, aren't the only form of wearable healthcare technology.
Using blood pressure monitors and ECG sensors to track heart rate is one of the easiest and most common applications for healthcare wearables. It can also send alerts and information about a patient's condition directly to a doctor, such as detecting atrial fibrillation. Meanwhile, patients can receive treatment instructions from their doctors, as well as recommendations. Users' well-being and the effectiveness of their treatment can be monitored with the help of wearable devices, which also store historical data.
Biosensors represent the next level of medical wearables. Many health indicators such as body temperature, respiratory rate, heart rate, and blood pressure are tracked by these self-sealing patches. It has been shown that the use of such devices reduces cardiac arrest risk in 89 percent of cases, by making them more predictable.
Here are a few examples of health tracking apps made by Glorium:
BodyO, health monitoring app, which can recognize the amount of body fat and identify illnesses like diabetes and chronic heart disease.
Biofeedback application, which is integrated with sensors for therapeutic purposes such as biofeedback, neurofeedback, heart rate variability, and electromyography.
Sleep tracking application, is used by lab management companies, independent diagnostic testing facilities, physician-owned labs, and hospitals.