Modern trends aim at making all sorts of services available to the consumer. The mobile platform is the main catalyst for the development of UX in apps of any format. Regardless of the business type or its area of activity – it is IT solutions for smartphones that allow for maximum coverage of the TA. Today we will talk about how to hire dedicated mobile app developers and what it will give to your project.
Mobile Development: What App Types and Classifications Exist
Modern mobile operating systems are almost equal to desktop solutions in terms of functionality. The system kernel is at the platform's core, which is responsible for command processing and code execution, distribution of resources, and tasks across operating elements. For mobile app developers, it is important to understand each target operating system's key characteristics and features.
Operating systems
The peculiarity of iOS is a closed system with serious requirements for digital solutions' security. For example, user authorization is required to access the storage, microphone, log, etc. It helps prevent the execution of malicious code or the interception of sensitive data. Because of the small number of devices in the lineup and the logical gradation of hardware – optimizing iOS apps is a relatively easy task, unlike the platform's main competitor.
Things are even more interesting with Android. It is an open-source OS with many third-party skins working on different frameworks. The main difficulty in the app development for this platform is optimization for all lines of devices with their features and skins and different OS versions.
Development technologies
There are mainly 2 types of technologies used to develop mobile solutions: programming languages and frameworks. These concepts are often confused, but they are fundamentally different.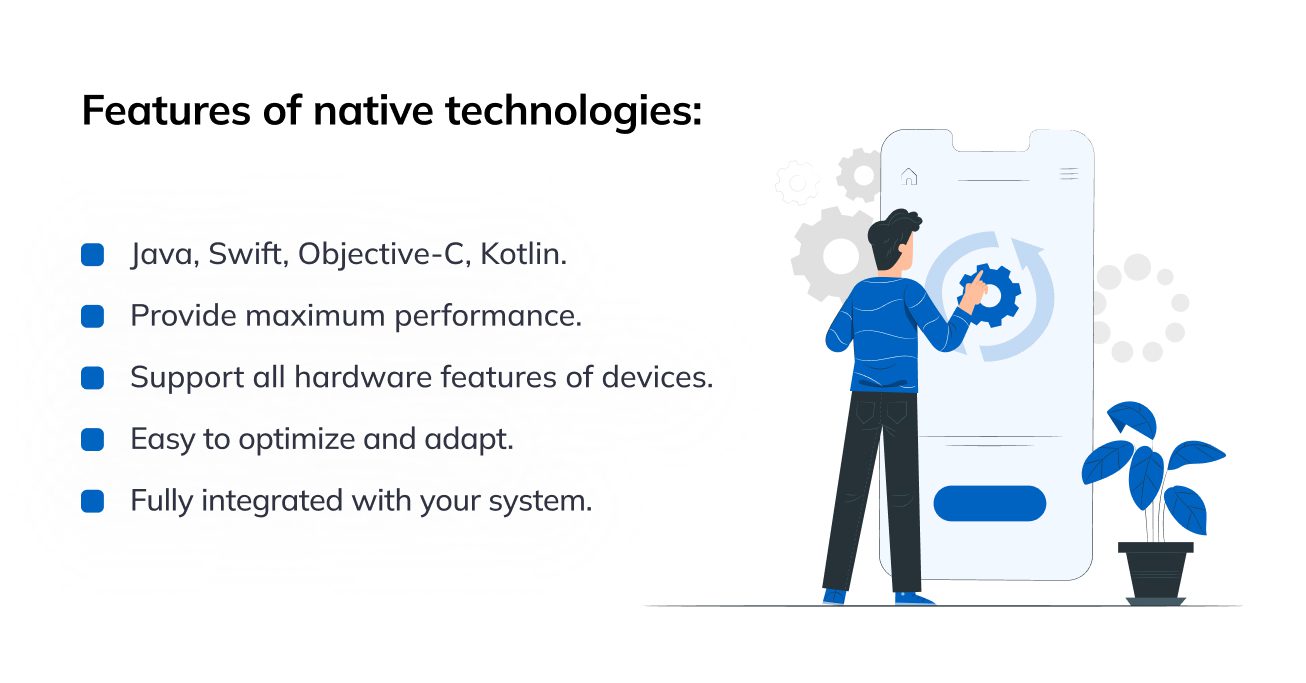 As you can see, each option has its own advantages and disadvantages. That is why it is worth assessing all the risks beforehand so that you can choose the right performer and hire a mobile app developer.
How to Choose the Right Target Platform for Business?
To begin with, we need to understand which platform is more popular with the TA business. StatCounter analysts state that Android and iOS compete for leadership in the mobile market. As of Summer 2022, Android accounts for 71.85% of active devices, while iOS accounts for only 27.5%. This is due to a number of factors:
The cost of the devices.
OS functionality.
The variability of TX smartphones.
Users' needs.
The economic situation in the regions.
The gap of 44.35% shows the enormous popularity of Android devices. There is nothing strange about it, because there are about 1,000 manufacturers of Android smartphones (including replicas, forks, and OEM devices for different companies).
As for the presence in local markets, in the U.S., Apple dominates with an 80% share, and in China with a similar indicator of Android (Huawei, Xiaomi, Oppo). In Europe, the popularity ratio is almost parity, but iOS leads with a small margin (literally 2%).
In order to correctly choose which dedicated mobile app developers to hire, it is necessary to study the features of both platforms in more detail.
Android
Open operating system in which you can implement almost any functionality. Thanks to this, it is possible to integrate the app into the system as much as possible and achieve an almost seamless interaction of the software with payment or social modules.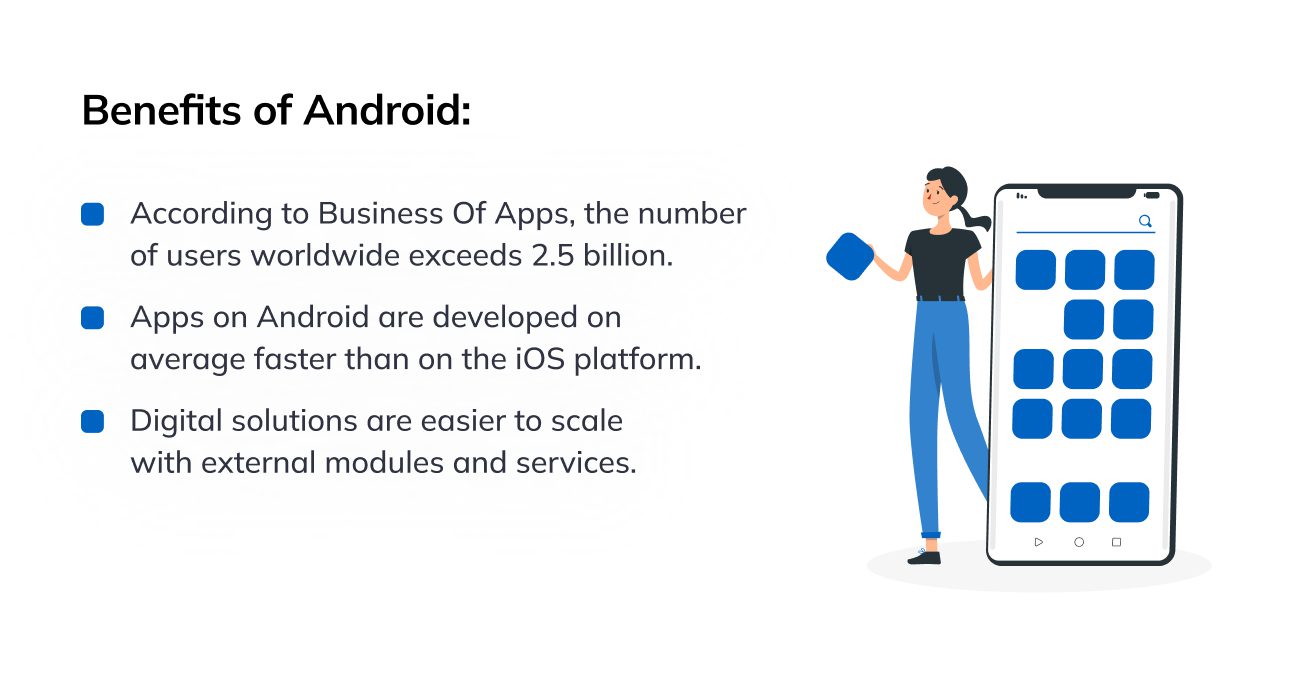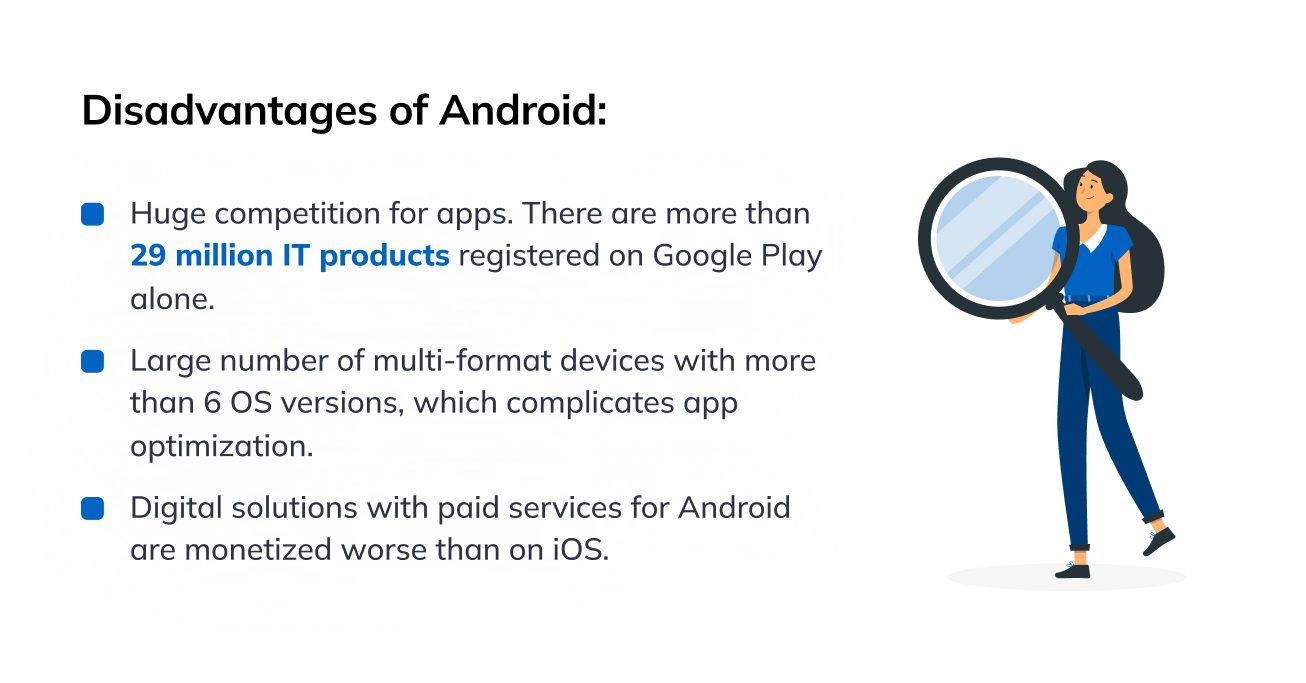 iOS
Closed OS with a great ecosystem, an abundance of innovative features and services. Because of the nature of app development for iOS, almost all digital solutions work without bugs or failure of performance.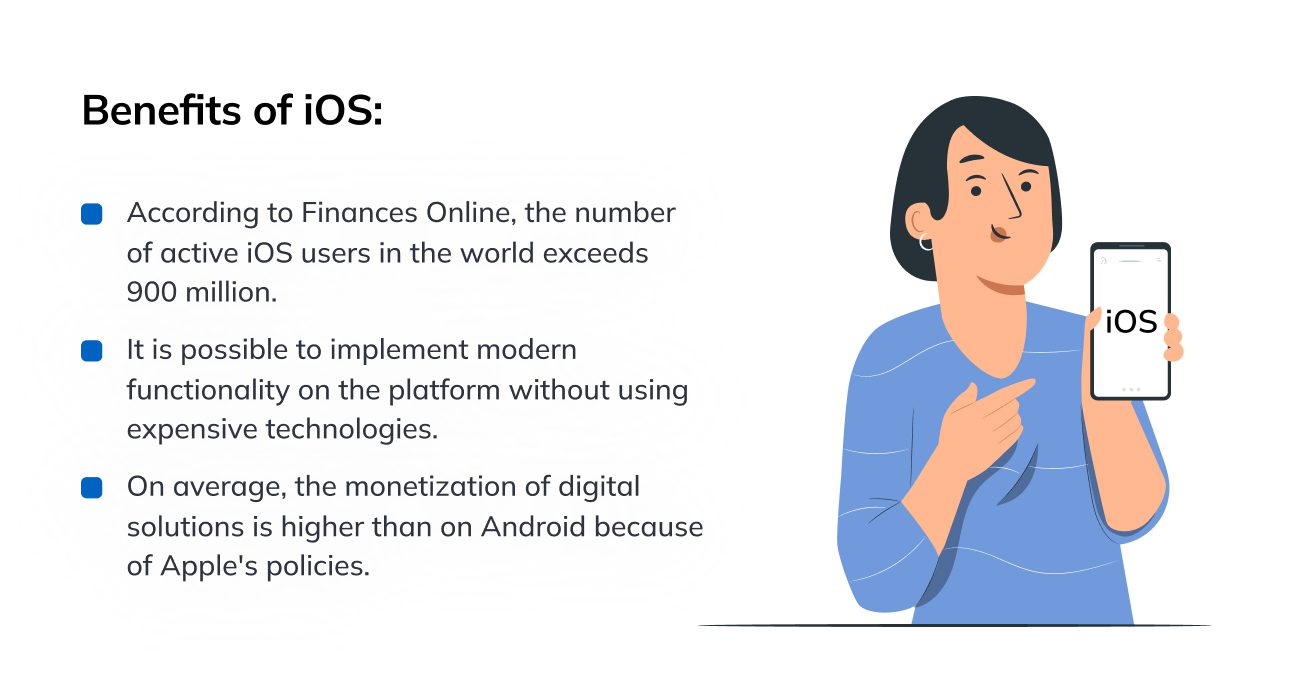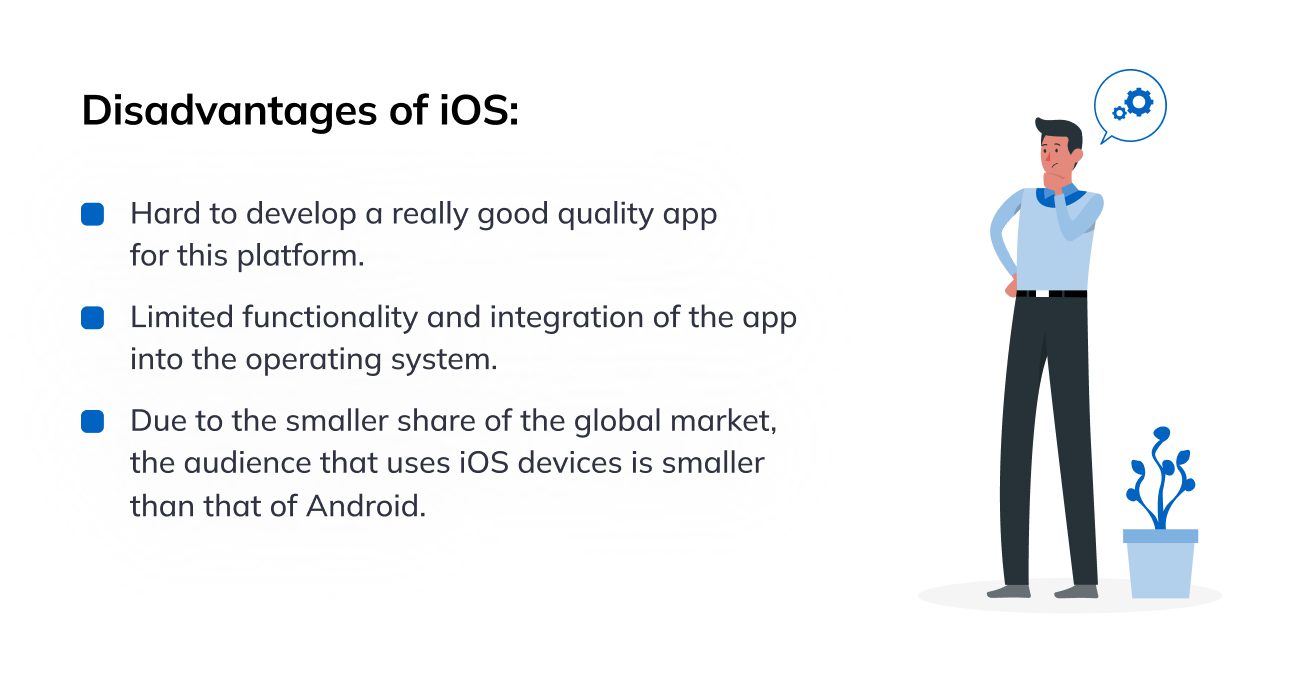 Maximum Reach: How Does Cross-platform Help Retain Market Share?
Traditional advice from the experts: use the pros of both platforms to build market presence and hire dedicated mobile app developers. Yes, you can initially develop only one MVP for Android (more audience reach), but you still have to work with iOS in the future. That is the only way you will get a competitive digital solution.
Cross-platforming in today's business is a priority tool for expanding your consumer base. Even if your audience is 70% Android users, the other 30% should not be ignored by the business.
There are more than 1,000 companies worldwide that develop digital solutions. Not all of them are techno giants with $100+ billion annual capitalization. Still, it does not mean that their IT products are much inferior in UX quality to such flagships as IBM, Microsoft, or Oracle. On the contrary, small companies or tech startups often outperform the world leaders in this area.
Why is this so? It's simple: modern developers work according to trends. This means that the consumer's positive experience is at the top of their priorities. We recommend cooperating with young but promising teams for whom the development is more art than an endless cash flow.
Work models: in-house, outsourcing
Currently, there are two most promising models for hiring mobile developer: onboarding or in-house recruitment and outsourcing. Both variants have advantages and disadvantages and are similar in cost and quality of tasks performed. Here is a comparison of cooperation models.
In-house
Expanding the team, recruiting the IT department, or just the staff is basically a mandatory component of a large company or a tech startup. The staff justifies the investment in two cases:
In all other situations, it is cheaper and easier to hire dedicated mobile app developers.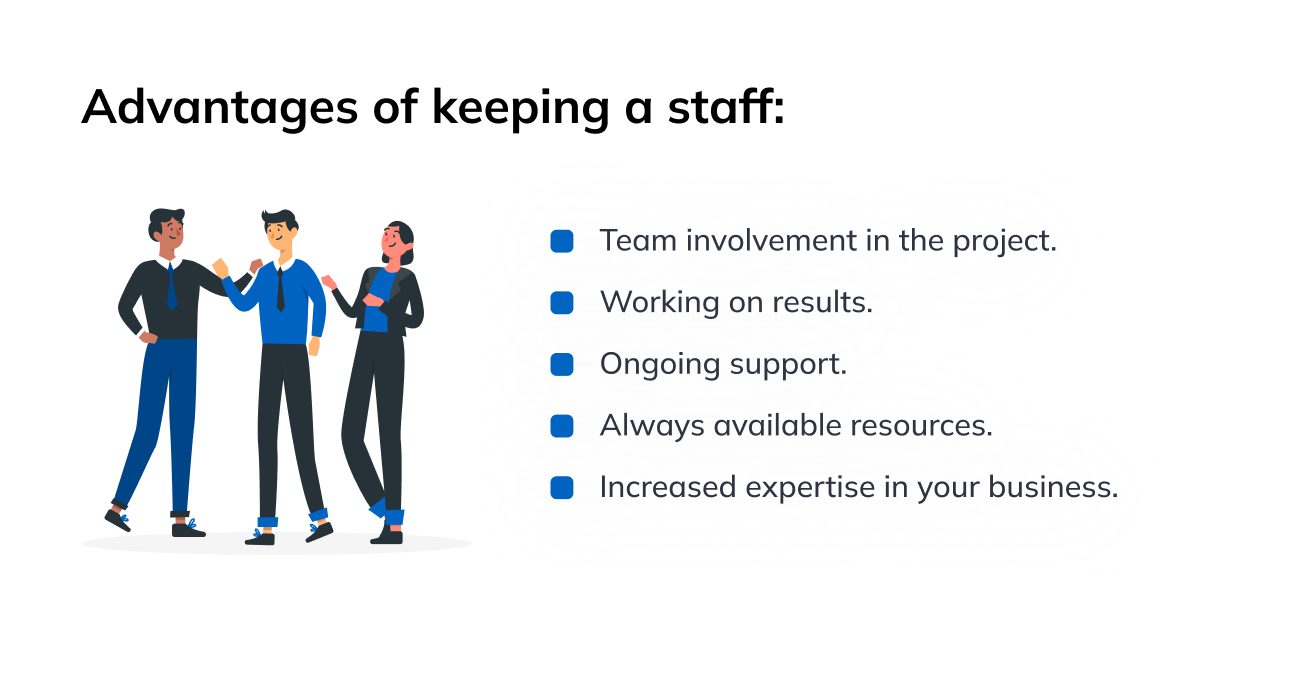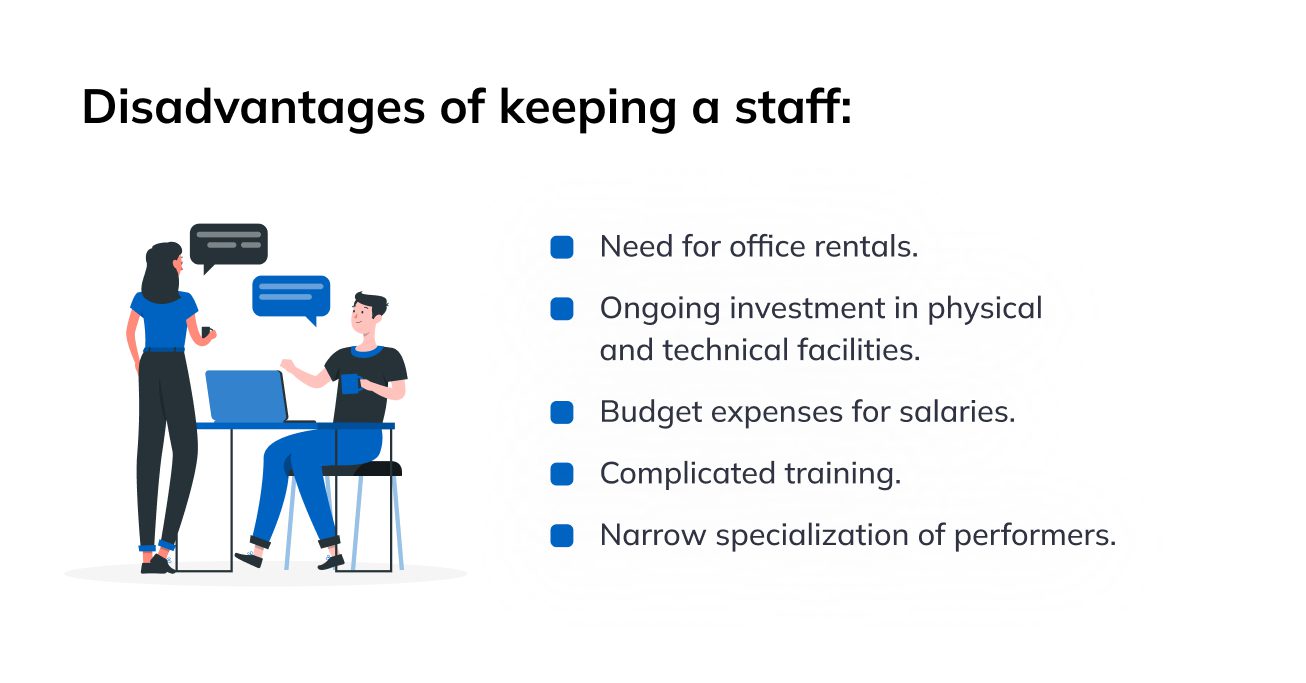 Keeping staff is not such a bad idea, but in some cases, it is still better to hire mobile app developer.
Types of outsourcing: onshoring, nearshoring, offshoring, freelancing
Outsourcing means hiring experts from outside the company for remote or even in-house cooperation. Its main trump card is hiring specialists of any profile. In other words, when developing an atypical project, even if you have your own IT department, it is easier and cheaper to delegate the task to dedicated specialists rather than train your own experts.
Despite the abundance of subtypes, the main essence does not change, because outsourcing is hiring dedicated mobile app developers from outside to implement a project. Let's consider all the options in more detail.
Onshoring: pros and cons
This type of outsourcing implies that the specialist (or team) you need is in your country. For example, if your company is operating in the USA, all the developers from the U.S. you can hire will cooperate with you on the onshoring model. There are advantages and disadvantages to this.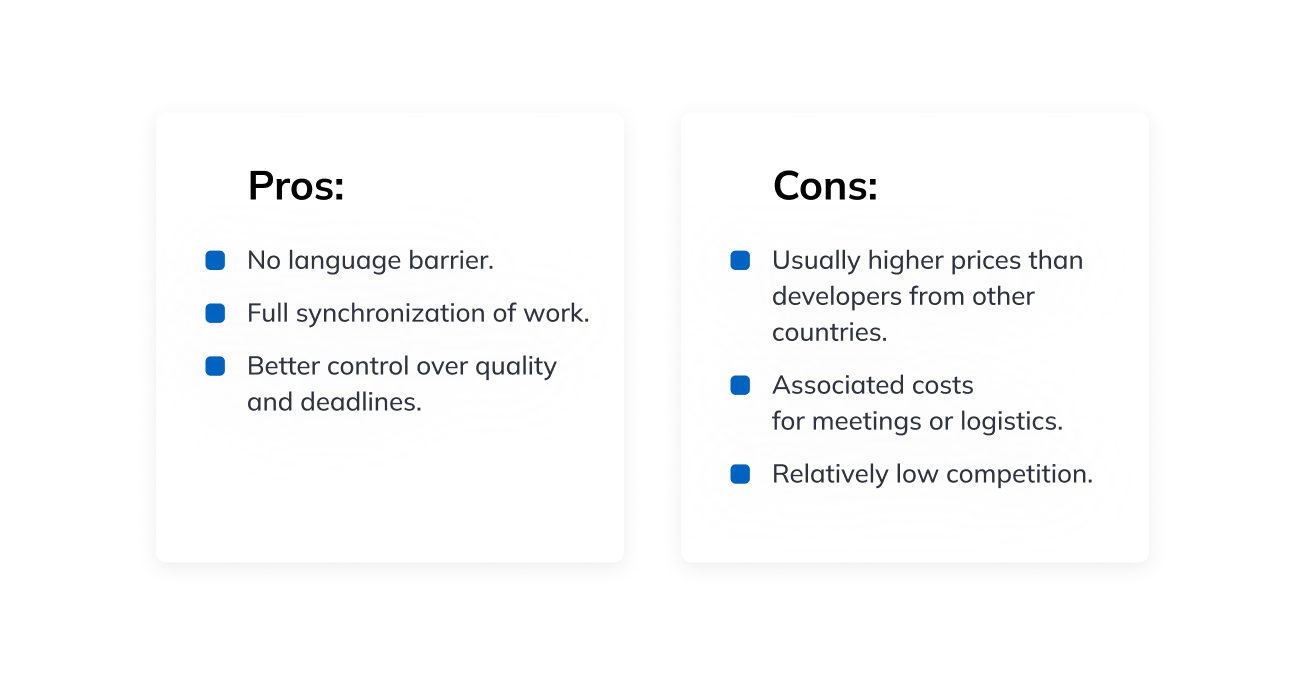 Onshoring is beneficial in two cases:
If you live in a region with low costs for IT services.
If you need to control the work process personally.
Onshoring is a very good choice for companies and startups from Eastern Europe and Asia.
Nearshoring: pros and cons
This type of cooperation implies that the contractor is located in a neighboring country. The rest of the model is similar to onshoring and retains almost the same advantages and disadvantages: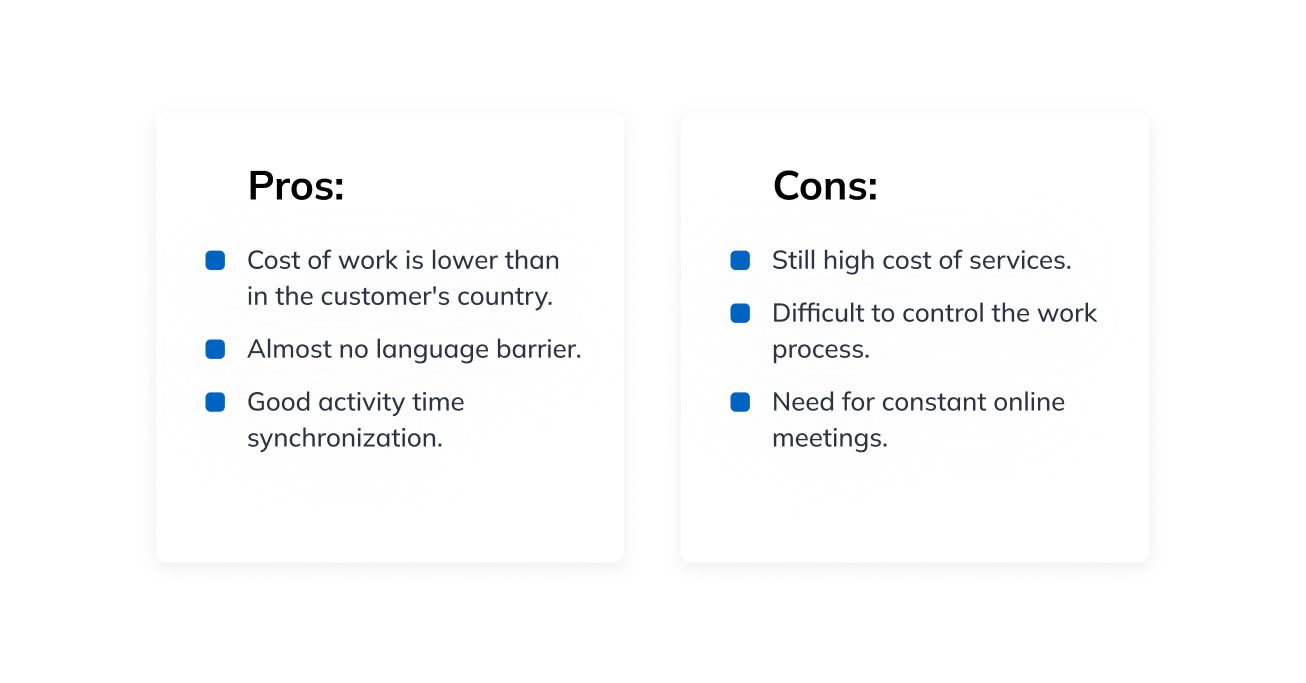 If your company is located in one of the countries of Western Europe, it is more advantageous to work according to the nearshoring model with contractors from Eastern Europe.
Offshoring: pros and cons
This cooperation model implies that the contractor can be in any country in the world. This is the best development option, because only in offshoring can you find competitive offers, cool specialists, and relatively low cost of work. Like all others, this model has both advantages and disadvantages.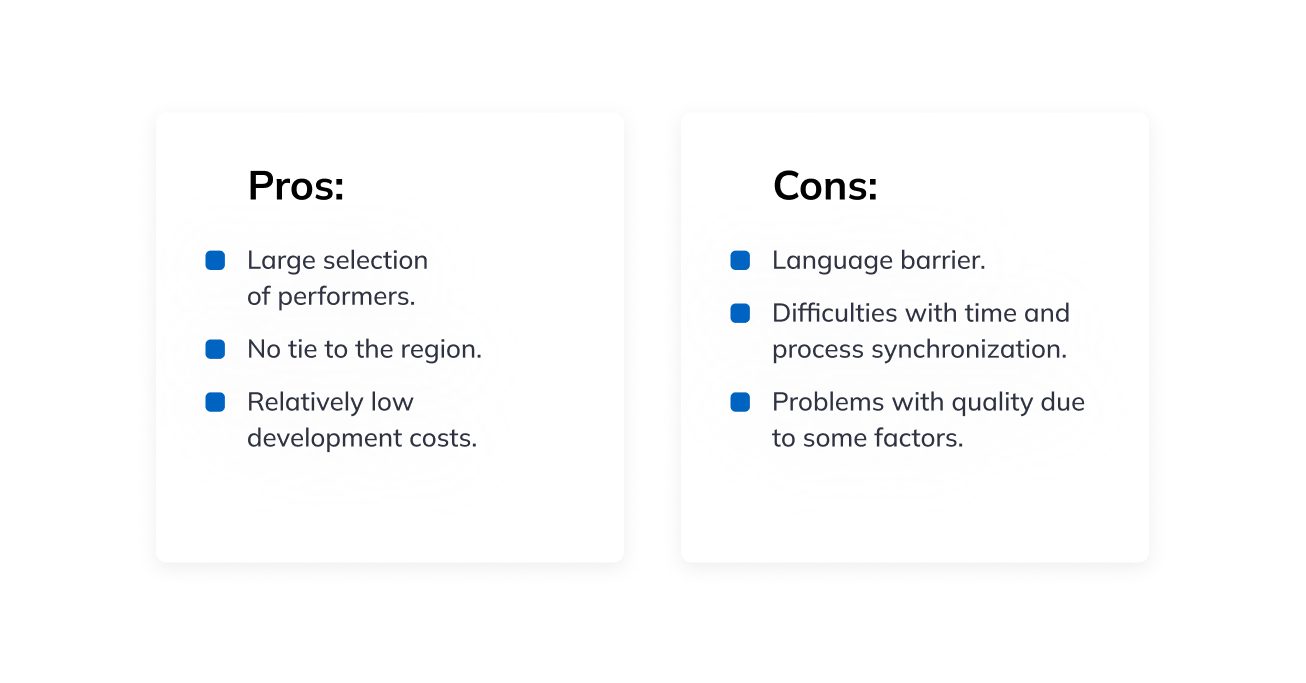 Offshoring is the most flexible development model available. You can either hire dedicated mobile app developers or hire an entire team from an IT company. It is best suited for customers from the USA or Western Europe, where prices for services are at least two times higher than, e.g., in Eastern Europe (Ukraine, Poland). Learn more about the best mobile app developers in the United States.
This option is not without such a disadvantage as the quality of work. For example, if the performer is not strongly motivated or control over the process is completely absent, then dishonest developers can literally cut corners. That is why choosing only proven experts or teams is so important.
Freelance: pros and cons
A separate category in outsourcing is that of freelancers. As a rule, a freelancer is a broad-based expert who provides services to companies, individuals, and legal entities through specialized platforms. It is essentially the same as offshoring, only with even more variation to hire mobile app developers.
In freelancing, you can find broad-based loners and entire teams, all teamed up under an enterprising specialist. As with other outsourcing models, freelancing is not without disadvantages as well as advantages.
For the most part, freelancers do not provide comprehensive services, and forming a complete team from them is a complex and expensive task. If you need to delegate some of your tasks to outside contractors, then freelancing will help you with that. But it is better to hire a team from an IT company for turnkey development.
Pricing Policy: Rates, Terms, Volumes, Licensing
If you have decided to develop your own IT solution, you have probably already calculated the approximate cost of the project. Haven't you?
Pricing of digital products depends on such characteristics as:
Hourly rate of the contractor(s).
Number of app features.
Release date of the IT solution.
Licensing.
Executor hourly rates vary by region and skill level. Here are the price comparison tables of specialists from the United States, Eastern Europe, Asia, and India, divided by gradation Junior/Middle/Senior. Based on 2 top frameworks: React.js and Java. Salary sources: GlassDoor, Jinny, Alcor, Web3Jobs.
| | | | | |
| --- | --- | --- | --- | --- |
| React.js | USA | Eastern Europe | Asia | India |
| Junior | $52,9 | $11,5 | $11,5 | $5,3 |
| Middle | $57,7 | $17,3 | $18 | $8,2 |
| Senior | $62.5 | $34,6 | $24 | $12 |
| | | | | |
| --- | --- | --- | --- | --- |
| Java | USA | Eastern Europe | Asia | India |
| Junior | $48 | $14,42 | $13,3 | $1,5 |
| Middle | $55,2 | $23 | $25,5 | $2,88 |
| Senior | $57,7 | $34,6 | $40 | $6,73 |
Hiring mobile app developers from Eastern Europe (Ukraine, Poland) may be the most profitable. The cost is relatively low, but the quality of IT solutions from Eastern European experts is very high.

Volume of the app and its impact on the cost of development
Deadline
There is a directly proportional relationship: the more functions need to be implemented in a short time, the more expensive such a project will cost the customer.
We recommend launching digital projects from the MVP stage. A basic set of functions with subsequent scaling will not only save money (that is important for startups) but also estimate the demand for the IT solution on the market. It will also save the budget that is critical for a successful marketing campaign, app support, and upgrades.
As for timing, it's not so clear-cut. On the one hand, you always need to be one step ahead of the competition. On the other hand, it is important not to release a raw product to the market. You need to keep a balance and introduce new technologies as they become available without sacrificing the stability and quality of the IT solution.
Licensing
The development cost always includes the price of product registration with the state (regional) agencies. Also, when budgeting for creating a digital solution, it is worth paying attention to the pricing policy of the implemented technologies. In addition to paid projects, there are Open Source projects, which are taxed for use in commercial products.
Also, do not forget about the NDA, which will protect your development from copyright, plagiarism, and data theft. The topic of licensing IT projects is vast and is governed by laws, regulations, and rules that depend on factors such as:
Company's region of registration.
Platforms where the mobile app is published (AppStore and Google Play).
Type and purpose of the app.
Monetization of services or content.
Region where the company operates.
While there are workarounds to reduce the cost of the legal aspects of development, we highly recommend sticking to the principle of honest business. In the future, this will protect you from administrative or even criminal lawsuits from users, developers, and the state.
What to Pay Attention to When Hiring Mobile Developer?
When developing a mobile app for Android or iOS (or both platforms at once), you must choose a responsible performer to whom you delegate the project. To do this, focus on three main indicators of the team's expertise: experience, feedback, and cost.
Experience
Development experience in an industry similar to yours is the best demonstration of expertise. For example, if a company has been building mobile apps for ten years, you will find dozens of successful projects in its portfolio. They will give you an idea of the methodologies, technologies, and frameworks they mastered. If the technical stacks and design work for you – move on to the next item on the checklist.
Feedback
Feedback from satisfied customers is the second indicator of a company's expertise. If the personal pages on Clutch and LinkedIn are full of five stars and positive reviews – such performers are ideal for your project.
But do not forget that reviews can be scammed by boosting a company's rating. Usually, such bots are easy to distinguish by weak landing pages, an empty portfolio, cheap services, and incompetent managers.
Cost
The cornerstone of any comparison of development candidates. On the one hand, the high cost is supposed to guarantee top quality. On the other hand, the Internet is full of developers offering the same services for less money.
It is essential to understand that the cost of services depends on several factors, including the developer's region and rating. We recommend that you carefully analyze the sites of your potential contractors, as well as their reviews and portfolios, so as not to run into any dishonest developers. This will protect your company from wasting your budget.
What You Need to Plan Before You Hire Mobile App Developer
You need to formulate the task correctly before delegating it to a contractor. This will help you organize the development process faster and save you from problems in the future. We recommend creating a checklist of the key parameters of the app and describing each point in as much detail as possible.
App type
First of all, choose the type of the app:
E-Commerce.
Content.
Social platform.
SaaS for services.
Fintech, crypto.
Only after defining the purpose of development can you properly analyze the market and move on to the second point.
Functionality
Depending on the type of app, choose the necessary functionality. Do not try to implement all existing technologies and innovations at once. This will drain your budget, which you will need for other purposes. Focus on the minimum to release an MVP that will serve as a base for further scaling.
Cross-platform
Don't get hung up on one platform. Even if 70% of your audience uses Android, give iOS consumers access to your product. You do not have to use native development languages to do this. It is enough to choose a hybrid framework and create code adaptable to both platforms. This will also make further project tasks easier.
Scaling
Despite the early planning, you need to make a roadmap for scaling up the app's functionality. This is important for two reasons:
You'll be able to keep consumers happy with update announcements.
You'll be able to adjust plans as the industry evolves.
Only when the scaling potential is implemented early will you have full control over the development and be able to make easy adjustments as you work on your project.
Uniqueness
Two factors are essential to ensure the uniqueness of a mobile app:
Author's innovative idea.
Fresh and modern design.
It is not necessary to outplay your competitors by introducing endless updates. You can simply adapt existing solutions, improve them and present them to the consumer.
How to Hire Mobile Developer for Your Project: 5 Steps of Successful Recruiting
Only 5 simple steps separate you from launching a mobile app development project. Follow them, and you will easily find the best experts to fulfill your financial and technological ambitions.
Choose a platform(s)
Today's platforms offer as many as two options for development: iOS and Android. Of course, there are forks in the form of skins or custom systems based on the Linux kernel, but they are only a kind of Android with containers to run apk files and personalized frameworks. This diversity is leveled by trivial processes: optimizing and testing the product on a number of popular devices.
Our recommendation: use progressive hybrid frameworks and cover the maximum needs of your TA.
Establish UX
In mobile apps, user experience is the key driver of popularity. Don't ignore trends in gesture control, multitasking, and interoperability to attract the maximum audience. Leverage the full potential of frameworks and technologies to deliver an innovative digital solution.
Choose a cooperation model
Decide on a model for cooperation. If it is expensive to develop a digital product in your country – look for performers in offshoring or nearshoring. Usually, their services are cheaper, but the quality of the IT solution is up to expectations.
Find a performer
After choosing a work model, look for companies that provide services under it. Usually, such IT teams are located in every region and ready to take on any project within their competence. One of the brightest representatives of modern mobile development is Glorium. They are experts in mobile and many other solutions.
Sign a cooperation agreement
As soon as you find a potential performer, be sure to contact the manager and sign a cooperation agreement. This will save you from confidential data leakage and ensure complete anonymity of the work process.
Also, if any problems arise, you will have proof in the form of a contract.
To Summarize
Developing apps for smartphones is a time-consuming and very costly process. But all of this is offset by the business's profit after releasing the IT solution to the market. This expansion of the sphere of influence has advantages for the company:
Increased brand recognition
New source of income
Monetization through advertising
The scaling of services
So, if you have long wanted to reach a serious level and compete with the flagships of the industry — hire mobile app developer and delegate the development task to them!
FAQ