As a startup owner, you're probably trying to find ways to save money and time while still developing a great product. One way to do this is through product development outsourcing. In this article, we will explore how outsourcing can save costs, provide access to expertise, accelerate time-to-market, offer flexibility and scalability, and allow startups to focus on their core business.
What is Product Development Outsourcing?
In today's fast-paced business environment, startups need to stay ahead of the curve and develop innovative products that meet customer demands. According to the latest research, the business process outsourcing market is expected to grow 8.9% between 2023 and 2030.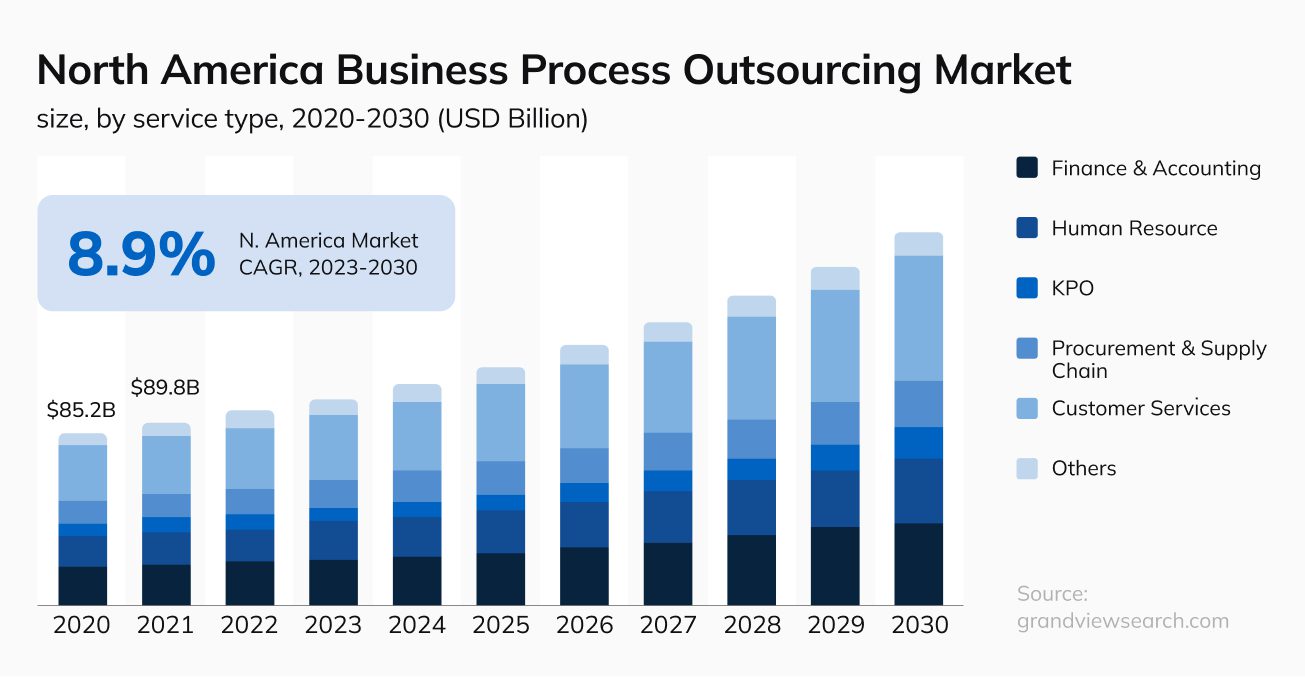 So why do a lot of businesses choose outsourcing?
Outsourced product development can be a valuable strategy for startups that may not have the internal resources or expertise to develop a product in-house. Outsourcing your product development can help you achieve your goals while avoiding the cost and time commitments of hiring and training an in-house team. By outsourcing, startups can access specialized skills and resources, reduce costs, and accelerate their time-to-market.
Outsourced product development refers to hiring an external company to develop a new product or software for your startup. It involves outsourcing the product's design, development, testing, and implementation to a third-party vendor specializing in product development. The team in the outsourcing company work together to ensure the product is delivered on time, taking into account budget, and to the highest quality standards.
A lot of worldwide companies have successfully used outsourced product development. For example, a team of outsourced developers developed the popular workplace messaging app Slack and the world's largest code-hosting platform GitHub used outsourcing to develop its mobile app.
Why Startups Need Outsourced Product Development Companies?
Launching a new product or software can be a daunting task for startups.
They have two options: in-house development or outsourced product development. In-house development involves building a product using internal resources, while outsourcing involves hiring a third-party vendor to develop the product. While both approaches have advantages and disadvantages, outsourcing product development can provide startups with several benefits over in-house development.
Outsourcing
In-house
Cost and time for your app development

Outsourced product engineering eliminates the need for significant investment in recruiting, training, and managing an in-house team, 

In-house software development can be more costly and longer, as it requires significant investment in infrastructure, equipment, and salaries.
Experience and expertise for your app development

Outsourced product development provides access to a wider pool of talent and expertise, including specialized skills and experience that may not be available in-house.

Outsourced product development services offer startups the ability to work with external vendors who have a proven track record of delivering high-quality products on time and within budget.

In-house software development may be limited to the skills and expertise of the internal team members and may require significant investment in recruiting, training, and retaining top talent.

Control of your app development

Outsourced product development can raise concerns about the level of control that startups have over the development process. But choosing a reliable outsourcing company can help with these challenges.

In-house software development provides startups with more control over the development process and intellectual property.
According to Deloitte research, startups choose outsourced product development, because it is cost-efficient, requires significant time, resources, and expertise to create a product that meets the needs of the customers and stands out in the market.
Let's take a look at all the reasons why to outsource in detail.
Cost Savings
Outsourcing product development can significantly reduce costs for startups. By hiring an external team, startups can avoid the expenses associated with hiring and training an internal team, as well as the costs of equipment, software, and workspace. Additionally, outsourcing can provide access to cost-effective resources and materials.
For a startup owner, hiring an in-house team of developers would be costly. Instead, an outsourced product development company can save you money on labor costs, office space, and employee benefits, while still getting the high-quality development services you need.
Outsourcing product development can save you money in various ways:
Hiring a team of in-house product developers can cost upwards of $100,000 per year in salary alone. By outsourcing, you can avoid these costs and only pay for the services you need.
Outsourcing app development can reduce the need for costly equipment and software investments, as external partners often have their own tools and technologies.
Read more about pros and cons of in-house and outsourcing software development.
Access to Expertise
Outsourcing product development can provide startups with access to specialized skills and expertise that may not be available in-house. External partners can bring experience and knowledge from a variety of industries, as well as the latest technologies and best practices for your software development.
Outsourcing product development can provide startups with access to expertise in areas such as:
Software development: A software development company can provide expertise in coding, design, and testing to ensure your software is functional and user-friendly.
Hardware development: A hardware development company can provide expertise in areas such as electrical engineering, mechanical design, and product prototyping.
Healthcare development: A medical app development company can provide expertise in areas such as regulatory compliance, safety testing, and clinical trial management.
If you're a startup owner in a remote location with limited access to highly skilled software developers, outsourcing product development would give you access to talented developers from around the world for any kind of software development you need. You could work with a team in another country with specialized knowledge and experience in developing software for your industry, ultimately improving the quality of your product.
Faster Time-to-Market
One of the main benefits of outsourcing product development is the ability to accelerate time-to-market. With a dedicated team of experts working on your software development, you can move quickly from ideation to launch, and get your app into the hands of customers faster. This can be especially important in industries with fast-paced innovation cycles, where speed can make the difference between success and failure.
Developing the app in-house would require recruiting and training a new team, investing in infrastructure, and navigating the learning curve of a new technology stack. Alternatively, outsourcing the development to a specialized company can provide the expertise and resources needed to quickly build and launch the app. In this way, the startup can get its product to market much faster than if it had tried to build the app in-house.
If you have a limited budget and a tight deadline for launching a new product. By outsourcing product development, you can work with an experienced team that can develop your product within a shorter time frame. They can also take care of product testing, ensuring that your product is bug-free and meets the necessary quality standards.

Anna Vozna

Client Success Manager, Glorium Technologies
Flexibility and Scalability
One of the biggest advantages of outsourcing product development is the ability to scale up or down as needed. Startups often experience fluctuations in demand for their software, which can result in the need for additional resources. By outsourcing product development, startups can quickly and easily scale their teams up or down to meet the changing demands of their business.
Adobe has been able to scale its software development efforts quickly by engaging with outsourcing partners. When facing increased demand or working on new product releases, they can easily ramp up their development teams by partnering with external experts. Another example is Microsoft. By outsourcing software development, Microsoft can tap into additional resources and expertise beyond its in-house teams. This outsourcing of software allows them to quickly scale up their development efforts, allocate specialized skills to specific projects, and meet increased demand effectively.
Read more about pros and cons of choosing an outsourcing team from Ukraine vs India.
Focus on Core Business
By outsourcing product development, startups can focus on their core business functions, such as marketing and sales, while leaving product development to the experts.
The popular file-sharing and storage company Dropbox used outsourcing to develop its mobile app. The company worked with a team of developers to build its Android and iOS apps, which are now used by millions of users worldwide. By outsourcing the mobile app development, Dropbox was able to focus on its core business of file storage and sharing while still providing a high-quality mobile experience for its users.
By partnering with external development teams, Netflix prioritizes the improvement of its streaming platform and user interface, ensuring a seamless and immersive experience for its subscribers. Outsourcing software and app development enabled Netflix to allocate more resources to content acquisition, production, and curation. This allows them to continually expand their library of movies and TV shows, satisfying the diverse preferences of their global audience and introducing new features and improvements to its software and app at an accelerated pace.
Challenges of Product Development Outsourcing
While outsourcing product development can provide numerous benefits for startups, there are also several challenges that they may encounter. Some of the most common challenges of outsourced product development include: communication barriers, quality control, intellectual property concerns, project management challenges, cultural differences.,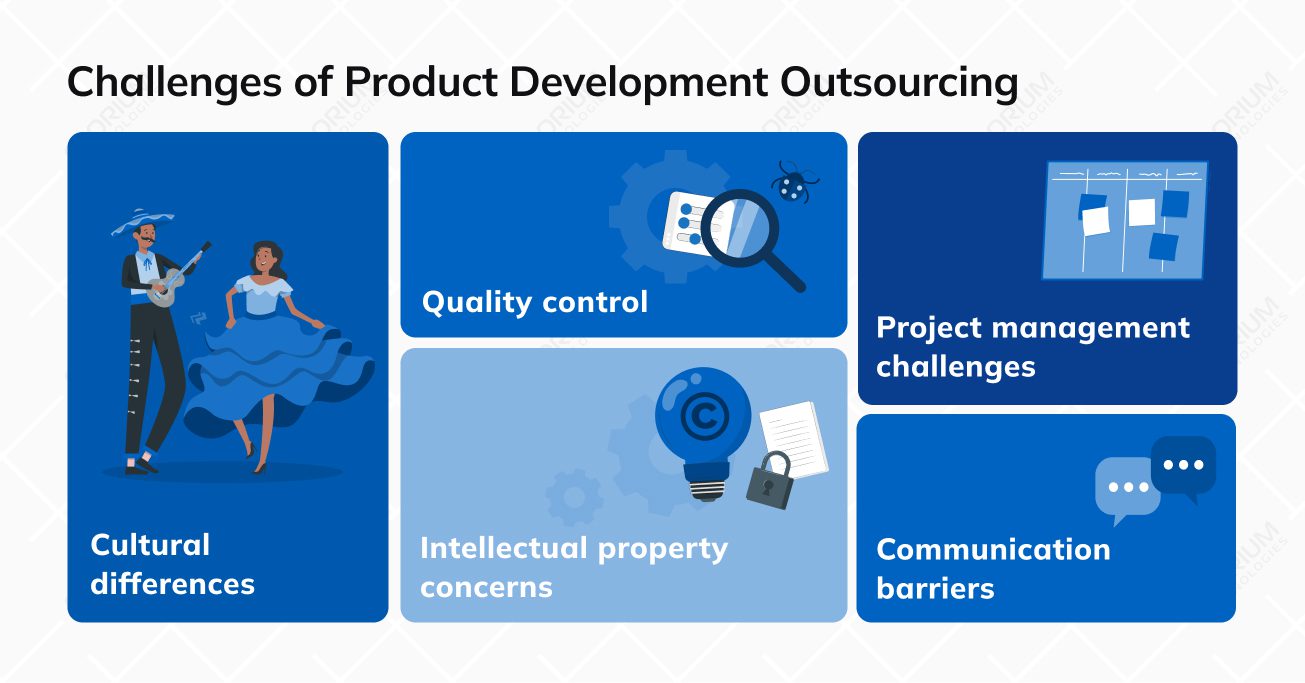 Communication barriers: Outsourcing product development often involves working with a team in different time zones and cultural backgrounds, which can create communication barriers. Such challenges can lead to misunderstandings, delays, and other issues that can impact the quality of the final product.
Quality control: Outsourcing product development can make it difficult for startups to maintain quality control over the final product. The outsourcing company may have different quality standards and processes, which can impact the quality of the final product. To overcome this challenge you need to establish comprehensive quality assurance processes, including clear requirements and specifications, and regular progress reviews for the team.
Intellectual property concerns: Outsourcing product development can raise concerns about protecting intellectual property. Startups must have proper contracts and agreements to protect their intellectual property rights and prevent unauthorized use or disclosure of their trade secrets.
Project management: Outsourcing product development can be challenging, involving coordinating multiple teams and stakeholders across different locations. Startups must have a robust project management process to ensure the product is delivered on time, within the specified budget, and to the required quality standards.
Cultural differences: Outsourcing product development can involve working with teams from different cultures, which can create challenges related to communication, work style, and decision-making. Startups must be aware of these cultural differences and take steps to address them to ensure that the project runs smoothly.
By being aware of these challenges and taking proactive steps to address them, startups can ensure that their outsourcing partnerships are successful and deliver high-quality software that meets all needs of the customers.
Tips How to Choose Outsourced Product Development Company
Choosing the right outsourced product development company is critical to the success of your software and requires careful consideration and research. The Glorium team has provided some tips to help you choose the best outsourcing partner.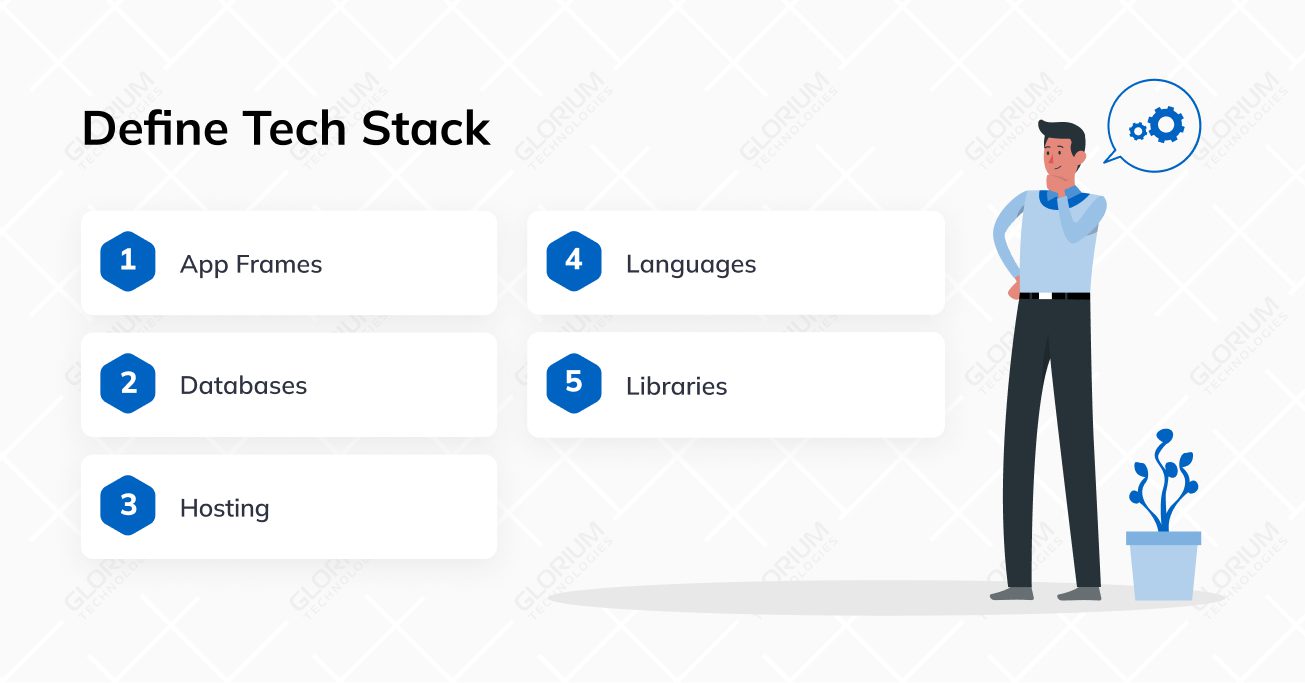 Look for an outsourcing company that has experience in software development similar to yours. They should have a team of skilled professionals with expertise in relevant technologies and tools.
Review the outsourcing company's reputation. Check their reviews, testimonials, and case studies to ensure they have proven high-quality apps.
Ensure the outsourcing company has a clear and effective communication and collaboration process. They should be responsive and transparent and provide regular updates on the project's progress.
Ensure the outsourcing company has proper contracts and agreements and maintain confidentiality throughout the project.
Finally, consider the outsourcing company's cost and value proposition. They should provide competitive pricing while delivering high-quality work that provides value to your startup.
By following these tips, you can find an outsourcing partner with expertise, experience that aligns with your startup's needs and goals. Read more about how to choose the right vendor for outsourcing programming.
As an IT outsourcing company with over a decade experience on the market, Glorium Technologies provides a wide range of outsourced product development services that can help startups build high-quality products efficiently and cost-effectively.
Our team of experts can work closely with startups to understand their needs, develop customized software, and deliver high-quality work that meets their business goals. As outsourcing product development can be quite overwhelming. That's why we make the process as seamless and transparent as possible. The Glorium team is committed to providing regular updates and maintaining open lines of communication throughout the product development lifecycle. We also follow strict quality assurance and testing processes to ensure the final product meets the highest quality standards.
Are you looking to build a cutting-edge product but finding it challenging to keep up with the ever-evolving technology landscape? Contact our managers to discuss all details.
Questions You May Have