IT outsourcing is getting more and more popular globally. According to Statista, the market revenue reaching $395 billion in 2022 will grow annually by 8.26%, increasing to US$587.30bn by 2027. What are the reasons for that? As of now, we can see two main industry drivers.
Talent Shortage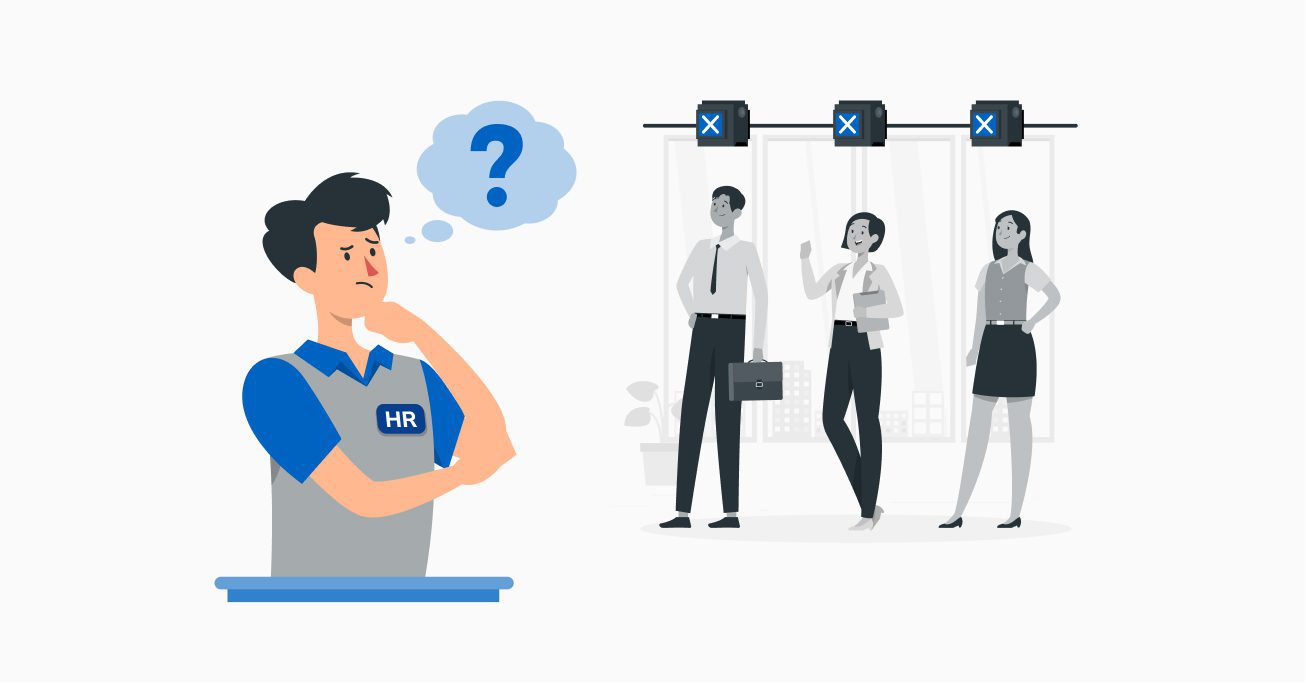 With demand for software developers in the United States soaring, over 900,000 job vacancies remained unfilled as of 2021. But 2022 brought some dramatic changes to the tech industry. Around 200,000 employees were laid off during the past year.
But, as New York Times reports, even after significant cuts, the largest tech companies are still behemoths.
And businesses are still looking for experts outside the United States. And there is one more reason for that.
Cost Efficiency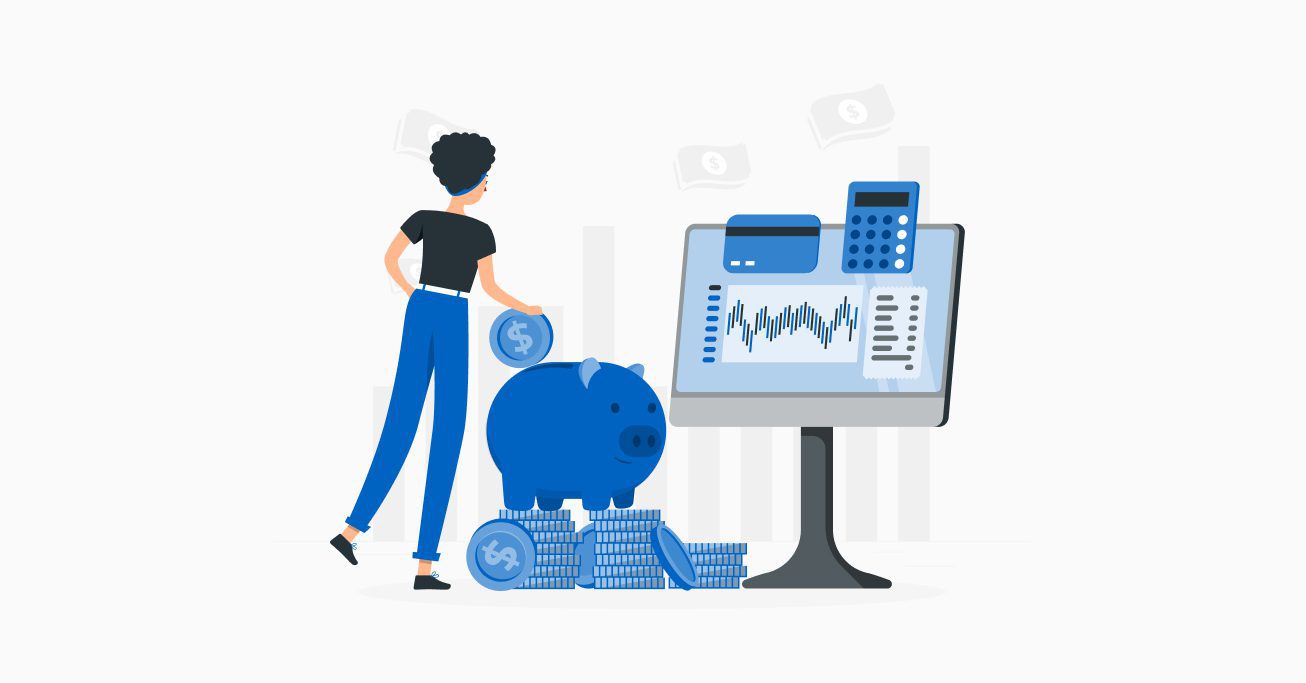 By tapping into the outsourcing developer market, companies can slash their development costs by up to 60% without compromising quality.
For instance, a senior-level software engineer in the US charges an average of $100-$150 per hour for contract work – but taking advantage of Ukrainian expertise will bring those rates down to only$35-$55 hourly.
Considering the significant decline in economic activity, businesses will keep on looking for ways of further cost reduction. And that means they will outsource some of their activities like software development services.
Where do they order software development offshore? Let's have a look at them in the context of regions: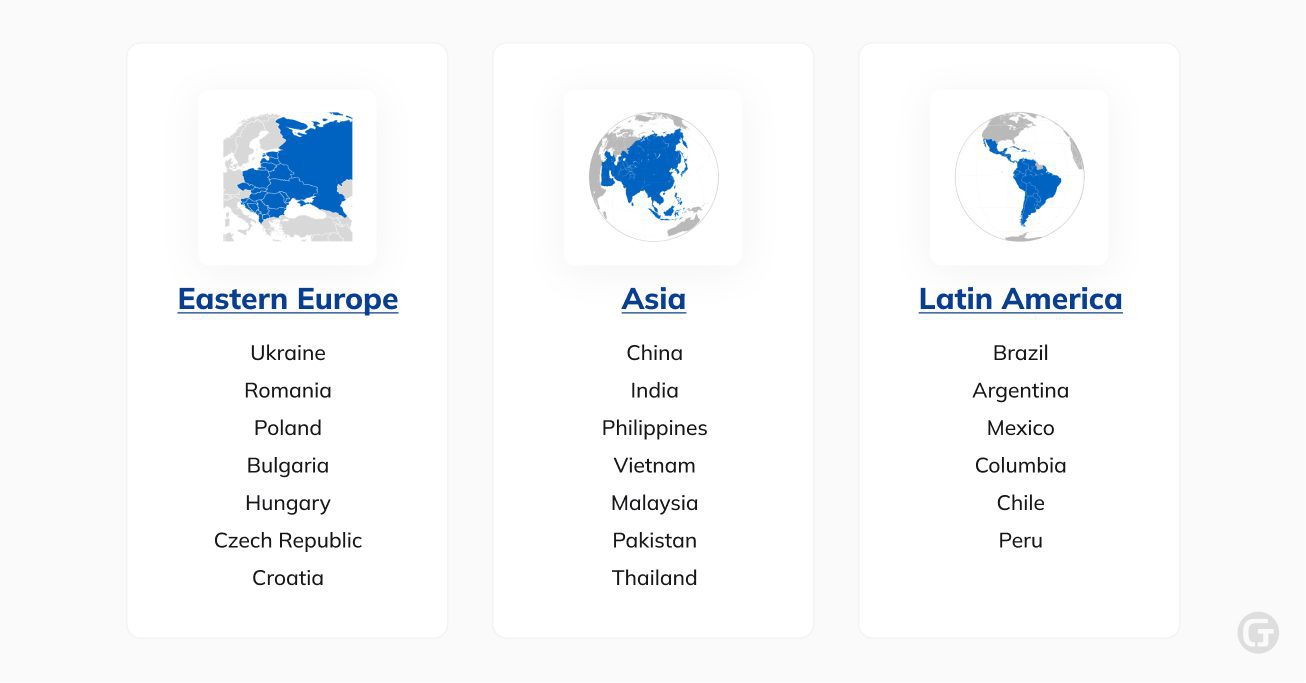 Which one to choose? Let us compare the two most popular countries from Eastern Europe and Asia. Ukraine and India.
Outsourcing in Ukraine
The tech industry in Ukraine has a long history rooted in the middle of the 20th century.
The first computer in Europe got assembled in Kyiv in 1951. In 1956, a tech scientific lab created the next device, and, for the first time, so-called "address language" was used to make it work properly.
In the 1980-the 1990s, labs developed many software solutions for industrial enterprises. And when Ukraine gained independence in 1991, the country already had a solid background in information technologies.
Former lab employees started learning new languages and looking for their first clients abroad. As the first foreign investors were entering the Ukrainian market, they offered the initial projects to local developers. Since then, the mighty IT industry has been growing up.
In 2022, despite the war, the IT services export from Ukraine has grown by 16%. IT in Ukraine now has over 300K tech specialists, while the founders of the Grammarly company are among the wealthiest people in Ukraine.
| | |
| --- | --- |
| PROs | CONs |
| Plenty of tech specialists | War against Russia |
| Affordable prices | Different time zones |
| A large number of English-speaking developers | English proficiency needs improvement |
| Good project management and business analysis | |
| High resiliency to big challenges like war | |
Plenty of Tech Experts
For companies seeking a skilled developer for their team, the tech industry in Ukraine offers plenty of options.
Most popular and in-demand languages or frameworks include Java, Python, C++, JavaScript, C#, PHP, TypeScript, Kotlin, Swift, Go, and Ruby. Various web-related development technologies such as HTML/CSS and ReactJS are also abundant.
With so much variety, it's easy to find someone who fits even the most specific needs!
Young Talents
Ukraine has several hundred universities specializing in tech. Annually, around 20,000 young talents graduate and join the IT community of Ukraine. As the industry is highly developed, those newcomers quickly grow, engaging in real projects for Western clients.
Client-Centered Approach
As Ukraine borders the EU and keeps course on joining it, the connections get strong. Ukrainians are learning quickly and applying the European approach to the customer journey and user experience.
Ukrainian software developers wear a commitment to excellence and exceptional work ethic on their sleeves. Companies focused on forming long-term partnerships instead of one-off projects choose to outsource their engineering needs to Ukraine with lasting success stories.
Constant and clear communication between clientss and contractorss ensures that any misunderstandings can clear up quickly – allowing a project's progress toward completion to run optimally throughout its lifecycle. In some countries, you may hire an affordable development company but with no project manager or a dedicated team and speak to a different person each time but under the same name in a messenger. As a result, you can repeat one and the same things many times and get different outcomes.
Strong and Credible Startup Community
The Ukrainian tech community gets recognition from the Ukrainian government and international investors.
In February 2022, the government introduced a special legal regime called Diia City. It aims to support the further growth of the IT industry. In August 2022, Google created Google for Startups Ukraine Support Fund and provided $5 million in funding for Ukrainian tech startups.
You can take a look at the list of the best mobile app development companies in Ukraine.
The European Commission has launched an incredible project to invest in Ukrainian innovation. With 20 million euros, the EIC will tap into startups and provide vital resources to reach their full potential – whether that means a financial gift of up to 60 thousand euros or tailored business support such as matchmaking services.
FF Venture Capital established its FF BLUE & YELLOW HERITAGE FUND to support Ukrainian founders and startups and contribute to tech industry development. So, as we see, the industry is unbelievably resilient and attracts funding from international investors even under the harsh conditions of war.
Outsourcing in India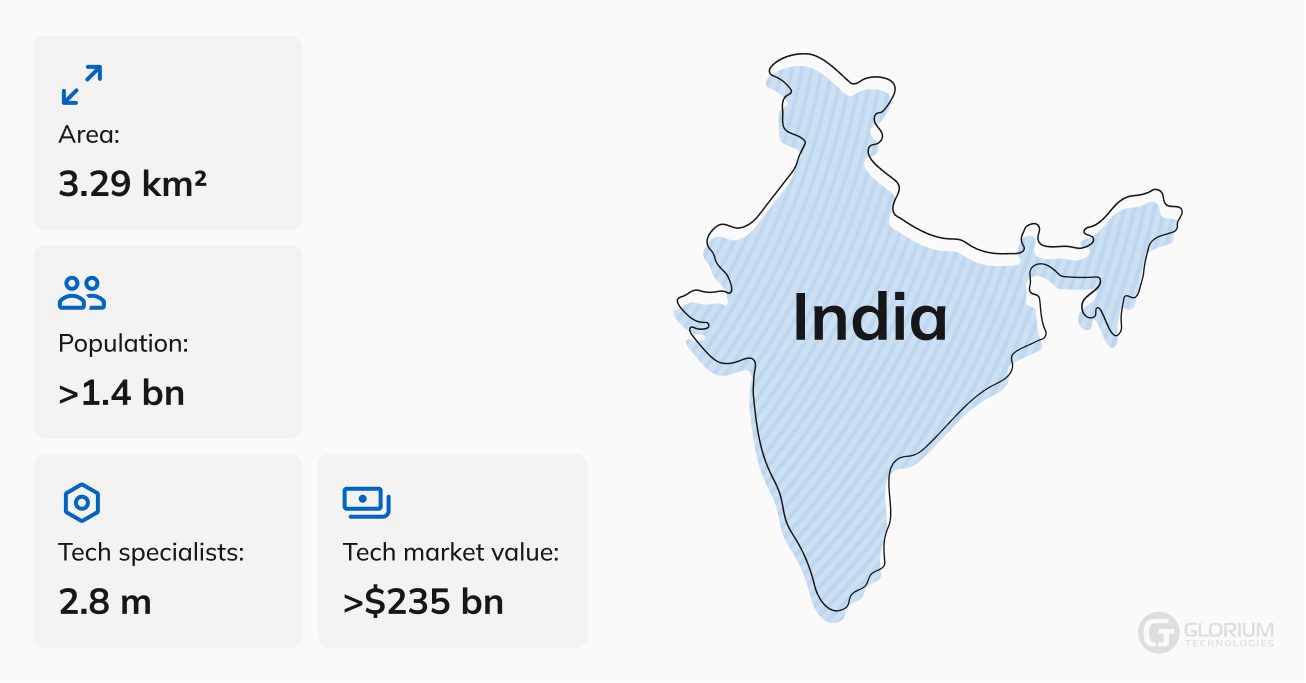 The tech industry of India also has a long and exciting history.
The first IT company Tata Consulting Services (TCS), was established in 1968. Now it's an international corporation with numerous branches across the world. In the 1970s, the government adopted a support program for software developers. However, it left much to desire as the state controlled most of the industry and gave the cold shoulder to private businesses.
Unlike Israel and Ireland, where international businesses launched tech companies, the Indian tech industry was the product of local players sending their developers to foreign clients. In 1974, Burroughs wanted to make waves in the world of mainframe manufacturing and tapped its India sales agent, TCS, for help. Working together, they achieved a monumental feat – providing system software and programmers for an American customer!
In 1984, the Indian IT sector underwent a significant transformation thanks to Rajiv Gandhi's New Computer Policy (NCP-1984). This policy introduced several beneficial policies, such as drastically reduced import tariffs and recognition of software exports, enabling exporters to acquire bank finance. It also allowed foreign companies to set up autonomous export-dedicated units in India and established various software parks with affordable infrastructure cost options. These necessary changes propelled the blossoming growth of this vital industry.
Today, India's tech sector is on an impressive rise, with IT exports valued at $70 billion and over 2.8 million people employed in the industry. Companies like TCS, LTI, Wipro, and Infosys are making waves as international powerhouses shaping the future of information technology globally. Also, some global giants like Adobe, Amazon, Meta, Google, Microsoft, Hewlett-Packard (HP), Intel, Paypal, Salesforce, Flipkart, and Oracle have operations in India.
According to Statista, the total market size of the Indian IT market, including eCommerce, is 235 billion U.S. dollars as of 2021, not including the hardware sector. The fast growth spurts, however, bring their challenges.
Plenty of IT Workers With Different Levels of Competence
There are a lot of highly-qualified tech experts in India who work for international corporations and have a proven track record of successful projects.
India has good colleges that focus on math and hard sciences to contribute to the development of the IT sector. Unfortunately, not everyone can afford tuition in those schools.
As a result, many students find themselves in a catch-22. Studying at substandard colleges where the technical knowledge they learn becomes obsolete by the time they graduate. Even if there is some usable expertise earned along the way, it may not be helpful for actual professional projects due to its quickly expiring shelf life.
The tediousness and rigor of academia can lead one on several wild goose chases. Reading hundreds of books brings very little real-world value in the end.
That is why there is a risk of hiring an affordable team only to find out it is not skilled enough to complete a real-life project successfully.
| | |
| --- | --- |
| PROs | CONs |
| Plenty of tech specialists | Many poorly skilled developers |
| Affordable prices | IP and security issues |
| A big number of English-speaking developers | English proficiency leaves much to be desired |
| Developed IT and telecom infrastructure | Project management is missing in small studios |
| | Different time zones |
Big corporations headquartered in India have high-quality standards and professional teams. They also charge high prices for this quality.
On the other hand, many small and affordable studios are ready to take your order as soon as possible. And sometimes, it is crucial as your project may have very tight deadlines. For instance, your market position can depend on when you launch your new product or feature. So, the team that can complete your tasks quickly may be a lucky find for you.
But there is a downside: small studios often do not have project managers, business analysts, quality assurance teams, and a helicopter view. Meanwhile, only a thoroughly prepared project will launch successfully. The planning stage requires time and effort to dive into details, understand the business objectives, consider further growth and scaling opportunities, and include all of this in your technical specifications.
Smaller vendors often do not see the whole picture, focusing on separate pieces of your product. It brings the risk of not assembling these properly afterward. And you need to invest much time and effort into numerous improvements instead of getting what you need after thorough planning.
If you are ready to hire such a small studio, write a meticulously detailed scope of work with precise and strict acceptance criteria. Otherwise, your contractor will hardly understand what results you want, and you will waste a lot of time in an endless back-and-forth.
Security and IP Issues
Companies hiring affordable small studios must be aware of the potential for security vulnerabilities. Poorly experienced workers can put your business at risk. Encryption flaws can potentially open doors to cyber-criminals and jeopardize sensitive data. To avoid being exposed, be sure to vet team members properly!
Ethical and intellectual property issues sometimes arise as the legislation in India is not as strict as in the West. Developers may be compliant with it but not with harsher Western requirements. So, pay more attention to the security questions when choosing an outsourcing team.
Bottom Line
When choosing where to outsource a business project, get the most bang for your buck! Cost efficiency is important, but quality must not suffer.
When selecting an affordable team, consider all risks and allocate time for potential issue resolution if needed. Additionally, consider cultural differences and language barriers which may inhibit effective communication regarding tasks.
Weighing pros versus cons will help ensure you've made a fully informed decision with confidence – no matter what country you choose!