According to statistics, the size of the global streaming market in 2021 was estimated at $988 million. By 2028 it is projected to increase to $4.3 billion; the average annual growth rate will be 23.5%. What is the main reason for the popularity of this video format? Almost half of the users surveyed are attracted by the ability to view content at any time and place. Another 44% value streaming video for its originality and relevance, and 32% the main factor was its high quality.
Do you want to be on trend and provide your clients with what they need? It's time to order the development of Live Streaming App and make money on global trends. At Glorium Technologies, we follow all innovations in this area and are ready to share our experience with you.
What Is a Video Streaming App? Industry Leaders and Facts You Might Be Interested In
The Video streaming app is an application that allows users to watch live video content (live streaming). The number of such digital solutions on the market has been growing recently, thanks to the availability of high-speed Internet connections and the latest cameras that allow you to shoot premium-quality video.
As for the most popular video streaming apps, the top five download leaders for 2021 are the flagship Netflix, Disney +, Amazon Prime, HBO Max, and Pluto TV.

The association with the gaming industry is characteristic of modern streaming apps; video broadcasting of cybersport tournaments and gameplay is gaining more and more popularity. As for apps for broadcasting such content, the undoubted leader here is Twitch – the brainchild of Twitch Interactive, a subsidiary of Amazon. This video streaming service will reach 2.63 million simultaneous viewers in 2022, and the number of its monthly broadcasters is approaching 8 million.
Equally impressive is the performance of other platforms and the industry as a whole:
Enough arguments in favor of the promise of video streaming? Then it's time to talk about how to develop a quality app that will put you in the top streaming providers.
Video Streaming App Development: Deciding on the Type of Digital Solution
Before ordering the development of an app for viewing streaming content, you should choose the type of product you want. There are 3 main types of such software on the market today.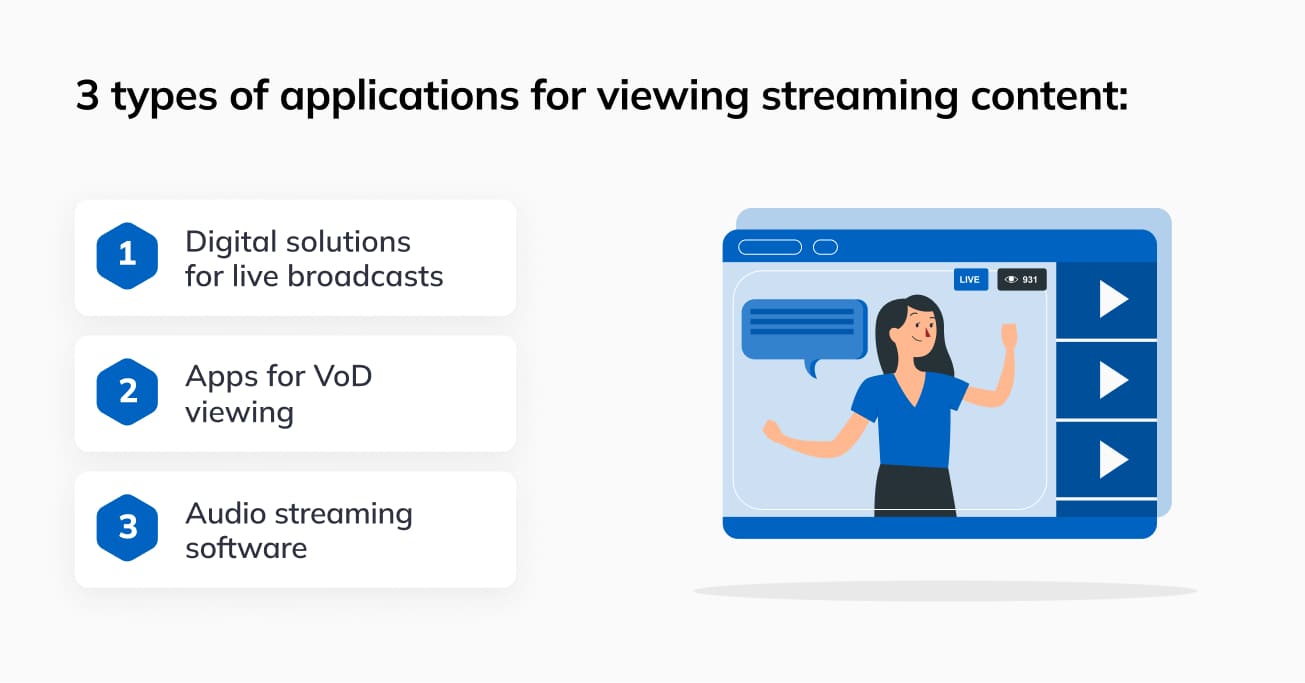 Digital solution for live broadcasts
This type includes apps that allow users to watch videos in real-time. These platforms can broadcast gamers' gaming sessions, on-the-spot reports, online conferences, and anything else that interests viewers here and now. Popular digital products of this type include YouTube Live, Ustream, Facebook Live, Instagram Live, Twitch, and others.
Advantages of such software include:
"presence effect" – the viewer feels like a participant in exclusive events;
impressive coverage of the audience online;
saving the budget for offline events;
effectiveness in marketing – suitable for press releases, and presentations of new products and services.
While this format has many advantages, it also has some disadvantages. For example, viewers are limited by time, you can watch the content only during its broadcast, and it is not available in the recording. Also, creating an app for live streaming is technically more complicated and, accordingly, more expensive than its alternative – a software product for watching video on demand.
Apps for VoD viewing
Video on Demand, or VoD, allows viewers to watch the content they are interested in in a recorded format, and this is its main advantage over live streaming. The rhythm of modern life dictates its own terms, not allowing users to adjust to the streamer's schedule. Therefore, many live streaming platforms have made the intelligent decision to accommodate their viewers by adapting their content for VoD apps. Leading platforms that support VoD playback are Netflix, Amazon Prime, Apple TV, HBO, and many others.
Other VoD benefits:
Such apps are less dependent on the quality of the Internet connection.
Authors get more freedom: they can experiment with video processing, which is unavailable during an online broadcast.
VoD provides a broad audience reach: viewers can watch video content anytime on any device. You can also share a link to a VoD video broadcast on your company's official website, social media, personal blog, or even send it via e-mail.
The only downside to this streaming format is the time delay in delivering content. If you are alright with waiting, a VoD app is the best solution.
Audio streaming software
An alternative to video streaming apps is audio streaming software. Leading providers provide users with access to millions of audio files. Most of them allow you to select content (Spotify, Apple Music, Amazon Music, Deezer, Pandora Premium, etc.). Some only work in radio mode (e.g., Pandora and UnRadio).
How To Create a Live Streaming App: Diving Into the Intricacies of the Process
The video streaming industry is highly competitive, with more than 200 streaming services available to global users in 2022. In addition, the main share of viewers is held by recognized industry giants, such as Netflix or Amazon Prime Video. Therefore, to win your audience, creating your own app should be thought through to the last detail, and it is not a development that you should start with.
Analyze your target audience and their needs
Developing an app based on assumptions is doomed to failure. Study your target audience: their average age category, interests, and location. Ideally, talk to their representatives. In this way, you can create precisely the app people are interested in and, at the same time, get the first beta users of your product.
Choose a monetization model
Creating any app, first of all, pursues an important business goal: making a profit. Therefore, sooner or later, you will face the question of how to get this profit from streaming video broadcasts. There are three most popular models for monetizing such digital services:
Usage fees. The simplest thing you can do to make a profit from the software you create is to make it paid for. That is, to download the app, users have to pay a one-time fee, after which they get access to all the functionality.
Freemium. This model implies the free use of a limited set of app features, while premium features must be paid for. For streaming services, such features can include free subscriptions to your favorite channels, access to popular games in the case of apps that offer video gameplay, and more.
Earnings on ads. Place advertising banners or full-fledged videos in your software that run as you watch the video. Don't worry that this will alienate users, as people are usually willing to watch ads for the sake of using the app for free. Alternatively, you can make ad-free content available in a paid subscription – thus combining two monetization models in your app at once.
In fact, this is the way many successful services choose; they rarely use any of the strategies described in their pure form. For example, Twitch earns money from paid subscriptions, advertising, and selling so-called bits, the virtual currency used in-game chat.
Choose a content delivery network – CDN
CDN is a network of interconnected servers that provides a high speed of content delivery to users. Yes, it is an additional cost at the initial development stage, but this technology's benefits allow the entire investment to pay off quickly. Using a CDN helps reduce bandwidth costs, increase the quantity and quality of content delivered, and reduce the time it takes.
Decide on a model for hiring a development team
It is good if your company can afford a full-time development team. Such specialists are always at work, have long since overcome all possible problems with communication, and are deeply immersed in the specifics of your business. But along with all the advantages, hiring in-house specialists has its disadvantages. You'll have to pay them a steady salary, even when the work on the project is not in progress. In addition, do not forget the cost of office rent and maintenance and regular investments in staff development and training.
In short, if you don't have a full-time team, don't rush to hire one. An excellent alternative to the classic employment model is the services of outsourcing companies. Their providers will find developers with the appropriate technology stack, experience, and expertise. You only have to voice your wishes on the finished product and wait for the result.
This hiring model is much more economical than keeping a full-time team; you pay for the work done or the number of hours worked.
Don't skimp on hosting reliability
Users do not tolerate interruptions in streaming video and low-resolution content, so choose a reliable platform for hosting, streaming, and storing data. With today's technology, it makes more sense to use a cloud-based file hosting service like Amazon Simple Storage Service. Trust us, as the number of users increases and the software scales, you'll feel the benefits of your choice.
Consider UI/UX design
The reliability and uptime of your app are critical, and your users will surely appreciate these parameters when they use the software. But, as they say, it's all about the look, so a good look and user-friendly interface is the first step to attracting an audience. Choosing a development company, prefer the one that provides comprehensive services. After all, only close cooperation between frontend, backend developers, and designers can maximize the user experience.

Develop a marketing strategy
Think about promoting your digital product before it even hits the market. Make sure that people start talking about the launch of the new service. Launch an advertising campaign, connect your Influencers, and take advantage of SMM. In the end, arrange for several broadcasts with popular streamers; let them attract their audience to your platform.
Order MVP development
Like every software solution customer, you probably have your own vision of the finished product. You know exactly what features your app should have and how they should be implemented. But how do you check whether your idea coincides with the needs of your target audience? How can you make sure that the development money will not be wasted? The best way before releasing a full-fledged app is to order the development of a minimum viable product. This app has a limited set of the most important features, which is created to test its relevance with users.
Test the digital solution
Neglecting quality control can cost the software customer dearly. According to statistics, it costs 6.7 times less to fix a bug during the testing phase than after its release.
Scale, expand, improve
Once the general public has warmly welcomed your MVP, you can continue working on the full digital solution: scale it up, add advanced functionality, and fix detected shortcomings.
Let's talk about the last two stages of creating a live-streaming app in more detail. How to decide which functionality should be implemented in the MVP and which can wait?
Features That Live Streaming App Development Company Should Implement in the MVP
Initially, your video streaming app must include features without which it would be impossible to use:
Registration of the user in the system and logging in to their account. The ability to register and log in to your account using your email address and password will be sufficient.
Broadcasting video content. Users should be able to watch streaming video, record it, and broadcast it to their subscribers.
Content search. This function is required to implement the main advantage of VoD – watching the content of interest in the record at any convenient time.
User Profile creation. Users highly value personalization, so don't deprive them of this at the MVP stage. Let your customers add a profile photo and share their information with friends and subscribers.
Video rating and comment system. It is important for users to share their impressions of what they see. There's also no getting around ranking video content based on its popularity – the public tends to have an impact on what they watch.
If the MVP release is successful, you can start improving the product and add other user-friendly features to it.
Additional Functionality To Increase Your Audience Loyalty
To decide what other features consumers might be interested in, study competitors' offers, conduct a survey on your social networking page, in short, research the needs of your target audience. Examples of features you might consider include:
Additional registration options. Allow your users to sign up using their Google accounts or social media accounts. This can be done in a single click, which is much more convenient than filling out even the shortest registration form.
Extended user profile. Add fields other than name and avatar to the user profile. Users like to share their interests, location, etc., with subscribers.
Additional video broadcasting features. For example, you can add screen sharing; you can't do without it in streaming games and educational video broadcasts.
Donations. Allow your clients to earn in the app not only from paid subscriptions but also from viewer donations. The function works very simply – if you like the video, the viewer can voluntarily donate a certain amount to the streamer.
Chat feature. Experts state that streamers' success is impossible without communication with the audience during a video broadcast. With the help of chat, you can achieve maximum audience engagement. When adding this feature, it is necessary to consider who will moderate the chat. Modern technology allows you to organize this process with the help of Artificial Intelligence, but it will require significant financial costs.
Change the video quality. When developing the software, you should consider the fact that users may have different quality of Internet connection, so it would be reasonable to add the ability to change the resolution of the viewed video.
Additional search options. If in MVP, it is acceptable to add the ability to search for 1-2 basic parameters for the full product version, it is better to expand their list. You can add the ability to search by streamer location, video topics, popularity, number of views, etc.
Sending Push notifications and schedules. This feature will prevent users from missing out on content they are interested in.
Demonstration of related content. The system will analyze the user's interests and offer them to watch video broadcasts on the same topic.
Privacy settings. Allow streamers to decide to whom they want to broadcast their content. This can be all app users, a specific group (such as its subscribers), or even one specific person.
Experienced developers will listen to your vision of the finished product, conduct an in-depth business analysis and help you choose the features you need.
What Kind of Technology Stack Would It Take To Build a Live Streaming App?
As with any software, before starting development, your team will have to decide on the technology stack to use. It will depend on what tasks they are facing and what goals the customer is pursuing. As for programming languages, the choice here is wide enough – developers can choose Java, Swift, Kotlin, or another option. The same applies to databases; it is quite suitable for the popular MySQL or Oracle. Let's focus on the tools that are specific to this industry.
Video streaming protocols
The main task when streaming video content is to organize video transmission of good quality and with minimal delays. Two types of streaming protocols are suitable for this: RTMP and WebRTC.
RTMP is a real-time messaging protocol, the use of which provides high-quality transmitted video. Whereas due to low bandwidth, content can be delivered to users with a delay of up to 20 seconds. RTMP is the optimal solution for video broadcasting of conferences, concerts, and other events for which low latency does not play a major role, while the quality of content is fundamentally essential.
WebRTC, or Web Real Time Communications, is a protocol that allows you to broadcast video with minimal delay, up to 1 second. With sufficient bandwidth, the quality of the content will not suffer either. These characteristics of the protocol make it the best solution for real-time communication; it is most often used in video conferencing applications.
CDN
In order to achieve high video broadcast performance and make it available to the audience, it is important to choose a reliable content delivery network. We recommend Cloudflare, favored by Discord, Reddit, and Twitch, and Amazon CloudFront, a favorite of Hulu, Amazon Prime Video, and Blockbuster.
Cloud platform
Not all cloud platforms have features suitable for video streaming. The optimal solution for video streaming is Amazon Web Services. This commercial, public cloud allows you to efficiently manage streams, host an app, and deliver content to users.
You will also have to choose a platform for media processing (such as Wowza), a tool for sending Push notifications (we suggest trying Firebase), and a message queue service (as an option, Amazon SQS).

How Much Does It Cost To Build a Live-streaming App?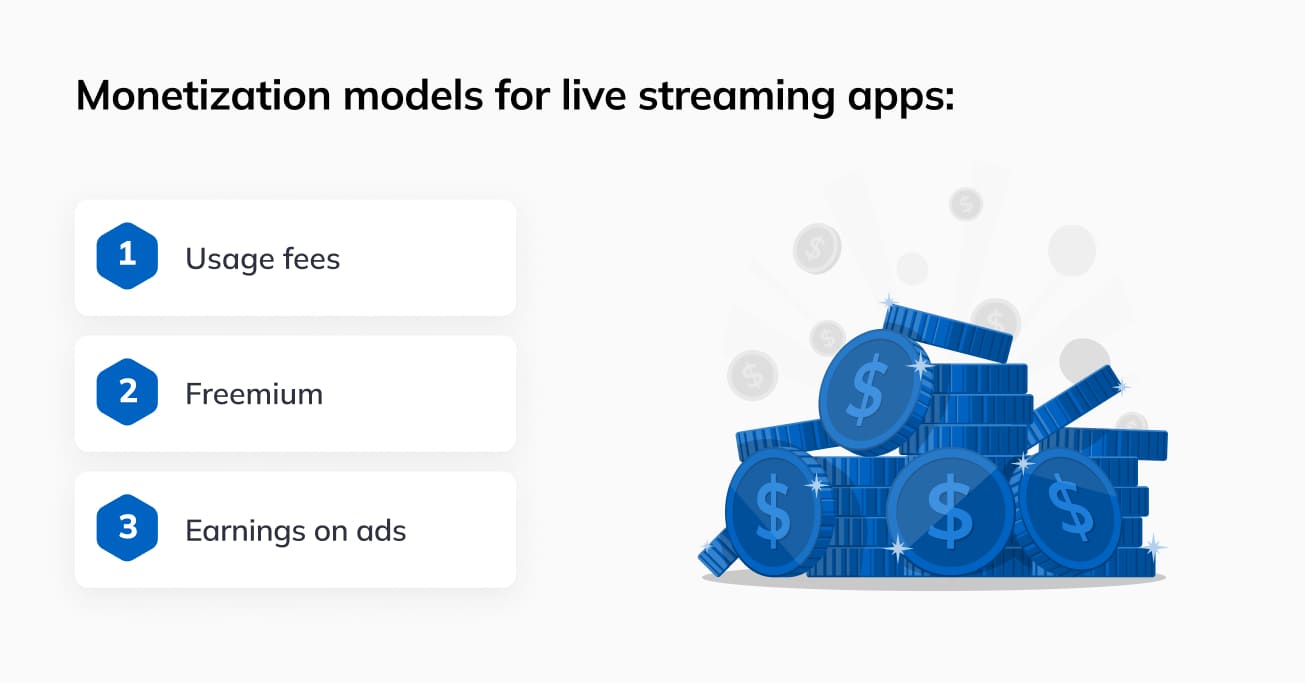 The cost of developing any app depends on many factors, including the technology used and the level of specialists involved (a team of Junior developers will cost less than the services of Senior specialists). We have analyzed the market for developing live-streaming apps and derived the average cost of creating each feature.
| | |
| --- | --- |
| Feature | Average cost |
| Authorization | $4,000 |
| User profile | $3,250 |
| Search option | $6,500 |
| Main app screen | $5,000 |
| User gallery | $3,000 |
| Commenting system and rating | $4,250 |
| Video streaming | $11,000 |
| Total price | $37,000 |
We have listed the mandatory features of a live-streaming app that should be implemented at the MVP creation stage. Further costs depend on what additional functionality you plan to implement in your digital solution. For example, adding a donation system to the app will cost around $2,400, chat moderation will cost $3,400, and an experienced UI/UX designer will charge at least $4,000 for their services.
Do you have an idea for a quality video streaming app? Discuss it with our manager. Together we will find the best way to implement it.

FAQ