When a company is unable (or unwilling) to perform IT responsibilities independently, it makes sense to turn to outsourcing programming. Your digital project will not be handled by an in-house team but by outside specialists. And therein lies the main advantage: you are free from everyday tasks related to development, but you can be sure that they will be done correctly. In this article, we will tell you the most important and interesting things about this way of cooperation, as well as give you tips on choosing a vendor.
What Is the Essence of Outsourcing Programming, and When Should You Choose It?
This method of cooperation is relatively new, but it has quickly gained popularity among companies from all over the world. One of its features is that it does not matter how long your business has been on the market or what industry it operates in. You can use the services of an outsourcer, whether it is to bring an IT startup into a target niche, improve an existing project, or even perform a digital transformation of your business processes.
The idea is to delegate tasks you cannot do independently for whatever reason to specialists with experience in this field. An outsourcer selects performers according to your current needs. Although they are not on your staff, you have remote management control and can even change the team's composition as you see fit.
Outsourcing programming is useful for businesses in situations where it is necessary to:
Optimize project execution costs by reducing the cost of hiring and maintaining full-time employees.
Close skills gaps by accessing various talents in the right industry.
Avoid the complexity of hiring, from paperwork to onboarding and training.
Focus on key tasks and increase productivity in critical business areas.
Accelerate time to market by accessing not only talent but also technology resources.
Many companies have already seen the benefits of working with an outside team.

All this proves the value of outsourcing programming for modern business and emphasizes its necessity for those who constantly postpone making decisions.
Do you value your time and want to devote it to business development? Working with an outsourced team will free you and your employees from all the technical tasks associated with project implementation.
What Tasks Are Covered by Outsourcing Programming?
You can engage developers for a digital project of any type and level of complexity. It can be a client mobile app, desktop software solution, website, PWA, or a corporate system for managing internal processes such as ERP or CRM.
In addition to programmers, you can hire specialists in other areas:
Thus, outsourcing programming will give you access to a variety of skills that your project needs.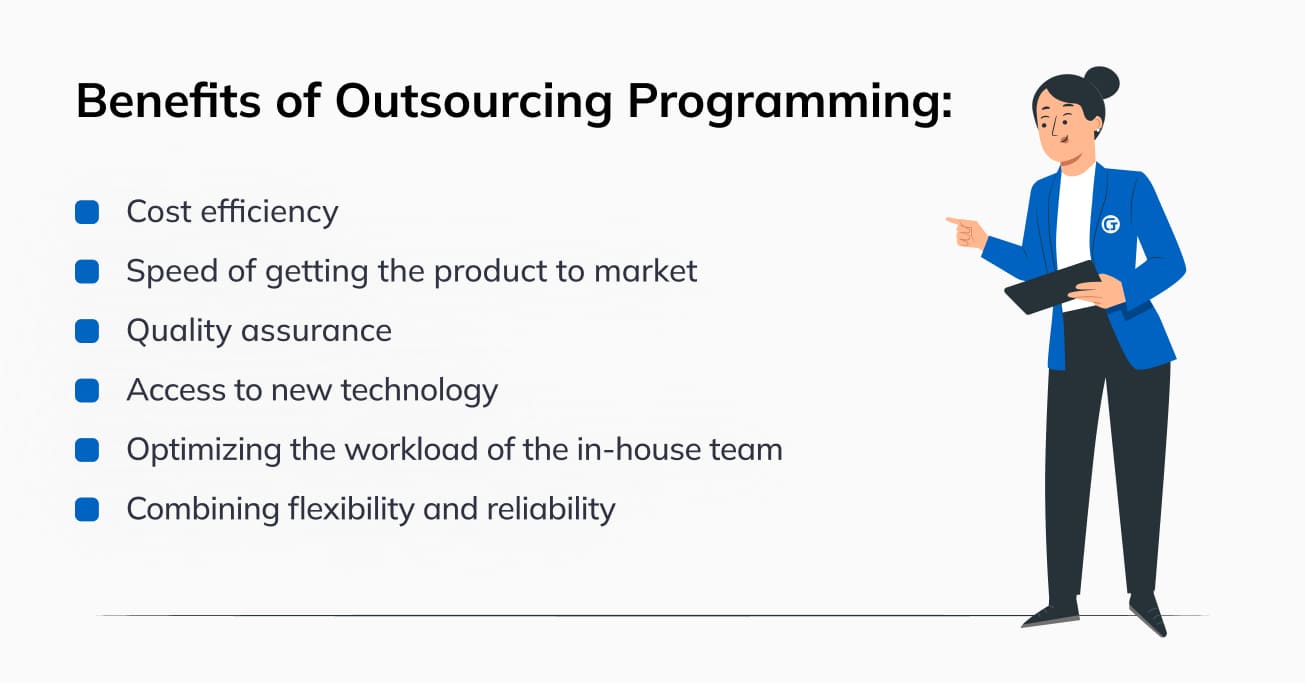 Cost efficiency
This is probably the main advantage of such cooperation, which plays a significant role for absolutely all companies. Imagine how much it can cost you to perform all the above tasks with an in-house team.
Start with the costs of searching for specialists, conducting interviews, selecting candidates, training, and adaptation. Add to this the costs related to staffing: salaries (regardless of workload), taxes, social benefits, etc. Don't forget about office rent, utilities, organizing workplaces, and purchasing software licenses.
With outsourcing programming, you eliminate all costs except for outsourcing fees. The cost depends on the model you pick, such as Dedicated Team, Fixed Price, or Time&Material (we will discuss them later).
Speed of getting the product to market
You will complete your project on time by using the skills provided to solve actual problems. The more developers and other specialists you hire, the faster you reach your goal. The work also gets done faster because of the flexible management approach.
Quality assurance
If you think that high speed is impossible without sacrificing quality, you're wrong. The main thing is that the team pays enough attention to QA tasks and automates testing in a proper manner.
As part of outsourcing programming, you will be helped to test the product:
compliance with functional requirements;
performance under certain conditions;
practicality and usability;
safety and reliability;
compatibility with other systems;
localization and internationalization;
exposure to risks and threats, etc.
Each type of testing is performed in accordance with international and industry standards, and your business requirements. You can be assured that any deficiencies will be corrected before the product is released to the target market.
Learn more about outsourced product development.
Access to new technology
Not only human resources are available to you, but also technological resources. This is especially advantageous for startups and small companies that cannot purchase modern technology and tools from their own budget.
Your requirements and wishes for the selection of tools and platforms are always taken into account. If they are unavailable, the outsourcer chooses the appropriate tech stack for the specifics of your project: product type, industry, and range of tasks (design, backend, frontend, data exchange, etc.). Advanced technologies can also be implemented: AI, MO, AR/VR, big data, IoT, and others.
Optimizing the workload of the in-house team
Delegation is a good practice for small companies that do not plan to hire additional specialists on staff. Since existing employees already have a certain range of responsibilities, it is not profitable to involve them in a new project.
By choosing outsourcing programming, you don't have to worry about how to distribute tasks among your in-house team members and still maintain productivity. Employees will remain with their duties and will not be distracted by new initiatives. If necessary, you can appoint a person responsible for remote control and analysis of the results. The IT tasks will be taken care of by the outsourcer.
Combining flexibility and reliability
You can bring in new specialists for new tasks, flexibly adjusting the team composition in the SDLC process. At the same time, you get the assurance that the outsourcing company will be with you all the way from idea to release.
In the case of full-time employees, everything is not so simple: a specialist can suddenly take sick leave, quit their job, or even go to a competitor. From this point of view, cooperation on an outsourcing basis is a more reliable and safer option.
As we mentioned earlier, outsourcing involves several models of cooperation. Let's take a closer look at them and highlight their main features.
Three Models of Outsourcing Programming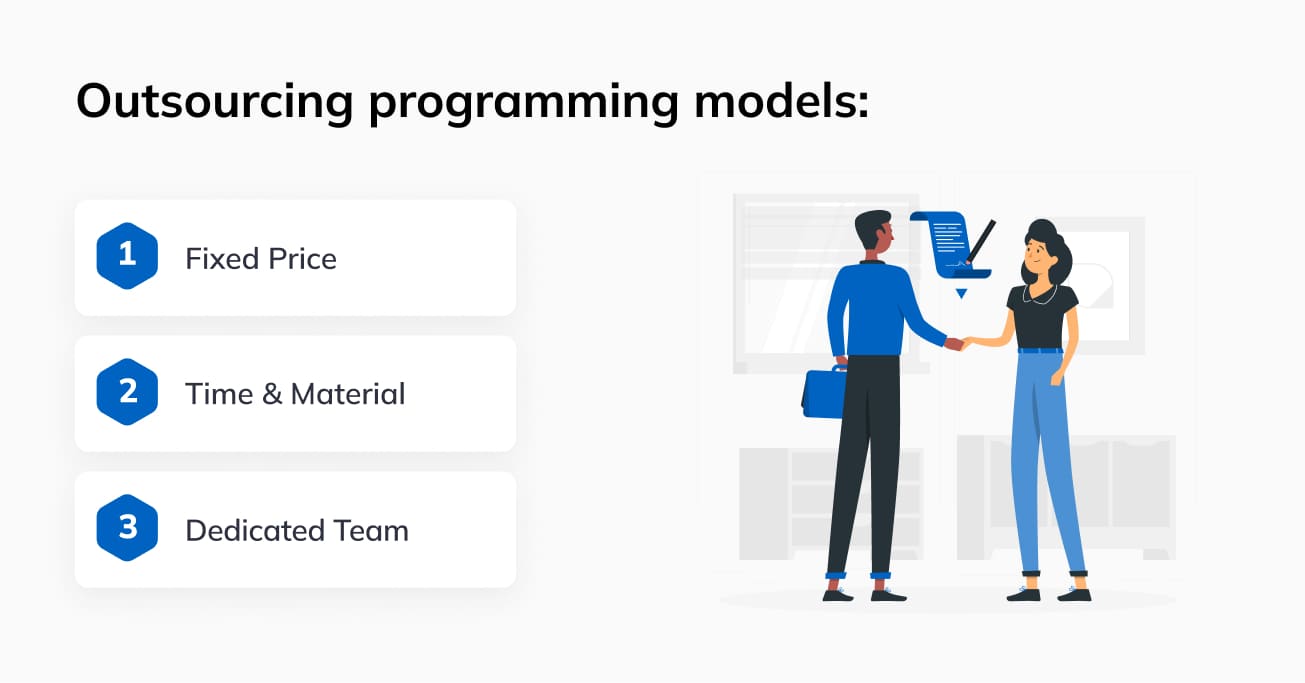 Fixed Price
This model implies that specialists perform a clearly defined volume of tasks on pre-determined terms without regular reporting. This approach is relevant for small projects and medium- and short-term cooperation, where there is no need for increased control on the client's part.
Requirements are set at the initial stage and strictly adhered to in the work process. The same applies to the team composition, technology stack, and budget. The cost is fixed for the project and does not change throughout the whole cycle of work. On the one hand, this ensures the transparency of cooperation, but on the other hand, it deprives you of valuable flexibility.
Time&Material
This is more flexible than the previous option (and less flexible than the next one). The terms of cooperation, team composition, tech stack, and requirements can change along the way depending on how many resources and time it takes to complete.
Optimal for short- and medium-term projects of small/medium scope. The budget here is moderately flexible: prices can be set on an hourly, daily, or monthly basis. The team provides daily reports, and you have average control over the performers.
Dedicated Team
The outsourcer provides you with several specialists, usually in different areas. With the outsourcing programming model, you can bring in new skills as needed and directly supervise all team members remotely.
This is a good option for a large-scale, high-complexity project that takes a long time to complete. Throughout the SDLC, performers quickly adapt to changing requirements and report on the results of each iteration.
As for cost, it is usually determined for each performer per month. Pricing depends on the characteristics of the project, which makes the budget flexible. This flexibility can be seen in everything (the choice of technicians, management, scaling) because, in this model, the main thing is to adapt to the client as much as possible.
Regardless of which model is more profitable for you, you must take the vendor choice seriously. You'll be interacting for the next few months, which means building a trusting relationship from the get-go is important.
Learn more about hire a dedicated development team.
How To Choose and Hire a Vendor for Your Project: 6 Steps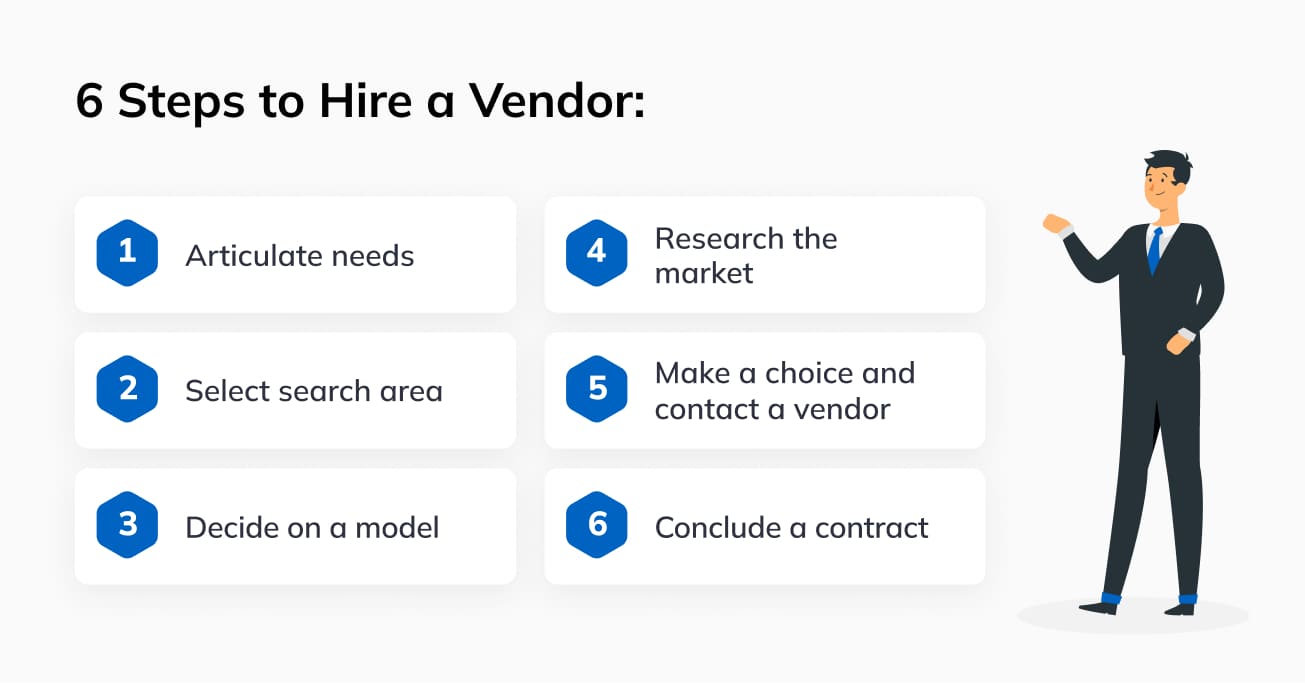 Articulate needs
Before you begin your search, you need to formulate a goal and set priorities:
What niche is the project for?
What tasks will the project perform?
What features should the product have?
How much investment will be needed?
Is there a time limit?
Knowing the answers to these questions will narrow your search considerably. You won't have to waste time monitoring companies that don't have expertise in your niche or offer prices that exceed your budget.
Select search area
Many things depend on the vendor's location: the work schedule (depending on the time zone difference), the cultural characteristics that affect relationship building, and, of course, the hourly rate. Cost becomes the deciding factor in choosing a vendor for most companies.
Popular areas include:
Eastern Europe: a large pool of technical talents, high level of skills, and optimal balance of quality and price.
Asia: experienced specialists offering assistance in complex development at a price above the market.
U.S.: a very developed IT service market focused mainly on customers with an above-average budget.
Decide on a model
The next step is to understand which pricing model is beneficial to your business:
Dedicated Team, if we are talking about a long-term collaboration that requires flexibility in everything: deadlines, requirements, budget.
Fixed Price, if a small project's requirements, deadlines, and budget are predefined.
Time&Material, if you plan a small or medium-sized project without exact requirements.
Research the market
Now it's time to analyze the market for outsourcing programming:
Get reliable information about potential partners on specialized platforms like Clutch and GoodFirms.
Identify several favorites and study them in detail: reviews of real clients, portfolio on the website, list of services, and tariffs.
Look at the companies' LinkedIn pages and ask questions about cooperation.
Make a choice and contact a vendor
Choose the vendor that best fits your criteria. Contact them to discuss the terms in detail and learn more about the team.
At this stage, it is important to clarify not only the experience of performers but also other aspects of cooperation:
level of proficiency in English (or other) language;
methodologies used for management,
frequency of reporting,
collaboration tools,
channels of communication with the customer;
approach to solving urgent tasks;
possibilities of control by the customer.
Conclude a contract
Are you satisfied with your communication with the vendor? Then move on to the final stage – the conclusion of the contract. We recommend using the help of a lawyer who specializes in IT to minimize the risks of outsourcing programming for both parties. In addition to the agreement, you should draw up an NDA prescribing all the nuances of working with confidential information.
What Qualities Should You Look For in a Vendor?
When choosing a vendor, pay attention to the following features:
Reliability. This can be understood from customer feedback and the company's attitude to data security. The reluctance to specify some aspects of cooperation in the contract and draw up an NDA should make you wary.
Experience. A simple way to be sure of expertise is to look at the portfolio. Ideally, it should describe in detail the work process (stages, techniques, tech stacks), the results achieved, and the impact of the collaboration on the client company.
Communication. The vendor should be easy to contact and consider your wishes in the choice of channels for communication and tools for joint work. Constant communication is important to build a transparent relationship.
Flexibility. This applies to everything: pricing, approach to management and control, and attitude to sudden changes. The more flexible you are, the better the chances are that your project will be completed on time and with minimal complications.
Do you want to create an innovative product and present it to an audience faster than your competitors? Or maybe your goal is to improve or scale an existing software solution? Either way, outsourcing programming is right for you. The main thing is to choose the "right" vendor to build a trusting business relationship.
FAQ