How does the implementation of Proptech contribute to the digitization of the industry? Actually, real estate executives are looking for solutions that can help them stay competitive and meet the needs of clients and tenants.
Investing in property is a complex process that requires a live presence, with the choice often coming intuitively. Scheduled viewings provide customers with the chance to envision a possible future in their surroundings and gives them the opportunity to feel the property's ambiance for themselves. When the pandemic began spreading across the world, this standard practice became a luxury and new concepts had to be created in order to keep the sales wheels spinning.
The COVID-19 has affected hospitality facilities and short-term rentals. Also, since traveling abroad has been restricted, audio and video calls have replaced live communication. Although technology relating to automation and VR were already commonplace throughout the industry, the pandemic skyrocketed their demand, cementing them as next-year essentials.
What is Proptech: Facts and Figures
Proptech (Property Technology) stands for general real estate technology. It can also be referred to as CREtech for the commercial market segment. These definitions refer to mobile and desktop apps, software in general, and innovation in the real estate industry. According to JLL Spark, the number of Proptech startups targeting new technologies has tripled to 8,000 over the past decade.
New generations of consumers and realtors choose innovative solutions that offer quick search, rent, and purchase of housing. PitchBook reports that the volume of venture capital transactions in the residential real estate sector was $6.2 billion in the first half of 2021, which is equal to the entire previous year.
Technology can improve employee efficiency by providing electronic storage, virtual meetings, and fast document processing.
The development of software for the real estate industry helps to provide buyers with unique opportunities and simplify the purchase/sale of housing.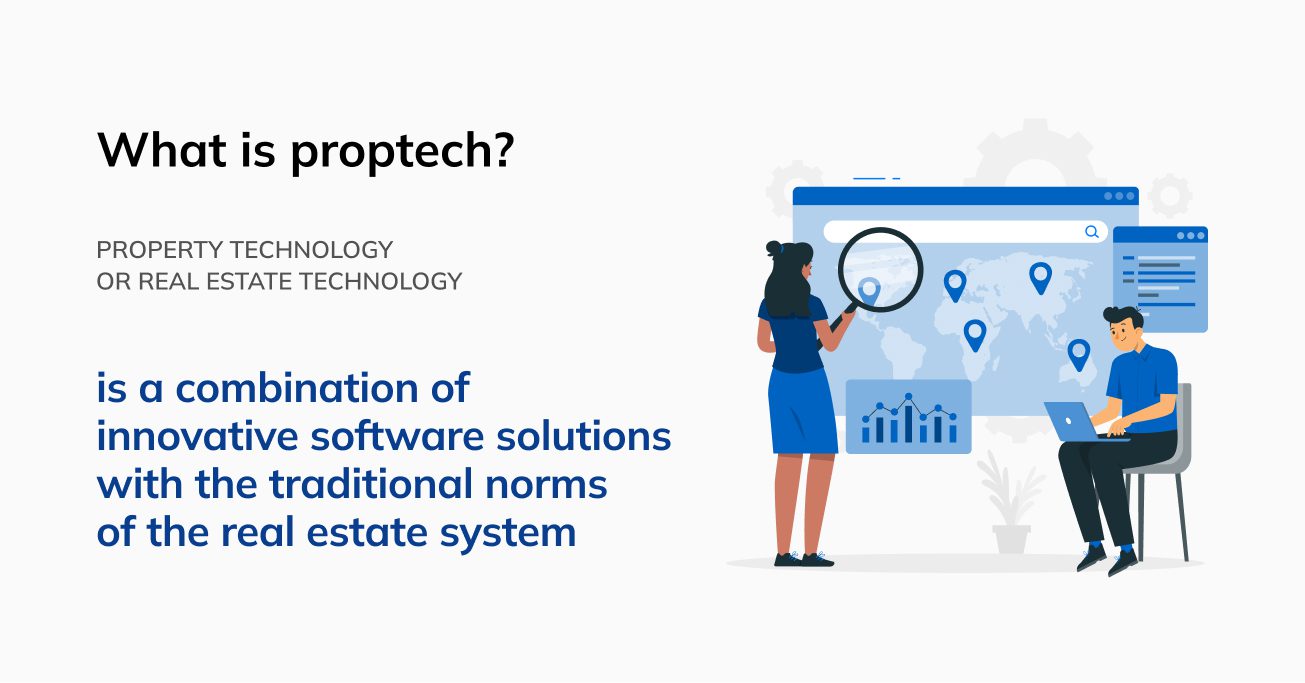 Technology Trends in Real Estate in 2023
Ecological and remote technology in construction
Many countries switch to alternative energy sources nowadays. The study, published in the Energy & Environmental Science journal, envisions replacing 80–85% of existing energy in 50 US states by 2030 with 100% wind, water, and sunlight (WWS) systems. NEOM megacity, a complex of ecological buildings, is planned to be built in Saudi Arabia.
In construction, biodegradable materials (for example, milk-based paint), green insulation, geothermal heating, and solar energy are used. Zero Energy Homes (ZEHs) are cost-effective and save energy. Solar panels, wind collectors, and biofuels have become sustainable solutions for residential construction.
According to MarketsandMarkets, the BIM market was valued at $5.4 billion in 2020 and will reach $10.7 billion by 2026. The technology provides secure preparation of projects using remote communication methods. Planning of actions and prevention of collapse of sites is ensured at every building stage.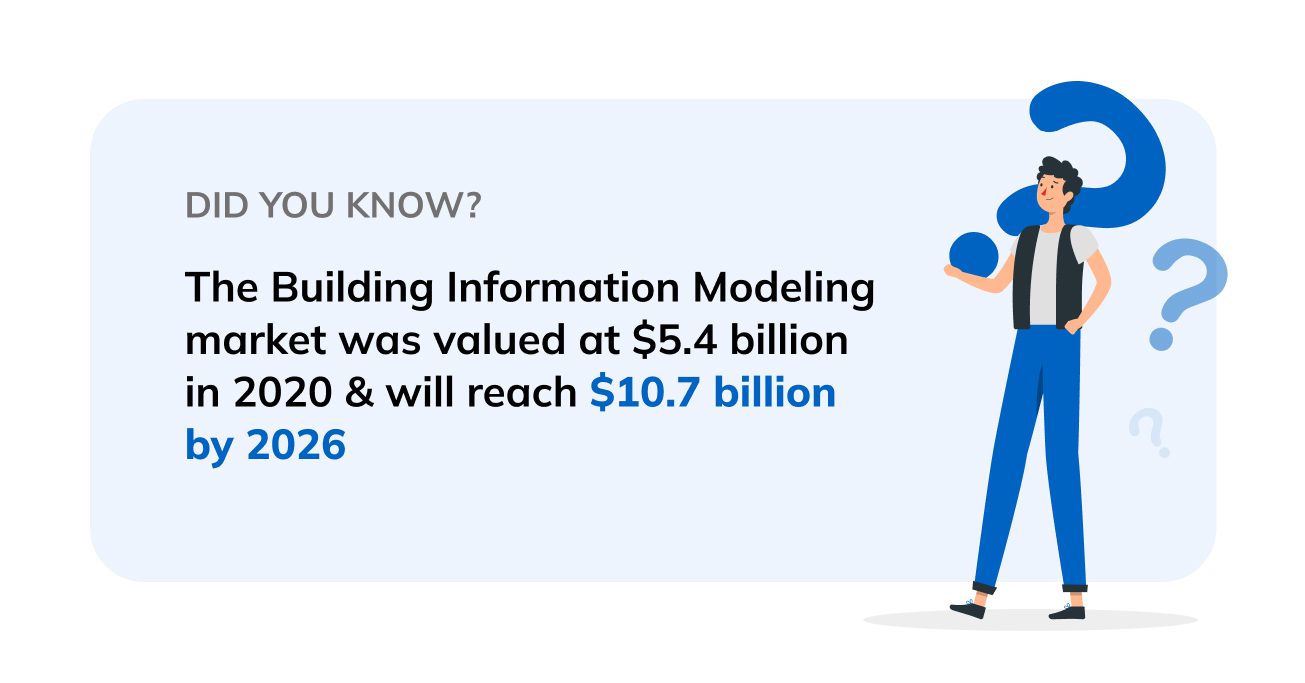 Internet of Things and Smart Homes
The thing about the real estate industry is that it already has enormous amounts of information regarding its owners, buildings, locations, etc. Every day, the real estate industry becomes more interconnected thanks to the Internet of Things and other software integrations which increase the layers of accumulated data.
Proptech innovations like IoT tools enable technicians to save fuel and increase daily productivity. Devices can operate remotely and store or exchange data online.
According to Statista, over 75 billion IoT-connected devices will be in use by 2025. Real estate agents use them to demonstrate objects remotely. With residential home apps, users can control lighting, set temperatures, and open doors. Intelligent technology can help to create a preventive maintenance plan to avoid unnecessary outages that impact tenants.
Memoori forecasts that the number of devices connected to commercial smart real estate will grow to 3 billion by 2025.
Giant corporations have already begun investing in innovative "smart property" technology, developing in-house software like Alphabet (Nest), Samsung (SmartThings), and Amazon (Alexa). Organizations like Trulia, Redfin, and Zillow obtain and accumulate data by purchasing trends, traffic information, and demographic data to improve decision making for both property investors and buyers.
3D Virtual Tours and VR
The Matterport survey confirms that around 90% of potential buyers will open a 3D tour listing. A virtual home survey allows you to view rooms, walls, ceilings, windows, and other components online. The pandemic has made them an industry demand because it is the safest method for the health of buyers.
Virtual reality saves the financial and time resources of agencies. Houses are always prepared to meet guests who can smell and feel the tactile sensations during the tour. When your customers see a property inside and out, online, there is a good chance they may proceed further within the buying process.
The luxury property selling platform, Sotheby, has recently announced the ability to virtually tour a property with their own VR headsets. Another real-estate application, Realtor.com, lets users discover critical information about a property, including pricing information, building conditions, and other features, simply by pointing a smartphone at the property.
Not only does virtual reality technology benefit the potential buyer, it also helps with technical visualization and the detection of defective components, which significantly enhances property planning and construction. When combined with digitized building models, augmented reality tools can show otherwise hidden components, like pipes and ceilings. AR also works wonders for architects: an AVRspot app,
AResidence, allows you to create architectural models by layering virtual models on existing objects.
AI and collecting information about real estate
AI technologies provide information on the latest Proptech trends. Owners use the collected data to schedule price increases for properties. AI-powered management tools track tenant requests and identify service issues.
Compass, Zillow, LoanSnap, and others use these technologies to help buyers find housing. Introducing AI will be required in the real estate industry since it has several helpful capabilities:
List of popular queries. User behavior, interests, and preferences are analyzed to create a list of personalized results. For example, Zillow combines customer search history with similar patterns. The system generates the list that will interest the buyer most of all.
Budget planning. The platforms use neural networks based on contract forms as well as scopes and timelines of projects. The technology can predict potential increases in costs.
Securing transactions. Marketplaces for buying or renting housing offer autocomplete data fields and conduct checks for compliance. AI ​​systems make payments easier, creating a seamless customer experience.
Real estate appraisal. Analysis of unusual factors affecting the price. These include the interior in photographs, the number of online reviews, cell phone signals around the house, and others.
In sales, smart algorithms are mainly used for filtering data and matching property owners and leasers with investors and funders. There are plenty of real estate startups that develop automation apps. These applications allow potential buyers to monitor market offerings with the ability to set their own requirements.
This way, the property search process is enhanced, increasing the likelihood for agents and sellers to close the deal. For instance, Israeli-based startup, Skyline AI, uses predictive analysis to correctly evaluate property price. Another AI-enabled real estate startup, Trulia, identifies their users' tastes and offers them properties based on their preferences, including building color, style, price, etc.
More complex algorithms of advanced virtual assistants and conversational AI are used in commercial property, like corporate real estate and facility service departments, nursing home operations, concierges, hospitality, etc. This type of software responds to the requests of all stakeholders involved in property management and is able to provide advanced, more sophisticated solutions for emerging issues, like automatically handling technical maintenance requests.
Smart Contracts
Blockchain has impacted the industry and made purchases faster and safer. Innovative technologies automate transactions and reduce the risk of fraudulent transactions. The most famous crypto real estate transaction was in Miami. An anonymous buyer paid $28 million in cryptocurrency for a penthouse.
Smart contracts are developed based on blockchain. Technology facilitates the exchange of assets and eliminates the need for checks through banks.
Digitized contracts imply automatic payments to participants (brokers, lawyers, etc.) when a property is sold under particular terms. A single, publicly available version of the records establishes trust between the parties to the contract.
Advanced Chatbots
According to a Juniper Research report, consumers and businesses will save over 2.5 billion hours of customer service by 2023 by introducing chatbots. They help in finding homes to buy or rent. Virtual assistants provide instant 24/7 responses in multiple languages. Modern helpdesk representatives can perform the following functions:
sending out promotions and relevant collections to potential customers;
filling out user profiles based on requirements, region, budget, and number of rooms;
providing information from the agency's base, for example, the history of the building and previous owners;
sending links to a virtual tour and advice on types and sizes.
planning the date and time of the tour with a real agent using the calendar;
verification of eligibility for a mortgage, filing an application, and providing recommendations.
As chatbot generations develop, smart and helpful chatbots of real estate agencies will soon become symbols of good customer service. The number of virtual tours will increase, leading to business growth. Chatbot Life believes that real estate is among the top five industries that benefit from chatbots.
Big Data
Real estate companies that want to predict consumer behavior and expectations will invest in big data analytics. Globe News Wire reports that the predictive analytics market size will reach $10.95 billion by 2023.
Companies focus on creating positive customer experiences by leveraging the information they receive.
Proptech "fans" improve their buying and selling terms to meet consumer expectations. Data-driven real estate platforms build a buyer's preference portrait and recommend appropriate options.
Today, more than 95% of property buyers use digital resources to guide them in their decision-making journey, and 44% of real estate buyers initiate their real estate research on the web. This is a massive opportunity to analyze their web behavior to detect buying trends.
Apart from defining digital habits, big data can be leveraged for the following purposes:
Estimating a location's future risks and opportunities.
Predicting the price of rent, including accounting for fluctuations.
Calculating ROI or yield.
Comparing historical data about a location.
Centralized documentation.
In other words, Big Data is the gold currency of the real estate industry, with promising potential for companies who refine it and use it the right way.
Apart from better scalability, the growth of big data use will surely reshape the business for property managers and agents. As technology evolves, becoming more sophisticated (along with its users), many functions that real estate agents often perform will most likely become redundant. Instead, real estate service providers will likely become the new partners of property buyers and sellers, as they will be able to satisfy their requests.
The bar of performance is definitely being raised, but efficient use of big data will result in better profit margins, fewer complaints relating to purchased property, and improved forecasting of market conditions.
Startups changing the industry: the future of Proptech
The environmental situation, a large technological base, and a pandemic prompt entrepreneurs and innovators to create startups that will meet the growing needs of customers. So, in 2014, 261 Proptech companies were founded, and in 2018, only 2 were launched. In January 2020, there were more than 600 unicorns worldwide, created in the USA and China.
Notable companies like Zillow, Opendoor, and Trulia were startups as well. The most highly regarded Proptech unicorn in the world is WeCompany, with a $47 billion valuation.
Software development helps startups attract new investment resources. PwC survey shows that 64% of real estate companies are going or have already invested in Proptech startups. Among the leaders of new projects, the most popular are office and hotel real estate.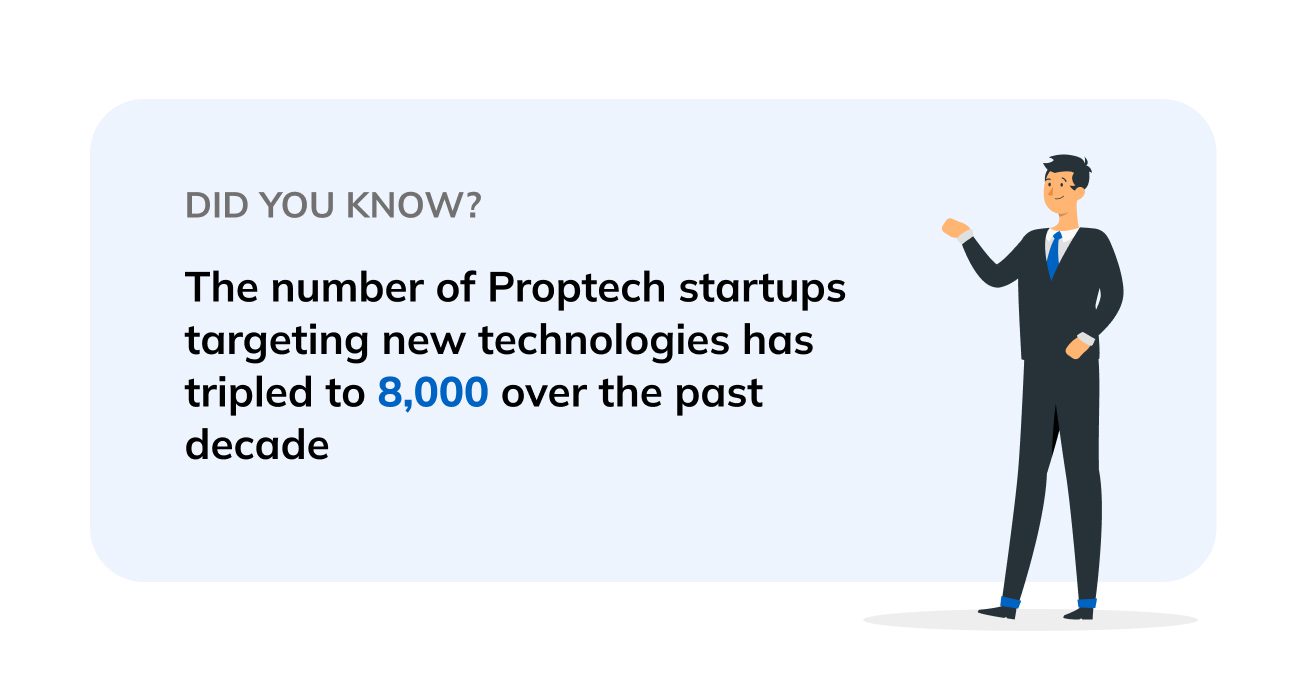 Growing demand for industrial facilities
The COVID-19 pandemic has impacted online stores worldwide. In 2020, e-commerce retail sales were $4.28 trillion, and e-commerce revenues are projected to grow to $5.4 trillion in 2022.
Regular stores have been redesigned for logistics and industrial facilities. According to forecasts, the global instant delivery market will exceed $8.4 billion in 2021, and it will reach $26.4 billion by 2027. Significant volumes of orders require large areas for packaging and placement. This branch of real estate will grow, both in price and in the number of properties offered.
The transition of the real estate market to online
Housing search platforms are the first points of interaction between the agency and the user. Statista considers Zillow the most popular real estate website in the United States, with approximately 36 million unique monthly visitors. Mobile and web apps help to quickly find items with search filters and chatbots.
Online real estate markets create a new business model for the industry. For example, on Airbnb, you can find a room in a residential building and rent it without involving agents. TurnKey platform (Amazon and Realogy project) allows you to rent housing in any city in the United States.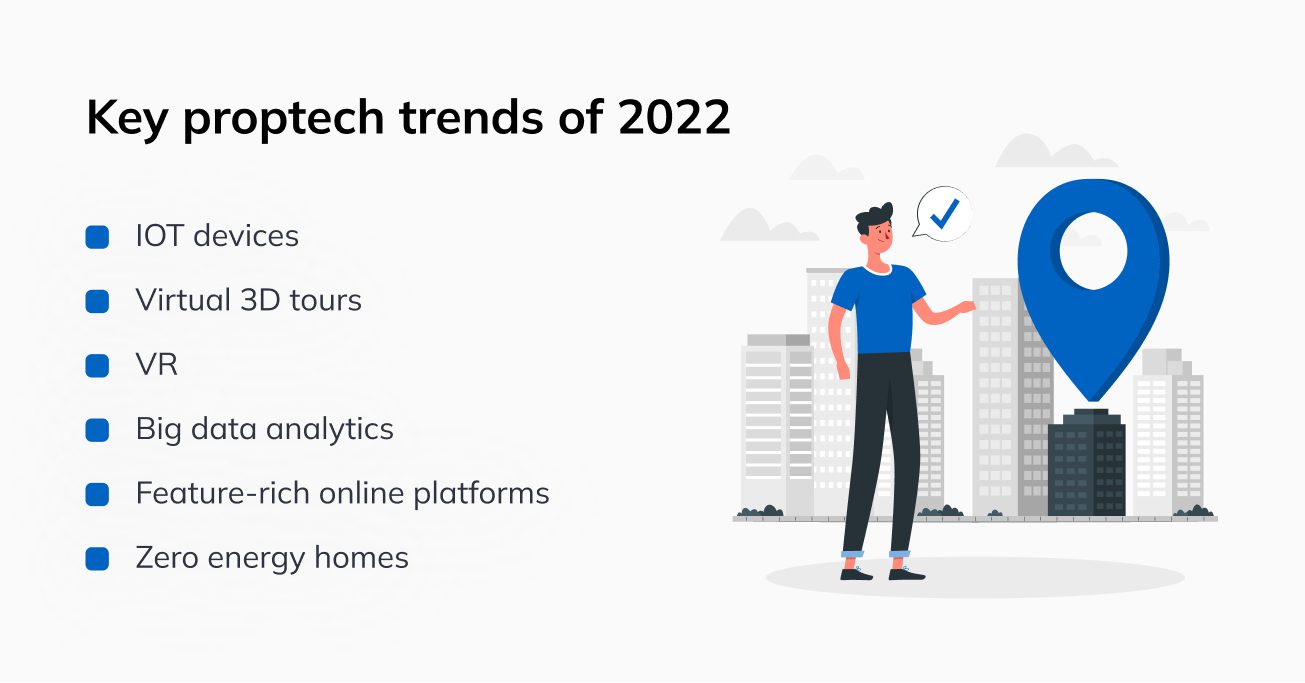 Proptech market: checklist for 2023
The goal of each technology and innovation is to bring people together, automate agency work, provide personalized service delivery, and introduce innovations remotely. The real estate sector is at one of the development stages.
Companies that have implemented Proptech technologies will attract more tenants and manage their investments properly. We suggest compiling a list of activities for the real estate market to prepare for 2023:
Follow industry trends and introduce innovations. Read the latest real estate news on specialized and popular websites (for example, Forbes). Try new tactics and tools, choose directions that are in trend. For example, in the first half of 2020, 35% of Proptech investors said that smart buildings were the most exciting area for innovation.
Adapt services to the needs of clients. Maintain technology at a high level when demonstrating and selling objects. Pay attention to the needs of today's consumers. For example, about 67% of customers would like to see virtual tours on company websites.
Provide customer support. Collect and analyze reviews. Look for new ways to interact with users. For example, the Airbnb Online Experiences program allows guests to participate in classes, tours, and other paid host activities. The organizers receive additional income remotely, earning an average of $10 per participant.
Invest in Proptech apps. Invest in creating software products and customizing marketing tools. According to Anuj Nangpala, chief executive of JLL Spark APAC, the pandemic has shifted the use cases for Proptech from a focus on cost-effectiveness to an application focused on people and employees. The real estate software development will simplify and streamline the viewing, buying, and building of properties.
The pandemic has opened up new ways to work with Proptech using AI, VR, IoT, and other options. Drones, smart contracts, and 3D tours have become innovations of 2020-2021 and will be necessary for the real estate industry in the future.
One thing is for sure – innovation is the crucial driver for real estate industry development. Technology such as big data, VR, and AI hold massive potential for optimizing operations, reducing manual labor, and increasing profit margins, and will be widely implemented by real estate companies in 2023 and the upcoming years.
FAQ on Proptech trends