Business development in today's market is only possible with the active use of technology. This fact is exceptionally accurate in highly competitive industries, including real estate.
Being present online is a must for companies who want to keep in touch with larger audiences. The website is irreplaceable for attracting attention. So if you want to promote yourself in a real estate niche, don't hesitate with real estate web development. Developing your platform and digitization of services is your first step to visibility.
The Value of Real Estate Website Development for Business
Realtors and real estate agencies have always been interested in publishing their listings on the front pages of newspapers, magazines, and other popular media outlets. But this has changed with the spread of technology and consumers shifting to the Internet. Popularity now depends on online presence, and effective real estate website development is key. In 2020, for example, more than 97% of homebuyers searched for real estate online.
Real estate website development is becoming not just a fad but a must-have for those who want to keep up with the trends of the digital age. Whatever services you provide, having a website is crucial.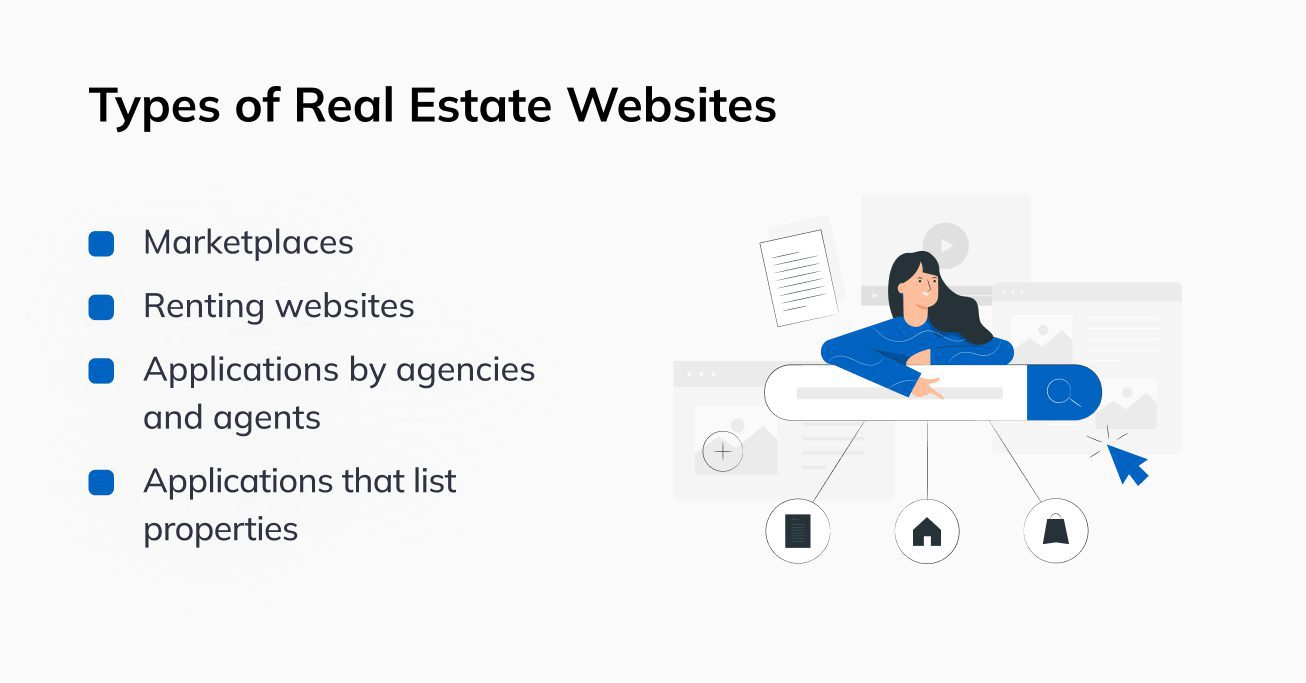 Web development for real estate covers different types of websites:
Marketplaces. These platforms bring sellers and buyers together for mutually beneficial transactions. Here customers search for real estate options, review them, and then communicate with landlords. Examples: Zillow, Airbnb, Trulia.
Rental websites. These portals are aimed exclusively at landlords and tenants of the rentals. Famous examples include Rentals.com, Trulia, and Lovely.
Applications by agencies and agents. Official channels of real estate agents and businesses. Examples of top-tier realtors are Guy Yarkoni in Toronto and Michael Calcagno in Santa Barbara.
Properties listing portals. Portals where agencies, agents, and brokers post current listings. Buyers study the offers and contact the person in charge to get the details. Examples: Realtor, Rightmove, Zoopla.
If you are still on the fence about needing a real estate website development, look at the examples above. The names of these companies and experts are known locally and globally.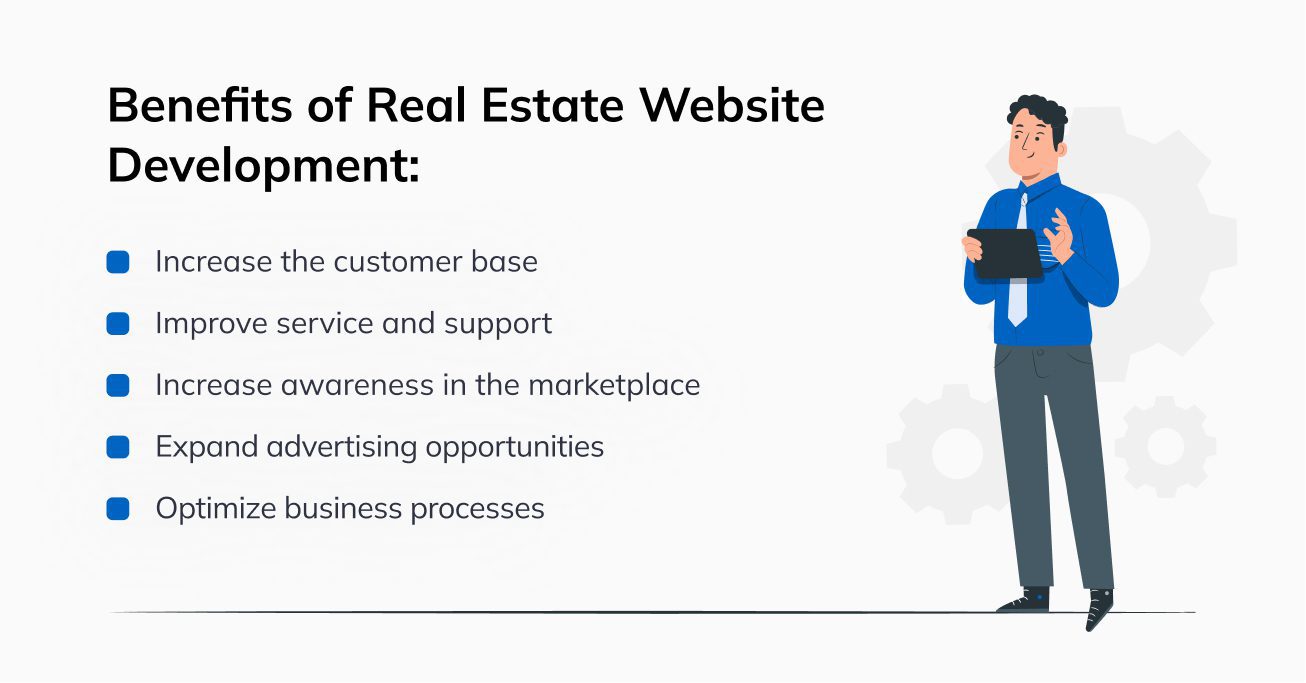 Would you like to have a web presence for your brand? Aside from higher brand awareness, there are numerous other benefits of real estate web development for business:
Increase the customer base. Your services will be available to a vast audience and attract new clients. Of course, you must optimize the website for the search engines and think it through regarding user experience.
Improve service and support. An online presence allows you to be constantly in touch with potential customers, answer their questions and work with objections. Communication is possible via the call center, online chat, personalized newsletters, and the help of a chatbot.
Increase awareness in the marketplace. A website raises awareness of a brand or expert. It is essential for new businesses just starting in the niche. An official online resource is a way to make a loud name and generate interest from the audience.
Expand advertising opportunities. The Internet is ideal for marketing and advertising purposes. You have a lot of options to attract attention: increase the ranking by key queries (SEM), ubiquitous advertising (PPC), publishing content (content marketing), peer-to-peer advertising (affiliate marketing), and more.
Optimize business processes. Thanks to digitization, website development for real estate allows you to quickly perform everyday tasks related to processing requests, selecting customized offers, analyzing data, planning, and forecasting.
You need to follow certain requirements to create an online resource that will attract the attention of target users.
Requirements for Real Estate Web Development
Users should be able to find your website online and get a great first impression when they visit it. If a person spends less than a minute on site and leaves without exploring, there's a problem with UI, UX, or content.
Five important points to consider to attract and retain users on the website:
Search engine optimization (SEO)
Despite the high competition in the niche, you have every chance to reach the top of the rankings. Follow the current requirements of search engines so that it is easier for robots to process your site and target users to find it.
Your website must meet several Google principles and have the following:
Clear structure with content-related titles
Complete information beneficial for the audience
Updated content with new trends
The optimal amount of text content on the page
Links from other web resources
Good domain name
Choose a memorable name for your website. Try to get it right from the beginning to avoid buying multiple domains. List potential names beforehand and look at them carefully to pick the one you like the most.
The domain name should be:
Short and succinct
Relevant to your business
Containing your brand or business name
Without abbreviations or special characters
When it comes to the domain, you can't go wrong with .com. If it's unavailable, go for the domain zone belonging to the territory of residence of the target audience (for example, .co.uk) or reflecting your theme (.estate).
Adaptive web design
People will access your website from various devices, so it needs to adjust for all possible screens. Software engineers who do website development for real estate will write adaptive code so the site can instantly adjust to the desired resolution.
Adaptiveness influences not only user experience but also SEO. The site needs to be responsive to rank higher on search engines. According to GoodFirms, 73.1% of designers say non-adaptive design is the main reason users leave a site.
Easy navigation
The website visitor should have no difficulty navigating. A visually appealing interactive menu and quick transition to other pages from any page will help.
Make sure to give users easy access to general information "About the company" and let them contact you through a contact form or online chat.
Customer-oriented content
All published content should serve the client in the first place. The ranking algorithms are now so complex that it is almost impossible to reach the top of search results with technical methods alone. It is essential to create text, pictures, audio, or video content to meet the expectations and intentions of the target audience.
Characteristics of customer-oriented content:
Relevance to the user's request
Conciseness and informativeness
Reliability of the provided data
Relevance of the proposals
Informational value
We've described the general points determining a site visitor's first impression. Now let's see what features are used in web development for real estate to help users find listings, research, compare, and contact a seller or realtor.
Key Features of Real Estate Website
Basic features used in the real estate portal development include but are not limited to the listed below.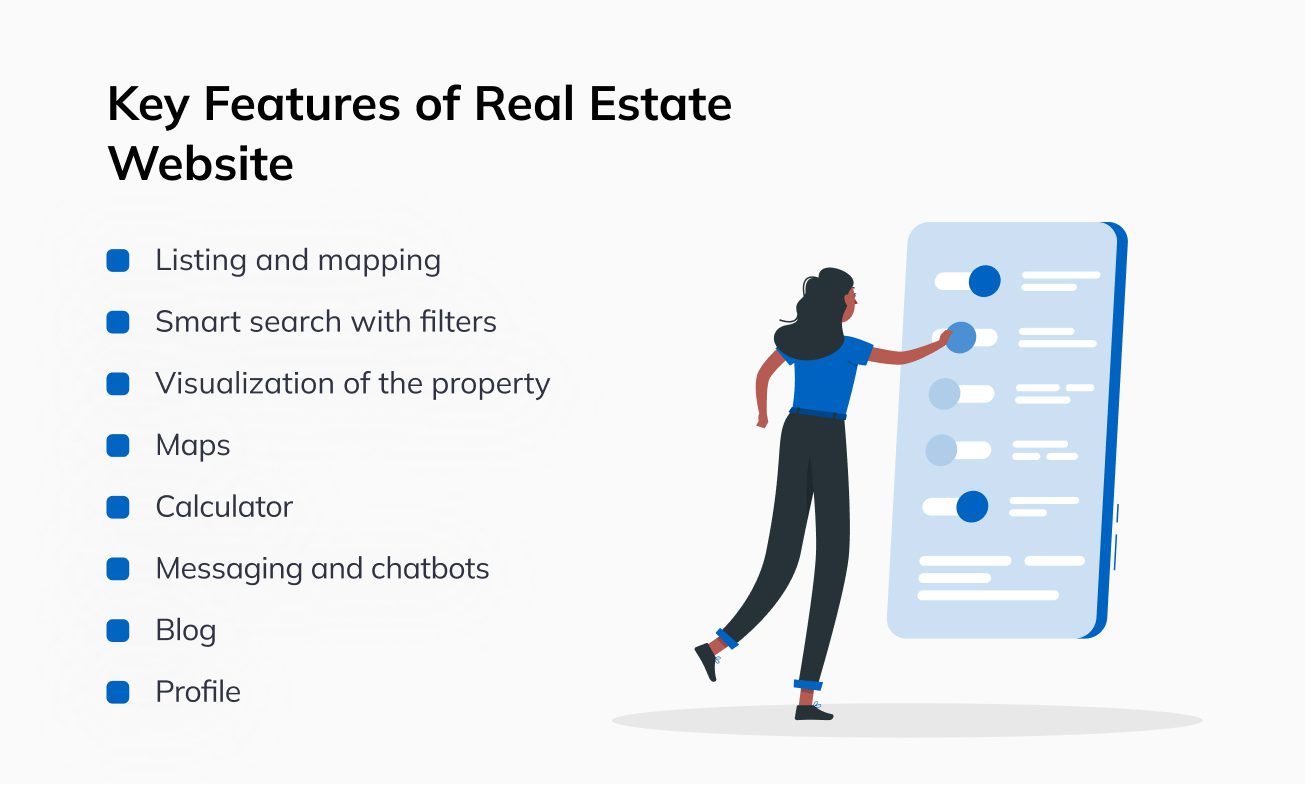 Mapping and listing
Each industry platform offers listings of available apartments, houses, offices, and other properties for rent or purchase. You will need the following items to implement this feature:
Connection to your database. It is simple for seasoned market participants with a portfolio but difficult for newcomers.
Connection to the MLS database (Multiple Listing Service), data extraction, and integration into the website via IDX. According to NAR, the local MLS is one of the top three technology tools for prospecting, accounting for 30% of the total number of leads (also on this list: social networks at 46% and CRM at 26%).
If feasible, combining both options is optimal.
All listings on the platform should include comprehensive information. It would be best to briefly describe the location (region, city, district) and property attributes and explain the cost.
Filtered smart search
If your platform has numerous proposals, make it easy to filter them and locate the one the customer needs. This feature impacts conversion the most.
The search can include filters such as address or district; zip code; property type; property size; number of rooms; year built; and price range.
The more filters there are, the better. The likelihood that a prospective client will locate an option they seek grows.
Visualization of the property
We pointed out the importance of a detailed description, but even the best description won't cut it in the visual era. The user wants to see the property's looks from various angles.
We recommend using the following visualization tools:
Photos and videos in 360 degrees. Panoramic pictures depict the interior and exterior of a building.
Aerial footage. Drones allow us to fly over a homestead, surrounding areas, or even an entire neighborhood.
AR/VR technology. You can peep inside the site or examine the infrastructure with presence tours.
According to NAR, VR (14%) will be one of the most effective real estate sales technologies during the next two years, along with AI (15%), drones (27%), 5G (30%), and cybersecurity (31%).
Maps
Maps are an extension of search filters and visual features. Clients can use them to look for real estate possibilities in a given area and see the surroundings.
Maps allow clients to pinpoint locations within the city or lay a route — i.e., from the listed property to their office.
Calculator
Another effective conversion booster. To help users make an informed decision, allow them to determine how much it will cost to buy or rent a house. Let people consider mortgage payment terms, annual family income, salary, and other financial aspects.
You can use calculators to evaluate mortgages, refinancing, debt-to-income ratios (DTI), the benefits of renting versus owning, and assess housing affordability based on various criteria. When developing calculators, many businesses, including Zillow, are utilizing AI and machine learning to improve the precision and reliability of their data.
Chatbots and messaging
Customers should be able to contact a seller or a professional from your organization to clarify inquiries. Install a live chat to let your visitors get immediate feedback or a chatbot to provide automated assistance.
Blog
Blog posts help your website pass search engine requirements. For the best results, share optimized content on the blog at least twice a week.

Blog topics must be relevant to the target audience. You can advise on buying and selling real estate, discuss legal issues, share news about recent developments in the real estate industry, and write property guides and reviews.
Profile
Users should be able to create and access their accounts with a username and password. With two-factor authentication, you can ensure maximum security. Note that both buyers and sellers should be able to create their profiles on your resource.
Keep in mind that the full functionality of a website may differ based on its nature.
Read more about real estate mobile app development in our blog.
Real Estate Portal Development: Step-by-Step
From coming up with the idea to launching the portal, each step in the real estate web development process is essential for ensuring the final product works well, is easy for customers to use, and offers unique value.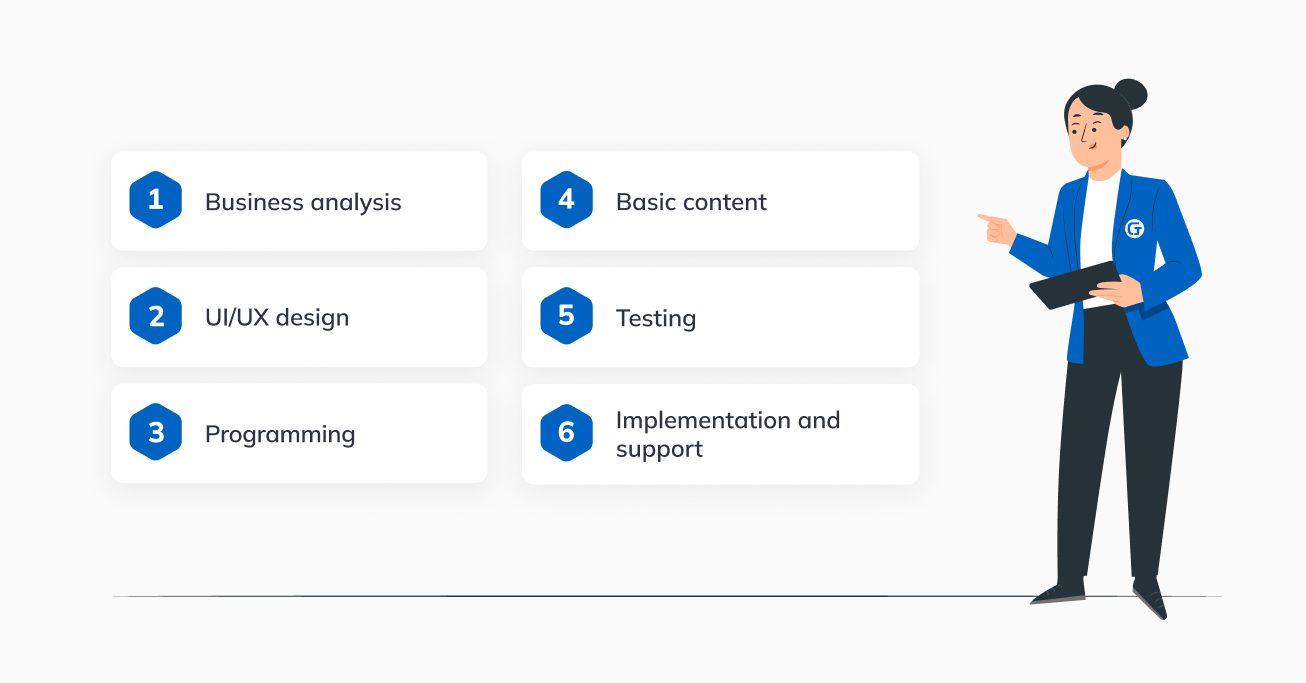 Business analysis
Business analysts start with gathering, analyzing, and documenting requirements. They constantly interact with the product owners and stakeholders in drafting the SRS document and work strategy.
At this stage, the execution team needs to understand project goals, industry specifics, and the product's value for the audience. An in-depth requirements analysis allows the team to select the right technologies, tools, and work methods to use further on.
UI/UX design
Designers begin creating layouts to show how the future website will look. They work through the three aspects of the future platform:
Wireframes show the structure. Wireframe is a product diagram that shows how things will work. Designers rely on data about goals, target audiences, and competitors to list features for a complex project. The wireframe comes in low-detail and high-detail. The former takes fewer resources, while the latter requires 1-2 days and access to Sketch or Figma.
Mockups show the visual layout. Based on the approved structure, designers create the website aesthetics. A mockup is usually a static JPG. Or, a mockup can be a layout created with InVision, Sketch Cloud, or Figma Preview Mode. The first page takes 1-2 days to make; the work goes faster afterward.
Prototypes show functionality. A prototype is an interactive clickable model of the product. It shows how the site will look and work. If you have a design concept ready, it takes 1-2 days to create using Sketch, Figma, Invision, or Adobe XD. You can also use a detailed wireframe as the basis.
If the website is simple and has few custom scripts, you can do it with a mockup or a combination of mockup and wireframe. In more complicated cases, you will need all three aspects covered.
Programming
The designers submit the completed layout to the client for approval. Once it's approved, the development starts, consisting of two parts. The logic and product functional "bones" are done at the back end. Front-end developers create the looks and interface of the application. If the scale of the project allows, we perform the layout and programming stages simultaneously.
Basic content
When the website is ready, the owner fills it with content that the copywriter has created in advance. Convert the content you have into the most popular formats and publish it.
While working on the content, writers should consider the SEO requirements, paying particular attention to key queries, structure, title, description, etc. Note that you will need to update and actualize the content regularly in the future.
Testing
QA testers need to test the product after each stage of work. After delivering the platform, the final check is essential because it prevents insignificant but nasty defects like broken links, incorrect display on mobile devices, etc. After fixing all bugs, the web resource gets moved to the web hosting and tested again.
Implementation and support
Development specialists help the client implement the product and merge it with the business processes. They perform all the necessary integrations. For example, it is essential to link the website with the CRM. It allows businesses to have all their clients in one database, simplify sales and service management, automate marketing, and much more.
Also, the real estate web development agency should teach you and your team to work with the administrative panel and services to collect statistics, publish your content, post ads, create pages and collect data on user behavior.
Technologies for the Real Estate Website Development
Web development for real estate relies on a variety of software technologies to create feature-rich, secure, and user-friendly websites. Here are some of the main software technologies we at Glorium Technologies commonly use in real estate website development:
Content Management Systems (CMS). CMS platforms like WordPress, Joomla, or Drupal are popular choices for real estate websites. They allow easy content updates, property listing management, and customization without requiring extensive coding knowledge.
Front-end Technologies. HTML, CSS, and JavaScript form the foundation of front-end development. These technologies are used to create the layout, design, and interactivity of the real estate website, ensuring a seamless user experience.
Back-end Technologies. Back-end development manages the server-side operations and database interactions. Commonly used technologies include PHP, Ruby on Rails, Python (with frameworks like Django), and Node.js, which handle data storage, authentication, and API integrations.
Database Management Systems (DBMS). Relational database systems like MySQL, PostgreSQL, or Microsoft SQL Server are commonly used for real estate web development. These systems efficiently manage and store property listings, user data, and other relevant information.
Mapping and Geolocation APIs. Integration of mapping and geolocation APIs, such as Google Maps API, helps display property locations accurately and facilitates interactive maps with nearby amenities, school districts, and other valuable information.
Responsive Web Design. Technologies like Bootstrap and CSS Grid ensure that real estate websites are responsive and adapt seamlessly to various devices, such as desktops, tablets, and smartphones.
Security Measures. To protect sensitive user data and maintain the integrity of the website, real estate web developers employ security technologies like HTTPS, SSL certificates, and encryption protocols.
By leveraging these software technologies, website development for real estate will result in engaging, efficient, and visually appealing websites that enhance the user experience, generate leads, and foster growth for real estate businesses in the digital era.
How Much Does Real Estate Website Development Cost?
The cost of your project depends on many factors:
Desired functionality (number of functional modules)
Creation of web and mobile apps
Integration with external systems and services
The complexity of implementation of the UI/UX elements
Time constraints affecting the size of the team
The need for post-release maintenance and support
A website with the features described in the section above can cost $75,000-100,000, assuming it takes 1,500-2,000 hours to create.
This sum is calculated based on average rates of $50 per hour. You can get this pricing from senior developers in an IT outsourcing location in Ukraine. The logic behind the pricing is simple: the more time the project requires, the higher the cost. Let's compare rates per hour and project for popular outsourcing destinations:
Country
Hourly rate
Project cost
Timeframe of the project
Eastern Europe

$50

$75,000 – 100,000

1,500 – 2,000 hours

Western and Central Europe

$100

$150,000 – 200,000

Australia

$100

$150,000 – 200,000

USA

$150 

$225,000 – 300,000
Kindly note that these prices are approximate and may change depending on the exact scope of work. Naturally, a simple website with basic features will cost less than a large-scale complex product.
Real estate portal development can be the first step for your business to take a prominent position in the market, locally and globally. The key to victory here is to partner with a reliable IT service provider with experience in the industry. The provider should help you from laying out a strategy to implementing the finished product into your infrastructure.
Read more about the cost of real estate application development in our blog.
How Glorium Can Help You in Your Real Estate Web Development
Glorium Technologies is a leading provider of innovative real estate website development solutions. Over a decade of experience in the real estate industry allows us to offer a comprehensive range of services to meet the industry's unique needs. With our cutting-edge web design and development expertise, we can create highly interactive and visually appealing websites that showcase real estate listings in the most captivating manner.
Our team of skilled developers ensures the seamless integration of essential features, such as advanced search functionalities, interactive maps, and virtual property tours, providing potential buyers an immersive and user-friendly experience. Additionally, Glorium Technologies' teams' proficiency in mobile-responsive design guarantees that your real estate website will be accessible across various devices, enhancing its reach and usability.
By leveraging our expertise, your real estate business can gain a competitive advantage, expand its online presence, and increase the flow of leads and conversions through an intuitive and aesthetically pleasing web platform. Contact our managers today to discuss your project and get an estimate.
Questions You May Have