Hire BI Developers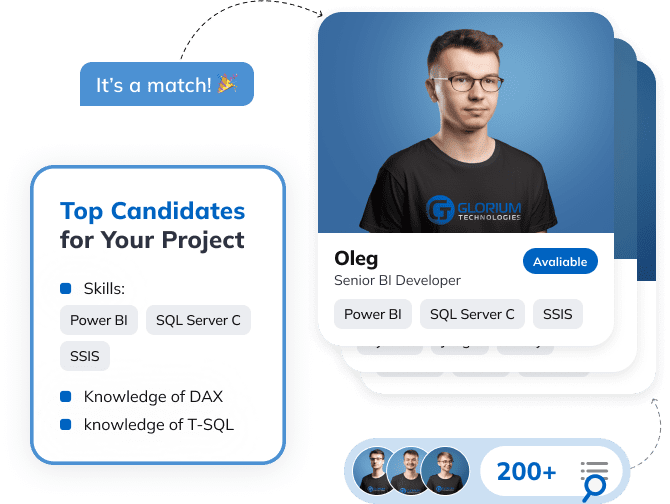 Our BI developers are experts in designing and implementing robust BI solutions that can provide valuable insights and drive informed decision-making.
CONTACT US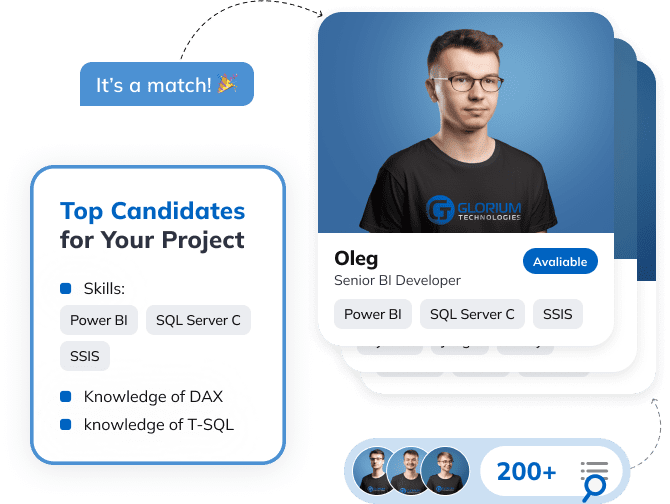 Hire BI Developers for Top-notch Services
The Glorium team comprises highly proficient BI developers who possess extensive expertise in the field of business intelligence. By partnering with us, you gain access to a pool of talented professionals who can assist you in hiring BI programmers and driving your business forward.
We employ advanced analytics techniques to analyze your data and provide valuable insights. Our team creates interactive reports and dashboards to help you visualize and understand your data better.
We design and develop robust data warehousing solutions that consolidate and integrate data from various sources. Additionally, our experts specialize in extracting, transforming, and loading data from diverse sources into your data warehouse or BI system. This process ensures data accuracy and consistency.
We leverage cutting-edge visualization tools and techniques to create intuitive and visually appealing dashboards, charts, and graphs. These visual representations enable you to grasp complex information quickly and make data-driven decisions.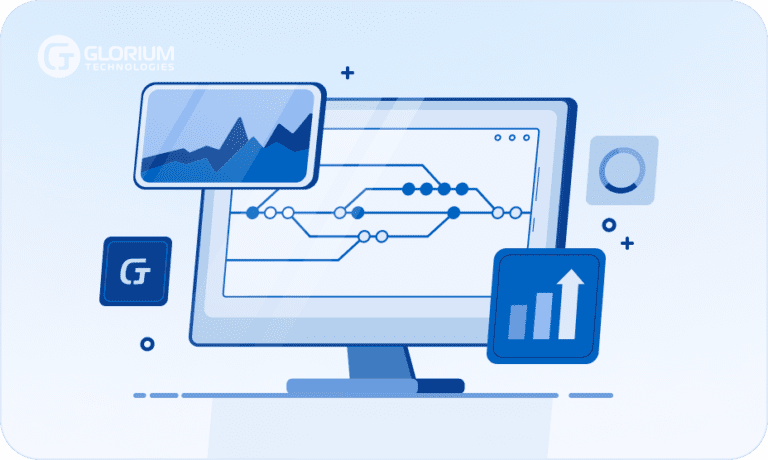 Our team utilizes advanced statistical models and machine learning algorithms to identify patterns, trends, and future outcomes from your data. This helps in predicting customer behavior, market trends, and optimizing business processes.
Our experienced consultants provide strategic guidance to help you define your BI roadmap and align it with your business objectives. We assist in selecting the right tools, technologies, and frameworks for your BI implementation.
We optimize your BI solutions to ensure high performance and scalability. Our team fine-tunes queries, indexes, and database configurations to enhance overall system performance.
We offer comprehensive training and support services to ensure smooth adoption and operation of your BI solutions. Our experts provide training sessions, documentation, and ongoing technical support to address any queries or issues that may arise.
Cooperation Models We Offer
Whether you're looking to hire developers for your startup or establish a long-term partnership, Glorium BI developers will create a customized app that meets your needs.
Flexible Pricing
Our pricing models are designed to be flexible and tailored to meet the individual needs of each client.
Monthly Pricing Model
For clients looking to hire remote IOS developers to work on a long-term project.
Stable monthly costs for easy budgeting
Reduced administrative overhead
All development services are included
Flexibility to adjust the team size and scope of work
Hourly Pricing Model
For flexible projects — hire the top developers and pay only for time spent on development.
Adjustable scope and team size
Pay only for the actual development time
No upfront costs or commitments for developers
Great for short-term projects with uncertain requirements
Contact us to discuss which pricing model would work best for your project.
Why Should You Hire BI Developers from Glorium?
Without Glorium
The lengthy and convoluted talent search process causing delays and frustrations in finding suitable candidates.
Exorbitant recruitment and training costs, burdening the project budget and affecting overall financial efficiency.
Overwhelming project manager's workload, having to focus solely on managing numerous freelancers and agencies.
Increased vulnerability of sensitive data by involving multiple entities, heightening the risk of data breaches and compromising confidentiality.
Unreliable delivery due to inconsistent contract commitments, posing a significant risk of missed deadlines and project delays.
With Glorium
Access to a vast pool of top-notch remote Power BI developers in regulated industries.
Swift and seamless recruitment and onboarding process, ensuring a quick and efficient team setup.
Streamlined project management with transparent communication and comprehensive reporting
Seasoned and proficient Power BI developers ensuring compliance with GDPR, HIPAA, and ISO27001, ensuring secure and regulated development processes.
Mitigated risks of errors and delays through the delivery of high-quality output and consistent on-time delivery.
How to Hire Glorium BI Developers?
Do you want to hire BI developers from us? Sure! Just provide information about your company, project, and needs. We'll find the right developer for you.
BRIEF

We get your requirements

December 1

December 8

CHOOSE

We send you a shortlist

PLAN

We set the cooperation details

December 16

December 22

TEST

You interview the candidates

WORK

Your developer starts working

December 25
Hiring Process for BI Developers
We employ a systematic approach to select developers who are the best fit for your specific requirements. Here's an overview of the steps involved in the process:
LET`S KEEP IN TOUCH
Share Brief
We offer the best developers from our pool who can effectively fulfill your tasks
Scan Talents
We ensure that you are paired with professionals who can deliver quality work within your deadlines
Run Tests
We evaluate the candidates' abilities and competencies through practical tests and assignments
Plan Strategy
We outline collaboration specifics like work parameters, project milestones and timelines
Hire Talent
We facilitate the orientation and project commencement, and then set the work in motion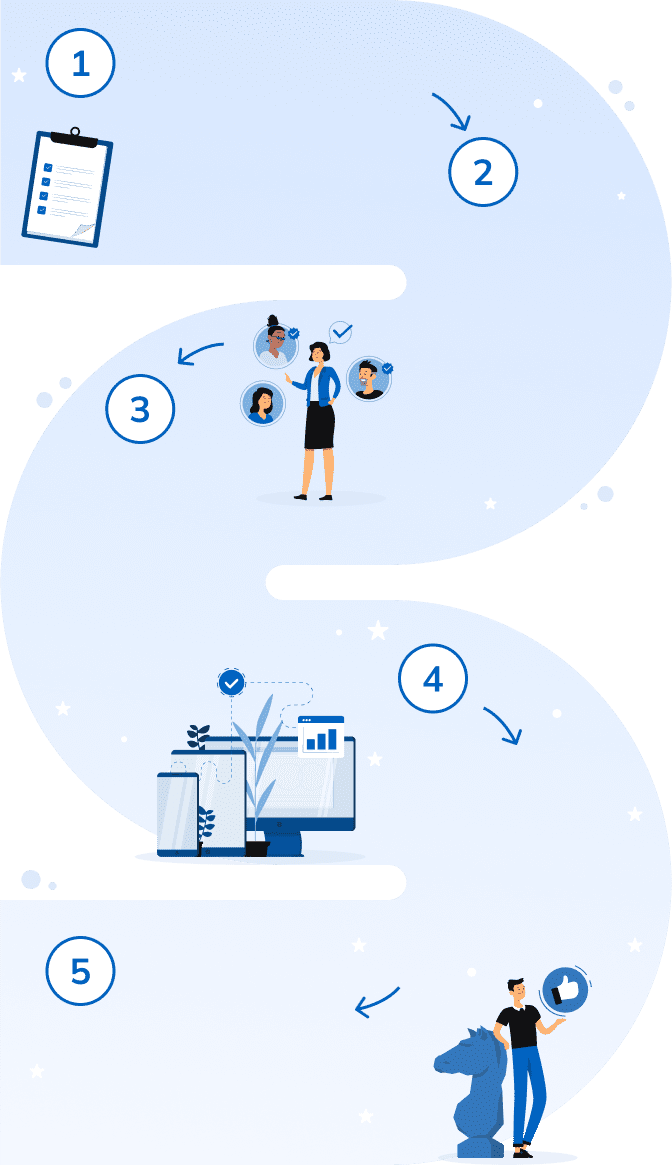 Learn more about our tech stack
Our expert development team can bring your project to life with the latest technologies, ensuring a perfect execution every time.
Our Clients Say about Us
They're truly exceptional.

Joshua Haselkorn,
Co-Founder, Turtle Health
Excellent experience from both professional expertise and customer experience perspectives.

Ingrid Vasiliu Feltes,
CEO at Softhread
Their punctuality and delivery capabilities were exactly as advertised.

Yayoi Sakaki,
CEO, Project Ipsilon B.V.
Who We Are
Glorium Technologies is a top-shelf bespoke software development company boasting 100+ deployed products.
Since 2010, we have created adaptable and scalable solutions and helped innovators turn their ideas into products. Whether you need help with custom software development, product design, or product launch, we are ready to guide you through the entire process.
Why Choose Us
200+
skilled professionals
99%
client satisfaction rate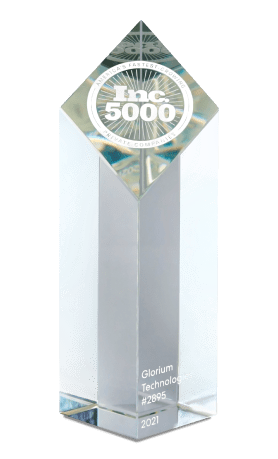 We were named to Inc.500 (2020, 2021,2022, 2023) & Regionals Northeast (2021, 2022) Inc. 5000 Fastest-Growing Private Companies in America.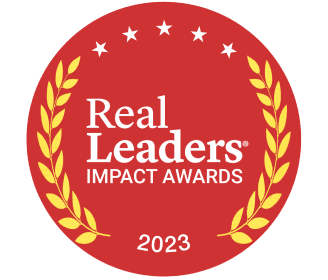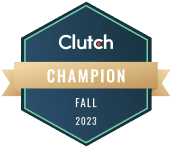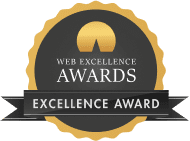 Featured on

Questions You May Have
What is BI development?
BI development, short for Business Intelligence development, refers to the process of designing, creating, and implementing solutions that enable organizations to extract valuable insights and make data-driven decisions. It involves utilizing various tools, technologies, and techniques to collect, analyze, and visualize data from multiple sources.
Is BI free?
While there are open-source BI tools available that can be used without licensing fees, implementing a comprehensive BI solution typically involves costs. These costs may include:
Licensing or Subscription Fees
Infrastructure Costs
Development and Implementation Costs
Training and Support
What is BI for?
Business Intelligence (BI) is a strategic approach and set of technologies used to analyze and transform raw data into actionable insights, facilitating informed decision-making and driving business growth.