Hire QT Developers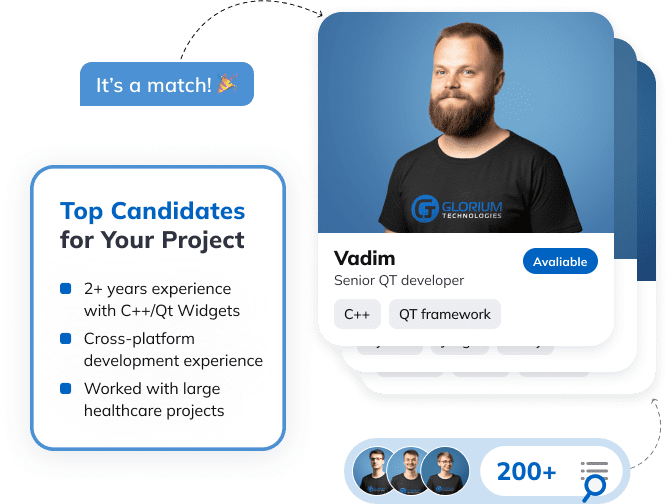 Hire dedicated QT developers to assist you in creating top-notch applications and meeting your mobile development requirements.
GET IN TOUCH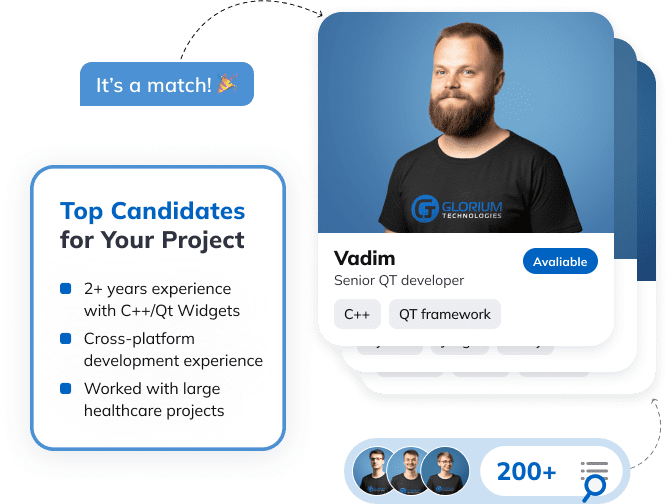 Hire Top QT Developers
Glorium Technologies boasts a team of highly skilled QT developers with profound expertise in QT technology. We provide a wide range of QT services, encompassing the development of efficient native applications for Android, iOS, and Windows platforms.
Our team of dedicated QT developers specializes in building iOS and Android applications that precisely align with your unique requirements.
With our extensive expertise, you can trust us to deliver top-notch QT applications tailored to your business needs, allowing you to stay ahead of the competition.
Our team of remote QT developers excels in designing visually captivating, scalable, and fast-loading hybrid applications that precisely cater to your business needs.
Leveraging the advantage of code reusability, we optimize your budget and accelerate the time-to-market for your hybrid apps.
The Glorium team includes UI/UX experts who possess extensive knowledge in QT app development.
They skillfully strike the perfect balance between meeting the programmers' requirements and creating captivating user interfaces. This synergy enables us to deliver versatile applications.
If you have existing applications developed in a native language and wish to migrate them to QT, we are here to help you out.
With expertise in QT development, our dedicated QT developers ensure a smooth transition of your applications from other stacks to QT, guaranteeing a seamless conversion process.
Our team of testing and QA professionals is extensively experienced in reviewing code produced by QT developers.
With their deep knowledge and expertise, they ensure the launch of exceptional QT applications equipped with automation features provided by QT Test Frameworks.
Cooperation Models We Offer
Our primary objective is to offer you the necessary support and expertise to help you achieve your business goals successfully.
Flexible Pricing
We understand the individuality of our clients and aim to offer tailored pricing options to meet their specific requirements.
Monthly Pricing Model
If you're looking to hire QT developers for a long-term project, we have you covered.
Accurate and predictable costs
Streamlined administrative process
Comprehensive development services
Flexibility in team size and scope
Hourly Pricing Model
If you're seeking QT developers for a long-term project, our team can cater to your needs.
Flexible scope and team size
No upfront payments or commitments for developers
Billing based solely on the actual development time
Payment model advantageous for projects with uncertain requirements
Contact us to discuss the most suitable pricing model for your project.
Why Should You Hire QT Developers from Glorium?
Without Glorium
Seeking "expert developers" and later finding inconsistencies between their claimed skills and actual capabilities
Incurring excessive costs associated with hiring and training processes
Overloading project managers with supervising multiple freelancers and agencies
Having data security risks associated with involving multiple parties
Having potential delivery failures due to irregular contract obligations
With Glorium
Get top QT developers
Enjoy quick and effective hiring and integration procedures
Simplify project management with transparent communication and reports
Ensure compliant development process under regulations such as GDPR, HIPAA, and ISO27001
Reduce the likelihood of errors and setbacks
Hire Glorium QT Developers Today
To hire QT developers from us, simply share details about your company, project requirements, and specific needs. We will assist you in finding the perfect QT developer that aligns with your criteria.
BRIEF

We get your requirements

CHOOSE

We send you a shortlist

PLAN

We set the cooperation details

TEST

You interview the candidates

WORK

Your developer starts working
Hiring Process for QT Developers
You will go through these steps to hire QT developers that suit your requirements best
LET`S KEEP IN TOUCH
Share Brief
Share a synopsis of your project. We will find the developers who can fulfill your tasks best
Scan Talents
For any given technology, we usually have several competent developers ready to take on your project
Run Tests
At this stage, we assess the candidates' skills and capabilities through testing and practical tasks
Plan Strategy
We outline our collaboration specifics—the scope of work, timelines, and precise project milestones
Hire Talent
We coordinate the project initiation and get down to work. You retain full oversight of the progress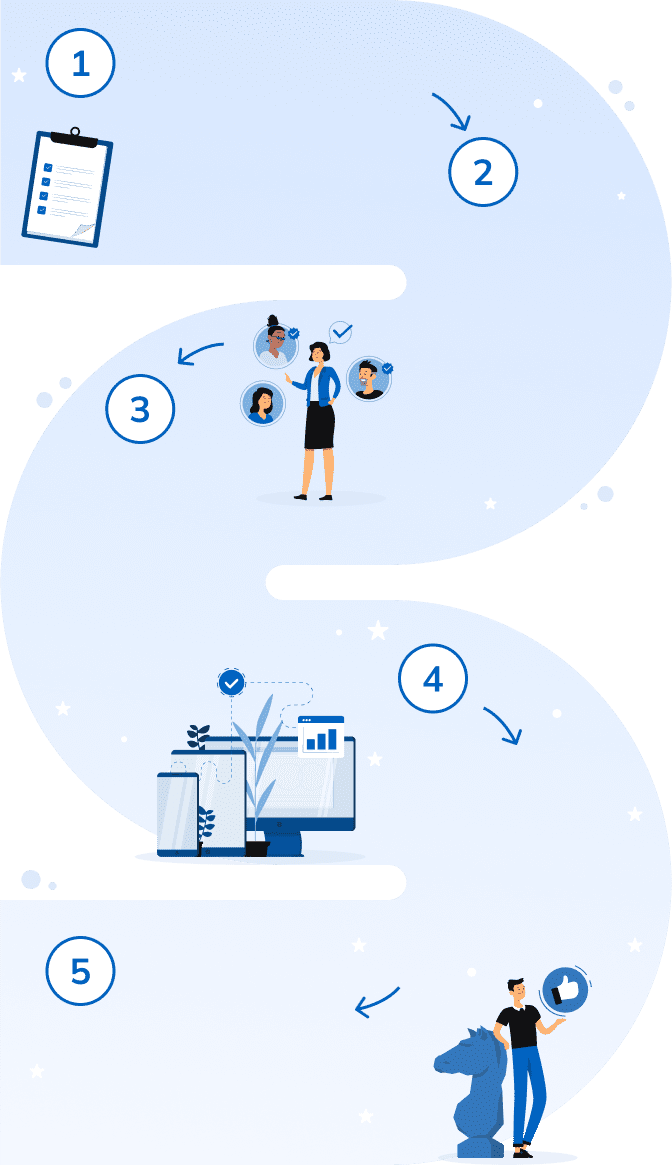 Need help finding your technology?
Our expert development team can bring your project to life with the latest technologies, ensuring a perfect execution every time.
Our Clients Say about Us
They're truly exceptional.

Joshua Haselkorn,
Co-Founder, Turtle Health
Excellent experience from both professional expertise and customer experience perspectives.

Ingrid Vasiliu Feltes,
CEO at Softhread
Their punctuality and delivery capabilities were exactly as advertised.

Yayoi Sakaki,
CEO, Project Ipsilon B.V.
Who We Are
Glorium Technologies is a top-shelf bespoke software development company boasting 100+ deployed products.
Since 2010, we have created adaptable and scalable solutions and helped innovators turn their ideas into products. Whether you need help with custom software development, product design, or product launch, we are ready to guide you through the entire process.
Why Choose Us
200+
skilled professionals
99%
client satisfaction rate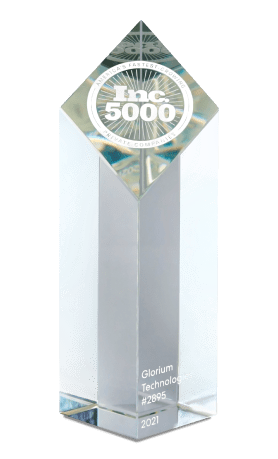 We were named to Inc.500 (2020, 2021,2022, 2023) & Regionals Northeast (2021, 2022) Inc. 5000 Fastest-Growing Private Companies in America.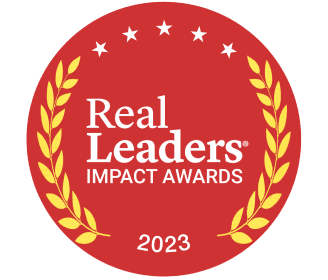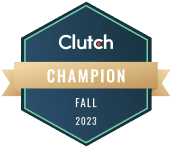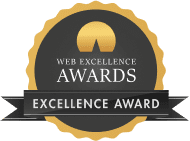 Featured on

Questions You May Have
What is QT?
QT is a cross-platform framework for developing applications. It provides a comprehensive set of tools, libraries, and APIs that enable developers to create high-quality software for various platforms, including desktop, mobile, and embedded systems.
QT allows for efficient and rapid development by utilizing features such as code reusability, a powerful UI framework, and extensive support for different programming languages. It is widely used in industries such as automotive, healthcare, consumer electronics, and more.
Is QT free?
QT is available under both commercial and open-source licenses. The open-source version of QT, known as QT Open Source, is available for free and can be used for open-source projects or non-commercial purposes.
What is QT for?
QT is a comprehensive framework used for developing cross-platform applications across various industries and platforms. It provides a wide range of tools, libraries, and APIs that enable developers to create high-quality software for desktop, mobile, and embedded systems.
Does my business need QT development?
Determining if your business needs QT development depends on factors such as cross-platform requirements, the need for visually appealing user interfaces, industry-specific applications, efficiency and productivity goals, and cost considerations.
Let's get in touch and see if QT development aligns with your specific business requirements.