Developing HIPAA-compliant Mobile Apps: Features, Solutions, and Costs
Industry compliance should be at the heart of any healthcare startup's strategy. It has key rules that serve as a mandatory basis for the development of all desktop and mobile solutions. Failure to comply with these rules means that your software and/or apps will be rejected from the market.
In the oversaturated medical technology industry, having medical solutions that comply with new rules and regulations is an important success factor. When it comes to the risk of disclosing sensitive patient information, the stakes are simply too high. Thus, the slightest mistake can cost everyone involved dearly.
The total losses from confidential data leaks can cost companies tens or even hundreds of millions of dollars. The risk is extremely high, especially in the healthcare industry, where third parties can use patient information to obtain improper benefits or commit illegal acts. In such cases, a lawsuit can be brought against the service provider and software developer responsible for the leak.
What Does HIPAA Mean?
HIPAA stands for the Health Insurance Portability and Accountability Act. This regulation of the U.S. healthcare industry was first developed in 1996. Essentially, it is a federal law mandating the development of national standards to prevent the disclosure of confidential patient health information without the patient's consent or knowledge.
Healthcare providers, clearinghouses, business associates, and health plans are regulated by HIPAA. This rule is the foundation of the healthcare regulatory industry, and there are many HIPAA benefits for healthcare providers.
It's worth noting that without HIPAA certification, no medical application can provide services to customers. This means that neither service providers nor patients will have access to the data, making it difficult for them to interact. That's why it's so important to develop software that meets strict HIPAA requirements and is highly secure using advanced technologies such as blockchain and encryption.
Why Is HIPAA Compliance Important for Medical Apps?
It's no secret that regulatory compliance is important in healthcare, especially when it comes to technological advances. Given the level of privacy of medical data, any breach or noncompliance can lead to costly and embarrassing consequences for patients as well as healthcare software providers and medical facilities.
When it comes to technology, it's clear that industrial digitization is a major cause of compliance problems. Many data-enabled systems violate various industry rules, leading to data privacy issues.
The issue of health care regulations is complex because there are several rules and guidelines that are constantly changing over time. In the US, patient privacy is well protected by general standards such as the EU GDPR and specific medical laws, including HIPAA.
Standards and laws provide legal protection for confidential information. The technical aspects of security are handled by the company that develops the digital health product. It is the company that has to be as responsible as possible for the task at hand and implement data protection not only according to the standards mentioned but also according to additional protocols.
The same applies to the developers of intelligent medical equipment. Storage and transmission of information must consider the strict requirements of regulators. In addition, a mandatory component of digital equipment platforms will be an encryption protocol, which allows the exchange of information with the device or platform only after the authorization of the user. This will prevent unauthorized access to sensitive data by third parties.
In addition, in 2015, the Food and Drug Administration (FDA) passed the Medical Device Reporting (MDR) Act, which requires medical device companies to report any adverse concerns related to their products and services to the FDA. As a result, when digitization and technological interventions are intertwined with the healthcare business, compliance creates several obstacles.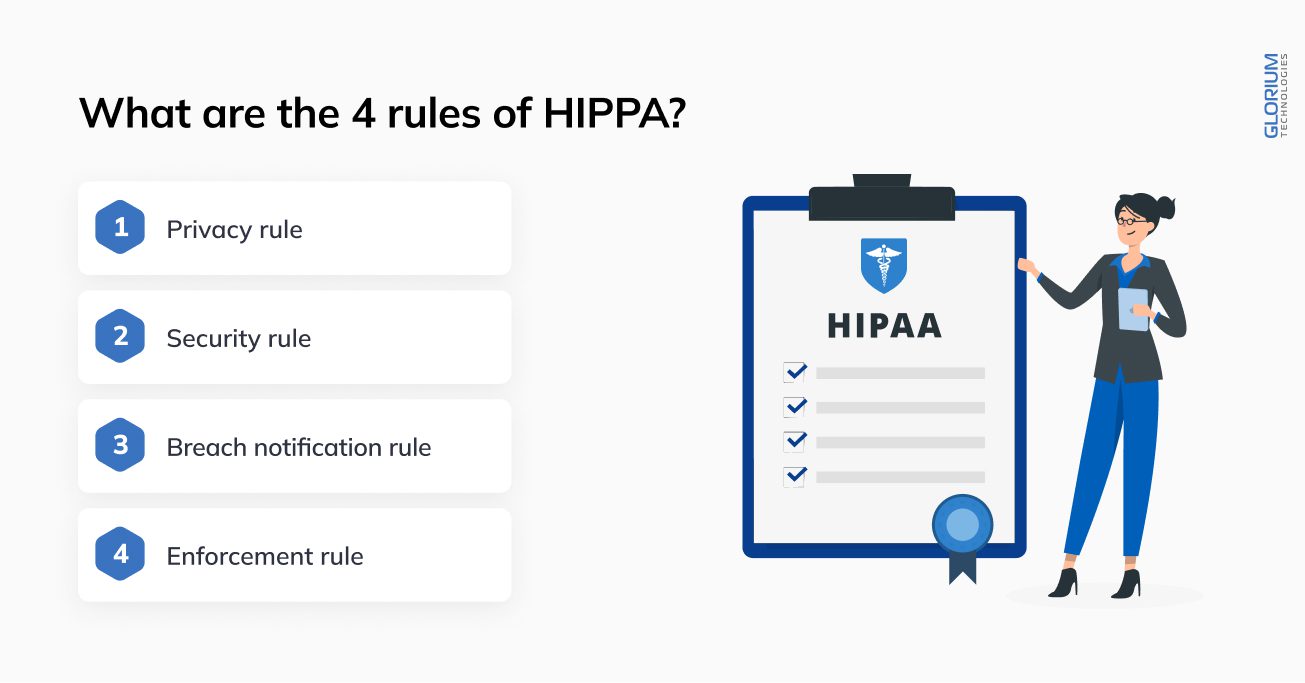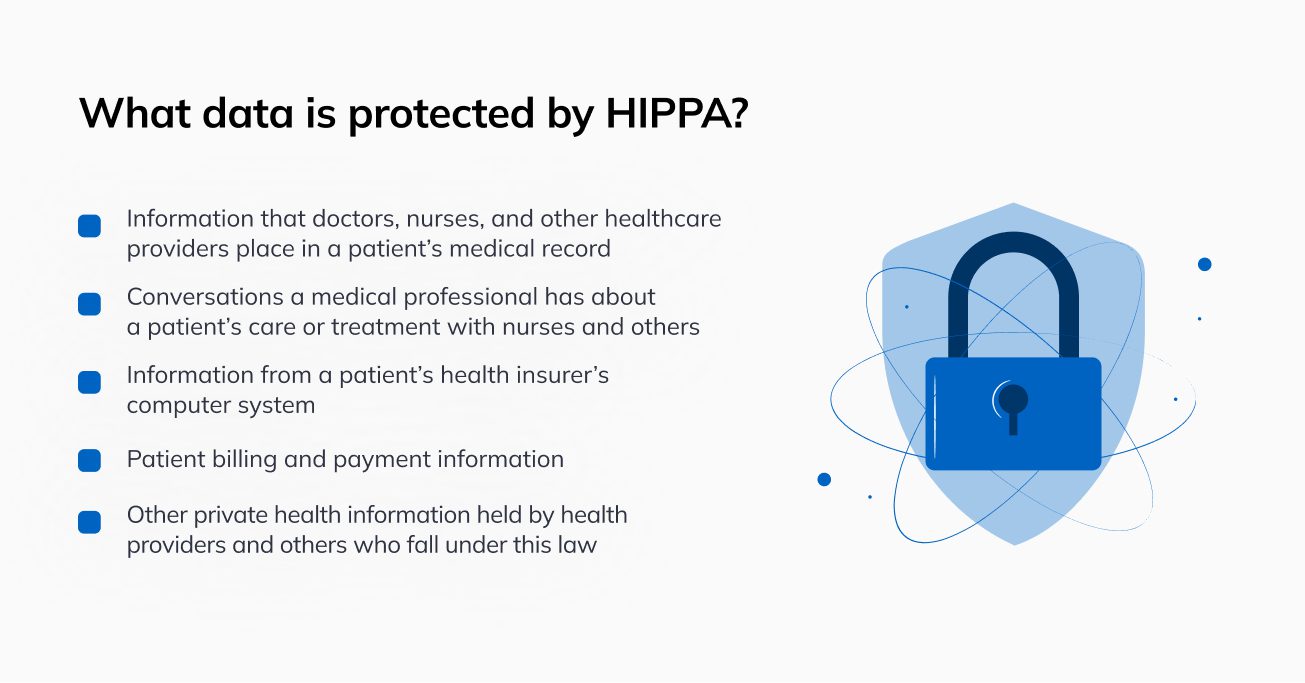 Data protection is not the only problem with today's medical apps and devices. Information exchange protocols are the cornerstone of digital health solutions security. Their encryption is mandatory to ensure the safety of user data and prevent its theft by third parties. But here's the question: is all information subject to such rigorous protection under HIPAA standards? No. There are two types of user data: PHI and CHI. Let's take a closer look at each.
What is PHI?
PHI stands for Protected Health Information. It refers to a class of data identifiers that are specifically protected under HIPAA law. A total of 18 pieces of information are covered under HIPAA.
PHI data includes patient names, phone numbers, locations, IP addresses, photos and identification documents, Social Security numbers, medical records, account numbers, and more.
What is CHI?
CHI stands for Consumer Health Information. It is used in such digital solutions where the data is not transmitted to third parties but is used solely for self-monitoring of physical health.
The best IT products of this class are FitBit, Google Health, and similar apps to monitor user activity. Developing digital products like fitness trackers does not require strict adherence to HIPAA because the consumer's sensitive data is not shared with third parties.
Key Principles of a HIPAA-compliant App
HIPAA compliance is required for all healthcare apps. Hospitals and healthcare providers who fail to comply with HIPAA are subject to significant fines. While an individual data breach may cost more than $50,000, it can result in millions in total damages.
HIPAA has strict rules for handling, transferring, and storing personal data. Any modern IT architecture is built on a modular basis based on microservices. It is the engineering team's responsibility to ensure that system security standards are met when developing HIPAA-compliant apps.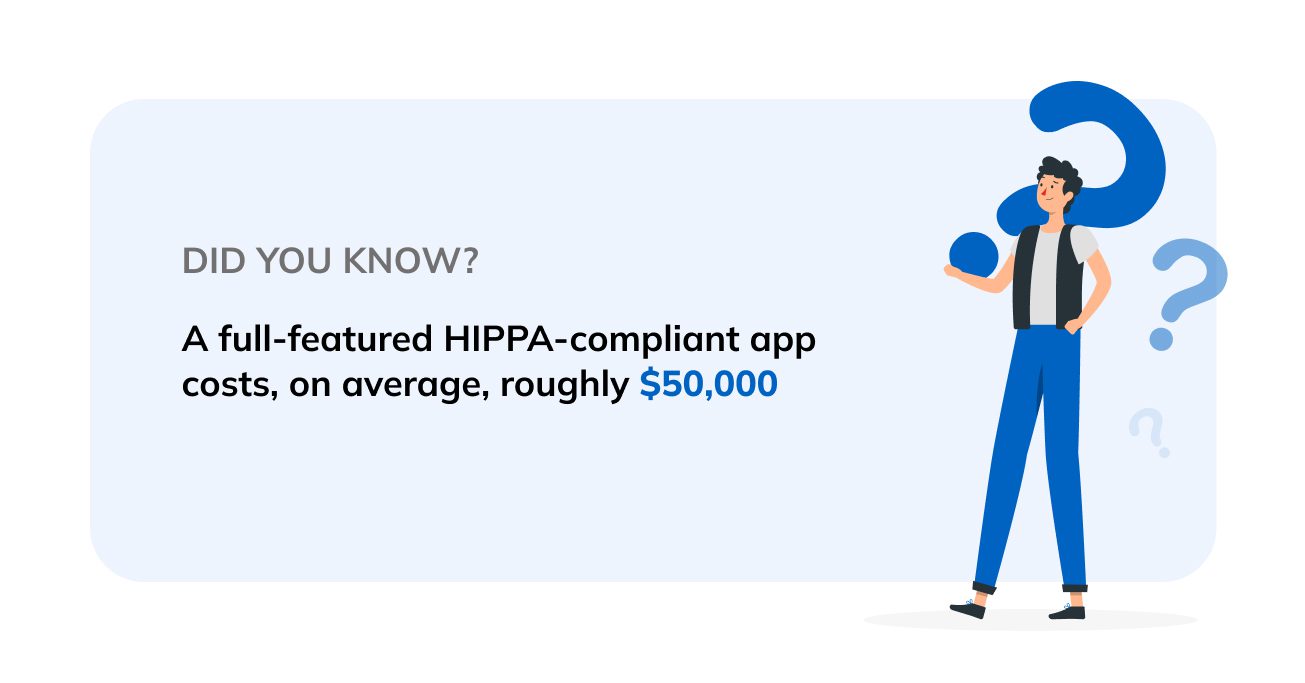 To ensure that these standards are met, it is often not enough to simply structure data streams for better information control. It is important to provide encryption of channels, secure data storage, and a multi-level authorization system.
It is important to know that HIPAA compliance often requires more than technical implementation, including:
Well-written privacy and security policies.
Regular training and/or certification of employees.
Rigorous security assessments of third-party partners and vendors
On-site incident plans.
In addition, we need to follow the trends of the cybersecurity industry precisely by incorporating the field's best practices into digital solutions. This includes blockchain technology, the Zero Trust information security system, multifactor authentication, and device digital signature verification.
Access control requirements
One of the most important aspects of the HIPAA criteria is that only authorized medical personnel may have access to patient information and records. Internal espionage is, unfortunately, a common occurrence in the healthcare industry.
In this case, the information is at risk because often, during the development of apps, there are loopholes for unauthorized access to sensitive data. This leads to problems for service providers, causing reputational and financial losses for the company.
In fact, according to the 2018 Verizon PHI Data Breach Report, many healthcare providers have access to information they shouldn't. Intentionally or unintentionally, this leads to 56% of security breaches. In addition to proper staff training, artificial intelligence and deep learning can also detect and prevent regulatory violations through strict access controls.
But even this is not always enough to fully protect the data. There are situations where it is not the app that is attacked but the medical system to which it is connected. Thus, the certificate is forged, and the attacker gains access to the data on the server or client devices.
Audit & Integrity
To develop a HIPAA-compliant app, developers must ensure that all processes and transactions follow the specified flow (outlined in HIPAA law). Any deviation from the established procedures will be instantly detected. Payments and audits are successfully handled by an algorithm that ensures that pharmaceutical stock figures add up.
The processing algorithms must be precisely prescribed for all 18 types of data covered by HIPAA. This is complicated by a large number of protocols and certificates used to protect them. And also the tight control of internal and external modules and software elements interconnections.
Types of data that are protected by HIPAA:
Names.
Clients' GEOs.
Dates.
Phone numbers.
Fax numbers.
Emails.
Social numbers.
Medical IDs.
Health care IDs.
Accounts.
Certifications.
Driver's licenses.
Digital device prints.
Addresses.
IP.
Biometric information.
Photos.
Identification data.
The number of diverse data sources and formats that need to be processed and evaluated adds to the overall complexity. Traditionally, pharmacovigilance has been performed by multiple groups of physicians who have collected information on medication exposure and patient reactions. Any inconsistency in data processing in these reports poses a risk to regulatory compliance.
It is important to set limits on the types of data entered and received. It is better to artificially limit its use to predetermined limits for better control over the information. Only the data that the user and the service provider need access to in order to provide quality service should be included.
Thanks to AI-based solutions, data collection, analysis, and processing are optimized and automated, greatly reducing the likelihood of human error. As a result, regulators have less opportunity to question the validity of an application.
In addition to AI, it is important to use more traditional security methods to ensure data security. This means that it is necessary to think about and implement a multi-level user authentication system, including both validation of the device and the user's identity based on established biometric data.
Additionally, end-to-end encryption technology, zero-trust policy, and a number of other solutions can be used to improve data security. You should also consider and implement backup capabilities to restore access or control over the account without compromising the protection of the product and the information in it.
It also simplifies the process of obtaining and processing structured and unstructured data because AI can extract the necessary regulatory data from given sources of information. In addition, the AI can detect patterns and suggest better decision-making methods regarding treatment dosages, prescriptions, patient data, etc.
Transmission Security
As healthcare businesses gradually move to digital platforms, data security is becoming an increasingly important issue. According to Gartner, privacy restrictions pose major risks for most companies, including those in the healthcare industry.
This is a serious issue, with 41 million medical records being compromised in 2019. The accumulation of sensitive patient data, medical records, and smart data from medical wearable devices is becoming a target for devastating and costly cyberattacks and data breaches.
There have been countless cases where a single data breach or systematic noncompliance with HIPAA requirements has resulted in significant financial losses.
Significant financial losses are the millions of dollars per year that companies compensate their customers for the damage caused by the loss of important data. Add to that the cost of litigation and the cost of software upgrades, and you get a bill that exceeds the basic investment in developing a HIPAA-compliant digital solution.
Because there are different types of data sources and tiers, conversations about artificial intelligence for healthcare data protection are long and varied. However, regarding compliance, the main U.S. medical regulatory set, HIPAA, regulates some forms of patient data. As a result, organizations and developers must adhere to these standards when developing a HIPAA-compliant mobile app.
How Much Does It Cost To Develop a HIPPA-compliant App?
The total cost is determined by many elements, including product complexity, development duration, technology set, team size, development speed, and more.
Technical documentation, design, programming, development, prototyping, maintenance, project management, and quality assurance are all important components of fitness application development.
The more complex the health app, the more steps will be involved. The average time it takes to create an app is four months. However, depending on the complexity and scale of the app, it may take longer.
A fully functional, HIPAA-compliant app costs, on average, about $50,000. This cost includes building the entire system, which must meet both physical and technical security requirements. Among other things, developers will also need to spend time vetting the system and obtaining the necessary certifications.
Instead of developing a HIPAA-compliant mobile app from scratch, developers can use HIPAA-compliant infrastructure and solutions. However, when working with third-party vendors, it's up to you to make sure they're reliable when it comes to storing and processing PHI.
It is best to entrust the work on the project to a company that is engaged in the implementation of healthcare apps on an ongoing basis. Such a team already has extensive experience working with the industry and will consider all the requirements of the sphere at the early stages of development. In addition, the expertise of the project participants will improve the quality of the digital product for medicine and provide your consumers with a top-notch UX, which will have a positive impact on the performance and profitability of the entire enterprise.
How To Develop a HIPPA-compliant Health Care App
Choose a reliable application development partner
You won't be able to comply with all the necessary HIPAA regulations without the help of a professional developer unless you have the proper experience. As a result, working with an experienced software vendor who can help you with important consultations and system audits is preferable.
It is better to hire an experienced team that will take care of the entire application development process in accordance with HIPAA. We recommend working with an expert company that has proven experience with similar solutions, whether you are a startup or a large medical enterprise.
Encryption of all transmitted and stored data
Strict security procedures must be followed to encrypt the patient's confidential information. Make sure that there are no security flaws. Use different levels of encryption and entanglement to prevent data loss or theft.
Encryption is essential when it comes to developing a secure, HIPAA-compliant application. Using blockchain technology during development can help ensure data integrity and security.
Check your app's security
It is critical to test mobile apps regularly, especially after an upgrade. You should dynamically and statistically test the solution to ensure it is HIPAA compliant. Also, take advantage of professional advice to double-check that your documentation is up-to-date.
Tools, libraries, and platforms help with application development and ensure that security is always in place. For example, once you've created a HIPAA-compliant mHealth app, you need to update it regularly to avoid security breaches.
Glorium has the experience and capabilities to enhance your healthcare solutions. Whether you need IT consulting, reliable app testing, or help to build a HIPAA-compliant mobile app, we're here to help.
With extensive medical software development experience and a deep understanding of HIPAA and other important regulations, we understand the major hurdles healthcare software vendors must overcome.
Eliminating risk for both your company and your customers is a priority that cannot be compromised. Learn more about our healthcare software development solutions today.
FAQ