The world of healthcare is undergoing a monumental shift, driven by the exponential growth of artificial intelligence. For new B2B SAAS HealthTech companies in the US, this growth is more than just a number – it symbolizes a great opportunity ahead.
According to
Precedence Research
, the projected global growth of AI in the healthcare sector is poised to exceed USD 187.95 billion by 2030, with a robust Compound Annual Growth Rate (CAGR) of 37% between 2022 and 2030. These figures are far from mere numbers; they represent an unprecedented opportunity for companies operating at the nexus of healthcare and technology.
Among the various ways AI is used in healthcare, software solutions stand out as the leading edge. It claims a substantial 40.5% revenue share in 2022, according to the same report. This underscores the growing significance of AI-powered software solutions in revolutionizing how healthcare is delivered, managed, and experienced.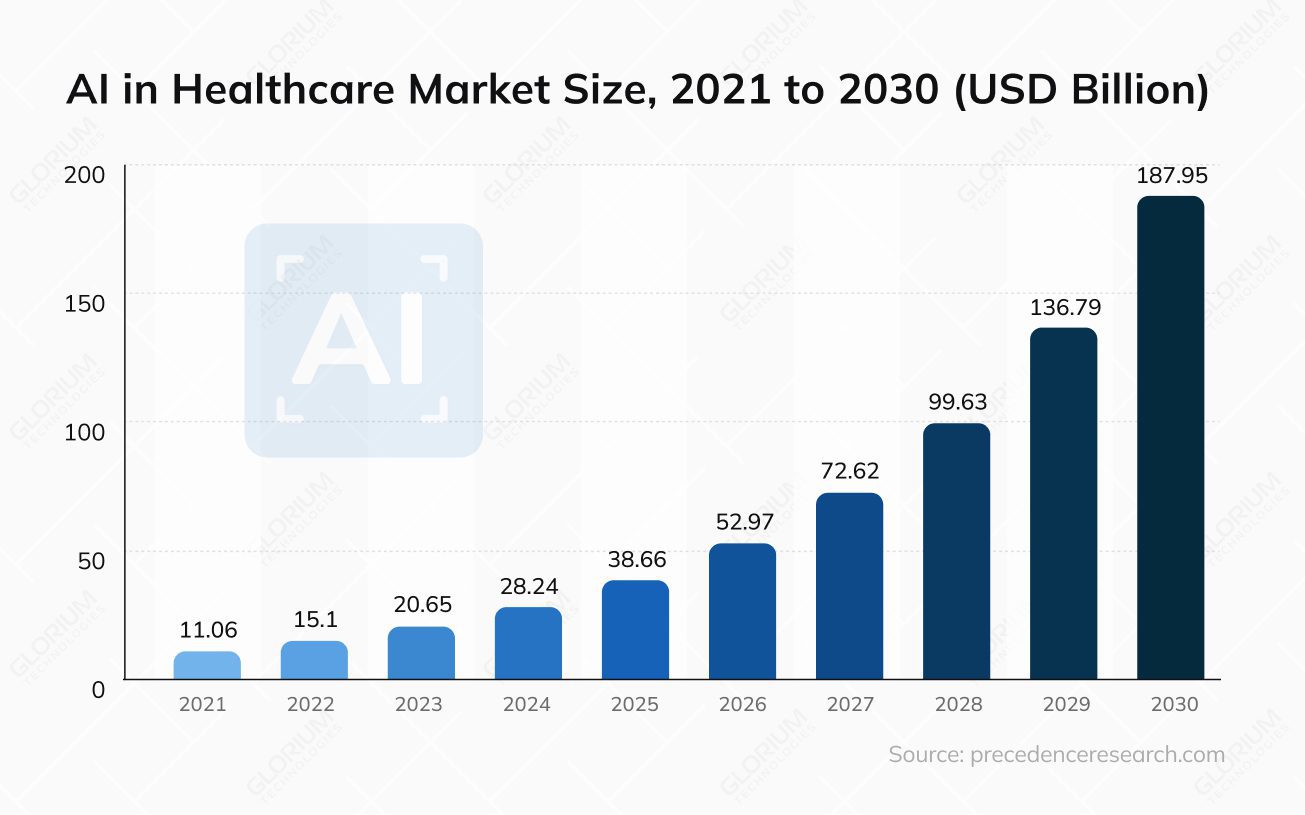 What Does AI Bring for Emerging B2B SAAS HealthTech Companies?
Imagine AI as a super-smart teammate that collaborates with these businesses to create solutions tailor-made for the evolving healthcare landscape. Much like a secret weapon gives its wielder an advantage, AI empowers SAAS HealthTech companies to enhance their offerings.
AI analyzes data, derives insights, and optimizes solutions to align perfectly with the dynamic shifts in healthcare. This partnership isn't just valuable—it's like having an unparalleled competitive edge.
This relationship gains even more significance when considering emerging US-based SAAS HealthTech companies with team sizes ranging from 50 to 250 individuals.
In the year 2022, the United States saw a total of 572 digital health startup deals receiving funding. While this marked a decline from the 738 deals funded in 2021, it's important to note that, over the given period, there has been a general upward trend in the annual number of funded digital health startup deals.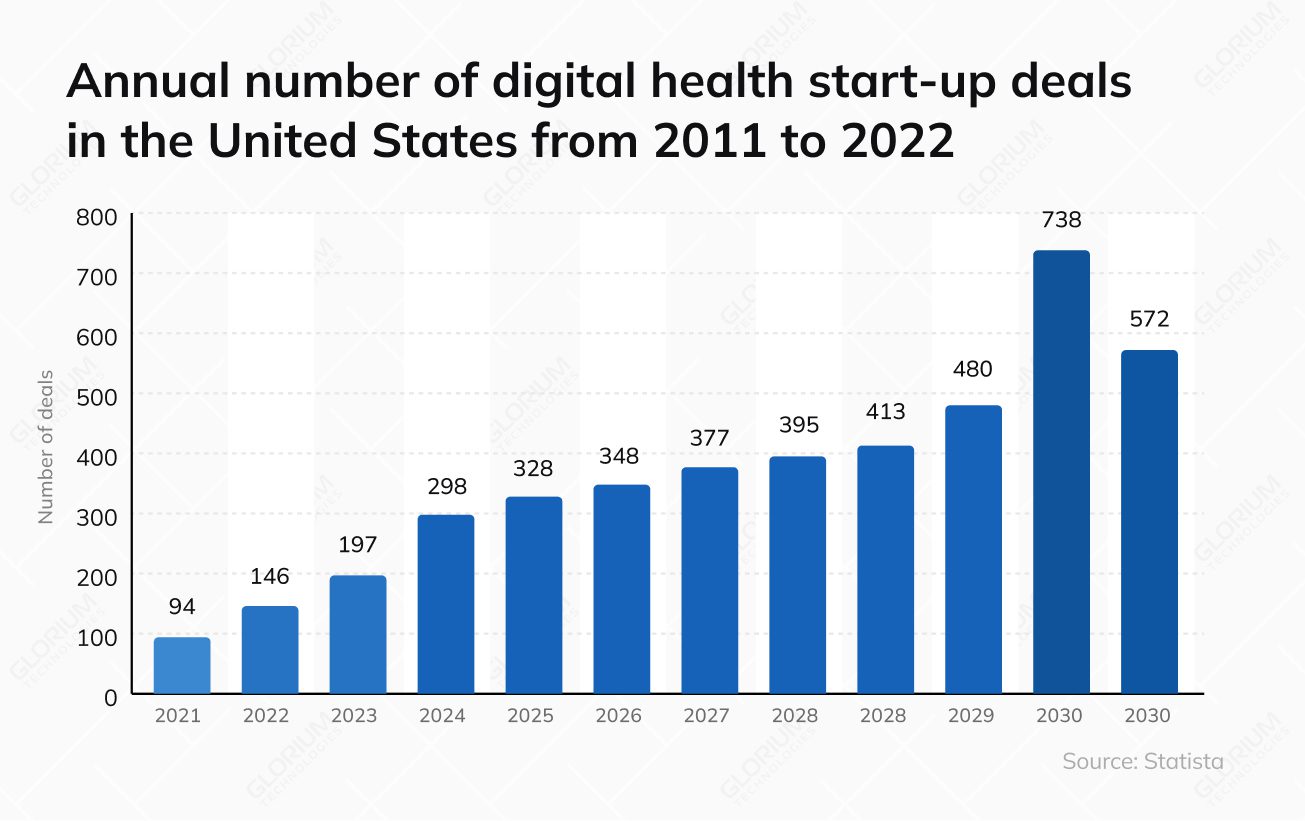 These companies provide advanced digital solutions as subscription-based products to the healthcare industry. With AI as their driving force, they're not just starting out – they're becoming top players in the field. AI is their secret weapon that helps them go from newcomers to pioneers, reshaping the future of digital healthcare technology.
AI Has a High Impact on Product Value for Investors
AI isn't just a technical enhancement; it's a strategic move that magnifies the value proposition of digital solutions in the competitive HealthTech landscape.
GlobalData's recent report highlights AI as a key investment priority and a continued focus in the healthcare sector over the next two years.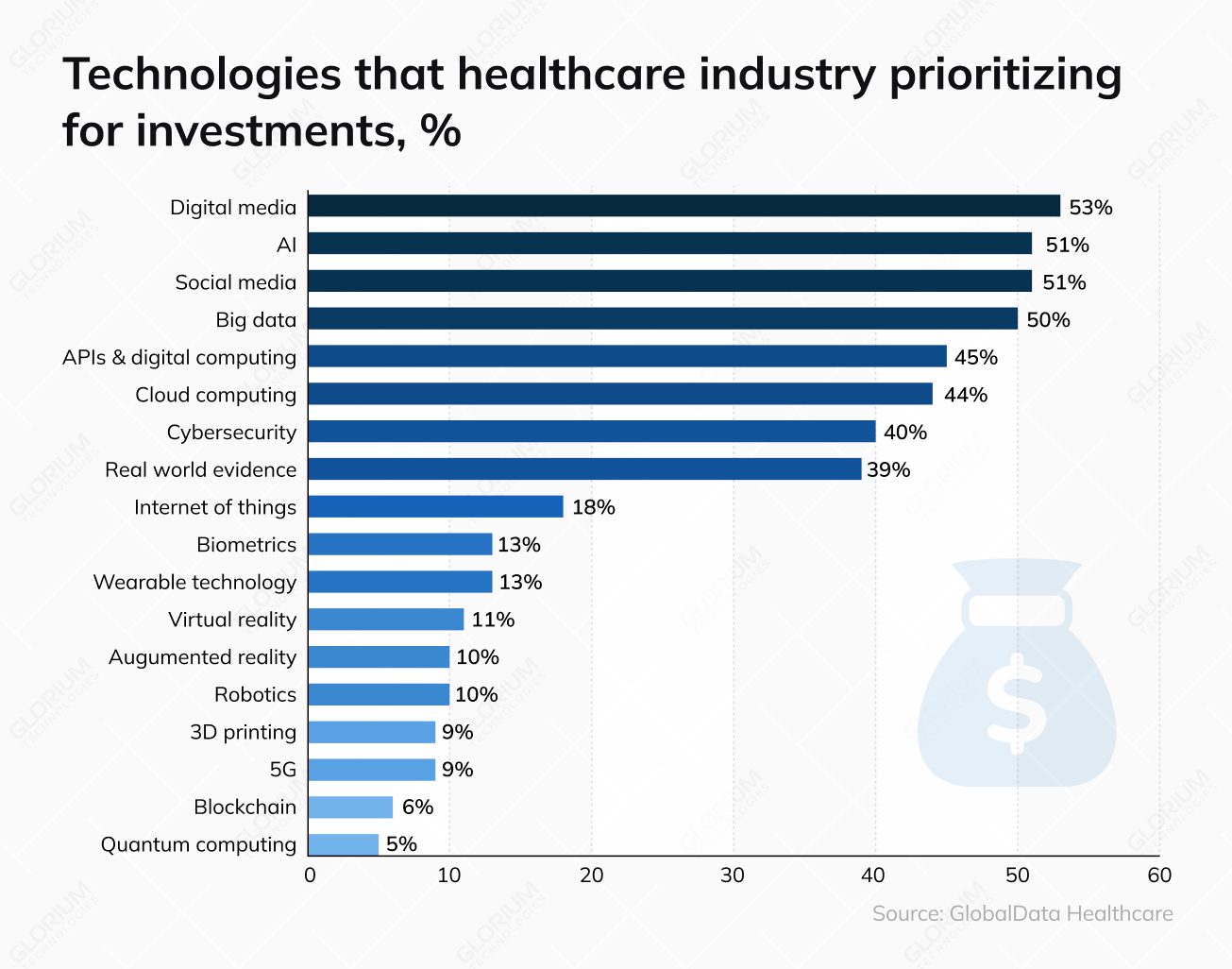 The survey-based report tracker reveals that AI is prominently regarded by startups in the HealthTech arena. Alongside digital media, which tops the list, AI, social media, and big data constitute the core technology investment targets for these innovative startups.
AI-powered predictive analytics enable proactive resource allocation, optimizing healthcare delivery. The accuracy of diagnostic processes, powered by AI-driven machine learning, leads to personalized treatment plans and timely interventions.
Beyond operational efficiency, AI-laden solutions offer predictive analytics, translating into improved patient outcomes, heightened healthcare quality, and substantial cost savings. The scalability and adaptability of AI-driven HealthTech solutions attract investors, presenting an enticing investment opportunity that aligns financial returns with positive societal impact.
AI Transforms SAAS HealthTech Product Workflows
AI's transformative power reaches beyond product enhancements and financial metrics. It revolutionizes the workflows of SAAS HealthTech companies, integrating emerging technologies seamlessly.
By automating routine tasks, AI liberates human capital to focus on creativity and strategic thinking. This synergy results in elevated productivity, efficiency, and innovation:
Real-time insights into patient trends and outcomes empower informed decision-making.
Personalized patient experiences through tailored treatment plans foster satisfaction and loyalty.
AI's predictive maintenance optimizes operational efficiency, and the collaboration between AI and human expertise creates a harmonious partnership that drives data-driven decisions with precision.
Adding AI to HealthTech SAAS companies is a game-changer. It helps them use health data better, maybe changing how we diagnose and treat. Plus, with AI, these companies can be around 30% more competitive by offering smart data-based solutions that keep them ahead in healthcare. AI isn't just tech – it's a friendly revolution making healthcare better.

Oleg Kumko

Project Manager, Glorium Technologies
Top 5 HealthTech Startups that Use AI
The following five HealthTech startups are spearheading a revolution in the healthcare sector.
Zebra Medical Vision employs AI to analyze medical imaging data, assisting radiologists in diagnosing various conditions accurately and efficiently.
PathAI utilizes AI to enhance pathology diagnosis by aiding pathologists in identifying diseases from slides, contributing to more precise disease detection.
Viz.ai leverages AI to expedite stroke diagnosis by analyzing medical images, enabling quicker treatment decisions and improving patient outcomes.
Qventus optimizes hospital operations using AI-driven real-time data analysis, supporting healthcare teams in making informed decisions and elevating patient care.
Butterfly Network revolutionizes medical imaging with an AI-powered handheld ultrasound device, providing instant imaging for healthcare professionals, making ultrasound accessible and cost-effective.
In a Nutshell
The anticipated expansion of AI in healthcare goes beyond mere statistics; it holds profound transformative power. Embracing AI signifies a path to amplified offerings and establishing a leadership stance on healthcare's cutting edge.
In the evolving healthcare scenario, those who infuse AI into their core strategies will spearhead progress. Their impact extends beyond product enhancement; they're fundamentally revolutionizing healthcare technology.
For a deeper dive into valuable insights on leveraging AI for your Saas HealthTech business, we invite you to join our upcoming webinar Navigating the AI Revolution for Healthcare. For HealthTech leaders, including CTOs, CEOs, and CIOs, this webinar holds exceptional value.
The Glorium team has a lot of valuable resources made specifically for you: