Since the COVID-19 pandemic outbreak in 2019, digitalization has become one of the biggest global trends. Many businesses considered it as an opportunity to continue their work in the remote mode. Others were looking for a way to streamline their operations. But all of it resulted in significant growth of data transfer globally.
According to Statista, the total amount of data created, captured, copied, and consumed globally, reached 97 zettabytes in 2022 and will almost double in 2025.
How can we make all that data work efficiently? Out of a variety of software solutions, each business chooses a product according to its specific needs. But for productive cooperation, all those applications should be aligned and appropriately integrated. And this is where EDI comes in.
What is EDI?
EDI (Electronic Data Interchange) technology streamlines business operations by allowing companies to exchange documents digitally in a standardized format.
From faster document transmission and transformation to automated workflows, EDI integration has the potential to reduce costs and errors, creating smoother relationships with partners and customers. An example of its application in order processing. Buyers submit orders for products that suppliers invoice before both parties exchanges actual receipts.
An efficient electronic data interchange between businesses enables this optimized interaction.
Why do Businesses Need EDI?
As mentioned before, each company chooses software for its specific needs. One company can have a particular ERP while its counterparty may use another. As they constantly exchange data, it needs to convert to be read and stored in both systems.
It will take heaps of time to convert all data manually, which is why the need for automation arises. In general, the process looks like this:
Companies initiate the process of EDI by exporting a business document from their internal system, e.g., purchasing goods or services.
This source data gets transformed with specialist software. It maps it into an EDI format and checks structural accuracy against pre-defined industry standards.
EDI documents pass through conversion software to guarantee their structure meets current industry standards.
This data gets transmitted securely across communication protocols and networks like SFTP, HTTPS, or AS2, directly to the client or further into validation tools.
EDI over AS2 technology enables secure digital communication between any two businesses. Once the file is at its destination, trustworthiness protocols get enacted for successful delivery. These verify credentials and authenticating sources to decrypt each EDI doc accurately and then ingest it into their systems. To confirm receipt of files, an MDN (message disposition notice) is sent back as a notification.
What Types of EDI Exist?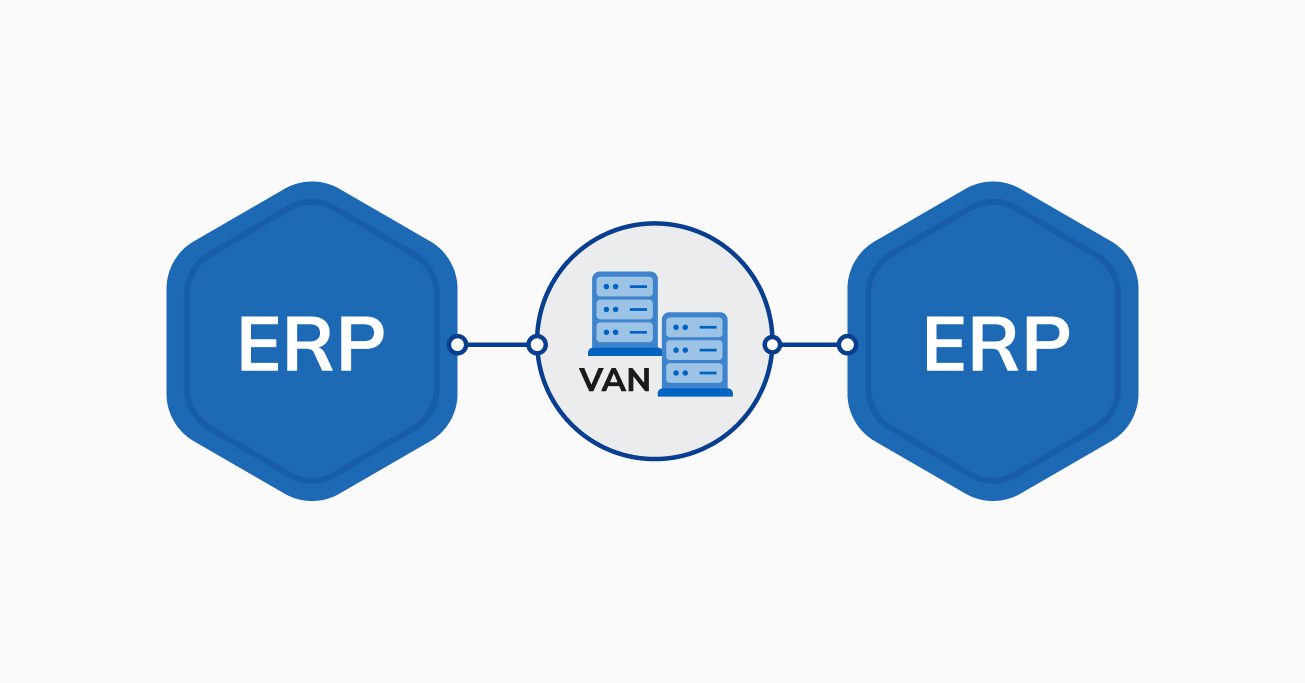 Direct EDI integration enhances communication between a business and its trading partners, allowing for fast and secure data transfer using protocols like AS2 or FTP.
Indirect EDI integration uses a third-party value-added network (VAN) as an intermediary between two systems. ERP system sends the message, then VAN or broker converts it into a format suitable to the trading partners' needs before transmitting it down the line.
Organizations often require a combination of managed services and in-house resources for maximum flexibility. It is known as Hybrid EDI Integration. By leveraging the advantages of both indirect (VAN) and direct transmission methods, organizations can tailor their solution. The exact configuration depends on the primary task. For example, one may reach critical customers via secure direct connections while leaving less urgent transmissions to managed VANs.
EDI in Healthcare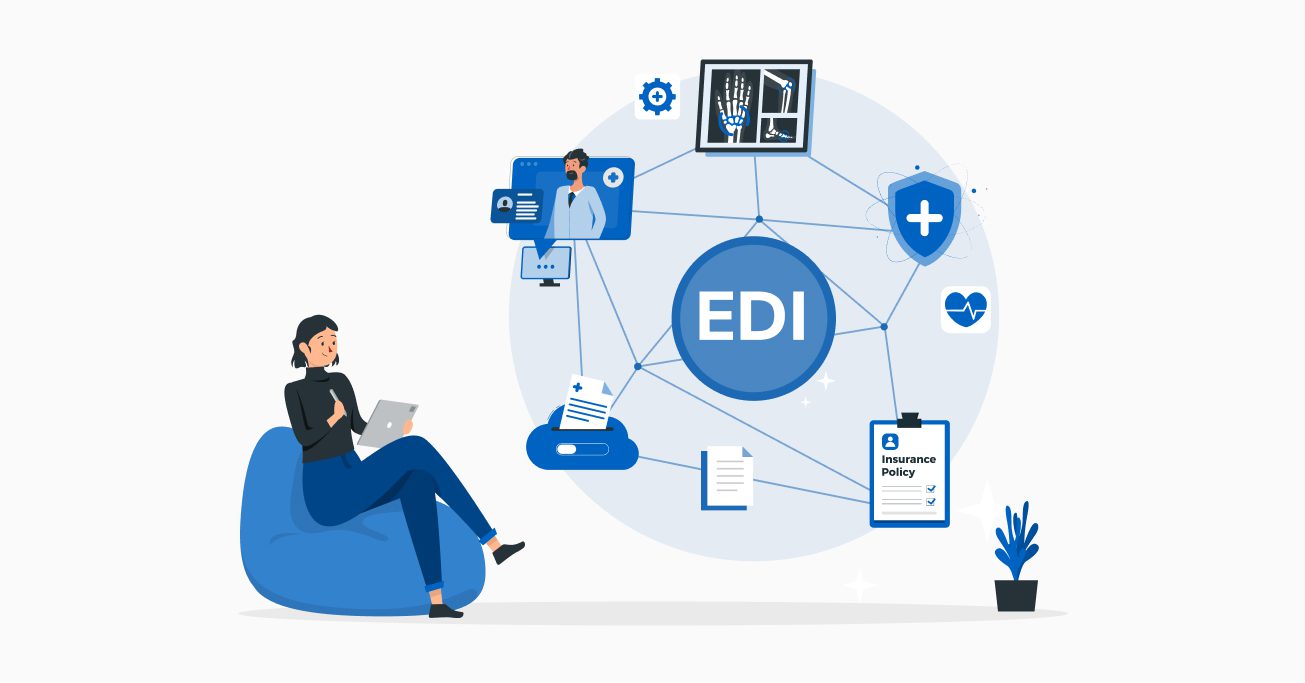 The healthcare industry is one of the most heavily regulated ones.
Medical servers store large volumes of confidential and sensitive data. Aside from diagnoses and health records, it includes billing and financial details. This data must be secure yet easily converted to keep the flow going. And, of course, all transactions should be HIPAA-compliant.
Here are some standard medical EDI transactions:
Enrollment and Maintenance
EDI 834 for employers, government agencies, and insurers to enroll members in a healthcare benefit plan.
Premium Payment for Insurance Companies
EDI 820, commonly used by healthcare providers to remit premium payments for insurance products, effortlessly facilitates transactions between financial institutions and consumers.
Health Care Eligibility/Benefit Inquiry
EDI 270 offers healthcare providers a vital tool to easily access crucial information from financial and government organizations, providing quick insight into patient benefits eligibility.
Health Care Services Review
EDI 278 sends essential details like the patient's diagnosis, treatment data, and personal information from healthcare providers to payers during payment authorization.
EDI 837 is an essential data format for healthcare providers with payers. It facilitates a seamless exchange of healthcare claim billing, encounter info, or both. It may be direct transmission from providers to insurers or via third-party billers and clearinghouses. In any case, it helps ensure that payments come on time. It doesn't apply to retail pharmacy claims.
Retail Pharmacy Claim Transaction
With this kind of EDI, healthcare providers can easily and securely transmit retail pharmacy claims directly to payers, ensuring speedy reimbursement.
Healthcare organizations must have a ten-digit national provider identifier (NIP) and follow HIPAA Privacy Rule, HIPAA Security Rule, and HIPAA Enforcement Rule to align with HIPAA EDI standards.
EDI Benefits for the Healthcare System
According to the 2021 CAQH Index, the US healthcare industry saved around $166 billion by automating administrative transactions with further potential for cost reduction. Proper integrations minimize paperwork and human errors, speeding up operations.
If you are interested in EDI, we recommend hiring a specialized software development company experienced in creating products for healthcare organizations and awareness of industry-specific needs. This way, you can spend less time creating requirements specifications. Also, an experienced provider may advise you on features that can positively affect your financial results in the future.
Build your effective ecosystem, save time and focus on your strategic goals by automating transactions.
FAQ