If you are a startup or an expanding tech company, an ERP (Enterprise Resource Planning) solution can be a powerful tool to streamline operations, improve productivity, and drive growth. ERP solutions provide a centralized platform to manage critical business processes such as finance, human resources, supply chain management, etc. This guide covers everything from comparing the custom and off-the-shelf options to best practices for building a successful custom ERP solution.
What is ERP Software Development?
Let's start with clarifying what exactly is meant by an ERP solution. This software is designed to improve efficiency by providing a centralized database for all business data.ERP application development offers numerous benefits, including improved operational efficiency, streamlined processes, enhanced data management, and better decision-making capabilities.
ERP software can be customized to meet an organization's specific needs and can include a wide variety of features, or you can choose ready-made solutions. ERP software development aims to create a solution that can manage all sides of a business, from accounting and logistics to sales and marketing, in a unified and efficient manner.
Nowadays, it's becoming increasingly apparent that startups must focus on operational efficiency and transparency in their business processes. This factor contributes to the rapid growth of ERP software development. Grand View Research predicts, in 2022, the market size for ERP software reached an impressive USD 54.76 billion and describes a CAGR of 11.0% from 2023 to 2030.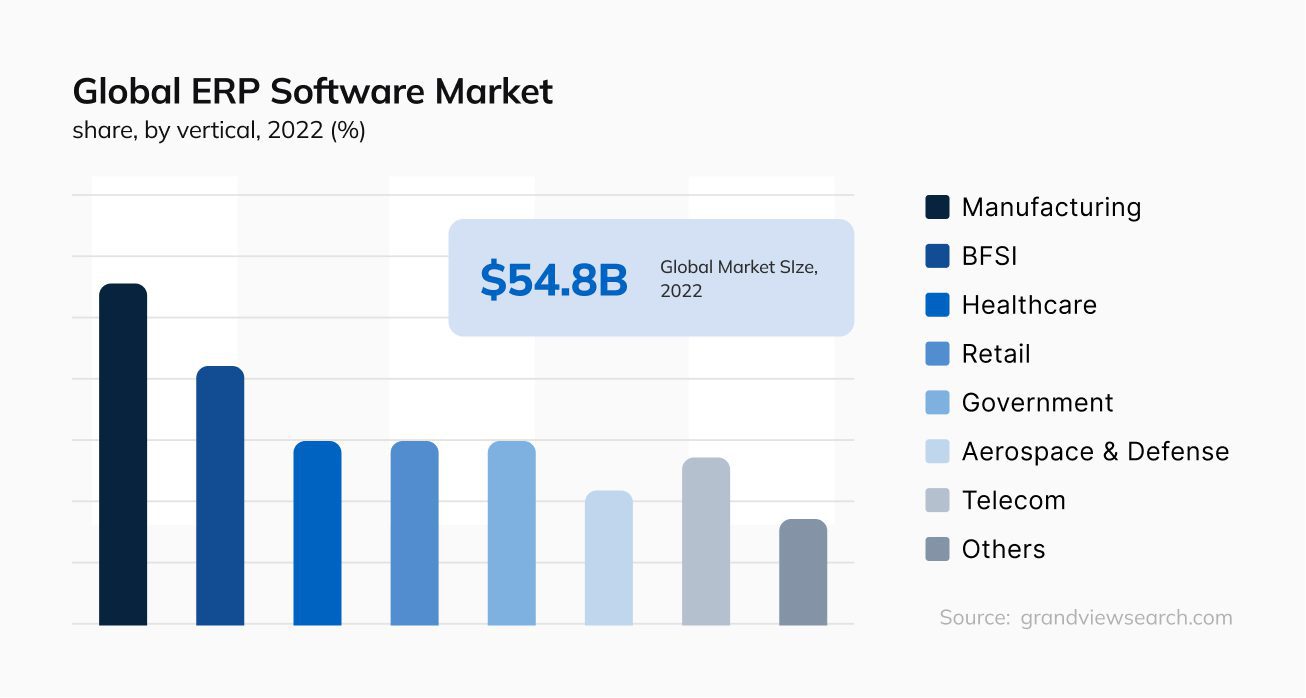 Custom ERP solutions are often a better option for startups and expanding tech companies than off-the-shelf solutions. While off-the-shelf solutions may offer some benefits, such as lower upfront software development costs and quicker implementation times, they may not be able to fully meet the specific needs of your business. This section will research the pros and cons of custom and off-the-shelf ERP solutions, and why custom solutions are often a better choice.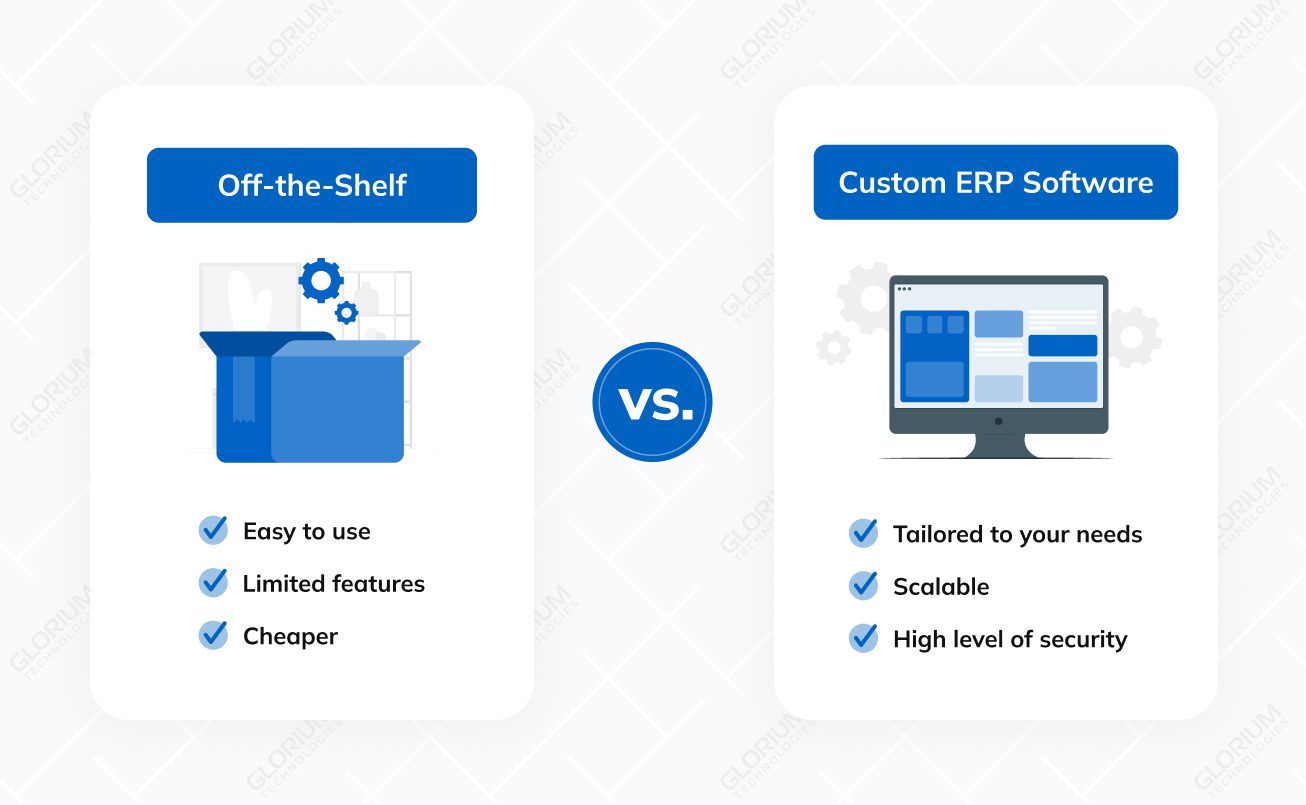 Off-The-Shelf ERP Software Development: Advantages and Disadvantages
Off-the-shelf ERP solutions are pre-built software packages developed to meet the requirements of businesses across multiple industries. Ready-made solutions offer a wide range of features and functionality, such as financial management, inventory management, and customer relationship management, and are often sold on a subscription basis.
One of the main advantages of off-the-shelf ERP solutions is that they are often less expensive and quicker to implement than custom solutions. Generally, it can be easier to use them, as such solutions come with pre-built templates and workflows.
However, several things could be improved in off-the-shelf ERP solutions. First, they still need to be fully developed for your business, as ERP software is designed to be general-purpose solutions. It may lead to inefficiencies in your workflows or a lack of integration with other software systems.
Additionally, off-the-shelf ERP solutions may only be customizable to a certain extent. You may be limited to the features and functionality that are built into the software, which can be frustrating if your business needs to change or evolve. Finally, off-the-shelf ERP solutions may need to be more secure, as many companies use them and may be targeted by hackers or other cyber threats.
Custom ERP Software Development: Pros and Cons
On the other hand, custom ERP solutions are built specifically for your business needs and workflows. They offer a high level of customization, allowing you to build the exact features and functionality your business requires. They are also more flexible than off-the-shelf solutions, which can be updated and modified as your business needs change.
One of the main advantages of custom ERP solutions is that they are fully designed to meet the needs of businesses, which can lead to increased efficiency and productivity. They can have more security levels, as they can be developed to meet your security requirements.
However, custom ERP software development can be more expensive and time-consuming than off-the-shelf software. They need a high level of expertise and may take longer to develop and test. Additionally, custom ERP application may require ongoing maintenance and support, which can add to the total cost of ownership over time.
While off-the-shelf ERP systems may offer some benefits, custom ERP solutions are often better for startups and expanding tech companies. Custom ERP systems provide high customization and flexibility, allowing you to build the exact features and functionality your business requires.
Custom ERP solutions are beneficial for a wide range of businesses and organizations that require tailored software systems to meet their specific needs. Here are some examples who may need custom ERP solutions.

Startups and small businesses: Startups and small businesses often have unique workflows and requirements that may not be fully addressed by off-the-shelf ERP solutions.
Mid-sized and large enterprises: As businesses grow in size and complexity, their needs become more diverse and specialized. Custom ERP solutions enable mid-sized and large enterprises to build a system that integrates various departments, optimizes operations, and supports their specific industry requirements.
Businesses with complex workflows: Some organizations have intricate workflows involving multiple departments, geographically dispersed teams, or intricate supply chains.
Businesses with specific compliance requirements: Certain industries, such as healthcare, finance, or government, have stringent compliance regulations. Custom ERP solutions can be developed to ensure adherence to these regulations, such as HIPAA or GDPR, and to implement necessary security measures to protect sensitive data.
Businesses with unique product or services: Companies that offer unique products or services may require ERP systems that incorporate specialized features and functionalities. Custom ERP allows businesses to build systems that support their unique offerings and provide a competitive advantage in the market.
Businesses with expansion plans: Companies with plans for expansion, mergers, or acquisitions can benefit from custom ERP solutions that can be scaled and adapted to accommodate new locations, additional users, or increased transaction volumes.

Roman Matsukatov

Product Manager, Glorium Technologies
Custom ERP solutions can also be more efficient and productive than off-the-shelf solutions. They can be integrated with other software systems, allowing you to streamline operations and automate manual processes. Additionally, custom ERP solutions can be designed with scalability in mind, allowing your business to grow and expand over time.
Read more about real estate ERP software development.
Must-have Features and Modules of Custom ERP Software
ERP software development as a complex process requires careful planning and execution. In order for an ERP system to be successful, it must have a variety of must-have features that enable it to meet the needs of businesses of all sizes. These features include robust reporting tools and seamless integration with other business applications.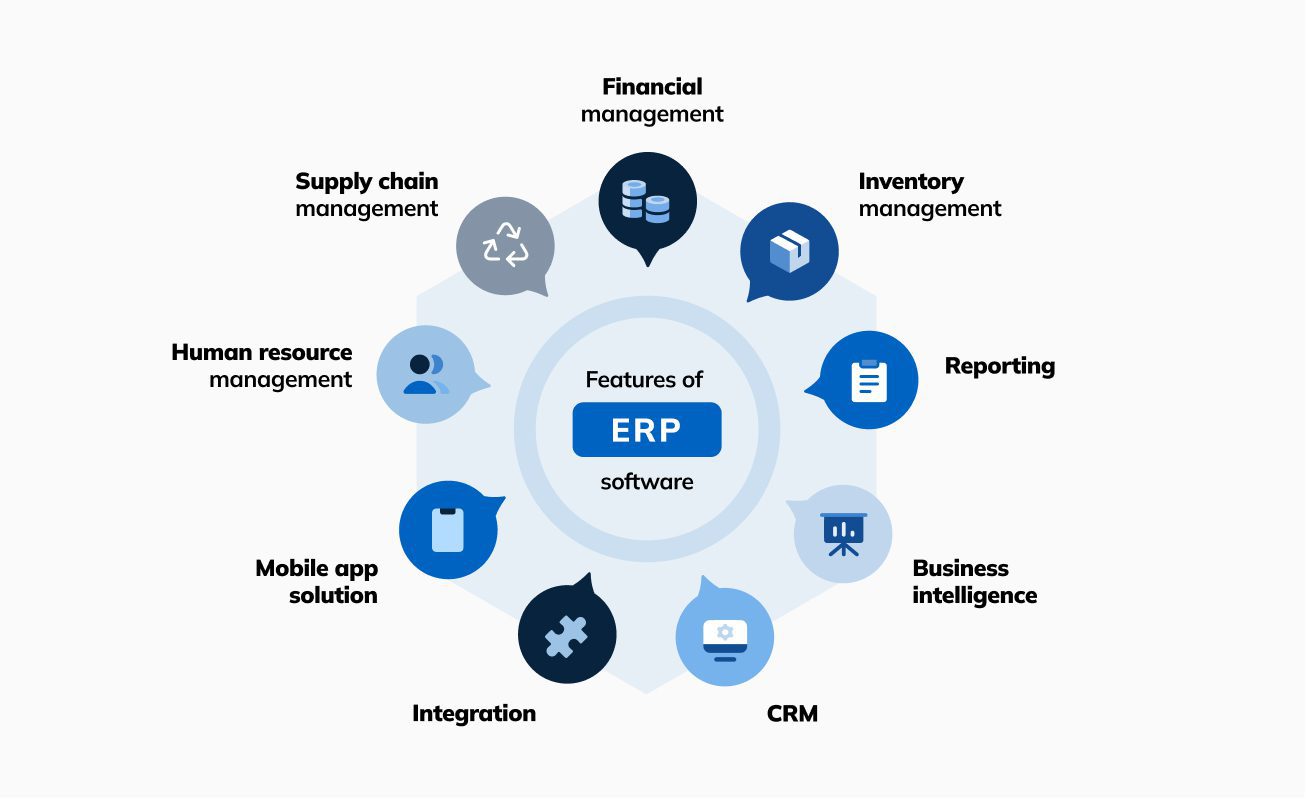 By understanding what must-have features are necessary for ERP software development, businesses can ensure that their ERP system is effective and efficient and can support their ongoing growth and success.
Financial Management
Having a reliable financial management module as part of your ERP software development is crucial to ensure that your financial processes are streamlined and that you can generate accurate financial reports. This module should include features such as accounts payable and receivable, general ledger, and financial reporting. It should also be able to handle multi-currency transactions, tax calculations, and budgeting and forecasting.
Inventory Management
Effective inventory management is essential for businesses dealing with physical goods. It can make or break the business's profitability, and an ERP system is critical to help manage it. An ideal ERP software development should offer features like real-time inventory tracking, automated ordering, and forecasting capabilities. It should also be able to handle multi-warehouse and multi-location inventory management effectively. By using an ERP system, businesses can optimize their inventory levels, reduce waste, and improve customer satisfaction by confirming that the right products are available at the right time.
Customer Relationship Management (CRM)
A good ERP system should always come equipped with an efficient CRM module that can help businesses manage their customer relationships more effectively. This module should contain many features that enable communication between businesses and customers, allowing them to respond quickly and accurately to queries and complaints.
One of the critical components of a good CRM module is contact management. This feature allows companies to store and manage customer data, including purchase history, contact details, and communication history. With this information readily available, businesses can easily identify customer needs and provide personalized services.
Another vital feature of a CRM module is lead and opportunity tracking. This feature helps companies to track their sales leads from initial contact to final sale. It also produces insights into customer behavior and preferences, enabling businesses to tailor their offerings to meet customer needs.
Customer service and support are also crucial features of a CRM module. This feature allows businesses to manage customer inquiries and complaints efficiently. It provides a platform for customers to ask questions, report issues, and receive prompt responses. With this feature, businesses can offer excellent customer service, leading to customer loyalty and repeat business.
Human Resource Management (HRM)
As a business grows, managing employees can become a daunting task. That's why an ERP software development should also include a comprehensive HRM module that allows businesses to manage their employees more effectively. This module should consist of features such as employee data management, payroll processing, time and attendance tracking, and benefits administration.
Employee data management: It is a crucial aspect of HRM. It keeps track of its employees' information, such as contact details, job titles, and employment history. This information is essential for HR managers when deciding promotions, transfers, or terminations.
Payroll processing: It is another vital feature of an HRM module. It automates the process of paying their employees, which can save time and reduce errors. Payroll processing also helps ensure that employees are paid on time, which can improve employee satisfaction.
Time and attendance tracking: This feature is essential for businesses that track their employees' hours. This feature allows businesses to monitor employee attendance, track their hours worked, and calculate their pay. Time and attendance tracking can also help companies identify absenteeism patterns and take steps to address the issue.
Benefits administration: It allows companies to manage their employees' benefits, such as health insurance, retirement plans, and vacation time. Benefits administration can help businesses attract and retain employees by offering competitive benefits packages.
Supply Chain Management (SCM)
This module should provide the necessary tools to track inventory, manage orders, and maintain good relationships with suppliers. Inventory tracking is a vital part of software development erp.
Inventory tracking: With accurate inventory tracking, it can be easier to determine when to order more supplies, which can lead to stockouts or excess inventory. With ERP systems that include an SCM module, you can track inventory levels in real time, which will help you make informed decisions about when to place orders.
Order management: It is another critical feature that should be included in your ERP system's SCM module. This feature allows you to manage your orders efficiently, from when they are placed to when they are delivered. Also, you can benefit from tracking the status of each order, ensuring that the correct items are being shipped, and informing your customers about their order's progress.
Supplier relationship management: Finally, a good SCM module should include supplier relationship management tools. These tools enable you to maintain good relationships with your suppliers, leading to better pricing, faster delivery times, and better-quality products. You can track supplier performance, communicate with suppliers, and negotiate better terms and conditions. ​​Having a centralized system for all supplier data benefits erp software by cost savings for our business.
Business Intelligence (BI) and Reporting
With a robust BI and reporting feature, ERP systems can help you gain insights into your operations and make informed decisions. You can generate reports on key metrics such as sales, inventory, and financial performance to assess the performance of your business. Having the ability to generate these reports within the ERP system can save you time and money.
In addition to providing valuable insights, a good ERP system should also have a user-friendly interface that allows for easy navigation and accessibility. With these features, an ERP system can become a tool for any business looking to streamline operations and make decisions based on data.
Integration
Integrating the system with other software applications is one of the key features of ERP systems that can enhance its functionality and usefulness. Integration is equally important because it allows businesses to leverage the power of other software applications they use daily. Integrating an ERP system with a customer relationship management (CRM) tool can provide a more comprehensive view of customer interactions and help businesses make better, data-driven decisions. Integration with e-commerce platforms can streamline order processing and provide real-time inventory tracking.
Integration with marketing automation software can help businesses create more targeted and effective marketing campaigns. The key to successful customization and integration is choosing an ERP system that works well with other software applications. It requires careful evaluation of potential ERP systems and requirements of the business.
Mobile App Solution
In today's fast-paced business environment, accessing critical data and functionality on the go is more important than ever. That's why an ERP application that offers mobile access is a must-have for any company that wants to stay ahead of the game. With mobile access, employees can access the ERP application from anywhere, whether in the office, on the go, or remotely. It means that they can easily check on the status of orders, update customer information, or view inventory levels from their smartphone or tablet.
This flexibility and convenience can help boost productivity and efficiency, as employees are no longer tied to their desks or laptops. Regarding mobile access, two main options are available: a web-based interface or a mobile app. A web-based interface is accessed through a mobile browser and offers the same features and functionality as the desktop version of the ERP application development.
Employees can access the ERP application from any device with an internet connection without installing additional software. A mobile ERP application is a dedicated application installed on the employee's smartphone or tablet. ERP application development offers a more streamlined experience, as the app is optimized for use on a smaller screen and can offer additional features such as push notifications and offline access.
However, it does require employees to download and install the app on their devices, which can be a barrier to adoption. Regardless of your choice, mobile access is crucial for any modern ERP system. By allowing employees to access critical data and functionality on the go, you can help increase productivity and efficiency while keeping your business competitive in today's fast-paced market.
ERP Software Development Process: 5 Steps
The ERP software development process typically involves several vital steps to ensure a customized ERP system's successful creation and implementation. Here are five essential steps in the ERP software development process:
The first step is to gather requirements by thoroughly understanding the organization's business processes, workflows, and specific needs. It involves close collaboration with key stakeholders, department heads, and end-users to identify pain points, challenges, and desired outcomes. Here are the main to define the scope of the ERP system and document clear and comprehensive requirements.
System Design and Planning
In this step, the team designs the architecture and framework of the ERP application development. They create a system design that maps out the modules, functionalities, and features of the ERP system based on the gathered requirements. Planning also involves defining the technical specifications, such as hardware infrastructure, software technologies, databases, and integration points with other systems.
Development and Customization
With the system design in place, the development team builds the ERP system. They write code, develop the necessary modules, and customize the solution to fit the organization's specific needs. It includes implementing workflows, data structures, user interfaces, and integration points as defined in the system design phase. The development process adheres to coding standards and quality assurance practices and follows an iterative approach for continuous feedback and improvement.
Testing and Quality Assurance
Once the development phase is complete, rigorous testing and quality assurance measures are conducted to ensure the ERP system functions as intended. It involves various testing methodologies. Bugs, issues, and performance bottlenecks are identified and addressed, ensuring the system operates smoothly, accurately, and securely.
The ERP system is deployed to the production environment after successful testing. This step involves installing the software, configuring settings, and migrating data from existing systems, if applicable. Training sessions are conducted to familiarize end-users with the new system and its functionalities. It ensures a smooth transition and adoption of the ERP system throughout the organization.
It's important to note that the ERP software development process is not a one-time event. Once the system is deployed, ongoing maintenance, support, and continuous improvement are necessary to address evolving business needs, industry changes, and technological advancements.
By following these five steps, businesses can successfully navigate the ERP software development process and create a customized solution that optimizes their operations, enhances productivity, and enables data-driven decision-making.
Challenges to Consider When Building a Custom ERP Solution
Building a custom ERP solution can be a challenging process, and there are several risks and challenges to keep in mind, such as:
Balancing customization with maintainability and future-proofing: It's important to make a balance between customization and maintainability, to ensure that your custom ERP solution is not overly complex and difficult to maintain in the long-term.
To achieve this balance, consider factors such as modular design, use of industry-standard technologies, and careful management of customization requests. It's important to prioritize features and functionality that provide the most value, while minimizing the impact on the maintainability and future-proofing of the system.
Avoiding scope creep and managing project timelines: Scope creep can be a common issue in custom ERP projects, where additional requirements are added to the project scope over time, leading to delays and software development cost overruns.
To avoid scope creep, it's important to establish clear project requirements and to communicate these requirements to all stakeholders. It's also important to have a clear change management process in place, so that any requested changes can be evaluated and approved according to the project timeline and budget.
Mitigating risks related to compliance, security, and data privacy: Compliance with industry regulations and data privacy laws is essential for any custom ERP solution, and failure to comply can result in costly fines and legal issues.
It's important to implement robust security measures, such as encryption, access controls, and regular security audits. It's also important to comply with industry regulations and data privacy laws, such as HIPAA or GDPR, and to conduct regular assessments to ensure that your custom ERP solution remains compliant over time.
How to Choose a Custom ERP Software Development Company?
If you're looking to outsource your software development erp, it's important to choose a reliable company that can deliver the quality and results you're looking for. So how to choose a reliable outsourcing company for ERP software development?
Determine Your Needs
Before you start looking for an ERP software development company, it's important to determine your needs and requirements for your ERP. Consider factors, business processes, such as your budget, timeline, and the specific features and functionalities you require from your ERP software.
Look for Experience and Expertise
When it comes to ERP software development, experience, and expertise are crucial. Look for an outsourcing company with a proven record of delivering high-quality ERP software. Does a company have experience working with similar software? This will ensure that they have a perfect understanding of your needs and can provide relevant and effective solutions.
Check References and Reviews
Before choosing an ERP software development company, be sure to check the references and read reviews from past clients. Ask for case studies of past ERP software development projects they have completed to get an understanding of their capabilities
Consider Communication and Collaboration
Communication and collaboration are key factors in successful ERP software development outsourcing. Choose a company with a clear and transparent communication process in place. Check that they have the necessary collaboration tools and processes in place to work effectively with your team.
Evaluate Technical Capabilities
ERP software development requires a high level of technical expertise. Ensure that an outsourcing company has a team of skilled developers with experience in the specific technologies and platforms you require for your project.
Consider Project Management Approach
Effective project management is crucial for successful ERP software development outsourcing. It should include clear timelines, milestones, and deliverables. They should also have a process for handling any challenges if they arise during the development process.
Evaluate Their Pricing and Contract Terms
Finally, evaluate the outsourcing company's pricing and contract terms. Look for a company that offers transparent and competitive pricing. They should also have clear contract terms that protect your interests and provide a clear scope of work. In conclusion, choosing a reliable outsourcing company for ERP software development requires careful consideration and evaluation.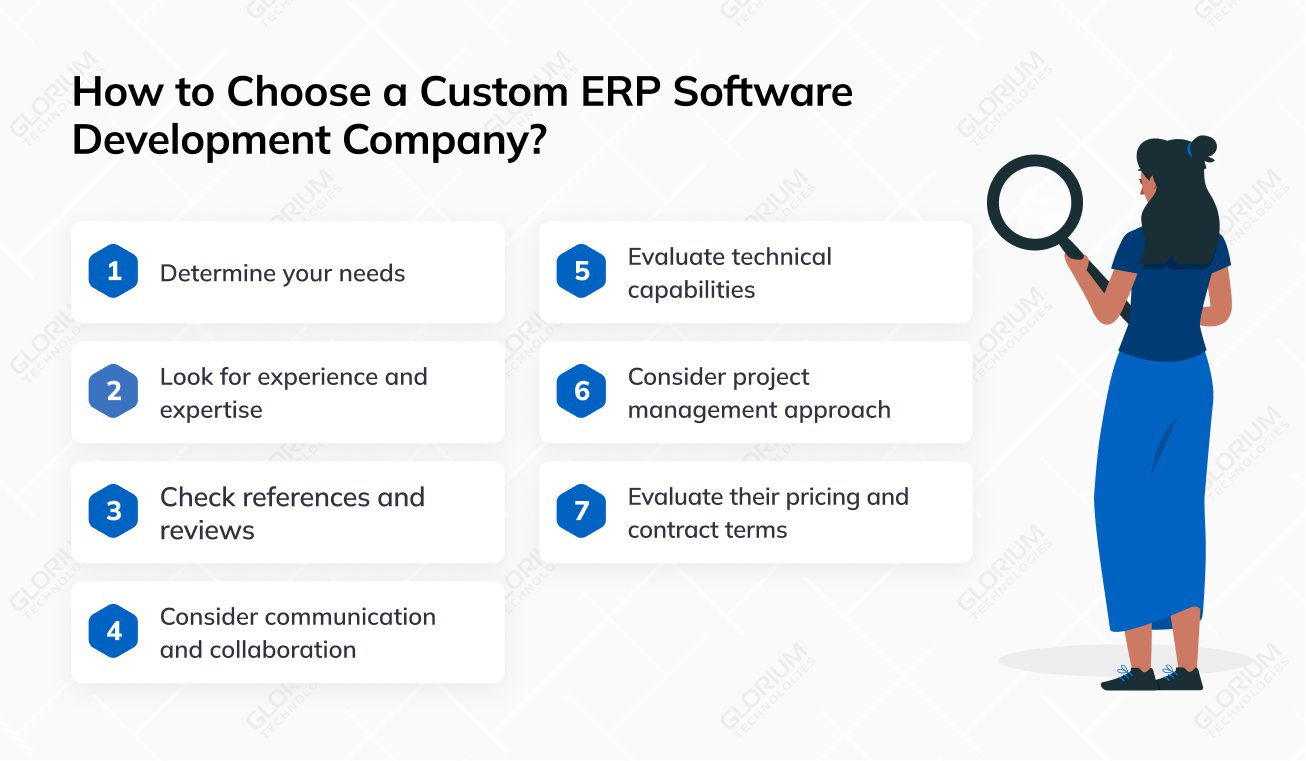 How Glorium Can Help You?
Our ERP software development services begin with a deep understanding of your business processes, workflows, and pain points. We collaborate closely with your team to gather requirements and analyze your specific needs. This allows us to create a comprehensive roadmap for developing an ERP solution that aligns perfectly with your organization's goals and objectives. With our expertise in ERP application development, we design and develop a customized solution that integrates seamlessly with your existing systems and infrastructure.
We prioritize user-friendly interfaces, intuitive navigation, and efficient workflows to enhance user adoption and improve overall usability. Glorium implements rigorous security measures, including encryption, access controls, and data backups, to protect your sensitive business information and ensure compliance with industry regulations. Once your custom ERP solution is developed, we provide comprehensive support to ensure a smooth transition and successful implementation.
Partnering with us for custom ERP software development services means gaining a strategic advantage in optimizing your business processes, improving efficiency, and unlocking valuable insights from your data. Unlock your full potential and drive lasting success for your organization, contact our managers.
Questions You May Ask