An ultimate guide to healthcare product development prices and costs around the world
For any start-up and product development company, choosing between internal development and outsourcing is an eternal dilemma. While both aspects have their pros and cons, and the best option depends on the company's need, outsourcing is a faster, more agile, and cost-effective way to develop a product.
Healthtech Market Overview
As the world becomes increasingly digitalized, healthcare is no exception. Healthcare organizations undergo major internal transformations due to the increasing use of smartphones, ongoing internet penetration supported by 4G/5G, advancements in healthcare IT infrastructure, and greater access to virtual care. They need to meet the growing demand for new services and improve their diagnostics and treatment methods.
According to Grand View Research, the digital health industry worldwide was worth USD 211.0 billion in 2022 and is expected to grow at an annual rate of 18.6% from 2023 to 2030. Major players in the virtual healthcare market strive to give their users an even more immersive experience. To this end, Teladoc Health recently joined forces with Microsoft and unveiled Solo – a platform that integrates with Teams for improved clinicians' and patients' access. This collaboration is sure to make remote care easier than ever before!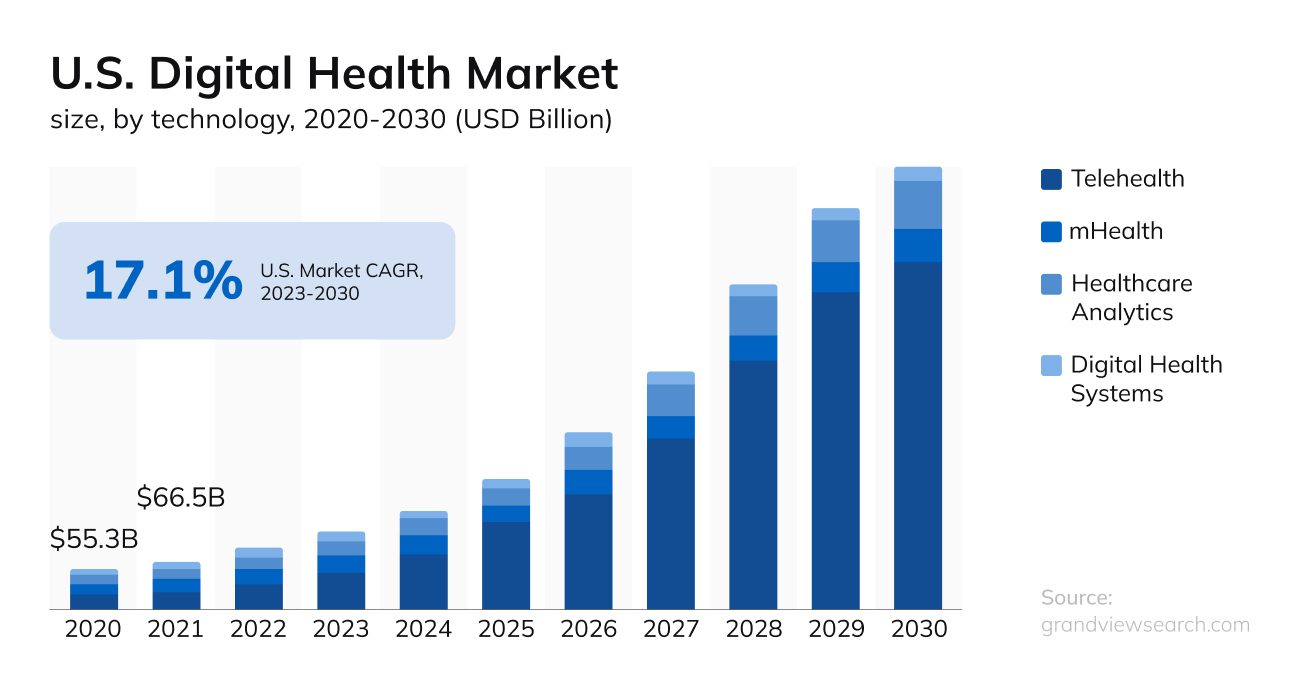 As the report mentions, the digitalization of healthcare systems is being accelerated worldwide by government initiatives, driving market growth. For example, India's Government introduced the Ayushman Bharat Digital Health Mission (ABDM) during the 2022 budget session called to establish a digital health ecosystem. Similarly, France's government announced a $650 million investment in October 2021 to expand its digital health infrastructure nationally.
This is interesting: read an article about healthcare software development services.
Healthcare Software Development Trends in 2023 and Beyond
Telehealth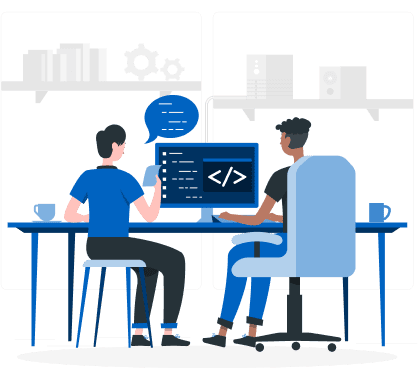 The telehealthcare sector is surging, driven by the need for accurate health monitoring and real-time population management. Companies are fueling this growth with innovative platforms that can monitor, diagnose and prevent disease while ensuring healthcare information is secure. Furthermore, hardware upgrades have allowed even more people to benefit from these life-saving services – accounting for a staggering 41.5% of market revenue!
With a projected, 15 million healthcare worker shortage by 2030 and exponential aging population growth to 1.5 billion people over 65 by 2050, telehealth/telemedicine services have become increasingly important in providing access to quality healthcare.
IoT
With the rise of digital technologies, especially the Internet of Things (IoT), healthcare has seen a major transformation. IoT is increasing efficiency from tracking staff and patients to optimizing drug prescriptions, making sure critical medical equipment is available when needed, and even addressing chronic conditions. Big data applications have also enabled service providers with personalized experiences for better quality care without downtime.
Virtual Reality and Augmented Reality
Virtual and augmented reality technology is used for numerous purposes in the healthcare industry, from teaching medical students to creating simulations for a better experience when patients receive treatment. A new report from July 2022 indicates that the augmented reality and virtual reality market in healthcare is poised to reach nearly $9.7 billion in worth in the next five years. This specific niche is currently worth close to $2.7 billion, indicating that it will grow approximately 3.5 times by 2027.
AI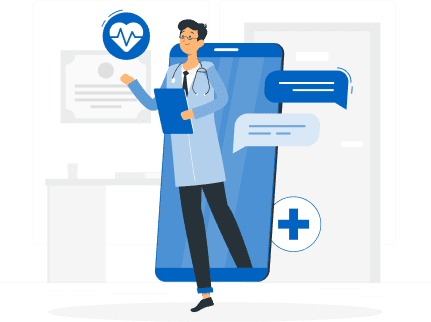 Despite the fact that we see a drop in investment, AI technologies are becoming a reality in healthcare. They help physicians interpret test results and diagnose diseases. So, the funding decrease is temporary, and we'll see this field booming soon.
Blockchain
A growing number of innovative companies are exploring its potential for drastically improving HealthTech and securing online financial operations. By streamlining data-driven solutions that focus on patients first, these organizations could save billions in software development costs and reduce costly health data breaches – all within just two years! It's no wonder they're already looking ahead to what 2023 has in store – this game-changing technology appears here to stay.
Learn more about our services – health software development.
Healthcare Software Development: Key Challenges
Despite the fact that investors are willing to pour resources into the development of new healthcare solutions for a hot market, few startups actually succeed.
On average, large IT projects run 45% over budget and 7% over time, while delivering 56% less value than predicted. Software projects run the highest risk of cost and schedule overruns, states McKinsey
Data privacy
Given the sensitive nature of medical data, any violation or discrepancy can result in costly and frustrating consequences for patients, healthcare software providers, and medical institutions. Privacy regulations are there for most organizations, especially so for healthcare. The accumulation of sensitive patient information, medical institution records, and smart data from healthcare wearables create a target for devastating and expensive cyberattacks and data breaches.
Ensuring Compliance
It's no secret that the entire healthcare industry is heavily tied to regulatory compliance, especially regarding tech innovations. A non-compliant software or application won't even make it to market.
Also, having a consistent and reliable mechanism for keeping healthcare solutions in line with updated policies and governmental standards is the primary determinant of success in a saturated market. In this realm, stakes are high when it comes to sensitive patient information, and mistakes can be extremely costly for everyone involved.
Quality Software Development
Ultimately, the product's quality is the cornerstone of a company's success; however, finding skilled and reputable talents that can deliver high-quality solutions without breaking the budget is a challenge.
In healthcare, it is even more complicated due to the complex nature of the industry, where product development requires experience and deep niche knowledge. Choosing a vendor that can handle everything needed to build a successful software solution, from engineering and building architecture to development and on-time delivery, is important.
How to choose a development team?
Finding a team with relevant expertise that fits the project's budget is often a challenge. Another issue is choosing the right employment model.
Mainly, there are two options: an in-house team, with all the members hired full-time, and outsourcing, paid by hourly rates. Let's take a closer look at the pros and cons of both options.
Hiring in-house teams is a common option for healthcare companies, which comes with some distinct advantages, but also some things to watch out for. For a long-term medical project, it may seem like hiring an in-house team is a more cost-efficient and reliable option. If you consistently need a team in close contact over a long time, this option can work. However, it is the tip of the iceberg.
Suppose you need a team of 3 software developers, a product manager, a project manager, a UI/UX designer, a QA engineer, and a DevOps specialist to develop a healthcare product.
While the programmers and product/project will likely be involved full-time, other team members won't have the full-time workload. That's why when hiring in-house, you will drastically overpay for most of the team members.
With this setup, a viable option is to hire essential team members in-house and hire outsourced specialists for the rest of the positions. However, keep in mind that hiring employees in-house comes with many challenges and additional expenses.
If you decide to hire a team outside of the US, it may seem cost-efficient, but it requires even more effort, time, and resources to manage. Eventually, it becomes too expensive, time-consuming, and troublesome for a healthcare startup to form an in-house team, whether locally or in other areas.
Let's take a closer look at the pros and cons of in-house development teams.