The health tech sector is rapidly evolving, with a visible surge in patient-targeted applications and products. As with any product, UX design is directly correlated with a product's success and marketability.
A compelling design shortens the learning curve and drastically enhances the overall customer experience.
In a healthcare environment, the benefits of a simple yet functional application design go well beyond what is expected, contributing to faster and more efficient disease treatment. A well-developed UX can also increase an IT product's adoption rate as an appealing design is more attractive to users. 
Why does UX design matter in healthcare products?
When it comes to adopting various forms of new technologies, the healthcare industry is considered a leading sector. As such, the healthcare product market is growing at an enormous pace, leading to fierce competition between startups.
Healthcare innovators focus on offering solutions for complex industry problems and come in many forms, including administrative systems, patient applications, and diagnostic tools.
By 2022, more than 82 million people worldwide will reportedly use healthcare applications. Developing safe, useful, and compliant medical solutions for the healthcare industry requires unmatched levels of responsibility and expertise.
With such an intense focus on functionality and regulatory compliance, healthcare software providers often overlook the benefits of a comfortable design.
Although it can be easily dismissed, the UX design is often a key differentiator for medical products. A simple and eye-catching design can make a particular healthcare product much more appealing to users than competing solutions with the same set of features that lack style and functionality.
While the main goal of healthcare solutions is to make the lives of patients and medical workers less burdensome, the ultimate purpose of a successful UX design is to dismantle user-barriers that come between patients and the medical information they receive.
From a design perspective, it is extremely important to ensure the user experience is as comfortable and accessible as possible. 
Key UX tech trends in healthcare app development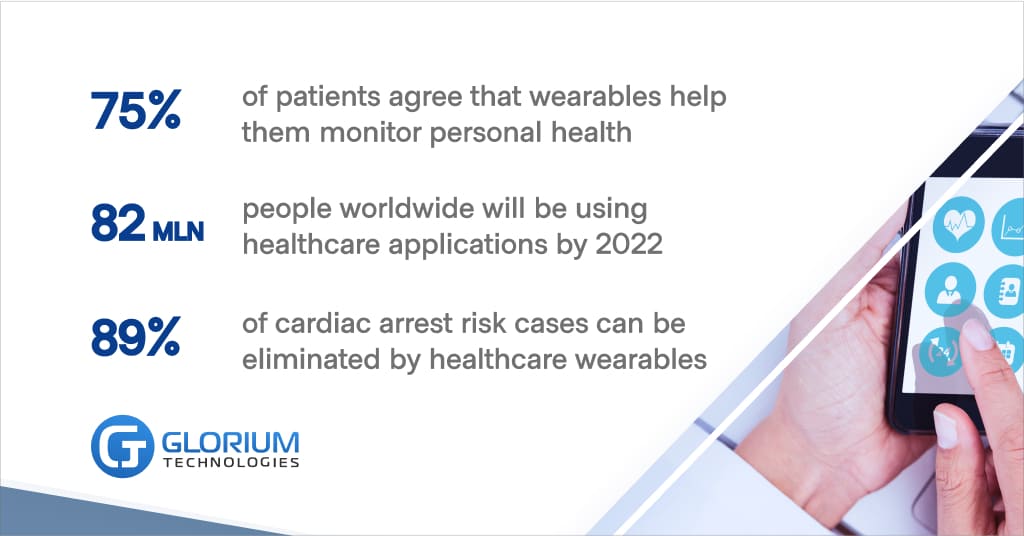 Wearable tech
In today's world, smartwatches and fitness trackers have become commonplace; however, wearables in healthcare are designed to bring data visualization to an entirely new level.
Simply tracking the number of steps taken in a day or charting and graphing sleep patterns is no longer sufficient — the public is in search of a more innovative experience.
Users don't just want to see raw numbers and information, they want it interpreted with recommendations and insights, especially when it comes to physical health. In fact, 75% of patients agree that wearable healthcare devices have allowed them to take control of their own health. 
Presently, as more and more people have expressed a desire to be actively involved in their own personal health and treatment, the demand for health monitoring solutions has gone through the roof.
Business Insider reports that roughly 80% of consumers globally would wear a fitness tracking device. As more people are willing to share their healthcare data with tracking software providers, a surge in medical wearables is expected to hit the market.
Apart from fitness wristbands, healthcare wearable tech comes in many shapes and forms. 
Currently, healthcare wearables that measure blood pressure using electrocardiogram (ECG) sensors to track heart rate, are among the most popular devices.
Apart from detecting atrial fibrillation, these devices can send alerts and report information about a patient's condition directly to a doctor.
At the same time, doctors can send back recommendations and treatment instructions that patients can take action on. Additionally, wearable devices store historical data that can later be reviewed to extract valuable insights and monitor user's wellbeing and treatment effectiveness. 
The next level of medical wearables is represented by biosensors. These self-sealing patches track many health indicators and gather information on the user's body temperature, respiratory rate, heartbeat, and blood pressure.
Such wearable devices have been proven to be responsible for lowering the risk of cardiac arrest by up to 89%.
UX-wise, companies can surpass the competition by focusing on top-notch device connectivity to enable simple data exchange. When it comes to wearable tech, the key mission from a design perspective is to simplify data input and overall usability.
It's imperative to keep in mind that people wear these trackers every day. Any complications that affect the user experience can drop your product further down the line of competition. For this reason, convenient, user-friendly UX solutions are essential for the effective distribution of healthcare wearables. 
VR and AR
Virtual and augmented reality technology is used for numerous purposes throughout the healthcare industry, including in the assistance of training medical students and professionals via simulations geared toward enhancing patient treatment.
Although VR and AR are perceived as the same technology, they are very different, each with its own diverse range of applications that can be applied in medicine.
According to Allied Market Research, the market for virtual and augmented reality products in healthcare is anticipated to reach $2.4 billion by 2026.
Augmented reality provides us with the ability to add virtual layers and projections to existing physical objects. This makes AR-enabled products perfect for advanced study of the human body, visualizing particular body parts, treatment processes, surgery preparation, and as a means of anticipating the body's response to treatment. 
Augmented reality is mainly used to help doctors prepare for medical procedures with the assistance of patient images and scans placed in front of them while performing surgery, and to enhance prosthesis planning.
Essentially, the benefits of AR visualization extend not just to clinicians, surgeons, and physicians, but also to the main benefactors of medical services – patients. Augmented projections and 3D models make healthcare far more engaging and understandable for patients.
For instance, clinicians can show patients images of their organs or appearance before and after surgery. The same applies to orthodontic manipulations, as well. 
Conversely, virtual reality enables a completely digital environment and provides superior 3D visualization for various purposes. With virtual simulations, doctors can see treatment dose distribution, properly manage chemical treatment to minimize damage, and enhance treatment planning to eliminate risk.
For patients, VR has been extensively used for treating PTSD, anxiety, and as a tool for distracting sensitive patients from unpleasant and often invasive procedures.
A study from Duke University observed that virtual simulations helped disabled patients suffering from spinal cord injuries increase their mobility to a higher degree. 
To successfully implement and adopt VR and AR technology, designers need to keep user needs at the forefront when developing these interactive solutions. Nothing engages a patient more than the attractive and clear visualization of treatment results.
Even more, a properly designed interface gives a user the uncanny feeling of direct participation. This results in more trust and intuitive decision-making between medical professionals and patients.
To make VR and AR applications common and feasible, UX designers have to produce easy-to-use solutions that are high-speed and engaging.
AI & Chatbots
While AI-enabled solutions for healthcare are not necessarily visual, their functionality can greatly improve the customer experience and the overall quality of care.
With more patients exhibiting interest in being active managers of their own health, artificial intelligence can be used to sustain this growing need. Chatbots and virtual assistants can perform tasks, process patient requests, review medication schedules, book doctor appointments and help with many other important interactions. 
The emerging challenge with chatbots in healthcare is that executing primitive tasks and answering basic questions no longer provides a satisfactory user experience.
Ideally, chatbots should be designed to gather and process important data, and give recommendations and personalized insights. Healthcare product providers should also keep in mind that, as users are often easily irritable and stressed, poorly written responses can easily result in an upsetting experience.
Another concern is forecast accuracy: medical services are certainly not a good experimental field, especially when it comes to prescribing medication.
From a UX perspective, although smart chatbots sound exciting, there is still one barrier standing in the way of advanced personalization: data safety.
Medical record data is extremely sensitive. As such, healthcare information is strictly regulated. Developing useful, responsive, customized assistants that don't overstep patient privacy should be a top-priority for UX designers. 
Additional healthcare UX design trends
Functionality & Simplicity
The primary mission of UX design in healthcare products should be to make information accessible and appealing to users. At the same time, it is crucial to understand that medical applications and software solutions still have to solve complex, often niche, industry-specific tasks depending on the main audience.
Functionality and ease of use should be a top priority for all UX designs as a solution should serve as a transition zone between volumes of complex data and easy interpretation for users.
Any deficiencies or intricate processes relating to product navigation can immediately alienate users from a product. At the same time, cluttering an app with too many options will negatively impact the user experience for customers and even healthcare professionals. 
Customer-centric solutions require an exceptional level of understanding when it comes to a target audience. Healthcare software should be a point of interaction for medical professionals and their patients.
This connection needs to be clear and convenient for both doctors and patients despite a fundamental difference in user needs. Medical personnel will most likely require quick access to data and historical records, while patients will need a simplified picture of what's going on, without any overwhelming details.
These products should be designed to give every patient more control when it comes to monitoring their own health without burden. Solutions that combine superior data visualization and accessible functionality will stand out from other products with less effort, design-wise.  
Simplicity cannot be overstated when designing and creating healthcare solutions. The healthcare industry can be confusing, with tons of scientific terms and volumes of data that can often be interpreted as bad news by patients.
The last thing both doctors and patients want is to complicate their lives even further with a complex application. Keeping the UI and UX refined and clear is the key to user retention. 
Use soothing colors, simple diagrams, and only visualize necessary information. Apart from the complexity, people are often scared of hospitals and medical procedures.
Designing solutions in pastel, calming colors, complete with cheerful elements can be a deciding factor for a healthcare product.
Personalization
Personal experience has been a booming design trend throughout the years showing no signs of stopping. Similar to chatbots, some levels of personalization are required when considering the user experience of healthcare products.
A good example of customized service is the use of algorithms to learn which functions and information are deployed the most. Using this information, next-step recommendations based on detected processes can be implemented. 
If a solution is meant to help users solve their problems and make the health monitoring process easier, it is imperative to study user-behavior and assist in speeding up the navigation process.
Suggesting and auto-filling as much information as possible also goes a long way when it comes to UX design.
Inclusivity
Although it may sound like a buzzword, inclusivity is not something to be overlooked in the healthcare industry. Healthcare products are being used by people from all walks of life.
It's impossible to define a niche audience in terms of age, gender, race, sexual orientation, physical and mental capabilities, etc. Many users have temporary or permanent disabilities, terminal or curable diseases, and/or chronic medical conditions.
Apart from supportive functionality, an inclusive design can do wonders for your solution. 
Ensuring an interface is accessible and clear, geared toward making interaction simple for all types of users will significantly increase the chances of reaching a wider audience.
The future of UX design for healthcare products
Ultimately, a simple and clear interface with responsive and refined functionality and engaging data visualization can decrease user anxiety and drastically improve the overall medical experience.
As a result, treatment efficiency improves and disease progression and other unpleasant consequences can be prevented.
Many companies have begun to realize that a reliable UX design can bring about  substantial market advantages. As such, a user-centric UX design should be a top priority in the realm of healthcare software and applications.
An easy-to-navigate UX can enhance a product's attractiveness in many ways, from virtual reality simulations that engage patients throughout unpleasant procedures to chatbots and wearable tech.
The potential for customer-focused UX solutions is truly endless.