Although telemedicine has been around for a number of years, as there is an accelerated need for digital healthcare, it's currently in the spotlight.
Due to COVID-19 and the resulting lockdowns, many patients have found themselves in virtual appointments — which have quickly become a new reality.
In pre-pandemic times, digital appointments accounted for just 1-2% of medical visits; now, however, this number is more than 30%. With such fierce market demand due to the pandemic, it's no wonder that investments in telehealth startups have tripled, soaring from $1.1 billion in 2019 to $3.1 billion by 2020. 
Although some hospitals and private practices acquired or developed telemedicine solutions prior to the COVID-19 outbreak, many healthcare institutions had to quickly adapt and adopt solutions at a moment's notice.
Our telemedicine software development services.
It has now become clear that digital health services aren't going anywhere. In fact, telemedicine is even outperforming traditional medical services in some respects.
As more and more people are exhibiting interest in virtual care, health officials estimate that telemedicine will account for up to 40% of general medical visits in the near future.
According to a Global Market Insights report, the global telemedicine and telehealth market is expected to grow from its current standing of $38.3 billion to a staggering $130.5 billion by 2025. For healthcare entrepreneurs, this niche is ripe for the picking.  
How telemedicine is transforming the healthcare sector
The sheer success of telemedicine apps is not solely due to the fact that we currently find ourselves in the midst of a global pandemic — that's only part of it. It can also be explained by their evident benefits.
The ever-increasing cost of healthcare in the US and globally is nothing new. As more and more practices and clinics have begun offering digital services, the overall accessibility to healthcare services has expanded.
The benefits of telemedicine are not only limited to patients; these solutions also provide hospitals and doctors with reduced labor costs and more flexibility.
Accessibility
Virtual medicine has proven to be a lifesaving solution for those of us who live in rural regions or in small towns where access to quality health services is often limited.
Furthermore, as imposed social restrictions continue to rise, telehealth has even become commonplace in large cities, too. Still, the greatest benefit of telemedicine is the option to choose. Patients can now schedule appointments with available clinicians and specialists, worldwide.
In addition to flexible access to healthcare services, patients and doctors alike can benefit from a more personalized approach by managing their appointments and time more effectively. 
Reduced cost of medical services
Although online consultations aren't free, telehealth eliminates the costs associated with electricity, rent, employing a receptionist, and other services that are typically tied to a physical healthcare institution.
These reduced costs allow hospitals to lower their patient rates and manage their resources more effectively.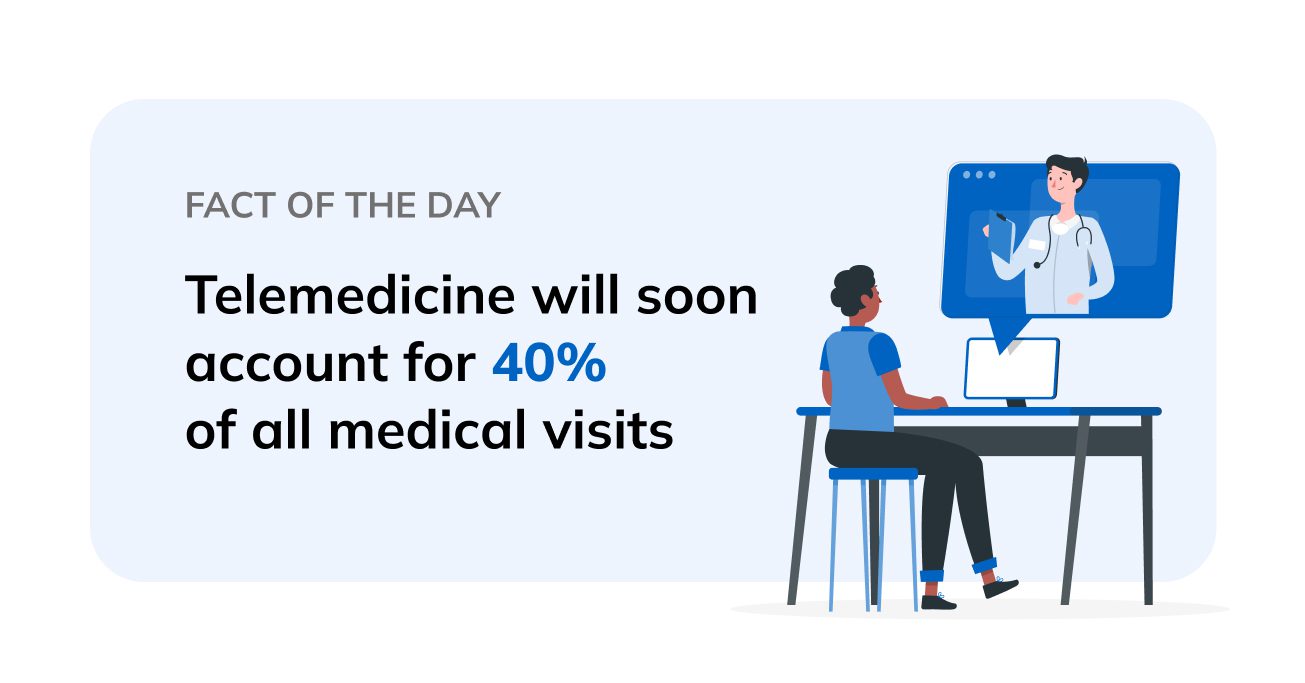 Enhanced quality of healthcare services 
As telemedicine allows for more flexibility and personalization, as a result, the quality of care has also increased.
Think about it: no more waiting in physical lines, no more reception errors, no more long rides to and from the practice; the only thing that increases is the time you get to spend with a specialist.
Telemedicine has also opened many doors for medical students by providing them with more opportunities for professional growth via distance learning.
Telemedicine technology and clinical applications — telehealth best practices 
At the end of the day, the success of a healthcare product lies on the software provider's shoulders. For this reason, it's crucial to have a good understanding of telehealth best practices when it comes to development.
Although the primary function of a telehealth app is essentially voice and video communication, there is much, much more that goes into a truly successful application.
The following are some essential components to consider when building a multi-user telehealth solution.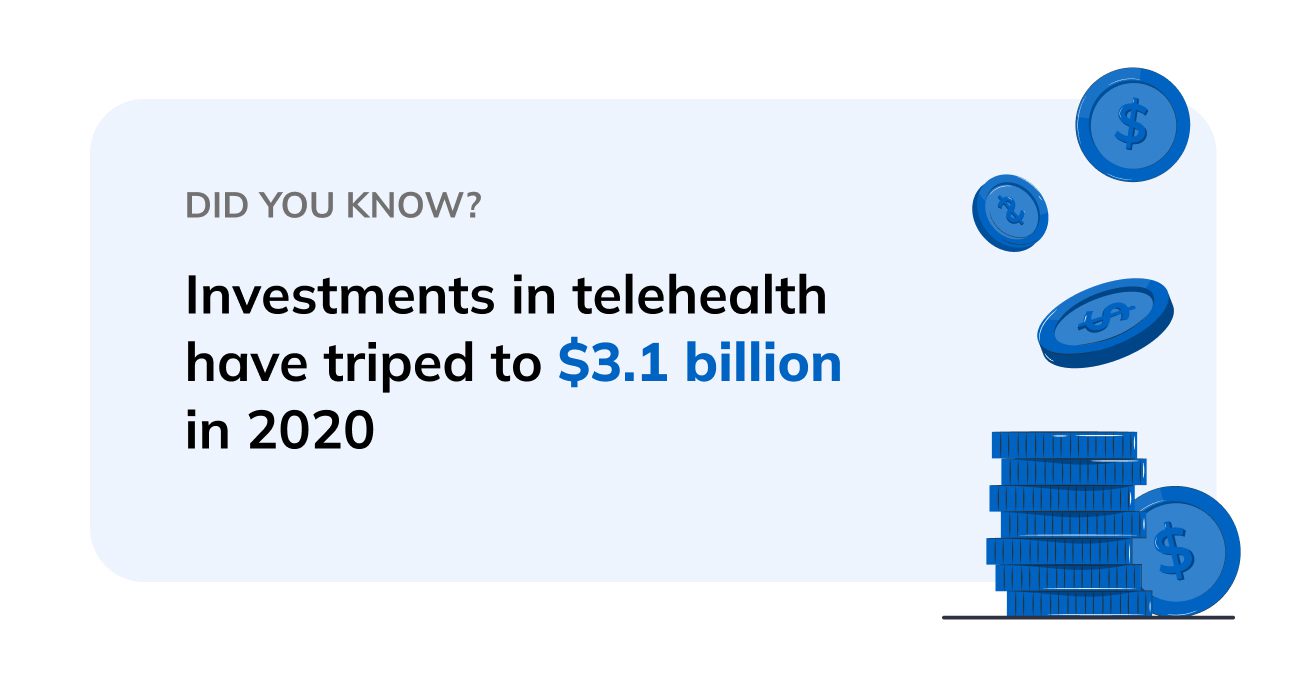 Simple and appealing interface
When it comes to healthcare solutions, the UX design can be a gamechanger — especially regarding telehealth applications. A clear and appealing design will allow your telemedicine product to be easily used and adopted by people from all walks of life.
The more attractive, the better. Studies show that, when the features are similar, users will choose the more attractive of the two devices. Remember, the fundamental purpose of the UX is to make information easily accessible and appealing to users.
Solutions that combine superior data visualization with accessible functionality for manual use always stand apart from the competition.
A refined and clear UX is the key to user retention. Use calming colors, simplistic diagrams, and only visualize important information. Many patients report being uneasy or scared of hospitals and medical procedures.
With that in mind, do your best to design a cheerful UX. Consider developing and designing your solution using pastel colors. A lively UX can be a deciding factor when it comes to user adoption. 
As healthcare applications are widely used by all sorts of people, inclusivity cannot be overstated. It's virtually impossible to define a niche audience in terms of age, gender, race, sexual orientation, physical and mental capabilities, etc.
Furthermore, many users will have temporary or permanent disabilities, curable or terminal diseases, and various types of chronic medical conditions. 
A user-centric UX design should be a top priority in the realm of healthcare software and applications. A lively UX can enhance a product's attractiveness in a variety of ways, including usability, and performance. 
Smooth integration
Modern healthcare involves connected systems of various types of software. If properly implemented, fascinating results and workflows can be achieved. As such, interoperability and integration play a critical role in telehealth application development.
Essentially, your product needs to operate smoothly with EHR systems, health tech wearables, and other devices and software. Properly configured solutions featuring open APIs that allow for simple yet secure interconnection between data infrastructures are vital when it comes to launching successful telemedicine apps.
Secure database
As medical software in all forms, including telehealth applications, accumulate large amounts of data, your solution needs to be equipped with a robust database. When dealing with high volumes of sensitive data, security cannot be overstated.
In addition to a patient's confidential health history, patient medical records contain extremely sensitive information including financial data, insurance details, addresses, etc.
As such, advanced data encryption and access control are vital features when it comes to telehealth applications. A secure data infrastructure should be able to support multiple types and layers of information while simultaneously allowing for a level of customization. 
While most functions are facilitated through Electronic Health Records (EHR), telehealth applications still store and generate data and sustain many operations, including payment processing, patient portals, electronic prescriptions, etc.
Security goes hand-in-hand with regulatory compliance — a cornerstone of all medical software. Ensuring your telehealth application is in compliance with HIPAA, GDPR or other industry rules and standards should be one of the first items on your checklist.
Cloud-based servers
Cloud infrastructure is a common choice when it comes to telehealth solutions. Cloud servers facilitate and ensure security, ease of integration, and cost-efficiency. They also allow for centralized, quick access to data, as well as the ability to exchange and manage information. 
Technology
Depending on the application type and use case, the overall functionality of a telehealth solution can be enhanced with the implementation of AI, deep learning and data analytics tools, and AR/VR.
For example, AI-enabled chatbots and interactive voice responses can drastically improve the user experience and provide enhanced customer service. A recent Accenture report stated that AI-enabled telehealth solutions are expected to be worth roughly $150 billion by 2026.
Smart assistance allows patients to synchronize and autofill information, and can even be used to remind and autonomously schedule appointments, etc. 
Virtual and augmented reality tools can also be applied in doctor-patient communication. For example, with augmented reality tools, clinicians can explain and provide patients with virtual simulations to help them better understand the treatment process.
Deep learning algorithms can be used to sort and process information, perform troubleshooting, monitor security, and suggest further action to users. Such algorithms make it much easier to deal with large amounts of data.
Telehealth App Development with Glorium 
The healthcare industry is evolving and changing faster than ever and virtual services are front and center. Considering how quickly telehealth software is being adopted, telehealth and telemedicine solutions have become a promising and rapidly growing niche.
Software providers that build solutions focusing on security, integration, and personalization will have a competitive advantage in the health tech market. Having a reliable software development partner by your side is the first step to building a successful product.
With more than 10 years of industry expertise, Glorium assists startups, helping them get to market quickly and stay ahead of the competition with superior service and tailored solutions.
By nurturing your ideas from concept to launch, our dedicated team helps bring your ideas to life.
Learn more about our healthcare software and application development solutions today.