Are you in need of a software development service but find hiring an in-house team too expensive and time-consuming? Are you seeking assurances of a high-quality application for your business? If these challenges resonate with you, then outsourcing or offshoring software development might just be the perfect solution.
When it comes to outsourcing software development, businesses have two primary options—engaging with a local IT company or partnering with a team from a different country, commonly referred to as offshore development. In this article, we will take a look at the differences between offshore and outsourcing models, shedding light on their unique characteristics to help you make an informed decision on which is the better fit for your specific needs.
What is Outsourcing?
Outsourcing in the IT industry refers to the practice of hiring external companies or professionals to handle specific tasks or projects related to technology, software development, or IT infrastructure.
The Benefits of Outsourcing
Outsourcing allows organizations to delegate tasks to external developers or development teams rather than hiring new employees and adding them to the company's payroll.
Learn more about outstaffing vs outsourcing here.
Save Time and Money
Why do people choose to outsource? Firstly, outsourcing mobile development saves time and money. To start a startup, you need to develop an MVP urgently and show it to investors as soon as possible. The startup owner does not know much about technical issues; the owner only has a general idea of the project.
Moreover, the entrepreneur is not sure that the project will take off at all, which means the startup can promise little to the employees. Also, startups usually have a limited budget. Add recruitment services, taxes, and employee bonuses—it takes a tidy sum, not to mention the effort it takes to get the team together from scratch. In addition, it sometimes takes more than a month to recruit staff and build up workflows from scratch in a new team.
Software outsourcing services make your life much easier. You decide on a contractor, explain your idea to the project manager and conclude a contract. Prices in this contract are likely to be more profitable than when hiring your employees.
Read more about outsourcing mobile app development in 2023.
The entrepreneur must pay a salary to the in-house developer and give a specific social package. Regardless of the workload an employee faces during a particular month, they still receive their regular payment. Outsourcing development allows businesses to adapt the budget to real challenges.
Get expertise and quality
By outsourcing software development, you entrust the task to a team that has already established a collaborative working relationship and has expertise in your specific domain. Of course, this advantage holds true in case you work with a competent and capable team.
The Challenges of Outsourcing
Opting for a software outsourcing service provider may appear as an obvious solution. Yet, as with any endeavor, risks are inherent, and outsourcing is no exception. The good news is that these risks can be minimized, and you hold the power to do so.
Incorrect selection of IT processes
This challenge can lead to a loss of competitive advantages of the enterprise. We are talking about the essential tasks unique to business IT processes—in any case, they should not be given to IT outsourcing. What can not be said about profile tasks—they are just great for handing over to the contractor. This challenge can be avoided by detailed business analysis and description of your goals.
Unpredictable outcome
You do not manage the process in real time and are forced to trust a team of professionals you hired. It's not always possible to check their results and cases. In addition, there is a human factor—failure to meet deadlines and lack of regular updates. Note that such shortcomings are inherent only if you entrust freelancers or companies with unconfirmed reviews and case-studies.
Outsourcing partner doesn't know all nuances of the niche
Another potential challenge in outsourcing is when your partner lacks specific domain knowledge critical to your field. As a result, these important details may not be adequately considered during the development process, leading to subpar outcomes.
In this case, you have two approaches to consider. The first is active personal participation from the customer, providing expert explanations on functional design, design, and other crucial aspects of the project. The second option is to thoroughly evaluate the portfolios of potential outsourcing companies.
Concerns about information protection
Giving essential data to a third party increases the likelihood that it might fall into the wrong hands. When faced with the challenge of safeguarding sensitive information during the outsourcing process, it is essential to take appropriate measures. One such measure is the implementation of a Non-Disclosure Agreement (NDA), which helps protect confidential data.
What Services Can Be Outsourced?
IT outsourcing involves delegating certain or all information technology functions to external companies.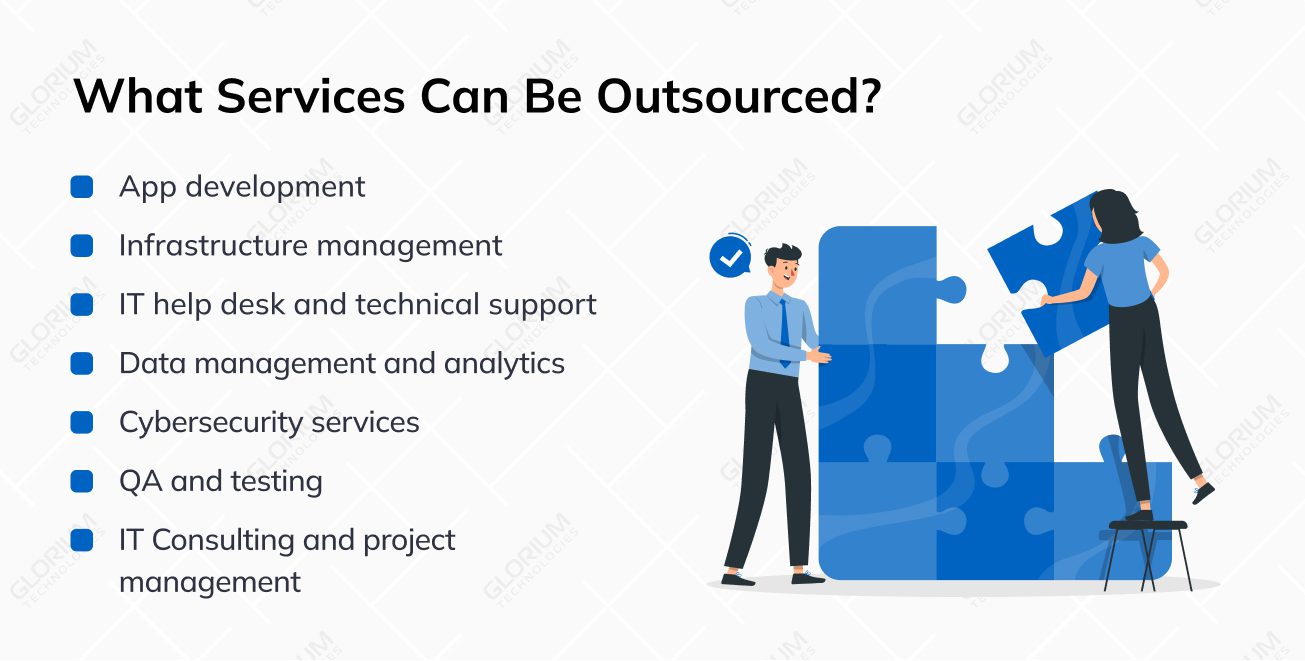 App development
Outsourcing software development, testing, and support services, such as web and mobile app development, and custom software development, and application maintenance.
Infrastructure Management
Outsourcing the management and maintenance of IT infrastructure, such as servers, networks, storage, and cloud systems, including tasks like data center management, network monitoring, and system administration.
IT Help Desk and Technical Support
Outsourcing IT support services, including help desk support, remote troubleshooting, resolving issues, software installations, and user training.
Data Management and Analytics
Outsourcing data-related services like data entry, data cleansing, database administration, and data analytics to effectively manage and utilize data for decision-making.
Cybersecurity Services
Outsourcing cybersecurity services to protect systems, networks, and data from threats, including vulnerability assessments, security monitoring, incident response, and consulting.
QA and Testing
Outsourcing QA and testing services for comprehensive software testing, such as functional testing, performance testing, usability testing, and test automation.
IT Consulting and Project Management
Engaging external IT consultants and project managers for expert guidance, strategy development, and project oversight, ensuring successful execution aligned with business objectives.
Now, let's take a look at the characteristics of the offshoring model and find out the key differences between outsourcing and offshoring.
What Is Offshoring?
Offshoring involves contracting or delegating certain business processes, tasks, or projects to companies or professionals located in a different country.
This model offers significant value for IT companies. First of all, it enables access to a global talent pool, providing a wide range of skills and expertise. Offshoring also offers cost savings, allowing companies to leverage lower labor and operational expenses in offshore locations.
The Benefits of Offshoring
In the face of a growing tech talent shortage, offshoring presents a great solution for businesses to access the necessary expertise and bridge the skills gap. By embracing offshoring, businesses can access a wide range of talented tech professionals from around the world and reap the many advantages it offers.
Access to a global talent pool
Hiring developers from developed countries is more expensive than others, as their skills are more in demand. For example, in the United States, there are more than 250,000 job opportunities for developers, and the number is growing.
There aren't enough developers to meet the demands of numerous startups within a single country. Offshore development provides opportunities to engage experienced professionals that have valuable expertise in international projects.
Inspiring innovation and quality
Offshore companies operate in the global market. They strive to constantly improve themselves and learn new technologies and tools to keep up with competitors and not get lost in the market.
Delegation and optimization of staff
As all operational tasks are managed by another company, there is no need for constant monitoring and supervision of staff. This frees up valuable time to focus on other essential tasks and reduces the need for deep involvement in the project.
You do not have to support additional employees and pay office, electricity, and other expenses. In addition, you get optimized taxes because you don't cooperate under an employment contract.
Small cost for high-quality developers
Not everyone has the opportunity to hire a team of talented and experienced developers. Through offshore software development, you can save internal resources and increase productivity.
Time for other projects and recruitment
Offshore development allows you to focus on the core business strategy instead of worrying about the management of the team, the technical aspects, and the process. This can help your company focus on the project without extra loading.
You do not need to worry about insurance, social packages, and various social and tax payments. You hire a contractor (offshore development company), give them a task, control the development process and receive the product—as quickly and simply as possible.
Corporate flexibility
Spending significant time and money on a software development project can divert essential resources from core activities, leading to operational failures and potentially catastrophic consequences for your business.
Even if these problems don't result in critical mistakes, they can still hinder business growth and limit management options, making your business more vulnerable. Offshore development can help avoid such issues and enhance business flexibility.
The Challenges of Offshoring
Despite the potential benefits, it is important to be prepared for the challenges that may arise when opting for an offshoring model.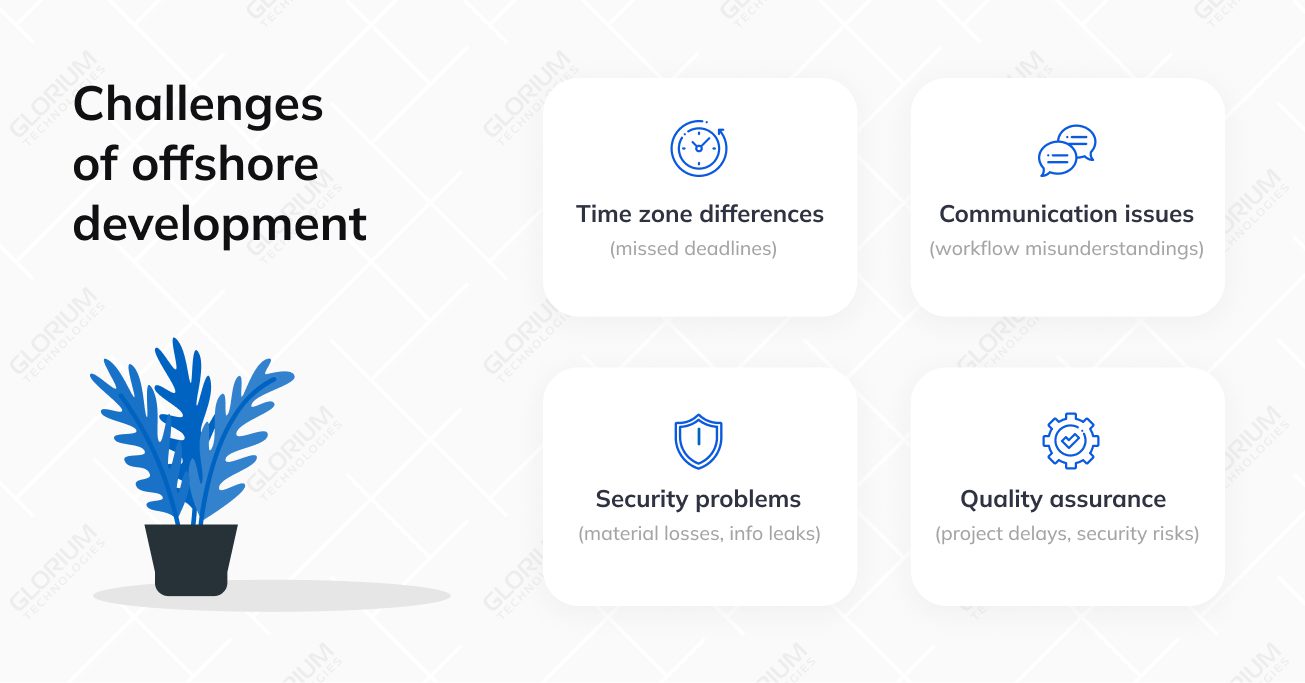 Location and Time Zone
When discussing the factors to consider in outsourcing software development, one of the primary challenges that comes to mind is dealing with different time zones. It can be challenging to communicate with a team located in a different time zone, so it is crucial to ensure that your working hours align accordingly.
Level of English
English serves as the universal language in the IT industry, but the proficiency level varies among different countries. It is a good idea to choose a development company over a freelancer since they typically have managers who are proficient in English.
Cultural differences
It is essential to understand the cultural characteristics of the country you are outsourcing. It will help you to cope with the differences. Frequent communication and organized teamwork are the main factors to be considered.
What Services Are Commonly Offshored?
Offshoring encompasses a range of services, including but not limited to software development, QA & testing, and technical support. This approach can be effective for a variety of organizations across different industries.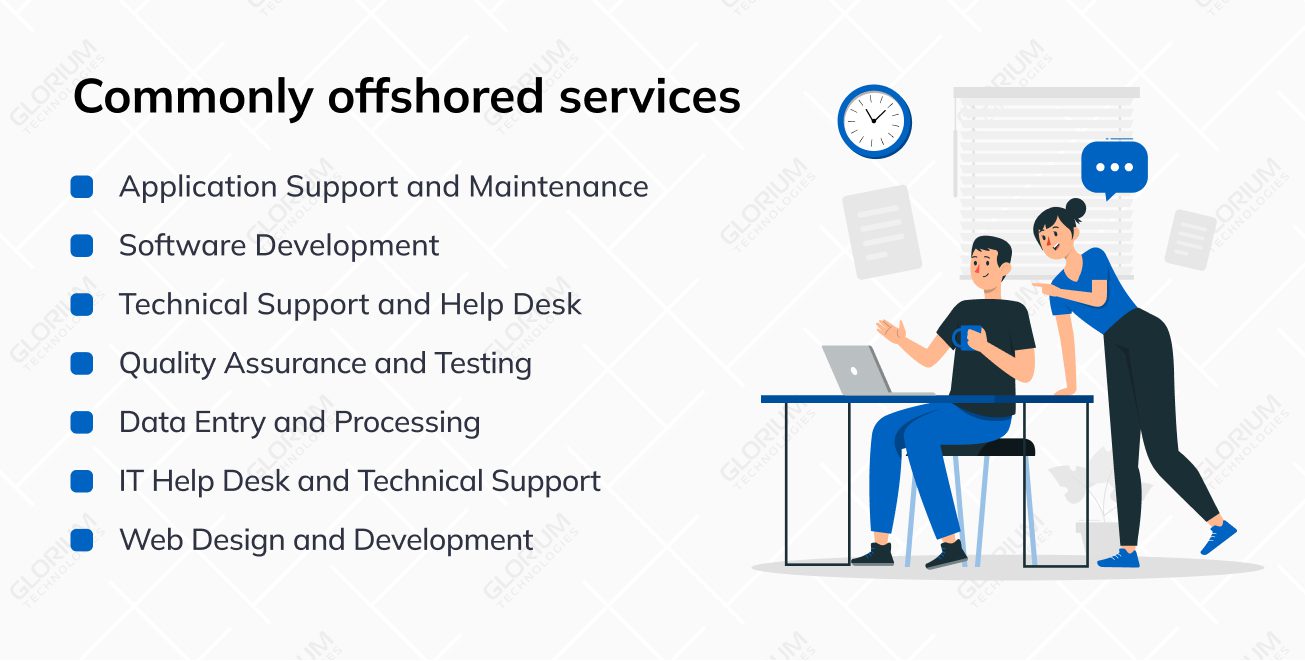 Application Support and Maintenance
Offshoring application support services involves outsourcing the maintenance, bug fixing, and ongoing support of software applications.
Software Development
Offshoring software development is a prevalent practice. This includes web application development, mobile app development, software customization, and maintenance.
Technical Support and Help Desk
Offshoring technical support services allows businesses to provide assistance to their customers or internal users remotely. This can involve handling inquiries, troubleshooting, resolving technical issues, and providing customer support.
Quality Assurance and Testing
Offshoring QA and testing services involve outsourcing software testing activities such as functional testing, regression testing, performance testing, and compatibility testing.
Data Entry and Processing
Offshoring data entry services is a common practice to handle large volumes of data efficiently. This can involve tasks like data entry, data validation, data cleansing, and data migration.
IT Help Desk and Technical Support
Offshoring IT help desk services allows businesses to provide 24/7 technical support, handling user inquiries, resolving issues, and providing remote assistance.
Web Design and Development
Offshoring web design and development services involve outsourcing the creation and maintenance of websites, including front-end development, user interface design, and website optimization.
Outsourcing vs Offshoring—What Model to Choose?
Now that you're familiar with these two models, let's highlight the key points:
Partnering with an experienced company ensures timely project implementation within budget, accelerating market entry and investment recovery;
Outsourcing enables rapid team expansion and hiring of individuals with specific skills, facilitating scalable development;
Hiring offshore developers allows you to choose the most suitable IT outsourcing model for your business.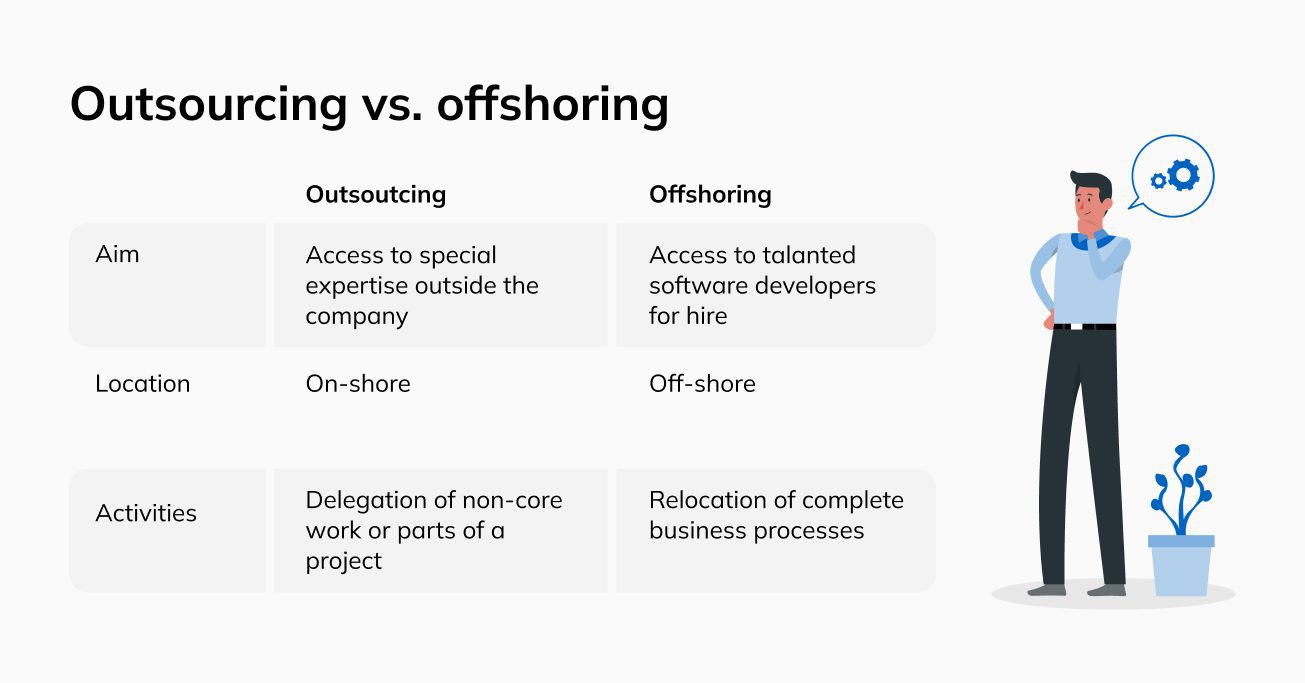 When Should You Consider Outsourcing?
Outsourcing will be the most beneficial solution if you need a quick start, lack technical expertise, and the budget is limited. It is a flexible way of cooperation—you can outsource the implementation of some features or the whole development.
Get rid of the resource hole
Imagine an entrepreneur working on a web application and aiming to release it within four months. However, his two React Native developers are busy with post-release tasks and are unable to handle the development of the new application. In such a situation, reaching out to a development company can help him expedite the process and deliver a top-notch outcome efficiently.
Solve a non-core problem
Let's say your startup only has HTML/CSS developers, but you need to develop a mobile application for the project. In this case, outsourcing will help you pass the task to a qualified specialist. Meanwhile, your team can focus on other tasks and save time.
Get funding
Outsourcing development helps to develop the product's first version (MVP) and release it to the market. Business angels and other investors are more willing to invest in startups when they see a ready-made application, not just an idea. Investments help to develop the product, eliminate errors, and complement its functionality.
Outsourcing gives you access to the global talent pool, allowing you to quickly scale up or down as needed. It provides a predictable process within a defined timeframe, which is crucial for aligning your budget constraints with business priorities and roadmap goals.

Offshoring, on the other hand, allows businesses to utilize the knowledge and resources of offshore partners to develop their software solutions.

In both scenarios, selecting the right team and establishing efficient communication are key factors in achieving successful outcomes.

Vladyslav Donchenko

Delivery Officer, Glorium Technologies
When Should You Consider Offshoring?
If you have a long term project where you need a high-quality developer, it is better to choose an offshoring model. Hiring an offshore development company to develop the software you need allows you and your team to focus on core activities and not dissipate your human resources into multiple tasks.
An excellent offshore strategy helps companies expand their business functions worldwide. Take customer support. You can have a head office in the United States and several support offices in important regions for your company. They will have no communication problems due to language or cultural barriers.
In addition, you can use a mixed development model when internal and remote commands overlap (Apple, Microsoft, Google, IBM, etc.). If two teams work eight hours a day, you do twice as much daily work, and you get the product on the market much faster.
How to Choose the Right Partner?
Our team has created a special checklist called How to Find a Reliable Outsourcing Partner and get a high-level software development service to assist you.
Set goals
You need to define what you want to achieve and set clear goals for candidates so the team can understand what tasks they will need to solve.
Choose the right candidate
When looking for an outsourcing partner, you must evaluate their software and hard skills. Look closely at their previous work experience, how they resolve conflicts and interact with others. Do they have experience in your industry?
Stay informed
Cooperate with the offshore team to learn about the current progress of the project and any issues or obstacles.
Give your outsourcing partner maximum information
In addition to the technical assignment, provide examples of designs you like, tell more about your needs and explain what function should the required app perform.
Set deadlines
It is best to divide the process into stages and negotiate a deadline for each of them, as well as the final deadline. This way, you can control the work process and get the finished project on time.
We've covered a lot of information, haven't we? Making informed decisions always requires time and consideration, and we hope this blog has provided you with the necessary guidance. Now, let's briefly recap everything we've discussed.
How We Can TransformYour Idea Into Real Product
At Glorium Technologies, we specialize in turning your ideas into real products. As a respected international software development company, we offer a range of services including custom software development, web and mobile applications, and growth marketing.
Our team consists of experienced professionals with expertise in various industries, including Healthcare and Real Estate. We prioritize compliance with industry standards like HIPAA, HL7/FHIR, and GDPR to ensure the highest level of adherence. With multiple ISO and Microsoft partner certifications, we have the knowledge and skills to create compliant and secure products.
Our reputation is built on the satisfaction of our clients and partners from over 20 countries, and we have been recognized with multiple awards for our exceptional service and top-quality products.
If you're looking for a company that can help realize your project, let's get in touch and discuss your ideas today.
Questions You Might Ask