Global digitization has led the world to an increasing number of consumers preferring mobile apps with convenient access to services. In 2023, digital service products are hugely popular. For example, calling a cab with Uber is not only faster but also cheaper than calling a dispatcher's office or catching a driver on the side of the road.
For business representatives, such apps are also beneficial. They allow not only to make money on commissions or services, but also to collect analytical information, forming a marketing and service strategy.
In a recent analysis, Business Insider Intelligence predicted that by 2024, there would be 22 billion chatbot interactions, a significant increase from the 2.6 billion interactions reported in 2019. Such a statistic shows a growing trend of businesses seeking customer support and engagement through chatbots. The report also forecasts that companies will save $8 billion per year by 2022 by implementing chatbots.
Trends are changing and creating many new challenges for businesses. The entrepreneurs need to keep up with them. That is why on-demand app development is more in demand than ever before.
What is an On-Demand App?
An on-demand app is considered to be a mobile or web app for quick access to services or goods. That is, a user can use it from the comfort of their home, for example:
That is, the on-demand app is a functional platform with quick access to the services you need. It can be either regional or worldwide, with filters based on geolocation. These digital products appeared relatively recently, but their popularity peaked during the Covid-19 pandemic and the period of total isolation.
Now, the on-demand apps industry is still in demand. New players appear on the market, and old ones are constantly upgrading their software. Competition in the consumer segment drives the development of the sphere, and the trend of increasing demand is only growing.
The modern IT world has not yet reached its full potential for on-demand app development services. Who knows, it may be your project, implemented by Glorium Tech experts, that will become a breakthrough and will shake up the usual foundations of the industry.
How Do These Apps Help Consumers and Businesses?
Any business should have a mobile app when working with consumers, regardless of its niche. In 2023, it is not a luxury, but a strict necessity for anyone who wants to maximize revenue and attract as much of the target audience as possible to their brand.
In order to be closer to users, it is recommended to build on-demand apps. With such apps, a business opens up new opportunities for both service delivery and brand development through analytics or feedback.
Due to the customer's comfort, businesses get their profits. A loyal consumer is the best customer and user of services. This is the reason why you should think about on-demand mobile app development.
Advantages of On-Demand App Development Services
When you create software for your business, you can count on it to give your brand a competitive advantage: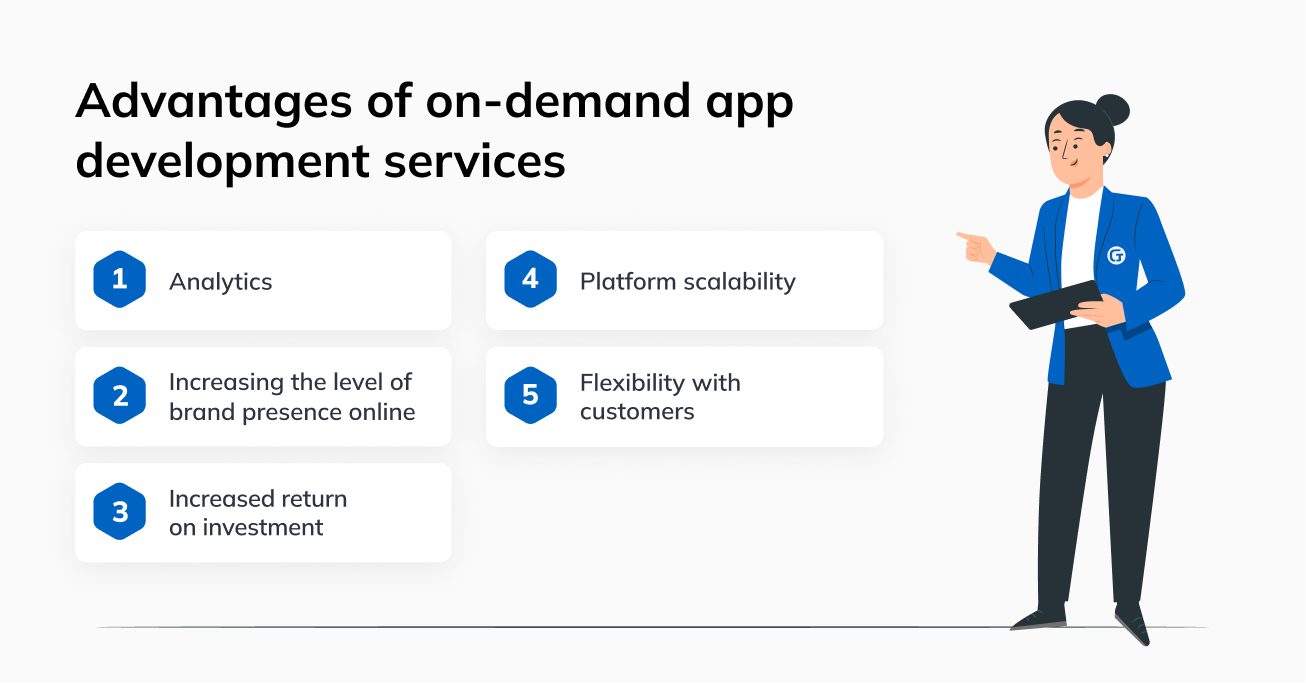 Analytics: Your digital product can include tools for gathering statistics on demanded services, the main GEO, and target audience preferences. You can build a strategy for scaling or developing your IT solution based on the information obtained.
Increasing the level of brand Presence online: A convenient and fast IT product works for a company's image. If consumers like your app, they will provide better advertising and brand recognition.
Increased return on investment: People will use your digital solution. The more popular services are provided on the platform, the more services you can sell or receive commissions from providers.
Platform scalability: The on-demand app is usually developed on a high-quality technical stack, which allows you to scale the app by expanding its functionality without much trouble.
Flexibility with customers: By actively monitoring and collecting metrics, you will see which features are in demand and worth developing and which can be removed due to lack of demand. This way, you'll give users only what they really need.
All this will improve the company's business processes and increase revenues. You can also count on strengthening the brand's position in the target market, expanding the customer base, and growing popularity.
How On-demand App Works
As a rule, such apps act as a kind of buffer between the service provider and the consumer. The digital product administrator is both an intermediary and a guarantor of the transaction. Usually, the work algorithm looks like this:
In this way, the digital product works as an intermediary between the provider and the client, and its owner receives a commission on the transaction amount. In special cases, it also serves as an arbitrator in controversial situations. In addition, the administrator can also act as a service provider, but this model is not particularly popular with representatives of medium and large businesses.
Read more about software product development from A to Z.
Classification of On-Demand Apps
The main disadvantage and advantage of on-demand apps is the niche nature of the app. Of course, you can try to combine, for example, a taxi and delivery service or a restaurant table reservation service with airline ticket reservations. If, in the first case, the business model will still pay back the investment, then in the second case, it will not.
When ordering on-demand app development services, you should focus on one area. You can start by choosing one of the most popular on the market (in Europe and the US), such as home services, and then move on to others. This will reduce budget costs and allow you to earn capital for further scaling.
By Purpose
Most companies need on-demand app development services, regardless of the type of business. This is true whether the business is small, medium, or large. An organization providing access to services or services themselves must have a user-friendly and productive tool for consumers.
On-demand mobile app development products are an important part of:
B2B segment: Apps allow companies to work with each other through intermediaries or service providers, establish supply chains, and delegate processes.
B2C segment: Digital solutions aim to provide the user with quick access to various products or services of a company or third-party suppliers.
P2P segment: An IT product connects users who provide services or sell goods with the same users but who want to buy or order something.
By developing such a digital solution, you give the client a comfortable tool to work with and get a commission in return.
By Industry
If you want to start on-demand mobile app development, you need to choose a target industry for your product. In some cases, industries get along great in one digital solution, but this usually becomes possible after the MVP is released and the IT product is promoted.
Today, the best categories of on-demand apps for consumers are:
Transportation services: As a rule, these are cab services, private drivers, hitchhikers, bus carriers, etc.
Healthcare: Medical establishments, businesses, service for communication with doctors or responsible medical personnel, consultations, and making appointments, etc.
Services that deliver something at the door: Providers are individuals or representatives of retail chains.
Logistics (freight or commodity) services: Usually, these are companies delivering goods of any size to an address.
Real estate services: Real estate agencies and individuals who want to personalize businesses.
Reservations, bookings services: Restaurant chains, and tourism or entertainment providers.
Let's take a look at some on-demand apps.
Healthcare On-Demand Services Apps
Medical on-demand apps, such as telemedicine platforms and health diagnosis chatbots, have become increasingly popular due to their convenience.
Some of the essential features that medical on-demand apps should have included are the following:
Communication: Telemedicine apps should have a messaging or video chat feature that enables patients to communicate with healthcare providers in real time.
Electronic Medical Records (EMR): Medical on-demand apps should allow patients to store and access their medical history, test results, and prescriptions in a secure and easily accessible manner.
Read more about key capabilities of EMR and top solutions on the market.
Appointment scheduling: The app should allow patients to book appointments with healthcare providers, save appointments in their calendars, and receive appointment reminders.
Reminder notifications: The app should send patients medication reminders and other notifications, such as upcoming appointments or routine checkups.
Payment and billing: Medical on-demand apps should have a secure payment gateway for patients to pay for services rendered by healthcare providers.
Symptom checker: Health diagnosis chatbots should allow users to input their symptoms and receive personalized medical advice, including possible conditions, recommended treatments, and when to seek emergency care.
Check out how Glorium built a mobile app for physiological monitoring and biofeedback. This image captures the user-friendly and easy-to-navigate design of our healthcare on-demand app. It's a great representation of how we've worked hard to make things as simple as possible for our users.
Real Estate On-Demand Services Apps
Real estate on-demand services apps provide numerous benefits to buyers and sellers, making purchasing or selling homes more convenient and efficient. Through virtual tours and other multimedia features, apps enable buyers to view properties conveniently, even outside of regular business hours. Check out how Glorium builds a real estate on-demand app. This image shows a great representation of our on-demand app. It was developed to be user-friendly and easy to navigate.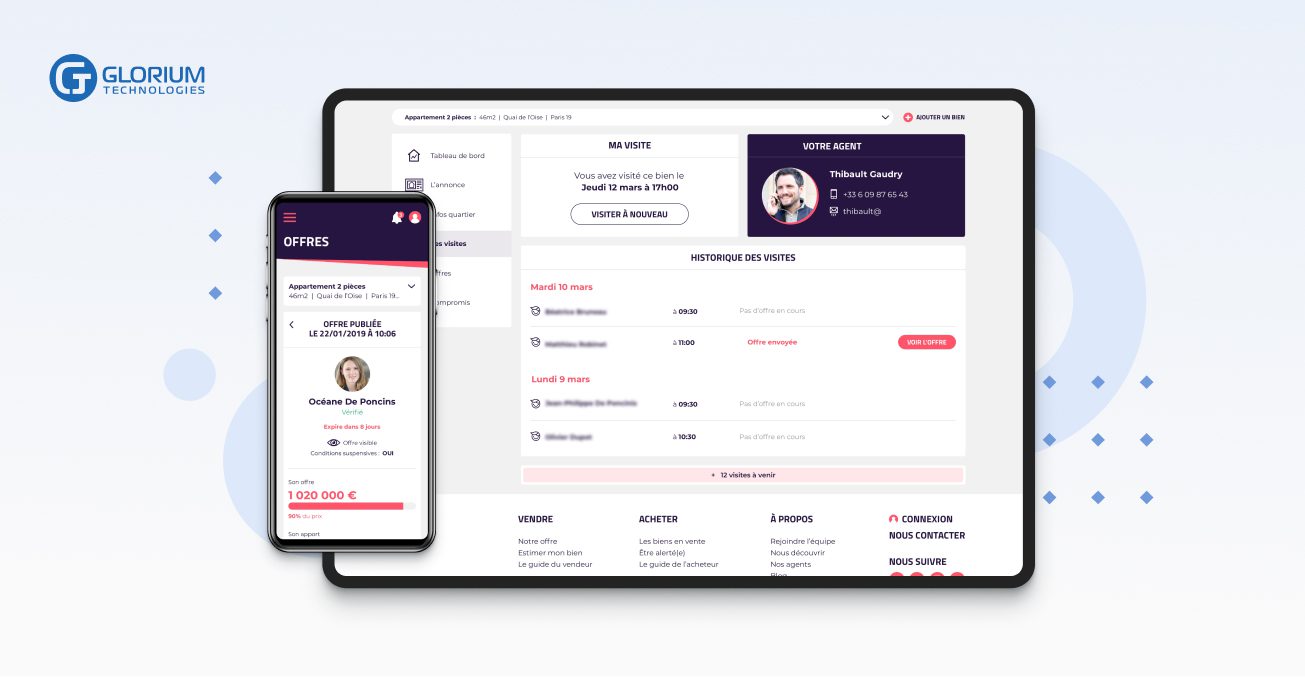 Real estate on-demand services apps are transforming the industry by providing a more convenient and effective way of buying and selling properties. Combining an enhanced user experience, streamlined communication, and access to data creates a win-win situation for all parties involved.
Each of these services is used by millions of people worldwide, making them in demand in the market. That's why on-demand mobile app development for any of the above areas is the best investment idea in 2023 and the next 5 years.
Key Features of the On-Demand App
The on-demand app is a multi-layered digital platform for communication and meeting all stakeholders. That's why it needs to implement a multi-layered account system to divide functionality. This is to ensure that everyone using the digital product understands their roles and has easy access to key functions.
For an Administrator
A software manager is the owner or representative of the company that launched the digital product into the marketplace. This type of account must have full access rights to control compliance with the terms of transactions, as well as monitor user and provider activity. Their job is to moderate orders (not passed by automation) and arbitrate disputes between the provider and the service consumer.
On-demand apps can come with advanced access controls and permissions, enabling administrators to delegate tasks and responsibilities to different team members while maintaining data security and privacy.
Such apps also offer comprehensive reporting and analytics capabilities, enabling administrators to monitor key performance indicators, track trends, and gain insights to make informed decisions and optimize the app's performance.
For a Party That Offers Services
On-demand apps allow service providers to create and manage their profiles, showcasing their skills, experience, and availability to potential customers. Additionally, service providers can easily manage their schedules, receive real-time notifications, and communicate with customers, ensuring a seamless and efficient booking experience.
It`s efficient that on-demand apps can offer flexible payment options, including in-app payments and cash on delivery, making it easy for service providers to receive payments and manage their finances. Also, service providers can receive customer ratings and reviews, helping build their reputation and attract more business.
For Consumers
Such apps must offer a user-friendly interface that allows customers to easily browse and book services, track their orders, and communicate with service providers. Additionally, customers can benefit from advanced search and filtering options, enabling them to find the right service provider based on location, price, availability, and customer ratings.
On-demand app also provides customers with real-time order updates, including estimated arrival times, payment status, and service provider details, ensuring a transparent and seamless service experience. Customers can also rate and review service providers, helping build trust and confidence in these apps.
Optimal Platforms for On-Demand Apps
There are now more than 6 billion smart mobile devices active worldwide, with a population of 7.97 billion. All these users are, in one way or another, considered service consumers and, therefore, the target audience for on-demand app development.
Now the market is dominated by two flagship mobile operating systems: iOS and Android. The ratio of users in 2022 is 27.88/71.47, respectively. And while there is a significant difference between iOS and Android consumers in terms of attitude towards paying for software, they are all equally active in using on-demand apps in their daily lives. This means that for these two key platforms, building on-demand apps is a must.
What On-Demand App Development Looks Like: 10 Steps
Due to such platforms' software specifics and peculiarities, it is better to use Agile or DevOps methodologies for on-demand mobile app development. This will help significantly optimize and speed up the process of working on a digital product, as well as reduce costs.
The development itself is almost no different from other types of IT solutions. The key difference is a greater amount of analytics before launching the project and considering the specifics of the target industry.
First of all, you need to study the target market and its condition. Namely:
The number of on-demand providers
The quality of digital products
Trending technologies in the industry
The needs of the allocated sphere
Return on investment
The demand for your idea
These factors are considered some of the most important when starting an on-demand app development project.
Read more about the custom mobile app development costs.
Choosing Your Target Audience
Do not try to cover all spheres and TA in the first stages. You need to choose a single niche and launch a platform only for it. For example, if we are talking about cab services, you don't need to add the functionality of delivering food or goods from a chain of stores right away.
The first stage is MVP release with strictly limited features. This will reduce the initial costs and analyze the TA, and after that, you can start scaling up and expanding the functionality.
Selecting the Technical Stack
When choosing technology for the project, consider their specifics. Namely:
Scalability
Popularity
Cost
Functionality
Cross-platform
In 90% of cases, you won't need a complex stack with specific frameworks or development language. Relatively simple but flexible technologies in the project are enough. For example, MEAN – MongoDB, Express, Angular, Node.
MVP Process and Components
Before you start development, you should plan a roadmap. This should include all the key steps and the resources required to complete them.
Include a detailed list of MVP features such as navigation, profiles, payment, feedback, and service ordering. This will reduce costs and allow you to test the digital product in practice without increasing risk.
When designing a digital solution, consider the trends of modern smartphones. For example, use the display workspace as much as possible: display useful information at the top, and move the controls to the bottom of the interface.
You can even create several layouts and conduct online voting among the target audience. This will help you understand the users' needs and implement the best design from their point of view.
Also, make sure that the internal architecture is simple and upgradeable. You'll need to scale up in the future, and it's much longer and more expensive to work with confusing and complex code than optimized code. It also improves software performance, which is also very important for today's users.
Trust the professionals to work on the skin of your on-demand app. At Glorium Tech, we prefer to create clean and easy code from the first stages of development, which improves the digital solution's performance and eliminates 80% of typical problems. We implement all MVP functionality in time, testing the software on all target systems in parallel.
Integration with External Modules
You will 100% need to connect external modules to work in any service niches. For example, payment gateways, analytics tools, and marketing complexes are necessary for correct software functioning and analysis of its productivity.
Integration of all listed above via API is quite a complicated and long process if specific technologies are used. In our developments, we use an optimal technical stack, which allows us to quickly implement the necessary functionality and debug it.
QA service in modern development is practically a key factor influencing consumer loyalty to your digital product. We pay special attention to testing on-demand apps and strive to ensure the highest possible quality at the MVP release stage. To do this, we include a QA Engineer in our team to accelerate and improve the quality of software test automation.
MVP Release and Marketing
The penultimate stage of an on-demand mobile app development project is the release of the MVP and its promotion. You should not expect customers to run to you in the first hours after publishing the app in AppStore and Google Play. It has to be properly presented to the public.
The best way to promote it is to launch a marketing campaign together with the start of development and announce the availability of the software at the time of release.
Once a project goes to press and its development is discontinued, our collaboration does not interrupt. On the contrary, we work to provide technical support for the digital product throughout its lifecycle. Also, if necessary, upon customer request, we assist in scaling the working MVP and transforming it into a better form of an app.

Top On-Demand Apps by Industry
The market is now crowded with companies providing services to businesses or consumers. But among them, there are those who are particularly successful in their industry, outperforming their competitors and securing their place at the top of the rankings. Among the favorites in their respective fields are: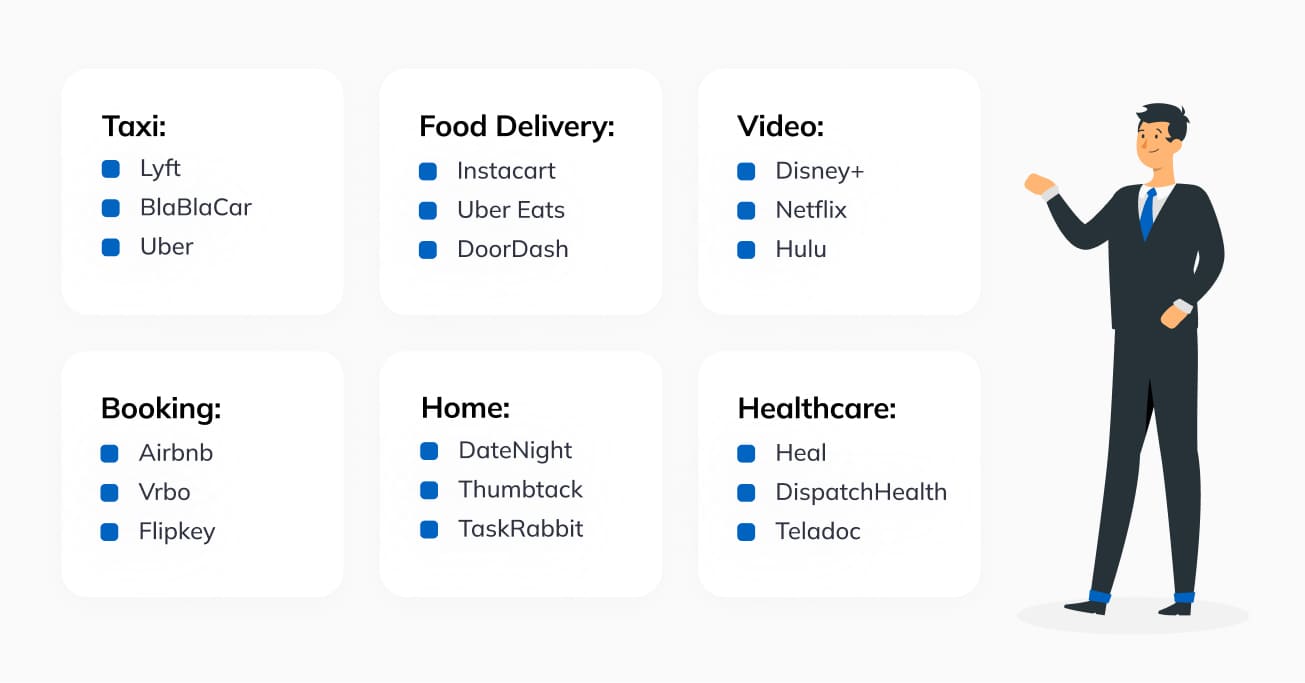 There are more than 1,000 such platforms in the world. All of them are popular to varying degrees and help users cope with routine tasks quickly.
How Much Does On-Demand App Development Cost?
The total cost of an on-demand app development project is calculated individually. It is impossible to derive an average amount for all such developments, as each has its own features, complexity, and team.
If we take median price ranges, a small project costs $20,000-$50,000, medium – $35,000-$100,000, and large-scale – $85,000-$300,000.
Conclusion
On-demand app development services in 2023 are the best chance to enter the consumer market with minimal costs. The niche of custom IT-wrapped services is in demand as never before. The trend for segment development will hold for at least another ten years and, if the forecasts are to be believed, even longer.
That's why if you want to grow your business in the On-Demand App industry, now is the best time to start developing your own digital product.
Glorium Tech is a recognized IT industry expert in creating apps for different business areas. We use only advanced tools and techniques to achieve top results. With our digital solution, your organization will get a modern platform to implement the most ambitious ideas. Wouldn't you like to become a market flagship?
Please contact our manager for advice and to discuss the project.
Questions You May Have