Innovative technology is changing the face of familiar things. Now the progress has also touched such an established, seemingly, sphere as training, making it even more exciting and convenient. Now it is possible to find an application for almost any direction and learn without leaving home at any time. All you have to do is install the app on your smartphone or tablet.
The trend of digital education has become so popular that the world's leading universities have adopted it. In this article, we will discuss the development of e-learning applications. Consider the software's features, development stages, and how much it will cost to develop.
What are the benefits of E-learning development?
Smart device users are more effective at acquiring knowledge and skills than people who don't use mobile gadgets. Applications are widely popular among users of smartphones and tablets (about 90% of respondents actively download programs in the Play Market and App Store).
E-learning app development has many advantages for businesses. Here are some of them:
Usability. The application interface is designed so the client can perform actions with one hand and without thinking about further steps. Familiar elements, clear navigation, and correct scale help a person reach the goal for which he runs the application.
Customization. In e-learning applications, you can customize promotions and recommendations for each user. When a person opens an application, the system will show them exactly the products they want to buy. Developers can create the functionality of push notifications, which alert the person about promotions and send reminders if the user does not enter the application for a long time.
Flexibility. Users can combine work and study with e-learning, which is not limited by class, city, or even country. If courses are held online, students can attend from anywhere.
One of the amazing factors of virtual learning platforms: you can learn at your own pace. Users can visit the courses they need at a convenient time. To clarify what you have missed, go back to previous lectures.
High retention rate: The app is more involved. If someone has a handy tool, the user will hardly want to change it to something. Loyalty programs, personalized content, discounts, and gifts that can only be obtained in applications, attract the user. According to the Research Institute of America, E-learning has increased student retention rates by 25-60% compared to 8-10% in traditional learning.
What are the main types of e-learning applications?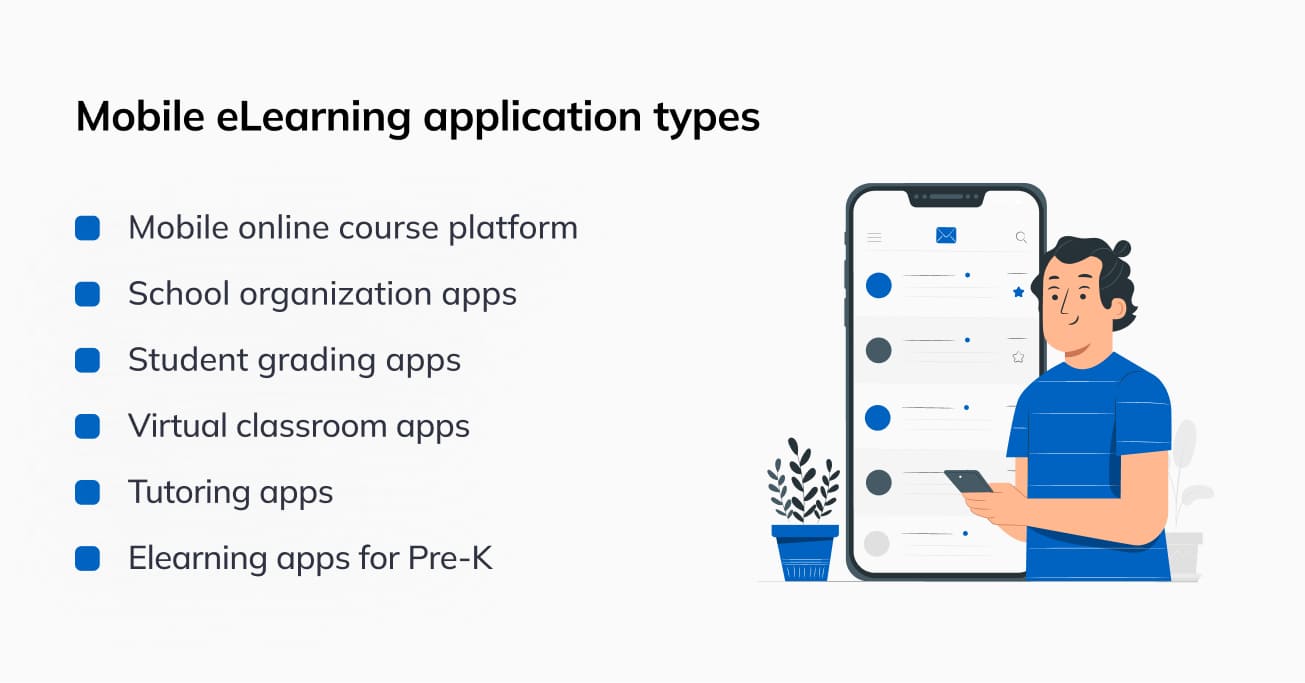 The market niche of digital learning applications offers products for different target audiences and situations. Classification is carried out in two types: on the training method; by target audience (students, tutors, and children; corporate education, businesses). We will consider various types in more detail.
By training methods. This category is divided into several types. Let's look at some examples to choose the right one.
Synchronous online learning. In this case, students and teachers interact with each other from different points but at the same time. Chat rooms, video calls, etc., are used for communication. WizIQ is considered a bright representative of synchronous platforms. It features virtual classrooms with video calls, chat, and online quizzes.
Asynchronous learning. On such platforms, students learn without interacting, and users come at different times. Courses on distance learning sites like Udemy are based on such self-study. Users study the selected course with a comfortable intensity.
Fixed and adaptive learning. The main feature of the fixed learning process is that all users get the same material. The platforms mentioned above, Udemy and Coursera, work on this principle. In adaptive learning, the material is selected according to the needs and abilities of each student. ScootPad is an excellent example of an adaptive platform.
What are the trends for e-learning app development?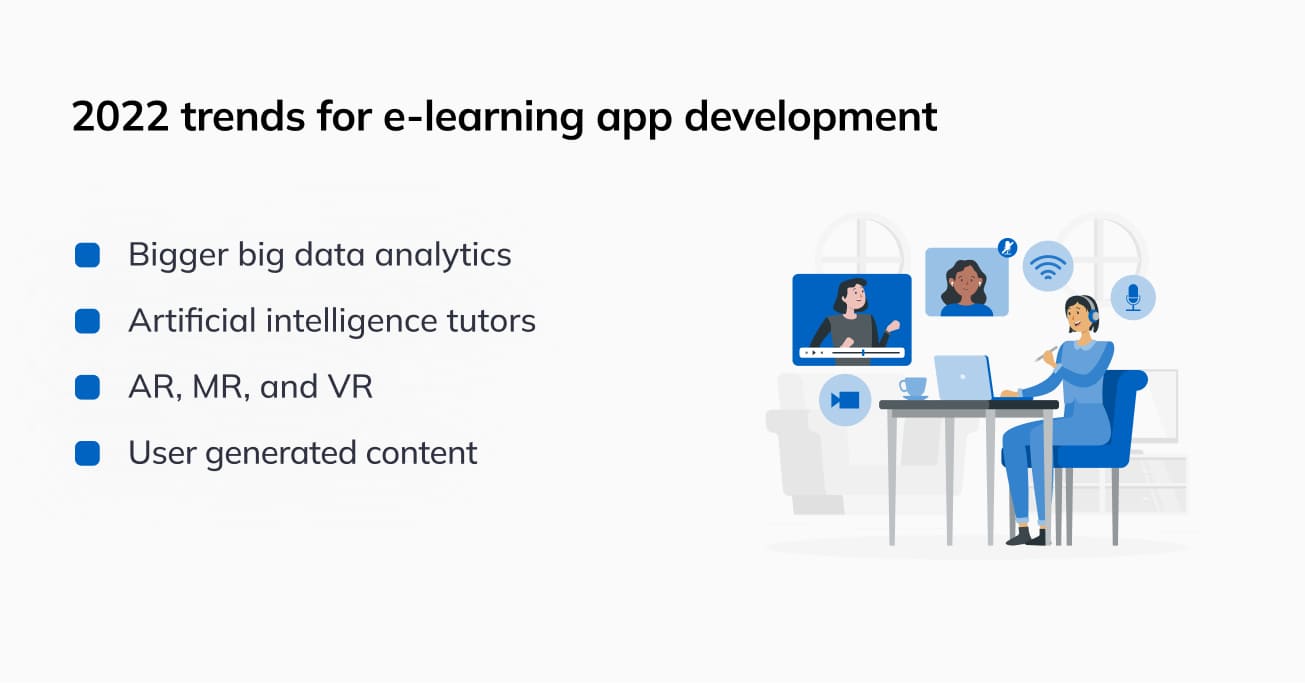 Virtual or augmented reality is getting closer. Currently, it is used mainly in the game sphere, science, and medicine; shortly, this perspective direction will cover other spheres of human activity.
Mobile platforms continue to develop applications using augmented reality technology; many well-known companies invest in AR technologies – the same Apple, for example. The creation and modernization of AR glasses have captured the minds of many developers worldwide, so this direction will continue to develop steadily and actively.
Visualization is always associated with some visual representations and exciting and colorful visual effects. But the goal of useful visualization is not for a good picture but the best way to transmit information flows.
With the right approach, even the driest and most boring information can be made saturated, lively, and engaging. The most important thing that visualization gives is an emotional response, the formation of their representations in the brain. The visual presentation of data excites the imagination and evokes emotions that allow better recognition, understanding, and mastering of the submitted amount of information.
Glorium has a big expertise in using the latest technologies for E-learning apps. Look how we implement VR and AR technologies in a mobile platform for future doctors.
The main features which where requested:
to lay the virtual model on top of the physical (automatic physical model recognition);
to create an ability to train with your student partner and show the training steps results to an instructor;
to develop an admin panel that manages organizations, users, training models, and training steps;
to create a price durability calculator.
What are the steps for e-learning app development?
Now let's look at how to start the e-learning application. Let's divide our actions step by step.
This analysis will help to plan the future business strategy. Without confirmation of the uniqueness of its design and future demand, it is impossible to start development. It is necessary to carefully analyze the competitors in a separate niche chosen by you to find out what they offer and to inquire about users' responses to their products.
To do this, SWOT analysis will be an effective tool. It can be used to identify the following:
strengths and weaknesses;
opportunities that will help to create a quality product;
external threats that could affect success.
Define the target audience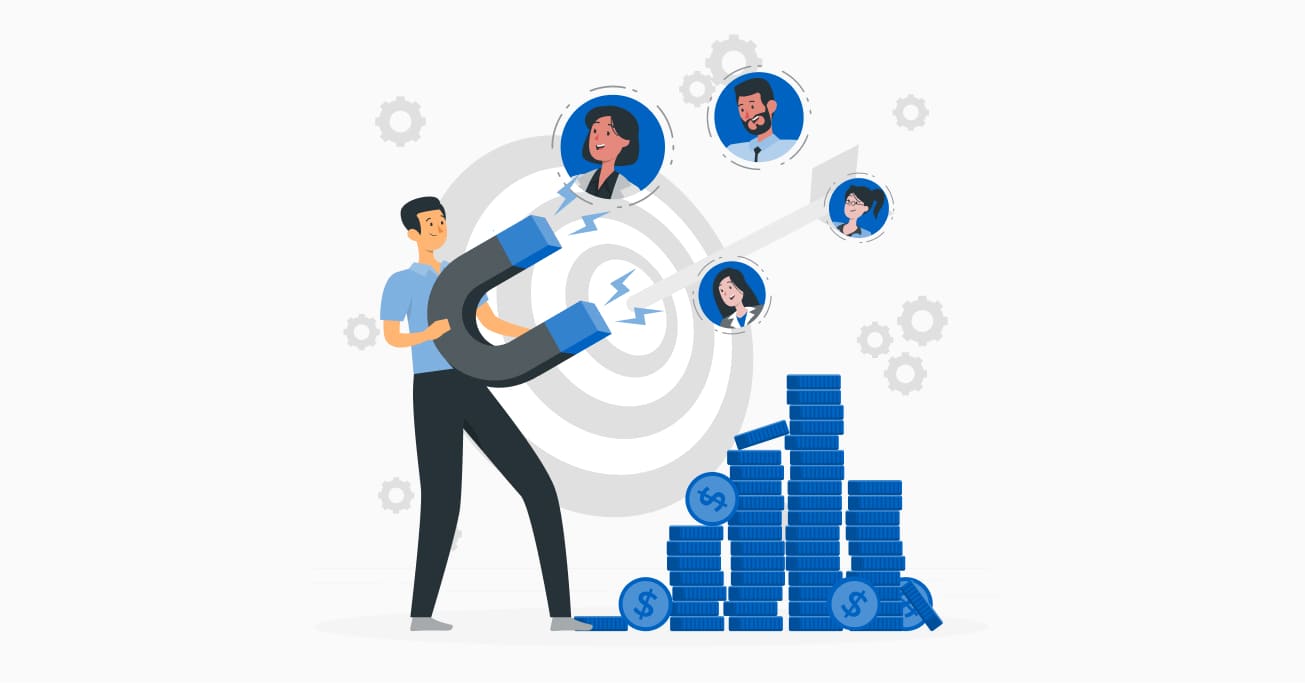 This item will help identify your target audience and potential application users. Think about their primary needs and wishes, approximate age, etc. It will help to provide a more accurate list of future functions for further implementation.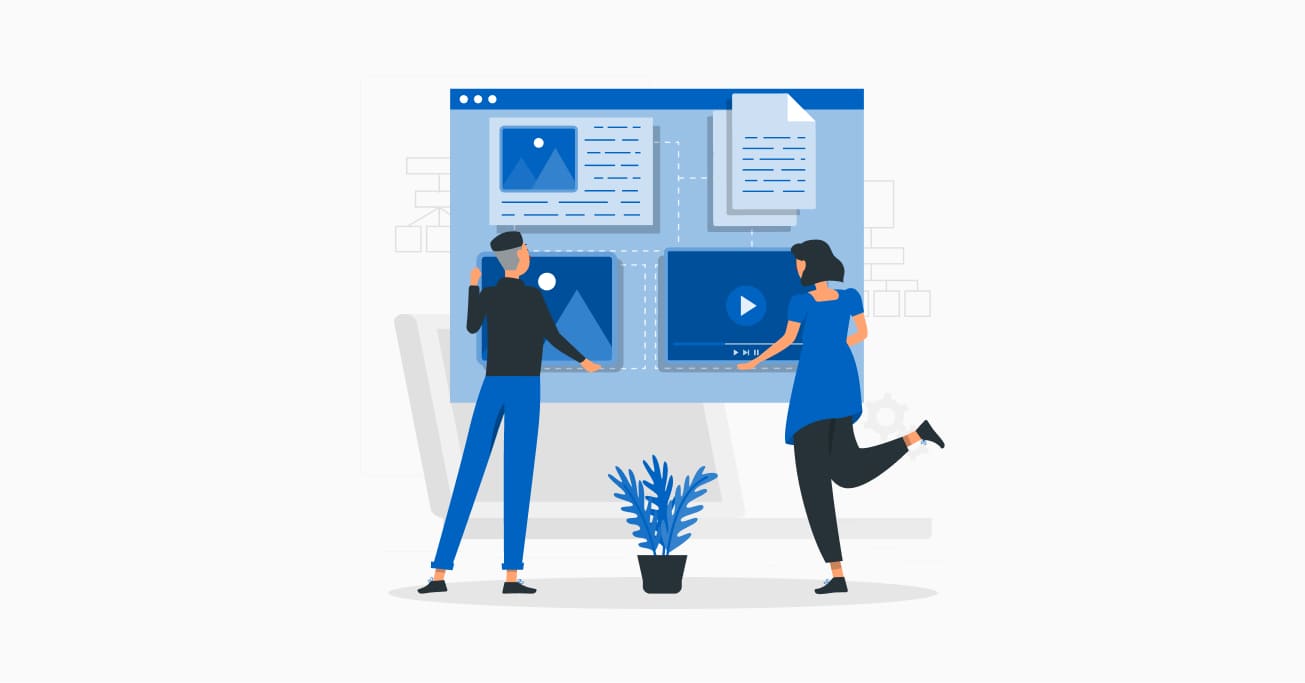 The future target audience determines this stage. For example, the platform for children's education should be bright, fun, and elementary in management. It is better to create an application for an older user in a quiet color scheme with a simple and understandable interface. In both cases, the main thing is to adhere to brevity. An overloaded design can strain and scare users.
A minimally viable product (MVP) is a platform version with defined options that provide basic functionality. Read more about MVP benefits.
In other words, the minimum number of functions to meet the needs of the first users. The main advantages of MVP are quick entry into the consumer market due to the focus on essential options and lower product development costs. Especially since there is always a huge space for follow-up action, you can add new features to the app after release. Also, MVP allows understanding with minimal costs how well the released product corresponds to the Market and subsequently adjusts the strategy.
Selecting the monetization method
According to the data, online training is among the top 5 most profitable attacks on monetization. Among such sites, there are some of the most popular models of their monetization:
Course fee. It is clear from the given name. Users pay for each course and get access to it. It is how most training platforms work.
Subscription. It is another well-known model. The user must pay a certain amount to access the site's content.
Donations. This model of monetization is the riskiest. Non-profit projects most often use it. Anyone who chooses it for their future app should understand that you must deal with content closely to keep users' interest.
Another way to monetize can be called advertising in your app.
After its elimination, the application is checked for bugs, and the product is entirely ready for posting on the App Store and Play Market. We comply with the requirements of Apple and Google, so our applications are moderated without delay. By agreement, Glorium can provide technical support and project promotion services after launch.
What are the e-learning apps features?
Regardless of which application type is selected and which target audience is assumed, the future product should contain the required set of functions.
Registration and account management.
All users (students and teachers) are identified. The most popular way to use an email address or phone number and password. You can add a quick sign-up button via social media like Facebook.
Searching
The training platform is primarily a catalog where educational materials are placed. This feature will help to display suitable courses depending on the user's interests or the history of courses to which the student is already enrolled. Many platforms offer the following tools:
search bar to enter keywords;
categories (on the home page);
filters – by language, cost, level;
recommendations similar to the selected or popular courses.
Dashboard
This feature helps users to get useful information about their work and track their own progress. For example, students see the number of courses, hours spent, their rating, attendance, income, etc.
Course page
Most courses consist of videos, podcasts, interactive tutorials or online chats. Some apps for greater interest of participants add elements of the game. For each course, there should be a page with its description, information about the authors and a list of materials and topics. Also required is a certificate confirming that the person has completed this course. It is created by developers manually or automatically. It is a good idea to add feedback from people about the course. It builds the confidence of potential customers.
Payment methods
At any paid courses, users should be comfortable to contribute money for them, and teachers to get earned. When it comes to finance, you need to choose the safest way to pay. These can be bank cards, popular payment systems, etc. Student profiles should be linked to a payment gateway for simple and safe purchases. In addition, each profile should contain basic information about the person, his purchase history and profile settings.
Notification
You can notify users about new courses, events or promotions by sending notifications to the email address or messengers. The main thing to do is not to be too intrusive. For example, to report on every updated course is not a good idea. And a monthly alert might be helpful.
Teacher profile functions if needed
The tutor panel is a basic feature for teachers, allowing them to track their courses, the number of people involved, the level of student achievement, and a discussion panel where the teacher can discuss with other students. Creation and updating of courses – teachers should be able to change and edit their courses at any time.
Elearning app development cost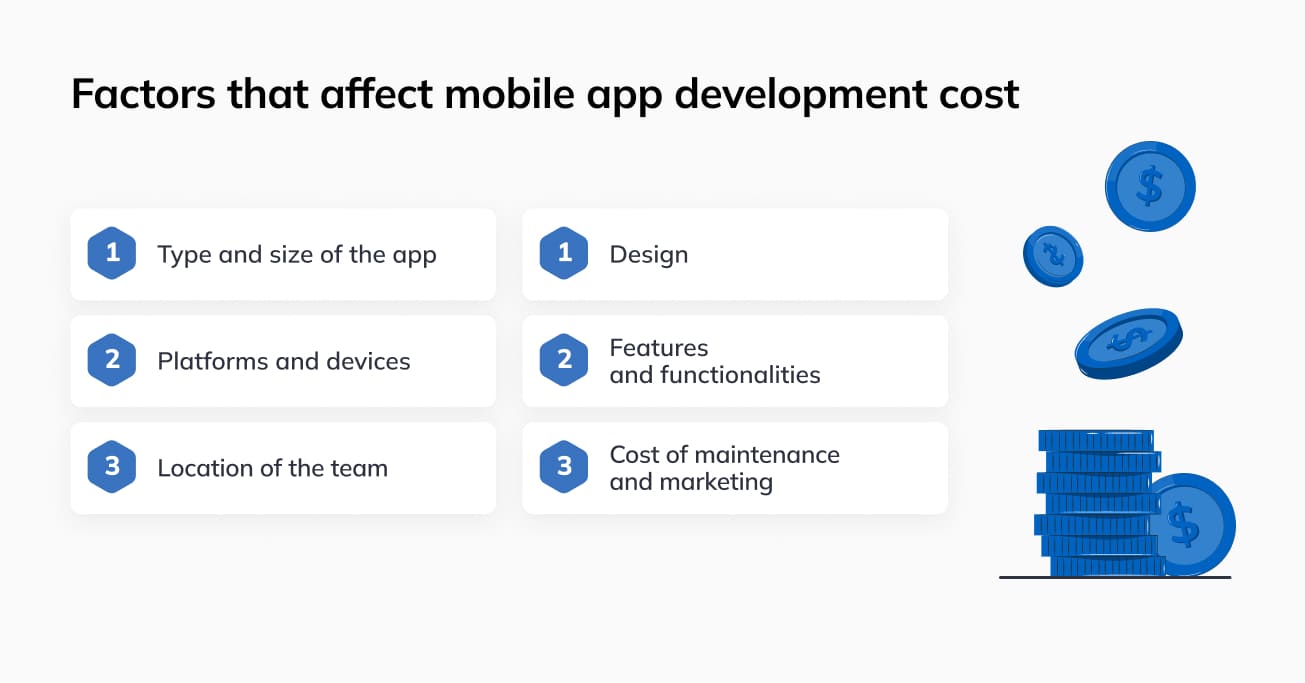 How to calculate the e-learning app development cost? There are a lot of aspects that play a major role in determining price. Here are some of them.
The complexity and capabilities of the future application. If the platform contains only basic functionality, the price of its development will be somewhat cheaper. When it comes to adding a variety of options, the price is raised.
Location of the team. Depending on the country you will choose, the price will be different.
Developers quantity. This aspect is directly related to the first item of this list. The more complex the program, the more versatile specialists who need to be paid for the work will be needed.
The total cost of application development is considered in the hours of work of each specialist involved in the project. The average cost per hour is about $50-$60. The project as a whole takes about 2,000 hours. Therefore, an average e-learning app development will cost about 100-120 thousand US dollars.
Why do startups better choose outsourcing?
In software development there are two main approaches to solving the personnel issue: creation of own team and outsourcing. The latter means working with an already established external team on a project basis. Both options have their pros and cons, but when it comes to startups, we do not recommend hiring your own developers.
Creating an internal team requires extra effort, time and money to:
Personnel search;
Conducting an interview;
Payment of salaries;
Provision of social packages;
Management;
Motivation.
The question of time is especially important, as many startups simply can not afford to do nothing. When you develop a corporate website, you can take your time. But what if we are talking about a new mobile product in a highly competitive market?
How to recognize the ideal application development partner?
If you need a perfect e-learning app, you are searching for a reliable outsourcing partner. Where and how to find such a company?
Aims to perfect UI/UX
Mobile app users are as close to your product as possible: they literally touch it with their bare hands, as opposed to PC applications where manipulators (keyboards and mice) are used. So the importance of the interface goes to a new level.
A good mobile app design is more than just a beautiful interface: it should be intuitive, involve the user and meet their needs and expectations. In addition, the design must take into account the huge variety of devices and screen sizes. For professional designers, this goes without saying. However, it is worth discussing such points with your application development partner.
One of the easiest ways to assess the professional level of the company's designers is to see user feedback about their apps. Note the comments about usability: poor navigation, redundant or repetitive screens, unclear or overloaded interface, different style elements.
Conduct preliminary research
The study here refers to a market assessment prior to the development of an application. It usually includes competitive analysis and various types of consumer research. The results can affect your UI/UX decisions, the monetization strategy, or turn the whole idea of the application upside down.
Because something to change in mobile applications is usually harder and longer than in websites, it is better to do well from the start. Do not neglect this step and look for an application development partner who thinks the same.
Develops applications for different platforms
If the app is created specifically for Android, it will not work on iOS, and vice versa. This means that an outsourcing development team should either have experience in cross-platform development or keep both iOS and Android in the development team.
If you can justify the choice of technologies for your application—this is a good sign. However, most often for startups the most profitable is cross-platform development. With it you can quickly launch the product and reduce the budget, and at the same time get an application that is almost the same as native—all thanks to modern frameworks such as React Native.
Supports completed projects
When a new version of iOS or Android is released, technical failures may occur in the application, so it is important that the application development partner provides technical support after release. Make sure you have an initiative team ready to make the necessary changes and fix bugs.
Has an excellent reputation
As you can see, it is impossible to choose a team just by reputation. But this does not mean that it can be forgotten. What should be checked during the search for an outsourcing development team? Portfolio. If the team had similar experience, it is a plus for the project. Developers may even be aware of some pitfalls and potential difficulties.
Feedback from customers.
Ask the studio to provide you with reviews or look for them themselves—in any case, it is always useful to get the opinion of a fellow startup.
Recommends a monetization strategy
When it comes to profit, it's important to be on the same page with your application development partner. Experienced contractors will not only clarify your personal wishes in this regard, but also give their recommendations. Can they recommend a monetization strategy? When it comes to profit, it's critical to be on the same page with your application development partner. Experienced contractors will not only clarify your personal wishes in this regard, but also give their recommendations.
What are the benefits of Glorium?
You get a unique product that takes into account the specifics of the business and the features of the educational program.
We work with the latest technology, so your app will be fast and modern.
Before starting the development, we prepare a detailed technical documentation to ensure that the result exactly meets your expectations.
Terms of cooperation, prices, terms, and warranties are recorded in the official contract.
After the launch, we provide support and custom services.
FAQ