Recent studies have shown that 57% of the largest companies in the Forbes G2000 rating use IT outsourcing services. What is the reason for the popularity of this model of IT department organization? In this article, we will discuss the advantages of outsourcing and the opportunities it brings for companies. We will also discuss what you should consider when choosing an outsourcing service provider. Do it smartly, and you will create a premium-quality digital product and save your budget at the same time.
What is IT Outsourcing and Why is it Needed?
When a company faces a need to create new software and scale or support existing digital solutions, it has two options. The first is to create an in-house team of IT specialists. A very convenient choice since the team will always be in touch and fully immersed in the company's internal processes. But there is a disadvantage to this hiring model. Yes, the costs. You will have to pay salaries to employees even when the project is not in progress, provide office space, and invest in the development and training of staff.
An alternative to this approach is to turn to outside specialists. Freelancers are cheaper, but they do not give any guarantees of the quality of the final product. On the other hand, outsourcing companies offer a reasonable price for their services and ensure the delivery of high-quality software.
IT Outsourcing is a hiring model that involves turning to a third-party provider for software development, scaling, or support.
Goals of creating an outsourced IT department
So what goals do entrepreneurs pursue when they turn to outsource service providers? According to the data presented in the Deloitte Global Outsourcing Survey, 70% of companies primarily pursue financial gain. It is the primary goal, but it is by no means the only one.
1. Gaining access to the world's best experts and cutting-edge technology
Would you like a developer from one of the most progressive high-tech countries, like Japan, the USA, or South Korea, to join your team? Nothing is impossible with IT outsourcing. A provider will find a specialist with the required industry expertise and the technology stack for implementing your software wherever they are. High competition in outsourcing services guarantees that the company will go the extra mile to recruit the right pro.
2. Saving money
There are several ways to save on outsourcing:
With external specialists, you will pay only for the actual work done or hours worked;
No need to spend money on office space, training, and courses;
Hire a specialist from a country where developers have high technological skills, but their services are cheaper than in the USA or Germany;
Hired pros will probably already be using the latest equipment and programs, so you don't have to invest in these.
3. Delegating particular tasks
Even with an in-house team, you may need the services of a freelance developer. These situations happen when you are short of a specific subject matter expert. Or when you have an extra large project and the in-house team can't release the product on time.
4. Increasing the speed of development
According to the Deloitte Global Outsourcing Survey, this goal is a priority for 20% of companies that use outsourcing services. Several factors speed up the delivery of software.
Experts in your industry don't need much time for onboarding;
They are likely to use advanced technologies;
Since the team gets paid for the actual work, the developers are motivated to work fast and efficiently.
In addition to all of the above, technical outsourcing helps reduce the risks when developing a new digital solution. The specialists involved usually have extensive experience and can tell you how best to implement the customer's idea.
Models and Types of IT Outsourcing: The Best Combination of Price and Quality to Achieve Maximum Results
If you have decided that turning to an outsourcing company is the best option for creating and maintaining your software, then it's time to choose the best model and type of IT outsourcing. Where is it better to look for specialists: at home or abroad? When is it better to hire a freelancer for your team, and when to outsource the entire project? Let's find out.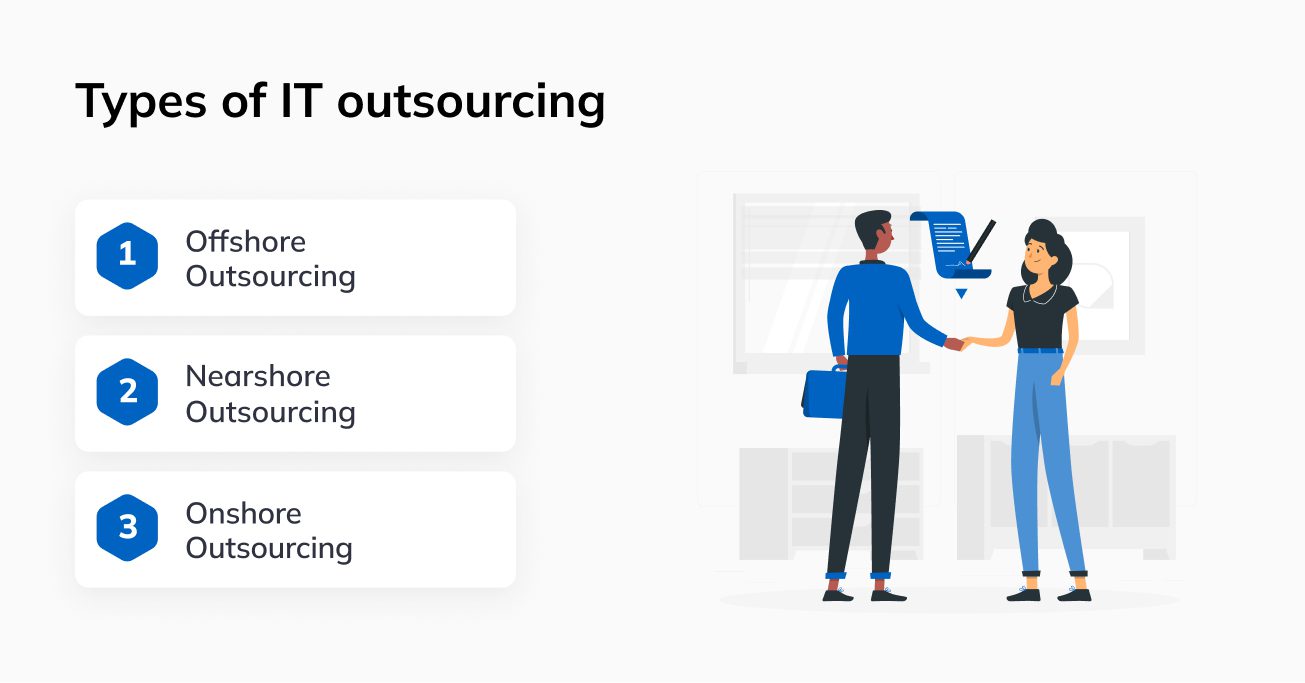 Depending on your business needs, an outsourcing service provider may offer specialists from different countries to work on your project. Every option has its advantages and disadvantages.
Offshore Outsourcing. This type means hiring specialists who live far away from the customer's location, in another country or another part of the world. The advantage here is financial. The same pool of tasks done by a specialist from Eastern Europe will cost way less than by developers from the United States. Also, this option gives access to technologies and talents unavailable in the customer's country. The main disadvantages are the time difference and possible miscommunications due to cultural specifics.
Nearshore Outsourcing. Hiring a developer from near abroad is a way to attract the best foreign personnel and advanced technology to the project without significant communication difficulties.
Onshore Outsourcing. This type means hiring a developer from the client company's country. The main advantages of onshoring are a shared work schedule and a similar work approach. However, it is hard to bring in foreign experience and new technologies when working with specialists from one's own country.
At Glorium Technologies, we are guided by your company's needs and budget when choosing the type of outsourcing. We consider your wishes and location, then select the best specialists for your project.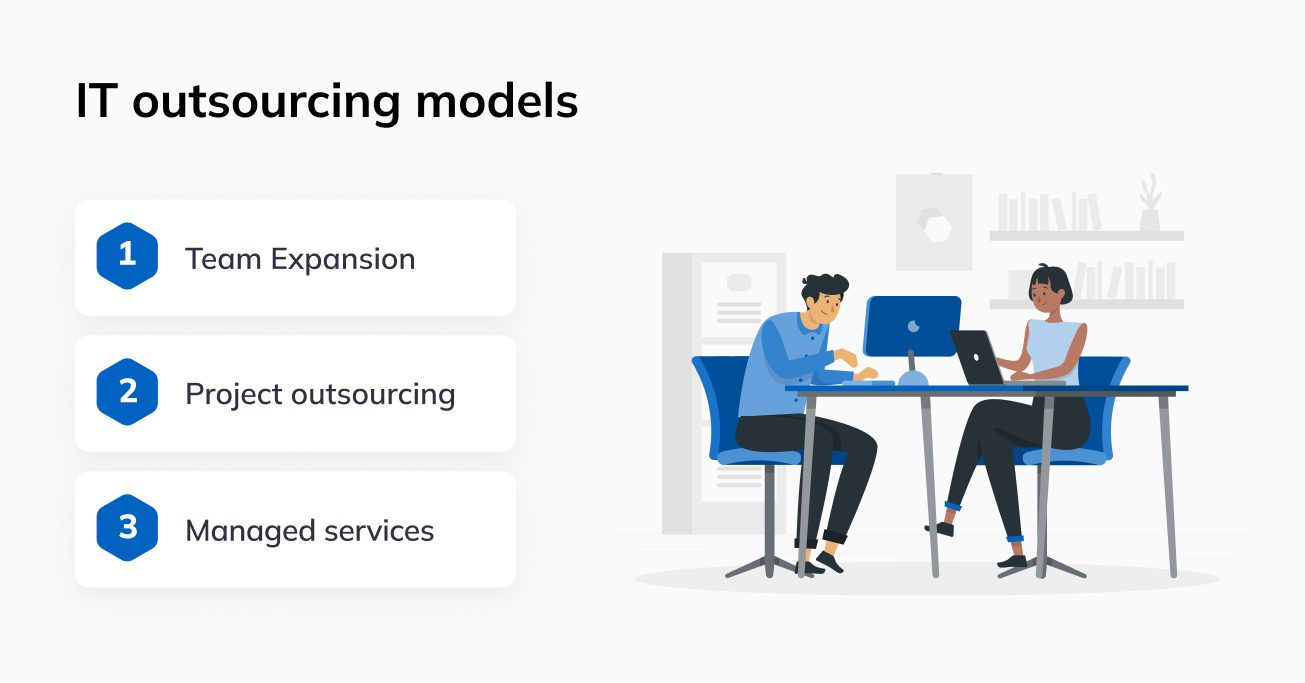 Another classification of outsourcing by the cooperation model:
Team Expansion. This model involves augmenting your in-house development team with hired outsourcers. It makes sense if your team does not have the right specialist or when you need an extra workforce for large-scale projects.
Project outsourcing. The name is self-explanatory: in this case, you outsource the whole project to third-party developers. The provider is responsible for forming a full-fledged team and handling all the stages of product creation. The client can manage the project directly or monitor work progress via the project manager.
Managed services. Another way to bring in several external specialists to your development team. It differs from staff augmentation by the degree of cooperation of the recruited staff with the in-house team. With managed services, the hired personnel works independently under the provider's management.
When choosing a model for engaging external developers, consider the scale of your project, the availability of an in-house team, and your desire to be directly involved in creating a digital solution.
IT Tasks You can Outsource
The most popular categories of IT tasks to outsource:
Mobile and web development. Vendors take care of organizing all stages of software development. They can select specialists in analytics and experts in prototyping, design, development, and software support. You don't need to order a complete app at once; a preliminary MVP development will reduce risks and costs.
Quality assurance. Software users are becoming more demanding, forcing developers to pay more and more attention to testing digital solutions. Outsourcing companies take on quality assurance at all stages of product development. They can also automate this process.
Design of user interfaces. A user-friendly and visually appealing app interface guarantees that your users will be satisfied and won't go to your competitors. With an outsourcing service provider, you can ask for the best UI/UX designers to make your project creative and user-friendly.
Post-release support and maintenance. Modern development delivers flexible and easily scalable apps. But it is still much easier to support and maintain the software with the help of the specialists who developed it in the first place. They already have all the necessary tools and understanding of the app's architecture.
The IT consulting. Not all companies come to outsourcing service providers with a clear idea of the future product and an understanding of how to implement it. Outsourcers will be happy to give you professional advice.
DevOps. DevOps methodology is gaining popularity among developers and clients. This approach to work improves the efficiency of creating and operating software solutions by automating and mutually integrating these processes.
The advantage of IT outsourcing is that you can determine which tasks to outsource to external specialists.
Building an Outsourced IT Department: A Complete Guide From Glorium Technologies
So, you are confident that outsourcing is just what you need for your project. You have decided on the type and model of cooperation and selected a list of tasks to outsource. Now the question is: Where do you start?
We have prepared a brief guide to help you through all the stages of creating an external IT department with minimal risks.
Assess your needs and resources
First, analyze your project and estimate tasks your internal team can't do. Maybe it makes no sense to outsource the entire project, and you need to hire just one UI/UX designer.
Hire a technical manager for the team
If you have no experience in software development, you will need a technical project manager. This specialist can help you with provider selection and outsourcing models and, later on, will help reduce the risks.
Set your goals for outsourcing
Whether you want to save money or use innovative technology unavailable in your region, the supplier will help you reach your goal most efficiently.
Create the project budget
It is essential to include hidden costs. You don't want to find that you need more specialists or upgrade them in the middle of the project. Experienced outsourcing companies calculate all possible expenses beforehand.
Outline the desired results
Before looking for your ideal provider, think about what you want to achieve by working together. Then choose a company that meets your expectations.
Choose your outsourcing company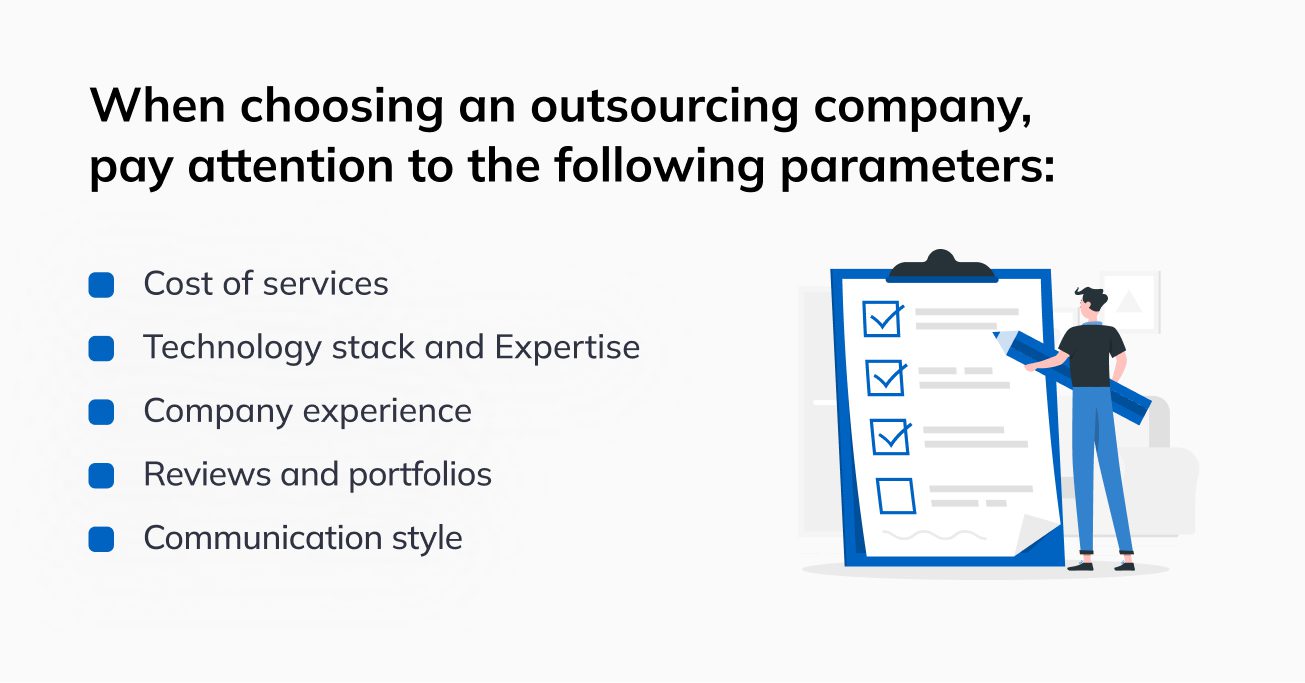 We suggest dwelling on this point in more detail since it plays a key role. When choosing an outsourcing company, pay attention to the following parameters:
Cost of services. Remember that quality services cannot be cheap. Trying to save money can lead to changing providers halfway and paying double. Get quotations from several providers and compare them.
Technology stack and expertise. Voice your vision for the product and see if the vendor can provide you with the right experts. The right tech stack isn't everything, though. Ideally, the developers should have experience in your field to understand the specific needs of your business. After all, developing an app for a hospital and a cab service are different tasks.
Company experience. A company with solid experience is more likely to provide professionals who will fully meet your needs.
Reviews and portfolios. Ask a potential partner for their portfolio, look at the cases, read reviews, or speak to colleagues who have worked with them. Get as much information as possible. If there are any cons, try to find out about them.
Communication style. The first talk with the manager will show how much the company values the potential client. Note how long it takes them to answer your letters and how well they follow the set time for the calls. Check what tools they use for communication on the project. Tools like Slack are preferred as you can always be in touch about the latest updates.
Calculate possible risk
Foresee the possible losses with the help of competent risk management and take steps to minimize them. Possible risks include:
Low control over the development process. Especially true for offshore and nearshore outsourcing. It's hard to control remote specialists in different time zone.
Security of sensitive information. Consider all risks and sign the relevant documents with a provider. Aside from NDA, you may need more regulated agreements. For example, signing a Data Processing Agreement is obligatory in European Union countries as a part of the General Data Protection Regulation (GDRP).
Incompetent outsourcing service provider. Apply the rules we provided in the "Choosing an outsourcing company" chapter, and this problem will not affect you.
The list of steps for building an IT department may vary depending on the type and scale of your project. The recommendations listed above are the basics that will become your guide to outsourcing.
To Summarize
So, you have an idea for an innovative product but don't have a team that can make it happen? Or maybe you need to scale an existing digital solution? Say no more! All you need is to outsource an IT department with the best professionals. Glorium Technologies will help you find developers for a project of any complexity. We are experts in delivering high-quality projects on time.
FAQ