Choosing between various recruiting options is an ongoing challenge for many startups and product development organizations. Although there are several employment models, outsourcing and outstaffing are two of the most commonly used methods. Choosing which model is best can be difficult as the difference may not be obvious at first.
Many businesses wind up selecting software providers that are either under or overqualified, depending on their budget.
While both outsourcing and outstaffing have benefits and drawbacks, the optimal solution varies depending on the needs of a firm. That said, outsourcing is a faster, more agile, and cost-effective approach when it comes to developing a product. Let's take a deeper look at the overall function of outsourcing, as well as the advantages and disadvantages of both solutions.
What is outsourcing and how does it work?
Outsourcing software development has grown in popularity as it has proven to be a fast and flexible way to kick off a project. Furthermore, very little involvement and onboarding are required.
Some forms of outsourcing require a corporation to take over an entire project from the ground up. This can include everything from assembling a specialized team to delivering exceptional outcomes. As a result, your company is not required to have a development team complete with specialized technical skills in place.
Because the firm you outsource to functions as a temporary team for a specific project, often, your in-house team doesn't even require IT staff. Implementing this approach can be time-consuming initially, but it's by far the most cost-effective solution in the long run.
According to a recent Deloitte survey, 70% of participants reported that they use outsourcing as a cost-cutting tool. Another 40% stated that outsourcing provides organizational flexibility in regard to remote work and fast-paced digitalization.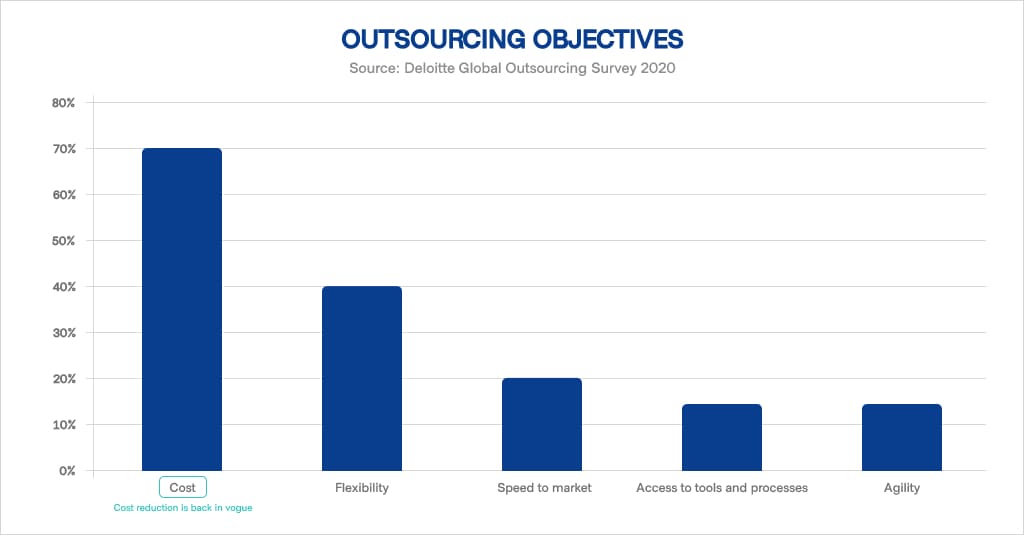 Of course, the pandemic isn't the sole catalyst of the outsourcing boom; the sector began expanding years ago. However, as the crisis has forced companies to adapt to a remote working model, the nature of workplace interactions has been altered dramatically.
Organizations are becoming more comfortable with virtual meetings, signing contracts without a formal handshake, substituting physical training with online sessions, and celebrating triumphant projects via virtual cocktail parties.
Companies are increasingly adapting to a remote work culture that enables them to access global talent from the most cost-effective sectors. This has also allowed businesses to mitigate risk by diversifying their delivery sites.
As a result, in 2020, IT outsourcing reached $1.1 trillion worldwide — a record-high. And still, it continues to grow. Let's take a closer look at the pros and cons of outsourcing software development to determine whether it's worth the hype.
Outsourcing software development: pros
Cost-efficiency
Outsourcing teams are more cost-effective because they work on an hourly-paid basis. You simply pay for the time they spend working directly on a project. There is also no need to invest in recruitment, office supplies, equipment, or other onboarding activities.
Furthermore, with such a large talent pool to choose from, corporations have more flexibility when it comes to selecting the degree of competence and price that best meets their needs. According to Accelerance research, outsourcing development to an offshore software development firm often saves corporations between 40% and 75% of total expenditures.

Superior talent pool
As mentioned, when outsourcing software development, you have access to a massive pool of global professionals with varying levels of expertise. This is a massive benefit to the healthcare industry as firms frequently require specific expertise or restricted industry experience, which can be difficult to obtain locally.
Outsourcing is an excellent choice for firms seeking to benefit from experts available for hire at a fair price in locations where developer costs are high, such as the United States and Western Europe. Popular regions for outsourced development include Eastern European countries, such as Ukraine. Here, suppliers offer unrivaled expertise and talent at a lower cost than other regions.
Reliability & speed
Most companies desire rapid development in order to get their products to market as soon as possible. Because the onboarding process is so short, outsourced teams can provide high-quality software much faster than in-house teams. In short, outsourcing is an excellent method to accelerate development.
Outsourcing software development: cons
Risk of miscommunication
As with everything, working with remote teams comes with several hazards. One of which is miscommunication due to time zones and language/cultural difficulties. Furthermore, face-to-face communication is not possible.
While this was a serious issue in the past, in the age of remote employment and Zoom, it's no longer such a barrier. Clear communication channels can easily be established, even in the early phase of cooperation.
Limited visibility
Outsourcing implies less project transparency; yet, depending on corporate objectives, this can be both a benefit and a drawback. Outsourcing allows employers to focus more on their business as distractions from IT concerns are limited.
That said, if you value control and a high degree of participation, outsourcing may not be the ideal solution for you.
What is outstaffing and how does it work?
Outstaffing is a form of outsourcing that involves employing professionals from outside a business for specific tasks or short-term projects. Outstaffing assumes that you already have an in-house IT department or engineers with whom you have long-term contracts. Essentially, outstaffing is an extension of your team for a limited period of time.
Outstaffing most often relates to hiring professionals that already work in other companies. The client hires these specialists for a particular project, but the outstaffed workers remain in their primary firm. Therefore, the primary employer handles payroll, HR activities, etc., while the outstaffed team continues to work on projects for other companies. The client that hires the team is responsible for managing the project, directing it, and paying for the completed work.
Outstaffing is a simple process in which you recruit skilled personnel who also continue to work at their usual employment. The only distinction is that, for the length of the project, you are their employer. These specialists are often developers, designers, analysts, and others who perform the tasks they have been delegated.
Outstaffing allows employers to fill gaps in projects without devoting copious amounts of time and resources to the hiring process. Think of outstaffing as an extension of an existing team. In essence, it's a fantastic alternative for job management when specific experience and skills are required.
Outstaffing is beneficial for any company that wishes to expand the capacity of its software development team to accelerate the development process. For short-term projects and tasks, outstaffing provides many benefits.
Outstaffing software development: pros
Hiring flexibility
This employment model is probably one of the most flexible hiring models available. You can easily adjust schedules, the level of involvement, set directions, and delegate specific tasks and projects. At the same time, you don't have to manage payroll, HR, or other hurdles related to in-house team maintenance — the vendor will handle it for you.
More control and access
Unlike outsourcing (where the hired team holds the keys to the process), outstaffing enables an organization to take over project management duties. This provides a company with more control over the daily operations of the outstaffed software development team, allowing them to manage the process more accurately.
When choosing between outsourcing and outstaffing, the decision often comes down to whether or not a client wants to manage a project on their own.
Fewer costs
Because the client does so much of the hard lifting in regard to management, the hourly fee of the outstaffed team members is generally lower. This eliminates the hours spent on project management that vendors typically tack on to their estimates. As long as you're willing to put in the extra effort, the savings can be substantial.
Outstaffing software development: cons
Possible communication issues
Communication channels are critical as vendor staff frequently operate remotely, or at least separately, from the rest of the team. For this reason, it's vital that your outstaffed team has a firm grasp of all project management software and that their reporting is transparent across corporate team members.
Setting clear goals and interacting with your out-staffed team members on a daily basis is equally essential; just as it is with your corporate-based IT staff.
Project responsibility is yours
In addition to control over projects and management, there is also plenty of responsibility. With outstaffing, your temporary team members are not accountable for the delivery of a product as their primary task is project execution under a client's supervision.
Should a project fail or something goes wrong, the responsibility falls on the shoulders of the client.
Outsourcing vs Outstaffing: which is better?
In short, outsourcing is better for those who don't wish to create an entire IT department and who don't want to be too involved in the overall development process. Classic outsourcing enables you to assemble a complete, professional, and experienced team to entrust to a specific project.
Outsourcing covers a far broader range of services and needs that require long-term, strategic planning. Outsourcing doesn't require you to have an in-house IT department as the firm you outsource from will bring along its own professionals for this purpose.
Although outsourcing requires more time to set up initially, it's still the most cost-effective model in the long run.
If your company already has a solid tech department in place but still needs assistance with a few things (without turning to in-house staff expansion), then outstaffing is the better option. Outstaffing allows you to hire professionals as required to complete a task. It also affords you more control over the entire process from start to finish.
In short, depending on the goals that a corporation wishes to pursue, both models can be effective.
Software development services with Glorium
Outsourcing healthcare software projects to Ukrainian teams is almost twice as affordable as hiring a US-based team.
With more than ten years of experience designing and building health tech solutions, Glorium helps businesses in the healthcare and real estate sectors hit the market running with excellent service and customized solutions. By nurturing your ideas from concept to launch, our dedicated team is guaranteed to bring your plans to life.
Learn more about our software and application development solutions today.