Also available on podcast platforms
Choosing between various recruiting options is an ongoing challenge for many startups and product development organizations. Although there are several employment models, outsourcing and other outstaffing models are two of the most commonly used methods.
Choosing which model is best can be difficult as the difference may not be obvious at first. Many businesses wind up selecting software providers that are either under or overqualified, depending on their budget. While both outsourcing and outstaffing have benefits and drawbacks, the optimal solution varies depending on the needs of a firm.
That said, outsourcing app development is a faster, more agile, and cost-effective approach when it comes to developing a product. Let's take a deeper look at the overall function of outstaffing vs outsourcing, as well as the advantages and disadvantages of both solutions.
What is an Outsourcing Company and How Does It Work?
Let's delve deeper into the question of outsourcing vs offshoring. In that case, we encounter a nuanced decision that involves not only the choice of where to source talent but also the strategic considerations associated with each approach.
Outsourcing software development has grown in popularity as it has proven to be a fast and flexible way for outsourcing companies to kick off a project. Furthermore, very little involvement and onboarding of external teams are required.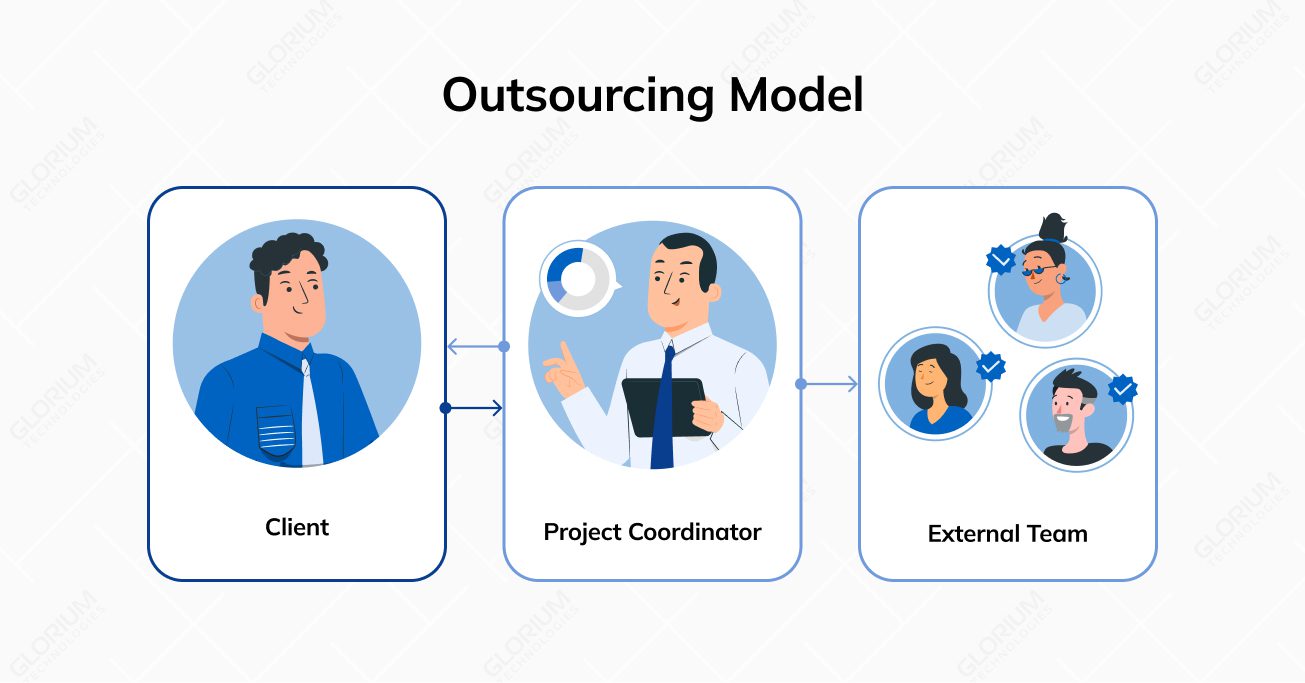 Some forms of programming outsourcing require a corporation to take over an entire project from the ground up. This can include everything from assembling a specialized team to delivering exceptional outcomes. As a result, your IT outsourcing company is not required to have a development team complete with specialized technical skills in place.
Because the firm you outsource to functions as a temporary team for a specific project, often, your in-house team doesn't even require IT staff. Implementing this approach can be time-consuming initially, but it's by far the most cost-effective solution in the long run.
According to a recent Deloitte survey, 70% of participants reported that they use outsourcing services as a cost-cutting tool. Another 40% stated that an outsourcing service provides organizational flexibility in regard to remote work and fast-paced digitalization.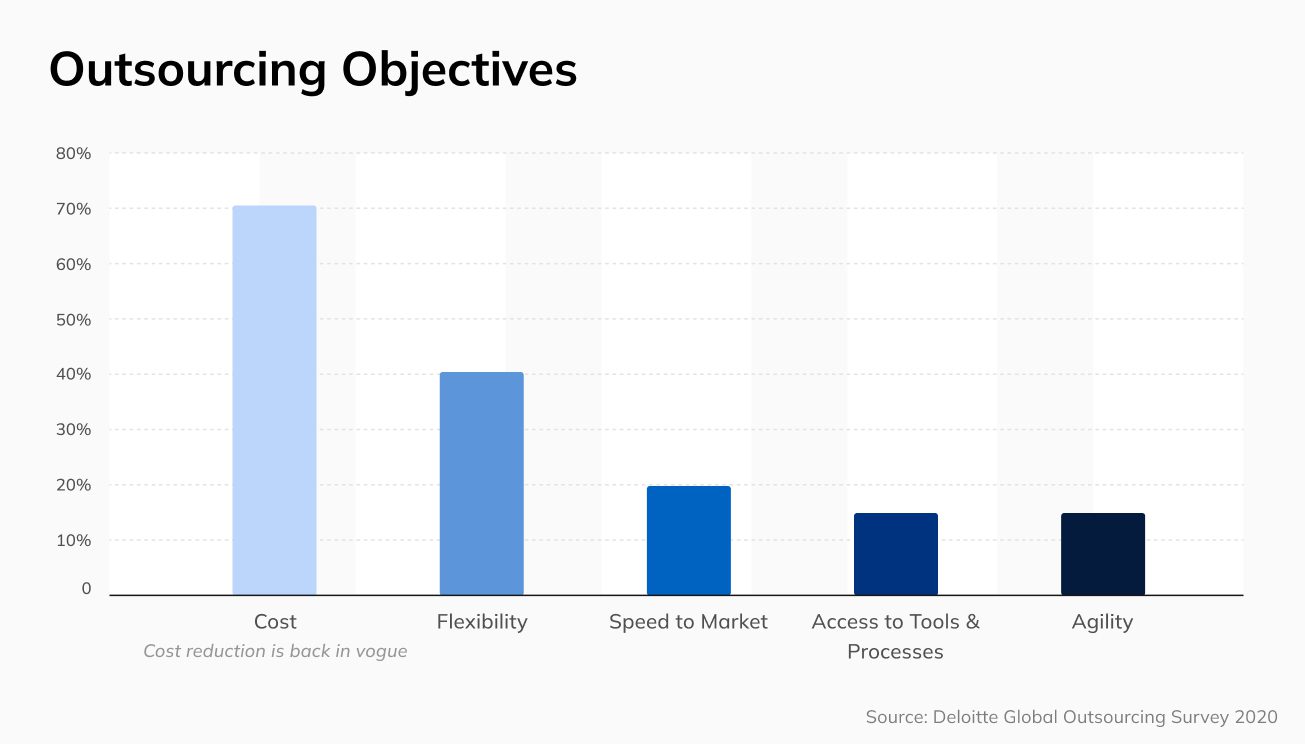 Of course, the pandemic isn't the sole catalyst of the outsourcing hiring boom; the sector began expanding years ago. However, as the crisis has forced companies to adapt to a remote working model, the nature of workplace interactions has been altered dramatically.
Organizations are becoming more comfortable with virtual meetings, signing contracts without a formal handshake, substituting physical training with online sessions, and celebrating triumphant projects via virtual cocktail parties.
Companies are increasingly adapting to a remote work culture that enables them to access global talent from the most cost-effective sectors. This has also allowed businesses to mitigate risk by diversifying their delivery sites.
As a result, in 2022, IT outsourcing reached $ 550 billion worldwide — a record-high. And still, it continues to grow. Let's take a closer look at the pros and cons of product development outsourcing software development to determine whether it's worth the hype.
Outsourcing Software Development: Pros
Cost-efficiency
Outsourcing teams are more cost-effective because they work on an hourly-paid basis. You simply pay for the time they spend working directly on a project. There is also no need to invest in recruitment, office supplies, equipment, or other onboarding activities.
Furthermore, with such a large talent pool offshore developers to choose from, corporations have more flexibility when it comes to outsourcing pros, selecting the degree of competence and price that best meets their needs. According to Accelerance research, outsourcing development to an offshore software development firm often saves corporations between 40% and 75% of total expenditures.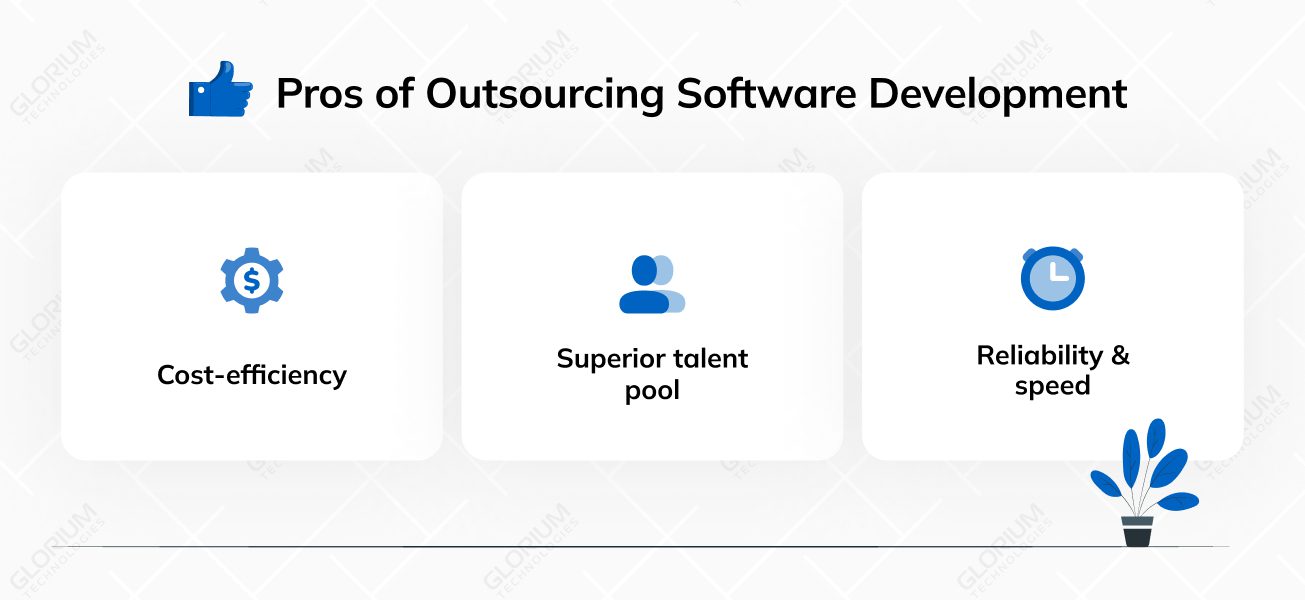 Superior talent pool
As mentioned, when you choose an outsourcing software development or outsourcing provider, you have access to a massive pool of global professionals with varying levels of expertise. This is a massive benefit to the healthcare industry as firms frequently require specific expertise or restricted industry experience, which can be difficult to obtain locally.
Outsourcing is an excellent choice in talent outsourcing for firms seeking to benefit from experts available for hire at a fair price in locations where developer costs are high, such as the United States and Western Europe. Popular regions for outsourced development include Eastern European countries, such as Ukraine. Here, suppliers offer unrivaled expertise and talent at a lower cost than other regions.
Reliability & speed
Most companies desire rapid development in order to get their products to market as soon as possible. Because the onboarding process is so short, outsourced teams can provide high-quality software much faster than in-house teams. In short, software outsourcing really is an excellent method to accelerate the software development industry itself.
Outsourcing Software Development: Cons
Risk of miscommunication
As with everything, working with remote teams comes with several risks of outsourcing. One of which is miscommunication due to time zones and language/cultural difficulties. Furthermore, face-to-face communication with remote developers is not possible.
While this was a serious issue in the past, in the age of remote employment and Zoom, it's no longer such a barrier. Clear communication channels can easily be established, even in the early phase of cooperation.
Limited visibility
Outsourcing implies less project transparency; yet, depending on corporate objectives, this can be both a benefit and a drawback. Outsourcing allows employers to focus more on their business as distractions from IT concerns are limited.
That said, if you value control and a high degree of participation, outsourcing IT department may not be the ideal solution for you.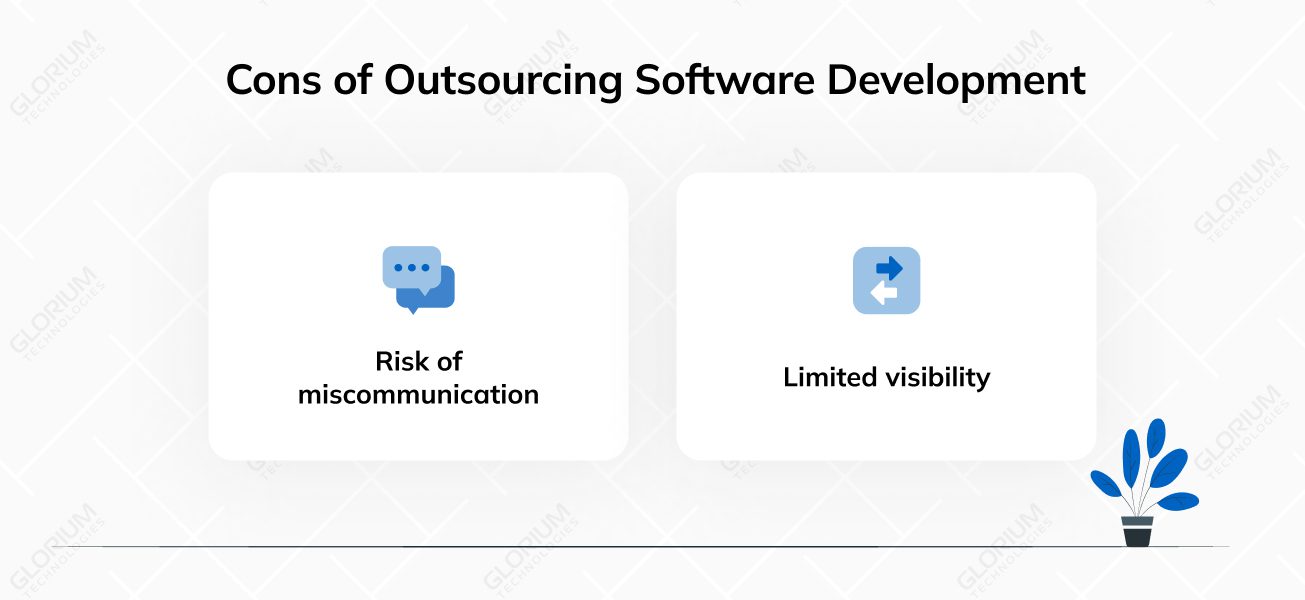 Outsourcing vs Inhouse Team
In-house vs outsourcing can be a strategic choice for your business. So before making this choice, you need to consider all the points that can influence it.
Cost considerations
For startups with limited budgets, cost is a crucial factor. Establishing an in-house team entails various expenses, including salaries, benefits, office space, equipment, and training. These costs can quickly add up and strain your financial resources, potentially slowing down your growth.
On the other hand, outsourcing allows you to access a pool of talented professionals without the overhead costs. With outsourcing, you can often negotiate flexible payment structures that align with your budget, making it a cost-effective option for startups.
Expertise and skillset
Building an in-house team provides you with control over your workforce and the ability to tailor it to your specific needs. You can hire professionals who align with your startup's vision and culture, ensuring they fit your project perfectly.
However, searching and retaining top talent may be challenging and time-consuming. It might take months to build a skilled team, delaying your project's timeline. Outsourcing, on the other hand, allows you to tap into a ready-made talent pool, often with diverse expertise, and start your project promptly.
Time to market
Swiftly getting your product to market is critical for success. In-house teams may require time to be recruited, trained, and integrated into your startup's workflow. This delay can hinder your ability to react swiftly to market demands and maintain a competitive edge of the competition.
Outsourcing enables startups to hit the ground running. Experienced software development firms can assemble dedicated teams already well-versed in your project's technology stack and development methodologies. This agility can help you bring your product to market faster, allowing you to seize opportunities as they arise.
Scalability
Startups often face uncertain growth trajectories. While an in-house team can be scaled up or down to meet your needs, doing so can be complex and costly. Hiring additional employees or laying off staff can disrupt your organization and affect team morale.
Outsourcing offers unparalleled scalability. As your project evolves, you can easily adjust the composition and number of your dedicated development team without the hassle of recruitment and training. This flexibility allows startups to adapt swiftly to changing market conditions.

Well-written privacy and security policies
Regular training and/or certification of employees
Rigorous security assessments of third-party partners and vendors
On-site incident plans

Anna Vozna

Account Executive, Glorium Technologies
Focus on core competencies
Startups often have limited resources, and spreading them too thin can hinder progress. Outsourcing gives the opportunity to delegate non-core functions like software development, so you can distribute your resources more effectively to areas that directly impact your startup's growth, such as marketing, sales, and product innovation.
One more option is choosing an in house team and staff augmentation variant. In project outsourcing, the outsourcing company takes on project management responsibilities and is responsible for delivering results. Conversely, staff augmentation necessitates in-house project management, squarely placing the accountability for results on your company.
What is Outstaffing and How Does It Work?
Outstaffing is a form of outsourcing that involves employing professionals from outside a business for specific tasks or short-term projects. Outstaffing assumes that you already have an in-house IT department or engineers with whom you have long-term contracts. Essentially, an outstaffing company is an extension of your team for a limited period of time.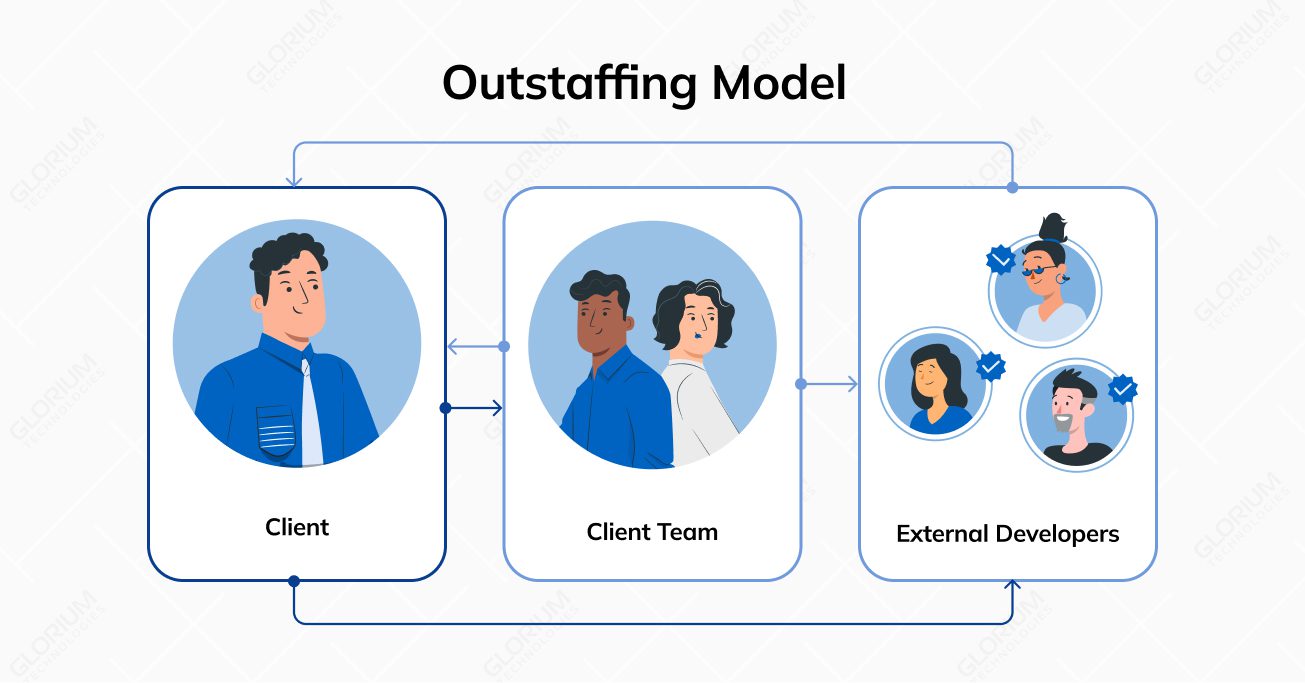 Outstaffing most often relates to outsourcing refers to hiring professionals that already work in other companies. The client hires these specialists for a particular project, but the outstaffed workers remain in their primary firm. Therefore, the primary employer handles payroll, HR activities, etc., while the outstaffed team continues to work on projects for other companies. The client company that hires the team is responsible for managing the project, directing it, and paying for the completed work.
Outstaffing is a simple process in which you recruit skilled personnel who also continue to work at their usual employment. The only distinction is that, for the length of the full project scope, you are their employer. These specialists are often developers, designers, business analysts, and others who perform the tasks they have been delegated.
Outstaffing allows employers to fill gaps in projects without devoting copious amounts of time and resources to the hiring process. Think of an outstaffing team in companies as an extension of an existing team. In essence, it's a fantastic alternative for job management when specific experience and skills are required.
Outstaffing is beneficial for any company that wishes to expand the capacity of its software development team to accelerate the software development process itself. For short-term projects and tasks, the outstaffing model provides many benefits.
Outstaffing Software Development: Pros
Hiring flexibility
This employment model is probably one of the most flexible hiring models available. You can easily adjust schedules, the level of involvement, set directions, and delegate specific tasks and projects. At the same time, you don't have to manage payroll, HR, or other hurdles related to in-house team maintenance — the vendor will handle it for you.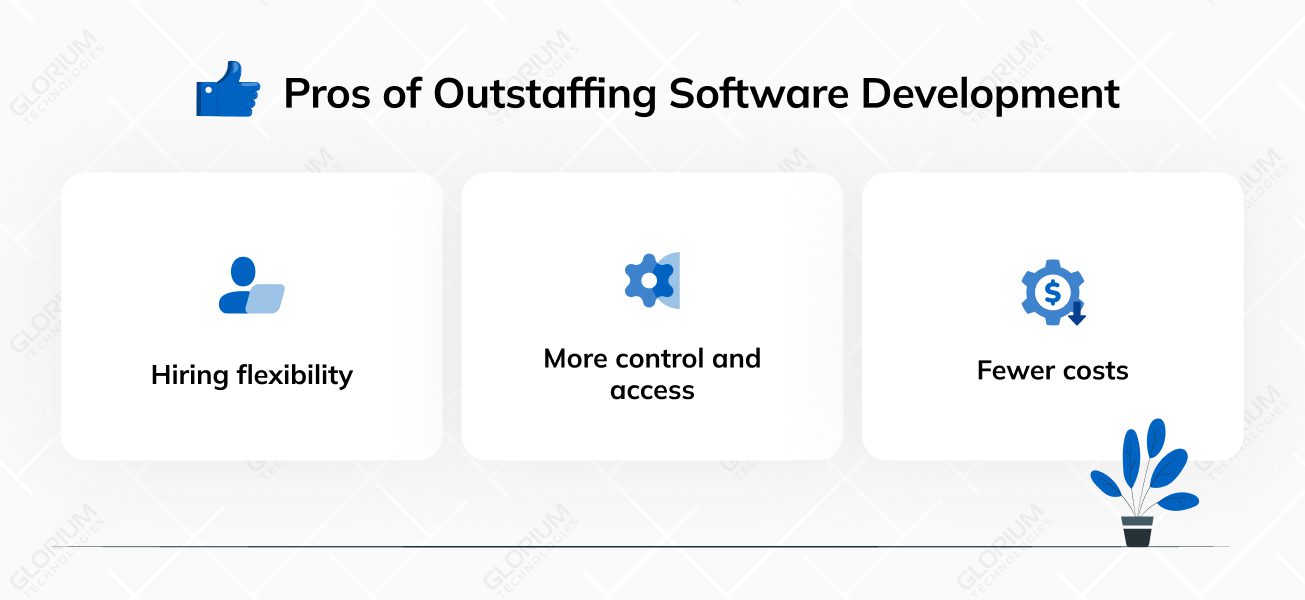 More control and access
Unlike outsourcing (where the hired outstaff or remote development team often holds the keys to the process), outstaffing enables an organization to take over project management duties. This provides a company with more control over the daily operations of the outstaffed software development team, allowing them to manage the process more accurately.
When choosing between an outsourcing agency and outstaffing, the decision often comes down to whether or not a business owner or client wants to manage a project on their own.
Boost your team's capabilities with outstaffing team
Let's discuss in details
Fewer costs
Because the client does so much of the hard lifting in regard to management, the hourly fee of all the job duties of outstaffed team members is generally lower. This eliminates the hours spent on project management that vendors typically tack on to their estimates. As long as you're willing to put in the extra effort, the savings can be substantial.
Outstaffing Software Development: Cons
Possible communication issues
Communication channels between dedicated teams are critical as vendor staff frequently operate remotely, or at least separately, from the rest of the team. For this reason, it's vital that your outstaffed team has a firm grasp of all project management software and that their reporting is transparent across corporate team members.
Setting clear goals and interacting with your out-staffed remote team members on a daily basis is equally essential; just as it is with your corporate-based IT staff.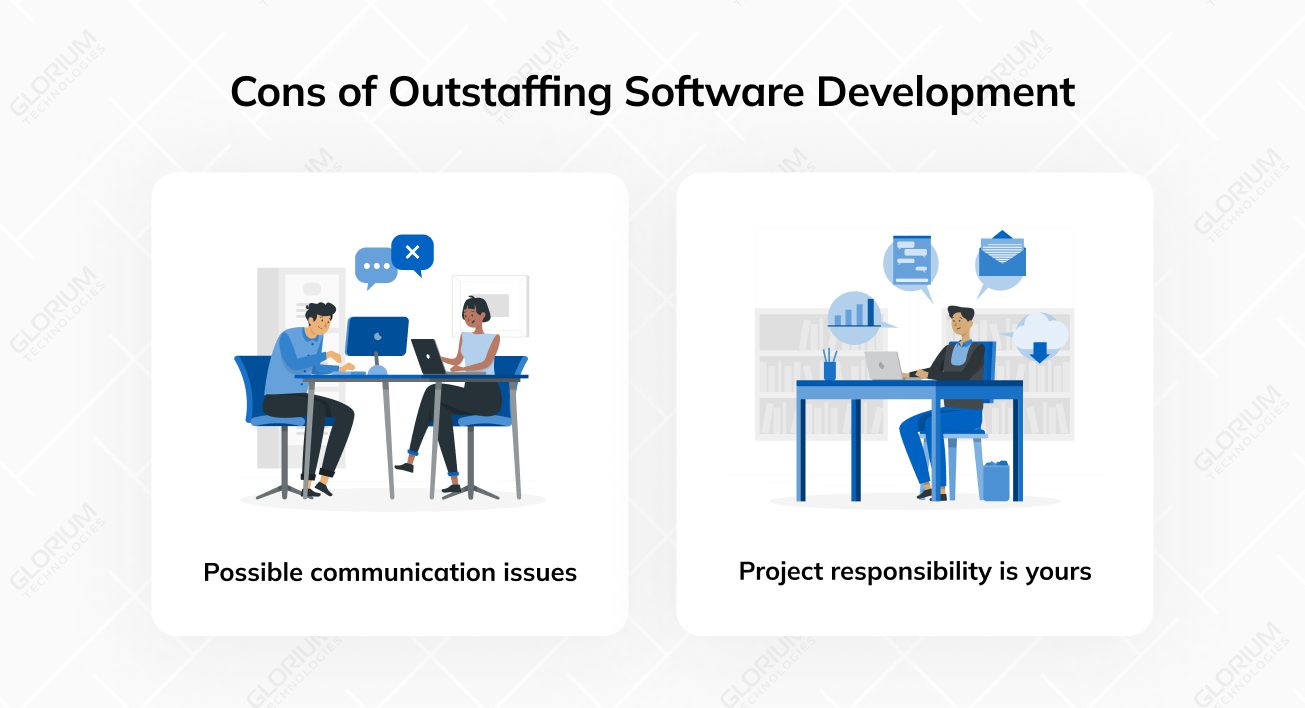 Project responsibility is yours
In addition to control over projects and management, there is also plenty of responsibility. With outstaffing, your temporary team members are not accountable for the delivery of a product as their primary task is project execution under a project manager or client's supervision.
Should a project fail or something goes wrong, the responsibility falls on the shoulders of the client or service provider.
Outsourcing vs Outstaffing: Which is Better?
In short, outsourcing is better for those who don't wish to create an entire IT department and who don't want to be too involved in the overall project development process. Classic outsourcing enables you to assemble a complete, professional, and experienced team to entrust to a specific project.
Outsourcing covers a far broader range of services and needs that require long-term, strategic planning. Outsourcing doesn't require you to have an in-house IT department as the firm contractor company you outsource from will bring along its own professionals for this purpose. Although the outsourcing model requires more time to set up initially, it's still the most cost-effective model in the long run.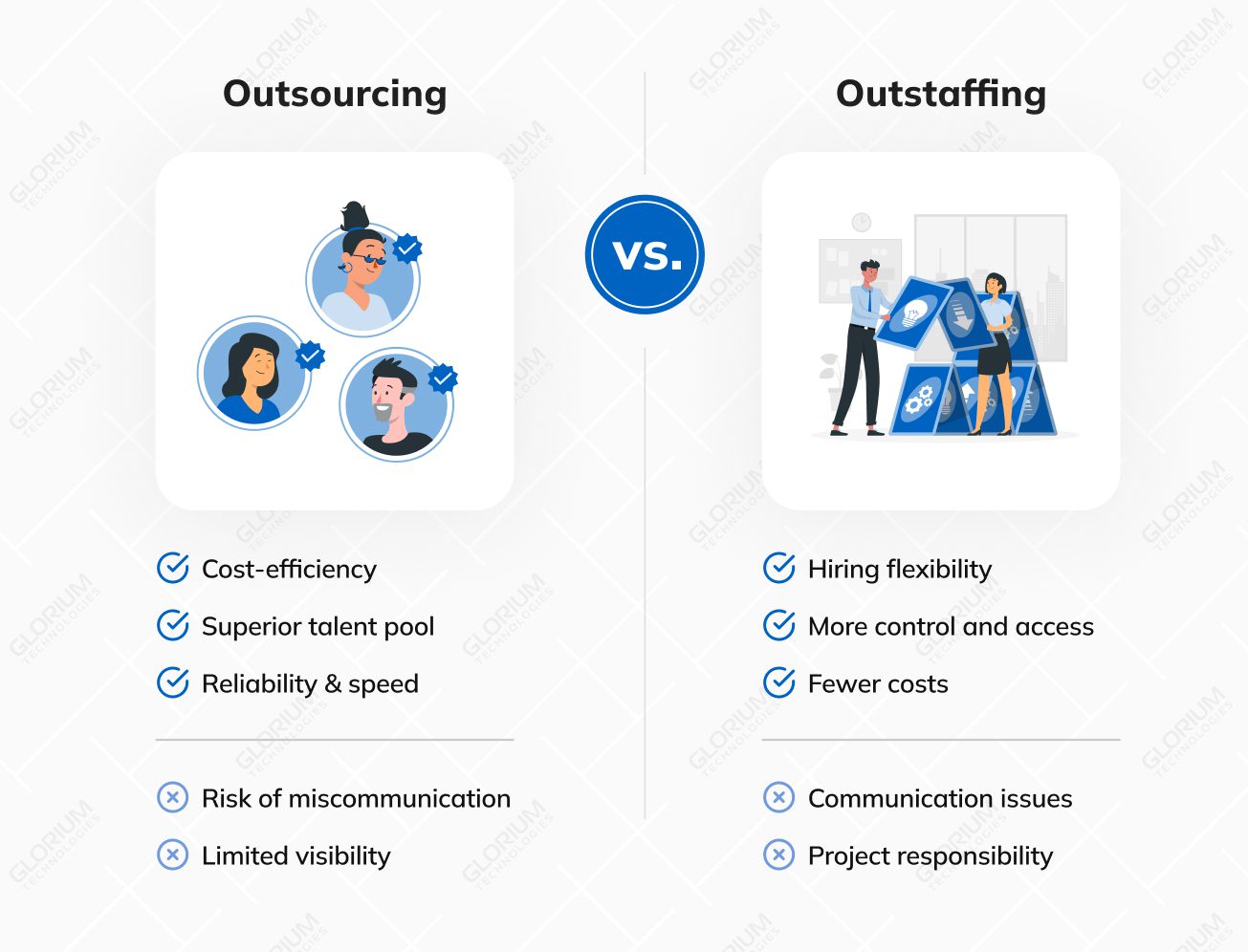 If your company already has a solid tech department in place but still needs assistance with a few things (without turning to in-house staff expansion), then outstaffing services is the better option. Outstaffing allows you to hire professionals as required to complete a task. It also affords you more control over the entire process from start to finish. In short, depending on the goals that a corporation wishes to pursue, both models can be effective.
Outsourcing vs Outstaffing Cost
As previously mentioned, outsourcing tends to be a pricier choice for several reasons. Firstly, it comes with additional expenses, which include:
Developer's salary
Product delivery risks
Overheads
Vendor fee
Additionally, one must consider expenditures related to non-technical positions (project managers, business analysts, etc.). On the other hand, outstaffing streamlines costs, reducing them to two primary components: the vendor fee and the developer's salary.
In contrast, India provides developers for outstaffing and outsourcing at more cost-effective rates, but managing cultural differences becomes a significant consideration. In addition, the quality (as many cases shows) is unreliable.
Western firms often choose to outstaff and outsource from Eastern European nations. Eastern European developers are both budget-friendly and seasoned, renowned for their high-quality output. Furthermore, they possess proficiency in English and are at ease collaborating.
Tips to Choose Outsourcing and Outstaff Companies
Define your goals and needs
Before you start evaluating outsourcing or outstaffing providers, it's crucial to have a clear understanding of your goals and needs. Think about the specific tasks or projects you want to delegate. Determine whether you need a team of experts for a long-term project (outstaffing) or if you're looking for a third-party company to handle a specific task (outsourcing). Having a well-defined set of requirements will guide you in selecting the most suitable service provider.
Assess their expertise and experience
One of the most critical factors in choosing an outsourcing or outstaffing company is their expertise and experience in your industry or niche. Search for those companies, who have a proven track record of delivering similar projects or services. Ask for case studies, client testimonials, and references to validate their expertise. An experienced provider is more likely to understand your industry's nuances and deliver high-quality results.
Consider location and time zone
The location of your outsourcing or outstaffing partner can significantly impact communication and project management. Evaluate the geographical location and time zone of the service provider to ensure alignment with your business operations. Overlapping working hours can facilitate real-time communication and collaboration, making it easier to manage your remote team effectively.
Evaluate communication and language skills
Effective communication is vital for successful collaboration with an outsourcing or outstaffing company. Assess the language proficiency and communication skills of the team members you will be working with. Language barriers can lead to misunderstandings and hinder project progress. Choose a provider with teams that can communicate fluently in your preferred language and understand your business requirements.
Analyze technological capabilities
In today's tech-driven world, having the right tools and technology stack is essential for seamless collaboration and project management. Ensure that the outsourcing or outstaffing company you choose has access to the latest technologies and software relevant to your project. This will not only improve efficiency but also ensure the security and scalability of your project.
Review data security and compliance
Data security is a paramount concern when outsourcing or outstaffing, especially if you share sensitive information. Inquire about the provider's data security measures, protocols, and compliance certifications, such as ISO 27001 or GDPR compliance. A trustworthy provider should have robust security practices to protect data and ensure regulatory compliance.
Assess pricing and contracts
Finally, carefully review the pricing structure and contract terms offered by the outsourcing or outstaffing company. Compare pricing models, such as hourly rates, fixed project fees, or retainer contracts, to find the most cost-effective option for your needs. Pay attention to contract terms, including service level agreements (SLAs), termination clauses, and intellectual property rights. Clarity on pricing and contractual obligations is essential to prevent misunderstandings down the road.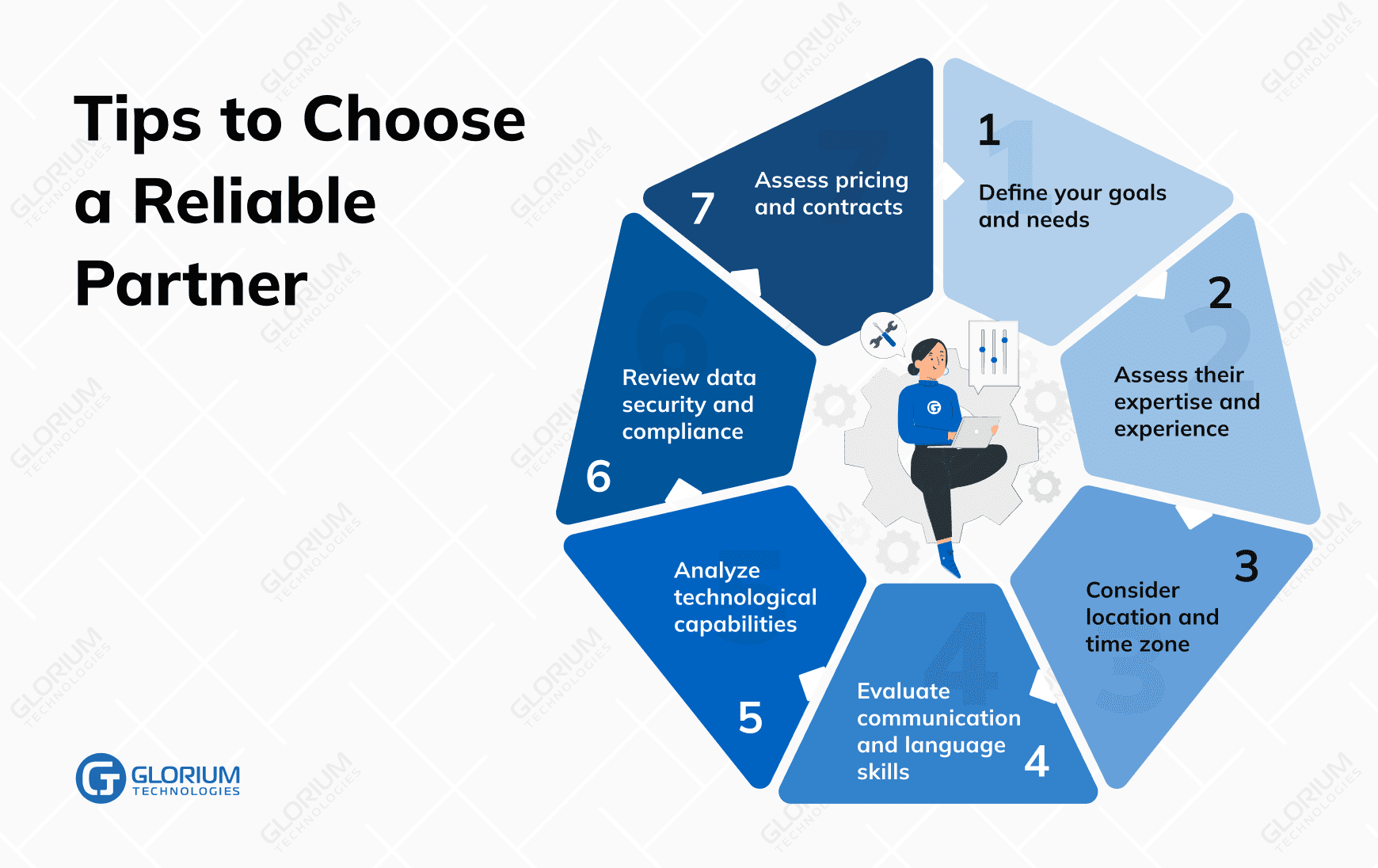 Summary
Choosing the right outsourcing or outstaffing company is a strategic choice that can significantly impact your business's success. By defining your goals, assessing expertise, considering location and communication skills, evaluating technological capabilities, prioritizing data security, and reviewing pricing and contracts, you need to make a well-informed choice that aligns with your needs and objectives.
Remember that building a solid and productive partnership with your outsourcing or outstaffing provider requires open and transparent communication, ongoing collaboration, and a clear understanding of roles and responsibilities. With a reliable partner, you can discover new opportunities, scale your operations, and achieve greater efficiency in your business endeavors.
Outsourcing healthcare software projects to Ukrainian teams is almost twice as affordable as just hiring employees from a US-based team. With 13 years of experience building tech solutions, Glorium helps businesses in the healthcare and real estate sectors hit the market running with excellent service and customized solutions. By nurturing your ideas from concept to launch, our dedicated team of skilled professionals is guaranteed to bring your plans to life.
Learn more about our software and application development solutions today.