Did you know that ASP.NET is the industry favorite among .NET technologies? According to Statista, its market share exceeds 39%, while its closest competitor, .NET Framework, lags by as much as 20%. This excellent figure demonstrates the demand for this development language in the IT sphere.
Statista's analysts have published an interesting study stating that ASP.NET is number 8 in the top 10 frameworks for web development. Today we will tell you about the platform's capabilities and how to hire ASP.NETdevelopers.
ASP.NET: Just About the Complex
This technology is part of the .NET platform and acts as an independent framework based on open source code.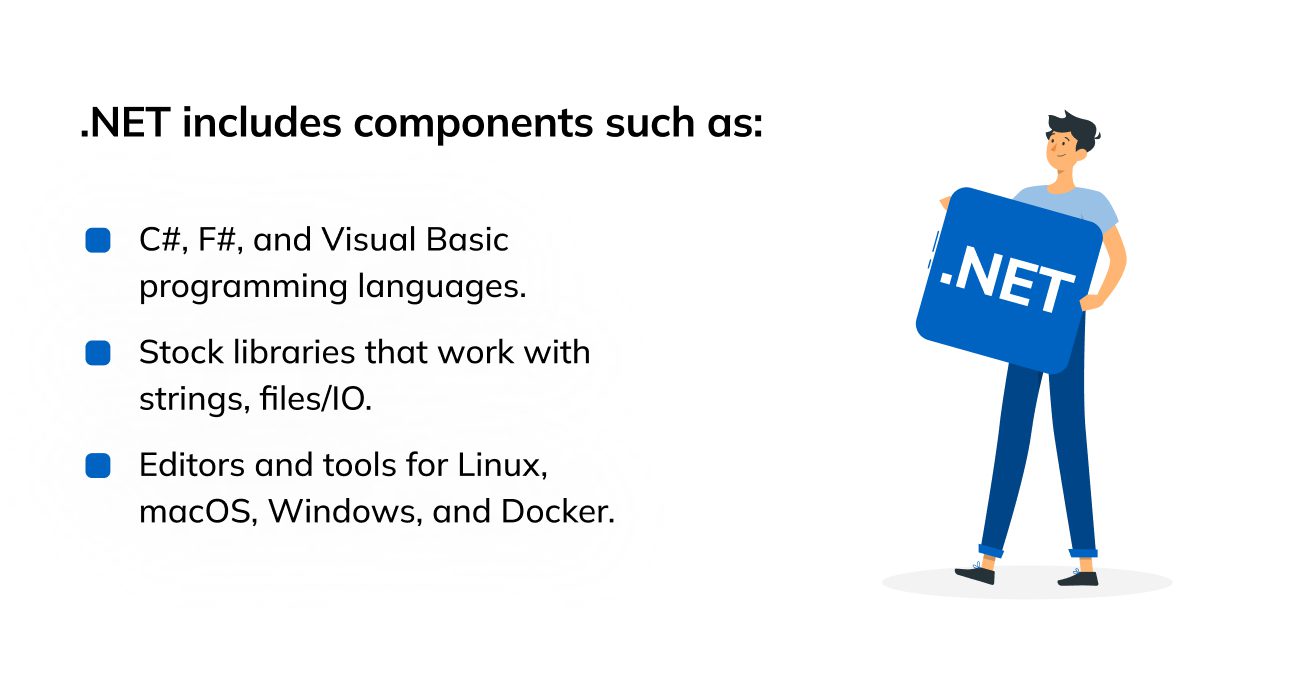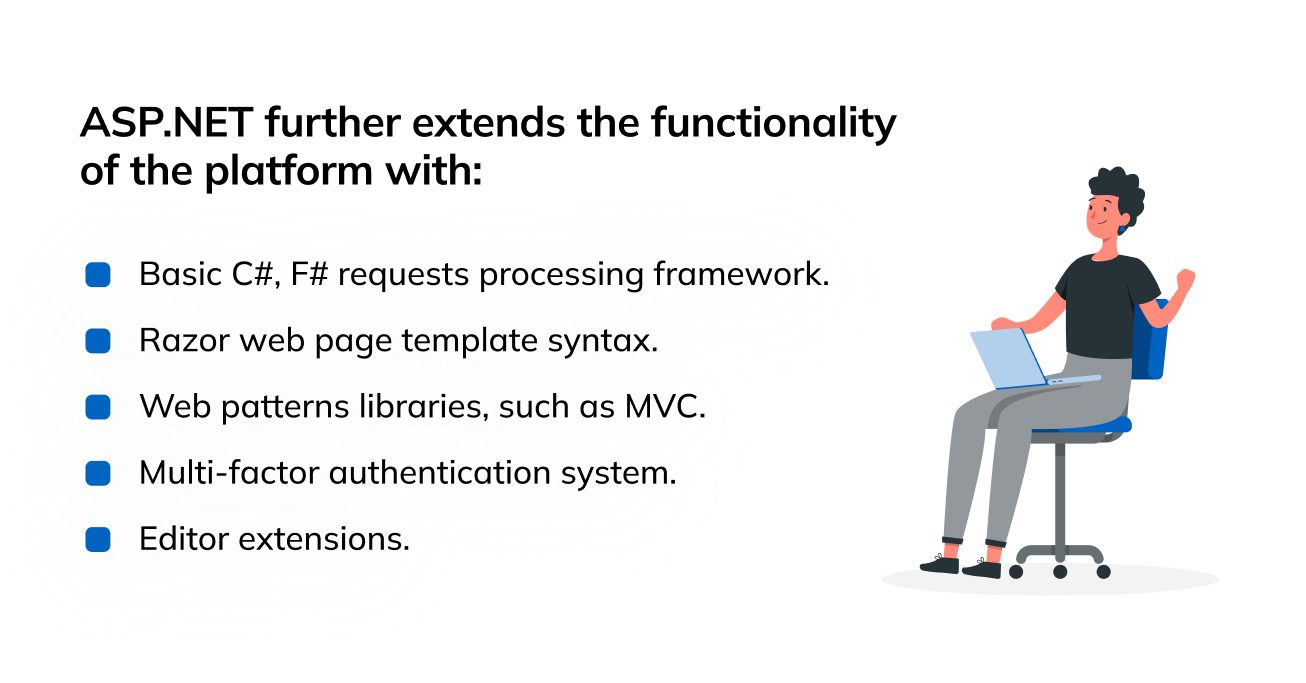 ASP.NET (Active Server Pages) is often used to develop back-end components for web solutions. C#, F#, Visual Basic syntax allows you to write the business logic of a digital product fully and optimize functionality through ready-made or self-written packages and libraries. Thus, ASP.NET opens up almost unlimited possibilities for creating IT solutions.
Do you want to develop a site with dynamic pages (e.g., SPA)? Hire .NET developer and delegate the task of complex web resource creation with HTML, JavaScript, and ASP.NET elements.
For what purposes the ASP.NET platform is suitable
Today's digital solution development industry is so dynamic and multifaceted that even the best tool becomes useless if it cannot cover 90% of production needs.
Fortunately, ASP.NET is among those platforms that are used everywhere. A key advantage of this programming language is its adaptability. Want to create a cross-platform digital solution? This framework can easily cope with this task.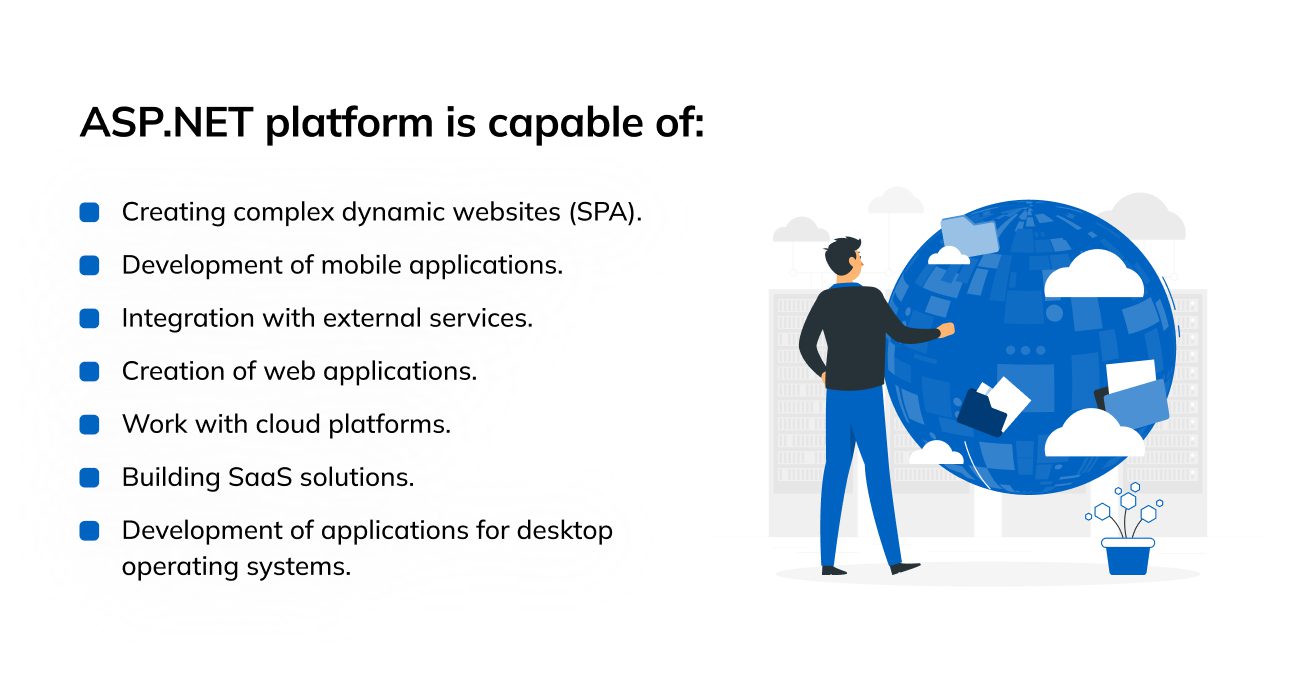 If you need a flexible and scalable solution – ASP.NET is your choice. Hire dedicated .NET developers and entrust them to develop the right digital product for your business.
Features of the Platform: Pros and Cons of ASP.NET
Before you hire ASP.NET developers, you need to understand whether the technology suits your project. To do this, you need to compare its strengths and weaknesses and the goals and specifics of the desired product with the platform's capabilities.
Advantages
Despite the very venerable age of the platform and even four versions of the framework, developers and the community are doing everything possible to improve it.
Top 8 strong qualities of ASP.NET: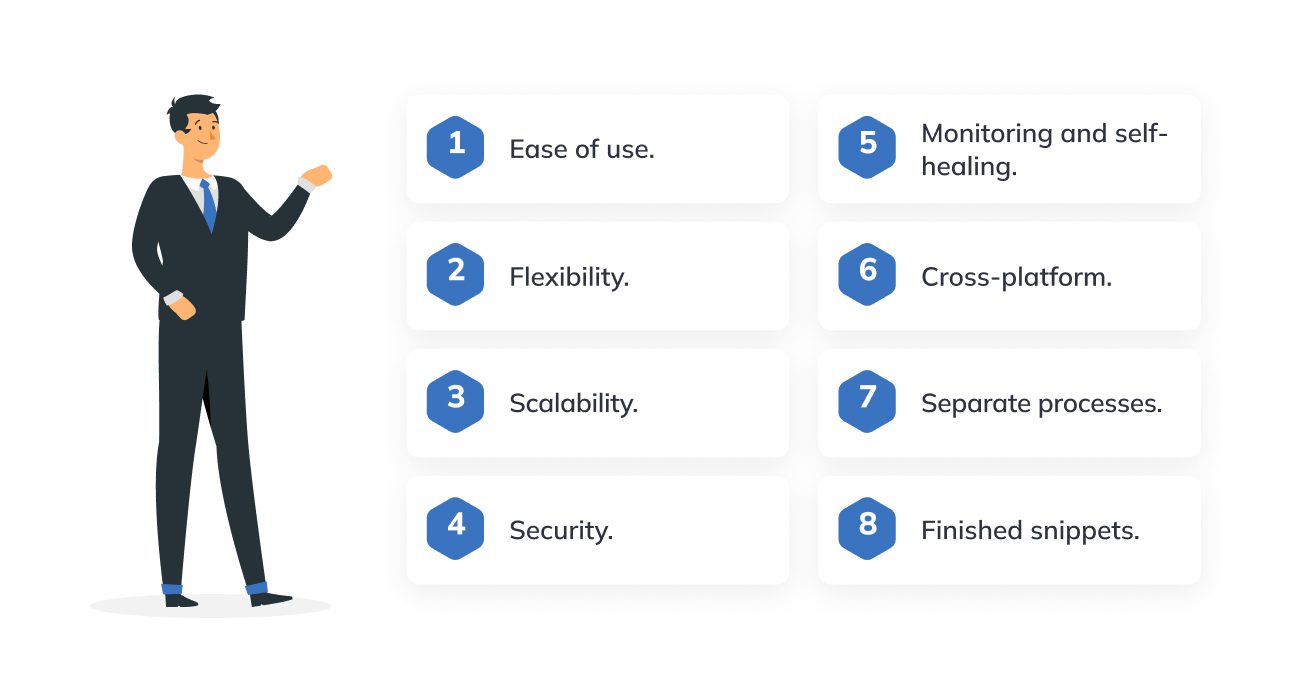 Ease of use. A set of tools allows you to scan the code and remove unnecessary fragments from it automatically.
Flexibility. Developers are not tied to a single language because the platform allows implementing different syntax for solving tasks in a single editor.
Scalability. The architecture of the framework allows for the implementation of self-written or finished components in the body of the program, as well as their replacement by improved analogs.
Security. In desktop apps, you can customize configurations and implement stock algorithms for authentication, certifications, etc..
Monitoring and self-healing. The platform monitors system health and automatically responds to all events. For example, it restarts itself in case of a cyclic memory spike.
Cross-platform. Create an app base and easily adapt it to the right target system. For example, use mobile frameworks to run it on Android and IOS.
Separate processes. Input, output, and processing can be split into separate processes using the Model-View-Controller architecture and monitoring the status of all components.
Finished snippets. It is possible to use code review during development. During testing and deployment, you can apply caching services, object and link binding, et.
Disadvantages
Despite the platform's obvious trump cards, it is not flawless, just like everything else in the world. Here are the 4 main shortcomings of the technology.
Disadvantages of ASP.NET
Cost. Despite the framework's Open Source base, you will need licensing for SQL, Visual Studio, and other tools, which increases development costs.
Migration. Migrating apps between servers is very problematic. The reason lies in the IIS Metabase, which is difficult to edit.
Core. Despite the fourth generation of the framework, its base is still not polished. Some developers have problems with data access and code functionality.
Poor support. Now there is no single comprehensive database with information on the framework. It causes problems in some cases when developing MVC apps.
If you are still convinced that you need to hire ASP.NET developers, we suggest you read our step-by-step guide on finding and hiring industry experts.
Hire .NET Developer: Where to Look, How to Choose, What Services to Order, How Much to Pay
In the age of global digitization and the Internet, the problem of finding qualified personnel recedes into the background. There are various platforms for recruiting, where hundreds of resumes of industry experts are presented. You can check how their skills match the demands by looking at portfolios or feedback from past clients. So, where do you start when hiring experts?
Recruiting: local or outsourcing?
First, determine the scale of the future project and its specifics. Suppose it is a one-time development with support. In that case, you can use the outsourcing model, when a team of professionals remotely creates a digital product and allocates several specialists to support it. Some outsourcing teams may also work permanently with several customers.
If your project requires constant upgrades and timely scaling, it is better to hire a staff of developers and get them working as a team.
Outsourcing: offshoring, onshoring, or nearshoring?
The cost of hiring a dedicated .NET developer depends primarily on the country where the expert works. For example, the price of hiring in the USA is higher than in Eastern Europe, India, or China. Hiring specialists from Europe or Asia using the offshoring model will be cheaper if your company is based in the USA or Canada.
For Western Europe, it is cheaper to hire developers from Ukraine, Poland, India, or China on the nearshoring and offshoring models.
But do not forget the different time zones, language barriers, and the mentality of the representatives of different countries. If you are ready to compromise – offshoring is the best cooperation model. If you are not ready – your choice is either nearshoring or onshoring.
What to look for when choosing a development team?
In the digital age, you do not need test tasks, surveys, or agencies to determine the quality of a performer's work. All the information is in the public domain and allows you to easily:
Explore the company's web resources.
View the portfolio of the performer.
Find feedback about the experience of working with the team.
Find ready projects on the web.
Organize an online meeting with the company's representatives.
Each of the above actions will give you some information about the potential contractor. By analyzing the work of several teams, you can choose the best contractor for your project.
What services are there when hiring ASP.NET developers?
As a rule, each team offers its own services to customers. Often, contractors perform either certain tasks or develop an entire IT solution. In any case, you should determine the scope of work in advance and agree on it with the developer.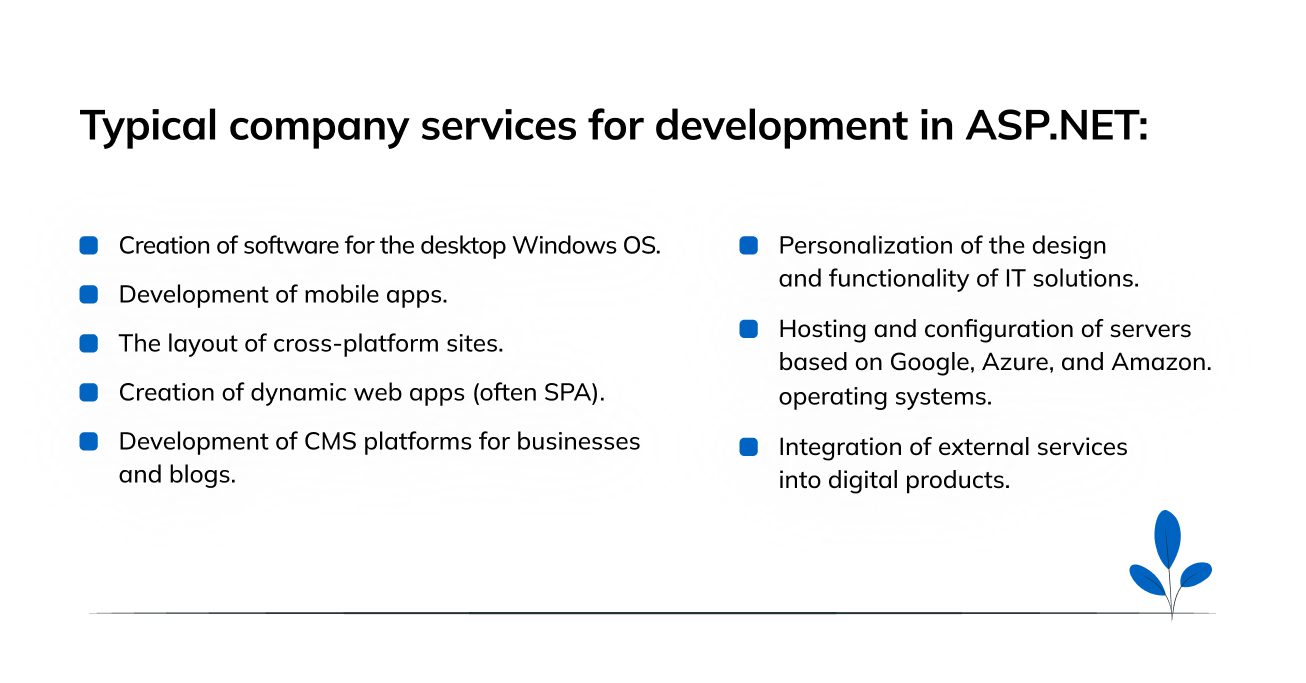 This is not a complete list, but fairly accurately reflects the actual capabilities of the average company to develop IT solutions based on ASP.NET.
How much does hiring .NET dot net developers in different countries cost?
We have analyzed the IT services market and made a comparative table of the cost of hiring ASP.NET developers in the USA, Ukraine, Poland, China, and India. The research has been conducted using such sources as Jinni, Statista, GlassDoor, SalaryBand, PayScale. The material depicts the average hourly rate of a professional, depending on their skill level (Junior, Middle, or Senior) and region.
| | | | | | |
| --- | --- | --- | --- | --- | --- |
| Hourly Pay | USA | Ukraine | Poland | India | China |
| Junior | $21 | $11 | $10 | $2 | $7 |
| Middle | $40 | $23 | $15 | $4 | $21 |
| Senior | $67 | $34 | $18 | $7 | $43 |
According to this study, we can conclude that such a large difference in development costs is due to several factors:
The number of ASP.NET specialists.
The skill levels of the implementers.
The quality of IT solutions.
The internal economic situation in the region.
Demand for services.
If we were to compile a top in price/quality ratio, it would look like this:
The USA.
Ukraine.
Poland.
China.
India.
Of course, you can include representatives from Israel, Germany, France, Great Britain, Japan, Canada, and Georgia. Still, all of the above regions are not very different from the United States in terms of cost and quality of services. That is why we focus your attention on these five key regions, which create competition throughout the IT market.
Skim through the best ASP.NET development companies.
How to prepare for hiring ASP.NET Developers?
Suppose you have already decided to start ASP.NET-based digital project development. In that case, you must follow five key steps before you hire .NET developer. This preparation is not mandatory, but it will help you determine costs, team composition and even make a rough estimate of profitability.
Step 1: Define the business logic of the IT solution
First, think through the digital solution's logic, the app's structure, and the methods of user interaction with your services. For example, if this is the area of e-commerce, then the functionality should include modules such as:
Basket.
Search.
Filters.
Personal account.
Chat.
Payment services.
This is a basic list of features for digital commerce; adjust it to your needs. For example, telemedicine requires universal databases, interoperable interfaces, and differentiation of access rights for all categories of users: doctors, patients, medical staff, administrators, accountants, and pharmacists. Only a correctly defined digital solution structure will help you choose the optimal contractor for the project.
Step 2: Risk assessment
Competition in the market for digital resources is very intense right now. There is no industry where a particular app could "blow out" without a thorough elaboration and competitive solutions. You have to think through all the nuances and choose the best technical methods to improve the consumer's UX. And even then, the app is not guaranteed to succeed.
Analyze the industry and determine if you can compete with other entrepreneurs without draining your budget on aggressive marketing.
Step 3: Estimate your budget
The cost of developing a full digital solution sometimes runs huge amounts. Complex ERP solutions, for example, cost entrepreneurs from $200,000 in base and at least that much for scaling, optimization, and all sorts of integrations. That is why it is so important to consider your financial capabilities when developing a project and hiring ASP.NET developers, especially for owners of startups, small and medium-sized businesses.
Our recommendation is to focus on the MVP release first. Create a roadmap and plan a step-by-step scaling. This will help you properly allocate development, marketing, and optimization resources.
Step 4: Choose a region to hire dedicated .NET developers
The cost of hiring .NET developers depends directly on the region where the specialist works. The highest hourly rates are in the USA, the lowest in India and China. The optimal choice – experts from Poland and Ukraine who strike an ideal balance between price and quality.
Step 5: Searching for a performer
First, study the proposals on the labor exchange in the target region. It often happens that a specialist just got a profile education and became registered at the employment center. In any case, their skills will be useful in their development, where they will gain experience and be able to perform their duties more effectively.
The second option is specialized platforms for recruiting. Resource agents will help you find the best expert for your project profile for a small fee.
The third and best option – hire ASP.NET developers from specialized IT companies. Key pros are:
You can view the portfolio.
Reviews about the quality of the work are available to you.
The relatively low final cost of the project.
Dedicated teams are good because they are fully immersed in the development and provide the highest possible quality of IT solutions. If necessary, specialists can be hired for the long term to optimize, scale, and support the project.
To Summarize
The modern IT industry offers many options on how and where to hire ASP.NET developers. We have analyzed many such resources, and we can confidently answer that the best price/quality ratio is in Ukraine, Poland, and the USA. If you need ASP.NET profile experts – we will provide them!
Glorium Technologies is a flagship company in the IT industry. Our specialists have completed more than 100 projects for global brands and are working on more. The quality of the company's services is confirmed by the feedback of satisfied clients and a bright portfolio describing the process of working on the projects in detail.
Want to be sure of our expertise? Contact the company's manager and describe your project!
FAQ