Now is the time when digital technology and computing power have been transformed into entirely new resources. The era of local servers is over, and the cloud business intelligence industry has replaced it.
Cloud technologies and products are rapidly evolving.
This market development is due to the increasing popularity of SaaS, BPaas, Paas, IaaS, and CBI resources. With their help, it is not just possible to allocate resources and organize workflow, but also to maximize the benefits of cloud computing.
This is a new milestone in the development of business regardless of its size. Any entrepreneur can easily access terabytes of information, conduct research, and even develop a scaling strategy based on data processing.
True Value of Analytics
Nowadays, information in business is not just the knowledge of each particular industry expert. Data is time, influence, money, brand popularity, advertising, and simply a means for running a company.
Information in today's world is both the key to business success and, in the case of its leakage, the tombstone of a company. Skillful manipulation of massive amounts of data is a key method of profiting from any process in business.
Statistical samples, data about customers, competitors, and market conditions – all these are powerful tools in capable hands. There are legends that in the past, analytics was performed by strict guys in thick glasses and business suits, and their reports were understandable only to them.
Now the situation has changed dramatically because modern CBI platforms have replaced the old methods of analyzing information. Currently, the data is not limited by sources, the volume and productivity are at the highest level, and the reports are understandable even to a schoolboy.
What is Cloud BI?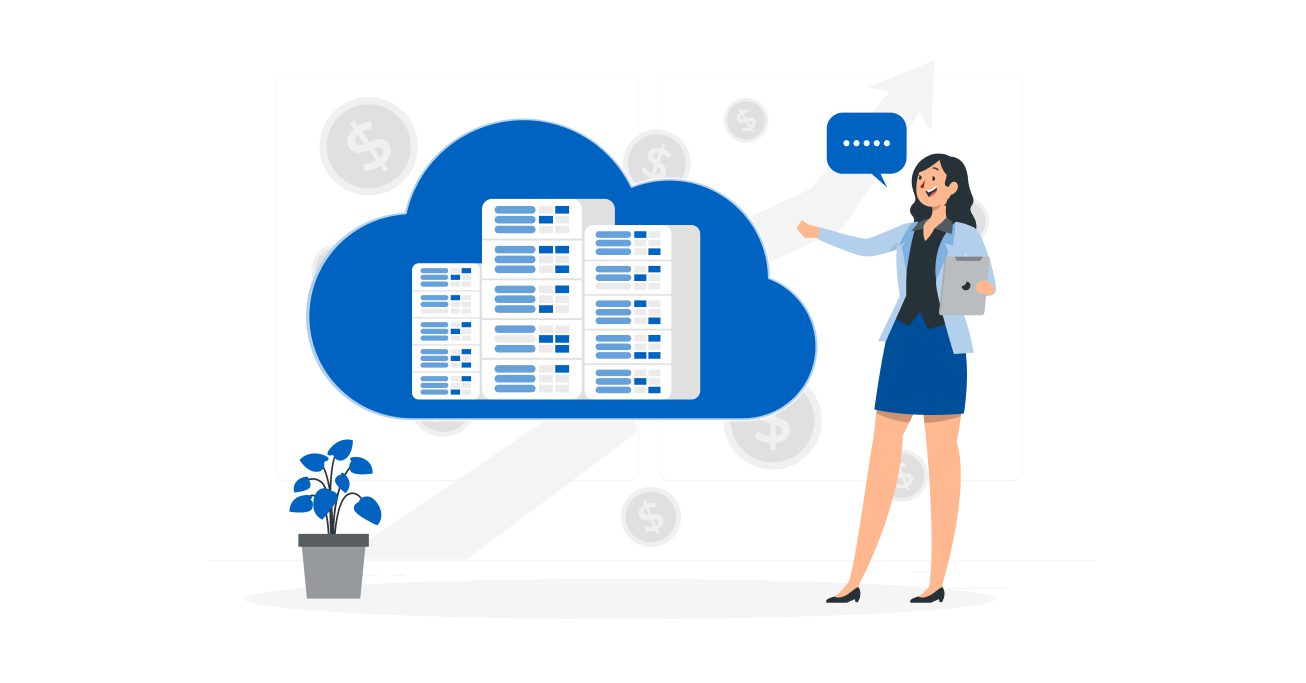 Cloud business intelligence is the process of transforming information arrays, samples, and statistical data into valuable information for the business.
Based on the data obtained, analysts and marketers can develop the most effective business development strategies, scaling, and methods of working with the potential target audience.
In fact, all cloud analytics, as well as business tools for cloud analysis of information, belong to the family of SaaS products, although they are allocated in a separate category of digital solutions.
Cloud BI capabilities
With cloud BI platforms, you can literally transform a business, scale it, or set up workflows. Although the main purpose of CBI is analytics, the tools in this category can perform a number of other tasks as well.
Depending on your business needs, you can use CBI resources to solve any analytical task for your enterprise.
What Is the Benefit of Using Cloud BI?
Imagine a situation where your business processes start to perform worse, and these changes turn into negative profits for the entire enterprise. To remedy the case, you need to quickly analyze your business, the market as a whole, and the needs of your target audience.
You can order an external audit, lose your budget on commission, lose a week of work and get a highly questionable result. Or you can do something much easier: use CBI tools and find the actual problem of your business in a matter of hours.
The whole point of using CBI comes down to a trivial reduction in the cost of optimization, speeding up data analysis, and getting relevant results in a short time.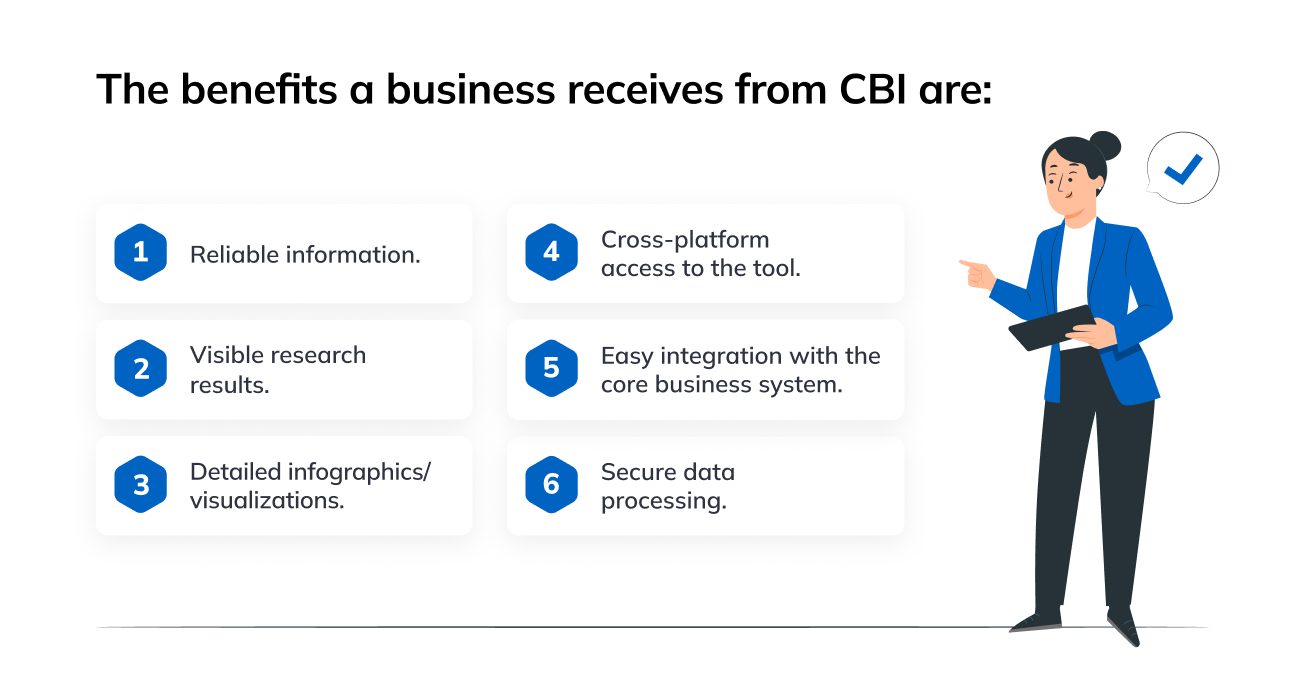 SaaS CBI solutions – the best helper for marketers, analysts, and business owners.
Cloud Business Intelligence Solutions
The success of your business directly depends on the awareness of the realities of the market by marketers, analysts, managers, logistics partners, etc. And it also depends on your internal organization to monitor resources, budget, sales dynamics, etc.
All this information can be gathered from different external and internal sources, manually structured, analyzed, and drawn conclusions based on the results. Or you can connect CBI solutions and process tons of information automatically.
Since there are so many CBI services, choosing just one for a business is a daunting task. We have analyzed several platforms and want to tell you briefly about their features.
Examples of CBI tools
SAS is perhaps one of the brightest representatives of CBI systems. The product's functionality allows you to track the dynamics of business processes in real-time to analyze data arrays. Works with most business industries.
Adaptive Insights – SaaS solution for 100% of analytical tasks of a small, medium, and large businesses. Works with all types of information and provides visualized reports with relevant data.
Power BI is a powerful tool for visualizing internal and external information analytics. Easily integrates into a company's system and offers data analysis, modeling, and forecasting services.
BIME – a lightweight but flexible tool based on BigQuery from Google. Offers users extensive customization of data analysis algorithms, connection to remote data sources, and detailed reporting with visualization.
GoodData is a good analytical tool that not only collects and analyzes information but also allows business owners to effectively monetize the information and data they get.
CBI Usage Options
There are at least three ways to use CBI systems in business. You can use them for direct information analysis, structuring, or visualizing reporting.
Is it worth mentioning that the resulting data can and should be used to improve business processes, scale the enterprise, and achieve other lofty goals?
Build an information management system
Set up automatic data analysis from internal and external sources, program your algorithms, and monitor information processing in real-time. Run samples, statistical collections, or other data operations.
Advanced data analysis
Define parameters, characteristics, and even the scope of the analysis and get the most relevant analytics results. Use them as you see fit: scale your business, monetize them, or conduct full industry research.
Visualize information processing reports
Forget classic spreadsheets, primitive formulas, and arrays of text with numbers. Innovative CBI systems can provide infographics, illustrations, or any other type of statistical data visualization.
Is It Worth Developing Your Own Cloud BI System?
Definitely yes, if you need your solution to do your own tasks. There are more than 100 major projects that 100% cover all areas of business and their data analysis needs.
The cost of developing and maintaining a full-fledged CBI solution is moderately high. You can count on the profitability of creating such a platform if you want to provide analytical services to consumers or if your company needs to analyze huge amounts of data.
The problems of developing CBI solutions:
Over-the-top cost.
Difficult to maintain the system.
Costs of hosting and hardware.
Environmental damage from servers.
Difficulties in integrating data sources.
Huge competition in the market.
In general, the development of the CBI solution is fully justified if this platform is used to process large amounts of data and analyze internal processes.
How to Increase Productivity and Optimize the Company's Performance With CBI?
There are many examples of using cloud business intelligence in enterprise workflows. The most striking of these is analytics. Analyzing information from external and internal sources allows you to build an optimal brand development strategy.
In matters of scaling, CBI is one of the key components because it is the process that allows you to get the most accurate picture of the state of the business and the target market.
Analytical platforms and tools are of strategic importance for business development because only relevant information helps to develop a vector of expanding the sphere of influence, distribution channels, and brand marketing.
Data on trends, the needs of the target audience, or competitors' top offers, collected and structured into a single system, help the company's experts in their work.
Types of Clouds in Business Intelligence
In the CBI segment, there are several variants of cloud platforms that differ in algorithms of work, value, and reliability of the information.
We recommend using all types of CBI solutions, or rather all available channels of information acquisition and processing. Don't worry, there are three types of data sources in total, which are ready tools for visualizing information arrays.
Public
The cheapest and most common option. Because of the common base of information arrays and several simultaneous platform users, the rental cost is significantly lower than that of competitors.
The only disadvantage of this solution is the availability of information in the public cloud to all users. If it's not critical for you, you can safely use PCBI to solve your data analytics tasks.
Private
An expensive and secure option to use cloud computing to analyze and structure information and then visualize reports.
The cost of renting a private cloud is completely outweighed by its security. No one but the user has access to the information on the server. This is the best option if data privacy is important to your company.
Hybrid
The most popular variant of cloud analytics systems is hybrid. Using built-in tools, it is possible to distribute the flows of processed information, thus separating private data from public data.
This approach allows you to optimally allocate cloud resources and focus on analytics without worrying about the safety and confidentiality of corporate data.
Do I Need to Implement CBI in My Business?
It's definitely worth connecting your business to the CBI platform and being able to analyze the information. This will allow you to develop an effective scaling strategy and help you avoid wasting resources.
Analytics is available to both large and medium-sized or even small businesses. Now there are many solutions in different price categories. You can use them to improve business processes and assess the profitability of a company's operations.
Conclusion
Cloud business intelligence are modern tools for solving all possible business analytical challenges. They are indispensable components in the work of most small, medium, and large companies. That's why it's so important to implement CBI products in brands.
Need help with the development of setting up or launching analytical services? Get in touch with our manager and get qualified help.
FAQ