Global digitization is making the type of IT team formation increasingly popular, in which the leading role is assigned not to full-time but to outsourced specialists. Today, the global market for outsourcing services is estimated at $92.5 billion.
What is the reason for such a demand for outside staff? What is staff augmentation, and how does it differ from outsourcing, outstaffing, and other supplier engagement models? In this article, we will try to answer all your questions regarding the expansion of the IT team and also help you decide whether it is worth looking for an outstaffer specifically for your project.
Staff Augmentation – Defining the Term
Augmentation of an IT team is an opportunity to supplement a team of full-time specialists with developers brought in from outside. Compared to traditional hiring, the difference between the approaches is stark. In case of hiring, you employ a specialist, and when contacting an outsourcing company, you cooperate with a developer who is already employed. And your relationship is formalized through the conclusion of a service agreement.
At first glance, it may seem that this is inappropriate – why spend money on intermediary services if it is much easier and cheaper to hire people directly? But not everything is so clear. Let's say you need to create some product, but your budget is very limited. In some countries, including the USA and the UK, development is expensive, but modern technology allows you to turn to third-party specialists from other countries whose services are much cheaper.
So you've made the decision to expand your team. Get ready to answer yourself a series of questions:
Where to look for reliable staff?
How do you check their compliance with the stated requirements?
What are the quality guarantees of the work performed if they are hired?
As a rule, after trying to find answers to these questions, you come to the conclusion that it is necessary to contact a company that specializes in finding employees for certain requirements.

In a Neighboring City or on Another Continent – Where to Look for an Outstaffer
The concept of IT outsourcing is quite general. For example, depending on where the involved employees are located, there are offshore, nearshore outsourcing, homesourcing or onsourcing, and multisourcing.
Offshore outsourcing
Often there are situations when a country lacks specialists in a certain field, while there is a staff reserve for a given specialization in another state. Thanks to Internet technologies, it is possible to attract remote specialists to the project. Other reasons for such cooperation include the difference in the cost of the same service in different countries.
Offshoring features are significant remoteness of outstaffers and their location with the client company in different time zones (the difference is not less than 6 hours). Inconvenient? Some companies even consider this fact an advantage. This provides employees with more opportunities for independent work, and the customer can check everything that has been done calmly. In addition, this work mode simplifies round-the-clock customer support, ongoing updates, and technical support.
Nearshore outsourcing
In this case, the developers are also located in another country, but it is much closer to a customer company; as a rule, the time difference is no more than 2 hours.
One of the advantages of such cooperation is a simplified communication process due to the same time zone and the similarity of the cultures of neighboring countries.
Homesourcing
As the name implies, in the case of homesourcing, employees are hired from their own state. Sometimes this term refers to the remote work of specialists from home.
In this way, the problem of the high cost of services cannot be solved since the pricing policy within the state is the same, but this way, it is possible to effectively cope with the shortage of personnel in a particular region.
Multisourcing
If a client company uses the services of several suppliers, this format of work is called multisourcing. Its advantage is in the diversification of risks arising from the work performed on the project by third-party developers.
Pricing Models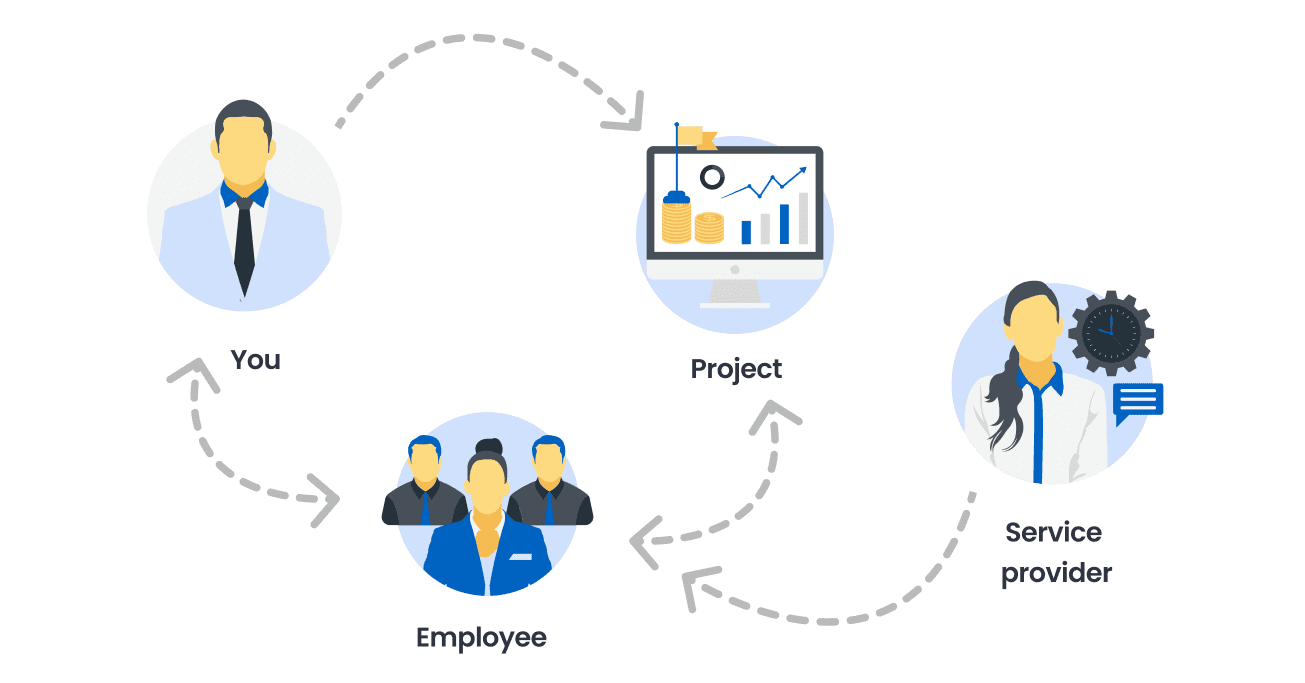 If you are interested in attracting outer specialists to your project, we recommend paying attention not only to the location of a potential employee but also to the type of payment offered by the intermediary company. Outsourcing considers 4 pricing models, each with its own advantages and disadvantages.
Cost Plus
This model assumes monthly costs to the customer for the employee's salary and the supplier's fees. The advantage is that you communicate directly with the outstaffer, without the mediation of the company that found them. But if any problems occur, you have no one to blame – all responsibility for the project will fall only on you.
T&M (Time and Materials)
This is the most flexible pricing model, which implies payment for the time worked by the developer. But there is a price to pay for flexibility. First, it is impossible to predict the project budget in advance due to the ease of making changes. And secondly, the time that the developer cannot work for an objective reason (waiting for feedback, software failures, etc.) is also paid by the customer.
Fixed Price
Everything is simple here – a project must be completed in a clearly defined time frame, for which a developer will receive a predetermined amount. This model is good for projects where no changes are expected. If the changes were not made, but the developer did not manage to complete the work on time, the extra time spent on rework will not be paid.
Rate Card
The essence of this model is that an outsourcing service provider issues an invoice to the client on a monthly basis, which covers the salary of the provided workers. Rate Card is very economical because it does not contain any overpayments, but at the same time, it significantly limits the customer's rights. They cannot influence the choice of specialists, communicates mainly with the project manager, and pays for employees' work for a full month, even if something does not suit them.
In the case of team expansion, the most common pricing model is Cost + – it allows the customer to fully manage the project, communicating directly with the developers and organizing their work independently.
IT Staff Augmentation, Consulting, Managed Services, and more – Comparing IT Outsourcing Models
It can be difficult to understand all the existing terms that describe the model of working with external IT specialists. So, outsourcing means transferring the entire project to third-party developers – you pay for a set of development work. When it comes to expanding the staff, here we mean joining employees to your already existing team – you pay for the skills of employees who contribute to the project you are managing. But let's talk about everything in more detail.
Staff Augmentation Model vs. Managed Services
To work effectively on the team augmentation model, a client company needs to take responsibility for organizing the workflow. That is, you will be provided with a specialist (or several specialists), but it is not the supplier's responsibility to ensure their qualitative integration into the team, establish project progress, and monitor the implementation of tasks.
In the case of managed services, your associate not only provides the necessary specialists but also manages the development. This is the best choice for those teams that do not have enough knowledge and skills to manage a particular project fully. The principle of this model is as follows: the supplier takes full responsibility for organizational issues, and the customer can devote themselves to solving global business problems.
These models have a lot in common – the project work in both cases is carried out by outstaffers. The difference lies in the level of customer involvement in the work process and the responsibility placed on the service provider.
Team Growth vs. Consulting
It is possible to compare these two models of attracting third-party specialists in the sense that both of them are aimed at simplifying the work on the project for the customer. But the type of services provided is fundamentally different:
Staff augmentation services, in most cases, are provided on a long-term basis. As for consulting, this is one-time assistance in developing the right project strategy.
When expanding staff, you hire people who can help develop the project by applying their skills and abilities. By contacting a project consultant, you get their expert opinion, not specific development actions.
If in the case of an increase of the team, you are in full control of all processes, then a consulting service excludes your involvement – just voice your questions and get guidance from experts based on research, data analysis, or tests.
The results of attracting third-party developers to the team are immediately visible. Depending on your goals, this can be budget savings, development acceleration, product quality improvement, etc. Consulting services do not lead to such obvious results; they can be seen only at the end of the project.
Team expansion vs. ODC (Offshore Development Center)
If a company's need is not to implement a single project but to work on it for a long time or create several interconnected products, it may be appropriate to use the offshore software development center model.
The essence of this approach is that the company allocates its resources abroad, seeking to save on costs and gain access to an overseas talent pool. This is rather time-consuming because the employer must understand all the details of foreign labor and tax codes and deal with hiring in a foreign state. Due to these complexities, it is generally accepted that creating an ODC makes sense only if a large team (40 people +) is needed for a large-scale project.
If the project is small, and for its implementation, you need only a few involved specialists, it would be much more reasonable to use the services of outstaffers.
Resource and Staff Augmentation vs. Project outsourcing
Project outsourcing involves cooperation with suppliers to delegate work on the project as a whole (whole project outsourcing) or supplementing the management team with specialists with certain expertise (dedicated team). This type of partnership is suitable for organizations that want to outsource some or all of the product development functions throughout the SDLC to outer specialists.
If you want to fully control the workflow, just by completing the team with several specialists, it is better to turn to the Staff Augmentation.
Staff Augmentation Model: Advantages and Disadvantages
If you feel the need to involve third-party specialists in your project, first, we suggest carefully weighing the pros and cons of such a strategy.
Why Team Augmentation Worth Considering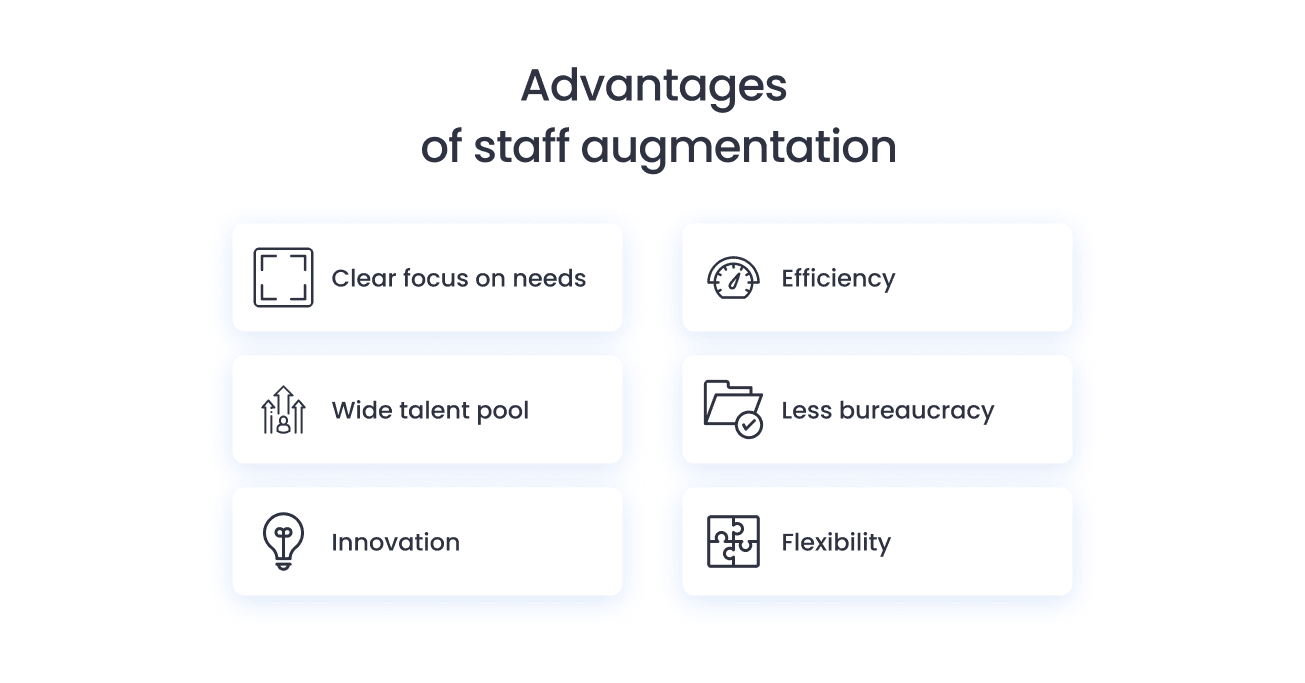 This outsourcing model is in high demand in today's IT world for several reasons:
It makes it possible to attract the best talent.
Research in the UK has shown that more than half of large companies have difficulty recruiting qualified programmers, and more than 60% cannot find a data analyst to match their requirements.
If you decide to outsource your project, you can choose a narrowly focused developer who has the right techstack for your project. Moreover, by hiring an outstaffer rather than outsourcing the entire project, you can expect them to focus entirely on your project. This will increase the employee's productivity and will be the key to the high quality of the final product.
Allows you to focus on development and important business goals.
According to statistics, large organizations with a staff of 2,500 or more spend on personnel management from $664 per employee. And the smaller the staff, the greater this amount. It also takes a lot of time – at least 1 day per week is spent on administrative work.
By refusing to hire employees, all the work on accounting and personnel administration is done by an outstaffing partner. Therefore, your expenses will be limited to the payment of the attracted specialists. And free time can be spent on solving global business problems.
Provides access to the global talent pool.
The U.S. alone had a tech workforce gap of 1.4 million as of 2020. Whereas in European countries, the number of IT specialists for the period from 2012 to 2021 increased by 50.5%.
So why not turn to the foreign market in search of a developer or designer, which can cover the need for highly qualified personnel, and at a reasonable price?
Availability of innovative technologies.
Based on several indicators, Global Finance magazine compiled a ranking of the most technologically advanced countries in the world in 2022. One of the criteria is the share of GDP that the country spends on research and innovation. Thus, South Korea took first place in the rating with a coefficient of 6.52.
The possibility of cooperation with specialists from around the world, including the most technologically advanced, provides companies with access to innovative technologies. Another environment where outstaffers work allows organizations to adopt new approaches to work, share knowledge and take a different look at familiar things.
Flexibility in team staffing.
According to the US Bureau of Labor Statistics, an organization must spend at least 50% of an employee's annual salary to replace them.
As for the IT field, the specifics of work here require simple scalability of the team. Today you have enough specialists, but tomorrow the requirements for the project may change, and additional staff will be needed. In a week, extra tasks will be completed, and the need for attracted resources will disappear. Have you already calculated how much you will have to spend on hiring and firing people?
IT staff augmentation completely solves this problem – you can increase and decrease the team size without losing reputation and budget.
Pitfalls
Looking at the list of this model's advantages for building work in IT field, the question arises – maybe it is worth abandoning hiring employees altogether? But the thing is that there are still some risks:
Problems with adaptation. Any new team is a new working environment for an outstaffing employee. They will have to integrate into an unfamiliar team and perhaps even change some communication habits. Therefore, the success of cooperation with outstaffers directly depends on how skillfully you organize the workflow.
Communication difficulties. Different time zones, remote work of the involved employees, and cultural differences due to the multinationality of the resulting team – all can make some difficulties in communication within the team. You can turn to an outstaffing company for help in solving these problems.
The risk of receiving low-quality services. If you have already decided to turn to outstaffers, you should choose only a trusted supplier. Some companies offer customers to participate in the recruitment process directly – this will help you to be 100% sure of the competence of the chosen specialist.
Still can't decide whether to use the services of outstaffing specialists? Consider several conditions under which this cooperation model will be optimal for you.
How to Make the Final Choice
If, ​​after all the information you have received, you are still having a hard time deciding which model to choose, here are a few clear signs that staffing is right for you.
So, feel free to use outstaffers in your project if you:
Have a full-time development team, but due to some project features, you need to complete it with additional talents in a certain area. Attracting specialists from other countries will help approach problems from a new angle and sometimes save your budget.
There is a need for long-term cooperation. It is advisable to outsource a project if you have clear deadlines for it. If you are working on a long-term basis, it is better to expand your team.
There is a need to manage the development process personally. Staff Augmentation Model allows the customer to personally control the work of the specialists involved and organize the entire work process themselves.
Managers of companies specializing in software development are often concerned that they fail to create an ideal internal team. Or that its staffing is too expensive. The solution to these problems is staff augmentation services, which specialized organizations provide. Involve foreign specialists, implement innovative technologies, speed up the product's release and improve its quality. And all this with full control of the development process. Use outstaffing at 100%!

FAQ