Rushing developments in communications and information technology drive the optimization of current and creation of new computer applications, as well as mobile apps. The emergence of such products requires a balanced approach and attention to all unbiased factors. They affect the total price.
The main issue that arises between the executives when concluding a contract with a contractor is the final sum.
With an average coder hourly rate of forty dollars, the cost of making an app may vary according to difficulty going to:
Your expenses would be contingent on the engineer's proficiency, functionality, final appearance, and subsequent maintenance.
Average Pricing Policy
When speaking of the difficulty and deadlines, the cost to build an app runs from 40K to 150K. See Table 1 for the approximate pricing and deadlines.
Only the engineers may provide an accurate assessment. But before, resort to a specialized calculator. It will allow you to determine, though inaccurate, yet quite an adequate price.
Calculators for estimating prices of software, mobile applications, and other products feature the following functionalities:
Difficulty;
Quantity of screens used;
Individual features;
Quality control steps;
Interface capabilities;
Difficulty and quantity of features within the tool or other software;
Database specifics;
Number and specifics of third-party module connections;
Different standards to ensure information security;
Set of executors and their skills.
Ensuring a realistic assessment involves that the workgroup possesses appropriate deliverables and clearly defined specifications. You have no other opportunities than hire the contractor to accurately evaluate mobile app development cost. Glorium Technologies uses a scoring evaluation technique to address these issues.
Prior to initiating this challenge, it is wise to consult statistics.

Financing stats
The steady rise in custom solutions shows their growing popularity. More than 7 mln different applications can be found in online stores and are free to download.
Agencies that specialize in mobile tools and PC software have independently monitored statistical data during 2021.
Here are certain results:
The world-renowned Google Play corporation introduces about 100K brand-new apps every month. The App Store has over 300K pieces.
Free tools are the best ones. They are available to everyone. Free tools account for 92% of all solutions.
By 2021, digital corporations specializing in computer programs and mobile apps had revenues of $581.9B. If this remains unchanged, the profits could go up to $1T by 2023.
Analysts' forecasts suggest that engineering industry might expand by over 18.5% by 2026, with a total turnover of more than $407.5 billion.
About 90% of free time goes into mobile surfing. According to some forecasts of electronic marketers, soon the world's population will be dedicating about 4 hours to this every day. About 87% of this timeframe will be devoted to app usage.
Over half of smartphone owners enjoy mobile games. Internet browsers, social tools, messengers, etc. are downloaded by the vast majority of the population.
Let's consider the pricing process.
Fees per profile
App specifics are inseparably linked to its price. See Table 2 below to find the key types, approximate pricing, and duration.
Table 2
Category
Approximate cost, $ thousands
Approximate project timeline in working hours

Mob

30–300

1,200–1,300

iPhone

55–300

Android

50–300

Internet applications

60–300

Starters

40–400

1,600–1,800

Cab apps

50–400

Gaming

60–250

Retailers

50–150

1,200–1,300

AR

100–250

1,600–1,800

E-commerce

60–250

Networks (Instagram, etc.)

50–300

1,200–1,300

Specific areas

50–200

Tutorials

60–225

900–1,100

Streams

80–300

1,600–1,800

Cafes and pubs

40–150

900–1,100

Public

18–150

Shopping

30–180

Socializing

50–350

1,400–1,600

Product, beverage, and other shipping

40–150

900–1,100

Compound

40–200

1,200–1,300

Medical

55–300

Typeset

40–300
Fees per location
Before choosing a contractor, you'd better check the wages of IT engineers in certain locations. See Table 3 to see medium wage in various places.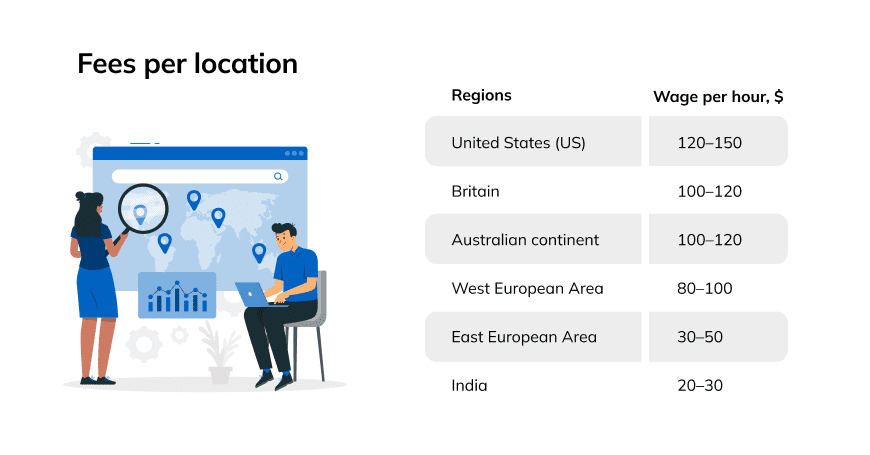 These services are among those costly ones in North America, England, and Australia. However, this does not mean that developers from other countries cannot create competitive solutions. It just shows how different the remuneration may be in different places.
Apart from the location of the workgroup, these parameters have a significant impact on hourly wage:
Programming language, together with the technology, communication, etc.;
Technical specifics and experts who are involved directly (programming, testing, scrum support, business analytics, and general management);
Engineers' expertise within the workgroup.
The full information will bring you a final concept of the pricing.

Pricing cases
Here you may find some popular applications, their costs, and implementation timeframes for a complete grasp of the pricing process.
Tinder
It is a vivid model of a socializing platform. It emerged ten years ago. The net profit exceeded $485,000.
A simple and intuitive design is not marked by exquisite graphics and original sound accompaniment. Its main advantage is simplicity. To show your affection, just swipe your finger left or right on the display. If the feelings are mutual, you are matched.
Its cost starts at $70,000. Engineering and testing take approximately 1,000 hours.
When evaluating such a platform, consider the following features:
Profile authentication;
GPS setup and positioning;
User profile;
Additional features;
Pop-up notifications;
Communications;
External add-ons.
Ikea
Here, we deal with augmented reality. It allows you to display in the catalog not the conventional photos but 3d models. Different add-ons and enhanced security drive up its value but significantly expand the functionality:
3D visualization;
All-round view;
Intuitive control panel;
CRM integration;
Data exchange in social networks.
It starts at $45,000. The entire lead time is about 1,000 hours.
Uber
It was devised specifically for the cab service. It includes two mobile versions – for both motorists and travelers, and a special web modification for the dispatcher service. With these features in mind, the budget comprises three components. In some cases, the customer may expect a discount, but this relies entirely on the developer's policy.
A platform like Uber offers features like this:
Billing;
Location;
Routing and its planning (traffic jams, traffic accidents, etc.);
Integration of messages;
Additional functions.
It starts at 50K. It might require 1,000 to 1,200 workhours to complete an order.
TikTok
Its main purpose is to transmit video images to various social networks. This product's price depends on its parameters and the set of additional functions. The budget starts at $70,000. Development and testing may require 1,200 – 1,400 hours.
Required parameters:
Real-time chatting;
Face-to-face calls;
Transmission of standard media;
Adding contacts;
Additional functions.
Airbnb
This refers to the category of marketplaces. Such services are used for e-commerce activities. It is advisable to use special applications to streamline marketplaces. Software such as Airbnb significantly reduces the expense and timeframe required to select the appropriate accommodation.
The lowest budget is $75,000. The average lead time shall be determined by the set of add-ons and require from 1,000 to 1,200 hours.
The most commonly used additional functions are:
Searching for affordable accommodation;
Selecting hotel rooms;
Creating a list of locations with the appropriate notes;
Own chat and some other add-ons.
These examples suggest the sum to foresee at the beginning. Let's consider a few aspects that have a direct impact on the pricing.
This is interesting: read an article about real estate mobile app development.

Five Key Aspects
Before embarking, define the target population, set clear business goals, basic principles, and select the optimal base for coding.
Screens, icons, and other interface elements bring a distinctive and stylish look. However, these elements rise your sum and timing. Therefore, before searching for somebody, build a beta version and list all that you wish.
Executor shall assess the overall work with 5 criteria in mind.
Difficulty
The less functionality and easier the overall appearance, the less money will have to be wasted. You can determine the timing only after the overall task and requirements for the contractor are clearly defined.
Difficulty shall determine several indicators:
Number and specifics of features;
Quantity of screens;
Graphics;
Integration parameters;
Base you choose.
See Table 4 for the key characteristics of the difficulty category.
Table 4
Category
Specifications

Simple

No additional benefits;

Only basic options;

Easy screens;

Minimal user interface set.

Medium complexity

Medium functionality;

Several screens;

API integration;

Attractive interface design;

Online chatting.

Complex

Multifunctionality;

Extended scope of options and ability to synchronize online;

Chatbots;

Animation of the interface;

Multiple add-on functions;

Media processing capability.
Standard workgroup shall feature the following specialists:
PM;
UI/UX specialist;
Software engineers;
Backend specialist;
QA specialist.
Such a team may require 2-4 months to complete a simple project, 6-10 for a medium complexity, and from 8 months to one year for a complex project.
Classification by difficulty
Below you may see the main aspects of simple, basic, and complex applications.
Simple
Modifications may include a minimal set of options for the stable work and 3-4 screens. They do not allow for working with databases. Here, we refer to:
Authorization;
Ability to set and edit accounts;
Subscription;
Inquiry;
Notices;
Admin's space;
Messaging.
These tools feature limited capabilities and perform easy actions: time tracking, communication in social networks, and collection of statistical data.
Basic
These modifications are characterized by the following versatile functions:
Ability to integrate into social networks;
Integration of payment systems;
Purchase through the application;
Object location tracking;
Geolocation.
This level already has an increased level of information security, reliable infrastructure, and simplified access to necessary resources. The main difference between such a solution and its simpler counterparts is the ability to retrieve information from multiple databases, synchronize it, and store it.
For instance, they are used to sending photos, calling a cab, and delivering food and beverages to homes. Additional functions and more complex architecture may inflate a project's budget.
Large-scale tools
Owing to a high rate, such applications are mostly used by large corporations. Custom principles are most often used in this process. It does not provide the possibility of integration or uses custom integrations with existing systems.
Large-scale projects fall into the category of special apps and are not widely demanded by ordinary users. That is why they are quite pricey to master. Often you may exceed the planned budget.
The overall pricing is greatly influenced by:
Synchronization with more than two devices;
Availability of in-house features;
Online broadcasting;
Face-to-face calls;
Messaging;
Video chats and other advanced options.
Such solutions require hard and painstaking work. The broad list of requirements, technical specifications, and complexity of functions greatly complicate the estimating. It often happens that the estimate changes repeatedly as the project progresses.
Dashboards, visualization, complex platforms, a large number of servers, and databases are among these factors that require additional infrastructure elements. This leads to the complex add-ons and writing separate codes for each specific function.
One can assess the final bill only in the course of project execution as new requirements may arise and stages that have been completed may be adjusted.
An example of a large-scale solution is trading platforms, corporate, gaming, and CRM programs.
Architecture and Design
This phase consists of several major steps. Each of them has a significant impact on the final bill.
Market monitoring; target audience research
The workgroup shall conduct a detailed study of a particular market segment. It may collect information about potential consumers, their needs, preferences, and interests.
They produce a psychological portrait of the user based on the data obtained. This allows you to anticipate the user's reaction to certain features of the product and think through the UX concept in detail.
Choice of information structure
They determine the number of screens and how they interact with each other. The right choice of information structure will increase the accessibility of your platform and make it comfortable to use.
Information architecture tools are used to classify the data that is required for stable operation. In addition, this classification greatly simplifies your navigation. Before you start prototyping, you need to elaborate on block diagrams and mind maps.
User interface and visual effects
There are many design variations you may choose from. The key driver is the user interface. Its individuality, simplicity, and functionality largely determine the app's popularity.
These parameters, as well as the presence and quality of visual effects, affect the final bill. The choice of design solutions to be implemented depends on the purpose and category of the software to be developed. By purpose, they fall into the following categories:
Tutorials;
Commercial;
Informative.
By far the most popular categories are:
Basic;
Social media;
Authentication;
Trading platforms;
E-commerce.
Branding
Every major corporation pays close attention to its brand books. Their logos and names stand out sharply from lesser-known companies. This is because they invest heavily in branding. The main advantage of this strategy would be that there is no need to worry about promoting their brand name at the development stage.
Branding is one of the components of a successful product. However, it boosts your expenses. Therefore, in the first stage, you can take advantage of existing elements. As the business evolves, invest more in branding, which includes:
Marketing research;
Advertising policy;
Brand book drafting.
UX-Writing
When calculating your funds, be sure to add expenses for copywriting. Professional literate text will greatly promote the product and increase its popularity among customers. Here we speak about texts for landing pages, email texts, descriptions of goods or services, and newsletters.
The choice of a copywriter is not limited to a single location. You can choose a specialist from any country. The important thing here is not the location of the specialist but his professional skills.
Only a perfect combination of design and text content will bring you success.
Creating a prototype
Once the information structure is finally selected, you can move on to the prototype. The finished one is shown to the customer for final approval. It is used to run preliminary testing on the target audience. It can also be demonstrated to raise additional capital.
Initially, the workgroup shall create a primary wireframe, which is a rough draft of the screens. It is used as an example for the customer to learn how the tool works and to make adjustments as they see fit. The creation of the final wireframe will require a detailed elaboration and explanation of each element.
At this stage, the final product is a clickable prototype, which is subject to further testing.
Testing the prototype
Testing is aimed at identifying all the weaknesses and shortcomings. The data obtained allows you to make timely adjustments and optimize individual elements. All detected defects shall be eliminated to stabilize the application.
There are several options for testing. In the quantitative method, operability testing is done by real users. Qualitative testing is performed by a group of qualified coders. The most effective is combined testing.
Project support and feedback collection
You may keep improving your app even after a successful release. There is always some room for improvement. To maintain a leading position, most developers are constantly modifying their products. They provide updates based on user feedback.
Selecting the Platform
Yet another expense item. At this stage, you need to choose one of two types: hybrid (cross-platform) or native. The timeline will depend on the choice.
Designing hybrid modifications
Such solutions can run on both the iOS and Android platforms.
Before you make your final choice, pay special attention to the following crucial points:
Market share;
Device fragmentation;
Predominance.
These parameters define the specifics of the market to which a product is initially oriented. Following thorough research, you can determine which segments are more popular with the Android platform, and which are more popular with the iOS platform. Based on the data obtained, the workgroup may select the optimum platform.
Each platform requires a different approach, but a hybrid app will cost less than two independent products.
Standalone native solutions will be much more expensive.
Designing native modifications
The key distinction between native and hybrid variants is that they are designed specifically for a particular platform. Dual platform tools will require two independent workgroups. This may significantly raise the bill. As a rule, two native programs are twice as expensive as a hybrid one.
Dealing with each of the two platforms may be charged just about equally, although there are some discrepancies in the technologies used, SDKs, database structures, and frameworks.
The timely implementation of two independent projects is challenging work and a large financial outlay.
Hidden Charges
Hidden charges are yet another major thing to consider when setting a budget.
The final bill includes several items that allow you to create an effective application and optimize the workflow:
Functional charges for third-party integrations (push notifications, SMS messages, locations, payment gateways, etc.);
Administrative charges (payroll of content managers, workgroup manager, and other staff);
Infrastructure charges (server, CDN, and integration fees);
Maintenance charges include updating and modifying the program, fixing bugs, adding extra features, etc.
It would look like this. If the overall bill is about 75K, the extra charge will be:
5K to 20K dollars a year, according to the number of integrations and workload.
Administrative and infrastructure charges run from 50 to 100% of the annual rate. That is 35-75K dollars per year.
20% of the annual charge will be required to support and maintain the product. That's up to 15K more.
Selecting a Team of Executors
The right team of executors is of paramount importance. The final project budget will depend on the rate of employees' services and their qualifications. If you employ professionals, you may cut your outlay and get a top-quality product.
Three basic criteria are set out when selecting a particular workgroup:
Full concentration on the current product.
Systematic marketing research of the target market segment.
Creation of a full-fledged tool, not just the design.
Choose to work with a team that agrees to follow these three rules.
Does your company have limited funds, but needs a unique solution? You can follow one of the four ways to build your product.
Working with a regional agency
This is the most common way to design your app. See Table 5 for a list of charges, as well as the benefits and drawbacks of collaborating with a local team.
Table 5
Criteria
Description

Charges

Regardless of the region, the final sum with a local team will be higher than if you choose a team of executors to create a software product.

Depending on the region in which you are located, the hourly rate charged by developers and designers varies from $150 to $250 per specialist.

If you have 400 hours total, with an average rate of $200/hour per developer, your budget will be around 80K.

Benefits

Regular feedback and personal contacts;

Prompt correction and optimization of the work process.

Drawbacks

Services can be significantly overstated;

Local agencies may lack specialists with sufficient qualifications for a particular task.

Often, technical support, optimization, upgrading, and monitoring are not included.
Creating your team
Keeping your in-house team on payroll is feasible for minor companies. The full-time IT department may be responsible for smaller applications, as well as ensuring the operability and optimization of the company's digital systems. See Table 6 for the advantages and disadvantages of employing an in-house team.
Table 6
Criteria
Description

Charges

Employing your team will incur additional expenses, not related to the engineering of digital products:

Workplace arrangements;

Insurance;

Social benefits for full-time employees.

Creating tools with your in-house team is more expensive than working with a local agency. The salary and other payments to in-house coders are quite costly for the company's executives:

Full stack developer — $98K per year;

Designer — $85K per year;

Android or iOS programmer — $85K per year.

Thus, supporting your team, regardless of the results, will amount to about $400K per year.

Benefits

Effective management of the entire process;

Company's executives can correct the workflow and change technical requirements without increasing the overall fees.

Drawbacks

Maintaining your coders is not always economically feasible;

The head is forced to divert from his direct responsibilities to interact with other specialists.
Engaging freelancers
Partnering with freelancers is worthwhile when implementing non-complex projects, testing existing platforms, and other simple tasks. When choosing this option, you should bear in mind that you will have to spend a lot of time communicating with the contractors, defining tasks, and making adjustments to their work. See Table 7 for the benefits and drawbacks of this technique.
Table 7
Criteria
Description

Charges

There are two options for dealing with a freelancer:

Under a contract;

With hourly wages;

You can pick a developer from freelance sites such as Upwork, Fiverr, PeoplePerHour, or Toptal.

The typical hourly rate of a freelancer, as well as of any other engineer, depends on the region and the qualifications:

USA — from $50 per hour;

Asian countries — from $15 to $25 per hour;

Ukraine — from $25 per hour;

Latin America — from $20 per hour.

Initial rates are given. They may differ according to the freelancer's expertise and additional demands on the products.

If the payment is made on an hourly basis, you should calculate the approximate timing before proceeding with the cooperation.

Benefits

One of the cheapest ways to get a product;

You can find an executor on almost any respective website;

The customers may choose from a large number of applicants, which allows them to reduce significantly the overall bill;

Even if the person is highly qualified, which will be found out literally at the first stage, the price will be quite acceptable.

Drawbacks

The contractor may be limited to the design and testing;

The contractor must be personally interested in the project's success for further maintenance and technical support;

Inadequate pricing policy of the customer may lead to refusal of the freelancer to fulfill his/her obligations.
Here, the key to success lies in a mutual understanding between the client and the contractor, as well as the appropriate payment for the work done.
App outsourcing
Large-scale tasks that require lots of highly skilled executors are best carried out by outsourced agencies. This is the optimal strategy in such an industry. It is equally effective for well-known corporations as for start-up companies. Such contractors may provide a full line of expertise: monitoring the target market segment, software engineering, its testing, and subsequent support.
See Table 8 for the benefits and downsides of this option.
Table 8
Criteria
Description

Charges

Even worldwide well-known corporations actively resort to remote strategy. This is mainly explained by the fact that such countries as China, Ukraine, Russia, and others host many highly skilled engineering groups. The customer can expect an optimal balance between the quality of the product and the final sum. 

The cost of an outsourcing company depends on the difficulty of the task, its functioning, deadlines, and some other criteria. It can be from $30K to $50K for simple and basic platforms.

Dealing with remote developers from other states allows you to get a quality result with minimal risk for a reasonable fee.

Benefits

Minimal charges;

The highest level of quality;

Uninterrupted feedback;

Accurate compliance with the requirements;

Design transparency at all stages;

Responsible attitude;

Compliance with the agreed deadlines and other terms of the contract;

The customer can expect testing, technical support, and follow-up assistance after the program's release.

Drawbacks

Conflict of interests between the customer and the contractor, where the employer wants to pay less, and this is contrary to the interests of the provider and the contractor itself.
Outsourcing engineering allows the customer not only to save money but also to free up time for the core business activities.

Before choosing a particular agency, it is worth checking reviews and case studies, reviewing the list of developed products, and making sure that all members of the dedicated workgroup are highly qualified.
Tips for Choosing a Contractor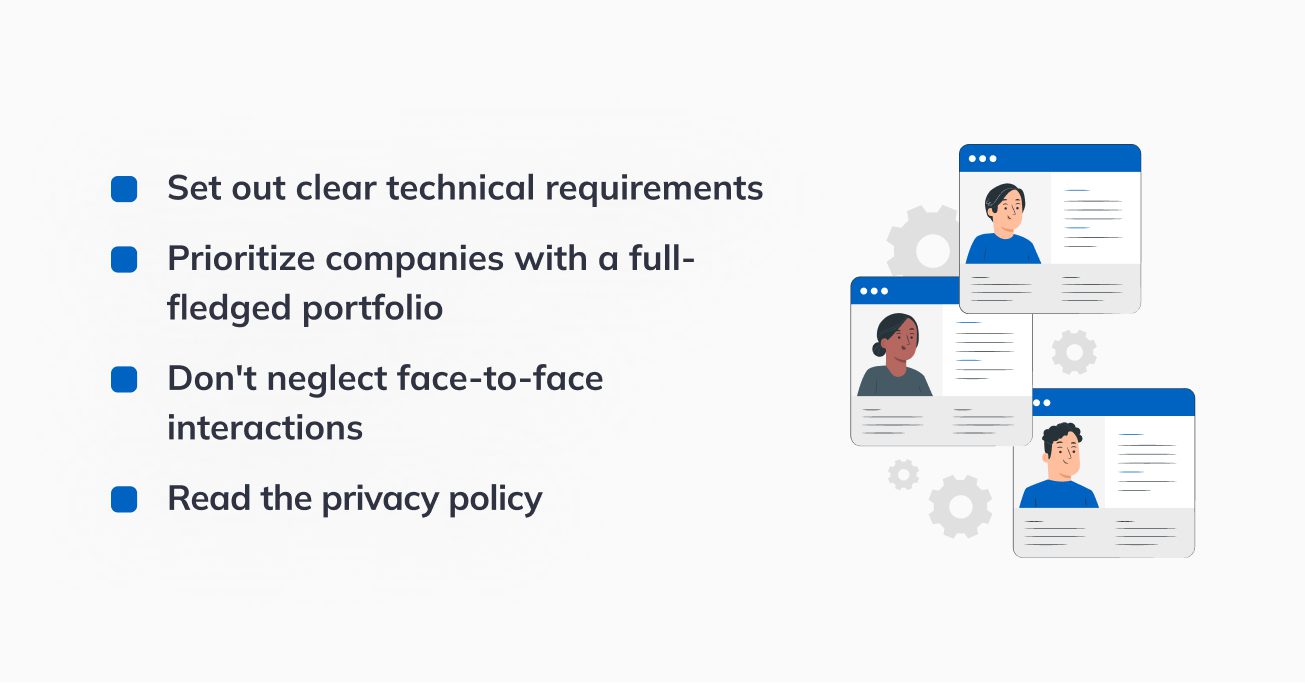 Although there are many offers for the software industry, it is possible to get confused and choose the wrong strategy for selecting a contractor. To avoid making a mistake in choosing the right person for your job, stick to the recommendations given below.

Set out clear technical requirements
Before contacting the performer, determine the necessary features of the solution, the deadlines, the platform to launch, and the maximum budget.
Learn the basic principles and workflow sequence. Get informed about the main technologies and tools. This will help you get a clear idea of what kind of solution needs to be developed.
Study feedback from previous clients and a list of the applicant's completed designs in your area of interest.
Prioritize companies with a full-fledged portfolio
Have you chosen a company that has already gained recognition in the digital market and provides all kinds of services? You can be sure that you will cooperate with qualified specialists.
Such agencies will provide the necessary resources at all stages from design and development to testing and maintenance. This approach eliminates the need to seek additional help or external services, which significantly shortens the project's timeline.
Don't neglect face-to-face interactions
Once the choice is made, try to find time for in-person meetings with the workgroup. This way you can avoid misunderstanding important points, express your wishes, and listen to the professionals.
While communicating, the executor will grasp the basic concept of the app. Therefore, he or she may develop a product that will meet the technical requirements and your wishes.
Read the privacy policy
A critical aspect of computer-based tools is maintaining confidentiality at all stages. To be effective, the workgroup must have access to information about the company's activities.
Before the work begins, sign an intellectual property rights agreement and a nondisclosure and confidentiality agreement with the contractor.
FAQ