The global mHealth industry (or mobile health industry) is one of the most promising and fast-developing sectors in the medical industry. An increased need for personalized service, the growing use of smartphones, and the pandemic implications are just a few factors driving the rapid growth of mHealth and mobile medical application development.
Market outlook: mHealth app development growth drivers
The demand for digital health applications comes from patients and healthcare providers. Due to the increasing request for better tools to monitor personal well-being, healthcare providers have swiftly responded by offering accessible mobile apps to users. This caused high request for the mHealth app development services.
The annual value of the global mHealth market could surpass $805 billion by 2030. To put this in perspective, as of 2020, it was worth $56 billion, according to data from Global Market Insights.
What Types of mHealth Apps Are There?
To better understand the mHealth app development market, let's closely examine some main healthcare application categories.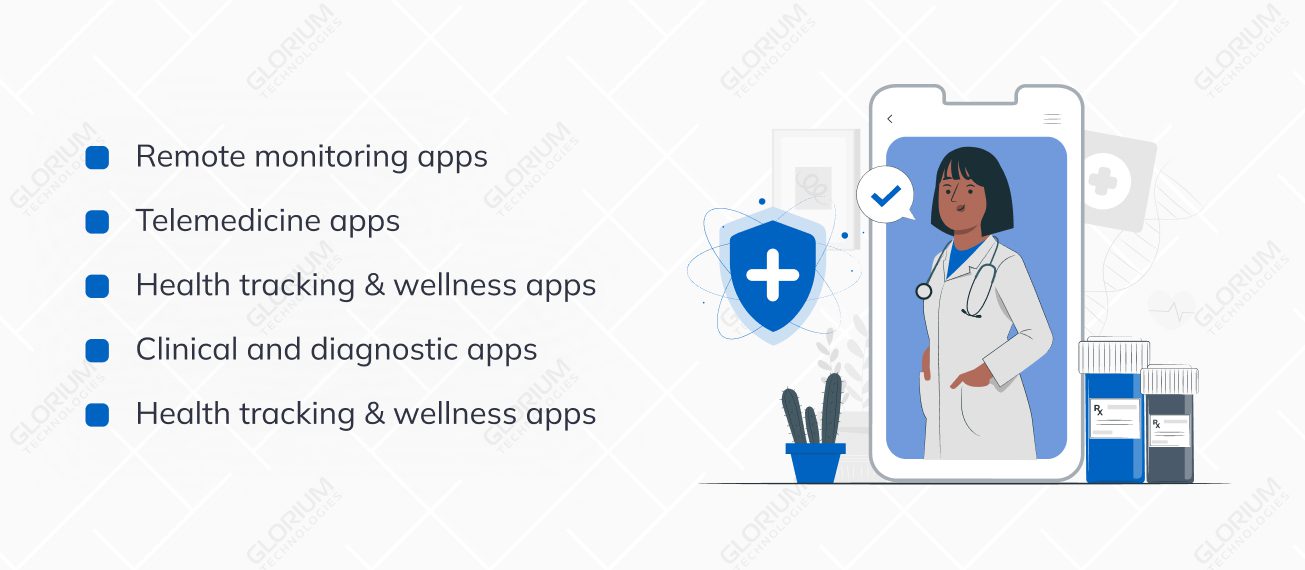 Remote health monitoring apps
After the COVID-19 pandemic came into full swing, the demand for remote care and patient monitoring has grown exponentially. Remote monitoring applications allow clinicians to track essential health information from patients miles away.
With the proper medical mobile app development, these applications can monitor heart rate, blood-oxygen levels, blood glucose, and much more.
Telemedicine apps
As with remote health monitoring apps, many doctors and patients across different healthcare sectors have switched to online consultations. Telehealth and telemedicine apps encompass various functions, including appointment scheduling, prescriptions, consultancy, diagnosis, and more.
Health tracking & wellness apps
Wellness and fitness applications have been booming over the last few years. As a result, the global fitness app market is steadily growing and is estimated to reach $10.5 billion by 2026.
It's no wonder that over 71,000 health and fitness apps were launched globally in 2020. These applications feature subcategories, including wellness, diet, nutrition, fitness, and activity-tracking tools.
Clinical and diagnostic apps
Disease diagnosing apps allow patients to input symptoms, receive a diagnosis, and schedule appointments. Clinicians use these applications to acquire patient data, determine proper treatment, prescribe medication, and analyze test results.
Hospital management apps
Apps for medical facility management are designed for enterprise workers, but often, they also include patient profiles. mHealth app developers create these applications to facilitate cross-department cooperation and data exchange throughout hospitals.
The Technologies and Trends of mHealth App Development
Investors and startups wishing to take advantage of this sector should consider the trends and technologies driving the mHealth app development industry.
AI & Chatbots
AI-enabled apps can significantly improve the overall customer experience and quality of care. As years pass, there are more and more patients interested in monitoring their health. As a result, artificial intelligence has stepped up to the plate to sustain this growing need for custom medical application development.
Chatbots and virtual assistants can provide health updates and insights, process patient requests, check medication schedules, and book appointments. They can even recommend further steps down the road.
Medical mobile application development for chatbots is designed to collect and interpret essential data, provide recommendations, and produce tailored insights.
Healthcare app providers should remember that users are often more vulnerable regarding their health. Therefore, customer support requires more empathy and consideration.
Medical app developers and investors should prioritize the design of responsive and customized assistants that protect essential patient information from leakage.
AR\VR
Virtual and augmented reality technology serves medical applications in various ways. Therefore, it is one of the most promising tech trends in digital health and medical app development. According to Allied
Market Research, the market for virtual and augmented reality products in healthcare is expected to reach $2.4 billion by 2026.
The ability to add virtual layers and projections, like body parts or an extended visualization of the surgery process, has made AR-enabled devices perfect for advanced human body research and therapy procedures for patients. Moreover, it assists clinicians in making treatment decisions and changes the game regarding surgery preparation and predicting the body's response.
Check this case study by mHealth app development company Glorium Technologies, where we helped to create an educational AR-driven manipulations learning platform for medical students.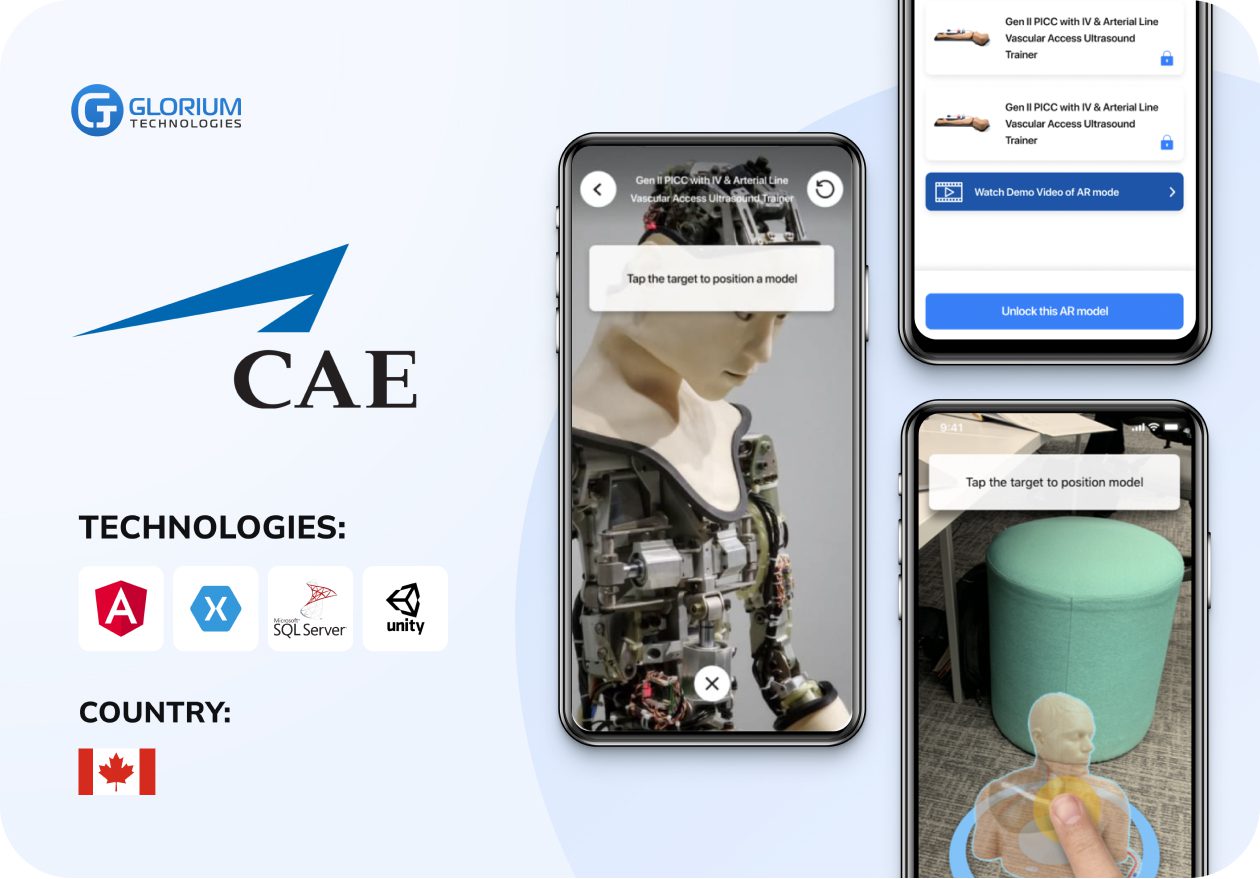 Aside from clinicians, patients also enjoy the advantages of augmented reality visualization. Nothing could be more helpful for patients than a visually appealing and straightforward representation of their therapy results.
Mobile medical app developers can also utilize gamification and personalization trends to make tedious healthcare facts far more exciting and engaging to users. For example, clinicians can provide patients with "before and after" images of their organs or appearance — even before they conduct a surgery.
On the other hand, virtual reality used in medical iPhone app development offers a wholly digital environment with improved 3D visualization for different applications.
Doctors can use virtual simulations to gain insight into medication distribution, effectively regulate chemical treatment, and improve treatment planning to eliminate risk.
Virtual reality (VR) can distract patients from unpleasant and invasive medical procedures by providing engaging projections and visuals that capture their attention.
Wearable tech integration
As many modern health applications work with wearable fitness gadgets, the ability to interact with external monitoring tools is essential.
Applications and devices work together to form an ecosystem to collect data and provide insight into a user's health routine, objectives, and progress.
Wearables can come in different shapes. For example, at Glorium Technologies, we've helped with custom mHealth app development for a remote fertility testing product. It involved a special tracker placed inside a woman's body to measure temperature and other parameters and predict the best time for conceiving. Read more about this project in the case study: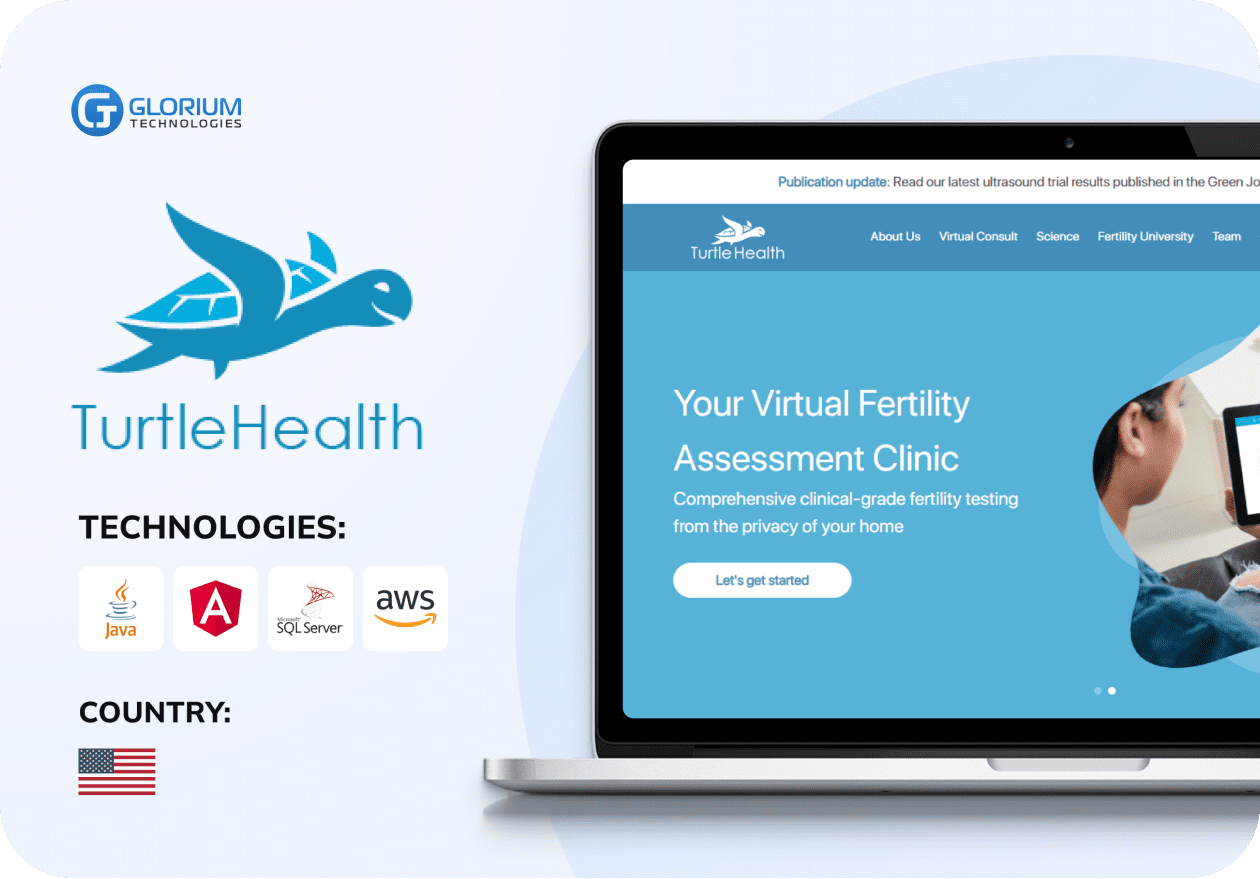 Healthcare wearables take data visualization in mobile medical app development to a new level to provide insight into a user's health. People want to be involved in the treatment process. As a result, health monitoring is becoming increasingly popular.
Health tracking apps and wearables can prevent dangerous health issues and lower the risk of cardiac arrest, among other functions.
Telemedicine
Many patients have had to adjust to virtual visits due to the pandemic. The telehealth startups, which were in their baby stage before Covid-9, bloomed, as their funding has tripled from $1.1 billion in 2019 to $3.1 billion in 2020.
By leveraging advanced technologies like video calls and secure messaging, telemedicine apps empower individuals to receive medical consultations, prescriptions and even monitoring of chronic conditions from the comfort of their homes. Moreover, with help of mHealth developers, these apps break down geographical barriers, allowing healthcare professionals to reach underserved areas and provide expert care to those in need.
As people become more interested in virtual treatment, health experts predict telemedicine may soon replace a solid share of general medical visits. Telemedicine is often more convenient and more affordable as compared to traditional on-site visits.
The Telemedicine Market size will be valued at over USD 240 billion by 2032, according to a new research report by Global Market Insights Inc. It poses a terrific opportunity for healthcare entrepreneurs and medical app developers to deliver competitive medical apps to meet the demand.
Inclusive and personalized UX
The importance of customization and inclusivity in design has grown and is a significant factor in custom mHealth app development. It's crucial to cater to users who desire personalized and engaging solutions that are inclusive of everyone's needs.
To make it easy for users to monitor their health, medical mobile app development company needs to pay attention to insights related to user behavior. With this information, enhancing and customizing the user experience is much easier. For example, the Wild.ai app lets users use their personal data to predict physical performance capability.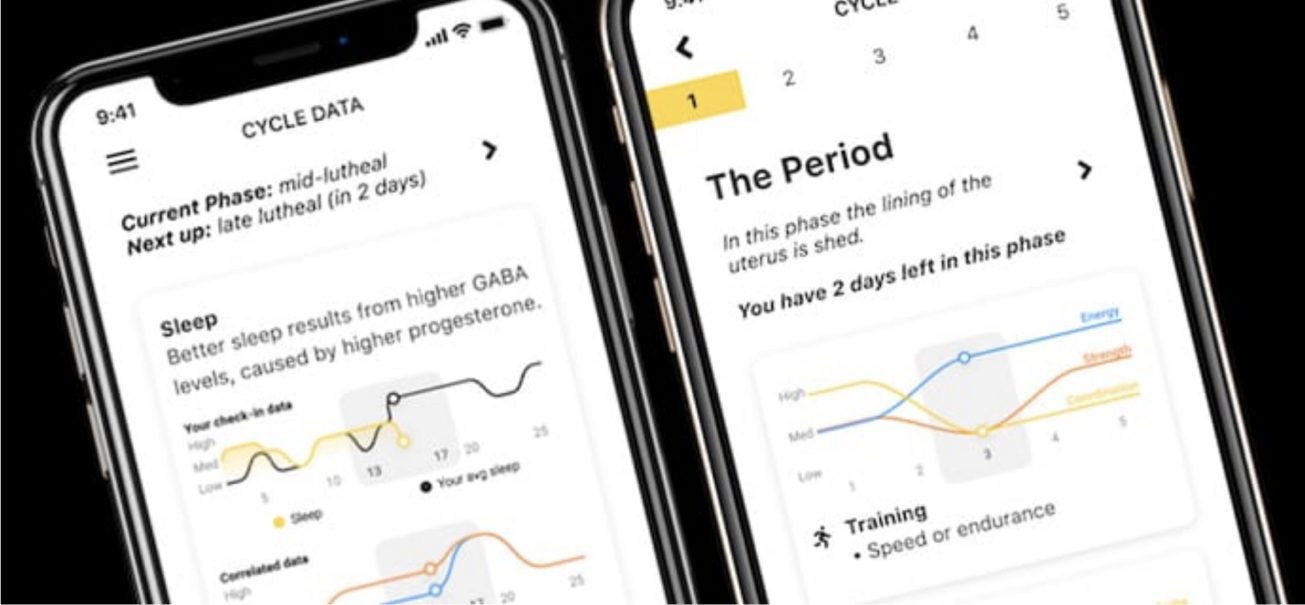 It's essential to keep in mind that not all medical apps are suitable for everyone. Healthcare apps, in particular, face the challenge of catering to a diverse range of individuals, including those of different ages, genders, races, sexual orientations, and physical and mental abilities.
Some users may have disabilities or incurable illnesses, while others may have chronic medical conditions. Therefore, inclusive designs are crucial for their beneficial features and the future of healthcare applications.
Advice from a medical mobile app developer: Ensuring your interface and features are accessible, straightforward, and easy to use across user groups can dramatically boost the odds of an app's success.
Medical App Development—What's Next?
A straightforward interface, responsive and improved functionality, and exciting data insights will alleviate patient stress and increase treatment efficiency.
Although many companies have begun to realize the potential of the healthcare mobile app development market, there are still numerous gaps in features, technology, service, and design.
The Android medical app development sector, as well as iOS medical app development, will continue to soar in the upcoming years, with particular emphasis on wellness applications and health-tracking tools.
Additionally, more niche technologies are expected to emerge shortly — look at the spike in mental health apps.
If you are looking to start creating your medical app today, we at Glorium have all the knowledge, resources, and experience to help you realize your vision in the shortest terms. Our developers are skilled in all the required languages and have undergone training in regulatory policies.
Medical app developers can enhance product attractiveness, usability, and performance in numerous ways. From immersive VR experiences to wearable tech, the potential is unlimited.
mHealth App Development with Glorium
Our team has the expertise and experience to enhance and build your medical applications from scratch. So we've got you covered if you need mHealth app development company to provide any medical app development services, including but not limited to
consultation,
robust application testing,
skilled mHealth app developers for your app design,
enhancing software security capabilities.
With extensive experience in mHealth app development services and a profound understanding of critical regulations, our mHealth app developers can answer any challenge.
Learn more about our software and application development solutions today.
Questions You May Have