The world of tech startups is often caught between two contrasting goals: creating tangible value and achieving high valuations. Additionally, the COVID-19 pandemic has impacted the number of data-driven companies. These challenges beg the question: How can Chief Technology Officers (CTOs) navigate these complexities and drive success? Edgar Escobar, CTO at Grupo ALTO, provides valuable insights in his presentation at Glorium Technologies' virtual summit, titled "Startup CTO Summit 2023: From Code to Culture: The CTO's Journey."
Nadal vs. Goat
In a thought-provoking TED Talk, Tony Nadal shared a compelling story about coaching his nephew, Rafael Nadal, also known as the "goat" in tennis circles. Tony's approach, though initially disheartening to Rafael, demonstrated the importance of boldness and finding solutions together. Inspired by this story, we delve into the realm of technology and leadership, exploring the challenges and opportunities faced by tech professionals in driving value creation within their organizations.
The State of Tech-Based Foundations
Despite the hype around data-driven decision-making, the adoption of data tech-based foundations remains surprisingly low. A mere 15 to 20% of CEOs possess a solid understanding of data and its transformative potential. This lack of foundational knowledge poses a significant hurdle to progress, particularly in non-tech-related companies. McKinsey's prediction of data as the new oil or gold has yet to materialize fully, leaving room for improvement and innovation in leveraging data for organizational success.
The Illusion of the Data Revolution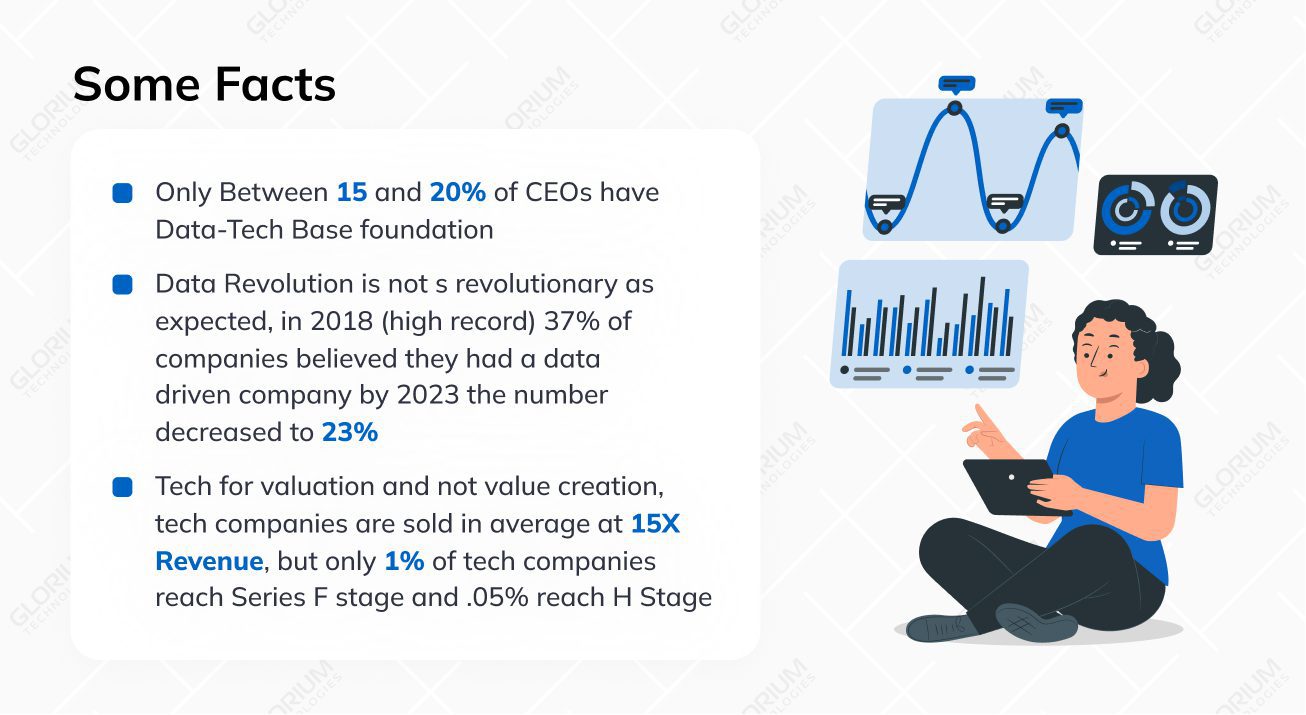 While the idea of a data revolution has captivated the business world, the reality falls short of expectations. A study conducted in 2018 revealed that 38% of companies claimed to be data-driven. However, this number plummeted to 23% following the COVID-19 pandemic. The reason behind this decline lies in the realization that many companies were not as data-driven as they initially believed. To truly leverage data's power, organizations must undergo a deep understanding of what it means to be data-driven, highlighting the importance of continuous learning and improvement.
Tech Startups: Valuation vs. Value Creation
In recent years, the startup landscape has witnessed a surge in valuations, often driven by the promise of technology. However, this valuation-centric approach has overshadowed the true essence of value creation. Many tech startups struggle to prove their worth beyond high valuations, with only 1% reaching the coveted Series A stage and a mere 0.05% advancing further. This realization begs the question: Are tech startups focused on creating tangible value, or are they primarily tools for financial gains? Tech leaders must strive to make a difference by embracing a value-driven mindset.
Operational Issues
Within the realm of technology, leaders encounter various challenges that hinder their ability to drive change effectively. Operational issues pose a significant risk, as even a single mishap can overshadow numerous accomplishments. Despite technical expertise, leaders may face criticism when their solutions fall short of expectations, underscoring the need for operational excellence.
"How many of you have built a really good functionality after following or maybe even looking for people to give you a proper definition, and when you actually finish it, and you feel that you did a great job, someone comes in and says, you know, that functionality was not what I was expecting. So in the end, we have a very, very big problem operationally speaking; we can be easily burned. We can do great in terms of innovation. we can do great in terms of development, but operation issues can burn you. Can burn you your time, how people perceive you, how can you do a better job, so that's a fact," Escobar says.
Tech as a Catchy Phrase vs. a Transformational Tool
The allure of tech buzzwords often distracts from the true purpose of technology within organizations. It is crucial to view technology as a transformative tool rather than a mere catchphrase. As new technologies emerge, such as ChatGPT, leaders must prepare themselves for potential industry disruptions. Understanding processes and aligning tools accordingly allows for the effective integration of technology into the fabric of the business.
"Many things that have been happening should not be new for us. But the moment that they appear in the industry for many people that are more concerned about the business, are more concerned about doing cool stuff, well, it does become an issue. So, basically, we have to make sure that those catchy phrases don't change us. We have to make sure that actually those tools are meant to transform the company," Escobar says.
Becoming a Strategic Partner
To become strategic partners within their organizations, tech leaders must take proactive steps. Setting boundaries and focusing on projects that generate value are vital aspects of this transformation. By shifting their mindset from being solely technical experts to problem aggregators, tech leaders can better understand organizational challenges and actively contribute to finding solutions. Engaging with stakeholders, highlighting expertise, and showcasing problem-solving abilities are essential for driving change and making a lasting impact.
"So, if possible, try to disconnect yourself from the daily basis operation. You have your teams, you have your protocols, you have your processes, trust your people, but make sure that you are involved in really what matters to your company," Escobar stresses.
How should CTOs bring value? They have to ensure that they focus on tasks that truly generate value rather than attempting to do everything under the sun. It's important to prioritize and select a few key activities. They need to consider how they can contribute significantly to the sales process, as, ultimately, it plays a crucial role in sustaining our livelihood. Despite the technical nature of our work, selling is what provides everyone with sustenance. Therefore, tech leaders must be actively involved in that aspect.
"I guess it's better to undersell and over-deliver. People tend to be more grateful about that. Yes, in the beginning, it's really hard. If you come in and say, I'll see you in five months, people will get very stressed, but there are tools around that. You can deliver by stages, you can deliver prototypes, and there are plenty of tools that I'm pretty sure you are aware of," Edgar Escobar pointed out.
Choosing Between Problem Solvers and Painkillers
In the realm of problem-solving, it is often said that opportunities lie where problems exist. While the word "opportunities" is frequently favored, let's momentarily shift our focus to problems. The ability to identify problems and possess the necessary capabilities to address them can truly enhance the growth and success of your company. In fact, becoming an aggregator of problems can be a pivotal role to undertake.
Project management is an area where complications often arise due to a lack of understanding of the problems at hand. Requests for solutions without a thorough comprehension of the underlying issues can lead to misalignment and disappointment. However, you, as a problem solver, possess a unique advantage. Tech leaders have the ability to truly grasp and comprehend problems, making them an invaluable resource.
By becoming an aggregator of problems, CTOs position themselves as the go-to persons when others require assistance. When people find themselves in need of a solution, they instinctively turn to CTOs because they recognize their expertise in understanding and resolving complex issues. This is where tech leaders can make a significant impact and add value.
Choosing to solve problems rather than merely hiding the pain is a decision that holds weight. While both approaches can have their merits, it's crucial for tech leaders to align themselves with the kind of person they want to be. Taking the time to truly understand the intricacies of a problem and devising comprehensive solutions demonstrates their commitment to tackling challenges head-on. However, in some instances, providing a quick painkiller may be the immediate requirement. Ultimately, it is up to CTOs to determine which role suits them best in different circumstances.