The NYC commercial real estate sector, one of the city's most powerful revenue engines, is currently struggling to lease vacant commercial property.
Although COVID-19 and the resulting lockdowns have shattered the CRE market (valued at $16 trillion dollars worldwide) across America, the impact on New York seems the most palpable.
As profits made from commercial property deals account for a massive chunk of tax revenue, emptying office spaces have hit the local market, and the economy in general, like a ton of bricks.
As remote employment becomes the new norm, massive retail stores and hotels have been forced to close their doors — many of them for good. As a result, new property investments have fallen by 22% over the last year alone.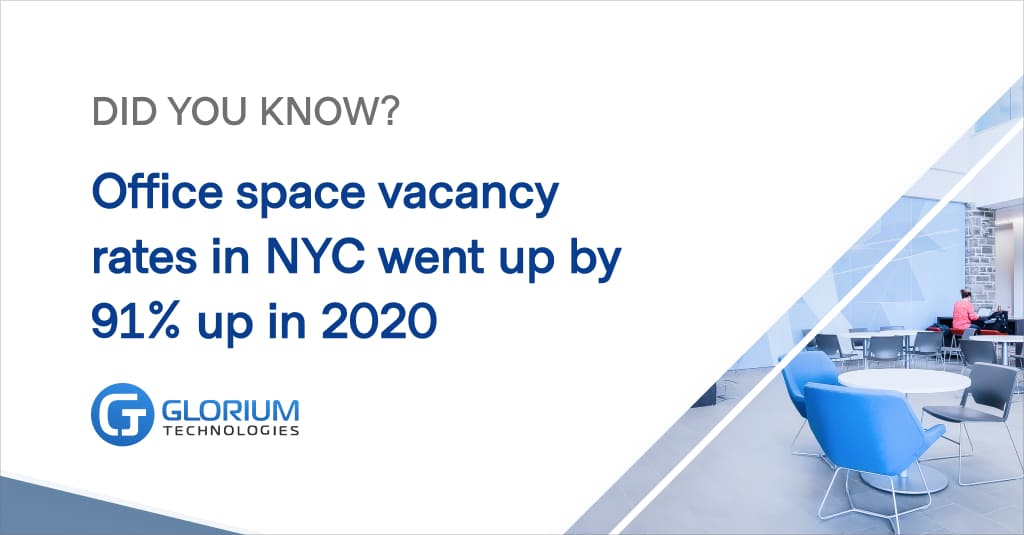 What's happening with the commercial real estate industry in NYC?
Although physical workspaces aren't entirely closed, office space leasing is down significantly. In 2020, office space vacancy rates in NYC went up by 91% — an increase of 82% since mid-2019.
Now, around 14% of Midtown Manhattan office spaces are vacant. That's the highest vacancy rate since the 2009 crisis. For retail stores and hotels, the situation is even worse: more than one-third of all commercial retail space on Madison Avenue is empty.
This crippling effect is quickly turning into a very real crisis for the NYC commercial real estate sector. 
To combat this crisis, landlords, brokers, investors, and housing owners are exploring new ways to get the sector back on track. The following are some of the essential solutions commercial real estate brokers are turning to survive the market crisis:
Flexible and adaptive spaces
Enhancing the experience of virtual property viewings
Smart building maintenance
To better leverage the above trends, it's important to understand the current CRE market state.
A boom in industrial real estate
Considering we're in the midst of an ongoing crisis, unlike workplaces, offices, hotels, and retail property that are among the hardest hit, the industrial real estate market is doing surprisingly well.
As shoppers have turned to the web, there has been a massive influx in e-commerce orders destined for retail warehouse facilities. In fact, according to the International Council of Shopping Centers, a whopping 88% of Americans did their Thanksgiving shopping online in 2020.
Furthermore, from 2019 to 2020, e-commerce sales have literally doubled from 11% to 22%, and are expected to account for 30% of all general retail sales globally, by the end of 2021.
These massive shifts in consumer behavior are not only driving the demand for more space and automation in large warehouses, but they're also forcing retailers to rent smaller spaces closer to delivery clusters in order to sustain last-mile logistics. 
According to the global real estate company, JLL, by 2025, there will be a need for an additional 1 billion square feet of industrial space across the US, with a staggering 30 to 40 million square feet in New York City alone.
As every retail company tries to replicate and master Amazon-ish delivery times and customer service, the industrial property market poses huge opportunities for investment firms and brokers.
Amazon has already turned its Manhattan office space into a distribution hub; in addition to throwing a bizarre $305 million dollar investment into a new large warehouse facility in Queens.
No wonder that rent prices are climbing for industrial real estate, too. For this reason, focusing on technology solutions for retail facilities is like a gold mine for proptech firms and investors.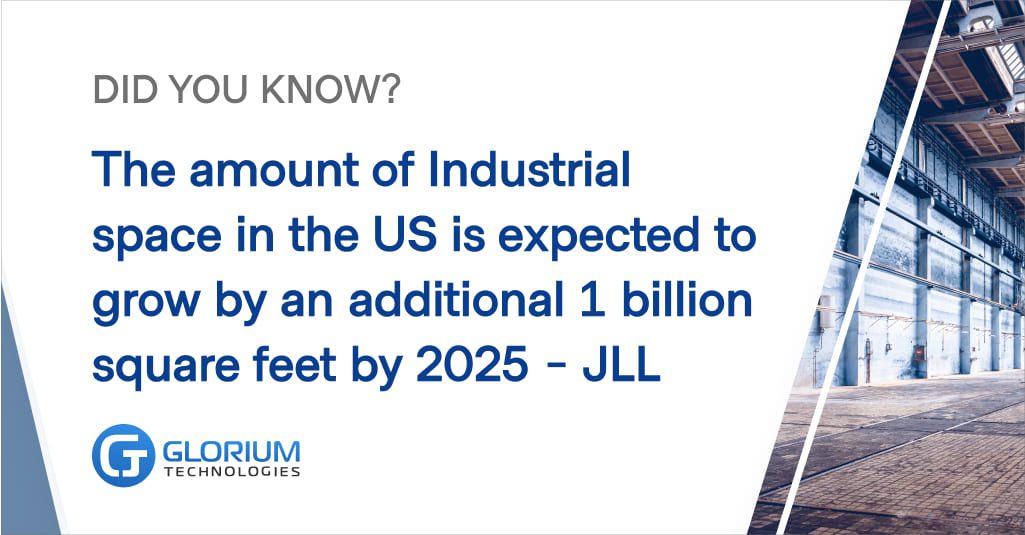 Suburban offices and HQs
Working from home has been a blessing to some and a curse to others. Still, with all the hype around a total switch to remote work, offices are not going anywhere.
What's more, many large companies that had previously advocated for remote work are now announcing their back-to-office mandates. For example, Google and Amazon are expecting the majority of their workforce to be back at the desk beginning in September. 
Nevertheless, the rigid office structure has changed forever, and when companies are deciding if their employees should continue operating remotely, even if they're back to the office – workspaces won't be the same.
Employers are seeking the middle ground between downtown open spaces and a completely work-from-home model, and they have come to a few solutions.
Right now, there is a demand for more offices and headquarters to be located in suburban areas in an effort to make them more efficient and safe.
Converting commercial spaces to residential spaces
One of the proposed solutions to New York's commercial real estate plunge was to transform commercial properties into residential spaces.
Adapting real estate to current conditions would increase occupancy rates and benefit retailers, as there's a higher likelihood for retail shops to be visited in residential neighborhoods.
New York Governor Andrew Cuomo stated he would review the idea, although the initiative has already gotten support from some city officials. However, not all landlords are willing to convert their profitable Manhattan spaces into residential estates.
Thus, the more attractive solution may be to enhance properties with the help of smart technology, including telecommuting, smart buildings, and alternative reality. 
Commercial real estate technology trends in NYC and beyond
With plenty of changes, both good and bad, occurring in the CRE market, the key to survival is agility and quick adaptation.
While the CRE industry is having a hard time, proptech startups can take advantage of current trends and implement certain technologies to enhance their situation. 
The job of real estate brokers and agents has also changed as the pandemic has forced industry professionals to seek new ways to show and sell property.
Real estate specialists now have greater mobility thanks to smart technology that attracts investors and allows them to close property deals faster.
Here are some tech solutions that proptech startups should consider:
VR for commercial real estate 
VR now extends to the viewing of commercial real estate property, allowing customers an enhanced experience to help them make a decision.
Virtual tour software has become an irreplaceable tool for many brokers to show and lease now-booming industrial facilities, and increase interest for other types of CRE.
Through software, property sellers can reach a wider pool of interested customers and tenants, while the latter maintain safety and save on the time and costs typically associated with physically scouting a property.
Furthermore, options such as dynamic 3D property maps and construction plans can be used to accelerate real estate contracts. As such, many companies are already taking advantage of virtual technology for commercial real estate.  
WeWork has already incorporated 360-degree software into its office-leasing business that matches potential tenants with the property they offer.
Another 3D and VR company, Matterport, allows agents to impress their customers via an immersive space viewing experience by providing dynamic models for different types of property, including industrial facilities, hotels, and other hospitality buildings.
InventDev offers virtual tours specifically for the construction industry by creating realistic 3D floor plans. While most of these initiatives are still in their infancy, there is a huge potential for VR-enabled software solutions to provide immense value to the current CRE crisis. 
Smart technology for building management
As property owners explore various ways to reshape and adjust spaces to make them more efficient and attractive to tenants and customers, smart technology for building management comes into the spotlight.
Owners, managers, and employers are much more likely to integrate technological solutions that can show office and parking lot capacity, handle reservations for limited numbers of employees, and set up designated queues for when people can report to, and leave work.
By incorporating smart technology, landlords and real estate brokers can enhance the use of commercial real estate in many ways.
For example, connected and automated buildings allow for less human involvement maintenance-wise, and can even predict and prevent issues relating to energy consumption, building security, HVAC system usage, climate control, occupancy rates, and attendance tracking.
As recently reported by Cluttons, 78% of property owners stated that their leasing deals improved due to the use of smart building technologies.
Smart buildings have proved to be one of the most promising ways to drive profit for the commercial real estate sector. Connected technology not only provides safety and convenience but is much more appealing for those looking to rent an office space.
With a limited number of employees on-site, tenants want to be sure they're paying a fair price; on the flip side, landlords are able to save on energy and building maintenance, which allows for more flexibility in terms of pricing. 
Warehouse management software 
The high demand for industrial spaces has allowed investors to tap into profitable opportunities by investing in warehouse facilities. To maximize property yields and remain on top of the market, these warehouses have to be increasingly automated and 'smart'.
For proptech firms, offering convenient warehousing software is a promising way to match their customer's most recent needs.
Particularly, automation software helps companies monitor and process thousands of units going in and out of warehouse facilities every day, proactively manage exceptions, and quickly anticipate potential inventory issues.
Accumulating operational data also lets better forecast demand and plan order fulfillment more efficiently. Eventually, warehouse software plays a tremendous role in helping companies provide better customer service through on-time delivery and order management, and saving costs on deadstock inventory. 
To maximize the efficiency of warehousing spaces, the market needs solutions fueled by powerful data analytics, strong integration capabilities to sync with retail order fulfillment systems and connected devices, and robotic technologies. 
Real Estate Technology Development With Glorium 
Glorium is a software development company specializing in sophisticated tech solutions for the real estate sector. With more than 10 years of industry expertise, Glorium assists startups, helping them get to market quickly and stay ahead of the competition with superior service and tailored solutions.
By nurturing your ideas from concept to launch, our dedicated team helps bring your ideas to life.
Learn more about our real estate software and application development solutions today.