While numerous CRM solutions are available in the market, custom real estate CRM software development offers unique advantages to real estate professionals, allowing them to tailor the platform to their specific needs and requirements.
This comprehensive guide will explore the ins and outs of custom real estate CRM software development, its benefits, key features, costs, development process, and the critical factors to consider when building the best CRM for real estate.
How to Boost Business with Custom Real Estate CRM Software?
Let's start with the question: what is crm in real estate? Custom Real Estate CRM software is a platform designed specifically for real estate agencies. It empowers these agencies to streamline workflows, manage deadlines efficiently, organize documentation, handle communications with leads and clients, and centralize data storage in a single location.
The significance of a multi-functional CRM cannot be overstated for your real estate business, as it seamlessly integrates internal and external processes within the company. It facilitates the visual representation of lead progress through a pipeline, enables prompt responses to inquiries, and efficiently collects customer feedback. By consolidating these crucial tasks, a custom Real Estate CRM enhances overall productivity and effectiveness, leading to smoother operations and improved client satisfaction.
Boosting your real estate business with custom real estate CRM software can significantly improve your efficiency, organization, and client management. Here are some key benefits how custom CRM software can boost your real estate business: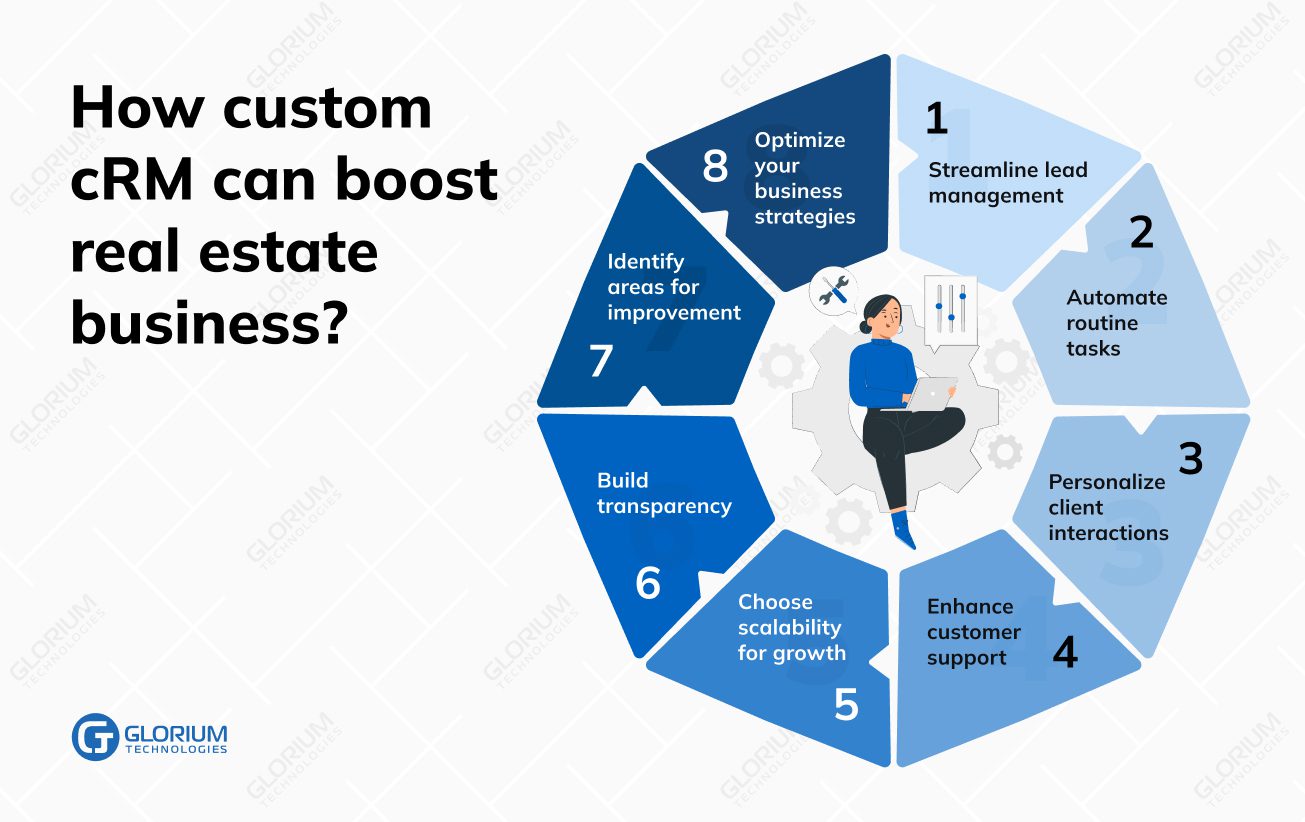 1. Streamline lead management: It allows you to centralize and organize all your leads in one place. You can create automated lead capturing from your website, social media, and email campaigns. It enables quick follow-ups and personalized communication with potential clients, converting leads into successful deals.
The following are a few interesting facts about CRM sales and conversions from Agile CRM:
Conversion rates can grow upwards of 300% for companies who use a CRM system
CRM solutions can help companies shorten sales cycles from 8 to 14%
CRM tools have led to a 42% increase in sales accuracy.
2. Automate routine tasks: You can automate sending property updates, appointment reminders, and follow-up emails. Automation saves time and ensures that no leads slip through the cracks, resulting in improved client engagement and satisfaction.
3. Personalize client interactions: It allows you to store essential client information and preferences. This data can be used to offer personalized recommendations, track client preferences, and tailor your services to each individual's needs. Personalized interactions create a positive impression and foster stronger client-agent relationships.
4. Enhance customer support: Automated follow-up communication keeps clients engaged and shows that you value their interest, fostering a positive impression of your real estate business. Custom real estate CRM software can incorporate features for collecting and managing client feedback. This valuable input helps you identify areas for improvement and make necessary adjustments to enhance customer support.
5. Build transparency: Using a client portal, clients can access their property information, transaction history, and communicate directly with agents. This transparency builds trust and keeps clients engaged throughout the buying or selling.
6. Optimize your business strategies: These solutions can offer detailed analytics and reporting capabilities, providing insights into your sales pipeline, agent performance, and marketing efforts. Data-driven decision-making helps you identify areas for improvement and optimize your business strategies and helps with marketing automation.
7. Enhanced customer support: It lets your team track client interactions, preferences, and inquiries effectively. This knowledge empowers your agents to deliver exceptional customer support and timely assistance.
8. Scalability for growth: As your real estate business expands, it can be scaled to accommodate the increased workload and new features. This adaptability ensures your CRM system remains an asset throughout your growth journey.
Custom vs Off-the shelf Real Estate CRM Software
Real estate businesses often find themselves at a crossroads between custom-built CRM software and off-the-shelf CRM solutions. Custom real estate CRM offers tailored features and functionalities designed to address the unique needs of a specific business. At the same time, off-the-shelf CRM provides a ready-to-use solution with generic features that cater to a broader market. Each option presents distinct advantages and disadvantages, making the decision a critical factor in the business's long-term success.
Off-the-Shelf Real Estate CRM Software
Advantages:
Disadvantages:
Quick deployment:
Off-the-shelf CRM solutions are readily available and can be implemented quickly. It benefits businesses seeking a rapid solution without going through a lengthy development process.
Limited customization:
Off-the-shelf CRM software may only partially align with a real estate business's specific requirements. Customization options are limited, leading to potential inefficiencies and the need to adapt existing processes to fit the software.
Lower initial costs:
Since the software is pre-built and designed for a broader market, off-the-shelf CRM software typically has a lower initial cost than custom solutions.
Generic features:
These solutions may include irrelevant or unnecessary features for real estate businesses, leading to cluttered interfaces and a steeper learning curve for users.
Vendor support and updates:
Off-the-shelf CRM providers often offer support services and regular updates to enhance the software's functionality and address potential issues.
Scalability challenges: As the business grows, the off-the-shelf CRM may struggle to accommodate increased data volumes and changing needs, potentially leading to additional software investments.
Custom Real Estate CRM Software
Advantages:
Disadvantages:
Tailored to specific needs:
A custom real estate CRM is designed from scratch to cater precisely to a real estate business's unique needs and workflows. It ensures that the software fits seamlessly into existing processes, maximizing efficiency.
Higher initial investment:
It requires a larger upfront investment than off-the-shelf options. However, the long-term benefits can outweigh the initial costs.
Flexibility and scalability:
These solutions are highly flexible and can be easily scaled for business growth and evolving requirements. New features can be added as needed, ensuring the CRM remains relevant over time.
Development time:
Building process may take longer, as it involves a thorough development and testing process. However, the customized end product justifies the wait.
Competitive advantage:
A bespoke CRM gives real estate businesses a competitive edge by offering unique functionalities and enhanced user experiences that distinguish them from competitors.
Integration possibilities:
These solutions can be seamlessly integrated with other existing software, such as MLS listings, email marketing platforms, and financial management systems, ensuring a smooth flow of information across all tools.
Data security:
It allows businesses to implement robust security measures, safeguarding sensitive client data and providing peace of mind regarding data privacy.
Considering the advantages and disadvantages outlined above, opting for custom real estate CRM software proves to be the best crm for real estate for several compelling reasons: personalization, scalability, competitive edge, enhanced integration, data security and industry compliance.
When is CRM the right choice for your business?
Addressing business specificity
No two businesses are the same, and each has unique workflows, processes, and requirements that cannot be met by one-size-fits-all CRM software. Building a custom CRM allows businesses to design a system that precisely aligns with their needs, ensuring maximum efficiency and productivity. Whether it's specialized lead management for a real estate agency, customized reporting for a financial institution, or personalized client interactions for a healthcare provider, it caters to the distinct nature of each business.
Seamlessly integrating with existing systems
Modern businesses often rely on various software tools for different functions, such as accounting, marketing, inventory management, etc. A custom CRM can be developed to seamlessly integrate with these existing systems, creating a cohesive tech ecosystem. Integration reduces manual data entry, minimizes the risk of errors, and allows for a centralized view of critical data, enhancing decision-making capabilities and overall operational efficiency.
Scalability for future growth
Forward-thinking businesses have growth on their radar. As they expand and acquire more clients, off-the-shelf CRM solutions may need help to handle increased data volumes and user accounts. Building custom software from scratch ensures scalability. This future-proof approach allows the CRM to grow alongside the business, accommodating higher data loads, new functionalities, and evolving requirements without compromising performance or usability.
Must-have Features of Custom Real Estate CRM Software
Custom real estate CRM software, designed specifically for the unique needs of the real estate industry, should include a comprehensive set of must-have features to optimize lead management, client interactions, and overall business efficiency. Here are the key features that a custom real estate CRM software should possess:
Contact and lead management: A robust CRM should provide a centralized database for managing leads and contacts. This feature allows real estate agents to capture, organize, and track leads throughout sales, ensuring every potential client is noticed.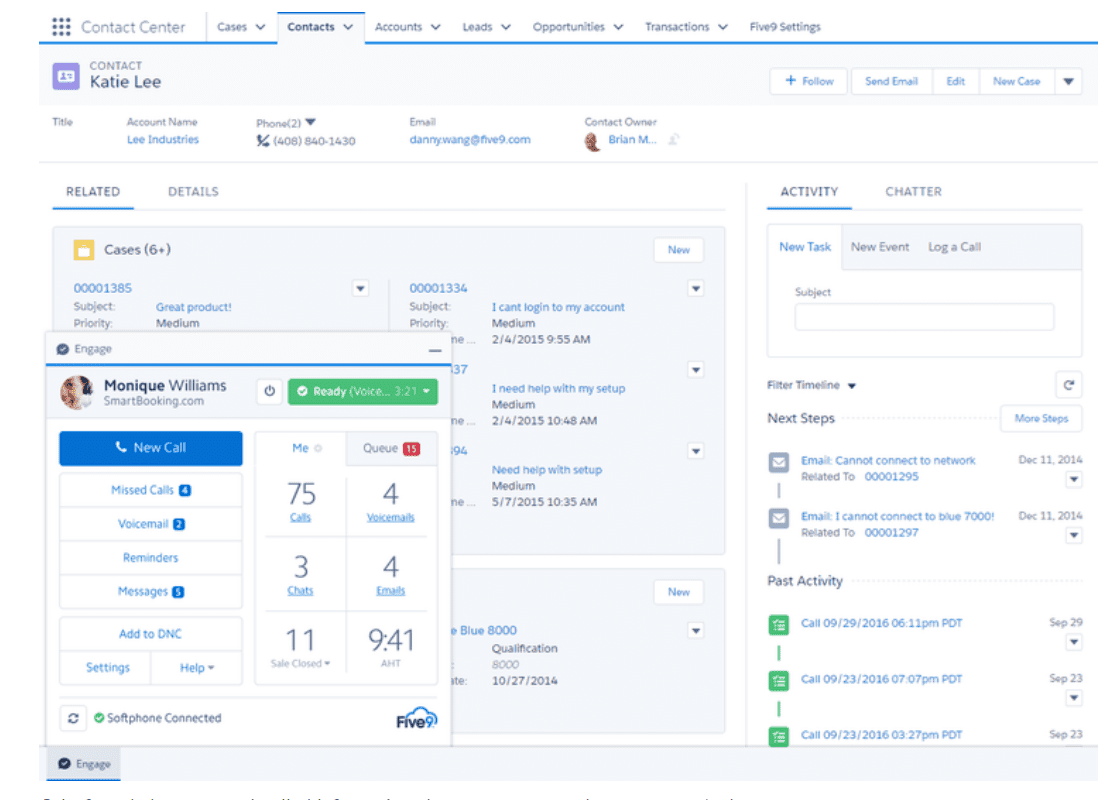 Property tracking: Essential for real estate businesses, this feature enables agents to manage multiple properties efficiently. The CRM should allow categorization, filtering, and easy retrieval of property information, enabling agents to match clients with suitable properties swiftly.
Look how Glorium built a secure all-in-one tool for completing commercial appraisals from anywhere.
Automated lead capture: The CRM should automate lead capture by integrating with various lead sources, such as website forms and social media. This streamlines adding leads to the system, saving time and reducing manual data entry.
In a well-designed CRM, users should be able to create and automate marketing campaigns that are aimed to capture new leads. This requires the integration of modules that allow setting and fulfilling tasks between different platforms.
Drip marketing campaigns mostly enable the creation of customized email templates and are equipped to use other viable media for initiating and supporting communication and relationships with customers.
Advanced CRM often includes a contact manager feature to facilitate the communication process.
Task and appointment management: A customizable task and appointment management system ensures that agents stay on schedule. It should include reminders, notifications, and the ability to set deadlines, allowing for efficient time management.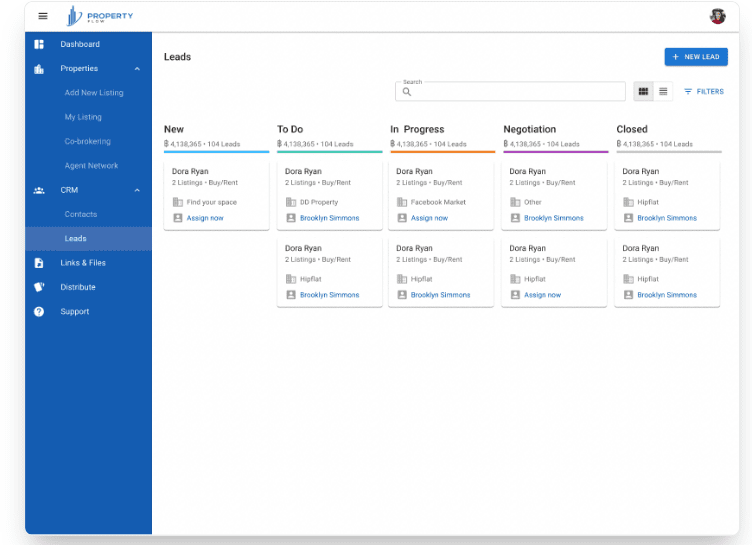 Client portal: A client portal enhances transparency and communication. Clients should be able to log in to access their property information, transaction history, and communicate directly with agents, ensuring a seamless customer experience.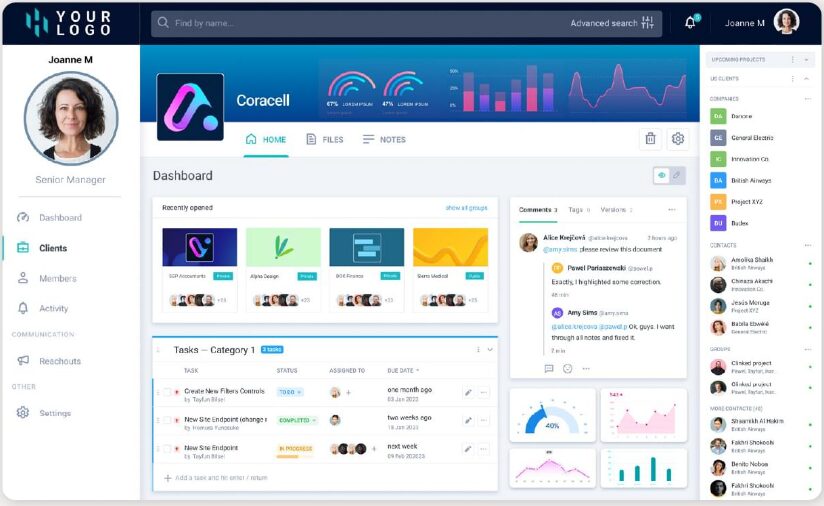 Email and communication integration: Seamless integration with email allows agents to manage client communications within the CRM, providing a complete view of all interactions. This feature aids in tracking communication history and enhancing client relationship management.
Document management: An efficient document management system ensures that essential paperwork, contracts, and agreements are stored securely within the CRM. This simplifies access and reduces the risk of misplacing crucial documents.
Customizable reporting and analytics: A custom real estate CRM should provide detailed reporting and analytics features. Agents and business owners can access insights into sales performance, lead conversion rates, marketing campaigns, and other critical metrics, enabling data-driven decision-making.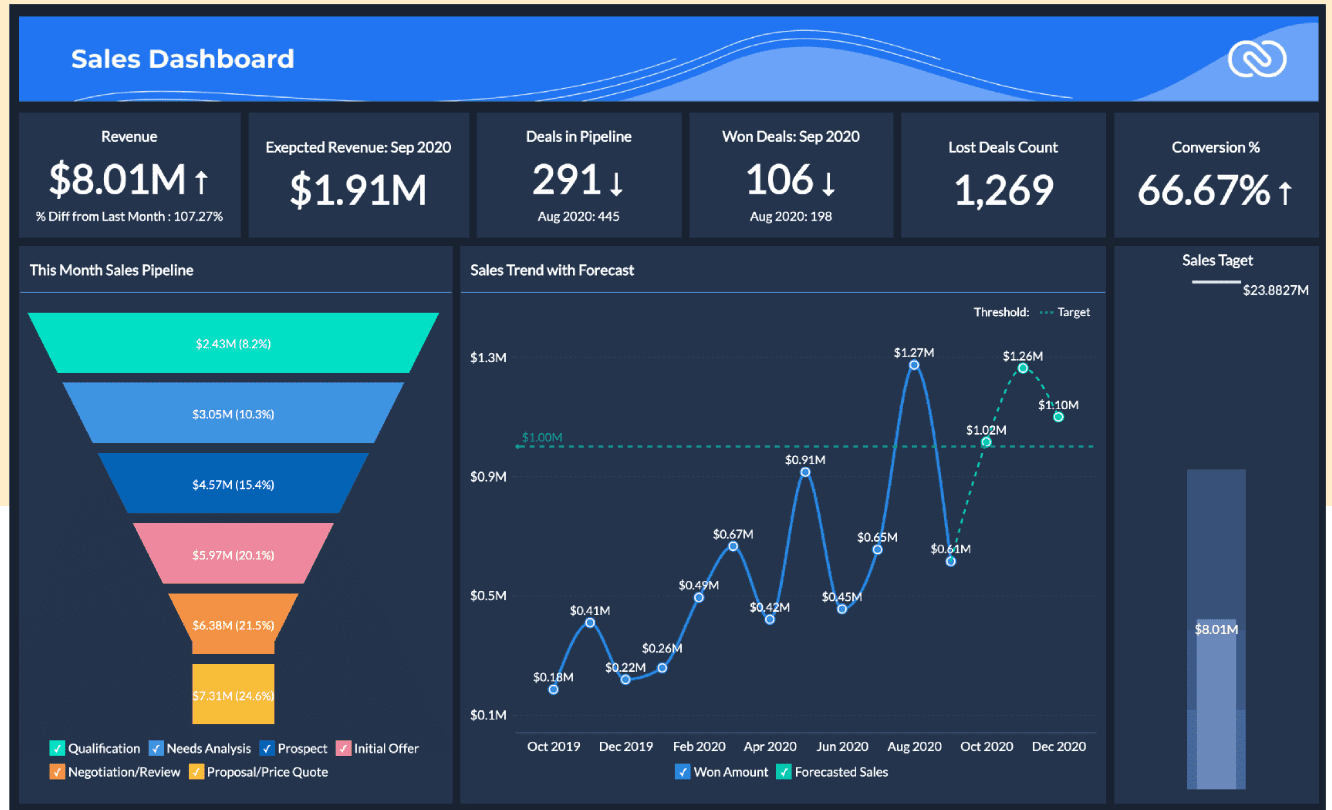 Mobile accessibility: With real estate agents frequently on the go, mobile accessibility is vital. A custom real estate software should be responsive and user-friendly across various devices, allowing agents to access crucial information and manage tasks in the field.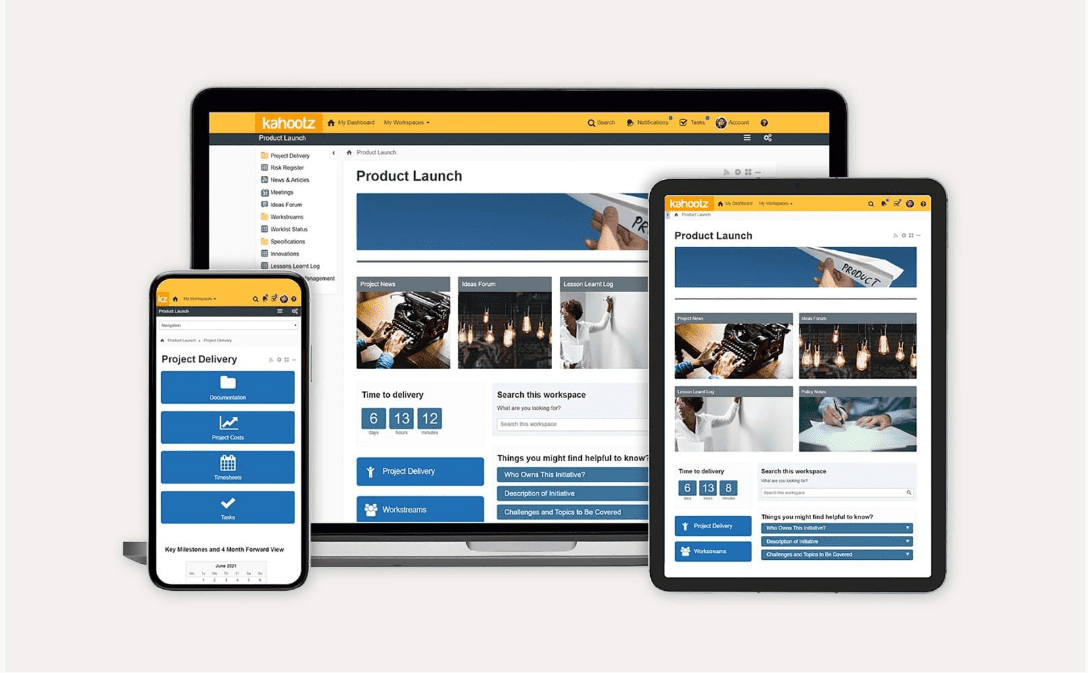 Integration with third-party tools: To streamline operations, a custom real estate CRM should integrate with essential third-party tools. This includes MLS listings, email marketing platforms, accounting software, and other applications used in the real estate industry.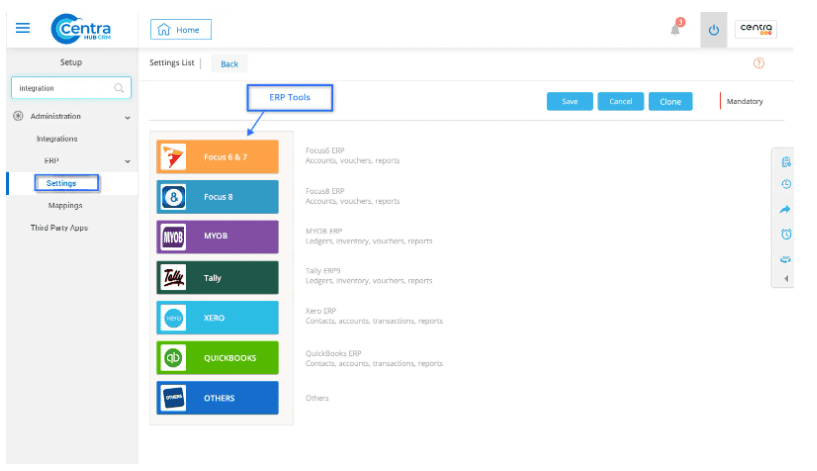 Custom Real Estate CRM Software Development: Step-by-Step
Building a custom real estate CRM is a strategic endeavor that allows real estate businesses to optimize their operations, streamline processes, and deliver exceptional customer experiences. It is tailored to the unique needs of the real estate industry and requires careful planning, collaboration, and iterative development. Here is a step-by-step guide to custom real estate CRM software development:
Define objectives and requirements
The first step in custom CRM development is to clearly define the objectives and requirements of the software. Identify the specific features and functionalities necessary for lead management, client interactions, property tracking, reporting, and other critical real estate business aspects.
It's crucial for streamlining the sales process and managing leads efficiently. The pipeline helps visualize each stage of the sales journey, from lead generation to closing deals, ensuring that no prospect falls through the cracks. By defining stages, mapping workflows, and incorporating automation, real estate professionals can optimize lead management and enhance client interactions.
Read more about pipeline building in our article.
Once the requirements are established, the next step is to create a design and prototype. The design phase includes creating wireframes and mockups visually representing the CRM's user interface and functionality. Prototyping allows stakeholders to interact with the proposed CRM design, providing valuable feedback and insights for further refinement.
Choose the technology stack
Selecting the right technology stack is crucial for custom CRM development. The technology stack includes the programming languages, frameworks, and tools used to build the CRM. Consider factors such as scalability, security, ease of integration, and the development team's expertise when making technology choices.
With the design and technology stack in place, the development phase begins. Developers build the custom real estate CRM according to the defined requirements and design. Following an Agile development approach is essential, breaking the project into smaller, manageable sprints. This allows for continuous testing, bug fixing, and client feedback incorporation throughout development.
Integration and data migration
Real estate businesses often use multiple software tools for accounting, marketing, and MLS listings. Integrating with these existing systems is critical to streamline data flow and avoid duplications. Data migration from legacy systems to the new CRM should also be carefully executed to ensure a smooth transition.
User training and documentation
Once the custom real estate CRM is developed and integrated, user training is essential to ensure that real estate agents and team members can utilize the CRM effectively. Provide comprehensive training sessions and documentation to guide users on navigating the CRM, managing leads, accessing client information, and using other essential features.
Quality assurance and testing
Before deploying the software, thorough quality assurance and testing are essential. Rigorous testing ensures that the CRM functions as expected, meets all requirements, and is free from bugs or issues that could hinder its performance.
Once the custom real estate CRM has passed all tests and quality checks, it is ready for deployment. Launch the CRM for real estate agents and other relevant team members. Monitor the system closely during the initial phase to address any unforeseen issues promptly.
Continuous support and maintenance
After the CRM is deployed, the development team should provide continuous support and maintenance. This includes addressing technical issues, updating the CRM to accommodate business growth and changing needs, and implementing security patches to safeguard sensitive client data.
Real Estate CRM Software Development Cost
The cost of CRM development is directly influenced by the range of functions it incorporates. Therefore, understanding how your CRM should handle roles, tasks, and reports becomes crucial. Additionally, identifying any additional features, such as chatbots and customer scoring, that you require can impact the overall cost.
In estimating the CRM development cost, the primary focus is the time required for the development process. The average hourly rate for real estate crm software development service is around $50.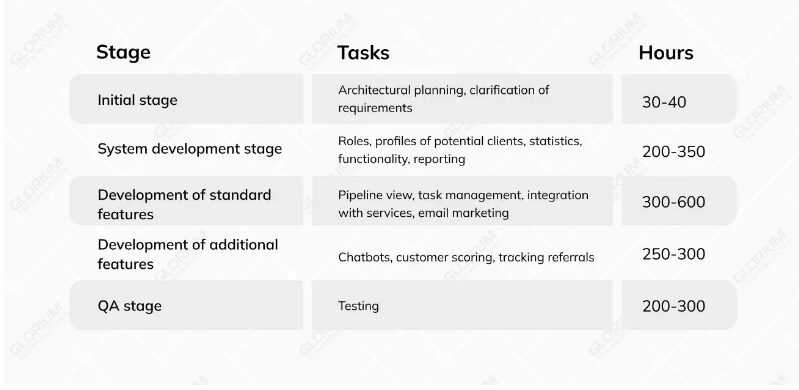 The project's final cost can be influenced by the possibility that some of the features included in the assessment may not be necessary for your specific requirements. On the other hand, you may have additional features in mind that are not part of the initial assessment. These considerations will impact the overall cost of the CRM development project.
How to Choose a Real Estate CRM Software Development Company?
Choosing the right real estate CRM software development company is a crucial decision that can significantly impact the success of your CRM project. Here are some essential factors to consider when selecting a partner for real estate software development:
Experience and expertise: Check a proven track record of developing CRM solutions specifically for the real estate industry. Check their portfolio and client testimonials to gauge their experience and expertise in building custom CRM for real estate.
Communication aspects: Effective communication and collaboration are essential for a successful CRM development project. Choose a company that communicates clearly, understands your requirements, and keeps you involved throughout the development process.
Cost and Budget: Compare the cost of services offered by different CRM development companies. While it is essential to consider your budget, remember that quality and functionality are equally important. Avoid making a decision solely based on the lowest price.
Client References: Request references from previous clients who have worked with the CRM development company. Reach out to these references to get insights into their experience with the company and the quality of the CRM software delivered.
By carefully considering these factors and conducting thorough research, you can make an informed decision and choose a real estate CRM software development company that will deliver a customized CRM solution that meets your business needs and propels your real estate operations to new heights of efficiency and success.
How Glorium Can Help You?
Our team of experienced developers and domain experts, can top-notch real estate CRM software development services. Glorium expertise allows it to integrate industry-specific features such as property tracking, MLS listings, lead scoring, and client portals, empowering you with a CRM designed to address the challenges of your industry.
Moreover, data security and compliance have been highlighted as paramount considerations in developing custom real estate CRM solutions. Protecting sensitive client information is a non-negotiable aspect in today's digital landscape, and businesses can rest assured with Glorium's commitment to implementing robust security measures.
Summary
Custom real estate CRM software empowers businesses to streamline lead management, efficiently track properties, and foster personalized client interactions. Integrating essential features such as contact management, task automation, and mobile accessibility ensures that real estate agents can work effectively on the go, enhancing productivity and responsiveness.
Investing in custom real estate CRM software helps to unlock the full potential of your real estate business. Contact us and embrace a tailored CRM solution to meet your unique challenges and drive them towards unparalleled success. With the right CRM, real estate professionals can take confident strides, providing exceptional service, building lasting client relationships, and positioning themselves ahead in the competitive real estate landscape.
Questions You May Have