Telecommunications technology has become commonplace. Every time you unlock your smartphone, it starts performing several actions. We order takeout – our gadget sends a request to the company's server and receives a response. We make payments – our devices connect us to banks through telecommunications networks.
Telecom Industry Trends in 2023
According to the same Statista research, the most popular frameworks among global developers are React.js (used by more than 40% of professionals), jQuery (used by nearly 34% of experts), Express (almost 24%), and Angular.js (almost 23%).
Because of 5G technology, the telecoms industry is about to face a shift. The wireless technology of the fifth generation (5G) offers enhanced speed, capacity, and dependability. It meets the growing demand for high-bandwidth applications like gaming and video streaming.
5G could enable driverless cars, virtual reality, augmented reality, IoT devices and services, remote health monitoring and diagnostics, smart cities, and drones that can fly themselves.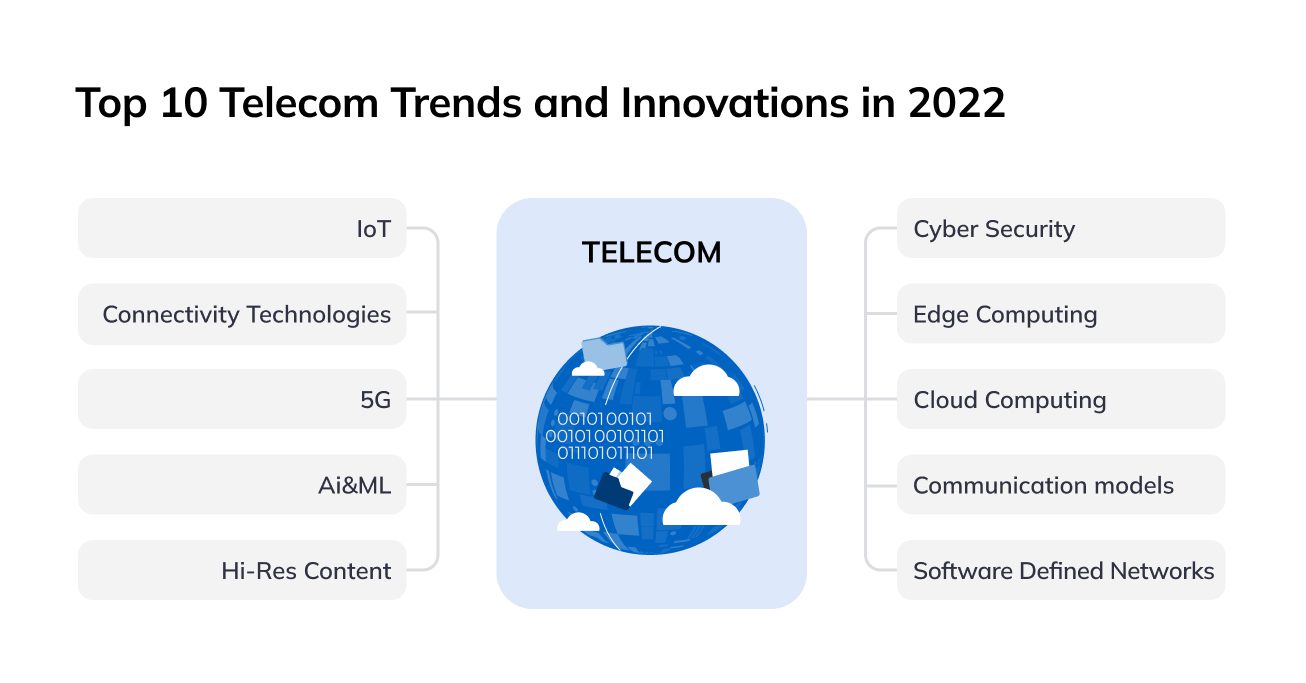 How Can Businesses Plan for Growth in the Telecom Industry?
Telecom software development for businesses is rapidly expanding. Today, you can get both off-the-shelf and custom software solutions designed to fit the demands of companies in a specific industry.
Custom software development is a one-of-a-kind solution tailored to the needs of a specific customer. The off-the-shelf solution is a standard product built for a variety of organizations.
Custom vs. Off-the-shelf Software
For typical items with well-established business procedures, off-the-shelf software is ideal. It is also appropriate for market testing and piloting when it is unclear whether the idea will fly.
Organizations that want to grow and scale up should use something other than off-the-shelf solutions for their primary business direction. Staying among the market leaders requires constant changes and new services. The business focuses on flexibility and scalability, and "boxed" solutions for these items fail.
Pros and Cons of the Off-the-Shelf Solution
The standard solution comes ready-made; it does not allow you to apply changes or add new features.
When is your business suitable for a "ready" software solution?
The company has simple business processes;
Among the employees, there is someone familiar with the program;
Tight budget.
Let's learn more about an off-the-shelf solution's advantages and disadvantages.
Off–The Shelf Solution Pros and Cons
PROs
CONs
Quick start
Only 2-3 months to launch
Lack of control
Due to pre-existing software
Minimum in-house development
Only back-end support needed
Compatibility
Not always meeting your needs
Simple implementation
No significant effort required
Scalability. The solution's capacity
& your expansion plans may not match
Cost saving
Price starting from $1K
Higher long-term costs
For upgrades and so on
Pros and Cons of the Custom Solution
A custom solution is a program designed for a specific company with specific business processes.
Developing software is preceded by a long and meticulous process of analytics. The success of business automation largely depends on its result.
Custom Software Development Pros and Cons
PROs
CONs
Unique solution
Meeting all your business needs
Higher development costs
As you create a new solution from scratch
Flexibility
Your solution will grow with your company
Slow start
Business analysis and development require more time
Security
Own code and data protection
Maintenance and support
Requires effort from your team
Compatibility
You adapt the solution's integration ability
Criteria to Consider When Choosing Telecom Software Solution
How do I decide? Before choosing between ready-made and custom telecom development software, consider the following elements:
Maturity of business processes
The software's ease of use
Budget for programming
Compliance of software functions with company needs
Your business' readiness to adapt to new software
Competitive advantage and uniqueness
It is critical to strike a balance between achieving consumers' expectations and creating a wow effect. The app can become a brand's "digital actor," bringing in new customers and making it stand out from the competition.
Simple and understandable process
Ownership of code and independence from third-party developers reduces risks. When selecting a custom solution, the customer owns the code. When employing the box solution, you are merely renting it. Marketing draws clients to a platform the organization cannot control or influence.
Outsourcing development allows for the precise transfer of code and documentation. It even allows the training of customer personnel for development and operation when the project is in-house. Only you will have access to your customers' behaviors and business information.
Custom query implementation speed
Additional external integration, such as technical support, will be impossible or prohibitively expensive if you choose an off-the-shelf solution. A custom application's average development and output time are 2-3 weeks. You can implement minor urgent enhancements (for example, holiday design modifications) in a few days.
Benefits of Outsourcing Telecom Software Development
Outsourcing telecom software development might be an excellent approach to saving time and recruiting professional specialists. External management usually benefits a business owner who decides to outsource specific procedures to contractors. Your project will go further by hiring an expert in your field.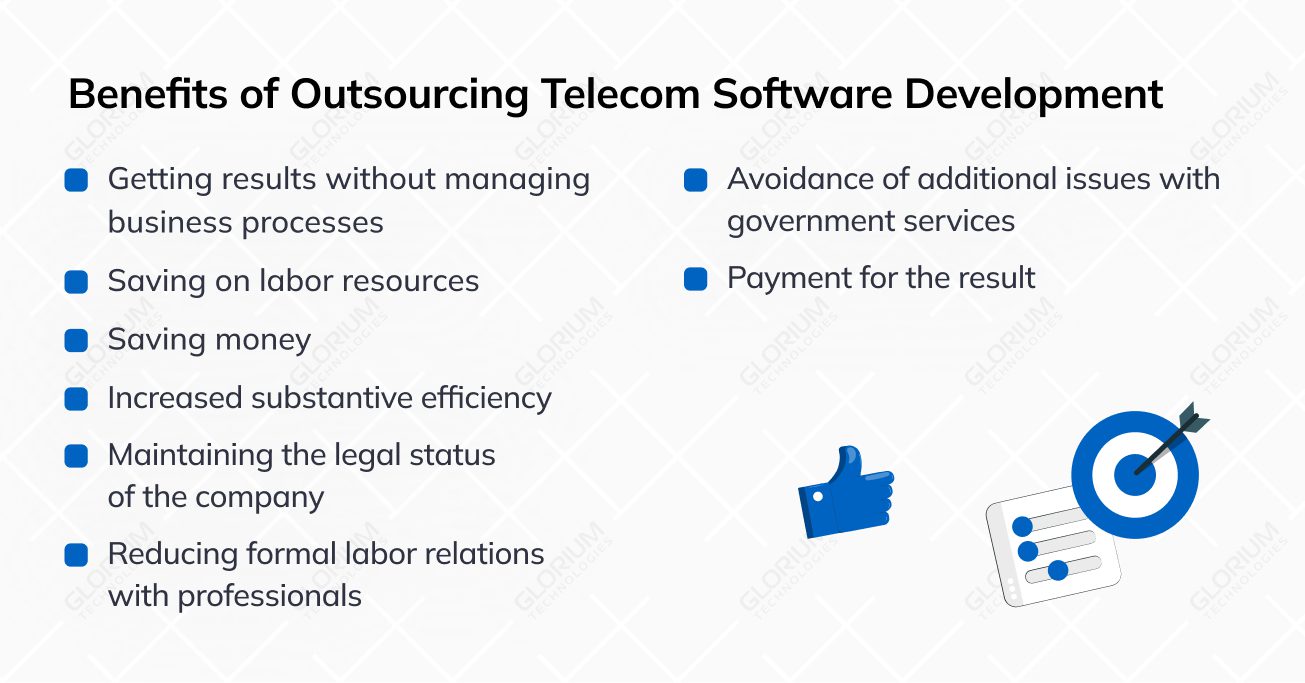 Getting results without managing business processes
Contractors are now in charge of performing critical functions. As a result, the client obtains the desired corporate result through external activities.
Saving on labor resources
Because partner takes on certain business operations, the company no longer needs to employ people to oversee them.
Saving money
Fewer employees mean reduced wage bills. It also reduces the cost of social subsidies and tax payments.
Increased substantive efficiency
Removing non-core functions means focusing on the main goal and boosting its efficacy.
Maintaining the legal status of the company
If you replace the employees with contractors, the company will still meet the criteria for a small business, even if it has many employees.
Reducing formal labor relations with professionals
The contracting company formally employs workers, accountants, lawyers, and other professionals. If the specialist is unhappy, he can only complain to his boss. The client pays the agency for services but does not need to manage people.
Avoidance of additional issues with government services
Another organization is responsible for employees; therefore, in-house personnel checks do not affect the corporation.
Payment for the result
A full-time employee is paid to sit "from call to call" and complete the bare minimum of work. An outstaffer gets paid exclusively to do a specific task for the organization.
Supposing you choose custom development. What should you do next?
Tips to Hire Outsource Company for Telecom Software Development Services
There are an increasing number of outsourcing companies on the market. They provide nearly identical services and talk about similar topics on their websites. They are all "leading," "experienced," and "renowned" and guarantee an "unprecedented advantage." So, how do you pick professionals?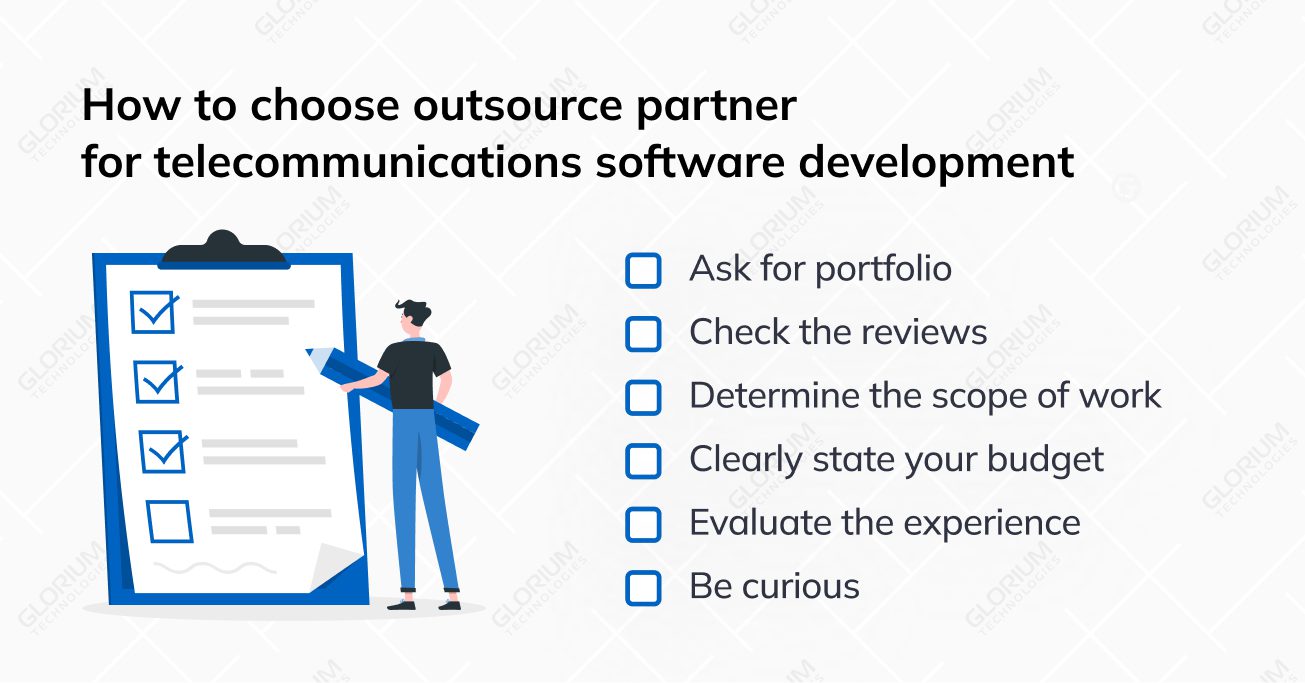 Ask for Portfolio
Before making a final decision, visit the company's website and become acquainted with its method and the number of case studies. The portfolio typically reflects the company's experience and project skills. If you can't discover this information, it could be because the company or its clients weren't happy with the completed projects. Keep on looking.
Check the Reviews
The difficulty is, where do you look for the proper one? Clutch.co can help you here. This website enables software companies to showcase their previous work and accomplishments.
Read the feedback left by customers on the company's website, discussion forums, and social media. Check to see if prior clients were pleased with the process's efficiency and the end outcomes. This information will provide you with a better understanding of what to expect.
Determine the scope of work
Before contacting potential performers, write a clear technical assignment with a workload. Decide what you will outsource to telecom software developers and what work you can do independently.
It's your responsibility to set the goal of the work and find the best solution. You can start by answering a few questions: What is your specific need? What is your potential solution? The answers to these questions lead to
Identifying the problem you are solving.
Preparing a road map of its solution.
Defining the scope of work.
Clearly state your budget
Before contacting an outsourcing partner, determine how much money you want to invest in your project. Then tell potential partners your budget.
Evaluate the experience
Evaluating potential partners on the following criteria:
Skills of telecom software developers
Technical knowledge
Experience
Technology
Do not choose a company whose stack is limited to a few technologies. Practice shows that the more experience the company has in different software technologies, the better your project's quality will be.
Be curious
After finding companies that meet your requirements:
Contact them.
Skype or Zoom with managers.
Ask about experience and how long they have been with the company.
See if you can expect staff turnover.
Ask for examples of their code.
Make sure to find out how quickly they can respond and do you feel comfortable with their way of working.
How Glorium Technologies Can Help
Glorium Technologies team's experience includes the development of telecom solutions from scratch and utilizing and adopting open-source solutions to specific client needs. For instance, one of our clients has an AI-enabled multifunctional platform that is a meeting point for medical professionals. Here they gather, create group chats and video rooms for communication, and exchange professional information, which makes data security one of the critical requirements of this solution. Our team extended and upgraded its functionality. Users can safely cooperate, exchange, and analyze healthcare data on the updated version of the app.

Being at the forefront of telecommunication app development, we have hands-on experience with techs like WebRTC, an open framework for real-time communication capabilities on the web, and similar libraries.

Depending on business requirements, we use different communication topologies, like SFU / MCU / others. Communication directly affects the development process, as well as testing the final solution and its deployment.

Andrii Davydov

Full-stack Developer
The Glorium team will perform the complex telecom software development services for the business at a high professional level.
The Glorium services include
Finding reliable and competent telecom software developers
Managing the development process
Testing and software deployment
Deploying software in the customer's company
We can help with software development. Our large team possesses different skills and can do complex tasks. We work quickly with apparent compliance with the customer's technical assignment.

FAQ