The healthcare industry is the true frontrunner of digitalization and is now one of the most technologically-adapted industries, having surpassed many other sectors.
More and more healthcare institutions have begun adopting medical applications, administration software, cloud-based systems, and connected equipment along with smart devices.
Together, all of these components create a globally connected ecosystem with increasing volumes of data. 
Such connectivity has resulted in massive benefits to the industry as it allows for new and efficient ways to better patient management and treatment.
In addition, it eliminates tedious administrative tasks and allows patients to take charge of their own well-being. Apart from the numerous profitable shifts that technology has granted the healthcare industry, there is a growing concern about the security of databases, devices, and equipment.
In fact, the healthcare sector accounted for 27% of all data breaches in 2018 — more than any other industry. 
Cybersecurity threats have been an enduring and painful issue across many industries for quite a long time. Like other industries, there have been multiple attacks on various healthcare databases and institutions over recent years.
Amidst the pandemic brought on by COVID-19, there was another 'pandemic' evolving behind the scenes — cyberattacks. Pfizer, the first coronavirus vaccine manufacturer, was reportedly the subject of an attack.
In December 2020, The European Medicines Agency (EMA) published a report stating that some information on the Pfizer/BioNTech COVID-19 vaccine was stolen and illegally released on multiple hacker forums. 
Why is cybersecurity so important in the healthcare industry?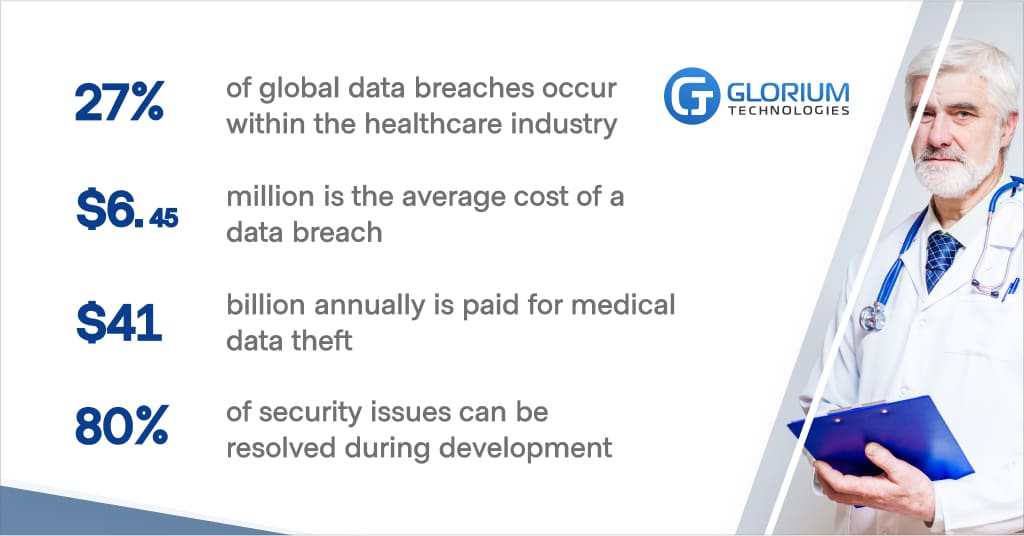 Due to an increase in software integration and volumes of data being stored and distributed across the healthcare sector, the industry faces a variety of cybersecurity threats.
The nature of security breaches in the healthcare sector comes down to two instances: intended hacker attacks, and human error made by medical institution employees — whether intentionally or not.
According to a 2018 Verizon PHI Data Breach Report, 56% of security interventions occurred due to medical worker error, rather than planned attacks from cybercriminals.
This number of insider-related breaches in the healthcare industry is higher than in any other industry. 
Although on occasion a security breach is the result of an innocent error, it is often the case that insider snooping has taken place. When it comes to the private medical records of patients, the stakes are extremely high.
It's a crucial issue, sparked by the poor education of medical staff on software security matters. Although intentional security threats are in the minority, the consequences are usually far more devastating.
On the black market, medical record data is worth ten times more than credit card details which makes it an attractive target for manipulation and theft. 
How can software providers increase healthcare software security?
While medical institutions are accountable for secure storage, data encryption, and educating and monitoring their staff, software and cloud service providers are responsible for data access and transmission control security.
In this article, we will focus on software-related security issues, and how healthcare startups can avoid common mistakes and increase the security of their medical apps and software.
Remember, security breaches can be extremely devastating and greatly affect not only medical institutions and patients but also a software provider's reputation. 
According to a survey by the Ponemon Institute and IBM Security, on average, a data breach costs an organization up to $6.45 million.
For example, the New York-based health insurance provider, Excellus, was recently forced to pay $5.1 million for HIPAA violations after a 2013 data breach that exposed the confidential information of nearly 9.3 million people, including their names, Social Security numbers, medical records, and other private information.
As you can imagine, it's highly crucial to ensure that reliable security techniques are implemented into all applications and software systems to assure they're less vulnerable to cyberattacks.
The following are a few of the most promising and helpful technologies available to create secure and reliable healthcare software. 
AI
Many data breaches and other security issues occur because of a reactive, rather than a proactive approach to detecting and investigating security alerts.
When a weak spot is located once an attack has begun taking place, there is nothing humans can do to stop the malware mechanism from further infiltrating your system.
Most of the time, going through security tickets manually is a tedious and time-consuming task. When not addressed on time and handled properly, one of those red flags can inflate into huge trouble. 
Vulnerability management
The best way AI technology can prevent a data breach is with as much automation as possible. This includes constant monitoring, quick and profound detection of any potential threats or vulnerability within the system, and auto-generating security tickets instead of waiting for an employee to create one once a red flag appears.
Often referred to as vulnerability management, AI can monitor weak spots across software and applications that are prone to breaches and malware attacks.
In short, the primary focus of AI in healthcare security is prevention; however, it also works to ensure that everything in a system is running smoothly, allowing you to intervene quickly and effectively should an attempted breach occur.
Additionally, an organization can increase its security with algorithms that perform basic troubleshooting and immediately manage security-related tasks that do not require human interaction. 
Immediate response to a threat
Not only is AI-enabled technology great for detecting vulnerabilities, but it's also able to proactively address and respond to them. This can be applied in a variety of ways, but mainly it refers to the immediate notification of responsible staff, protecting data access, and, in some cases, even a system shutdown.
The algorithm does this by monitoring volumes of data and regular system processes that are handled via various devices, platforms, and by different users.
This way, AI technology recognizes what regular behavior looks like across an entire environment, leading to the quick detection and intervention of malware should it be found. In healthcare security, there has been an intense focus on specifically stopping or responding to a threat, rather than simply locating it and sending out an alert.
Before a security team even begins to gather and develop a critical, strategic approach to a possible attack, cyber AI has their back, stopping the threat from distribution and damage from the very start.
It is worth noting that a sophisticated AI algorithm should be able to handle security issues without disrupting an organization's workflow or having to shut down an entire system — apart from very extreme circumstances where such measures may be the only way to deal with an issue.
Unfortunately, such extremes can result in devastating losses and in some cases, have even resulted in the death of patients. 
Compliance analytics
Compliance is a huge pain point for medical organizations and healthcare software providers. Regulations and rules are very strict, and any violation can result in serious consequences, including sanctions and heavy fines — not to mention a damaged reputation.
Remaining compliant with the mandatory regulations is a massive challenge as, in most cases, reports and documents have to be manually submitted to compliance officers.
Often medical workers spend valuable time sorting out data and processes so they are compliant with numerous, constantly updating regulations. Outdated compliance policies or the unintentional violation of industry regulations have been responsible for some of the most serious data breaches over the years. 
In order to ensure medical software remains compliant, capable of preventing data breaches and access issues, high levels of automation are needed.
AI can do an excellent job of keeping track of auto-updating rules and regulations, alerting responsible parties should it detect a violation of the HIPAA rules or another industry compliance policy.
Algorithms constantly monitor all necessary compliance policies and regulation sets to ensure that all processes and data running through the software system are aligned with standard policies.
With the help of AI, compliance analytics can eliminate false alerts, bringing only the real issues to employee attention. 
Machine learning
Machine learning is a promising tool in cybersecurity that is expected to boost spending on big data and analytics by $96 billion in 2021. While artificial intelligence has been widely adopted for vulnerability management and issue detection, machine learning algorithms have taken it a step further. 
By gathering and analyzing complex behaviors, machine learning technology can be used to build a comprehensive hacker-behavior model — all without your system having to experience an actual attack in order to model the behavior.
Just as hackers quickly invent new methods to compromise systems, deep learning algorithms quickly adapt to keep them at bay.
ML is one of the most coherent ways to secure data storage and cloud infrastructure, as at its core, it uses predictive analytics to analyze volumes of data that are ever-increasing in the healthcare sector.
As the industry becomes more connected, with an overlap in smart devices and IoT-enabled equipment, deep learning algorithms can create predictive behavior models across every part of a healthcare technical ecosystem, including electronic medical billing systems, EHRs, cloud systems, data storage, telehealth, patient applications, and connected devices. 
Properly implemented machine learning can not only address software vulnerabilities and detect predicted hacker behavior, but it can also contribute to eliminating risks relating to insider snooping.
After a surge in EHR adoption, identity theft became increasingly common throughout medical institutions. This issue is so immense that it costs the US healthcare industry around $41 billion annually. 
Thankfully, machine learning algorithms can detect and prevent unauthorized access to identity records. As EHRs are databases with large numbers of employee access, deep learning makes it possible to designate and control which data needs additional protection, and when and if, account access has been compromised.
As algorithms are capable of data encryption, it's impossible for a health organization's employees to access certain types of information without the additional authentication of special codes.
Application audit and QA
Ultimately, it is crucial for healthcare software companies to conduct robust testing and auditing to identify any potential vulnerabilities.
In-depth testing will expose and highlight potential areas for data breaches, access issues, adequacy issues relating to AI and deep learning functions, compliance analytics, and other crucial points of the security checklist.  
Did you know that more than 80% of all security breaches caused by gaps in software development can be eliminated in the development and testing stage?
Thorough testing includes everything from code quality testing to data encryption mechanisms and probing algorithms to make sure they are functioning properly.
Whether it's a cloud-based system, a medical application, an EHR, or any other type of software — software providers need to enforce regulation compliance, access controls, data protection and develop a reliable risk management plan. 
Often, application and software providers are pressed to increase the speed-to-market and deliver products quickly. However, in no way can security testing be compromised in such a sensitive industry as healthcare.
Thus, it is crucial to emphasize a strong need for testing medical applications and software, exposing them to fake risks to assess how a system would respond in a real-time scenario.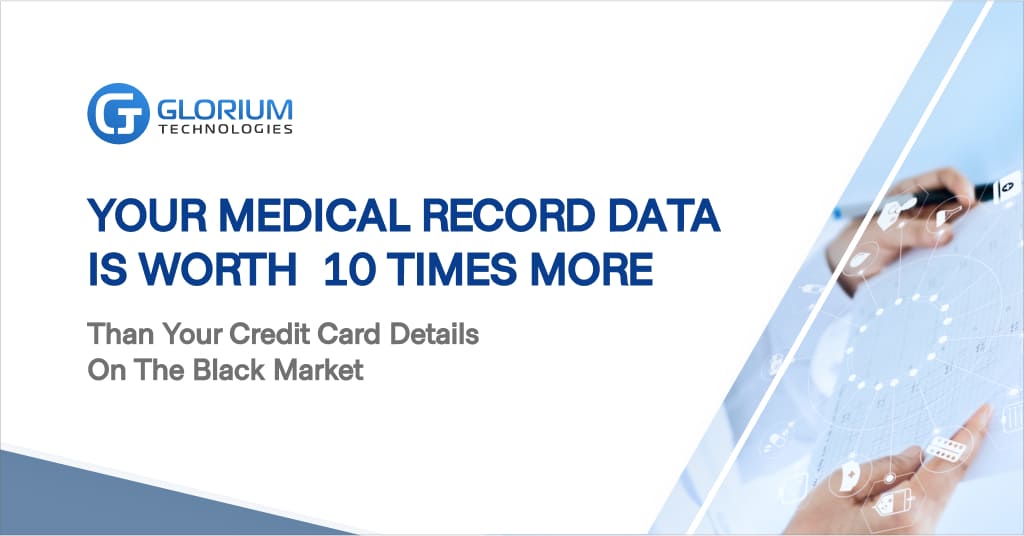 Final thoughts
The healthcare industry has become more technologically-connected, accumulating large volumes of sensitive and expensive data.
As such, it has become a primary target for data theft, ransomware, social engineering, and other types of serious attacks. To combat this, both healthcare institutions and healthcare technology providers have begun enforcing and embracing strict security compliance policies to diminish risks and protect patient data, as well as their own reputation and credibility.
While no company is 100% immune to attacks from sophisticated hackers, there are plenty of opportunities to upgrade your security management and substantially minimize the possibility of cyberattacks and data breaches. 
For these reasons, it's critical for healthcare organizations and technology providers to work together to tackle security issues and maintain a responsible and proactive position in this area.
As internal security issues are not uncommon in the healthcare industry, it is a software provider's responsibility to deliver a product with proper vulnerability management, data encryption, access transmission control, secure code, and valid security maintenance.
As such, investing in a reputable software provider is one of the best ways to ensure your system remains ready to take cybercriminal and other threats, head-on.
Reduce security risks with Glorium
Our team has the knowledge, expertise, and capacity to enhance your healthcare solution. Whether you're in need of IT consultation, robust application testing, or need assistance implementing technologies to improve your overall software security capabilities — we're here to help.
With extensive experience developing medical software and a profound understanding of HIPAA rules and other critical regulations, we appreciate the key hurdles developers have to face when designing and building software for the healthcare sector. 
Eliminating risks for your company, and essentially, for your customers, is a priority that cannot be compromised. Learn more about our healthcare software and application development solutions today.