The adoption of AI for SaaS healthcare startups opens a world of possibilities that can transform the way you offer services and, more importantly, the way healthcare itself is delivered. Imagine a feature within your SaaS platform that assesses patient medical histories, current biometric data, and even social determinants of health to predict medical events.
AI can identify vulnerabilities and suspicious activities that a conventional security system might miss, allowing you to act before any damage occurs. So if you are ready to take all these benefits. Let'sl explore a step-by-step guide of integrating AI into a SaaS product and what challenges you can meet.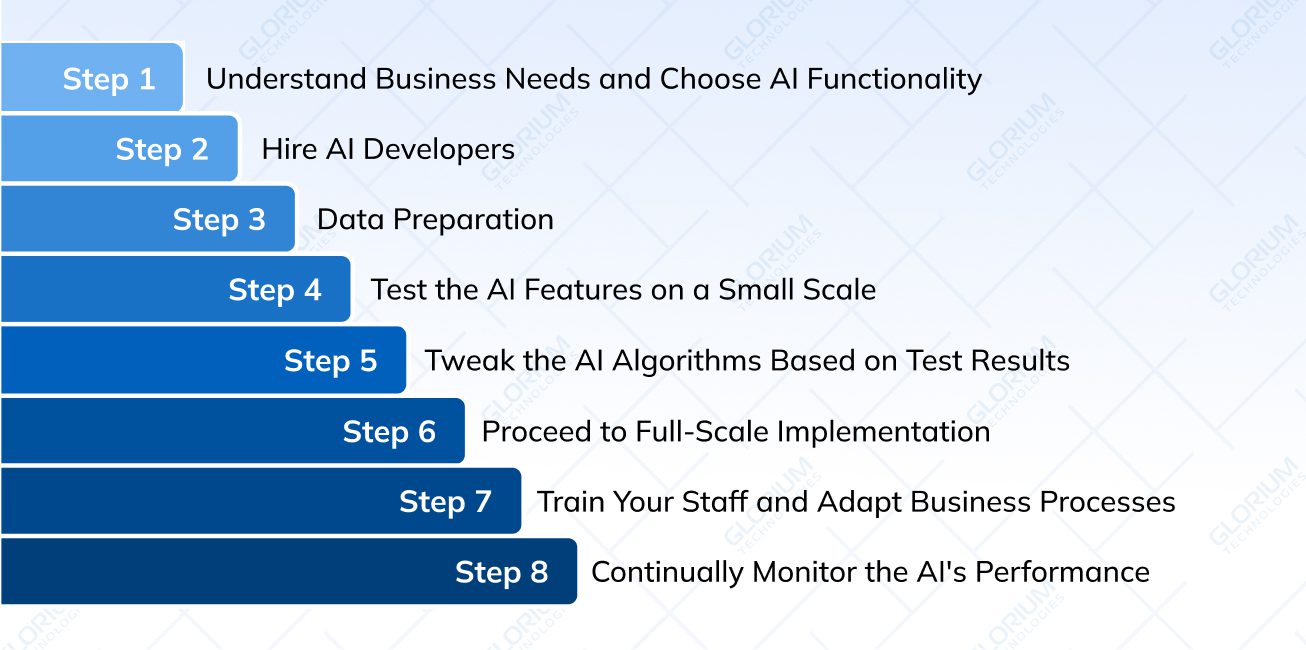 Understand Business Needs and Choose AI Functionality
Existing SaaS healthcare companies have an advantage: a wealth of data on customer behavior, pain points, and operational bottlenecks. When selecting which AI functionalities to integrate, a laser-focused approach is critical. Your choices should directly address your identified business needs and customer pain points.
Market differentiation
AI can be a powerful tool for market differentiation. Ask yourself how AI can give you a competitive edge. Is it through faster diagnostics, more efficient workflows, or personalized treatment plans? The aim is to offer something unique that sets you apart in a crowded marketplace.
Scalability
Another business need is scalability. As your user base grows, manual operations may become inefficient or error-prone. AI can automate routine tasks, allowing your organization to scale without proportional increases in overhead.
User retention
AI can also contribute to user retention by improving the customer experience. Using AI to make more accurate predictions or facilitate more user-friendly interfaces can increase the likelihood of users sticking with your service.
Problem-solving capabilities
If the problem is lengthy diagnostics, AI algorithms can be developed to assist medical professionals in making quicker and more accurate decisions. A smart chatbot could be the solution if administrative tasks take too long.
Customer-centric features
AI functionalities like personalized recommendations, adaptive learning pathways, or intelligent reminders can enhance customer engagement and loyalty. Think about AI as a technology and a tool for improving customer satisfaction.
Long-term viability
Choose AI functionalities that have the potential for future development and scaling. It's better to start with a more straightforward feature that can be expanded or fine-tuned over time than to aim for a highly complex system that might become obsolete or too cumbersome to maintain.
Cost-benefit analysis
Before finalizing your choices, conduct a thorough cost-benefit analysis to ensure the ROI justifies the investment. Make sure to factor in not just development costs but also the costs of training, maintenance, and any potential regulatory hurdles.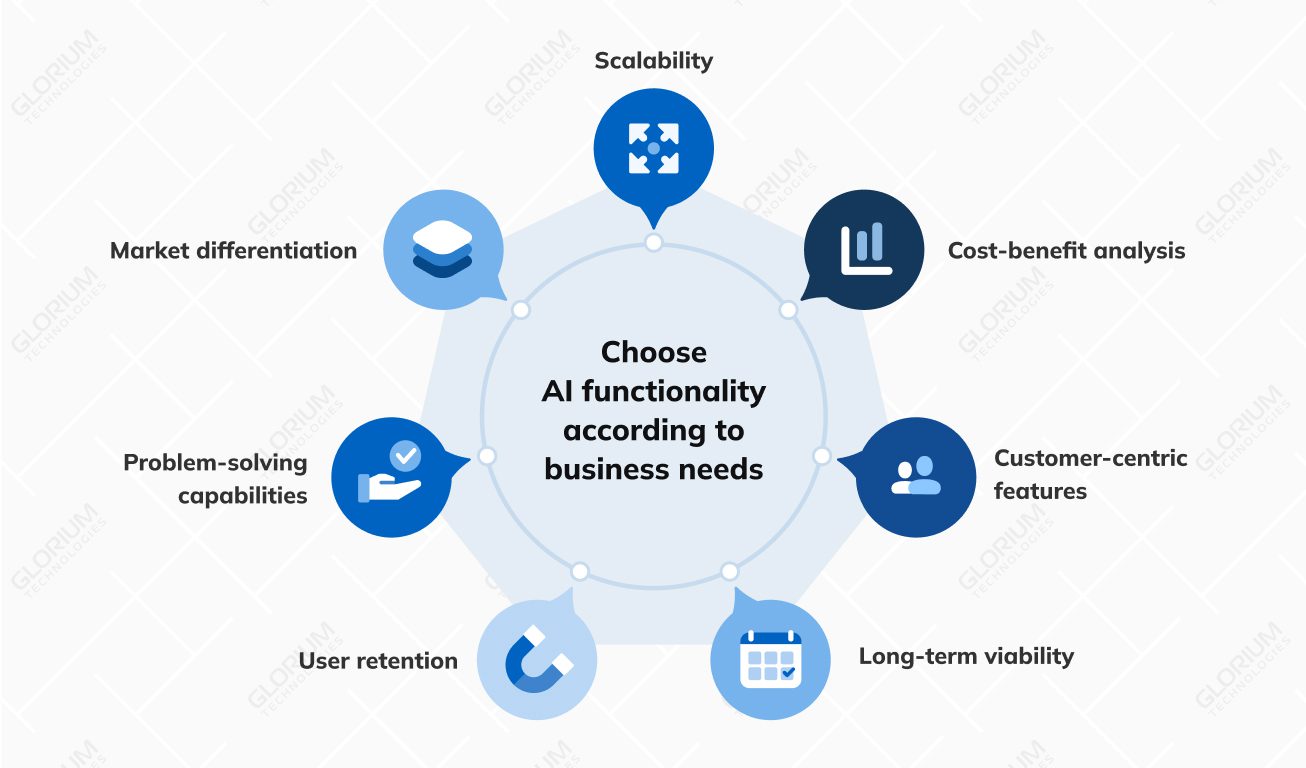 It isn't just a matter of having technically skilled people on board; it's about bringing together a diverse set of experts who can address AI's multi-faceted challenges and opportunities. Start by vetting their expertise and experience specifically in healthcare technology, as this sector requires a nuanced understanding of regulations and unique challenges like data sensitivity. Next step is examining their portfolio and checking client testimonials.
Lastly, evaluate their familiarity with the latest tools and technologies, ensuring they're up-to-date with advancements in AI and machine learning. Skillful AI developers will determine the technical feasibility of your project, selecting the suitable models and frameworks that align with your specific objectives.
This step involves gathering, cleaning, and transforming raw data into a format ready for analysis. Data scientists meticulously deal with missing values, outliers, and inconsistencies to ensure that the AI models are trained on accurate and representative data.
They also segment data into training, validation, and test sets to evaluate the model's performance better. In healthcare, ensuring data privacy and compliance with regulations like HIPAA or GDPR during this process is paramount. Proper data preparation improves the model's accuracy and mitigates the risk of algorithmic bias, making it indispensable for achieving meaningful, trustworthy AI results.
Test the AI Features on a Small Scale
Before rolling out AI features to your entire user base, initiating a pilot test with a smaller, controlled group is prudent. It allows you to identify any potential glitches, assess user engagement, and gather real-world data to evaluate the feature's effectiveness. This stage often involves:
Beta users who agree to test the feature and provide feedback.
A/B testing to compare the new AI features against existing methods.
Quantitative metrics, such as engagement rates or task completion times, to assess the feature's performance.
Tweak the AI Algorithms Based on Test Results
Once the pilot phase is complete, analyze the collected data and user feedback to make informed adjustments to the AI algorithms. The goal is to refine the functionalities, fix any identified bugs, and possibly retrain your AI model with additional data.
During this iterative process, the AI functionalities are fine-tuned to ensure they meet the objectives defined at the project's inception. At this stage, you may go back and forth between tweaking and testing several times until the desired level of accuracy and user satisfaction is achieved.
Proceed to Full-Scale Implementation
You're ready for full-scale integration after successful pilot testing and necessary iterations. At this point, the AI features are deployed to your entire user base. It requires a well-planned roll-out strategy, involving:
Training materials and documentation to educate your staff and end-users.
Backup systems to ensure seamless transition and to handle any unexpected issues.
Marketing strategies to announce the new capabilities to both current users and prospective customers.
Train Your Staff and Adapt Business Processes
Training your team to work with the newly integrated AI functionalities is a crucial yet often overlooked step. Whether it's your customer service reps, sales team, or medical professionals using your SaaS product, they all need to understand how the AI features work and how to use them effectively.
We recommend to consider incorporating a mix of training methodologies:

Live webinars: These allow for real-time Q&A sessions and hands-on demonstrations.
In-person workshops are crucial for complex functionalities requiring intricate hands-on experience.
Online tutorials: Short, on-demand videos can provide quick answers and are perfect for asynchronous learning.
Updated user manuals: Comprehensive guides or FAQs can be resources for any technical questions about the new AI functionalities.
Role-based simulations: Real-world scenarios where AI would be used can help team members understand the practical applications better.

Anna Vozna

Account Executive, Glorium Technologies
Continually Monitor the AI's Performance
Once fully integrated, ongoing monitoring of the AI features is essential. Regularly check KPIs and user engagement metrics to assess performance. Machine learning models can drift over time, making them less accurate as the underlying data changes. Thus, they may require periodic retraining.
Monitoring also includes staying compliant with healthcare regulations, especially if new laws that pertain to AI in healthcare come into effect. It is critical to:
Continually update the data privacy protocols.
Monitor for any biases or ethical concerns that may arise.
Make adjustments based on feedback and performance metrics.
To Summarize
Integrating AI into healthcare SaaS platforms can profoundly impact the quality of service and the broader healthcare industry. Implementing AI in healthcare SaaS products is a game-changer. Begin by aligning AI features with your business objectives, whether that's faster diagnostics, streamlined operations, or personalized care. Then you need to assemble a skilled team of developers familiar with healthcare regulations and latest AI tools.
Important step is to prioritize data preparation, ensuring it's compliant and ready for AI analysis. After that test the AI functionalities on a small scale, refining them based on feedback. Once optimized, deploy them to your full user base, offering robust staff training to ensure smooth adoption. Finally, continuous monitoring is key to keep your AI features effective and compliant.
Ready to know more about navigating AI technology for healthcare? Visit our webinar.