When someone mentions augmented reality, we tend to think of gaming, design, and visual arts. This is a common misconception, as most people equate AR (augmented reality) with VR (virtual reality).
They are indeed close relatives, however, the main difference lies in the actual implementation. Virtual reality is an entirely fictional environment providing artificial experiences (intended to imitate reality). Augmented reality, on the other hand, is a digital addition to an entirely real object, situation, or experience.
Nowadays, VR is mainly used in entertainment, media, and the arts. In its turn, AR is used in all other sectors, and many of its use cases were simply unimaginable even five years ago!
Take healthcare, for example. Medical services are vitally important at every level, and life-and-death situations are no place for creative exercises. Yet, ongoing AR medical app development is one of the booming sectors of the SaaS market, with millions of dollars invested every year.
What are the benefits of augmented reality in healthcare?
AR medical apps are primarily used in hospitals for the following purposes:
Educating young professionals
Consulting with colleagues
Raising patient awareness
Rehabilitation after surgery
And even for patients' entertainment while waiting!
Let's look at some of the best practices in AR healthcare software development.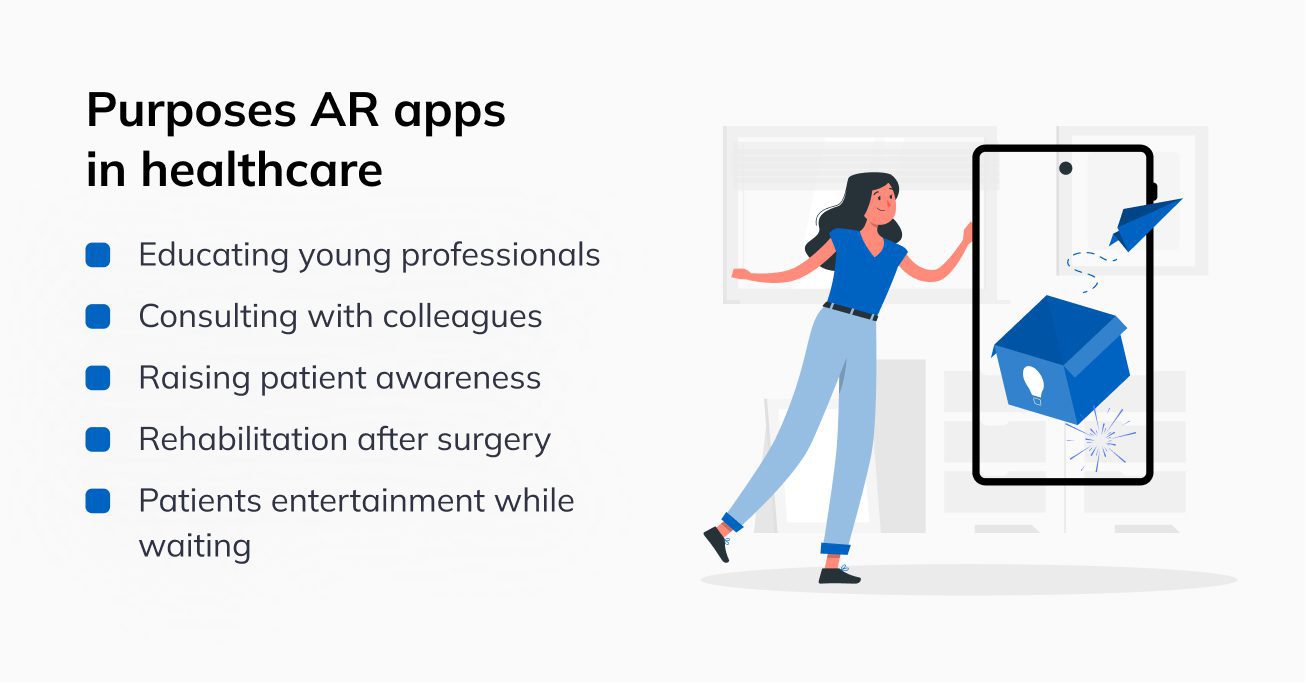 Augmented reality in healthcare: best use cases of 2021-2023
AR in surgery
For surgeons, AR is able to perform an X-ray and predict the surgical outcome at the same time.
AR helps with visually demonstrating what doctors are trying to achieve during a surgical procedure.
Locating a tumor or predicting its behavior, modeling bone reconstruction, visualizing tendon repair — all this and more can be relatively easily represented with the help of AR.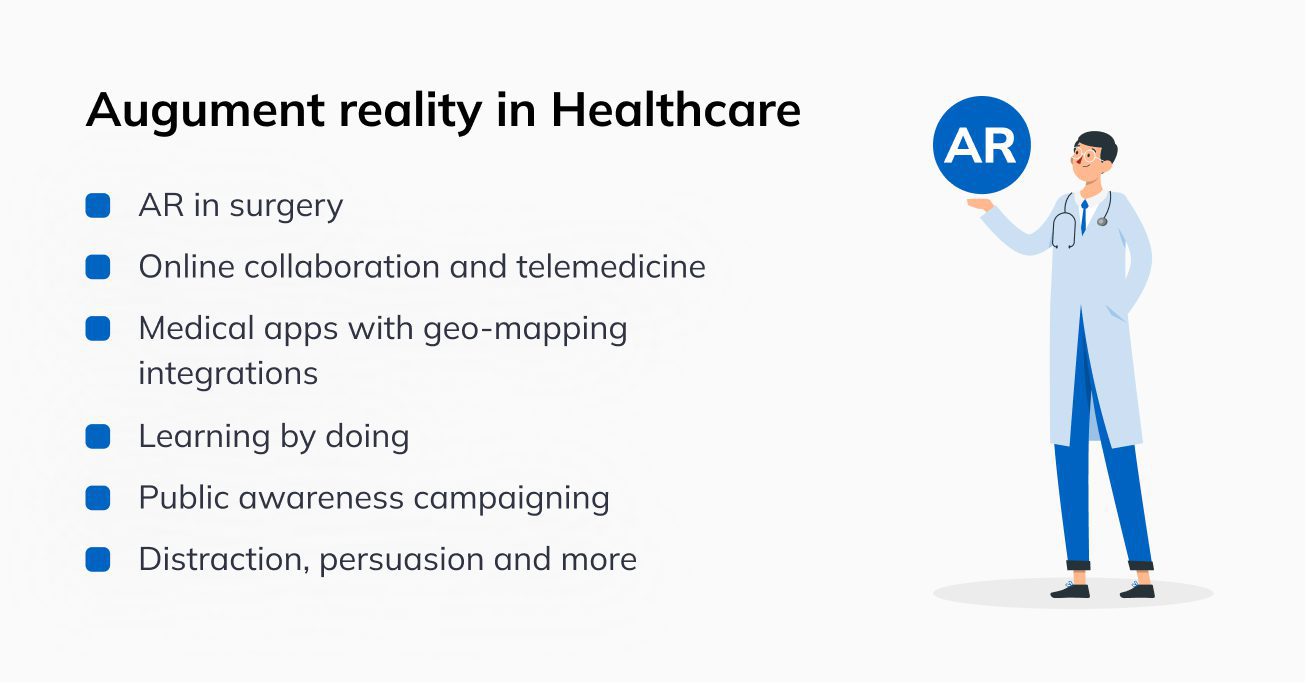 Online collaboration and telemedicine
Unusual cases and complex surgeries often require the presence of experts who may be located hundreds of miles away. In many situations, hospitals cannot invite a leading expert (budget constraints, conflicting surgical schedules, border closures, etc.).
In such cases, advising via Zoom or Skype is an option, of course. However, messengers would do the job only in less complex cases. More complex procedures would require so-called synced surgeries.
In synced surgeries, the AR consulting doctor would be "operating" on an AR-based anatomical model, while the actual operating surgeon — miles away from where the surgery is taking place — could reproduce the same surgical flow with maximum precision. This scenario can be a real lifesaver in situations where it is too risky for a patient to travel, for example.
Learning by doing
Surgical residency, with its real-life situations and actual patients, is a must, of course. However, there is a range of circumstances where AR-supported 3D modeling would be an indispensable tool for these medical professionals.
Preparing for a complex surgery that has never been performed, learning new surgical methods, analyzing what could potentially go wrong under several different surgical scenarios — are only a few examples of why AR-equipped surgical simulations offer some of the best training for young professionals.
Improved communication with patients
A demonstration is always more effective than a verbal explanation. This is especially true when it comes to troubled patients and their worried relatives.
Equipped with AR, a doctor can easily demonstrate how an operation will proceed and how post-surgery healing would go. With AR, doctors can also demonstrate the impact of various chemical and hormone substances on our bodies.
During the post-surgery stage, AR-backed medical apps can be used as a demonstration aid in physical rehabilitation. Some may object that there are plenty of videos on YouTube. However, AR medical apps with their 3D and immersive environments are an entirely different story. Besides, for some patients, the use of such apps can be both motivation and entertainment at the same time.
Medical apps with geo-mapping integrations
Imagine a city map from Pokemon GO, designed for solving real-life adult problems. Select the type of medical emergency you are experiencing or witnessing, and the map will immediately show you the nearest pharmacy, emergency medical center, or nearest AED spot, and so on. Furthermore, the map would visualize the optimal route and tell you which steps to take next.
In today's urban areas, where an ambulance might get stuck in traffic, medical AR is a real lifesaver.
Another advantage of augmented reality in healthcare is convenient navigation within medical institutions. Using a camera and a smartphone screen, smart glasses, or a watch, the patient (client) is prompted in real time about the office they need and the work schedule. Additionally, it is possible to display more specific information about the number of visitors, doctor's workload, etc.
Public awareness campaigning
Medical AR is an excellent tool for advocacy advertising and other forms of campaigning.
For example, when cigarette labels switched from simple text warnings on cigarette packaging to terrifying photos of smoking consequences printed directly on those packs. Images always have more impact than words, and 3D simulations with AR are even more impressive.
What happens to lungs when smoking, how cavities are formed when teeth are not cleaned properly, what is the correct sitting posture while typing — AR is more than capable of demonstrating all these medical conditions far more persuasively.
Distraction, persuasion, and more for AR in healthcare
We should not forget the origins of augmented reality apps for healthcare — the entertainment industry. And although this sounds entirely unreliable for healthcare, keep in mind pediatrics.
Distracting a child's attention with a catchy visual during an unpleasant procedure, persuading a teenager that an upcoming surgical operation is not scary at all — this is where AR tools can turn out to be super helpful for both doctors and nurses.
This might sound redundant at first, but don't forget that today's kids and teens are not a reading generation. They were born with a mobile in their hand. Thus, catching their attention with a life-like visual may be the only way to actually get through to them.
Note that all these AR-backed medical solutions can be customized per the specific needs of your medical organization. This can range from short-term standalone projects designed for specific, complex cases, or a mobile solution for a dedicated team of doctors and nurses. The key here is having an experienced team of developers who are well aware of the specific needs of the healthcare sector.
In apps with augmented reality in healthcare, a wide range of functions can be implemented that are useful for all users, both doctors, and clients. For example:
control of user activity;
scheduler of visits and calls;
navigator to the nearest offices;
internal navigator for institutions;
access to online consultations;
remote assistance with on-screen tooltips;
medication catalog and home delivery;
treatment adjustments;
assistance with medical procedures.
Our decades-long history with augmented reality healthcare software development for medical & pharmaceutical organizations confirms that augmented reality healthcare applications are not only improving hospitals' KPIs and statistics. They also deliver a huge reputational gain as AR-backed medical apps make sure patients are not only cured but also persuaded, educated, and entertained.
FAQ