Andrei Kasyanau interview for GoodFirms
Andrei and Dmitriy – two former school mates collaborated for an interesting venture named – Glorium Technologies and made it into a success. In a one on one chat with GoodFirms, Andrei Kasyanau – the CEO and Founder of Glorium Technologies shared the staggering rise and glorious growth of Glorium at length.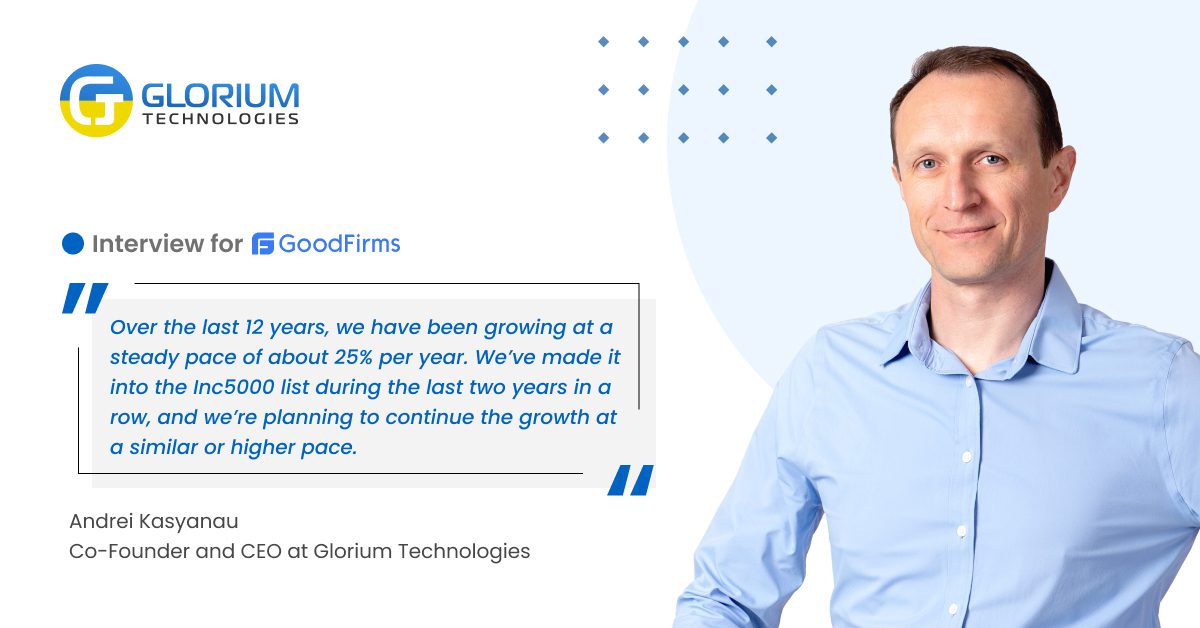 An international engineering firm Glorium Technologies was established to help tech startups with strategic and technical expertise. Incorporated in 2010, Glorium emerged as a trusted software products and service provider to the clients across the world. The company is headquartered in New Jersey, USA and has its development office in Europe.
Establishing the company and how Andrei and his partner Dmitriy made Glorium Technologies rose to be amongst the world-class IT solutions providers.
Andrei Kasyanau had always been passionate about innovation and thought of helping businesses leverage his 20 years of industry experience. Hence, he started working as a startup advisor and expert in health tech, real estate tech, software development, software outsourcing, and software project management.
His 8 years of experience as a developer in Wall Street before commencing Glorium helped him a lot and brought him around starting something of his own in 2010.
Initially Andrei was personally involved in development, programming, and client-searching related tasks. Few of his previous bosses and other partners from previous works were his initial clients.
Sharing an interesting experience, Andrei recalls that Dmitriy joined him after 3-4 years, who was his school-mate and had some experience of working in America in the similar industry.
The duo worked together day and night to steadily increase the number of clients and projects and this is how their team grew, and they got another office opened in Kyiv.
The CEO affirms that Glorium Technologies works as an outsourcing agency, but it also comprises an in-house team of members who value and encourage innovation. Technically, most of the developers of the company work remotely. This model, fortunately, proved viable during COVID-19 pandemic as well.
"We like to stress to our clients that, although we're outsourcers, we do not outsource any of our work to third-party vendors", he adds.
Andrei gives all the credit of his company's success to the dedication of his employees towards engineering innovation, their domain expertise, and the high-performing standard of their technical team. 60% of the developers in the company work at senior level and all the developers in the company are familiar with more than 70 technologies and frameworks.
About Glorium Technologies
Glorium Technologies basically works for small to medium level businesses and startups. Though, the core industries focussed by the company for software development and full-cycle app development services are healthcare and real estate; however, it is also expanding into fintech, social, and e-commerce sectors.
The wide range of services offered by the company are focussed on startups including product research, tech consulting, software development, testing, marketing & growth, certification, and compliance help, business consulting, and we even provide funds for some of our clients. The company is also ranked as the top software development company in the USA in GoodFirms listings.
Company holds 11 years of experience in providing healthcare and real estate development solutions and has delivered 50+ products to its satisfied clients. 200+ skilled and talented developers, designers, PMs, BAs, and QAs remain constantly engaged in delivering quality products to their customers and this is the reason why the company has 99% of the client satisfaction rate.
Andrei concludes the interview by saying,
"Over the last 12 years, we have been growing at a steady pace of about 25% per year. We've made it into the Inc5000 list during the last two years in a row, and we're planning to continue the growth at a similar or higher pace. The sky's the limit."
The detailed interview can be glanced at the GoodFirms company page.
About GoodFirms
Washington, D.C.-based GoodFirms is a maverick B2B research and reviews firm that aligns its efforts in finding web development and web design service agencies delivering unparalleled services to its clients. GoodFirms' extensive research process ranks the companies, boosts their online reputation, and helps service seekers pick the right technology partner that meets their business needs.