Recently, the pharmacy positioning model has been evolving. Competition has intensified, both physical and online. The global online pharmacy market is projected to reach $52.33 billion by 2027. Such figures are almost two times the revenue for 2022, which will be $27.60 billion. A good online pharmacy app development solution, in this case, is to use special software, namely the launch of an online pharmacy.
Developing a pharmacy application brings many benefits. Customers can order and receive medicines remotely. This saves customers a lot of time. At the same time, the owner increases his profits, wins the trust and loyalty of customers, makes his offers more attractive to them.
What is a Pharmacy App?
An app is a computer program designed to run on smartphones, tablets and other devices. To take a big step forward and grow your business, you need healthcare software development. Its main goal is to increase the flow of customers and satisfy their current needs. Also, medical applications can:
increase the number of buyers;
instantly transfer user reviews to the administration;
reduce costs;
improve communication between consumers and pharmacy administration;
increase the number of customers who will give preference to your outlet;
increase profitability;
individualize customer needs.
Application Types
The pharmacy business is unique. It has its own characteristics and often does not even need active advertising. Nevertheless, competition in this environment is high, and you have to fight for the attention of the consumer. A mobile application for the pharmacy business is a tool that simplifies communication with the client, keeps his interest, and makes him a regular customer.
All applications for ordering medicines via the Internet can be divided into three groups:
Online pharmacies: a full-fledged service for the distribution of pharmacy products from the manufacturer to the final consumer.
Price aggregators: apps that collect and provide information about prices and availability of drugs in pharmacies.
Product aggregators: services that have access to data from multiple pharmacy chains and place orders directly in the app.
Online pharmacies
Applications with extensive functionality. They perform remote drug ordering and order processing, support a delivery service, perform sales analysis, and more. This is a full-fledged service for the distribution of pharmacy products from the manufacturer (or pharmaceutical distributor) to the final consumer. Service – a point of collection of orders from consumers for their further processing.
Price aggregators
In various ways, they collect information on prices and availability of medicines in pharmacies of various pharmacy chains. If the applications of the first group work only with the assortment of "their" network, then the task of the aggregator is to show data from as many pharmacies as possible.
Aggregator apps have different sources for pricing and availability data. But they all recommend checking the availability and price directly at the pharmacy before visiting the pharmacy. Thus, these services disclaim responsibility for the inaccuracy of the data.
Product aggregators
So far, this is the smallest group. Just like price aggregators, the services collect data from a variety of pharmacy chains, but already provide the ability to place an order directly from the application. The user chooses a drug at the best price in the region and orders it directly from the application. The service receives data on prices and availability of medicines directly from suppliers and the Internet. Thus, such applications provide users with maximum freedom of choice.
Since applications for online pharmacies are the most common group, we will cover this topic in more detail. We will show you the main aspects of developing pharmaceutical applications based on our experience. You will learn the key functions of applications and their undeniable advantages!
Pharmacy App Development: Key Functionality
A computer service should solve the problems of your business as much as possible and be useful for customers. For stable and productive work, a special pharmacy application must contain a set of appropriate functions. Their content and number depend on the type of application and the audience it serves. Client and administrator are the two main categories of user. Each has its own key functions of the pharmacy application.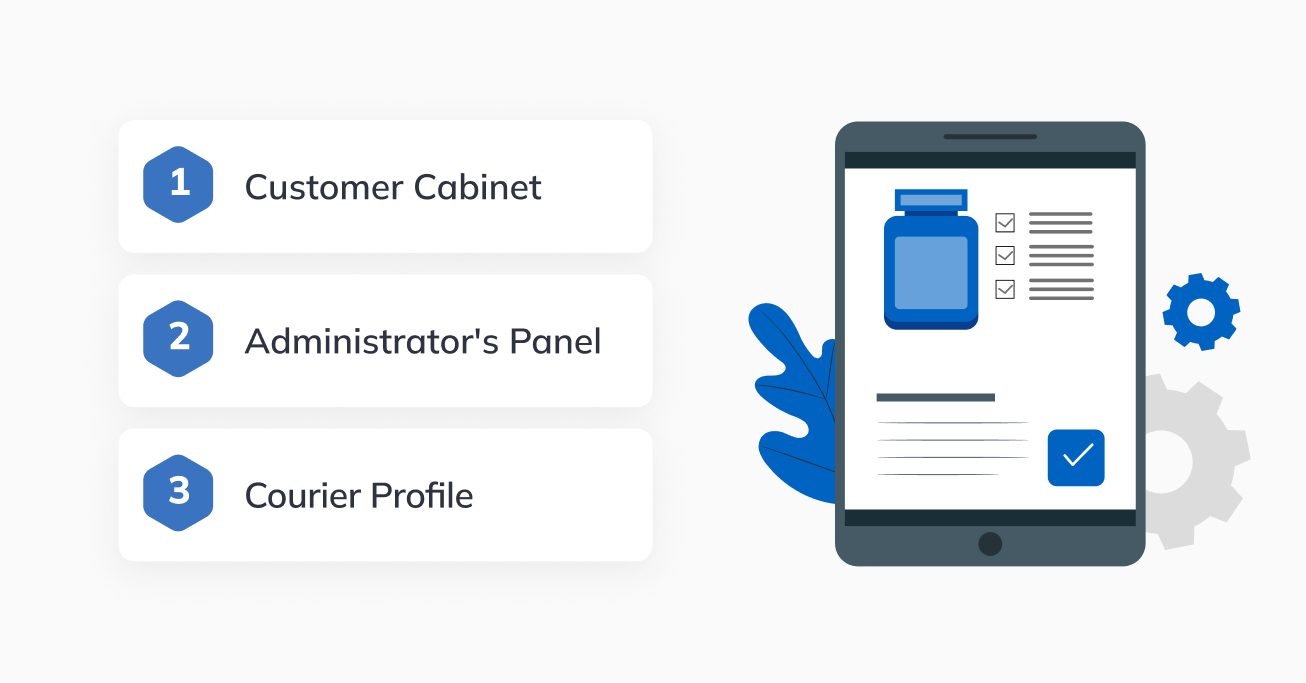 Apps for online pharmacies have three profiles with different functionality:
Customer Cabinet: search for drugs, online ordering, delivery tracking, product comparison, and in-app payment.
Administrator's Panel: order and logistics management, product catalog editing, analytics, and reporting.
Courier Profile: viewing the history of deliveries, integrated navigation systems, and others.
For the buyer
Pharmacy app features and capabilities that are focused on the buyer, contain an extensive list of possible actions.
User profile. The program may rely on the help of the Facebook or Google authentication APIs to directly register with an existing account in these tools.
Detailed catalog of goods. The ability to independently study the range and prices, filter products by category.
Download recipe. Also, its storage for quick access to it.
Search. By various parameters and filtering for a convenient online order.
Information. Detailed and verified description of each drug with a picture. You can add a barcode scanning feature.
Comparison. The ability to compare medicines, their composition, action, prices, and more.
Replacement tool. In the absence or inaccessibility of the drug, it can be replaced by an available analog.
Online ordering. Filling the virtual "basket" with purchases. Edit it – add or remove products.
Order tracking. An important function with which the client sees the status of the order at any time. Its movement can be indicated on the map.
Payment through online transactions. Provide the choice of remote online payment using credit and debit cards, PayPal, Google Wallet, mobile wallets, or even cryptocurrencies.
Integration with social networks. The user is given the opportunity to discuss the work of your service on social networks.
Feedback. The client can leave feedback about the service, product, treatment results.
Communication within the application. Communication channel between users and employees for professional advice.
Choose the most important features for your business. However, please note that the main focus is on the delivery of drugs within the time frame that you have prescribed.
Administrator functions
An application for pharmacy staff should have functions that provide analytics, reporting, and management. Employees should be able to edit data, enter new items into the database, remove sold goods from the warehouse.
Control center. All personnel must have access to all application functions.
Product tracking system. Inventory control and catalog editing.
Secure client database. Manage information about the personal data of each user.
Order management. Receiving incoming orders and filtering them by status.
Charges and repayments. Employees must have access to this feature.
Logistics management. Activation and integration of the system of logistics solutions.
Analytics and reporting. Analysis of sales reports and basic expenses. Ability to learn user preferences for better service.
E-commerce content management. The manager must be able to enter and correct information in various formats.
Push messages. Notifications sent from the app to the user's gadget.
Functionality for a courier
A 3rd profile for drivers/couriers can also be provided in the mobile app. The personal account will be filled with the following functions:
Delivery history. Automatic saving of addresses, order composition, and other data about the recipient.
Navigation. Integration with GPS tracker, online Google Maps, and construction of routes.
Delivery tracking. Integration with apps for customers and administrators, displaying order status and location.
Management of drones. Delivery of goods using drones is a great idea for developing functionality with this innovation in mind.
These functions are basic for creating a pharmacy application. You can order such an application that will be more relevant to your business. Our team of professionals will study the specifics of your business and develop an application exclusively with an emphasis on your requirements. We do not have standard solutions, we create not a mass but an individual product.
The Main Stages of Pharma App Development
Online pharmacies are created based on the general model of the e-commerce platform. Its creation is a complex task that needs a special approach. Pharmacy application solves more specific problems. Online pharmacy app development is best to entrust to our experienced specialists.
Developing an application for an online pharmacy is a rather complicated process that requires specific knowledge, so it is best to entrust it to our experienced specialists. Consider all the subtleties and find out what steps you need to take:
Analyzing the industry and drafting TOR
Setting goals and customer requirements, discussing the final digital product with the IT team. Study of competitors, analysis of the online pharmacy market, and drawing up a user portrait.
Result:
design references;
a list of the app's functions;
interface concept;
security requirements;
project cost estimate.
User interface prototype and full UI/UX
Visualization of the future app, user stories, and the customer journey map. Collaboration between the customer (evaluates and comments) and the developers, who refine and fix the functionality before approval. Iconography, typography, and final design style are determined.
Result:
screen map;
coordinated and perfect prototype of the online pharmacy app;
rendered screens, and interface elements.
Technical part of the development
The app is created for iOS and Android platforms. The app's internal architecture is developed to support the correct operation of all elements (the backend part). The developer's main task is to ensure the correct interaction of the database with the app code.
Result:
complete development of the internal processes of the app.
QA testing and compliance with the requirements
Each platform has guidelines: Google Material Design for Android and Human Interface Guidelines for iOS. With their provisions in mind, manual and automated digital product testing is performed. The app's operation with and without permissions, reaction to different response codes, timeouts of different lengths, and modified response body are tested.
Result:
a list of fixes and revisions, as well as a report describing all tests performed during the development life cycle.
Download App Store and Google Play Store
After checking that the app is stable, it's time to release it to the market. The new digital product undergoes moderation and receives permission to be downloaded. It is also recommended to optimize the app for the style of the platform for placement: add pictures, description and screenshots.
Result:
publication in Google Play and App Store, a chance to download.
Learn more by reading our article on the specifics of healthcare app development!
A stable working application computer service with the necessary tools and functions is an effective sales channel. We will provide a customized solution for developing applications for online pharmacies exactly for your business model. The service will allow you to overtake all competitors and reach a new level of the pharmaceutical market.
Details of Pharmacy App Development: Timeline, Tech Stack, and Cost
Frameworks and programming languages
Among the most common frameworks for mobile app development are Flutter and React Native. According to a Statista survey, 42% of software developers work with Flutter, and 38% of respondents work with React Native.
Our experts use popular programming languages and technologies that will fit your app concept:
Front-end: Swift, Java, Kotlin.
Back-end: Laravel, Phyton, Node.js.
Payment services: banks, PayPal API.
Database and analytics: MongoDB, SQL, NoSQL, Google Analytics.
Navigation tools: MapKit framework for iOS and Google Maps SDK for Android.
Login methods: Facebook Mobile SDKs, social login via Google.
The right combinations of these technologies and the use of systems for integration make for a feature-rich app.
Cross-platform development is now at the peak of popularity. This service has a low cost due to the duplication of the same code on several platforms.
Legislative requirements
The online pharmacy app development must meet all security standards and protect the personal data of users in accordance with the following standards:
HIPAA (U.S.) contains provisions to protect and ensure confidentiality of sensitive medical information.
GDPR (EU, U.K.) discloses principles for the protection and processing of personal data.
PIPEDA (Canada) regulates the treatment of sensitive information, like HIPAA.
Application development timeline
A mobile application for a pharmacy business is a rather complicated task that will take a lot of time. It is important to make a powerful database with warehouse integration so that drugs are automatically entered into the application. It is necessary to take into account the load on the application, the visual component. An important factor is the number of implemented functions. They expand the capabilities of the application but increase the development time.
At the same time, we strive for rationality and efficiency in our company. Therefore, we select the best ways to solve the tasks and choose such technologies so that the development takes as little time as possible. We can only say for sure after consultation with the customer. Then we will understand what tasks are set for us and how we will implement them.
The cost of online pharmacy app development solution
The cost of a pharmacy app MVP depends on the scope of the project and the following factors:
deadline;
operating system;
the qualifications and composition of the team;
IT company's rate and collaboration model;
tech stack and functionality.
The cost of full-cycle pharma app development can start from $40,000 and up. We provide a free technical consultation and calculation of the cost of your project. Don't hesitate to ask our experts for help!
7 Reasons Your Pharmacy Needs an App
The world of information technology is increasingly intertwined with the world of medicine. E-commerce opens up great opportunities for the pharmacy business. Therefore, the application is necessary for the efficient and efficient operation of a pharmaceutical institution. The service will facilitate the performance of official duties by doctors and pharmacists, as well as ensure business expansion.
Attracting new potential customers
Millions of people start their day by checking their smartphones and using various apps. The level of engagement of mobile applications is several times higher than that of conventional sites. Therefore, a well-designed mobile application will make it possible to attract many more users.
Operational Round the clock service
Through the Internet, you will be able to expand the means of interaction with consumers in an efficient and fully automatic way. You can answer their questions without involving staff or recommend a product with a detailed photo and text. The service serves customers 24 hours a day, seven days a week, and 365 days a year.
Promotion to the international market
Thanks to the language translation capabilities, your application will be able to start a dialogue with a person who speaks another language. Offer a sale or service to potential buyers whose inquiries come from another country. So you yourself will decide where, what and how to sell.
Sales growth
The application has more convenience when choosing products, more opportunities for offers. You can also expand the range by selling related products. Through the application, you can find out the impressions of consumers about your service and receive their feedback instantly.
Recognized brand
Make your pharmacy stand out from the rest, use your brand for this. Your mobile app will continue to remind users of your brand even when offline. They will regularly see your service logo in their app list. This will allow you to always be the center of attention.
The best decision
The Apple and Google Play app stores are visited by millions of people every day. You need your service to be properly optimized for the app store. Then it will attract more downloads, increase targeted traffic to your site. It will give you the opportunity to get backlinks from pages with high authority.
Increasing the value of the product.
Mobile apps will help you deliver your products and services much more efficiently. Highlight and promote your unique selling proposition in the app. Improve service efficiency with personalized features and options.
The future of the pharmacy is based on getting closer to customers using the Internet. Our pharmacy application development company will help you combine the value of your online drug store with the online environment. This will be the key to unlocking the full potential of your business. We keep up with the times and innovate in all aspects of our application development.
FAQ