Analytics based on complex data sets accelerates the development of new IT solutions and medicines. Connected scales, wearable heart rate monitors, or biosensors are examples of improving information analysis for health monitoring.
Research shows that the global BD market will grow from $11.5 billion in 2016 to about $70 billion by 2025.
How to use it, and why will it become the engine for successful medicine?
Big Data and Healthcare: Definition and Facts
ReedSmith reports that COVID-19 has caused a 400% increase in cybercrime (fraud and phishing).
The long quarantine has led to the spreading of smart devices for online banking and medical consultations among users.
As a result, the amount of information has expanded, as has the number of cyber criminals who provoke leaks of confidential information.
Statista predicts that the data market segment will grow to $103 billion by 2027.
There are several characteristics: volume, speed, variety, reliability, and value. Big data is defined in the following meanings:
Big data in the healthcare industry means using advanced tools to manage the healthcare system.
They include 3 usage types:
Operating rooms: increased the efficiency of medical personnel in functional duties.
Financial: increased income for practicing physicians, medical organizations, and research universities.
Custom: Improved results and timely collected patient analyzes.
Big data helps the branches of medicine predict the period of epidemics, detect diseases in time, and keep monitoring the health of digital users.
Predictive analytics and intelligent analysis allow finding new solutions based on information received.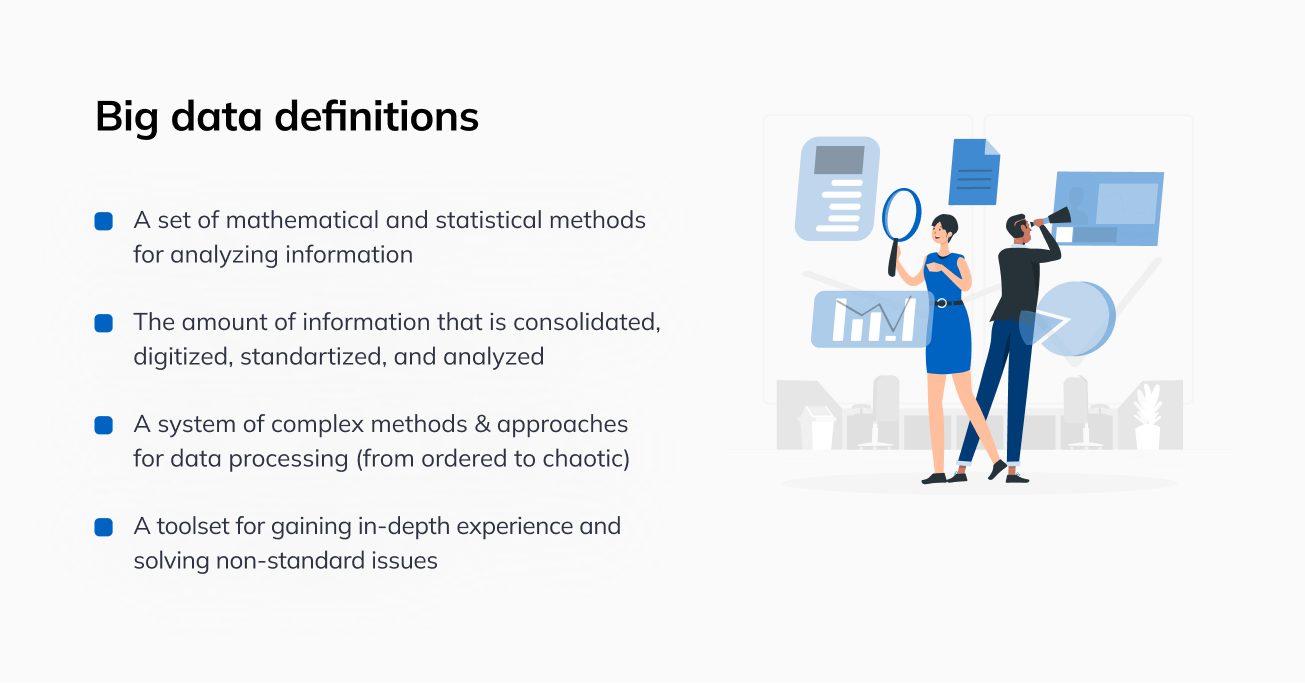 Main case studies: big data in healthcare
Continuous health analysis – Fitbit
Wearable devices like Fitbit or Apple Watch allow you to keep track of your activity, sleep hours, blood pressure, and more.
CareKit, ResearchKit, and HealthKit programs contain users' data to be used by hospitals and private specialists of various profiles in their practice.
For medical workers, this is an opportunity to take control of patients' health by constant monitoring of diseases and introducing new safe methods of treatment and prevention.
Fitbit provides a base of 90 billion hours of information about the heart rate. It is necessary for cardiologists and researchers for stroke prevention.
Fitbit also tracks over 167 billion minutes of exercise, 5.4 billion sleep nights, and 85 trillion steps.
Patients can be rewarded up to $1,500 per year for completing the tasks assigned to the device.
Digital Patient Records – HealthConnect
Kaiser Permanente is a US non-profit healthcare organization that implemented HealthConnect. The system provides a quick data exchange between healthcare providers and secure storage of records in a single digital system (EHR).
Successful results in the hospital confirmed the platform's effectiveness: the death rate from heart attacks decreased by 24%.
The organization also launched Thriving Schools, a comprehensive assessment tool together with Healthier Generation. The purpose is to improve the physical and mental health of students in the current pandemic.
The launch of the EHR allows medical staff to review medical records, prevent allergic reactions, and analyze patient studies.
The electronic system helps generate reports, track disease outbreaks, and reduce erroneous prescriptions and retests.
Hospital clients receive their digital records with basic information. They can view all the doctor's visits and recommendations online after logging into the server.
Accurate Human Resource Estimates – AP-HP
Turning large amounts of information into a structured database helps identify people's needs and deliver services.
Algorithms are used to calculate the number of patients and personnel needed. As a result, the efficiency of the hospital increases, as customer satisfaction does.
For example, 4 AP-HP hospitals in Paris used big data algorithms to track patients. The system analyzed all kinds of sources over 10 years to plan the number of visitors to medical institutions on weekdays and weekends as well as at different times of the day.
The results helped to establish the number of professionals needed. Hospitals made staff changes and assigned staff according to sick visitors.
Cancer and Rare Diseases Treatment – Cancer Moonshot and UDN
Using open databases, medical researchers discover new treatment and rehabilitation methods, sharing knowledge with colleagues.
It positively affects overall productivity at the hospital level, reducing the risks of readmission and serious consequences.
For example, applying Big data analytics in healthcare research allows obtaining information about patients with cancer of the skin, stomach, liver, and more.
This approach is implemented internationally by The Cancer Genome Atlas (TCGA) and the International Cancer Genome Consortium (ICGC).
The Cancer Moonshot program in the United States aims to make progress in cancer treatment by creating an online network for cancer patients.
Research institutes can take advantage of information about a person's disease from any state. The main problems were the incompatibility and confidentiality of data because local laws differ from federal ones.
A successful example is the Undiagnosed Disease Network (UDN), formed by the US National Institutes of Health together with medical facilities and institutes. They created a database of rare conditions found in several patients to investigate each case.
Benefits of big data in healthcare: the results of guided care
Minimizing human factors
As a rule, human errors are related to uneven dosage, medicine type, drug status (forbidden / approved), and unnoticed contraindications for the patient.
The use of a complex data system helps to detect incorrect prescriptions in the healthcare sector.
For example, the introduction of a digital platform for dose range verification (DRC) in a children's hospital has prevented overdosing/underdosing cases.
Reducing Costs by Predicting Situations
According to Statista, total healthcare spending per person globally averaged about $1,100 in 2018 and is expected to rise to $1,500 by 2050.
Big data system processing helps to save costs for hospitals. It aims to optimize employees, predict the need for operating rooms, and track the drug supply chain.
Also, a more accurate diagnosis of diseases using analytics of collected indicators will reduce costs by eliminating readmission rates.
Pharmaceutical Advances
Artificial intelligence and machine learning (AI/ML) brings benefits in radiology, pharmaceuticals, remote health monitoring, and other fields.
Markets and Markets states that the global market for artificial intelligence in healthcare will grow from $4.9 billion in 2020 to $45.2 billion by 2026.
Big data management drives the development of promising therapies and innovative drugs. It also affects telemedicine and telehealth, increasing the need for new digital products.
Risk Management and Disease Prevention
Chronic diseases are subject to ongoing monitoring. It can be provided with smart devices: bracelets, heart rate monitors, or watches.
Synchronization with information platforms of doctors helps to monitor the condition of patients 24/7.
Data on frequency of taking medications, new symptoms, and history of hospital visits lower the probability of hospitalization.
Doctors can contact their wards for online consultations in case of deteriorated health indicators.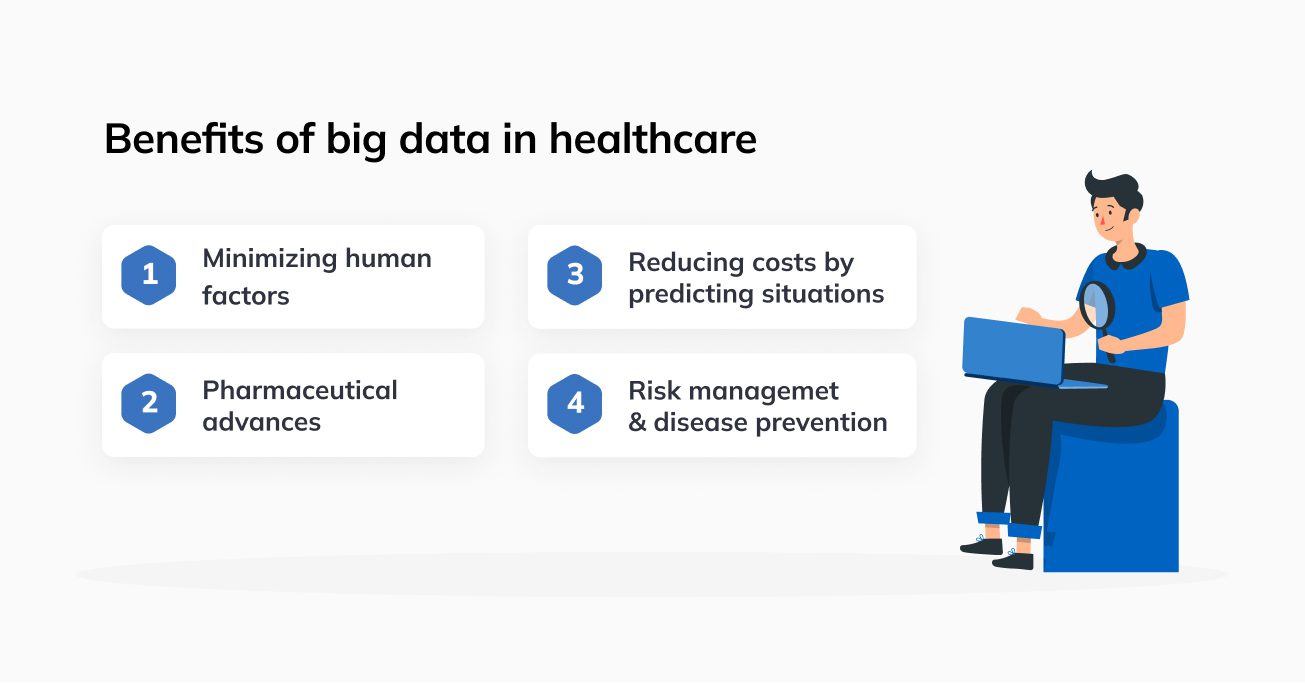 Importance of BD for medicine
The rapid adoption of intelligent technologies increases the volume and complexity of systems to analyze.
The benefits of data analytics in healthcare are effective prevention of epidemics, structured management of employees, continuous monitoring of patients' status, reduction of hospital costs, and others.
The processing of complex systems helps the industry subjects:
Doctors: reducing the workload, optimizing the work process, more time for essential tasks.
Healthcare organizations: providing personalized care, better bottom line, more clients, and efficient technology solutions.
Pharmaceutical companies: producing effective drugs, reducing production costs.
Patients: health management, disease prevention, and medication control.
Insurance companies: eliminated fraud, quickly negotiated coverage and compensation, and improved customer service.
So, the healthcare industry can solve many financial and organizational problems using complex data processing. Start the implementation by following the best examples in this area.
Can't
figure out
your growth strategy?
We'll help you build it!
Contact us