AI adoption is not just a trend but a reality for the healthcare sector. Its capabilities are being recognized and leveraged across the board, making it an essential component for innovation and growth in healthcare startups.
According to Grandview research, using AI in the healthcare market is expected to reach $187.95 billion by 2030. And the use of AI in healthcare is growing at a rate (CAGR) of 37% annually.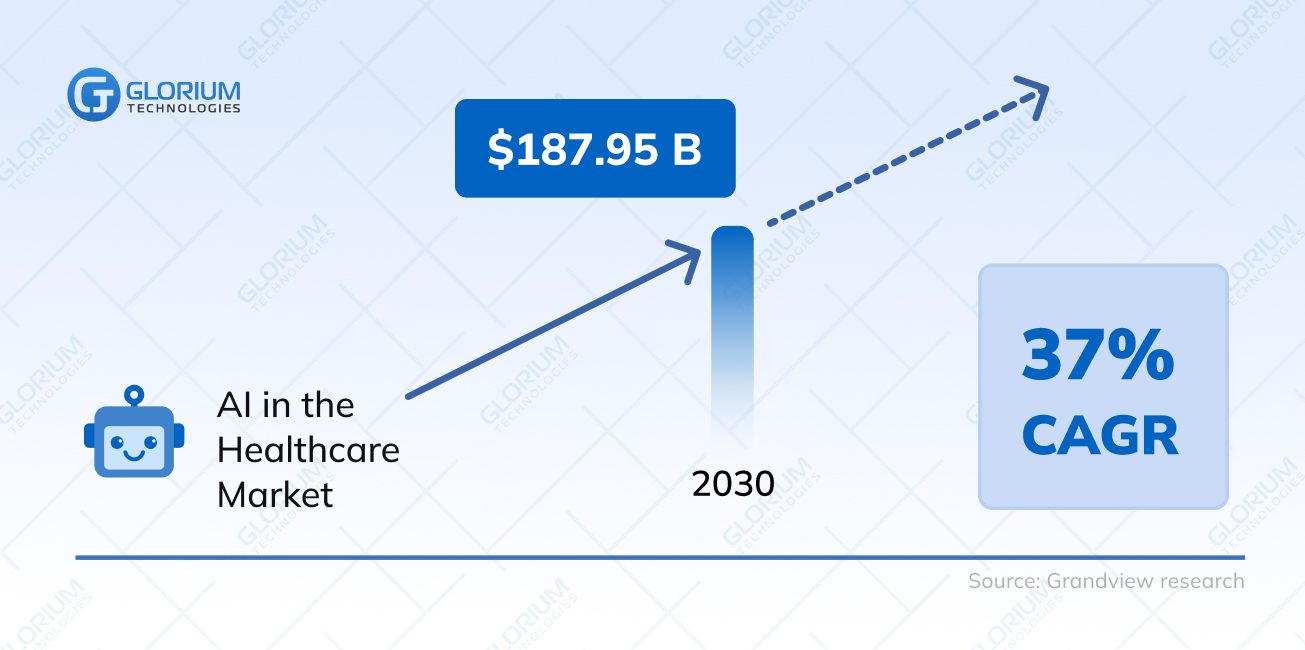 In this article, we'll explore the top 5 cases for adopting AI in healthcare startups, supported by real-world examples that demonstrate the power of this disruptive technology.
Drug Discovery and Development
AI allows startups to achieve more with less. By leveraging machine learning models trained in biochemistry and pharmacology, startups can significantly cut down the time required for initial screenings and pre-clinical trials. This approach expedites the go-to-market strategy and translates into substantial cost savings.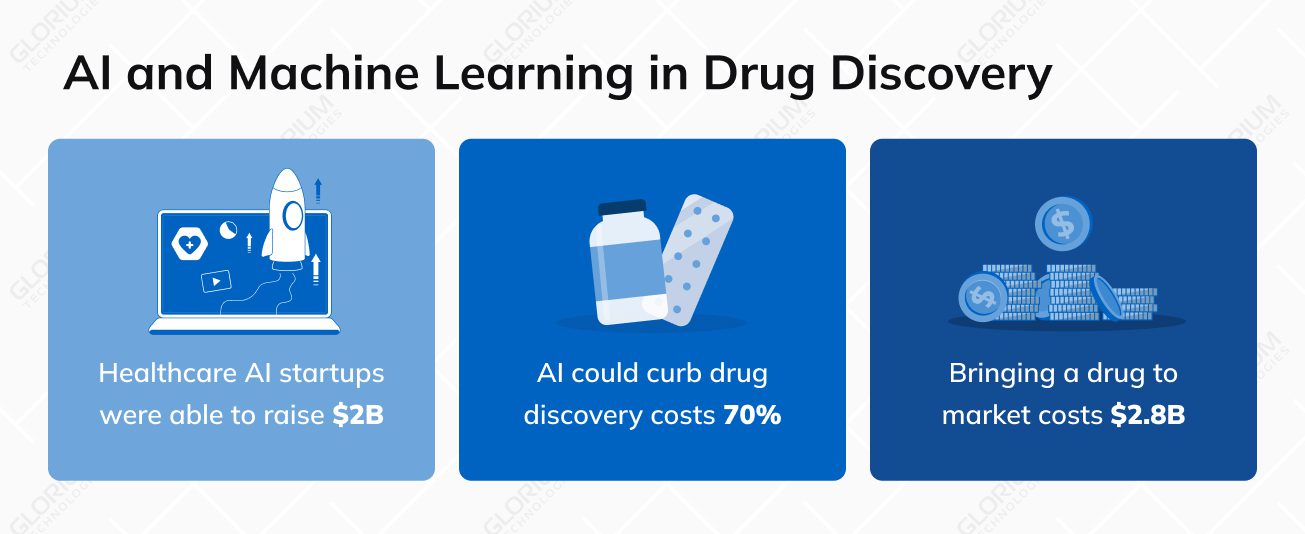 The financial implications are particularly noteworthy for startups, where resource allocation is often constrained and the pressure to innovate quickly is immense. AI enables startups to be nimble, fail quickly, and learn quickly, accelerating the iterative drug development process.
Atomwise
Grant
California, United States
Founded:
2012
Founders:
Abraham Heifets
Website:
Total funding amount:
$176.6M
Atomwise is pioneering the use of AI in drug discovery, providing a fast-track solution to identifying potential drug candidates for diseases ranging from cancer to malaria. In 2022 a global pharmaceutical company Sanofi and Atomvise signed an AI drug discovery deal with vast numbers of $1.2 billion.
Diagnostic Automation and Imaging
Automating AI diagnostics can speed up the identification of diseases and conditions, allowing healthcare providers to offer timely interventions. According to Grand view research the size of using AI in the diagnostic market will only grow.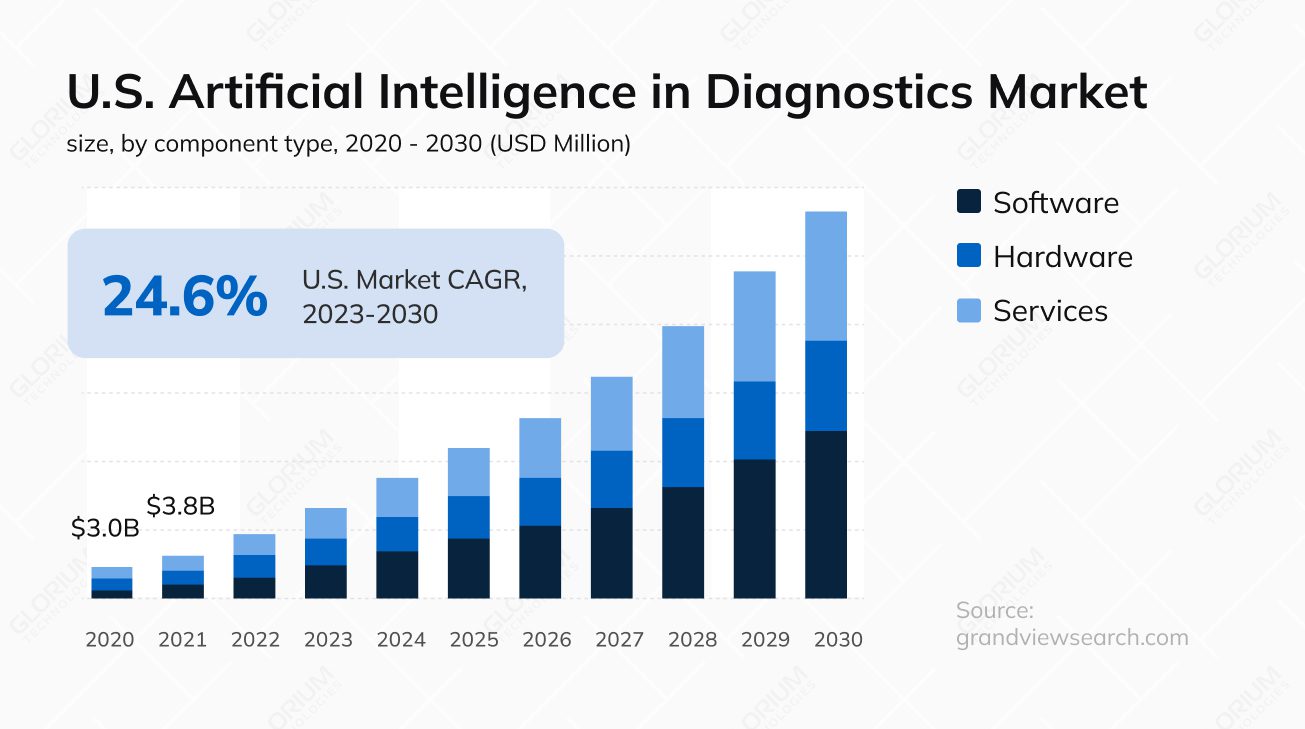 Machine learning models trained on thousands of X-rays, MRIs, and CT scans can identify patterns and anomalies far more quickly than human experts. Here is the case study from the Glorium portfolio.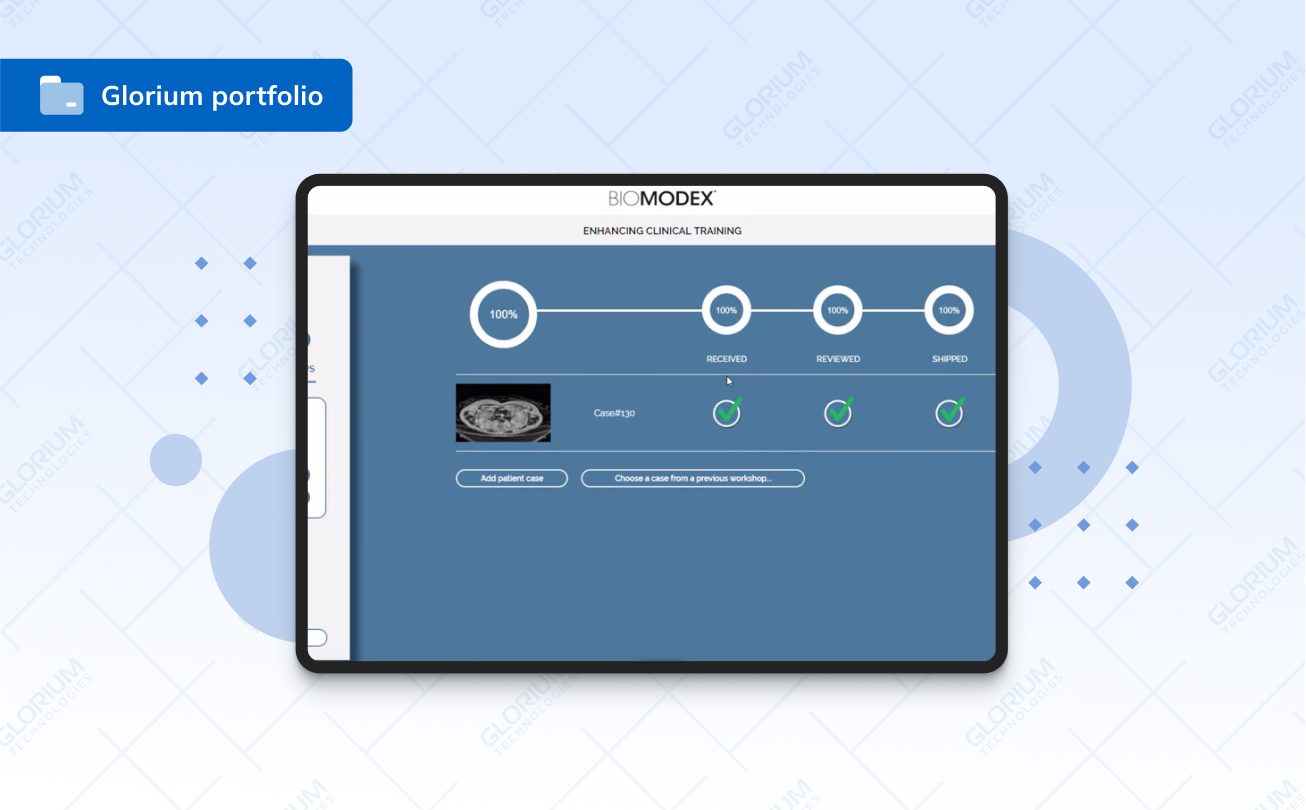 Aidoc
Series D
Tel Aviv, Israel
Founded:
2016
Founders:
Elad Walach, Michael Braginsky, Guy Reiner
Website:
Total funding amount:
$237.5M
Startups like Aidoc offer AI-powered solutions that analyze medical images and flag anomalies for further review by healthcare professionals. Such solutions can significantly reduce workload and speed up diagnosis time, enabling medical professionals to focus more on patient care. Aidoc has recently unveiled a partnership with Northwell Health to implement a comprehensive clinical AI approach across Northwell's 17 hospitals in New York state.
Ultronics' EchoGo platform can analyze thousands of data points from echocardiogram images, while Zebra Medical Vision's Profound software can detect various conditions like breast cancer, fatty liver, aneurysms, and emphysema. Meanwhile, the AI2 Incubator and Fujifilm SonoSite are using deep learning models to upgrade the quality of ultrasound images, making them more accessible and affordable for patients.
Predictive Analytics for Patient Outcomes
AI uses historical data and machine learning algorithms to predict patient outcomes. Whether it's anticipating readmission risks, the likely progression of a disease, or potential complications, predictive analytics can guide clinicians in providing targeted care.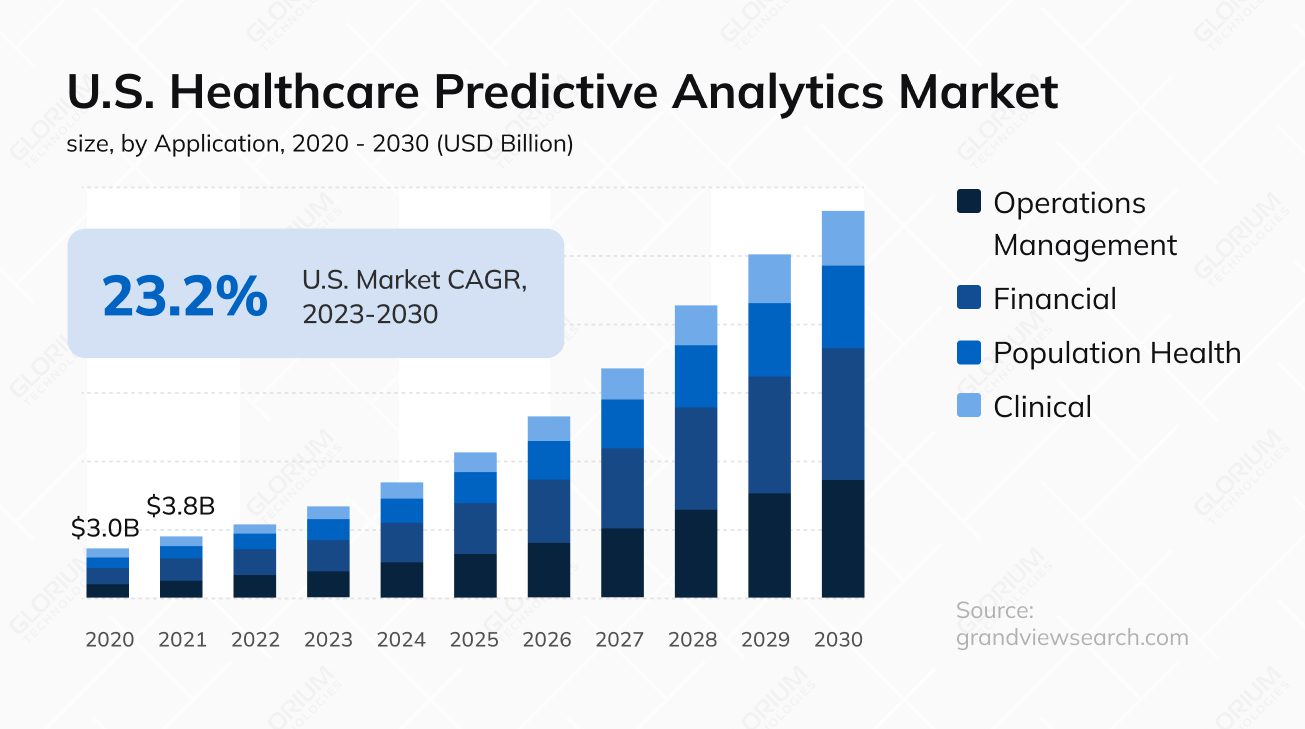 To create a comprehensive context, machine learning algorithms analyze past patient records, lab results, medication histories, and even lifestyle data. The AI system gains a nuanced understanding of probable future scenarios by examining historical data points, such as similar patient demographics, disease histories, and treatment outcomes.
Advanced machine learning algorithms process this voluminous and complex data to identify patterns and correlations that may be invisible to human observers. These algorithms are often trained using a technique known as "supervised learning," where they are provided with both the input data and the output it should aim for, allowing them to "learn" from errors and refine their predictions over time.
Somatus
Series E
Virginia, United States
Founded:
2016
Founders:
Ikenna Okezie
Website:
Total funding amount:
$465.1M
To predict readmission risks, Somatus uses AI to analyze patient history, medication, and social determinants. Somatus serves as an exemplary case of how AI and predictive analytics can be ingeniously deployed to bring about meaningful changes in healthcare. AI brought cost reduction opportunities.
By analyzing patterns in treatments, patient responses, and healthcare utilization, the platform provides actionable insights to manage resources more effectively. AI technology provides individualized patient outcome predictions. Whether it's predicting a patient's likelihood of requiring hospitalization or the odds of responding positively to a particular line of treatment, these specific insights are invaluable for healthcare providers looking to deliver personalized care.
AI Technology with Records
Integrating AI with EHR opens new horizons in healthcare, making the EHR systems far more than mere digital filing cabinets. Here's how AI and EHR are synergizing to transform healthcare:
AI algorithms can sift through extensive EHR data to deliver real-time insights for clinical decision-making. These can include predictive analytics for patient outcomes, personalized treatment plans, and even flagging potential complications before they become critical issues.

Additionally, AI automates administrative tasks like appointment scheduling, billing, and claim settlements, making EHR systems more efficient. AI's NLP capabilities can be harnessed to extract valuable information from the unstructured text in clinical notes, radiology reports, and other documents stored in EHR systems.

Roman Matsukatov

Product Manager with 10 years of experience
One of the major challenges in healthcare is the interoperability between different EHR systems. AI can be crucial in standardizing data and ensuring it is easily shareable across different platforms, improving care coordination. AI can also help to ensure that EHR systems comply with healthcare regulations by automating the monitoring processes and flagging non-compliance issues well in advance.
Deep 6
Series A
California, United States
Founded:
2015
Founders:
Brian Dolan, Wout Brusselaers
Website:
Total funding amount:
$17.6M
Deep 6 is an AI platform that employs technology to analyze structured and unstructured data across various systems, enabling precise patient matching for clinical research trials. Recently Deep 6 AI and Texas Tech University Health Sciences Center (TTUHSC) have revealed a partnership aimed at incorporating AI technology into TTUHSC's electronic medical record (EMR) system, with the goal of enhancing patient eligibility and enrollment in clinical trials.
Telemedicine and Remote Monitoring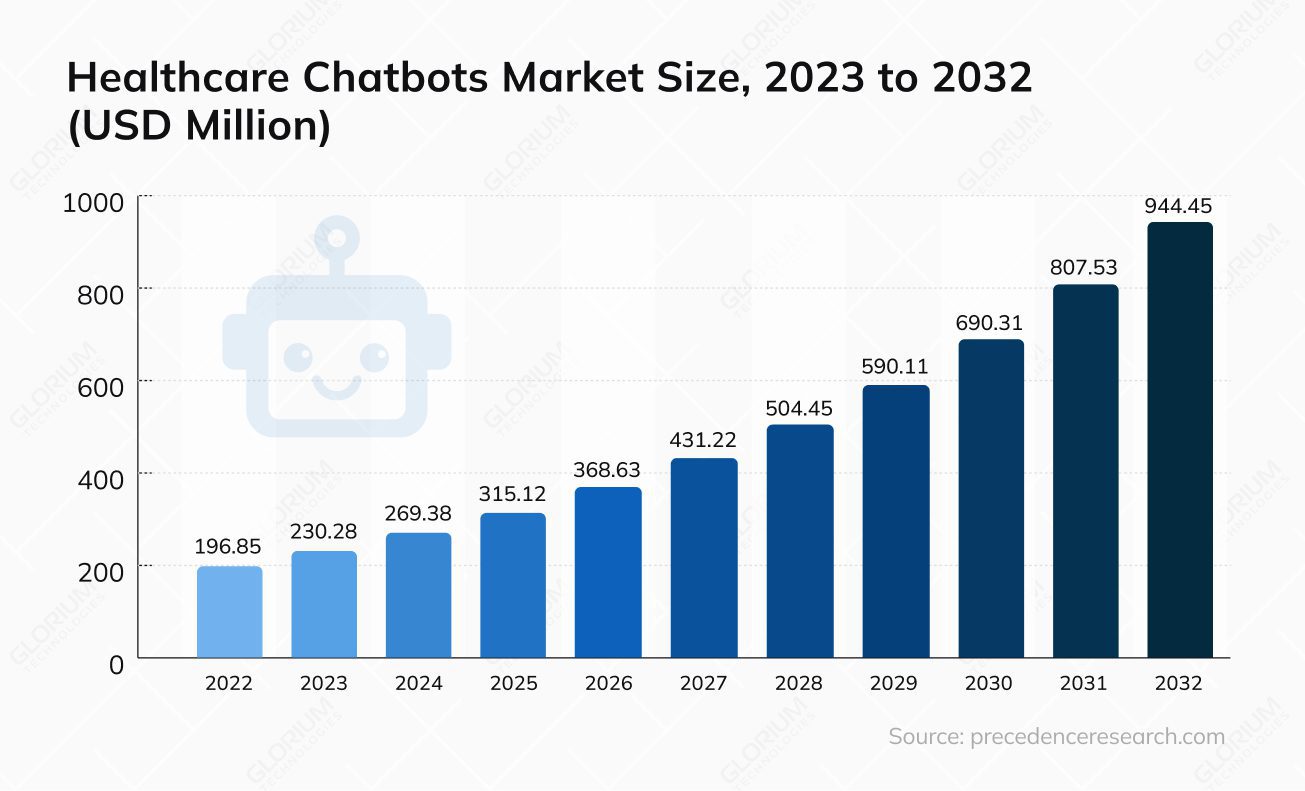 AI-powered bots and applications can monitor patient vitals, symptoms, and offer basic medical advice.
These smart technologies can monitor a range of patient vitals such as heart rate, blood pressure, and oxygen levels, and can also track symptoms over time. By using machine learning algorithms and real-time data analytics, these bots can offer basic medical advice that could be critical in early diagnosis or in managing ongoing health conditions.