According to Precedence Research, the growth of global artificial intelligence in the vast healthcare market is expected to surpass USD 187.95 billion by 2030, a CAGR of 37% for 2022-2030. When it comes to AI in healthcare examples, the software solutions segment has the largest revenue share so far, accounting for 40.5% in 2022.
Let's look at the top areas for AI implementation and figure out how its strong sides can help your business.
I imagine a world in which AI is going to make us work more productively, live longer, and have cleaner energy.

Fei-Fei Li

Director of Stanford's Artificial Intelligence Lab
How is AI Helping in the Healthcare Industry: Areas of Application
New AI tools bring the most promising results; work automation and data analysis capabilities are strong in this one. These are applied successfully to several particular areas of health tech.
According to Grand view research the worldwide market for healthcare-based artificial intelligence is predicted to rise at a CAGR of 37.5% from 2023 through 2030. Factors fueling this growth include:
the escalating volumes of digital health data.
a surge in interest for individualized medical treatments.
an increasing need to cut healthcare costs.
Automating Repetitive Tasks
For one, AI in the healthcare industry helps automate repetitive and time-consuming tasks. This is very important because hospital staff often suffers from job overload. Now, robotic process automation (RPA), one of the subdivisions of AI, speeds up human productivity by automating repetitive tasks like data entry and basic processing in the healthcare industry.
Gartner says that by the end of 2023, about half of the healthcare providers in the US plan to use RPA in their centers.
At a CAGR of 26.01%, the growth of the RPA market in healthcare is projected to grow to USD 6.2 billion by 2030, up from USD 2.9 billion in 2022. It makes repetitive task automation a good market opportunity.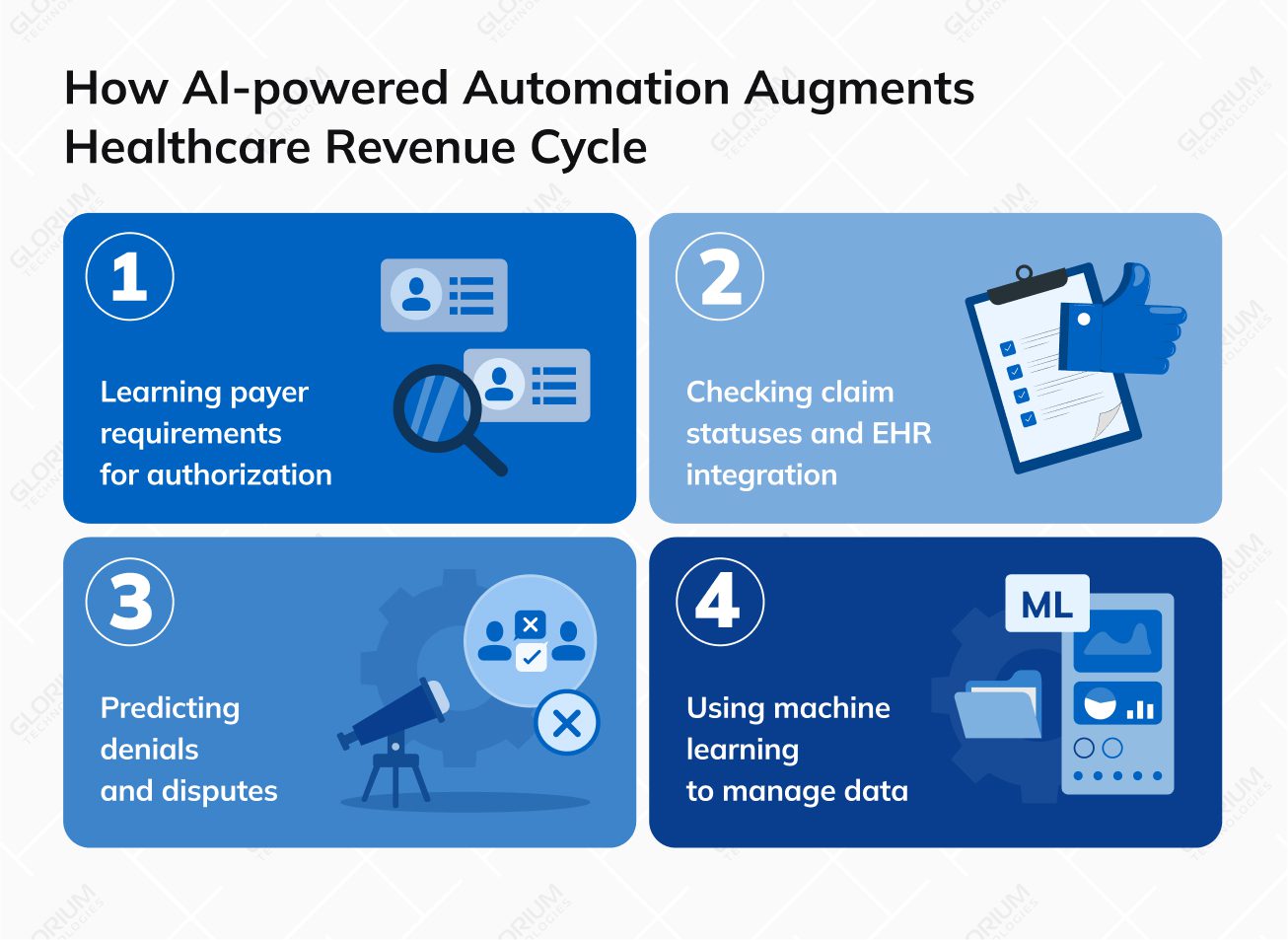 What's in it for you:
Apply AI to data administration and streamline your company's business processes. According to
ResearchGate's survey
on AI's business value, the automation effect of AI has a significant positive impact on the process level.
Oscar Health
Private Equity
New York, United States
Founded:
2012
Founders:
Joshua Kushner, Kevin Nazemi, Mario Schlosser
Website:
Total funding amount:
$1.6B
Oscar Health, an insur-tech startup, employs AI to optimize billing and claims processing. By automating these tasks, healthcare providers can expedite reimbursement and reduce the risk of errors. The company recently published its research on AI models and several potential use cases in the healthcare industry.
Diagnostics and Disease Detection
AI diagnostics rose to power during the pandemic when AI-based algorithms proved efficient in rapidly evaluating CT scans to differentiate COVID-19 diagnosis from other illnesses and conditions, achieving up to 90.8% accuracy. According to Alan Turing Institute Research it didn't make much difference in fighting pandemics, the concept has kicked off dozens of AI-based startups focused on diagnostics and disease detection.
AI systems can use X-rays, MRIs, and CT scans to find minor differences humans might miss and help doctors make diagnoses earlier and more accurately. In addition, generative AI in healthcare can analyze big data sets to find patterns and help predict diseases by indicating early warning signs and risks for clinicians.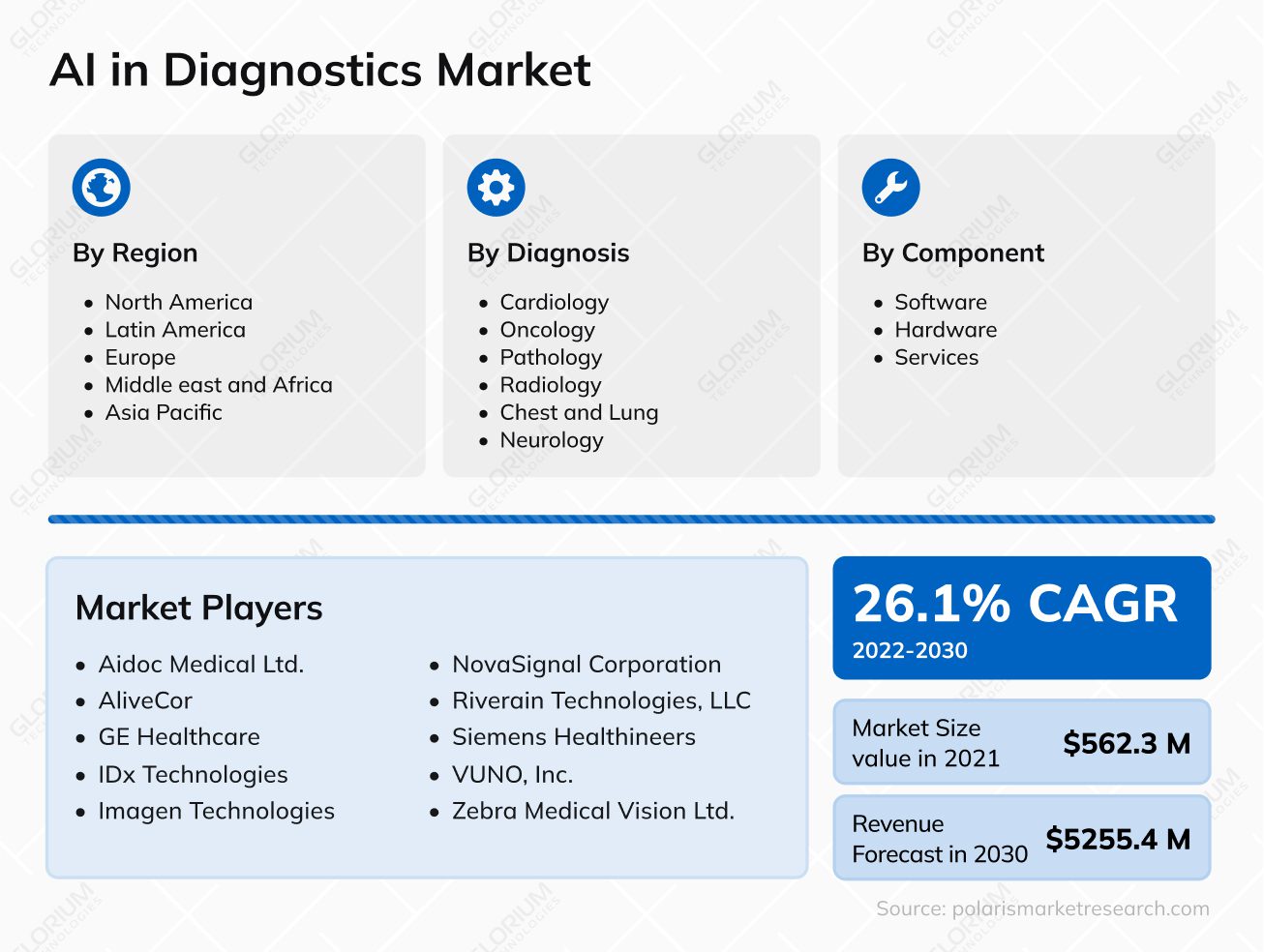 What's in it for you:
New diagnostics products emerge daily in software, hardware, and IoT wearables categories. If you are already working with a product in the healthcare field, check if enhancing it with a diagnostics AI could add more features to your product, opening new market opportunities.
Digital Diagnostics
Series B
Iowa, United States
Founded:
2010
Founders:
Michael Abramoff
Website:
Total funding amount:
$173.4M
Startup IDx offers an AI-powered platform for diagnosing eye conditions. The company has a system that can identify signs of diabetic retinopathy in images of the retina. With their algorithms able to find diseases in different types of medical images, the company is creating platforms to diagnose macular degeneration, glaucoma, Alzheimer's disease, cardiovascular disease, and stroke risk.
Speeding up Drug Discovery
Clinical drug trials cost billions of dollars, with only a fraction of new drugs making it to the market. Increasing costs and extensive researches requiring thousands of hours from scientists slow down the drug development industry. AI in the healthcare industry can now use algorithms to forecast how drugs interact with the human body and process large amounts of data at a scale and speed impossible for humans. According to the IDTechEx report it cuts the timelines for drug discovery from 5+ years to months.
No wonder drug discovery targeted startups are increasingly being acquired or signed up by big pharma giants to prove their success. Sanofi has signed Atomwise for $1.2 billion, while Pfizer has partnerships with Truveta, Gero, CytoReason, and Tempus.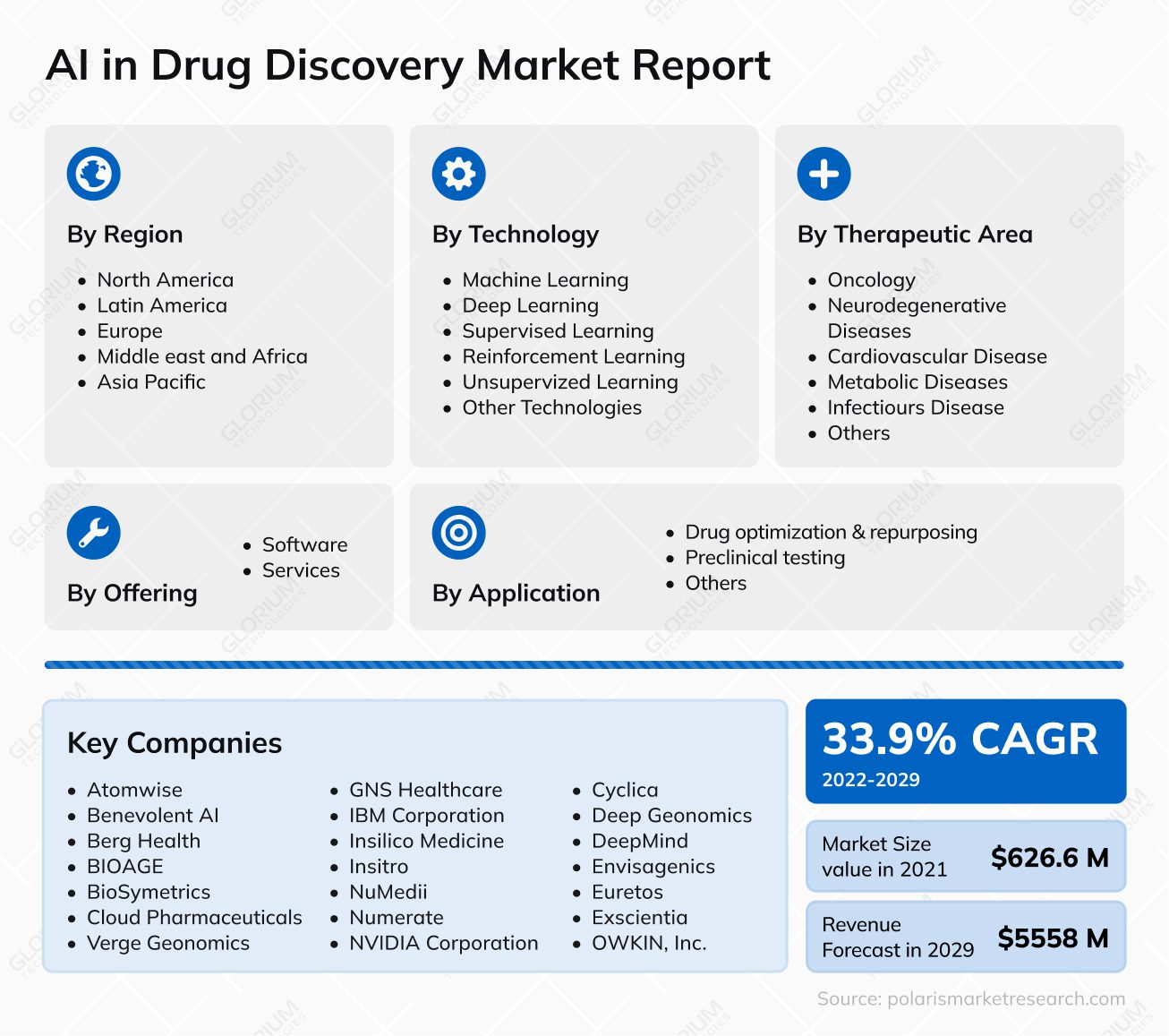 What's in it for you:
AI is an excellent tool if your company works with big data and could benefit from speeding up analytics or doing more experiments in a shorter time.
Benevolent AI
London, United Kingdom
Private Equity
Founded:
2013
Founders:
Brent Gutekunst, Ivan Griffin, Ken Mulvany, Michael Brennan
Website:
Total funding amount:
$292M
BenevolentAI uses artificial intelligence and data analysis to find possible drugs and forecast how well they might work. They leverage their technology and launch new AI products, like a natural language biomedical querying system. It will help biopharma partners like AstraZeneca speed up their research, better use their data, and stay ahead of the competition.
Transforming Patient Experience
Digitization of healthcare makes life easier for patients, and AI plays a significant role. AI-based assistants and applications have emerged everywhere, helping patients get better care faster and more comfortably. To make things even better, AI in the healthcare industry can also lower healthcare costs by improving efficiency and productivity, making services more affordable for patients.
Think about how to transform your customer experience with AI.

In healthcare apps, personalized treatment plans based on patient data ensure better results while addressing individual quirks.
AI-powered wearables and remote monitoring systems enable patients to monitor their health metrics in real time.
Telehealth platforms can use AI chatbots to provide medical information and help patients at home.
AI-powered language translation services can facilitate effective communication between healthcare providers and patients (in telehealth as well).
AI-based mental health tools can support individuals with stress, anxiety, and other mental health issues, and can be also used to track employees' or customers' happiness levels.

Anna Vozna

Account Executive, Glorium Technologies
Medictor
Venture – Series Unknown
Barcelona, Catalonia, Spain
Founded:
2011
Founders:
Cristian Pascual, Oscar García-Esquirol
Website:
Total funding amount:
$15.8M
Startup Mediktor uses artificial intelligence (AI) to evaluate patients' symptoms using a chat-like interface. It provides users with information about possible health conditions so they can make informed choices about getting medical help. The company recently added a new feature to the medical chatbot. Now, patients with physical disabilities can use it to check their symptoms and get customized answers based on their specific situation.
AI-augmented Surgical and Medical Devices
While it's too early (and maybe you wouldn't even want it) to expect robot surgeons, the collaboration between AI and surgeons is happening and bringing good results. Various subfields of AI, such as natural language processing, machine learning, and computer vision, find their application in surgeries, and further progress in this area will likely allow for better patient outcomes soon.
The worldwide market for surgical robots that use AI was worth $6.4 billion in 2022. According to the Grand view research it is projected to grow at an annual rate of 18.9% from 2023 to 2030. As devices become more efficient and more doctors are getting acknowledged with them, more people are likely to use them in the future.

What's in it for you:
If you are working with robotic devices and other health-related hardware, consider augmenting these with AI features could help enhance the functionality and increase the value of your business. There are already hundreds of FDA-approved AI-powered devices; yours can be next.
Proximie
Non-equity Assistance
London, United Kingdom
Founded:
2016
Founders:
Nadine Haram
Website:
Total funding amount:
$118M
Startup Proximie's platform combines AR and AI to enable remote surgeons to connect with surgical teams on-site. This technology allows experts to provide real-time guidance for procedures, no matter where they are located. Using remote 'hands-on' virtual assistance and video annotation during surgery allows surgeons and medical teams to receive real-time guidance and support from remote experts.
AI in Healthcare Industry: Cost of Development
The cost of AI can vary greatly. A custom AI solution can cost anywhere between $20,000 and $1,000,000. It varies based on factors like the required level of intelligence, the size of the data set it needs to handle, and the desired output from the algorithms. The success of AI-based companies and startups will also rely on how they market and sell their technologies to customers in the future.
Summary
In the future, AI in the healthcare industry will completely change how doctors care for patients. AI already makes things more efficient, improves medical results, and ultimately is targeted to make healthcare more accessible and affordable. To achieve this future, we must keep working together, developing new ideas, and being open as we find ways to change medicine and make the most of AI-powered healthcare.
The Glorium Technologies team knows the industry well and can effectively use AI for your software requirements. Let's keep in touch and reshape the future of healthcare together.

About

Roman Matsukatov

Product Manager with 10 years of experience. My diverse experiences have equipped me with the skills and knowledge necessary to excel in any software development environment. I've worked across a range of industries, including CRM, IoT, e-commerce, social networks, gambling, SaaS, PaaS, complex web portals, and system integrations.