Today, with the RPA market aiming to hit $13b caps by 2030, more and more industries are implementing Robotic Process Automation (RPA). In the past few years ago, RPA has demonstrated excellent potential for saving businesses time and money by performing repetitive, routine tasks faster.
This blog talks about RPA in healthcare, everyday use cases, and what a company needs to consider before implementing software robots in its workflows.
RPA in the Healthcare Industry
So, what is RPA in healthcare? RPA is a business process automation technology that simulates human actions in software systems to improve process performance.
RPA robots can mimic almost any repeatable human action: executing apps, managing files, filling out forms, updating databases, scraping web data, and much more.
Compared to traditional IT solutions, RPA enables organizations to automate processes in less time at far lower costs. Because bots act similar to humans, the technology does not disrupt core system infrastructure nor does it require costly third-party integrations.
With the number of practical cases growing, RPA has become widespread in healthcare institutions over the past two years due to the spread of COVID-19.
According to Gartner's 2020 review, 50% of U.S. Healthcare providers will implement RPA by 2024, up from 5% as of 2020.
Most Common Robotic Process Automation Use Cases in Healthcare
RPA's rapid growth and widespread use in healthcare is due to its ability to quickly and seamlessly automate key business processes for medical institutions:
RPA in healthcare claims processing. Most claims involve entering, processing, and assessing data. Claims processing is often time-consuming and error-prone. Because of its level of importance yet vulnerability to error, claims processing can sometimes have a significant impact on cash flows. RPA helps streamline the application process by speeding up data processing while reducing errors.
RPA in the overall improvement of healthcare. Healthcare organizations collect a considerable amount of patient data every day. This includes personal information, diagnoses, treatment statuses, etc. With RPA software, healthcare organizations can extract and optimize patient data faster and easier. RPA bots can transfer data through the multiple non-integrated departments of EHR systems. Automation bots then pull the necessary patient data quickly and accurately, helping doctors make accurate diagnoses and offer personalized treatment.
RPA for patient intake. RPA robots analyze patient intake forms, generate brief reports, and route requests to the correct queue based on a patient's location, diagnosis, and insurance provider. All this allows for a cost-effective method for new patient scheduling, increasing patient satisfaction, and reducing the administrative burden of medical staff.
RPA in business processes. Software robots can automate invoicing, procurement, and insurance processing workflows. These three processes make up a third of all business processes in any clinic. Data can be easily transferred from contracts and invoices to a CRM system and EHR if necessary. Bots can just as quickly pre-fill hundreds of tax documents, invoices, or application forms with data taken from any system of record.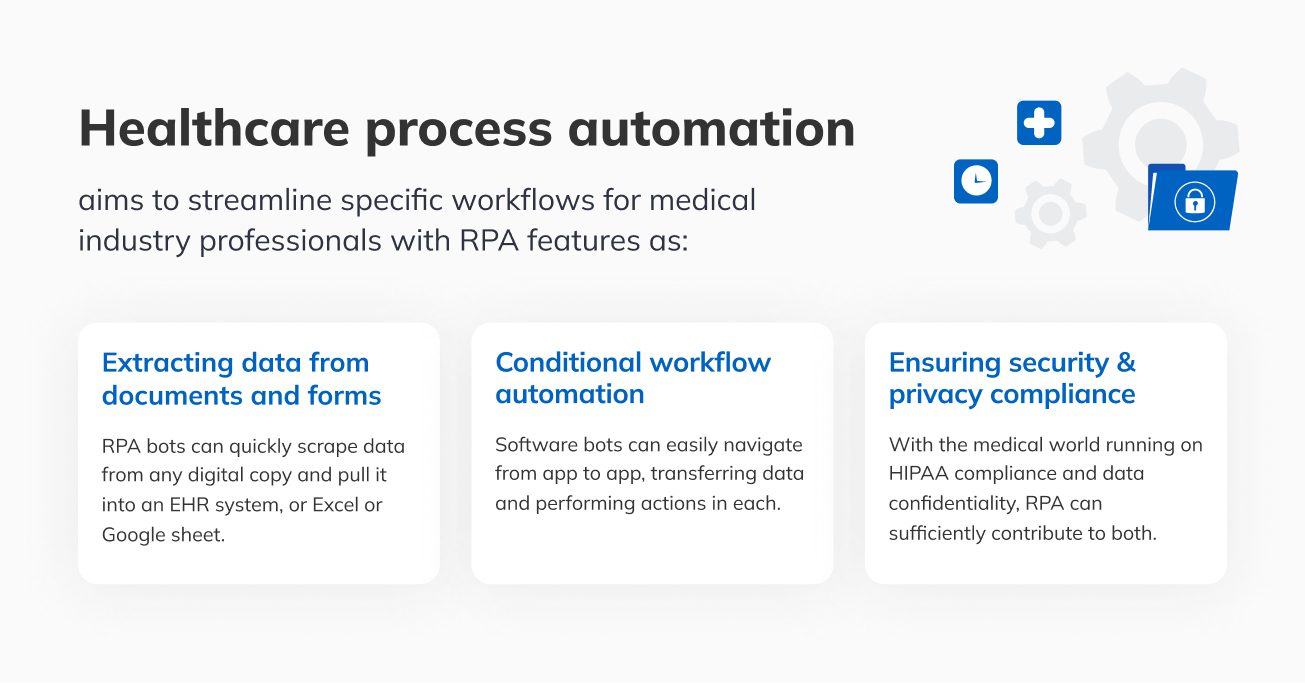 Points to Consider for Successful RPA Implementation in the Medical Field
As with any technology initiative, RPA implementation can fail for a number of reasons:
Lack of informed management in a company
Lack of detailed process scripts
Lack of staff training
Unreliable RPA provider
RPA misuse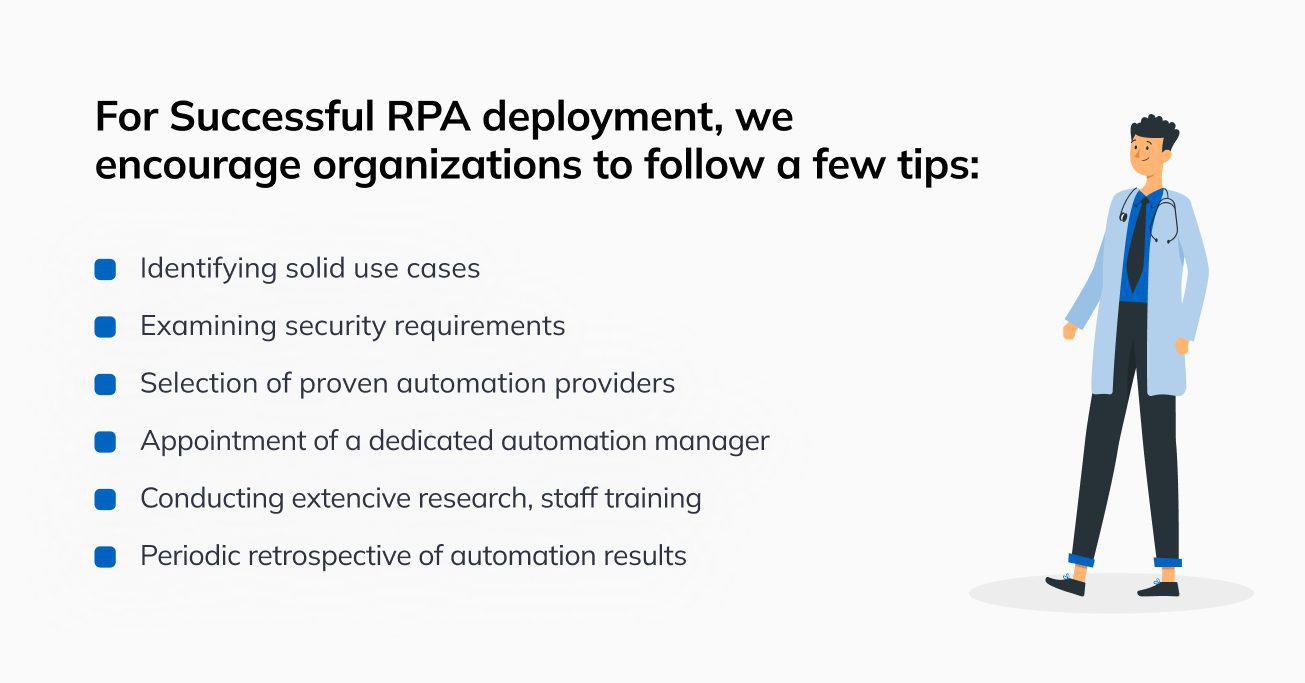 When evaluating processes for automation, try to identify a few key features:
A process and its actions should be repetitive.
Each action must be performed according to a specific pattern. The more of these actions there are and the more complex the pattern, the harder the implementation will be, but the greater the benefit.
Look for processes that don't change often enough. Otherwise, you will have to constantly adjust the automation's configuration.
Keep in mind that you will benefit the most from automating processes with large amounts of data and a higher number of operations.
How to Choose a Reliable Healthcare Process Automation Provider
Glorium is a 4.7-star company on Clutch that can provide full-featured RPA automation for any HIPAA and GDPR compliant workflow.
We have been working in the healthcare industry for 12 years. Glorium has helped more than fifty organizations implement automation and develop custom software solutions.
Contact us if you are just beginning your automation journey or are looking for immediate solutions. We offer free consultations to help you better understand the market, and its prices, and outline a possible plan of action.
FAQ