Today healthcare facilities produce, process, and store more data than ever before. Electronic patient records, financial metrics, industry health statistics, patient satisfaction scores, clinical trial data from pharmaceutical organizations, and insurance information are all the data to be analyzed on a daily basis.
That is why more and more hospitals are switching to digital tools for healthcare business intelligence. The healthcare BI market is projected to exhibit a CAGR of 14.05% by 2027.
What is BI, and what does it mean for medicine?
The importance of business intelligence in the healthcare industry
The term "business intelligence" was coined back in 1865, and now, 156 years later, it is difficult to imagine a modern enterprise without a BI system, especially if it often deals with large amounts of digital data.
The digital BI system plays an essential role in collecting, analyzing, and processing business information in various fields of activity.
BI includes methods, tools, and technologies to transform disparate information from different sources into helpful and understandable analytics. You can track results and make business decisions based on this data.
The benefit of such analytics is difficult to overestimate, as it can be applied both at the whole company and its branches, divisions, or even individual products.
In healthcare, BI is one of the most important tools for managing medical data of all kinds: from electronic medical records to unstructured statistics from the Internet or patient information from IoMT (Internet of Medical Things).
There are no restrictions for business intelligence: data collection is possible from both healthcare providers and outside institutions.
Business intelligence allows a hospital, clinic, laboratory, and other healthcare institutions to organize the most significant categories of data: financial, operational, and clinical.
This data becomes the foundation for improved patient care, better treatment efficiency, reduced costs, and quick accreditation of healthcare services. And all this is possible with the wide digital capabilities of BI systems.
Specifications of business intelligence software for healthcare
For the general user, e.g., doctor, nurse, medical registrar, laboratory assistant, or pharmacist, the principle of healthcare BI solution looks quite simple and consists of 3 stages:
Connecting data sources to the BI system. Sources can be cloud (Oracle Cloud, Microsoft Azure), file (Excel, PDF, XML), and relational (MySQL, Oracle, SQL Server).
Uploading information in unified data storage and its processing.
Demonstration of the processed data to the user in ready-made reports.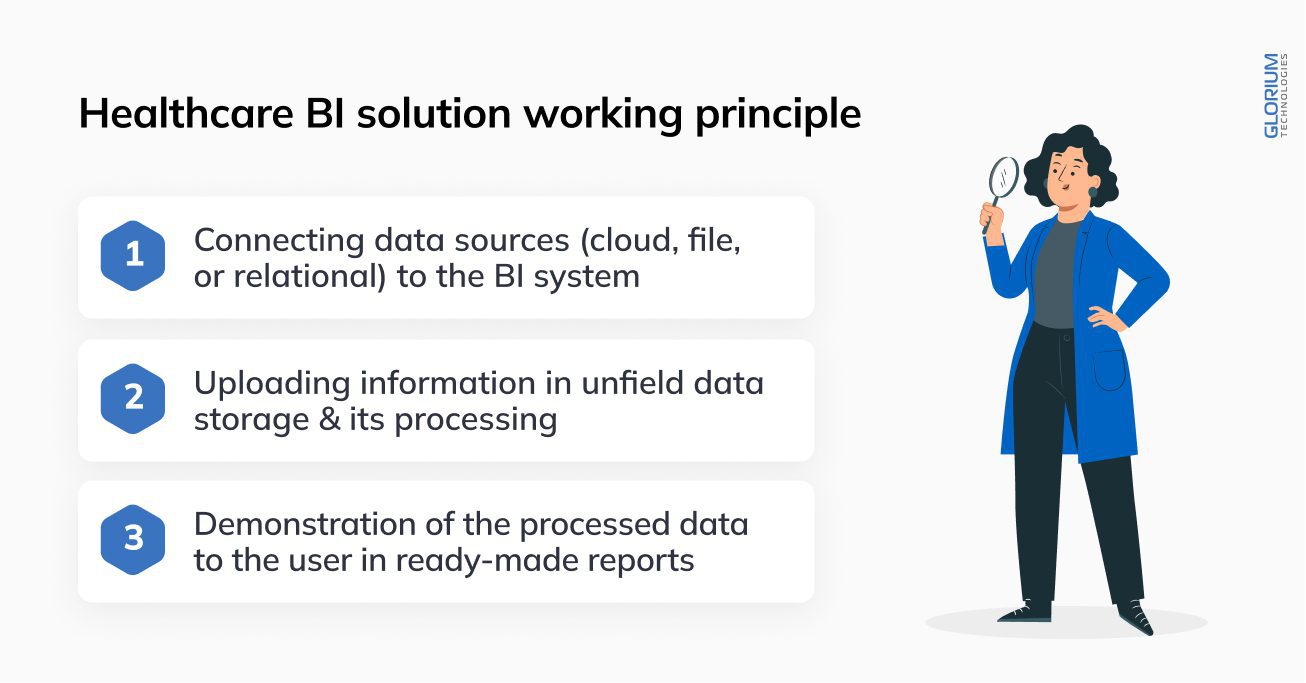 To use BI, a healthcare professional does not need to have special technical knowledge and skills. With an intuitive interface, you can quickly query the reports you want and access analytics.
As a response to a user's request, the system generates a dashboard: an information panel with grouped data presented in a convenient visual form: tables, graphs, charts, and reports.
The peculiarity of healthcare BI tools is that all displayed data is interactive: the user can view it, edit, enlarge it, or rebuild it at their discretion. You can study in detail the research results at the macro and micro levels, evaluate each indicator individually, and track the dynamics of changes over a specific period.
Although the system is easy to use, it is based on complex algorithms for processing data and creating advanced analytics.
The 4 pillars of a healthcare BI solution are:
Integration Tools (ETL): extract data from multiple sources, transform, and load into a repository. Transformation means changing the structure, aggregating, converting units of measurement, cleaning, and creating new data.
Enterprise Data Warehouse (EDW): storing, structuring, and analyzing data. All disparate detailed data are combined and coordinated in a single information base.
Data Mining Tools: Discovering helpful info in big data sets for advanced decision making. Based on statistics, classification, forecasting, and modeling.
Visualization tools: presentation of data in the form of visual reports. They can have a certain format or be analytical (the user can select indicators, customize filters, and sort data).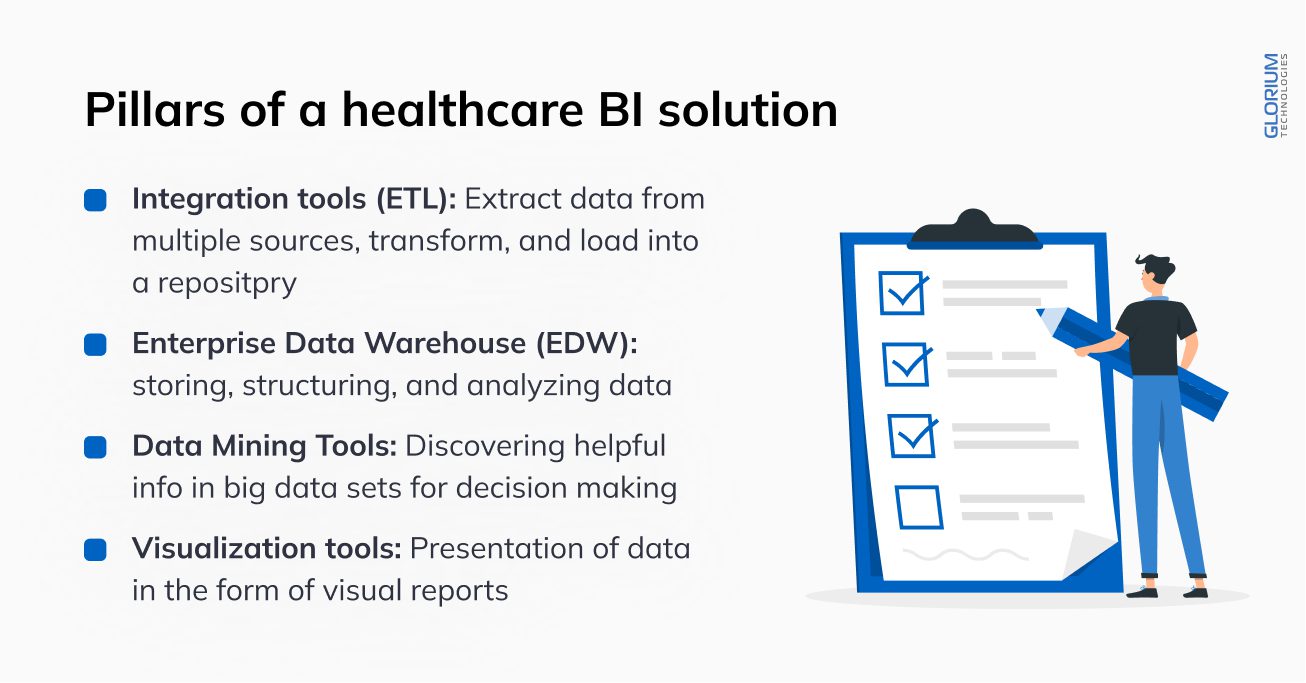 The business intelligence system integrates external and internal data. It allows hospitals to eliminate 90% of the routine when working with analytical data and producing operational and strategic reports.
The BI system solves the following tasks of healthcare:
Collect relevant industry data from proven and authoritative sources.
Store data in a single database, reliable and accessible for all employees of a medical institution.
Analyze and discover valuable information in large amounts of data that cannot be processed manually.
Identify market trends to develop a competitive strategy, which is important for private clinics.
Model possible solutions and predict results based on available indicators.
Draw up financial, operational, and other types of reports on key performance indicators.
Organize important data and save it for later use by new employees.
Business intelligence software for healthcare can be a stand-alone decision-making tool. It integrates with any corporate software, quickly adapts to the needs of private and public institutions, and supports all types of analytics.
Types of business analytics in healthcare
Healthcare analytics is used for generating reasonable assessments that help the healthcare institution make the right decisions and develop a business strategy. Depending on the species, the analyst can answer the questions:
What happened?
Why did it happen?
What consequences to expect?
What measures to take?
Descriptive
Objective: to determine changes in medical practice over a certain time.
Examples: number of hospitalized patients per month; the percentage of patients refusing home treatment per week; the latest data on the severe course of COVID-19 for patients of different age groups.
Diagnostic
Objective: to identify the cause-and-effect relationship of the situations that have occurred.
Examples: reasons for hospitalization of patients in a month; reasons for the refusal of patients from treatment at home; a connection between the severe course of COVID-19 and the patient's age.
Forecast
Objective: to study trends and predict further developments.
Examples: patients at high risk of readmission; Patients who are likely to switch from home to inpatient care; elderly patients with a high probability of a severe course of COVID-19.
Prescriptive
Objective: To define an action strategy based on the descriptive, diagnostic, and predictive data received.
Examples: prescribing additional treatment for patients at increased risk of hospitalization; home visits to improve the effectiveness of treatment and prevent hospitalization; adjusting COVID-19 therapy for patients at risk of severe course.
Benefits of healthcare business intelligence
Using business analytics, healthcare professionals can collect data and conclude the current situation in healthcare facilities and possible developments.
It is the key to improving work processes at the institution levels, branches, and departments.
Opportunities of BI for Hospitals:
Improving patient care. BI provides detailed data on a patient's health by correlating various types of reports and medical records. Understanding the history, current symptoms, hereditary risks, and the likelihood of relapse allows doctors to create optimal conditions for inpatient care and plan home visits accurately.
Predicting the needs of patients. BI can predict events at the micro and macro levels. For example, forecast the incidence of patients during the flu season and determine patients who will need hospitalization, including re-hospitalization.
Individual treatment. BI collects and analyzes huge amounts of data, finding hidden relationships. It allows the doctor to tailor the treatment for the patient according to their needs.
For example, it helps determine the probability of death during surgery, the current state of the patient, and the predisposition to increased blood clotting.
Fast decision-making. BI stores internal and external patient data in a single core and provides easy access for different healthcare institutions. In critical cases, when the doctor does not have enough data about the patient, it is possible to receive information about them from other departments and provide timely assistance.
Financial planning. BI brings together clinical, economic, and operational data, making it easy to track key performance indicators. For the medical staff, it is an opportunity to determine the feasibility of certain costs and optimize calculation, invoicing, and distribution of funds between departments.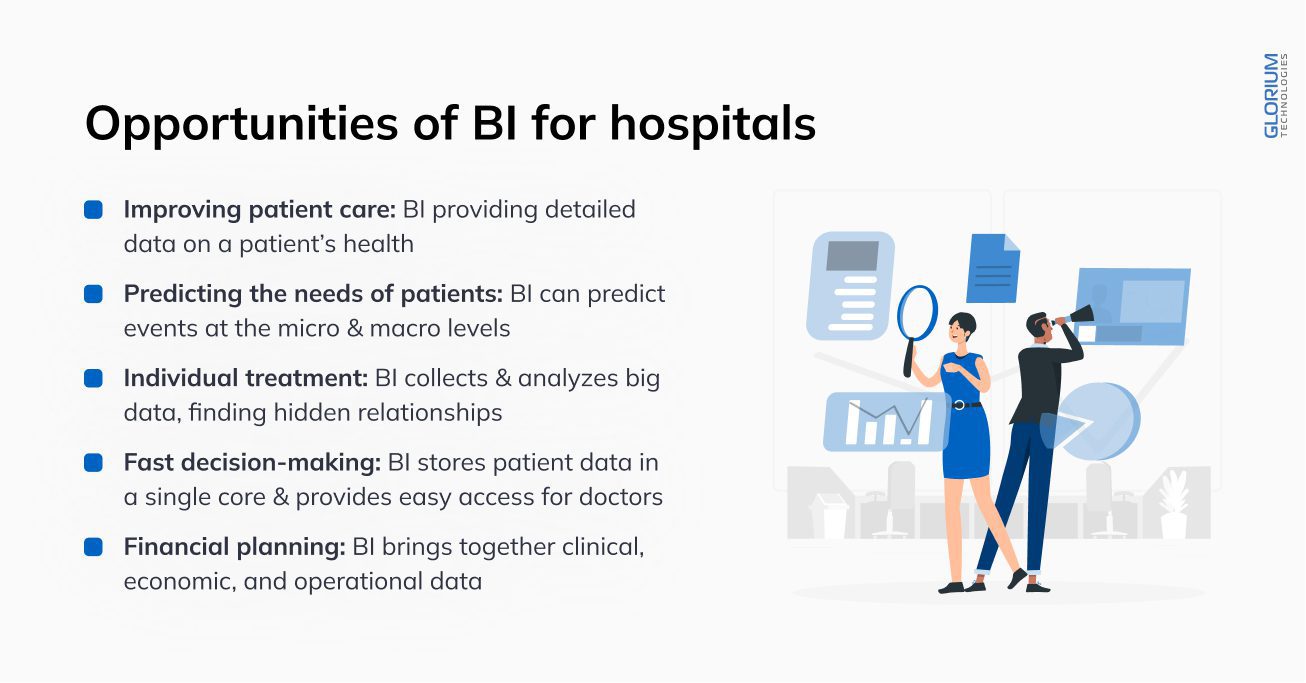 The world knows many examples of business intelligence in healthcare with impressive results. The University of Pittsburgh Medical Center predicted flu season incidence and readmissions;
Colchester Hospital cut reporting by 177 hours per month, Carilion Clinic identified heart disease risks among 8,500 patients, and Keystone significantly reduced the number of accidents.
So, the development and the introduction of a BI system is the first step towards increasing patient/caregiver satisfaction with the quality of service, reducing medical risks, and achieving a new level of operational efficiency.