You have a groundbreaking product idea, a team of dedicated developers, and an insatiable drive to bring your creation to life. What's the missing ingredient? Often, it's the financial backing to transform your vision into reality. This is where investor funding comes into play. AI implementation has become a key factor in capturing investor interest since 2022 with its promise of efficiency, personalization, and scalability.
The Beauty of AI Lies in Its Versatility
From chatbots that streamline customer service to recommendation algorithms that curate personalized shopping experiences to smart databases that enable a lightning-quick analysis of millions of documents, AI can be integrated into product development in various industries in myriad ways.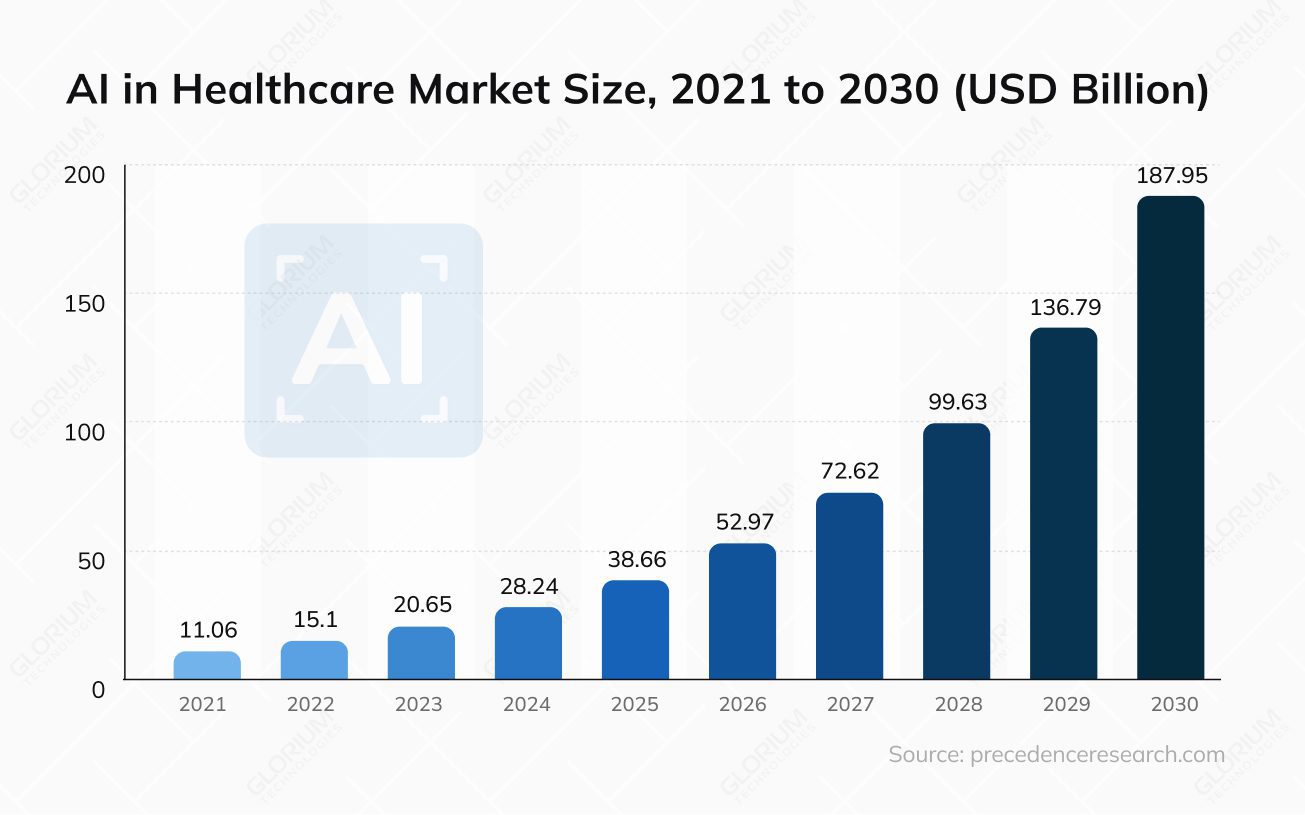 Fitness and beauty application. For instance, you're pitching a new fitness app that uses AI to create customized workout plans for users. Investors are not only captivated by the potential market reach but also by the technology driving your product. They now recognize that AI isn't just a buzzword; it's a strategic advantage that can set your product apart in a saturated market. Besides, they see you as savvy enough to use AI instead of hiring a dozen employees to do its work.
Real estate industry products. AI-powered tools that predict property value trends and provide investment recommendations reshape how people invest in real estate. Investors, always hungry for informed decisions, see AI as a reliable ally in predicting and pursuing profitable ventures. As AI gains prominence, aligning your product's development with this revolution can amplify your chances of securing funding.
Fashion industry and retail. An AI-driven virtual stylist app can revolutionize how people shop for clothes. By analyzing user preferences, body types, and current trends, the app offers tailored fashion suggestions. This enhances user satisfaction and captures the attention of investors looking for innovation that directly addresses consumer needs.
Healthcare and health tech. You may be a medical imaging startup leveraging AI algorithms to analyze X-rays and MRIs. Traditionally, radiologists would spend considerable time scrutinizing these images, leading to potential delays in diagnosis. AI, however, can swiftly detect patterns and anomalies, enabling doctors to make informed decisions faster. Investors see the value in this efficiency as it means more patients can be treated promptly, and outcomes can be improved.
When pitching the product to investors, highlight how AI expedites diagnosis and treatment captures their interest and positions your product as a trailblazer in healthcare innovation.
Showcasing AI's Potential Impact on ROI
Numbers never lie, and demonstrating the potential Return on Investment (ROI) is crucial for attracting investors. It is important to remember that in the early phases of a company, investors often expect a return on investment of 3 to 5 times their initial investment over the span of 5 to 7 years. Luckily, AI implementation can increase revenue and create ROI from the start through improved efficiency and targeted marketing strategies.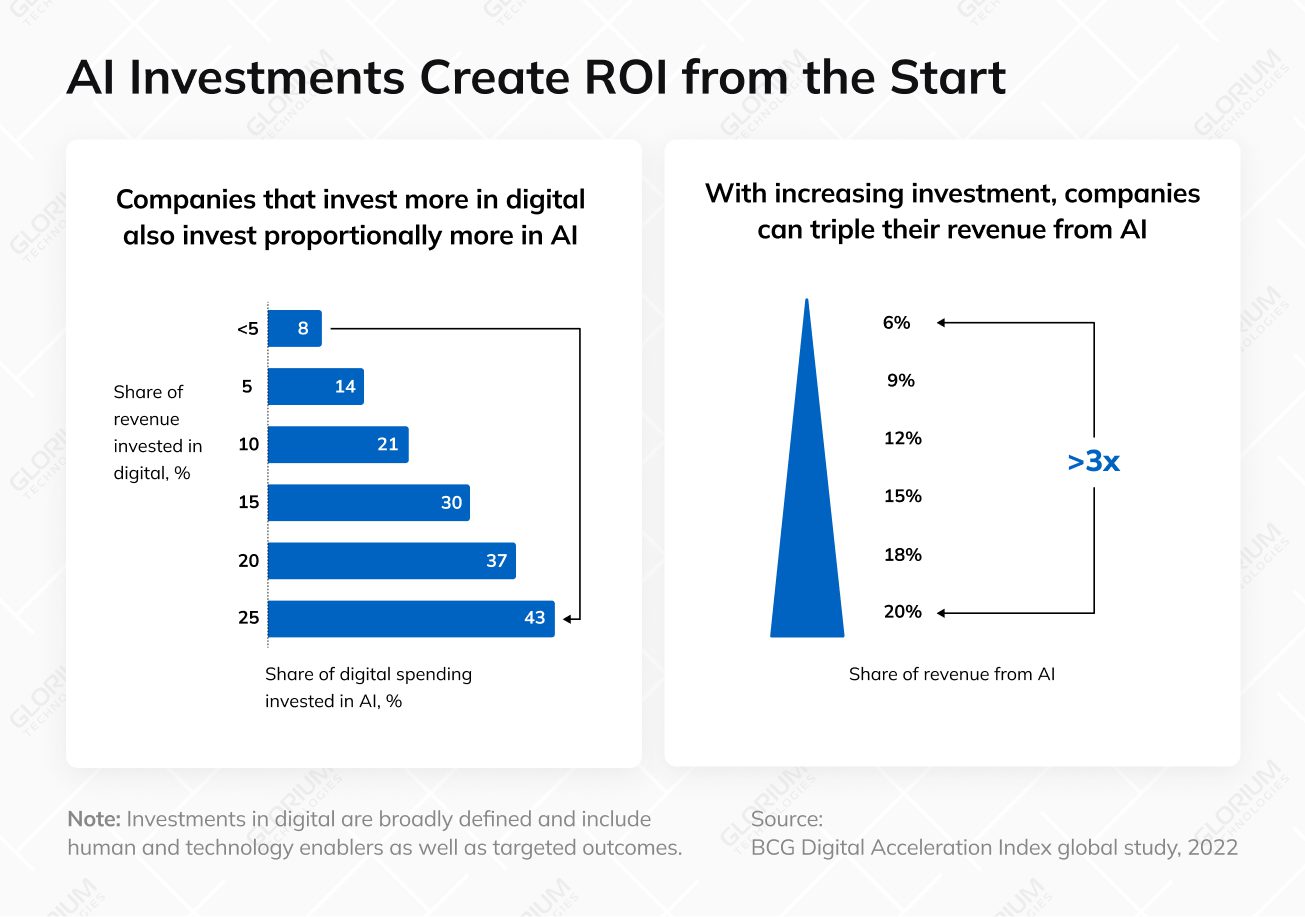 The economic benefits of AI are driven mainly by
Increased productivity from automating decision-making
Streamlining corporate processes
Improving customer service
Higher labor productivity
Ability to automate decision-making processes
Another area where AI may provide value is in improving customer interaction. Businesses acquire, evaluate, and exploit client information across different touchpoints, data sources, and processes to better navigate the consumer landscape. This allows organizations to adjust their output to meet the needs of specific customers, particularly in the message, personalization, and user experience delivery.
Consider the e-commerce sector, where AI-powered product recommendations have been proven to boost sales by suggesting items that align with a customer's past purchases and browsing history. This targeted approach translates into higher conversion rates and increased profits. Sharing statistics and predictions on how AI can exponentially improve business ROI can make your pitch to investors more compelling.
Harnessing AI to Win Investor Confidence
AI isn't just a tool; it's your ticket to capturing investor confidence and turning your vision into a reality that resonates with the world. While the seed-round AI startups' momentum may be slowing down a bit, the market has been established and sees steady investors interest.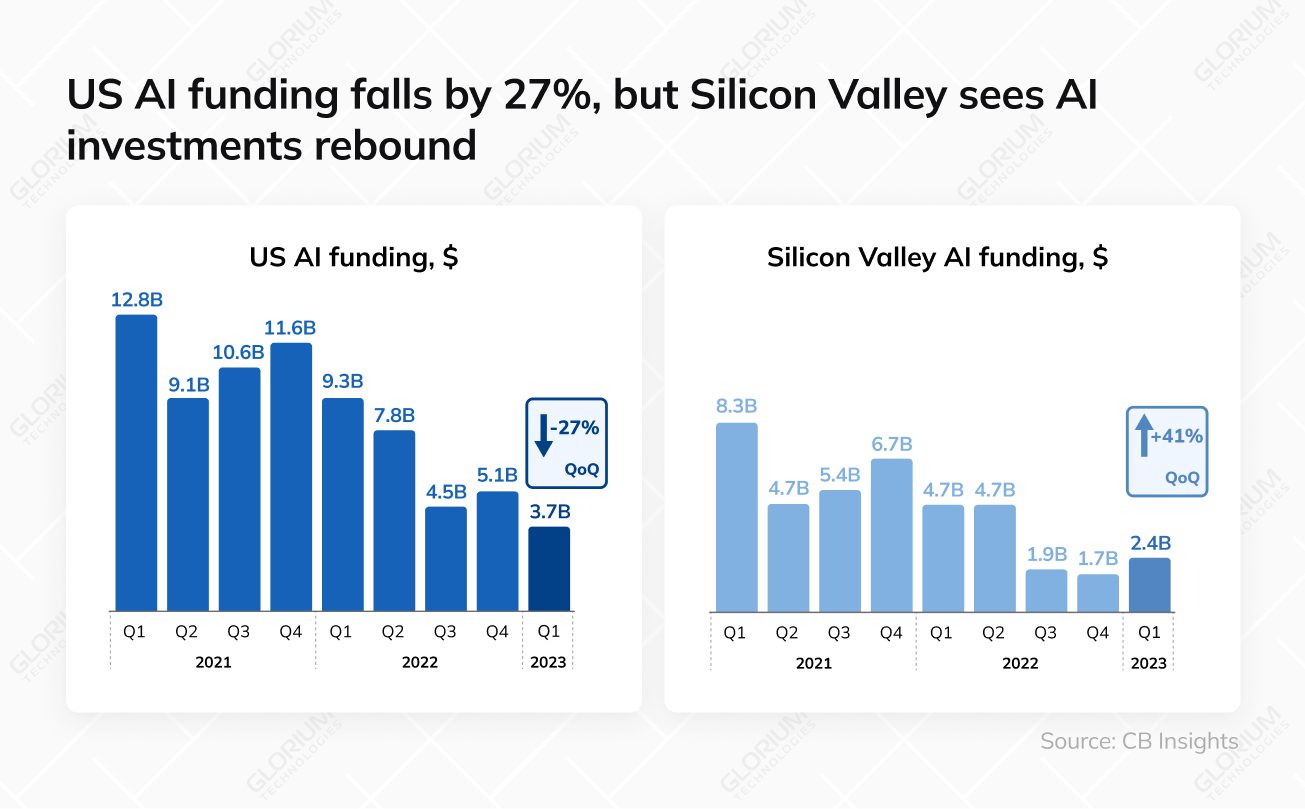 With its potential to enhance efficiency, tailor experiences, and drive profits, AI implementation has become a beacon for investors seeking ventures that align with the future.
Why AI is unavoidable
Today, staying on top of trends isn't just a choice; it's a necessity. And right now, the trend that's steering the ship is Artificial Intelligence (AI). Why? Because AI isn't just a flashy addition; it's the engine that powers efficiency in ways previously unimagined, and the world is unlikely to take a step back from it.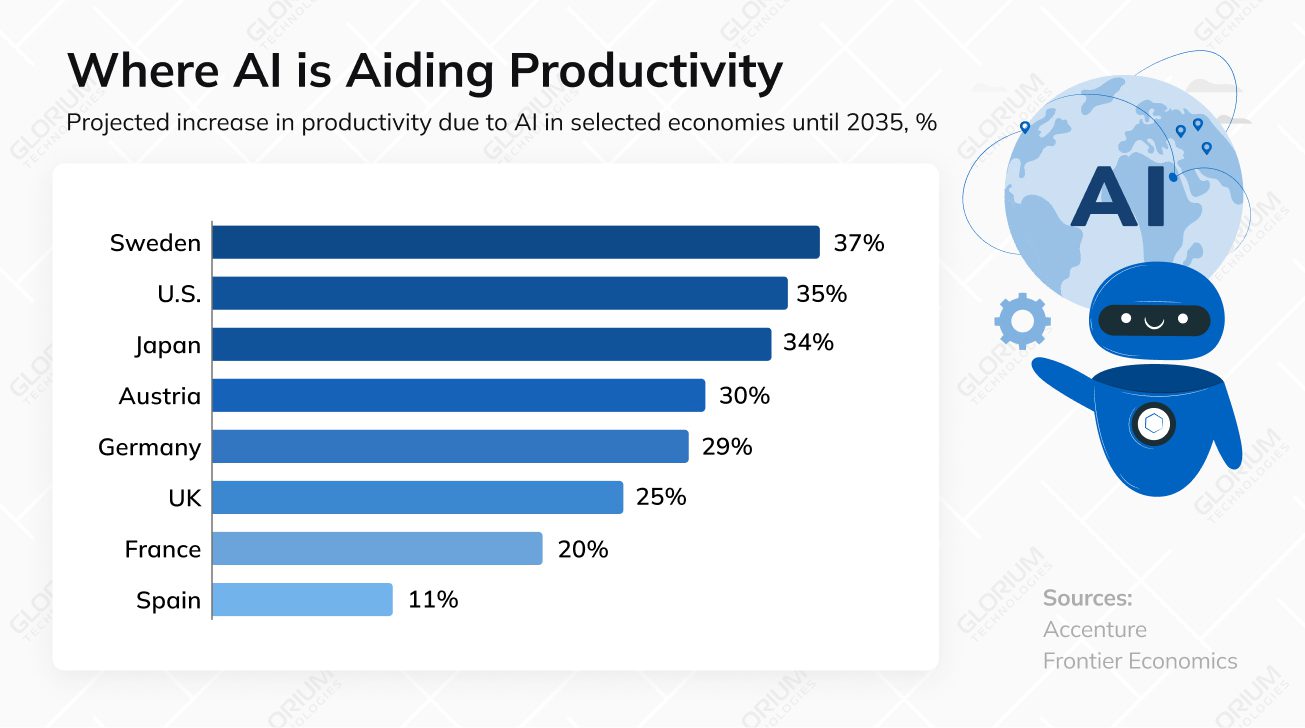 Imagine you're running a food delivery service. The ability of AI algorithms to predict delivery times based on traffic, weather, and historical data can transform your service from merely functional to impressively efficient. This efficiency delights customers and streamlines operations, allowing you to do more with less. Investors understand that in a world where time is money, the product that harnesses AI's efficiency gains is a product that's poised for success.
Why AI is your best investment
Imagine: the next decade unfolds, and a technological juggernaut—Artificial Intelligence—reshapes the industries. It's not science fiction anymore. It's the impending reality. Investing in AI isn't just a bet on the present; it's a strategic move that positions your product at the forefront of the future decades.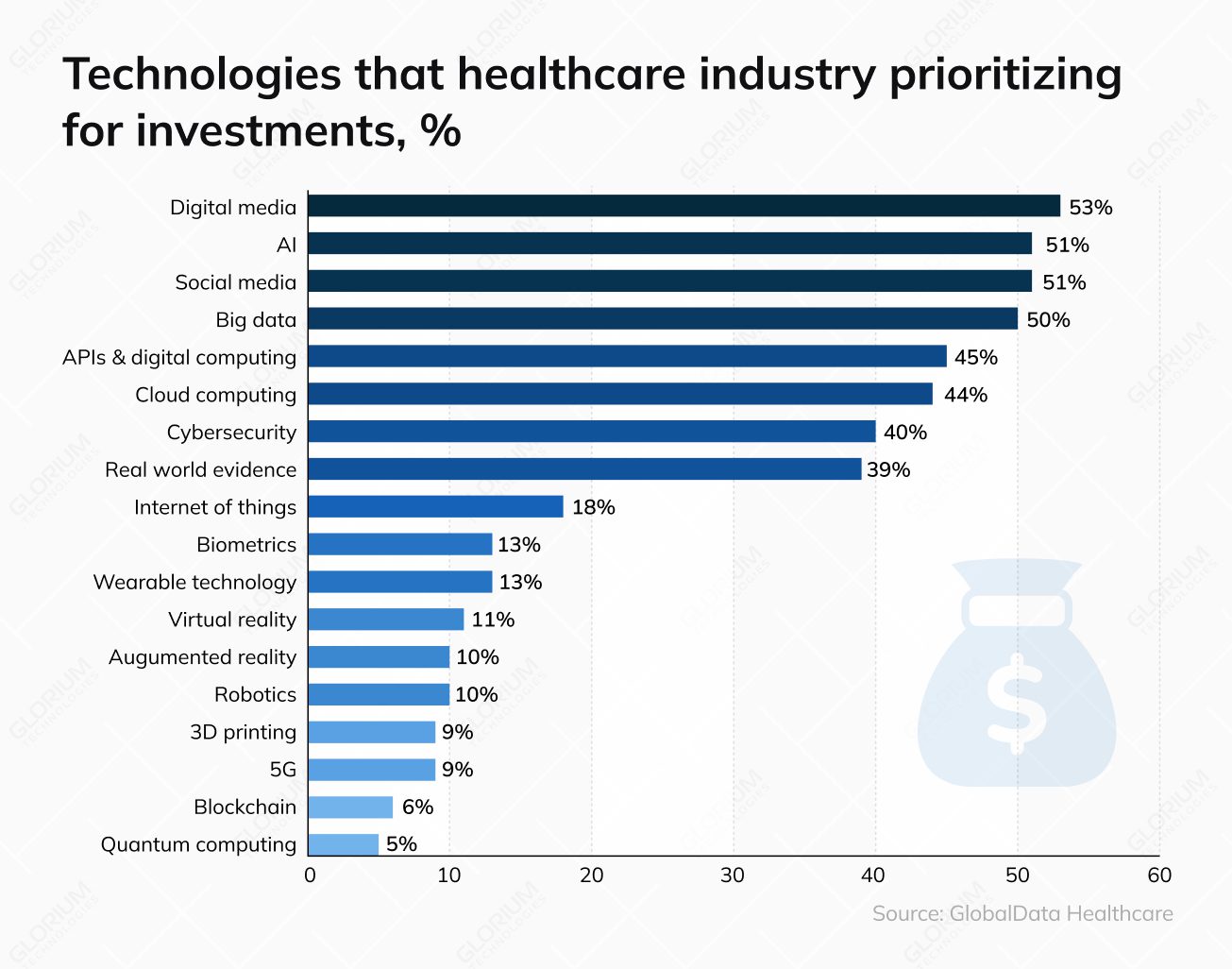 Let's say you're developing a language-learning app. By leveraging AI to personalize lesson plans based on a user's learning pace and preferences, your app becomes relevant in the educational realm. Investors can envision the impact of AI on the learning landscape over the next decade and see that your product will retain value in the long run.
Why AI is the lifeline for products
In the race to captivate consumers with decreasing attention spans and hunger for newer, better offers, innovation is the line that separates thriving products from fading ones. AI here represents a game-changer, a driving force behind relevance itself.
AI-powered self-driving cars are no longer a distant dream; they're rapidly becoming a reality. Cars without AI-driven autonomous features will gradually fade from the market as this technology evolves. Investors recognize this shift and search for ventures with the foresight to embrace AI, securing their spot in the tech-savvy future and avoiding the fate of irrelevance.
Embracing the AI Revolution: Your Path to Success
In the dynamic dance between product development and investor backing, AI emerges as the star that steals the show. It's not just a trend; it's a driving force for efficiency. It's not just an investment; it's a ticket to a relevant future. And it's not just a choice; it's a necessity for survival. As you navigate this landscape, remember that AI isn't just a tool you add; it's the heartbeat that propels your product forward, ensuring that you're not just keeping up but leading the charge into a future that's undeniably AI-driven.
Let's keep in touch and change the future of your business.