What is the outlook for the real estate market? Will artificial intelligence replace real estate agents? And why will real estate be measured in cubic feet instead of square feet? Read the main points from the latest virtual summit Digital Transformation in Real Estate, hosted by Glorium Technologies.
Trends and Outlooks
The tech investment boom slowed its tempo in 2022. It was the year of massive layoffs in the industry and startup funding decrease. According to Dmitriy Stepanov, Co-Founder and CTO at Glorium Technologies, new startups can undergo significant changes through mergers and acquisitions by some traditional real estate firms or those planning their long-term investment and seeing some good perspectives.
And they have reasons to be optimistic. The global real estate software market is projected to grow almost 10% annually and reach $19 billion by 2028.
"In my opinion, the real estate market is very resilient, and we clearly see it's growing. The setbacks are temporary, and big investors are just waiting for the right time." Dmitriy Stepanov says.
What are the real estate industry's main tech trends that will be changing during the following years?
Virtual reality. The COVID-19 pandemic accelerated the shift from traditional in-person client meetings and property showing to virtual demonstrations. This technology still has significant potential and will be more widely used in real estate.
AI & Advanced Analytics. Although artificial intelligence itself cannot be called new, quantum computing is what can dramatically change big data processing and evaluation in real estate. The quantum computing market is projected to grow from $400 million to $1.52 billion in 2026.


"We think that's just the tip of the iceberg because we still don't know how to utilize it fully. New technologies are coming. And the market is still learning to use it properly. We will see many changes in the next few years." Dmitriy Stepanov stresses.

Streamlining operations. To some extent, we may call the real estate market a bit old-fashioned. It is not among the pioneers in automating daily routine processes. In this regard, we can say that the boom is ahead. According to Bobby Bryant, Founder/CEO at Ask DOSS, 72-73% of realtors don't have CRM.
Metaverse. Despite some setbacks, the metaverse real estate market forecasts look optimistic.
Read more in our e-book: Top 7 Technologies for Improving Customer Experience in Real Estate through Digitization
Let us dive deep into details and check where the latest technologies can help real estate experts today.
Sales and Marketing
Today, everyone is talking about ChatGPT or generative pre-trained transformers. It is a family of language models from OpenAI, typically trained on large amounts of text data to generate human-like text. Many people are discovering its opportunities. One of the brightest examples of those experiments became the speech of the Israeli president, generated by ChatGPT.
But how can the real estate industry benefit from this hyped-up product? As this is the text model, it will deal with content. So, it affects sales and marketing primarily.
Mark Stepp, Chief Innovation Officer at Realvolve, provided some practical examples of ChatGPT use for property promotion. He focused on each stage of a C.O.R.E. strategy, which includes conversions, operations, retention, and experiences.
Conversions
At this stage, a real estate agent can use ChatGPT for the following:
Lead magnet ideas/Content
Phone Scripts (ISA, FSBO, Follow-Up Calls, Prospecting)
Email / SMS Nurture Templates
Home Buyer/Seller: Webinar / Seminar Outlines & Content
YouTube Video Ideas / Scripts
Role Playing Practice / Q&A
Let us take a simple marketing case: you need to generate new lead magnets for your potential buyers. That requires conducting deep research and overcoming the thing called writer's block. All of that takes time.
But machines do not feel fatigued and can process larger data volumes in a much shorter period than humans.
An agent can submit a prompt like: "Create a list of 100 niche ideas that I, as a real estate agent, can specialize in that would give me a unique advantage over other agents in my area". And the modern tool, in turn, offers a list of ideas containing luxury homes, eco-friendly homes, vacation homes, historic homes, fixer-uppers, new construction, first-time homebuyers, downsizing, and much more.
As the agent analyzes the results, he makes his choice and takes the next step, asking ChatGPT to create a list of attention-grabbing lead magnet ideas for home buyers and sellers to include in a PDF document that would be useful for people looking for luxury homes. AI gives an immediate response: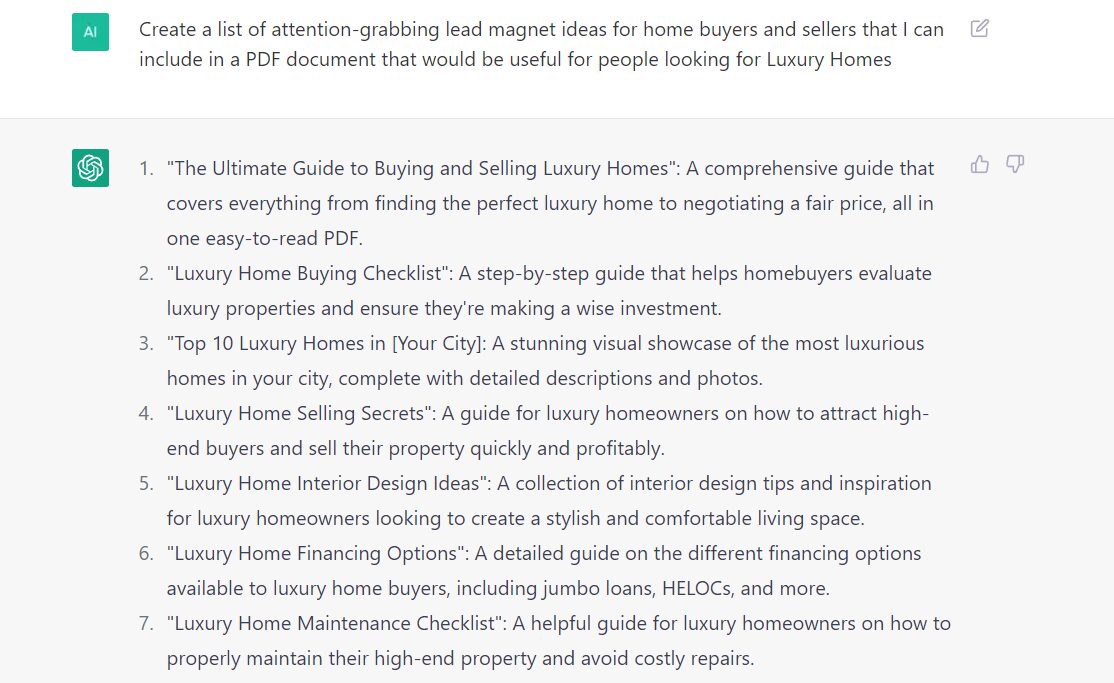 So they can proceed with content creation, and so on. The tool saves time and brings him valuable ideas to convert into leads. Then he goes to the next stage called…
Operations
This phase envisages signing agreements and closing transactions. Here, AI can help agents with:
Property descriptions for flyers, MLS, and social media posts
Marketing materials
Email / SMS Appointment reminders & deadlines
Virtual tour scripts
Home buyer and seller communications
And again, technologies allow agents to save time and talk to more clients.
Retention
Here is how agents can communicate with their clients after closing deals using ChatGPT. They can generate such things as:
Home maintenance reminders
Reminder to appeal property taxes
A to-do list to prevent pipes from freezing
Blog & social media posts
Newsletter content & segment ideas
Housing market updates
Real estate content ideas
So, these simple things help real estate agents stay in touch with their customers and offer them other services besides buying or selling houses.
Experiences
Here, agents can create amazing stories about families with kids looking for a house. They can also generate real estate agent pop-by ideas for each month of the year, and content for them. All of that will make those operations much faster.
"Will AI replace real estate agents? Absolutely not. The right question is: will agents embrace AI? If you embrace it, you will replace those who don't." Mark Stepp comments.
He also warns that all the results ChatGPT generates can be either too generic or inaccurate. So, they need human review and editing anyway.
"Technology is not the thing. It's the thing that gets us to the thing. Technology alone without a proper business model is counterproductive." Bobby Bryant, the Founder/CEO at Ask DOSS, agrees.
But that is a tiny part of how technologies can help real estate professionals. And let us switch from marketing to…
Property Management and Construction
Developing the topic of digital transformation in the real estate industry Vishal Sethi, Assistant Vice President of Data, AI, and Digital Transformation at Bristlecone, outlines four main AI trends in real estate management: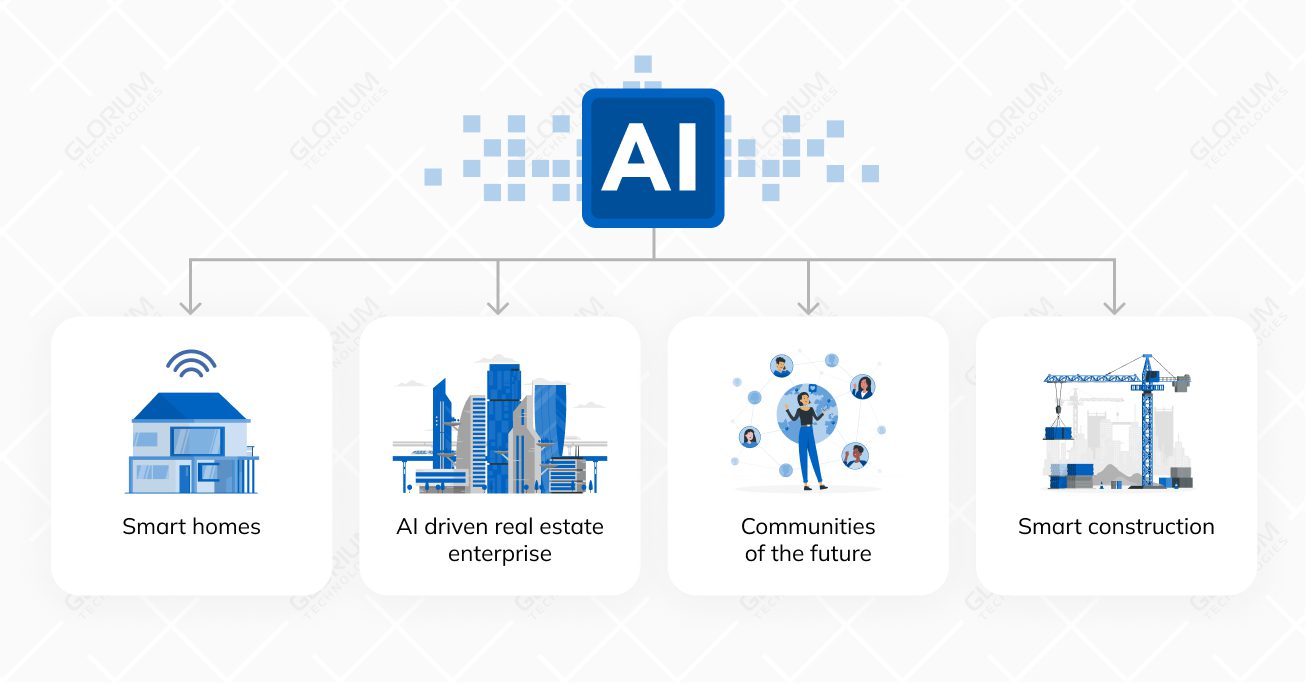 Smart homes
AI-driven real estate enterprise
Communities of future
Smart construction
Smart Homes
A smart home is something that all of us hear about more and more often. They are equipped with devices that can be controlled through a mobile device or voice commands. These devices include lighting, thermostats, security, and entertainment systems.
With a smart home, homeowners can remotely monitor and adjust their home's energy usage, temperature, lighting, and security settings from anywhere in the world, providing convenience and peace of mind. Smart homes can also be integrated with personal assistants like Amazon's Alexa or Google Home, allowing homeowners to control their homes with simple voice commands.
One of the significant advantages of smart homes is their ability to save energy and reduce utility bills. Smart thermostats can automatically adjust temperature settings based on the homeowner's preferences and presence. Intelligent lighting systems can be programmed to turn off when no one is in the room. Additionally, smart appliances like refrigerators and washing machines can provide real-time updates on energy usage and offer suggestions for more efficient use.
AI-Driven Real Estate Enterprise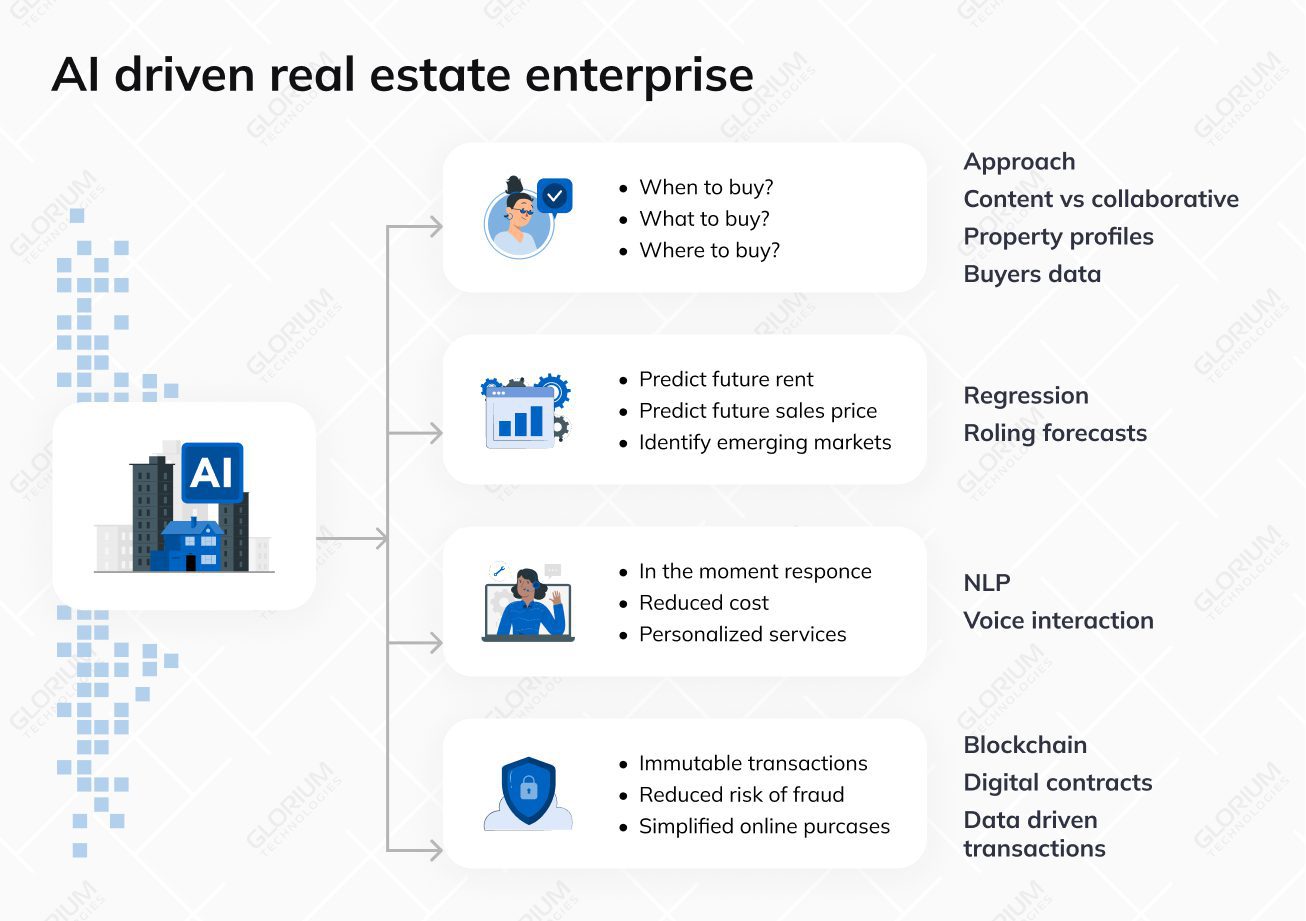 An AI-driven real estate enterprise can significantly advantage investors, homebuyers, and real estate companies. By leveraging the power of data, AI can help predict a property's financial performance over time.
This includes providing information on how the property will appreciate or depreciate in value, as well as how energy-efficient the property is and how much money can be saved on energy consumption.
One of the key selling points of traditional real estate is the property's location. However, AI can enhance this aspect by identifying emerging markets offering lucrative investment opportunities. Additionally, AI can help real estate companies predict future rent prices for commercial properties, which is a valuable tool for CFOs looking to make informed financial decisions.
The use of AI in real estate also allows for personalized recommendations based on past sales data. Just as streaming services recommend content based on viewing history, AI can recommend properties based on a buyer's past purchases. This creates a more efficient and personalized experience for buyers, helping them find the right property faster.
"When you are watching a YouTube video or a Nexflix video, there is always a list of recommended videos for you. Here is a similar approach that real estate companies use." Vishal Sethi says.
Another exciting development in the real estate industry is integrating blockchain technology. Blockchain offers a secure and transparent way to conduct transactions, reducing the risk of fraud and simplifying online purchases. This can be especially beneficial for wholesalers looking to quickly and securely buy and sell properties.
Overall, an AI-driven real estate enterprise offers numerous benefits over traditional real estate sales. By leveraging the power of data and technology, real estate companies can provide a more efficient and personalized experience for buyers while also making informed financial decisions for their portfolios.
AI-Powered Communities of The Future
According to Vishal Sethi, over 80% of new buildings have at least one aspect of smart technology like smart lighting, heating, automated HVAC, etc. These smart buildings can form some new smart communities in the future. And some of them are already in the process of creation.
For instance, a Google smart city in San Jose called Downtown West village.In the face of drastic changes and challenges, tech giant Google is strategically reevaluating its highly anticipated project. This ambitious urban utopia promises to breathe new life into Downtown, offering an impressive fusion of modern workspaces, stylish residences, vibrant shopping, and dining options, and ample green recreational spaces.
However, obstacles such as a massive workforce reduction and global office closures have tested Google's resilience, urging them to reassess their progress timeline on this transformative endeavor. As the world embraces the future of remote work amid the pandemic, the completion of Google's dream village could be crucial to the revitalization and long-term success of Downtown San Jose.
Once realized, the awe-inspiring Downtown West project will encompass up to 5,900 homes, 7.3 million square feet of office space, half a million square feet of retail therapy, a community center, and 15 acres of lush parks, blending work and leisure for countless city dwellers.
Construction
AI is changing the construction industry in several ways. One of the ways that AI is being applied in construction is by using drones to remotely inspect the construction process, allowing for a more detailed and accurate view of the construction site. This can help construction companies identify any potential issues that may arise during construction.
Customers can also use drones to monitor the progress of their projects from afar, providing them with greater visibility and control over the building's creation.
Construction companies are also using AI to help with construction projects' design and planning phases. By picking an existing area and embedding an existing tool, companies can design a range of project options that best suit the needs of their clients. This technology is being used to help construction companies create more accurate and efficient designs, saving time and money in the construction process.
Space Planning
Will the space inside buildings be measured in cubic feet soon? Sankarshan Murthy, CEO and Co-Founder at Bumblebee Spaces, thinks it will! Space and energy are the major problems of our generation. Real estate is responsible for 40% of CO2 emissions. Residents of all major cities need more space for their homes.
"We add one New York City of space per month on the planet. During the next forty years, it will double the number of houses in the world," Sankarshan Murthy says.
What's the solution? Sankarshan is assured that it's the right time to measure the space volumetrically. The latest technologies are able to transform the housing market by making living spaces expand and adapt.
If a room is multifunctional, a resident will require much less space. Let us take a bedroom, for instance. It is averagely used 8 hours per day, while 16 hours are wasted. And the closet is used for only 30 minutes per day.
"When you're not sleeping, the bedroom is occupying all footprint, heating, cooling, taxes, mortgage, insurance. And we waste many resources for what we do not need," Sankarshan Murthy says.
And the best way here is to unlock the space without increasing the footprint. For example, if you need your workspace right now, your bed can be lifted to the ceiling and hidden there. You can take it down again when you have a rest. You can also have storage embedded in the ceiling instead of a traditional closet. The question is: how can we find anything up there? And here is the answer: cameras to see what's being stored and AI to catch all objects will make this job much easier.
Conclusion
The potential of technology in the real estate industry is vast, and with the rise of smart cities, the opportunities seem endless. Smart space planning is set to reduce costs and curb carbon emissions, making the sector more sustainable. To keep up with this technological revolution, it's imperative to partner with experts like Glorium Technologies. With our team of experienced real estate software development professionals, we can help you create revolutionary products and become a game changer in the industry. It's time to embrace the power of technology and take your real estate business to new heights.